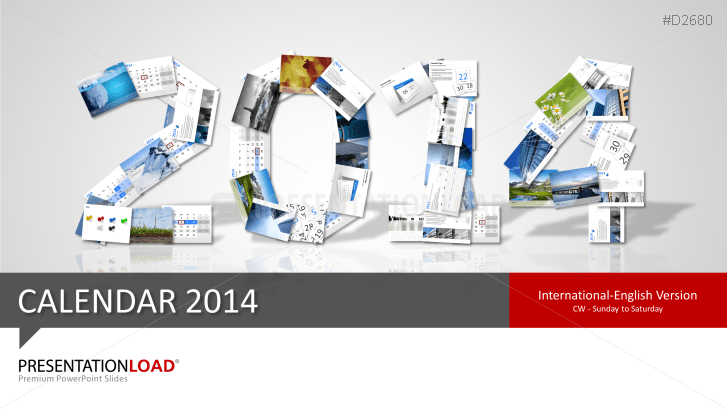 Calendars 2014
| Slides | Unit Price | format | language |
| --- | --- | --- | --- |
| 132 | 0.22 € | (16:9) / (4:3) | DE / EN |
2014 Calendar to display appointments and planning schedules in PowerPoint presentations
Also in 16:9 widescreen
Schedule appointments, tasks, deadlines, birthdays, events, operations planning, holidays and much more skillfully with these professionally designed PowerPoint calendar templates for 2014.
This template with a total of 132 slides includes different layouts and designs to display date-related information based on an annual, semiannual, quarterly, monthly or daily calendar. The calendar pages are interdependent to allow you to navigate between the calendar pages (via mouse click during the ongoing presentation).
These calendar templates are adequate as intermediate or informational slides in your presentation to display annual or quarterly planning. All calendar pages can be adjusted with only a few clicks to a specific year, month and date. They can be individually labeled and colored. The graphics and icons included in the calendar can also stylishly highlight special events.
Your benefits:
- 132 professionally designed calendar pages
- Many design examples
- Yearly, monthly, weekly and daily calendar
- Editable vector format
- Gregorian calendar weeks in the European and international definition
- Calendar with high quality image material
- 2013 calendar on top for free
The following languages and versioning are included in the download file:
• German (KW = Monday - Sunday)
• English "Europe" (KW = Monday - Sunday)
• English, "International" (KW = Sunday - Saturday)
In addition to the calendar 2014 you will receive the calendar of 2013 for free
Compatibility: This product is designed for PowerPoint versions 2007/2010 and 2013. Older PowerPoint or Mac versions may show compatibility difficulties. To open the pptx file in PowerPoint 2003 the "Microsoft Office Compatibility Pack" is required. It can be downloaded on the Microsoft Homepage free of charge.
After downloading,
there are nothing inside.