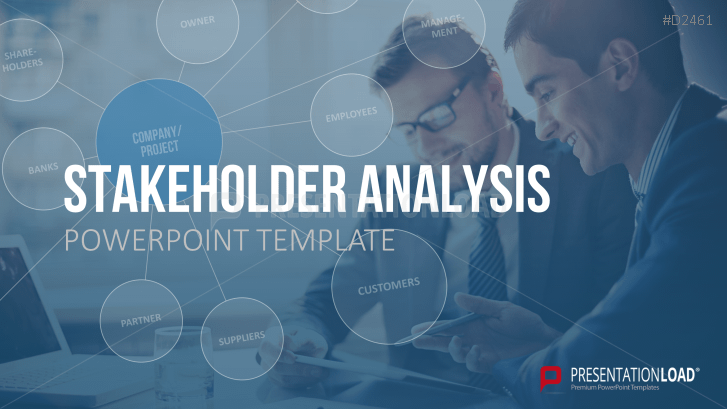 Stakeholder Analysis
| Slides | Unit Price | format | language |
| --- | --- | --- | --- |
| 56 | 1.05 € | (16:9) / (4:3) | DE / EN |
Display with our hands-on stakeholder analysis charts stakeholders (stakeholders) of your project or company in a demonstrative PowerPoint presentation.
Containing the 4x3 and the new 16x9 widescreen format
Reveal internal and external stakeholders, as primary, secondary or key stakeholders with the degree of interest in the development of your project or company by using ready-made PowerPoint templates. In this extensive collection of PowerPoint slides you will find all document templates that you require to analyze and present your project or company stakeholder. All templates are based on established standards and are intentionally kept in a general design so they can be adjusted individually to your requirements and complement your presentation.
All the objects and tables are created as PowerPoint slides and can be edited individually. Tables and forms can be copied with a few clicks to Excel or Word where they are also fully editable."
The download contains next to the classic 4:3 format now also the new HD 16:9 widescreen format.
Compatibility note: This product is optimized for PowerPoint versions 2007/2010 and 2013. In older versions of PowerPoint and in Mac Versions the usage of this product is limited. To open the PPT file in PowerPoint 2003 the "Microsoft Office Compatibility Pack" is required. It can be downloaded for free from the Microsoft website.
No review available for this item.