Creating a Webinar Presentation: Tips for Successful Webinars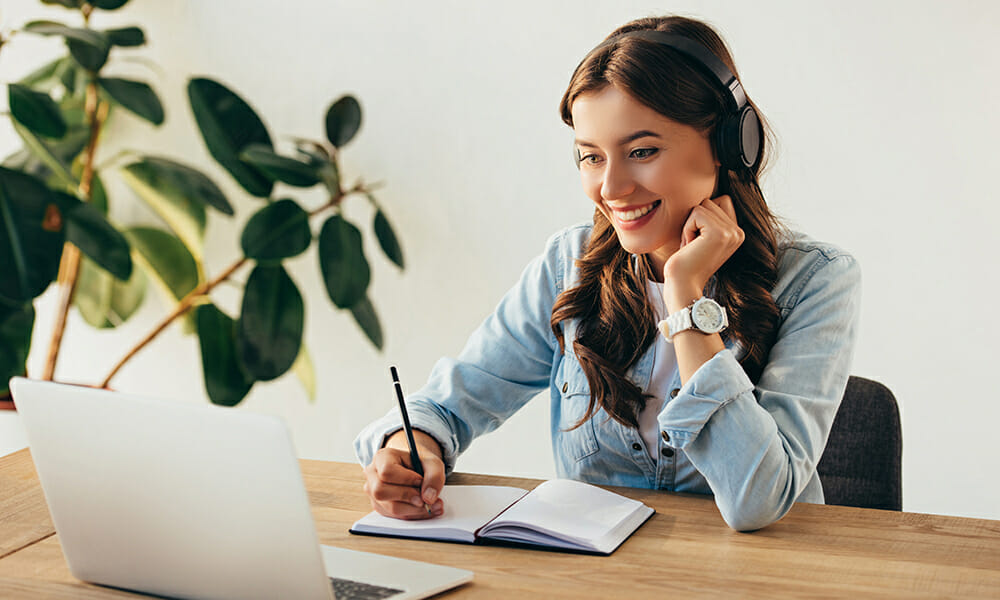 A guide to creating webinars: How to be a success
Webinars are the latest trend. They are convenient for both audience and presenters and can be used for countless different topics and scenarios. Whether it's online marketing, lead generation, building a brand or conveying content, a webinar is a flexible tool that reflects the current zeitgeist.
But the webinar is still a fairly new medium and planning and conducting one can be a pain in the neck for many. Here you'll find useful information about the unique nature of a webinar and what you need to consider when creating one.
What exactly is a webinar and what's unique about it?
A webinar is a presentation conducted over the Internet. Unlike a video uploaded somewhere else, the webinar takes place in real time and with participant involvement. Participants are integrated into the webinar through various interactive tools – short surveys, quizzes or Q&A periods.
A webinar can serve various purposes; most often it's used to communicate content, but it sometimes has another purpose, such as part of a marketing campaign.
How does a webinar work?
Webinars require an online platform. Zoom, Skype or Microsoft Teams are all popular choices. PowerPoint is also a good choice for webinars.
Media content, such as documents or videos, can also be shared with the audience using compatible programs. Recommended, but not a must, is the use of a camera so that the audience can see the presenter.
The webinar presentation: just a typical presentation?
So, a webinar presentation is basically not much different from an ordinary presentation, right? Yes and no. In fact, many elements are similar, but the virtual space offers many unique features. These features are what you need to understand to ensure your webinar is a success. So here are the crucial differences between presenting in real and virtual space.
Communicating is different
This is something no one should underestimate. When presenting in person, communication goes far beyond what is being said. Audience and presenter are in the same room and can actually see each other. Facial expressions, gestures and eye contact are important communication tools. Even though there is a lot one can do with video technology, it can' t replace direct, in-person interaction. This means that the content and how it is presented is all the more important. At the same time, the voice becomes more important. Avoid a monotonous delivery by paying attention to inflection.
Informal environment:
There is always a degree of formality during an in-person presentation and there's usually little opportunity to be distracted. At home or in the office, things are a bit different. If a webinar is dry and slow, the temptation to quickly take a look at the documents or to send an e-mail on the side is strong. This is why it is all the more important to communicate the value of the webinar and structure it accordingly.
Presenting in webinars: different, but not more challenging
Keep in mind that these differences are often double-edged swords – they can both advantages and disadvantages. An example: If you're not aware that your webinar audience is slipping away from you, you won't be able to draw them back in, but you also won't be thrown off track, either.
A webinar shouldn't make you more nervous than any other presenting situation. Having a bit of webinar know-how can help you avoid issues and feel more confident. Here are some useful tips.
Creating a Webinar Presentation: Key Factors and Tips
Factor 1: Careful preparation and planning
Tools to share content in a webinar are limited. This means it can be hard to make spontaneous changes during a webinar presentation. If you add something to your spoken content, you may not have the visual material to support it.
The option to write or sketch something down on a flip char or board – something we take for granted during in-person presentations – is possible with the right equipment, but not always easy.
Choose and promote your topic wisely
Your challenge is to engage an audience and keep their attention. You need to plan very carefully what you want to communicate and how. This starts with the topic. Think about what appeals to your audience and how they can benefit from it.
Also remember to advertise your webinar early (four weeks in advance is a good rule of thumb). E-vites are a great way to do this. Afterwards, don't forget to send out more than one reminder.
Time management is key
A webinar presentation usually has a set time and length (usually 60-90 minutes). Running too long can annoy your audience – coming up short can give the impression you didn't prepare well enough. The best thing to do is to create a kind of script in which you determine how many minutes you dedicate to each stage of the presentation.
Incidentally, there is no such thing as a perfect time of day for a webinar. Your target group and goal are the decisive factors here. Employees are generally available in the evening, whereas self-employed people are often available in the morning.
Factor 2: Choose and present content intelligently
There's actually not too much to say here, because it's your webinar and you most definitely know your topic. Your webinar will normally have some kind of goal or purpose. Now you need to generate an audience.
Supply and demand
The basic rule is: Identify your audience and try to put yourself in their position. Who do you want to address? What is interesting for these people? What added value can your webinar offer them? No one will sign up for a webinar to hear that a circle is round. But the topic shouldn't be too specific and complicated either. Align your webinar with the interests of your target group.
Find the intersection between what you have to say and what people want to know!
Factor 3: Know your software and equipment
In a webinar, success hinges far more on the technology than in other presentations. Technical difficulties, or even failures, are difficult or impossible to make up for. On the other hand, you can score major points in a webinar if you are a pro at using the software and multimedia.
This is reason enough to dedicate enough time and attention to your equipment and how it works.
The right software
There are so many software solutions that can be used for webinars or have been specially developed for them. Choose one that fits your requirements and is easy to use. The PowerPoint presentation webinar is popular with many users – it can be used on many devices and most people have used the program for in-person presentations. Using PowerPoint for a webinar is an obvious choice.
The visuals
If you decide to use a camera, make sure it's properly aligned and positioned. The camera should at eye level, and your face should be lit from the front. When using a laptop camera, a laptop stand can create a better angle. FYI: artificial light usually works better in video than natural light. Light sources in the background (e.g., windows or mirrors) can be distracting.
Setting the scene
When using a camera, also consider your surroundings. Depending on the purpose of the webinar, you can choose a neutral or complementary background (e.g., bookshelves). Think about small things that should be left off camera, like that framed photo of you in full Klingon gear at last year's Star Trek convention. If you want to go pro right away, you could purchase a green screen.
During the presentation, make sure you actually look into the camera and are aware of your posture.
The audio
There are also a few points to consider when it comes to sound. Make sure that the audio settings are adjusted to your surroundings and try to minimize background noise. Close windows and switch off devices (phone, smartphone, PC notifications, etc.) or mute them. If necessary, ask people in the next room or house to be quiet.
Something that is often overlooked: Feedback and distortion can occur if an internal microphone and speakers are used simultaneously. An external microphone, headphones or a headset may be a good idea.
If you're using a lot of equipment, a checklist can help you keep track of all the necessary steps and settings.
The golden rule for every piece of equipment: Familiarize yourself with it before using it!
Factor 4: Clear, concise structure!
The preshow
Webinars are often started with a "warm up". This could be a short introduction (about five minutes), during which the participants can join the webinar. Or, you can join in directly and chat a little with the first participants, just like an in-person presentation.
Have a few small-talk topics ready to go; this relaxes the atmosphere and can help with any nervousness.
The introduction
Check the technical features and welcome your audience. If necessary, give them a few technical notes and instructions on how to proceed. Then start with a short, concise overview of your content. If you want, you can use a slide to communicate this.
The very beginning is also the best opportunity to capture the audience's attention by summarizing the purpose of your webinar and what added value it will offer your audience.
The main event
The main presentation should be clearly structured and easy to understand. Your audience should always be aware of a central theme – a leitmotif. More tips on this can be found in the following sections.
The conclusion
Summarize your content and key messages again and/or include your call to action. If you're giving a sales and distribution webinar, this is the right time to introduce any offers, promotions and/or campaigns.
Remember to ask your participants for feedback. A final, short survey is a good way to do this.
Factor 5: Clear and diversified slide structure
The ideal number of slides and how they should be designed always depends on the presentation itself and its content. This is when you have to rely a little more on your own expertise. However, the following tips are worth considering:
Less is more
Avoid using too many slides. Although it's hard to set a concrete amount, as a rule of thumb we recommend about 10-15 slides for content and another 5-7 slides for instructions, interactive elements, etc.
Never overload the slides. They should only contain the essential information and have a clear structure. Limit yourself to one point per slide. A few meaningful words will be remembered better and more concisely than a lot of complicated text. The content of the slides should offer variety. Supplement text with tables, pictures, diagrams and other media to attract the attention of the audience.
The right layout
The layout should be the same for all slides and, if applicable, align with the corporate design. Master slides can be extremely helpful.
Make sure that the font is large enough. Not all participants will be using a large screen.
Keep the slides simple and use colors and effects sparingly. Otherwise, they'll distract from the content and can also lead to display issues and problems with some programs. Highlighting important content should be your focus.
Factor 6: Practice, check, back up
A test run is a must
Even if you prepare everything perfectly, always assume that mistakes and problems will creep in somewhere. A test run is a sure-fire way to detect any weak points. It will also help your delivery and confidence. Run through your webinar a couple of days in advance, perhaps with a friend or colleague as your test audience. This will provide you with useful feedback.
Constructive self-criticism
If you'd rather rehearse alone or can't find a test audience, you can record yourself. These kinds of recordings can be a bit awkward if you're not used to it – hearing your own voice for the first time can be a shock! Nevertheless, they're a great tool for practicing and improving as a presenter. Just remember to not be too hard on yourself. We are always our own worst critics!
Check processes and equipment
If you' re not the only one organizing the webinar, coordinate the processes and content with the other participants well in advance of the event.
Make sure that your equipment is ready and working on the day of the webinar (laptop, software, camera, sound, Internet connection, etc.).
When it starts:
Double check your equipment so you can begin the webinar on time. Always expect that something may not work at the last minute. If possible, have back-up devices and options on hand.
More tips and hints:
Try to incorporate lots of different tools (chat, survey, quiz, etc.) to make the webinar even more interactive and varied. Those who feel involved are always more engaged than a purely passive listener!
Think about how you would like the interaction with the participants to happen. For example, how and when can they ask questions (chat box, requests to speak, …)? Explain these rules to the audience right at the beginning (and again in between if necessary).
It's always a good idea to prepare a script or at least notes. Even if you are a bona-fide expert on the topic, you may your train of thought. A script can also help you manage your time more effectively.
The webinar situation might be unfamiliar to many participants. You can help them feel more comfortable by letting them know how the webinar will proceed and by addressing any technical questions they may have. Also try to create a relaxed atmosphere by behaving like you would in a normal meeting or presentation.
A small detail that many forget: Have a glass of water ready. For longer presentations, it can be a lifesaver.
A person's average attention span is about seven minutes. This means you'll probably have to "wake up" your audience throughout your webinar. A dry tropic can make this even more challenging. Add a bit for entertainment by throwing in some short anecdotes or funny stories. This generates attention, shows your personality and keeps the atmosphere relaxed.
A good webinar is one that helps participants remember you and your content. You can encourage this with a recap. Create a summary or recording of the webinar and send the material to the participants after the webinar. Added bonuses like this are typically well received.
Many webinars take place at a desk and there's nothing wrong with this. But you may want to think about standing up during your delivery. Your posture and voice will automatically improve.
If you use PowerPoint for your webinar, don't be tempted to simply recycle a presentation you've already given in person. As mentioned earlier, a webinar is completely different from a "live" presentation and needs a different approach.
Certain organizational issues arise in almost every webinar. People usually want to know if the webinar will be recorded and if such a recording or other material will be available to them. It's best to clarify these issues right at the beginning. If you plan to hold webinars frequently, you can create a slide outlining this information and use it over and over again.
A well-designed webinar can be used over and over again. Why do all that work for a one-off event?
No amount of tips and advice can guarantee that nothing will go wrong. In webinars – as in everything else – there are no guarantees. But we hope these tips provide a solid starting point to help you design successful webinars.