PowerPoint Presentations on a Television Screen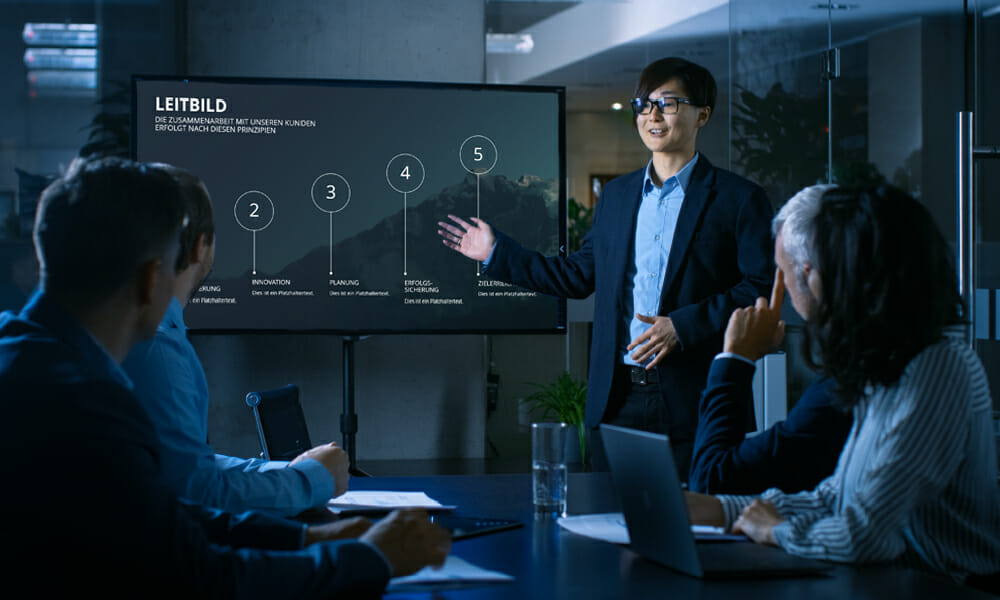 PowerPoint presentations can be displayed in many different ways: on PCs, laptops, mobile devices, projectors and not least television screens. Presenting on TV is mostly suitable for informal occasions, but it can also work in a business context.
We set out below four ways of presenting via a TV:
Option 1: Connect your laptop to your TV
Connect your laptop to your TV with an HDMI cable.
Select the correct HDMI input using the remote control.
Once both devices are up and running, your screen view should automatically appear on the TV.
The presentation can be controlled as usual via the laptop.

Option 2: Record Video
First save your PowerPoint presentation as a video – you don't have to control the presentation manually, but it will not be possible to alter the presentation once started. This function is available from PowerPoint 2010 under File – Save and Send – Create Video.
Copy the created video file to a USB storage device or DVD, depending on your TV.
You can now insert the storage device and play the video of your presentation on your TV.
Option 3: Connect Your Smartphone (Android) and TV
You'll need the PowerPoint and Google Home apps as well as a Chromecast stick for this.
Plug the Chromecast stick into the HDMI port of your TV and select the appropriate channel.
Download your presentation to your smartphone and open the Google Home app.
From the menu, select Screen/Audio Streaming – Stream To – Chromecast.
Now you can switch back to the PowerPoint app and start the presentation.
Option 4: Apple TV
Apple TV allows you to use WiFi connections or local networks to stream media to your TV.
Again, the PowerPoint presentation must be saved as a video. Make sure that the file format of the video is supported by Apple TV (MP4 is usually the best).
Alternatively, you can upload your video via iTunes.

If it's at all possible, we recommend using two screens for your presentation: this allows you to display helpful comments and data on a screen that only you can see. This is not, however, possible with options 2 and 4, because your presentation is saved as a video.
As you can see, there are several different ways to play presentations on a TV: this means that if you find yourself in a situation with a lack of equipment, you have a great alternative to the usual projector.