PowerPoint Online: How to Create an Online Presentation!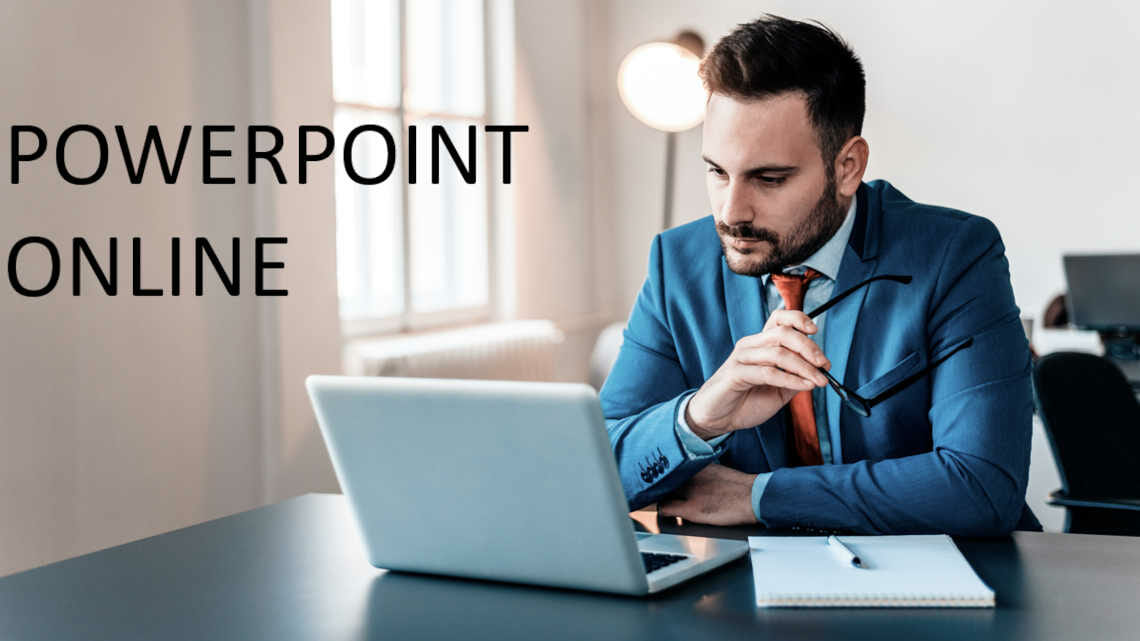 Since the launch of Office 365, Microsoft has been making a push to optimize its Office suite for remote work. With the free version of PowerPoint Online, you can easily create presentations and share them with your audience.In this article, we'll show you what features, advantages and disadvantages you can expect with PowerPoint Online.

This is PowerPoint Online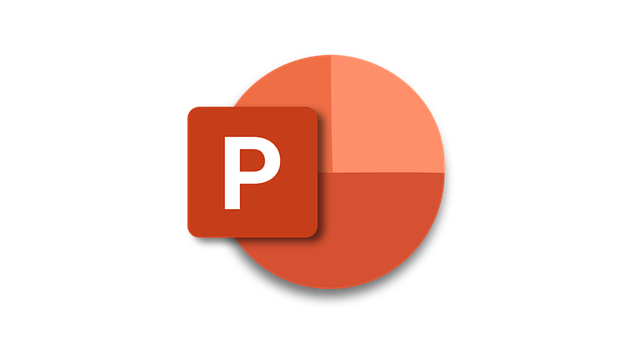 PowerPoint users typically turn to the classic program installed on their computer's. But did you know there's also an online version of the world's most popular presentation software? Welcome to PowerPoint Online.
Although it doesn't have some of the familiar tools from the desktop version (see Desktop version vs. PowerPoint Online: Advantages and disadvantages), the online version offers plenty of features to create professional presentations.
Since 2010, Microsoft has been offering its well-known Office applications (Word, Excel, PowerPoint, Outlook, etc.) as free online versions. All you need is a web browser (see PowerPoint Online requirements). The data processing of the web app runs via a Microsoft web server. Your data is also stored online in the Microsoft cloud (OneDrive).
PowerPoint Online: Where to find it
PowerPoint Online and the web app are free services. You can't download the web app itself – a Microsoft server collects your data. But you can download your created presentation slides and save them on your PC.
Here you can find the link to PowerPoint Online version. Log in with your Microsoft ID and select PowerPoint. If you decide to use the web app, you can find it here.
If you don't have a Microsoft account yet, create a free account and log into PowerPoint online here.
PowerPoint Online requirements
PowerPoint Online is straightforward and doesn't involve any complicated requirements. All you need is:
Internet access
A web browser (Mozilla Firefox, Edge, Chrome, Safari, etc.)
A Microsoft ID to log in (you can find this in your Office program on your PC if you use Office programs)
Enough OneDrive storage space, the cloud where your presentations will be stored (You get free OneDrive storage with your Microsoft ID)
PowerPoint Online requires you to register (log in) first. The login guarantees that your presentations will be saved on the web server be available the next time you need them.
The advantages of using PowerPoint Online
Does PowerPoint Online work the same way as the full version of PowerPoint on your PC? PowerPoint Online's features are extensive and more than enough to create a professional presentation.
There are features you'll have to do without in the online version. This is because some of them are technically not feasible online. To enjoy all of PowerPoint's features, you'll have to use the paid PC version.
We've compiled the most important advantages and disadvantages of PowerPoint Online for you here:
| | |
| --- | --- |
| Advantages | Disadvantages |
| Any presentation can be opened, even without a full PowerPoint version | Requires an internet connection Can't be used offline |
| PowerPoint Online is free and offers enough possibilities to create an impressive presentation | Sometimes slower than the desktop version |
| Big advantage over desktop full version: PowerPoint Online is always up to date | Functions are limited, but basic functions used for presentations are available |
| Accessibility: presentations are accessible from anywhere and on any device | Presenter View is not included |
| Slide Show View is available for sharing presentations with an audience | Selection of SmartArt slides is limited |
| Standard text and image formatting is available | Only online videos can be inserted, not locally stored video or audio files |
| Provides a large selection of symbols and icons | Diagrams can' t be created directly in PowerPoint Online, but have to be inserted via Excel and Copy + Paste |
| Automatic storage: presentation is saved on OneDrive, so no extra storage device (USB stick, etc.) is necessary | If the presentation was modified offline, problems may occur during the next OneDrive sync |
| Presentation can be easily shared through the cloud and simultaneous collaboration on the presentation is supported (chat function is also available for discussions) | Only 5GB of free storage; more storage is available for purchase via OneDrive or the paid, full version of PowerPoint for PC |
| | Microsoft cloud storage could cause issues if corporate privacy rules are strict |
How to create a presentation with PowerPoint Online
1. Open your web browser and go to PowerPoint Online (link provided above). Log in with your Microsoft ID.
2. You now have the choice to (a) continue editing an existing presentation, (b) create a new presentation, or (c) open a presentation from an external storage device.
a. Presentations that have already been created are displayed at the bottom center of the home page.
b. For a new presentation, go to New > Blank Presentation or select one of the suggested templates.c. Presentations saved on external storage devices (e.g., USB stick) can be uploaded, opened and edited by clicking Upload a Presentation.



3. To (re)name your presentation, select the presentation name box at the top and enter the desired name.

4. Now you can create and edit your presentation as usual using the various buttons (new slides, layouts, designs, content, animations, transitions, etc.).
5. The program automatically saves your progress to OneDrive, provided your internet connection is up and running. If you lose your internet connection, the program will synchronize when you reconnect.
6. Would you like to download your presentation or save it to an external device? Then click File and select Save As. You can also save it as a PDF or print it under File.

7. To show your finished presentation to an audience, select the Slide Show Presentation tab.
You can find a video tutorial here.
Alternatives to PowerPoint Online
Microsoft is just one of several companies that offer online solutions for presentations. Below, we've summarized the most important applications and their advantages and disadvantages.

Online presentations with Google Slides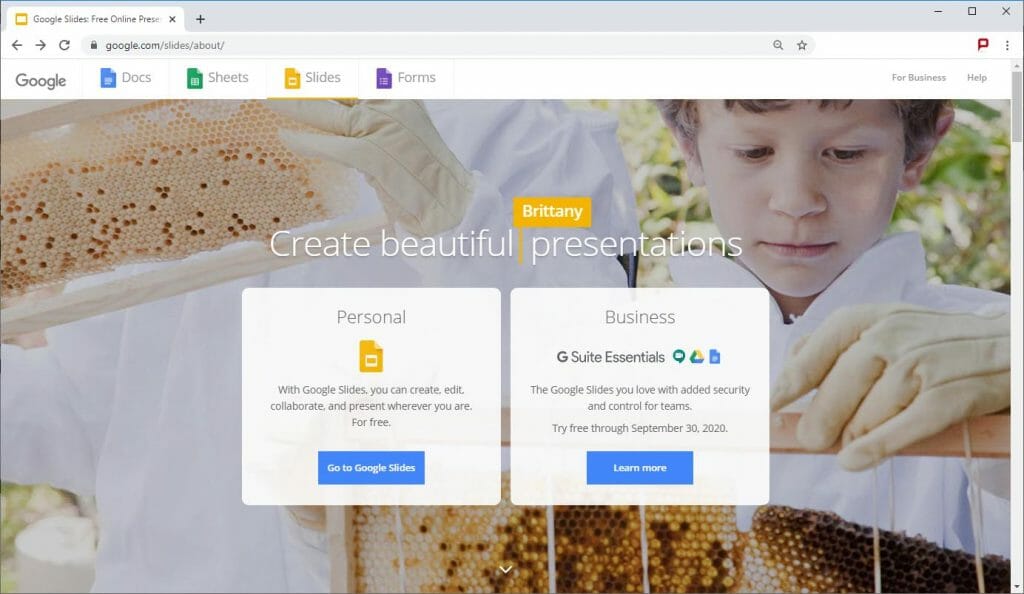 Google offers a free alternative to PowerPoint for presentations: Google Slides. Like Microsoft, you only need a Google account to use the program. While Google Slides doesn't offer as many features for effects and visual tweaks, you can create diagrams and edit the slide master. This allows you to easily create business presentations as well.

Collaborative work is easy with Google Slides. With just one click, you can share presentations via email or a link. You decide whether others can see, comment or edit your presentation. Just like in PowerPoint 365, it's possible to work on the same presentation at the same time. No matter where you are, you can create your presentations online, share and access them anywhere – completely free of charge.

Google Slides lets you open and edit PowerPoint presentations. You can add Google Slides add-ons that include additional features, such as special charts, templates and much more. But be aware: these add-ons are created by third parties and some of them require payment.

To use of Google Slides in larger teams, Google offers a business option and G Suite Essentials. These don't modify the program itself nor unlock any additional features. What they do offer are increased security features and team collaboration options. Google Business customers are given wide-ranging features for sharing. You decide who can download presentations, print them and see comments. Google is currently offering the business service G Suite as a free trial.
Click here to go to Google Slides.
Microsoft Sway




Microsoft Sway is a web application for creating professional presentations. Microsoft Sway has only been around since 2017 and represents a new approach to presentations: presentations are no longer based on pages (slides), as with PowerPoint Online, but can be scrolled through horizontally, like an eBook, or vertically, like a website.
Click here to go to Microsoft Sway.
Present Online with Prezi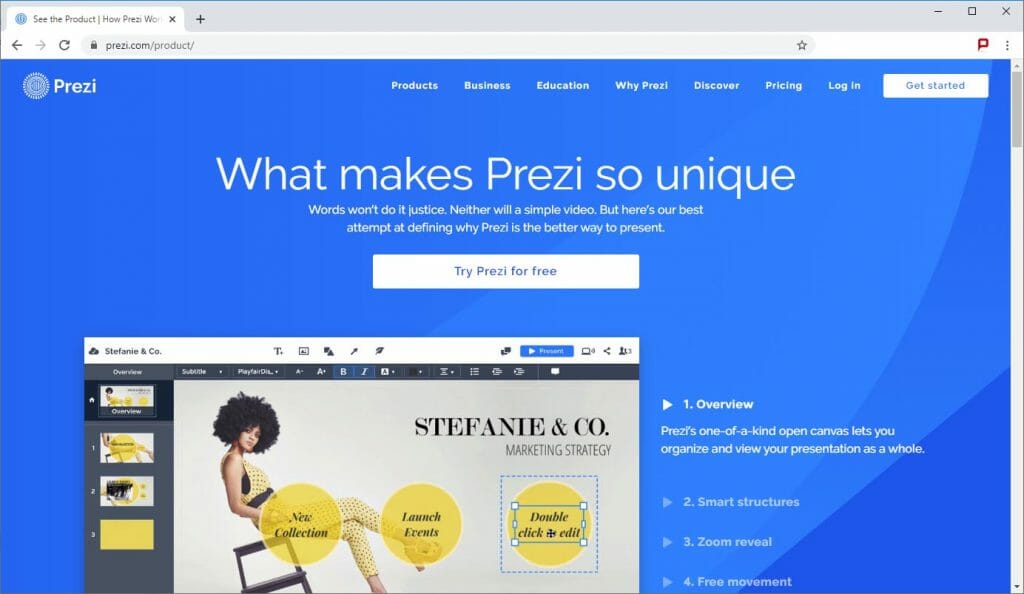 Prezi is another online presentation software provider. What makes Prezi unique is that it doesn't use slide sets. Instead, all the slides are part of a single, large slide that you navigate during the presentation.

Like Google Slides, Prezi is primarily marketed as an online service; offline versions of presentations are only available as part of a subscription plan. You can create presentations online via Prezi and also share them via a link. Up to ten people can work on a slide at the same time and you can see who's working on what in an overview window. Prezi allows you to control presentations remotely – if someone starts a presentation, you can guide them through it from wherever you are. This is especially handy when international teams are presenting a topic together. It also means that any cell phone can be used as a remote control, making you completely independent of on-site technical capabilities.
Click here for Prezi.
Adobe Express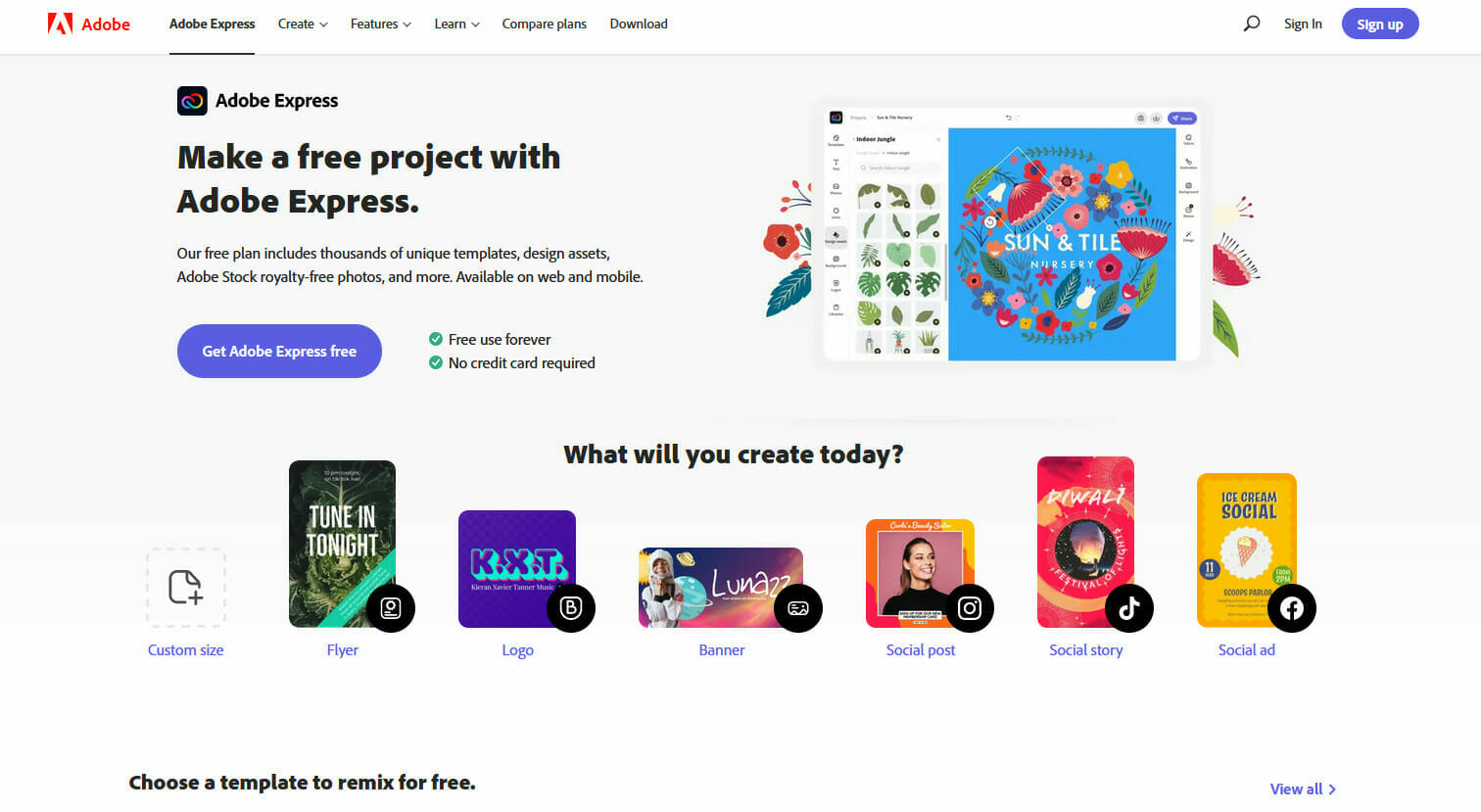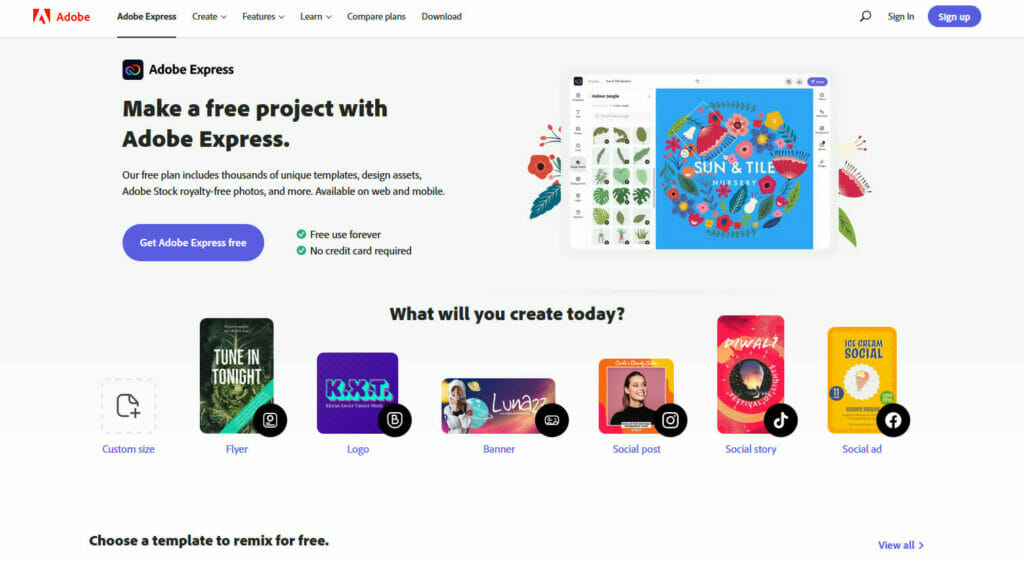 Adobe Express lets you create presentations for free – no design skills required. Adobe uses a presentation generator with design tools to create professional charts and presentations. In addition to pre-designed layouts, you can add videos and media to your slides and choose from templates with free images, video clips and icons.
Click here for more information about Adobe Express.
More online presentation options
There are plenty of options for creating presentations online. Sites like Zoho, Visme, Pitch and Slides all provide similar features to PowerPoint Online, Google Slides and Prezi.
PowerPoint stands out from the rest as the software that can be used completely and reliably offline. You can work on or present your presentations without an internet connection. You never know when you may need that option.
Pro tip: collaborate online
Finally, we'd like to mention a few applications that are designed to make online collaboration easier. Work is becoming more and more mobile and teams more international, increasing the demand for such solutions. These programs are also a great solution for small and medium-sized companies that operate domestically. Teamwork and effective knowledge exchange are important for every company!
Microsoft Teams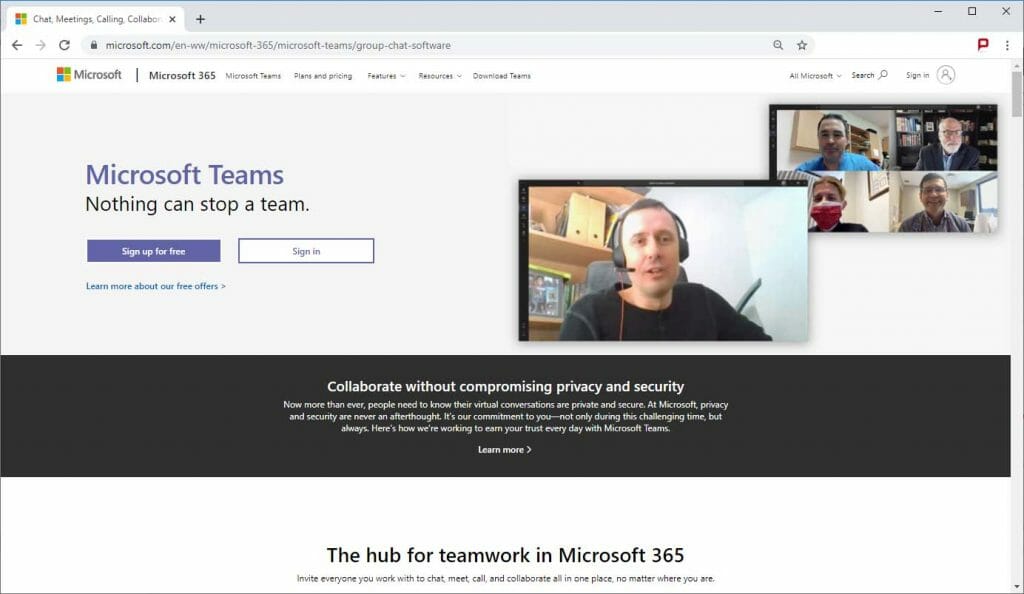 Microsoft Teams is a chat platform in Office 365 that is designed to facilitate and improve collaboration and communication. Messages can be sent to individual users, groups and team members. The real-time exchange makes communication that much more efficient. In addition to chat, Microsoft Teams offers a wide range of video and audio communication options.
Appointments with external parties and even entire webinars can be set up with Microsoft Teams. The program is ideal for improving collaboration between small and medium-sized teams and increasing efficiency in group work. Larger companies may find that collaborating online presents a logistical challenge. Teams has gradually developed into a robust solution for them as well.
Click here for Microsoft Teams.

Microsoft SharePoint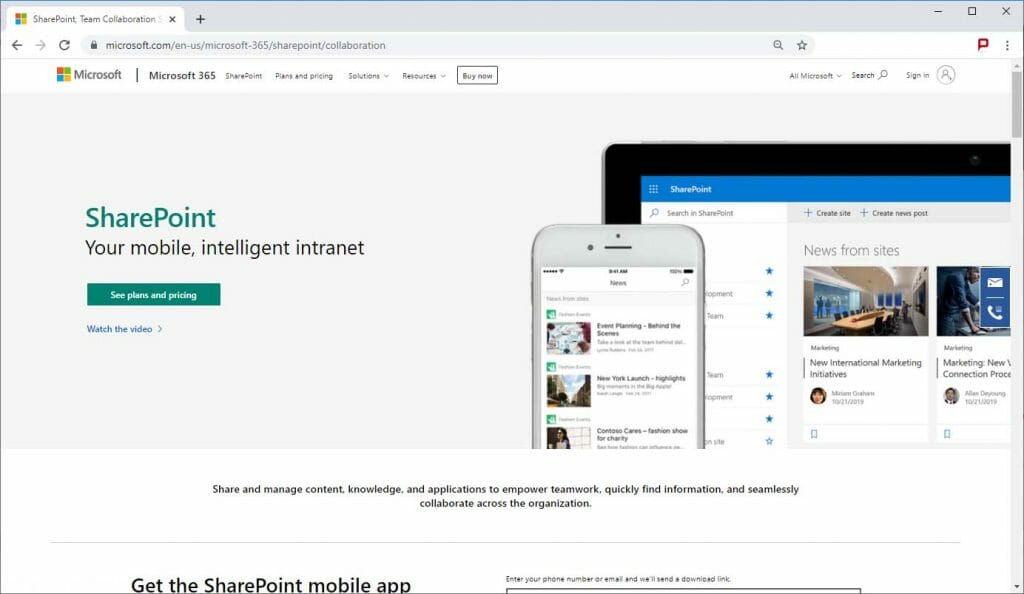 SharePoint is another web-based document management and collaboration platform developed by Microsoft. The program is geared towards large groups or companies that need a solid data sharing structure. SharePoint is excellent for storing data and documents and editing them together in real-time.
SharePoint 365, a cloud-enabled version of SharePoint, was introduced with the launch of Office 365. It augments the Office 365 applications and simplifies data sharing for collaboration. Depending on your needs, both Microsoft Teams and SharePoint are great tools for networked, team collaboration. You can also use these platforms to simplify both short and long-term collaboration.
Click here for Microsoft SharePoint.
Design high-quality presentations quickly and easily with PowerPoint Online!
PowerPoint Online offers users a free alternative to the fee-based, full version for PC. The online version allows you to create professional presentations and access many PowerPoint features. PowerPoint Online offers many advantages (e.g., automatic saving), but a few limitations as well. PowerPoint Online is nevertheless a viable solution for the average user.
With its straightforward user interface, presentations can be created quickly. Thanks to the Slide Show option, you can share your presentations and be ready for remote business meetings that are becoming commonplace in 2022.
For more ways to share your presentations live and online, check out this blog post.
Do you have questions about PowerPoint Online or general questions about PowerPoint? Please don't hesitate to contact us at [email protected] We'll be happy to help you! Are you looking for professionally designed templates for your presentation? Feel free to take a look around our online shop. You'll find modern and up-to-date templates for a wide range of topics and business areas.
These articles may also interest you: