Improving Presentations through Feedback: How to Receive Helpful Responses!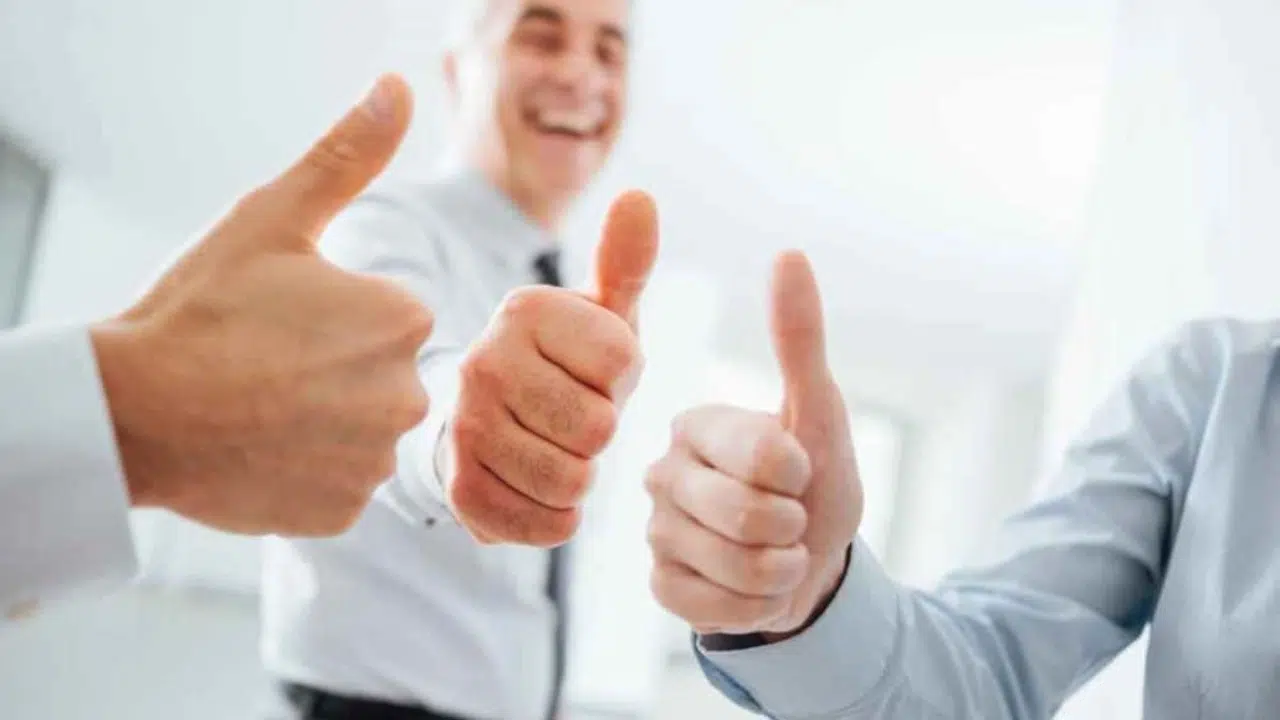 After the presentation comes before the presentation – the key to improvement lies in feedback. After a presentation, every speaker tends to review the performance and evaluate it. Did it go as planned? Was I confident enough? Was I able to convince the audience?
These questions can only be inadequately answered by ourselves, as we don't truly know how we are perceived by others – unless we simply ask them…
Why a presentation needs detailed feedback
The presentation is over. Technically, how it went doesn't matter anymore because nothing can be changed. This perspective can be fatal. There are good reasons why professional football coaches analyze games with their teams and why teachers encourage their students to correct their mistakes in exams.
It's about learning and training. It's about knowing our strengths and weaknesses and working on them. Only a few people are naturally good speakers. Everyone else also benefits from practice and working on their strengths and weaknesses. To identify them and improve, feedback is the best tool.
Why self-perception isn't enough: the Johari Window
Sure, to some extent, we can assess ourselves, and we should. Recording our own speech with a camera and tripod and watching it afterwards can be very revealing.
But self-assessment can also mislead us as it solely relies on our self-perception. And that perception can be both significantly more positive and significantly more critical than the image others have of us. Hence, for a realistic evaluation, we always need external perception.
The so-called Johari Window sheds light on this dynamic. The model by Joseph Luft and Harry Ingham illustrates the dynamics of self- and external perception and is based on the idea that communication can be improved by bringing these two spheres closer together.
The model is divided into four areas:
Public Self: This is the area that both we and others can see. It includes aspects of our personality that are known to us and are also perceived by others.


Blind Spot: This represents aspects of our personality or behavior that are not consciously known to us but can be recognized by others (e.g., facial expressions or body language). It's the blind spot in our self-perception.


Hidden Self: This involves aspects of our personality that we know but are not recognized by others. These are things we consciously hide from others.


Unknown Self: This is the area that is unknown to both us and others. It contains potential abilities, emotions, or behaviors that haven't been discovered yet.
In the context of self-reflection after presentations, the Johari Window can be a valuable aid. After a presentation, we have a subjective perception of how we presented ourselves, but this can differ from the actual perception of the audience. This is where the concept of the blind spot comes into play.
At this point, it's crucial to ask for feedback from your listeners. Through their insights, you can learn how you were perceived and reduce your blind spot. Moreover, you'll find out if your messages were conveyed as planned. With the information from the feedback, you can adjust future presentations and speeches.
Overall, the Johari Window enables deeper self-reflection after presentations because it encourages actively seeking feedback to gain a more realistic and comprehensive view of presentation skills.
Why Feedback is Important in All Industries
Feedback is important regardless of your industry affiliation. It plays a crucial role in skill development, performance enhancement, and fostering personal and professional growth. We've compiled an overview of why feedback is important in various industries:
Academic Environment: In the education sector, feedback is a central tool to promote learning. Teachers provide students with feedback on their performance to identify strengths and weaknesses. In higher education, feedback is crucial to deepen students' understanding and support their academic development.


Business World: In the business world, feedback plays a vital role in employee development and increasing efficiency. Regular feedback allows employees to review their performance, adjust goals, and enhance skills. Managers can use feedback to motivate teams and improve company performance. This category also includes presentations and feedback for speakers. Feedback from listeners in the business world can help adjust customer interests and further develop products.


Healthcare: Not to be underestimated – in healthcare, feedback is essential to improve clinical practice and optimize patient care. Medical professionals use feedback to refine diagnoses, adjust treatments, and increase patient satisfaction.


Technology and Engineering: In technical and engineering professions, feedback is indispensable to drive innovation and optimize products. Design and performance issues can be identified, and technical solutions can be improved. Here too, feedback through PowerPoint presentations can be important for advancing innovations.


Customer Service: In the customer service industry, feedback from customers is a key indicator of the quality of services offered. Companies use customer feedback to identify problems, make improvements, and increase customer satisfaction.


Journalism and Media: In the media industry, feedback from readers, viewers, and listeners is a significant factor. Journalists and media professionals use feedback to evaluate the relevance of content, maintain journalistic standards, and engage the audience.
Relevant Criteria for Constructive Feedback
It makes sense not to give or seek feedback in a general manner, but rather to think in specific categories. For presentation feedback, the following areas are particularly relevant:
• Content and Structure: Was the topic covered comprehensively and clearly? Was there a logical and coherent structure?
• Visualization: Was the presentation well-organized and visually appealing? Were visual aids used effectively?
• Language: Was the speaker easy to understand? How was the tone? Was the choice of words and expression appropriate?
• Body Language: How was the facial expression and gestures? Were there eye contacts? What impression did the body language convey?
How to Gather Feedback after a Presentation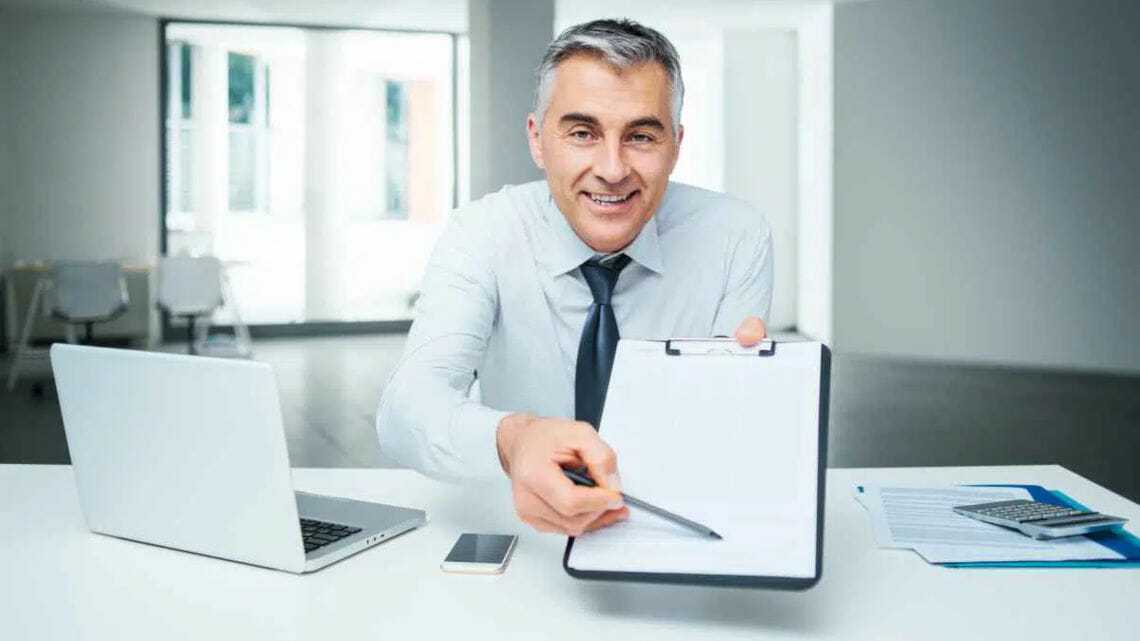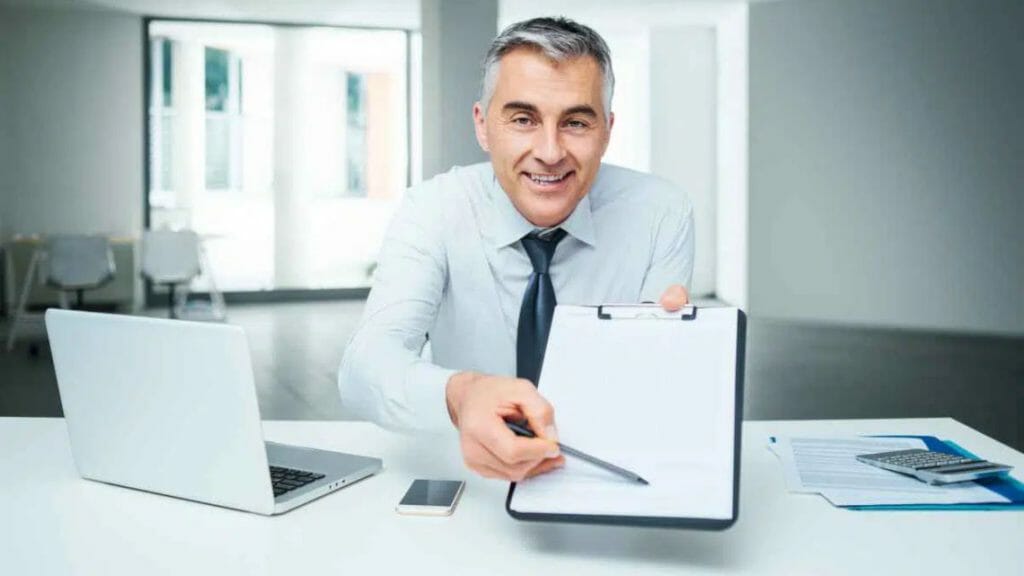 Feedback generally doesn't come on its own. If you want to receive feedback after a presentation, you need to actively seek it.
The choice of the right method to gather feedback depends on your target audience, presentation goals, and available resources. Integrating feedback tools and technologies allows presenters to collect feedback in diverse ways and continuously improve the quality of their presentations. In today's digital era, besides seeking feedback in person, there are numerous tools and technologies that can be used to efficiently and effectively gather feedback after presentations. These tools provide innovative ways to collect, analyze, and respond to feedback. Here are some examples:
Question and Answer Session after the Presentation
The most immediate way to use feedback is through the question and answer session following the presentation. This is where both direct and indirect indications of the presentation's success can be gathered. Indirectly, much can be inferred from the audience reactions.
Polite applause and an audience that seems eager to leave the room may not be a great sign. If there are many comprehension questions and doubtful looks, the presentation might not have been as clear and coherent as hoped.
For those seeking more detailed information, it's possible to directly ask the audience for feedback. If it involves people you interact with frequently (such as colleagues), you can also inquire later on. However, immediate feedback isn't always very fruitful and insightful, as many people are hesitant to openly express criticism – even if it's constructive.
How to manage questions and answer sessions and Powerpoint can be found in our article "PowerPoint Q&A".
Feedback Form with Standardized Questions
A feedback form that covers all relevant criteria can be very useful. It can be distributed or made available after a talk, either in person or via email to the participants. Since a feedback form can be filled out anonymously and at one's own pace, it's usually more productive than directly requested feedback.
Classic email surveys are still effective for collecting detailed feedback. Tools like Mailchimp or Sendinblue can help you create and send appealing survey emails. You can easily find templates for evaluation forms on the internet. Good and clear formats can be found, for example, here: link1 and link2.
They are practical and provide good ideas. Of course, a feedback form can also be created from scratch. You can be more creative and open in your wording (e.g., "In your opinion, what are three things that could have been done better in the presentation?").
Send Online Surveys to Participants
A third option for requesting feedback is through online surveys. They are created using appropriate tools and made accessible to participants via a link. The structure typically resembles that of a traditional feedback form. The biggest disadvantage here is that the feedback opportunity is often only accessed by a few people.
Possible survey tools are SurveyMonkey, Google Forms, and Typeform. These tools allow you to create and send tailored surveys. With pre-made templates or individually designed questions, you can specifically ask for opinions, ratings, and suggestions.
Another example of an online feedback platform is Provenexpert. Through this platform, you can easily send a survey to your participants, asking them to rate you with stars and provide a personal experience report. Of course, the more personal and closer your contact is with your audience, the more likely you are to receive a rating.
Here is my Provenexpert profile with numerous reviews I've collected over the years for my presentations and seminars: My proven expert profile.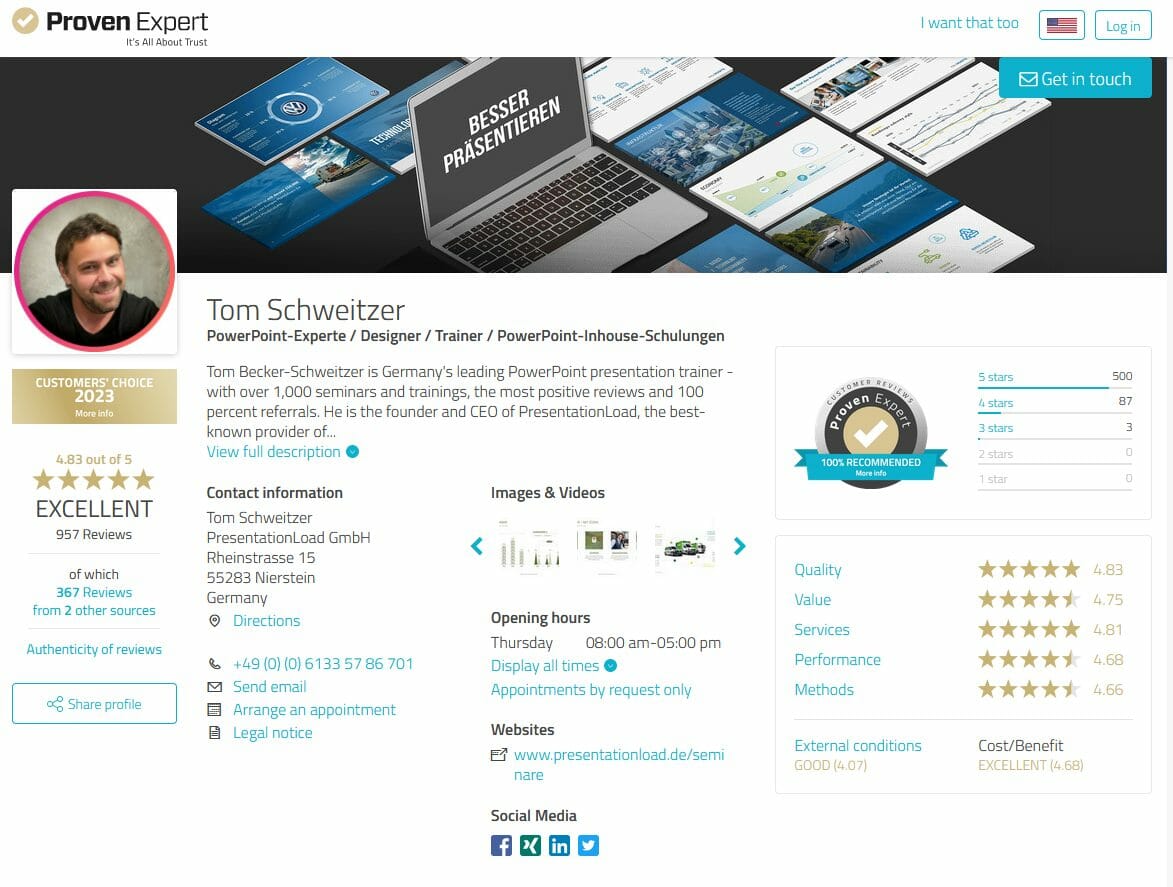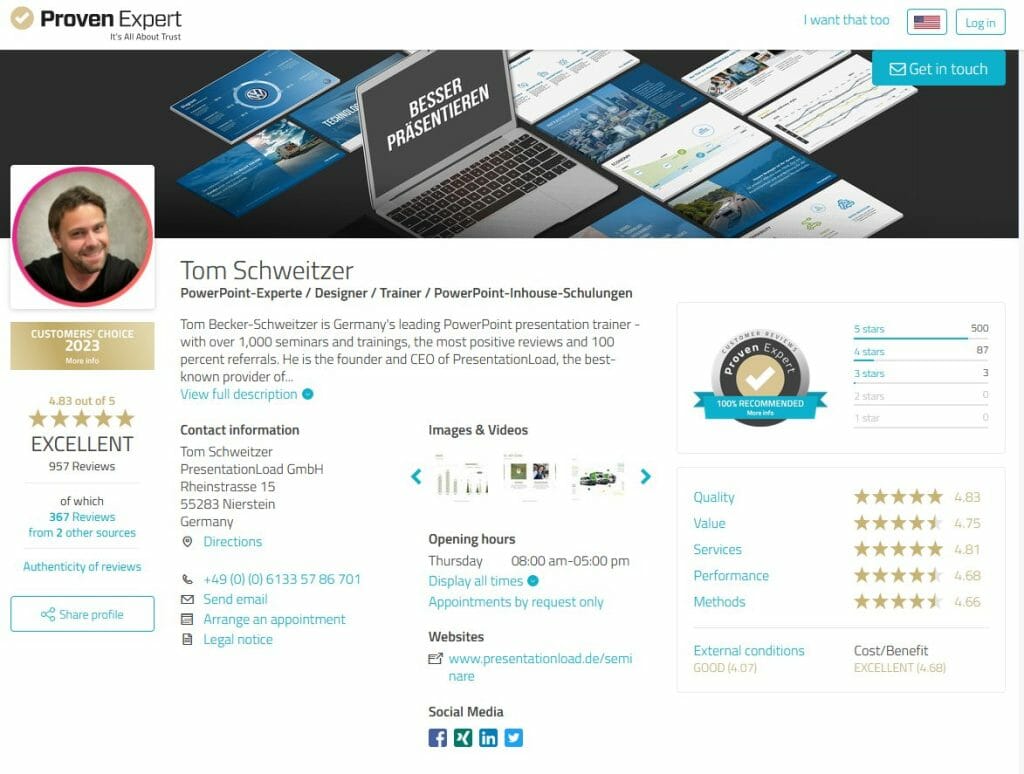 Platforms like VidGrid or Vosaic allow you to record your presentations and request targeted video feedback from the audience. This method offers not only verbal comments but also captures the body language and emotions of the feedback providers.
Similar to online surveys, one disadvantage is that this option is little used to provide feedback.
Feedback apps like Feedbackly, Emplify, or 15Five offer comprehensive options for gathering feedback. They enable continuous feedback, mood analysis, and team communication. For instance, you can include a QR code link within your presentation to directly reference the feedback opportunity.
Social media provides a straightforward way to gather feedback from a broader audience. Platforms like Twitter or Instagram allow for surveys or polls to quickly gather feedback (see the next subchapter).
Real-time Audience Interaction
Platforms like Mentimeter and Slido allow you to engage the audience in real time during the presentation. Participants can answer questions, express opinions, and conduct polls. This fosters engagement while providing valuable insights.
Using Social Media for Feedback
These days, reaching people through social media is effortless. Skillfully leverage social media platforms to gather feedback. They offer an effective way to collect feedback from a wider audience and gain valuable insights into how your presentations are perceived.
Moreover, using social media has the advantage of allowing you to gather opinions from individuals across different regions and backgrounds. This way, you receive feedback from a diverse audience.
Through various forms of interaction, you can gather opinions, ratings, and suggestions from a diverse group of people. Here are some ways you can use social media platforms for feedback:
Polls and Voting: Social media platforms enable you to create polls and voting options to gather targeted feedback on specific aspects of your presentation. You can ask questions related to content, structure, or presentation style. Involving your followers allows for quick and easily understandable feedback.


Comments and Discussions: After sharing your presentation on social media platforms, you can encourage comments and discussions about your content. Readers can share their thoughts, opinions, and suggestions, fostering open feedback interaction. Collecting different perspectives can help you understand various viewpoints and identify areas for improvement.


Direct Messages: Some platforms allow users to send you direct messages. Here, you have the opportunity to receive personal feedback that might not be shared publicly. These direct conversations can offer detailed insights and encourage open exchanges.


Story Features: Platforms like Instagram and Facebook offer story features where you can post short surveys or questions. This allows you to receive real-time feedback while enhancing the interactivity of your followers.
Handling Feedback in Presentations
Dealing with presentation feedback is typically similar to handling product reviews on major online stores. There are some overly enthusiastic 5-star reviews that make you doubt their authenticity, and there are some 1-star reviews that suggest the buyer might have been simply incompetent for the product.
In between, there usually exists a larger pool of mixed reviews that mention pros and cons, which often prove to be the most helpful. Such a distribution also often emerges in feedback for presentations, and in principle, it can be dealt with in the same way. What matters are the overall impression and the relevant pointers.
When it comes to handling feedback, the following tips should also be considered:
• Welcome All Feedback: Every listener is entitled to their opinion. Regardless of the content or the person delivering it, feedback should be accepted with gratitude. It's worth noting that the source of the feedback, whether it's from a superior or an apprentice, shouldn't matter.
• No Feedback on Feedback: Especially with direct critical feedback, there's often an inclination to debate, defend, or justify. However, it's often better to simply accept what's said with a thank you, regardless of whether it's perceived as justified or not.
• Feedback isn't Binding: Speakers also have the right to their opinion. Not everything mentioned in feedback needs to be implemented. What to change or implement is ultimately a personal decision.
Feedback is Not a One-Way Street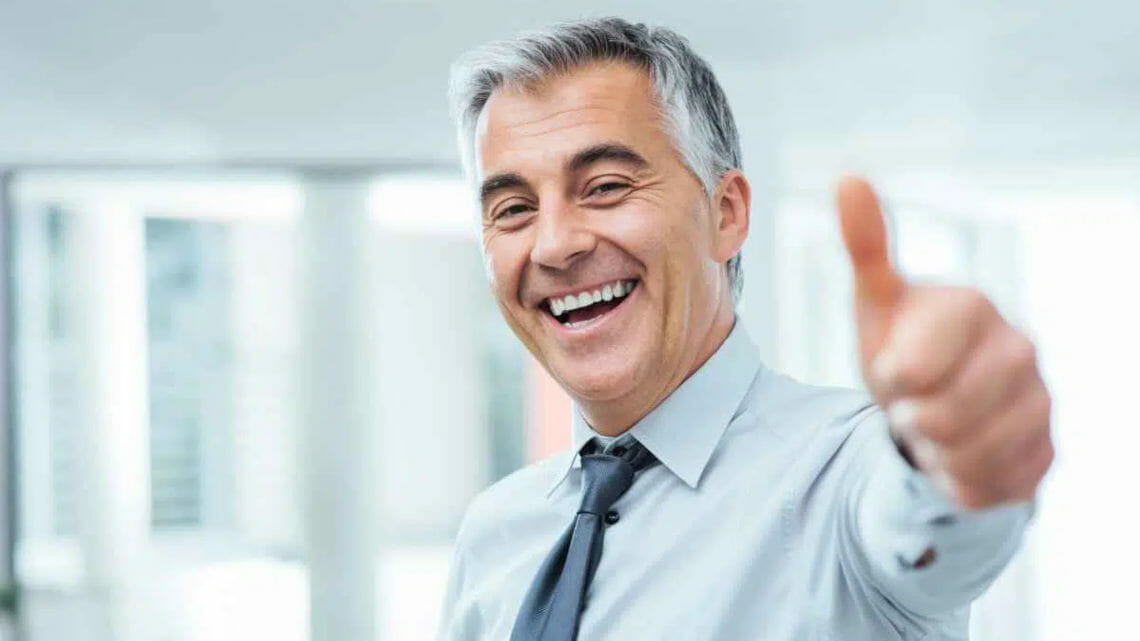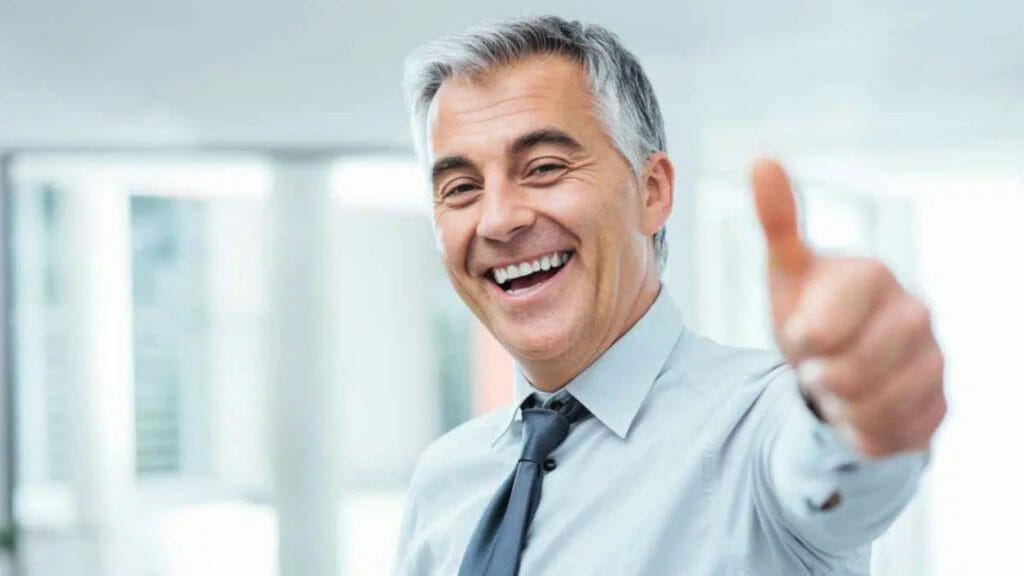 For those who appreciate valuable feedback, they should also be able to respond appropriately when asked for their own evaluation. To make feedback truly useful and helpful, it should fulfill the following criteria:
• Be Specific: When requesting feedback, it's not just about receiving praise or criticism; it's about getting specific pointers. For example, rather than saying "The presentation was engaging," it's better to say "The use of examples to illustrate individual factors made the presentation engaging."
• Use "I" Statements: When giving feedback, you can only speak for yourself. Therefore, use first-person statements and not terms like "one."
• Offer Improvement Suggestions: Constructive feedback ideally should be positively formulated and include improvement ideas. For instance, instead of saying "You spoke too quickly," you could say "I would have found it easier to follow the presentation if you had spoken slower and incorporated more pauses."
• Include Positive Criticism: It's often forgotten that criticism doesn't necessarily have to be negative. Learning what aspects of a presentation were well received can be just as important for presenters.
• Describe Instead of Judge: Feedback should describe the personal perception. Judgments or accusations are inappropriate. For instance, rather than saying "Your presentation was bad because you just read from the slides," you could say "Since you read a lot from the slides, I felt the audience interaction was lacking."
No Feedback Without Respect
Valuable feedback is closely tied to mutual respect. This should always be kept in mind by both those providing and receiving feedback. Feedback should be seen as a means of guidance and assistance, not a tool for evaluation. When given and received correctly, feedback can be extraordinarily useful.
Moreover, constructive feedback and even criticism can mean more recognition and respect than insincere praise. This sentiment was likely acknowledged by philosopher and mathematician Bertrand Russell when he stated:
Find more pleasure in intelligent dissent than in passive agreement, for, if you value intelligence as you should, the former implies a deeper agreement.

Bertrand Russell
Conclusion: Skillfully Gathering and Implementing Feedback
In conclusion, adeptly seeking and implementing feedback can help you keep your presentations more professional and tailor your content to your target audience. Consider which feedback-receiving method works best for you and give it a try!
If you have questions about the article, feel free to email us at [email protected]. We're here to help!
Looking for visually supportive and professionally designed slide templates? Browse our shop. We have numerous slides available for download covering various (business) topics. Check it out today! ► Visit the Shop
You might also be interested in these articles: