Reel in Customers with the Right Social Media Strategy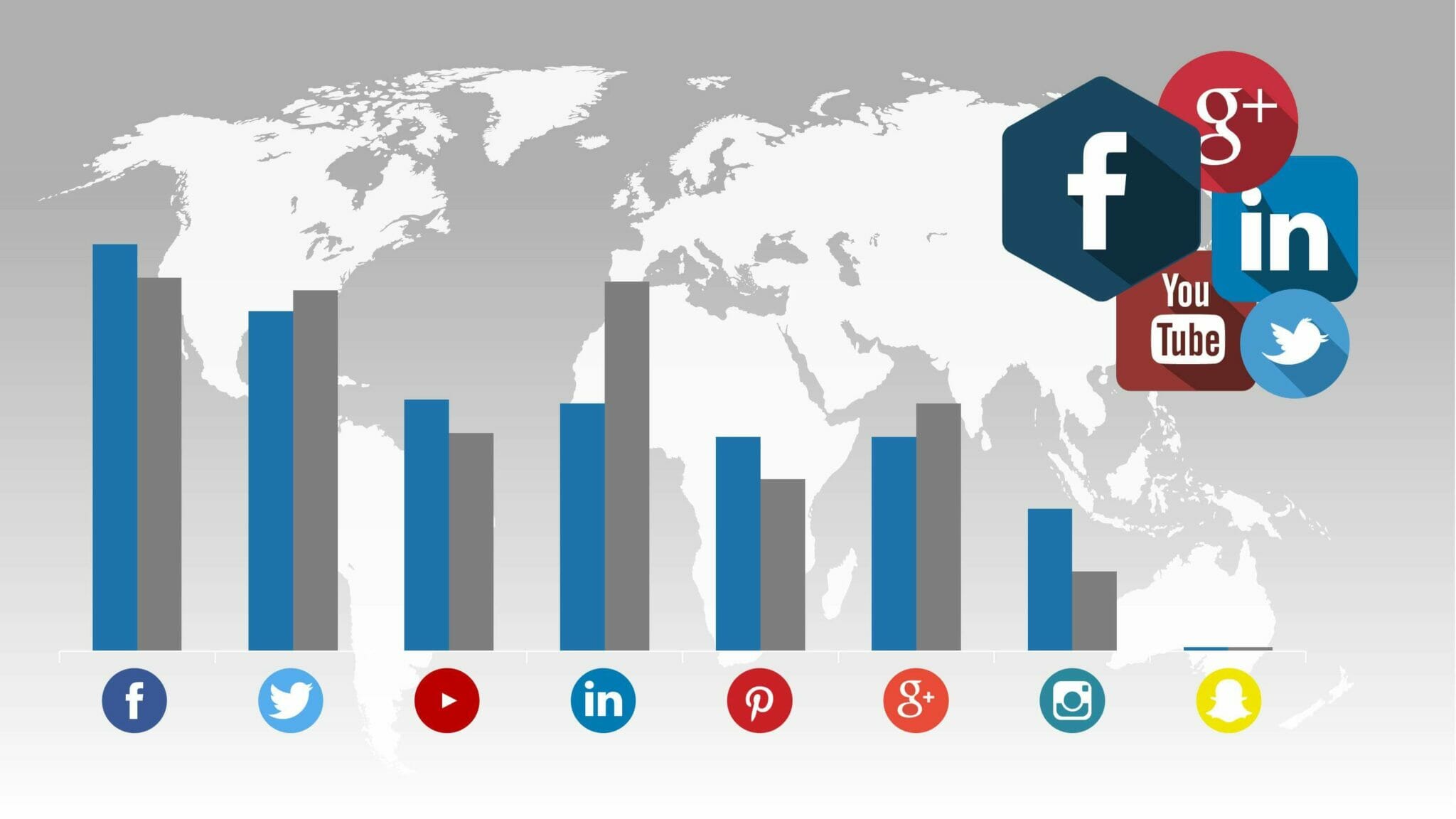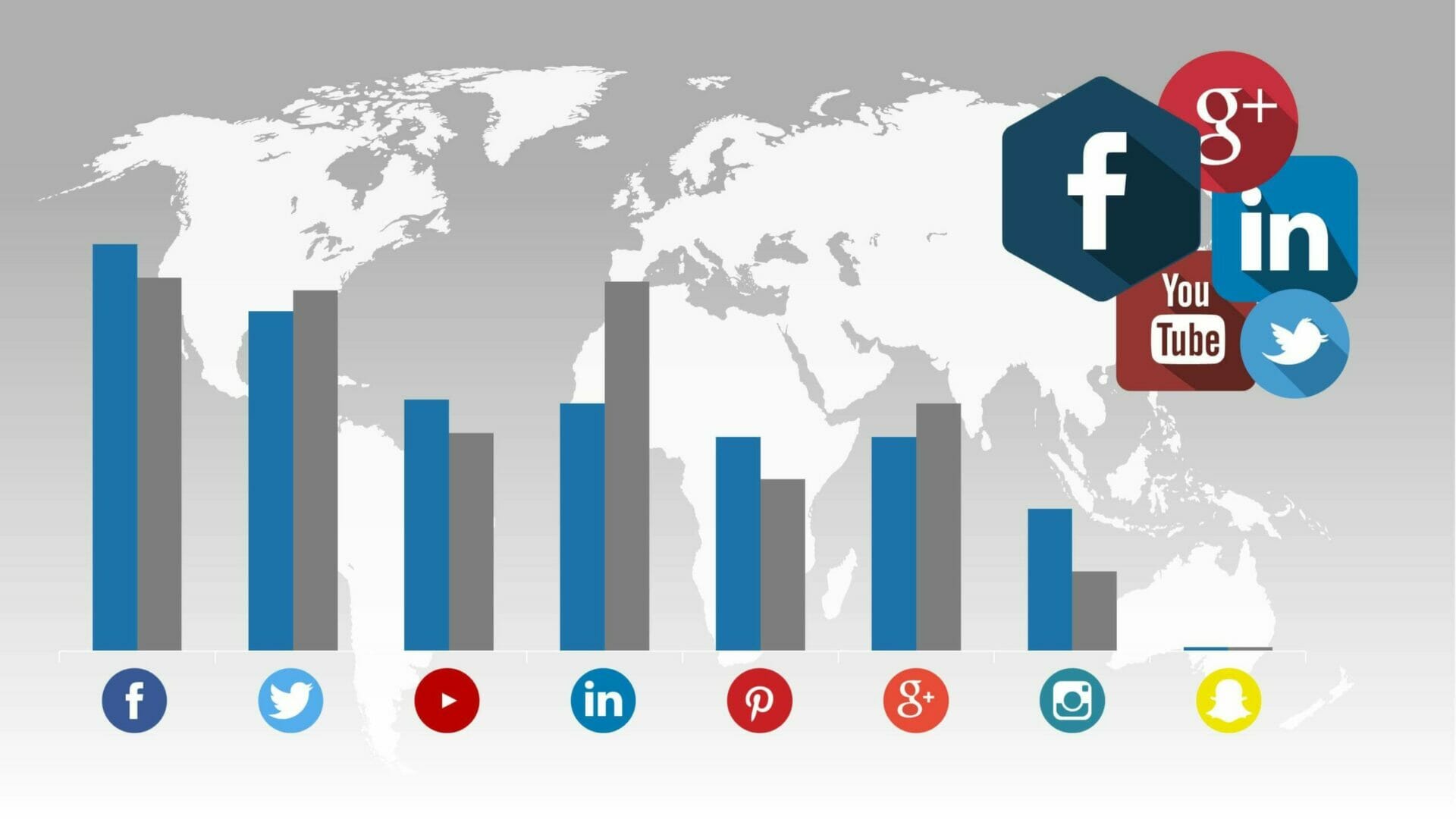 No doubt that social media is more than just a leisure activity, but also a critical tool for businesses. Since 68% of all internet users use social media, it is imperative for companies to reach their potential customers via social. We have therefore put together some valuable cross-industry information about the implementation and optimization of your social media strategy so that nothing stands in the way of success.
Know Your User
Dr. Roland Heintze, a social media expert at Faktenkontor, knows that social media has immense potential for promotional communication. Data shows that the buying interest of users increases through social media by 54.1%. Obtaining corporate information through social media has increased by about 10% since 2013 (to 2015). According to Dr. Heintze, an individual strategy that targets certain channels is particularly important when approaching potential buyers depending on the sector and target group.
In recent studies about social media, some interesting indicators were identified containing valuable information about user behavior. They were especially instructive for companies who want to use social media for themselves.
The infographic shows that social media is used much more passively than actively. Articles and pictures are circulated through sharing, liking and commenting on content. Over half of users visit social networks several times a day, especially YouTube and Facebook. As it might be expected, the percentage of those who use social media decreases with age. Interestingly, half of the users research companies via social platforms. Favorite brands are supported by likes, but also through sharing content.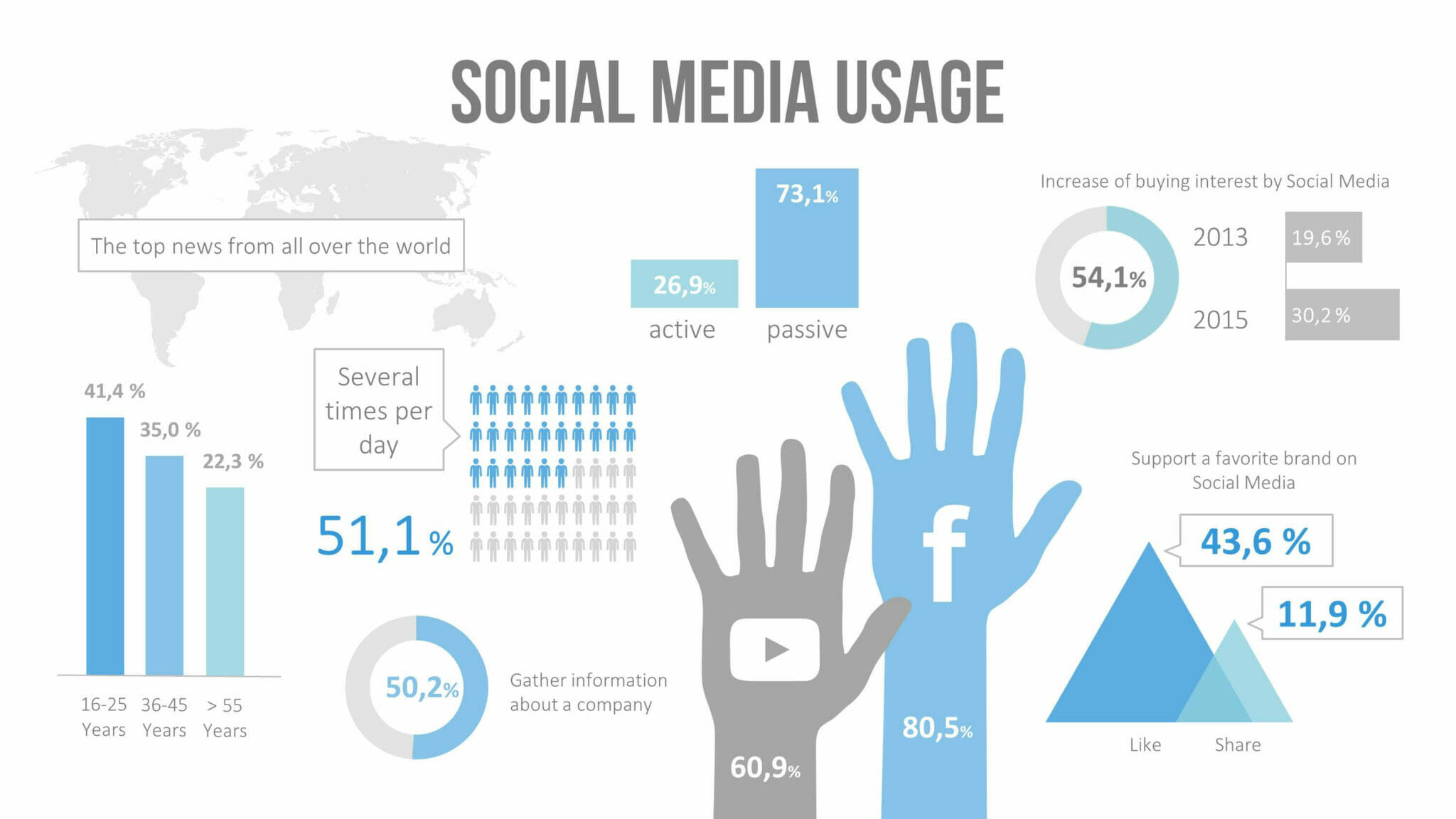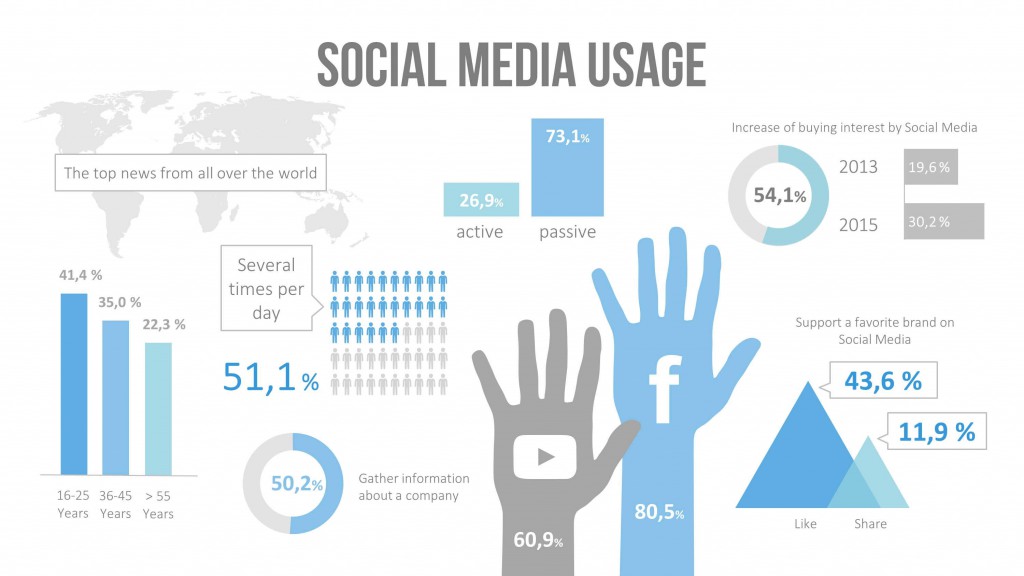 Good Time Management

A well-thought out time management for publications on social media platforms is the alpha and omega of a successful appearance of your company on the net. Typical, a great time to post to receive an above average to good feedback is between 8pm and 8am. This is primarily because you increase the customer layers you can reach in different time zones. Throughout Germany, recommended times for social media activities peak in the afternoon, but even more preferable is the evening, after work. Users have the most time to be on social media after work, from 7pm to 9pm. However, the right time is always dependent on the corresponding channel. At least one or two posts per day should be published on each social media channel. This ensures greater user loyalty to the brand and the company. To confirm this impression, it is advisable to respond within a maximum of 30-60 minutes to requests or mentions on social media.
Show Presence …
The role of classic advertising – the general appeal to as many people as possible – has been decreasing more and more. By contrast, the new strategy is to address (potential) consumers personally, to be open, present, and willing to answer questions. Therefore, social media shouldn't be more important, but equal to blogging and face-to-face or e-mail contact. Establishing client contact and keeping in touch is crucial – it's about the individual, not the profit.
… and Remain in Contact
After personal contact has been established, the interaction with other users is essential for entrepreneurial success on social media. You should be especially active in interactions in which a big number of people are participating. Valuing others' opinions is just as, if not more important than expressing yourself. It shouldn't all be about your products, but primarily about the interests of your costumers. Your business should be publishing topics that others like to share instead of content that only serves your own enterprise or brand. The (in)direct prompting to share posts is what's known as a "call to action" (CTA). Compared to other messages, these posts that invite the reader to like, share or comment, evoke involvement among followers that is three times as high.
Observe Analyses
To develop and to successfully implement your social media strategy you should study analyses and data collections on individual social media channels. The data ultimately serves to evaluate your chosen strategy and facilitate constant adjustments and optimization to stay up-to-date. As previously mentioned, not every social media channel has the same strategical marketing value for every branch. Monitoring the development of individual channels guarantees the use of suitable platforms.
Develop Your Strategy
In recent years, social media have taken on a pivotal role in the "battle for costumers". Since every firm has its own structure and operates differently you will never find a general strategy that is universally applicable. It is your responsibility to find out which social media channel works best for your individual needs – for wherever your customer is, you'll have to get there fast!