Scan&Paste for Office 365: A Quick Way to Insert Images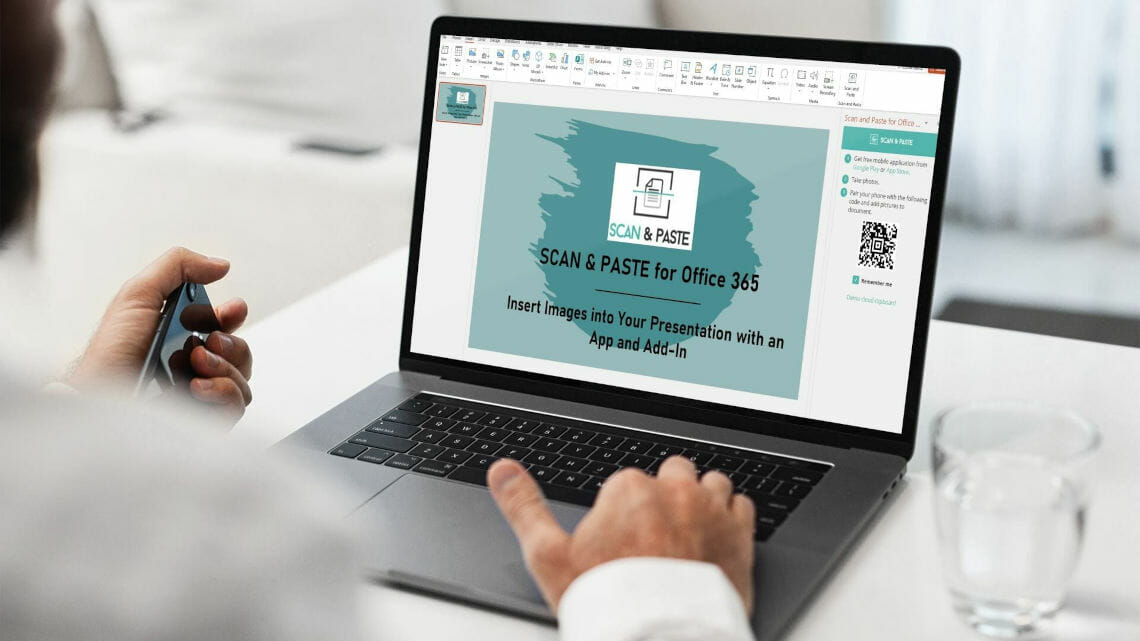 Ever had this problem? You have a picture on your phone that you want to insert into your PowerPoint presentation. But to do that, you need to go through a series of complicated, time-consuming steps. And who wants to do that?
Don't worry, there's a quick and easy solution: the Scan&Paste add-in for Office 365 PowerPoint. All you need to do is download an app on your smartphone and install the add-in in PowerPoint. Now you can access and insert your mobile images directly into PowerPoint without any tedious steps!
The Scan&Paste add-in: what is it exactly?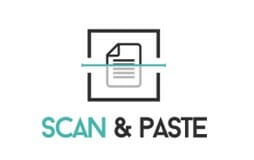 The Scan&Paste add-in is a great tool if you want to quickly scan images with your smartphone and add them to your PowerPoint presentation. Inserting images has never been easier!
Simply install the Scan&Paste app from Primesoft Polska Sp z o. o. on your smartphone and download the add-in into your PowerPoint.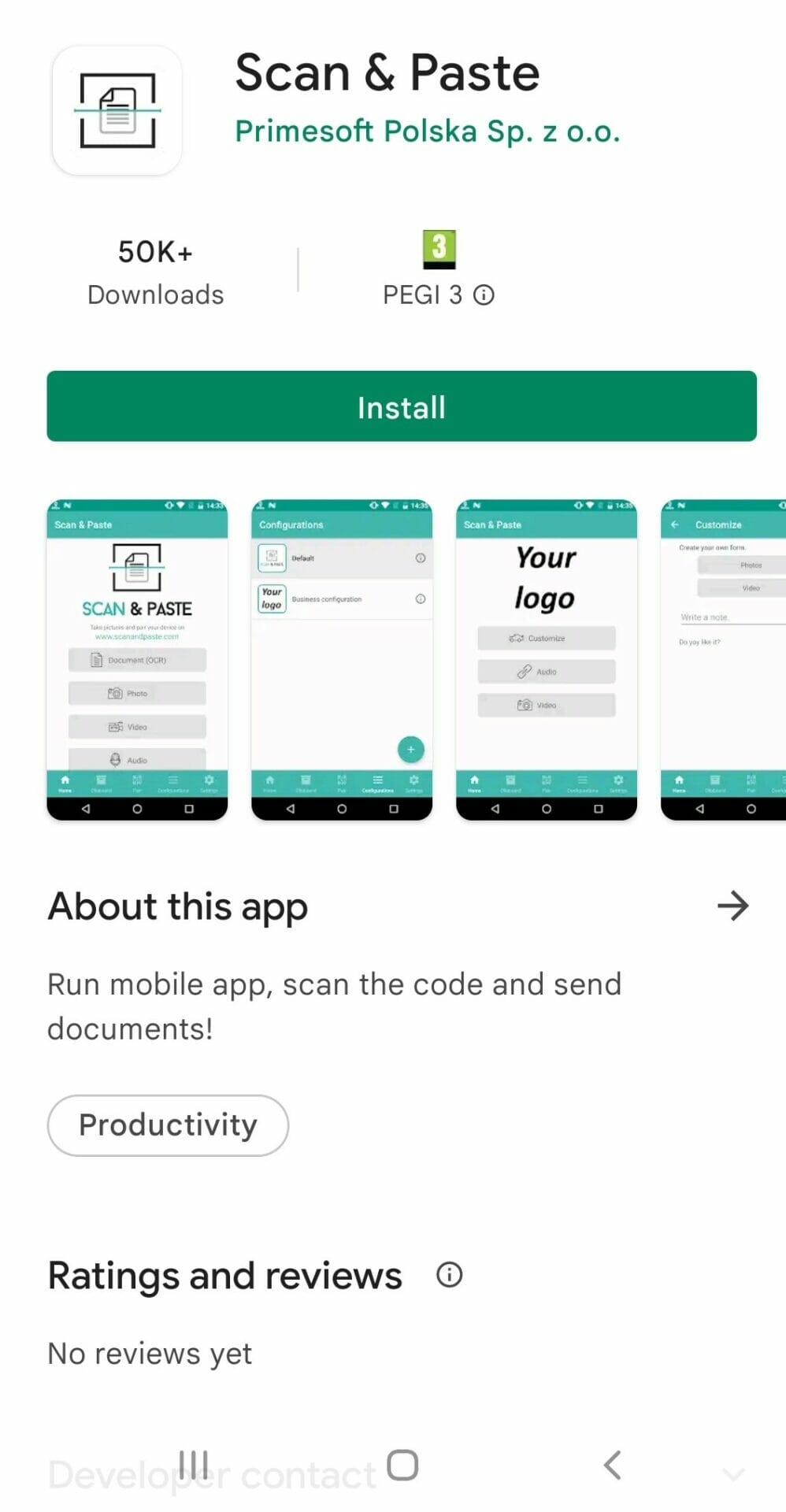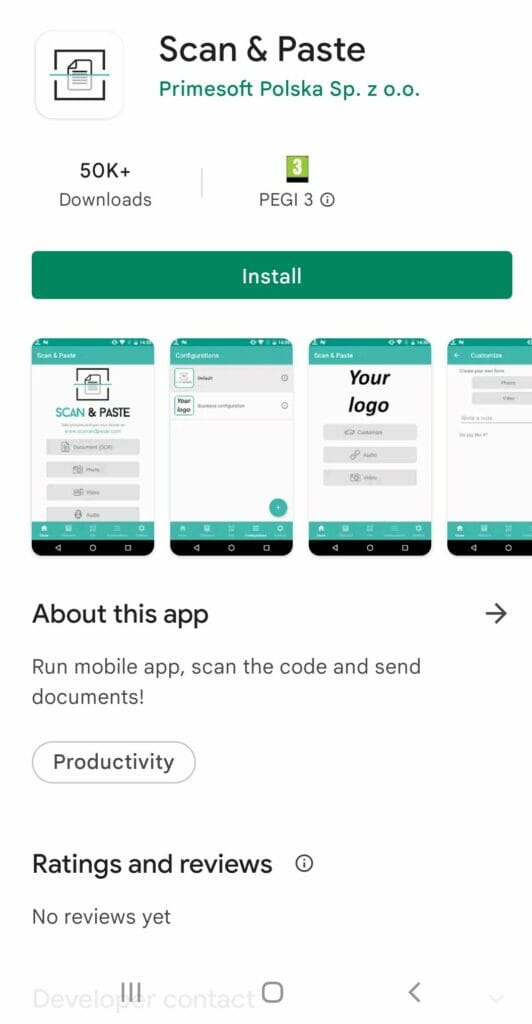 No account is required to use the system; you don't need to provide a username or email address or connect to other authentication systems. That means you can work completely anonymously. Simply scan the add-in's QR code in PowerPoint using your smartphone. The app is now coupled with your Office program. You can now see and access your images directly in PowerPoint.
Here's a video showing you how it works.
With over 50,000 downloads, this "insider tip" app is on the verge of becoming really popular. It doesn't matter whether your operating system is iOS or Android. You can install the app via the Play Store or App Store for the following versions:
Android 4.1 or higher
iOS 11.0 or higher
Please note that the add-in is only available for Office 365 and newer versions.
The app scans your documents and exports them as JPEGs or multi-page PDF files. Your files are temporarily stored in a cloud and deleted after 7 days.
Advantages of the Scan&Paste add-in
Enjoy the following advantages when you use the add-in:
Saves time: No time-consuming steps when transferring images from your smartphone to your computer.
Easy to use: Add your images to PowerPoint quickly and easily.
Free of charge: App and add-in are available to you free of charge.
Anonymous: You don't need to create an account or provide any other personal data in the app.
Access images directly from the PowerPoint window: You don't need to open additional tabs on your PC to access the images, you can see them directly within your PowerPoint window.
Pictures are saved in JPEG format: Your images are directly available as JPEGS – you don't need to use any conversion tools to insert your picture into PowerPoint.
The app can also be used for Outlook (see next paragraph)
You can opt for the business version (see below)
Scan&Paste add-in: Also available for Outlook
The app works with Outlook, too. You can attach the scans/images in JPEG, PDF or zipped format to your Outlook emails directly from your smartphone.
Here's a short video about Scan&Paste for Outlook.
Tutorial: How to install the Scan & Paste add-in to PowerPoint with just a few clicks
PowerPoint add-ins provide you with additional functionality and personalized features for your PowerPoint program. Follow this step-by-step guide and install Scan & Paste for Office 365 to quickly insert your scans and pictures.
Step 1: Open your PowerPoint presentation. Go to Insert and select Get Add-ins.


Step 2: A new window called Office Add-ins will open. Here you'll find a search window in the upper left corner. Enter the search term Scan&Paste.

Step 3: You'll now see the add-in. Click Add and accept the privacy policy. The add-in is now successfully installed and can be accessed under Insert > My Add-ins.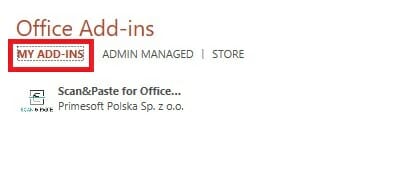 Once installed, an icon for the add-in will appear in your ribbon. Click on it, open the Scan&Paste add-in and try it out!

Scan&Paste Business: Even more options
Excited about the add-in and want to unlock more features? Then try Scan&Paste Business. Visit this link to create your account.
With Scan&Paste Business, you can create your own configurations including forms and scenarios. You can integrate a variety of modules, such as images, audio, video, text boxes, check boxes and OCR into your forms and distribute them to other users (via email, a card with a code) who will read them with their Scan&Paste apps. After that, they can fill in the forms and send them to the configuration store.
Log into the Scan&Paste portal to view the data entered by the users. Remember, this data is only available for 7 days from the time it lands on the platform.
How to use Scan&Paste Business
Here's an example of how to use the app. We want to insert an image into our PowerPoint.
Step 1: Open the app on your smartphone.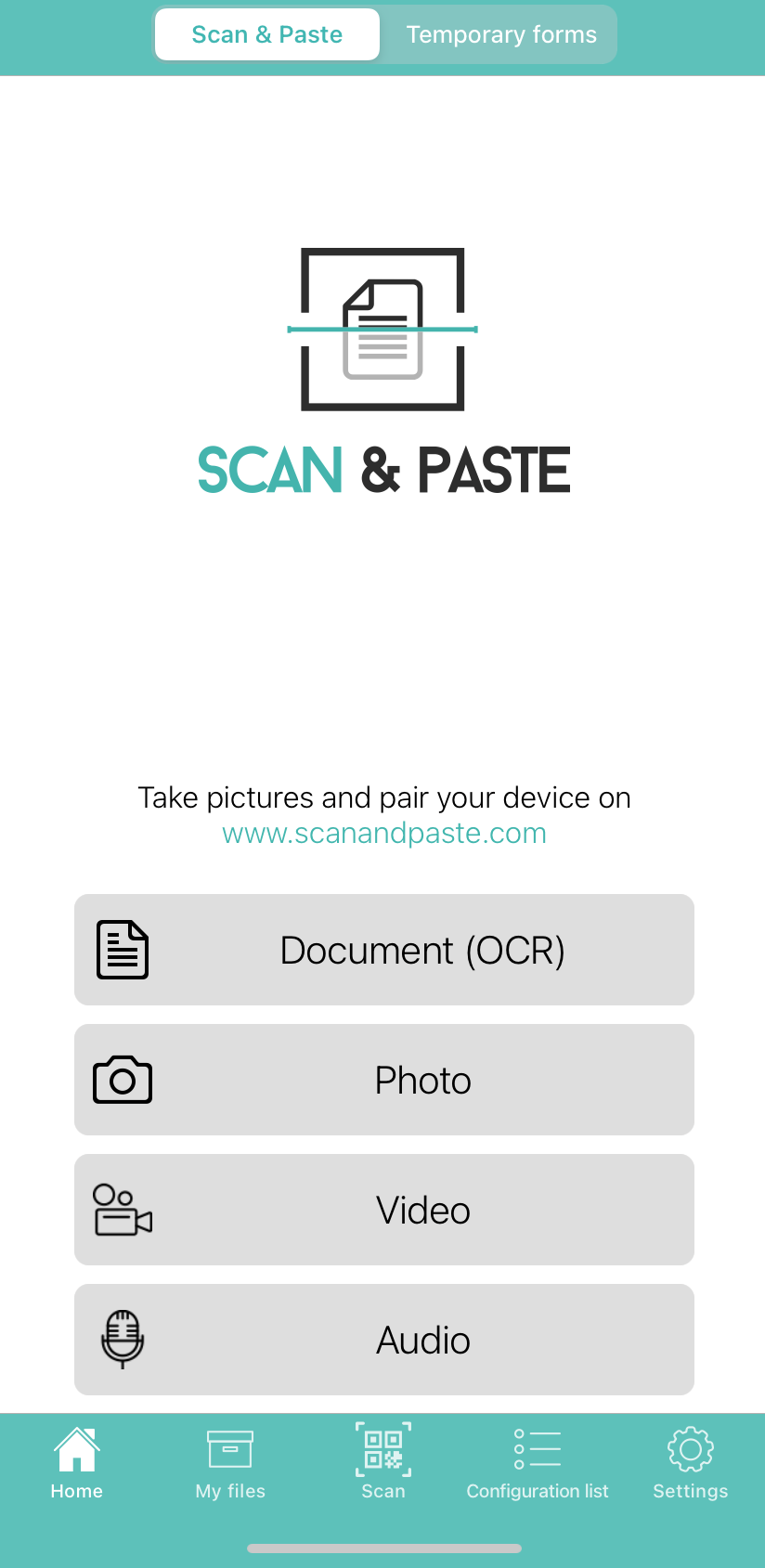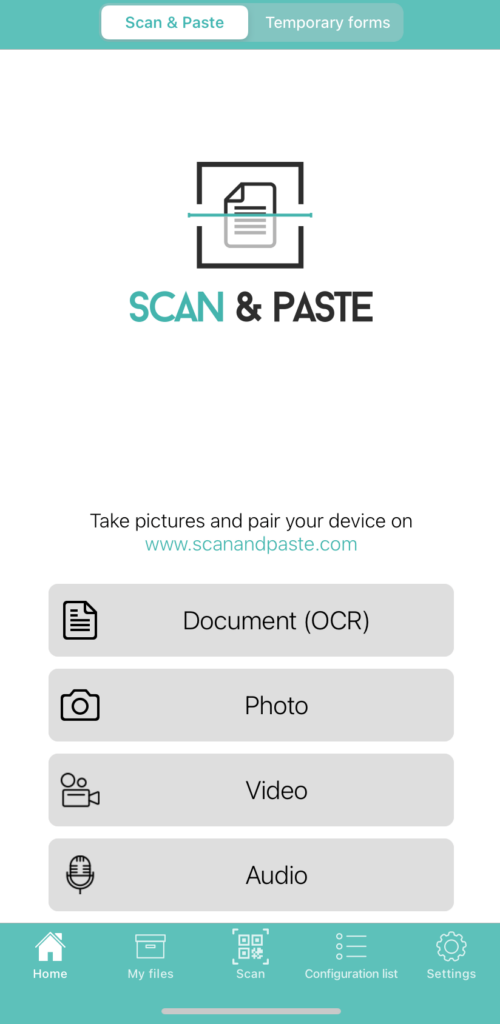 We're using the Photo option. As you can see, you also have the option to record and upload videos or audio files.
Step 2: After clicking on Photo, we need to select our image. The image we want to use can already be found in the gallery.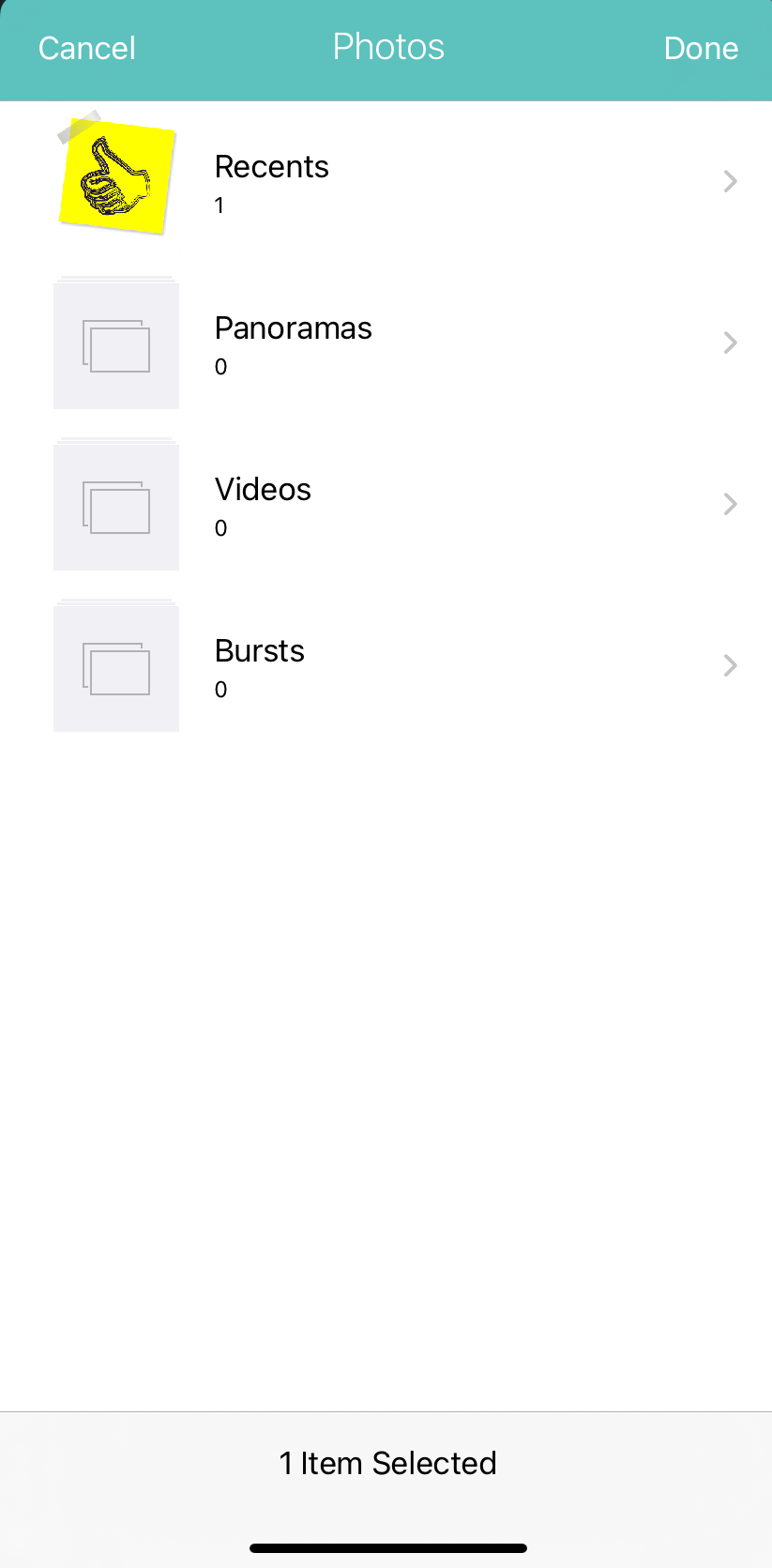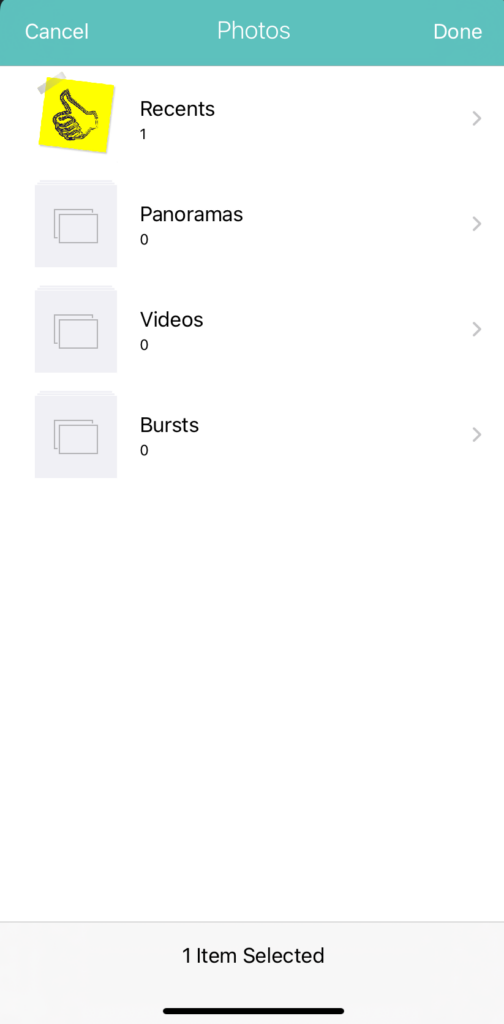 Step 3: We select the photo we want and click Done. At the bottom of the app, you can see how many files you've selected.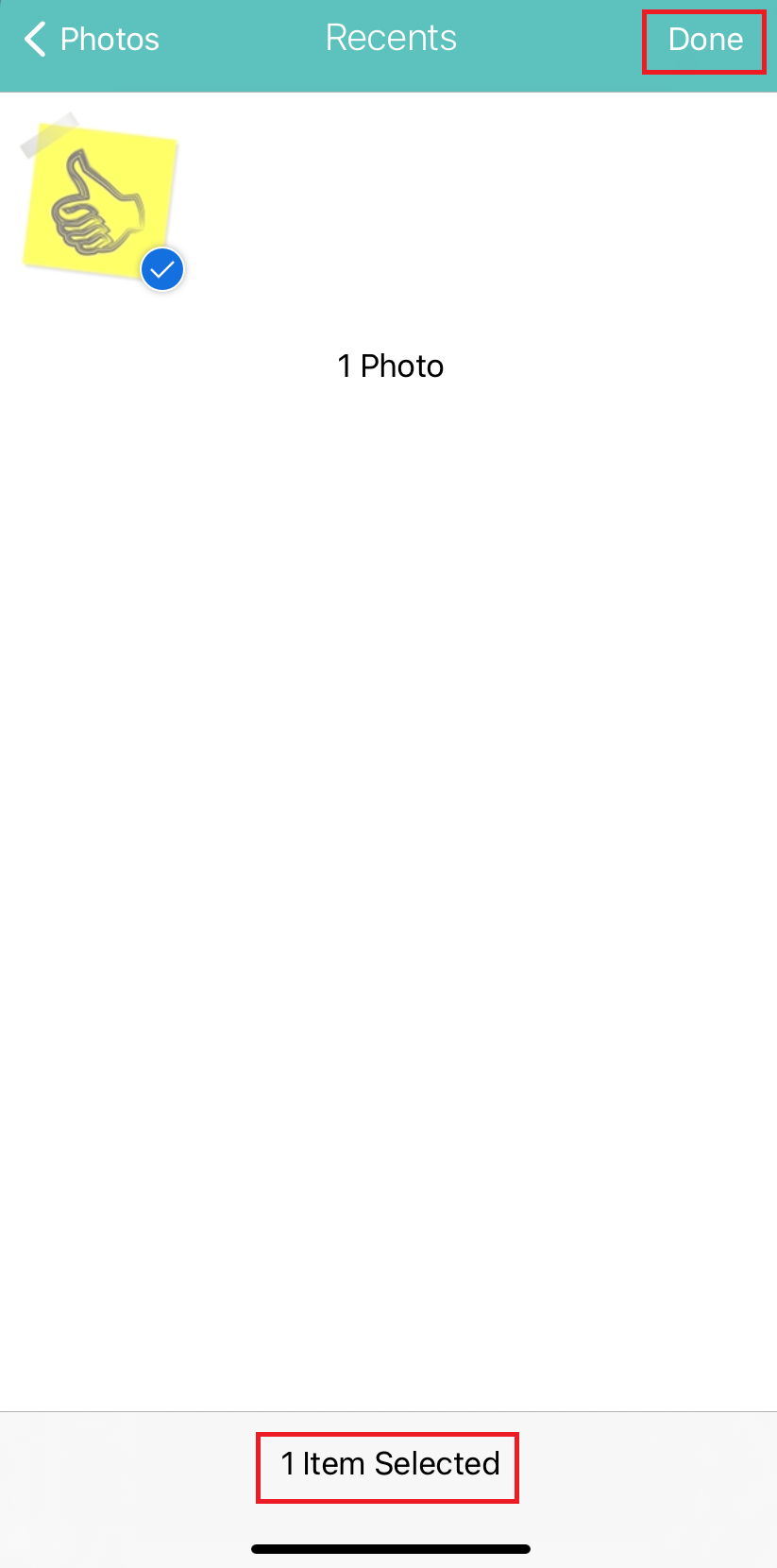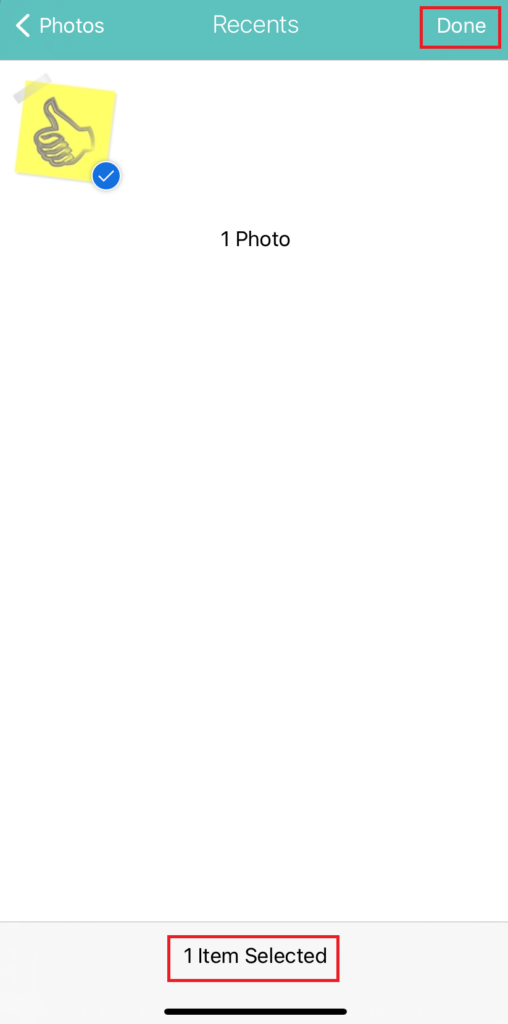 Step 4: The photo will now upload (you'll see a loading bar). If you want to stop the upload, press Cancel.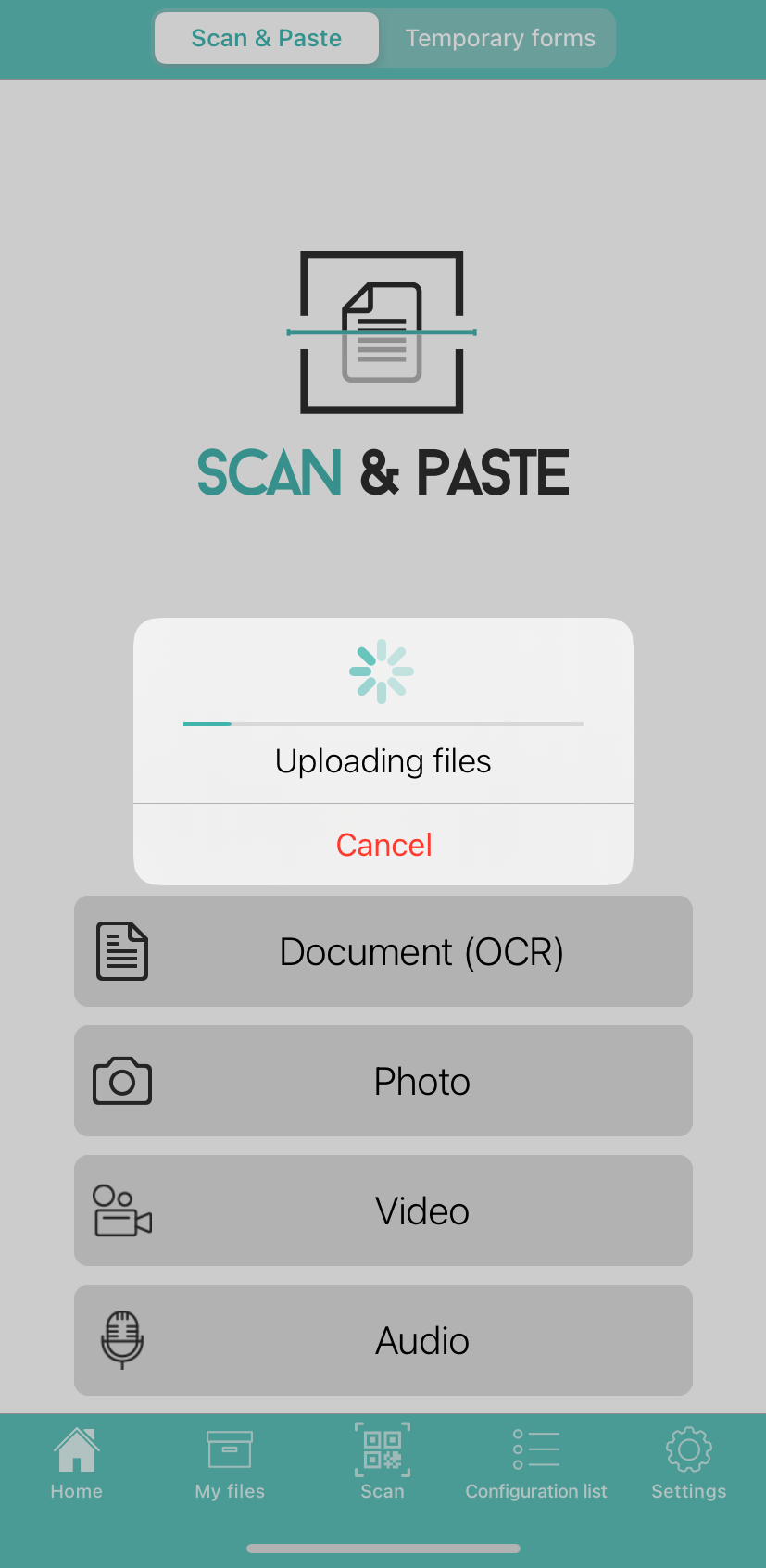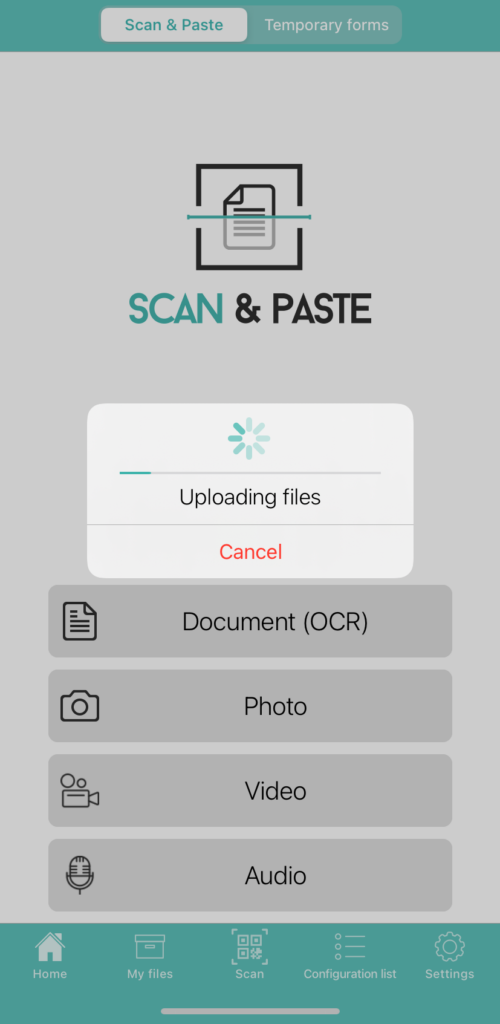 Step 5: Now we scan the QR code displayed in the PowerPoint add-in with our smartphone.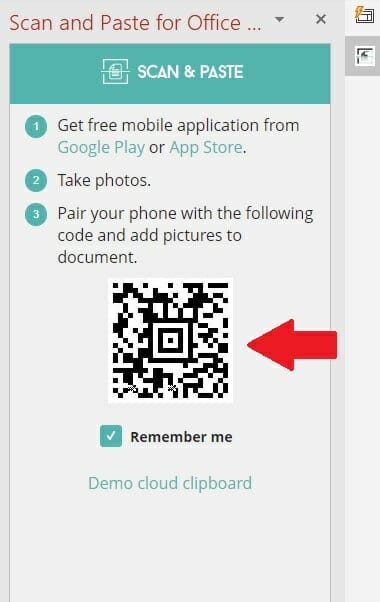 Step 6: After the scan, the uploaded image will appear as a thumbnail.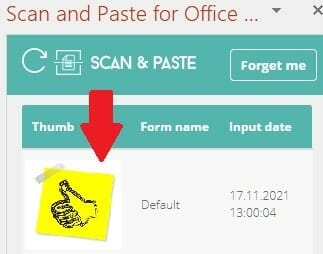 Step 7: Now we want to insert the image on our slide. To do this, click on the thumbnail and it will appear on the slide. Now the image can be edited, just like other images in PowerPoint.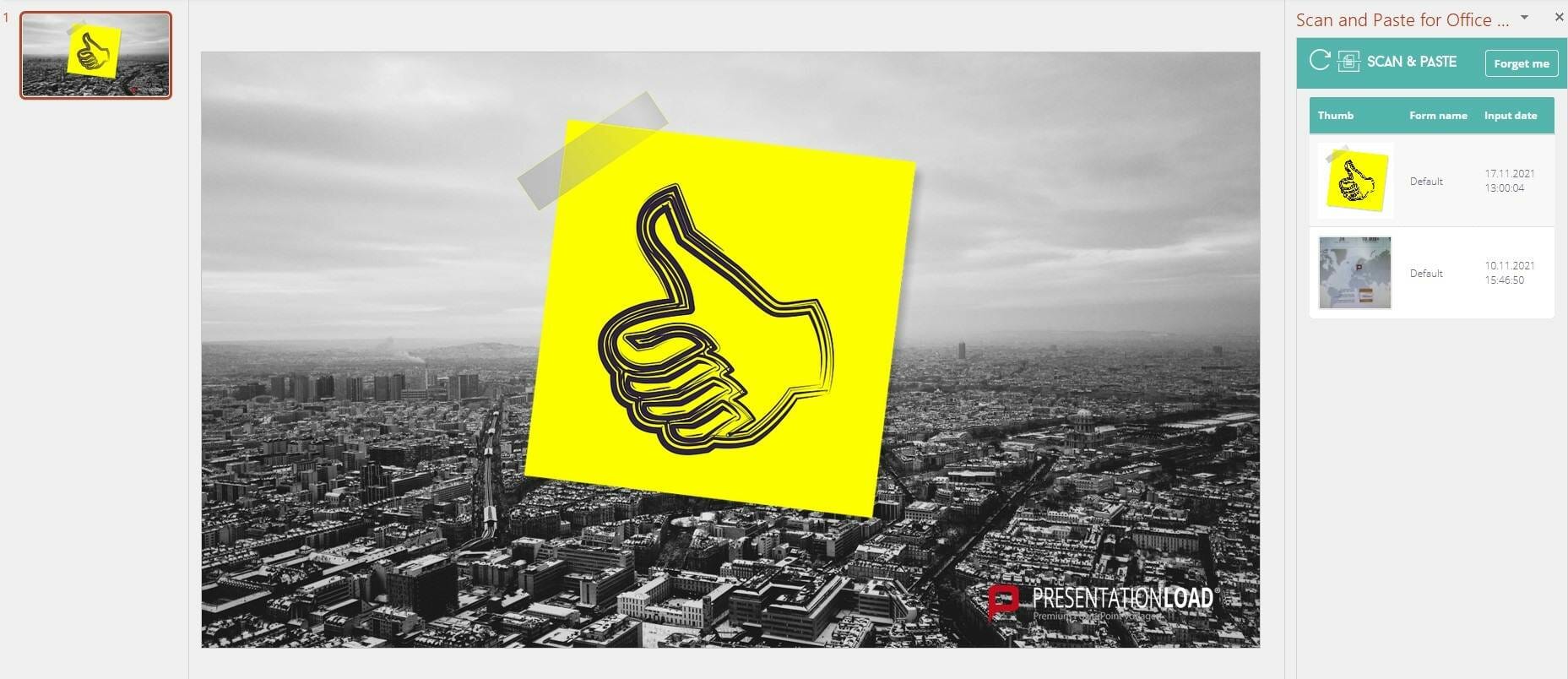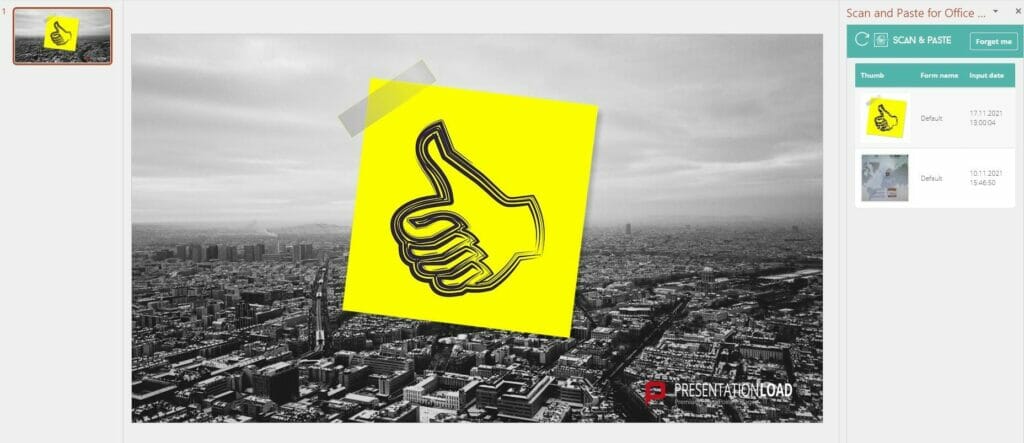 Save time and easily insert images from your phone into PowerPoint with the Scan&Paste add-in
Inserting scans or images from your phone into PowerPoint has never been easier! Use this time saving add-in and add any image you want to your presentation in just a few steps. The app is free of charge and requires no registration – the proverbial icing on the cake!
What are you waiting for? Install the add-in and app and create the best presentations in no time at all
Do you have any questions about the Scan&Paste add-in or other PowerPoint topics? Feel free to contact us at [email protected]. We'd be happy to help you.