Optimize Images in Your Presentations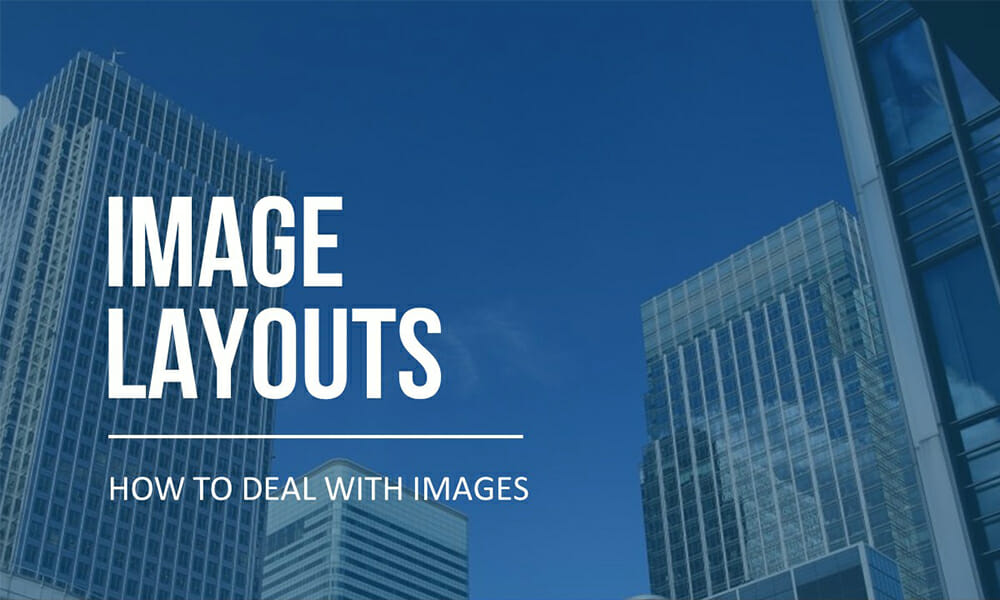 Images are an essential part of presentations. Pictures evoke stronger emotions than text alone and help presenters to engage their audience. They are also much more memorable than other content. The correct use of images can make a presentation a huge success..
A professional presentation depends on a thorough review of images and their impact.
What do you need to focus on?
Resolution and Sharpness

Aesthetically pleasing images should always be high-resolution and of good quality. Although time consuming, searching for high quality images is worth it. Remember, it's usually better to forego an image than to use a substandard one.
Due to the continuous improvement of screens and projectors, the demands on image material is growing. While images with lower resolutions were fine a few years ago, they just don't cut it on high-resolution devices.
Image Size

The bigger the image, the more it draws the attention of your audience. If possible, use large images and skillfully incorporate them into your presentation. But simply packing as many large images as possible onto your slides is not enough. They must fit with the overall aesthetic of your presentation. Taking the time to integrate background images and other visual stylistic devices intelligently into your presentation is definitely worth the effort.
Number of Images

Although images are essential to successful presentations, don't overdo it. An excess of images reduces the impact of each one. To maximize their effect, chose each image carefully. Some images are more important than others and these should be highlighted. The audience can only concentrate on these images when they're in the spotlight.
Multiple Images

Sometimes you need to use multiple images on one slide, for example in comparisons or overviews. The key is to keep things streamlined and organized. The layout and size of the different images needs to be consistent or you run the risk of cluttered slides. Frames can help to clearly separate the images from each other.
Cropping Images

Proper cropping and editing of images is an important step. If possible, don't crop too much but instead, try resizing the entire image.
Enlarging Images

Although it's not always the best option, sometimes it's necessary to enlarge images. However, it's important to ensure that the resolution and quality of your images isn't compromised, as enlarged images quickly become blurred and unsightly. Pay attention to the aspect ratio in order not to distort the image.
PowerPoint presentations are first and foremost visual tools to make meetings, pitches and seminars more interesting. Images are essential, if not the most important aspect of any slide set. Take these steps to ensure that your images meet the high standards of today's audience and bring that "wow factor" to your presentations.
For more information and tips on images in presentations, we recommend our PowerPoint Image Editing series:
Our PowerPoint Image Editing blog articles at a glance:
Basic Tutorial: How to Edit Images Without Leaving PowerPoint
Images in PowerPoint Presentations: 3 Helpful Tips
Format Multiple Images Simultaneously with SmartArt Tools