Storytelling in Presentations – Connect Emotionally with Your Audience!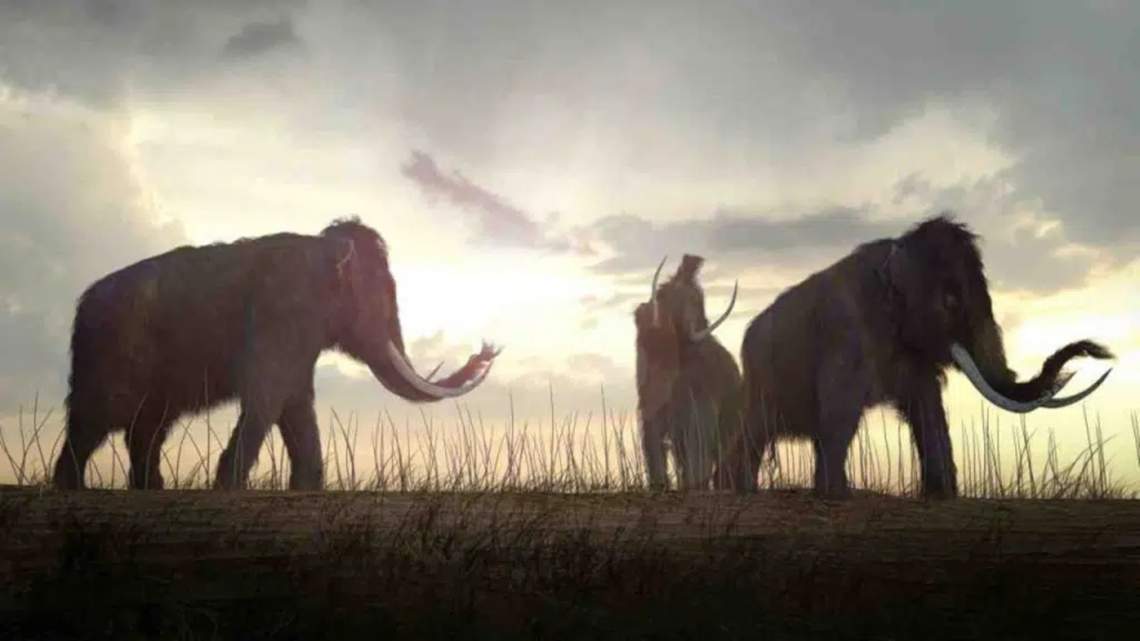 PowerPoint presentations have become an indispensable part of business life. It can be challenging, however, to keep the audience interested in your topic, meaning less of a chance of convincing them of your ideas.
If a presentation consists mainly of text, even the most innovative product idea can quickly lose the audience's attention. Incorporating visually appealing aspects is a great way to get your audience on board! This is where storytelling in presentations, which can be used to enhance presentations in a modern and creative way, can help.
Even if you're only familiar with storytelling in the context of news items, good stories are part of our everyday lives. We all have moments which are exciting, funny, annoying, sad or just plain odd – but the common thread is that they are interesting. So why not include that interesting story in your presentation?
What is Storytelling?
Storytelling is just that – telling stories. Incorporating storytelling into your PowerPoint presentations is a great way to convey information to your audience in a way that engages them and so excites more interest in your ideas or products.
The future of Presenting
In our sophisticated environment of smart devices and artificial intelligence, it's easy to think that we don't have a lot in common with our Stone Age ancestors. However, it's not such a great leap from mammoth hunt to management floor as many might think.
Whether, when, where and why sales have risen or fallen may be very relevant to us, but our brains are still wired to prioritize knowing the fastest way to kill the mammoth or how to escape the saber-toothed tiger. This is where storytelling comes in! A good narrative engages the deeper parts of our brains, and elicits an emotional response in your audience, which allows people to connect better with your message, meaning they are more likely to be convinced by what you're offering.
So how do I go about Finding Interesting Stories for Storytelling?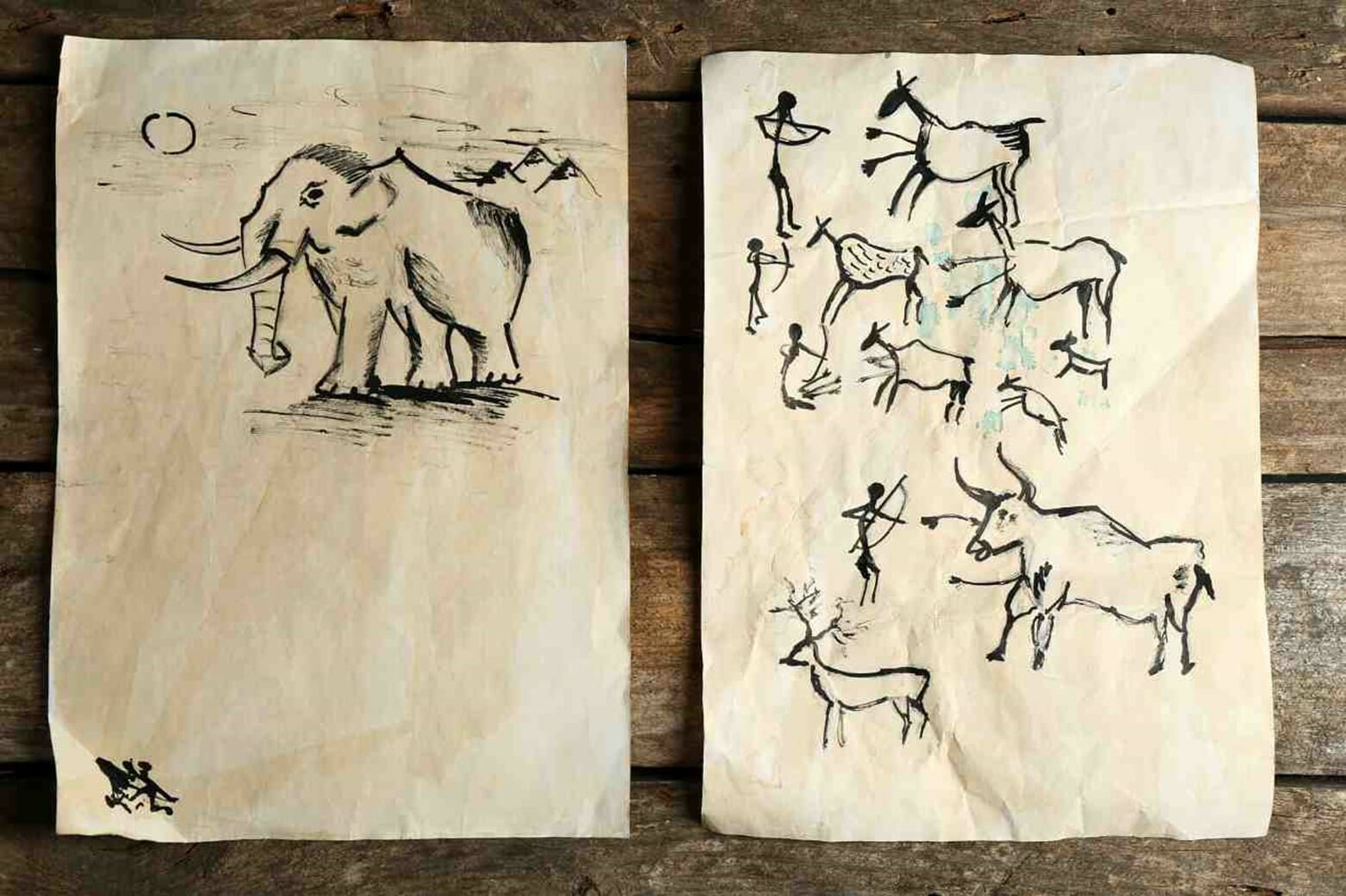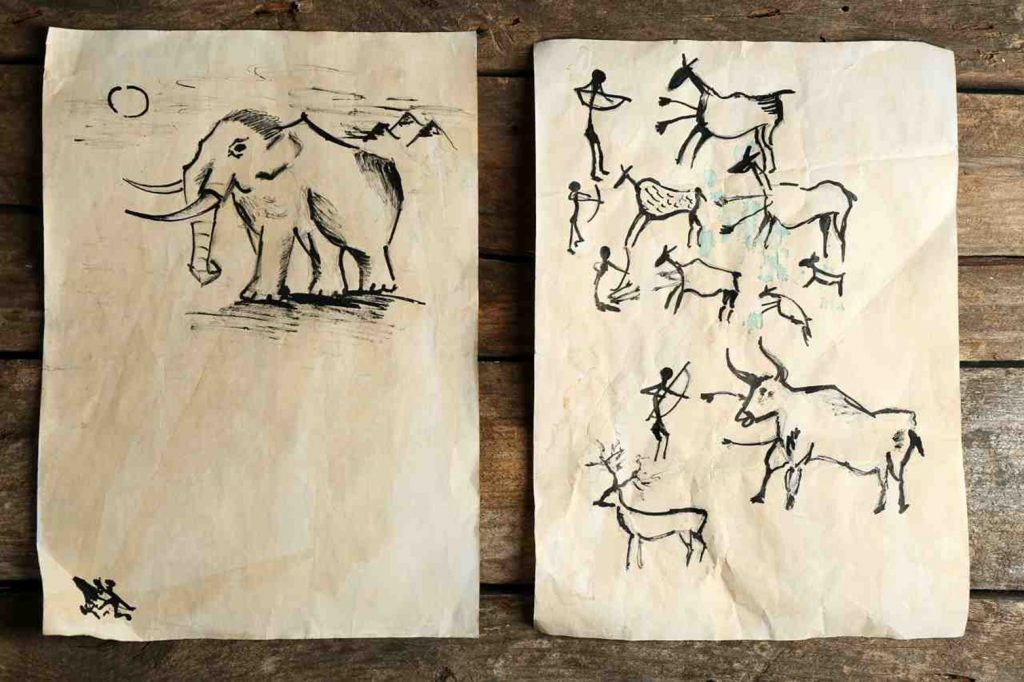 Finding a good story to integrate into your presentation isn't as hard as you may think.Perhaps, as mentioned above, something may have happened to you in everyday life which can be woven into your presentations. You can try out such anecdotes with friends or colleagues to see if they're a good fit with your presentation topic.
Stories aren't just the result of the situations life offers us, though; photos can provide excellent jumping-off points for storytelling – they evoke memories and inspire creativity. To underscore the theme of your presentation, you can use your personal snaps as well as stock photos. Both can help you find inspiration and breathe life into your presentation. When choosing a photo, keep in mind what you want to aim to achieve your presentation.
When looking through photos, you may well be inspired by the memory of an experience which is particularly relevant to your subject; this can then really help you to convey your narrative to the audience.
Structuring your storytelling presentation
So OK, the latest sales figures aren't quite as exciting as you might have hoped. But with the help of a few tips on how to build your storytelling, you can turn even the driest figures into an interesting narrative in no time.
Most good stories follow a general pattern:
1. Initial situation
Start your story by setting out the initial situation. This is where your audience learns about the background of the story as well as getting to know the people involved and their needs and goals.
2. Narrative
Once your audience has grasped the initial situation, you can begin to develop your story's plot. This can be a problem that crops up or a mission that needs to be successfully completed. Obstacles need to be overcome in order to triumph. (The human brain really responds to such situations, and can't help but engage.)
3. Finale
Your story needs a definite conclusion: triumph awaits or, indeed, disaster! You can leverage either of these in your narrative to emphasize your points.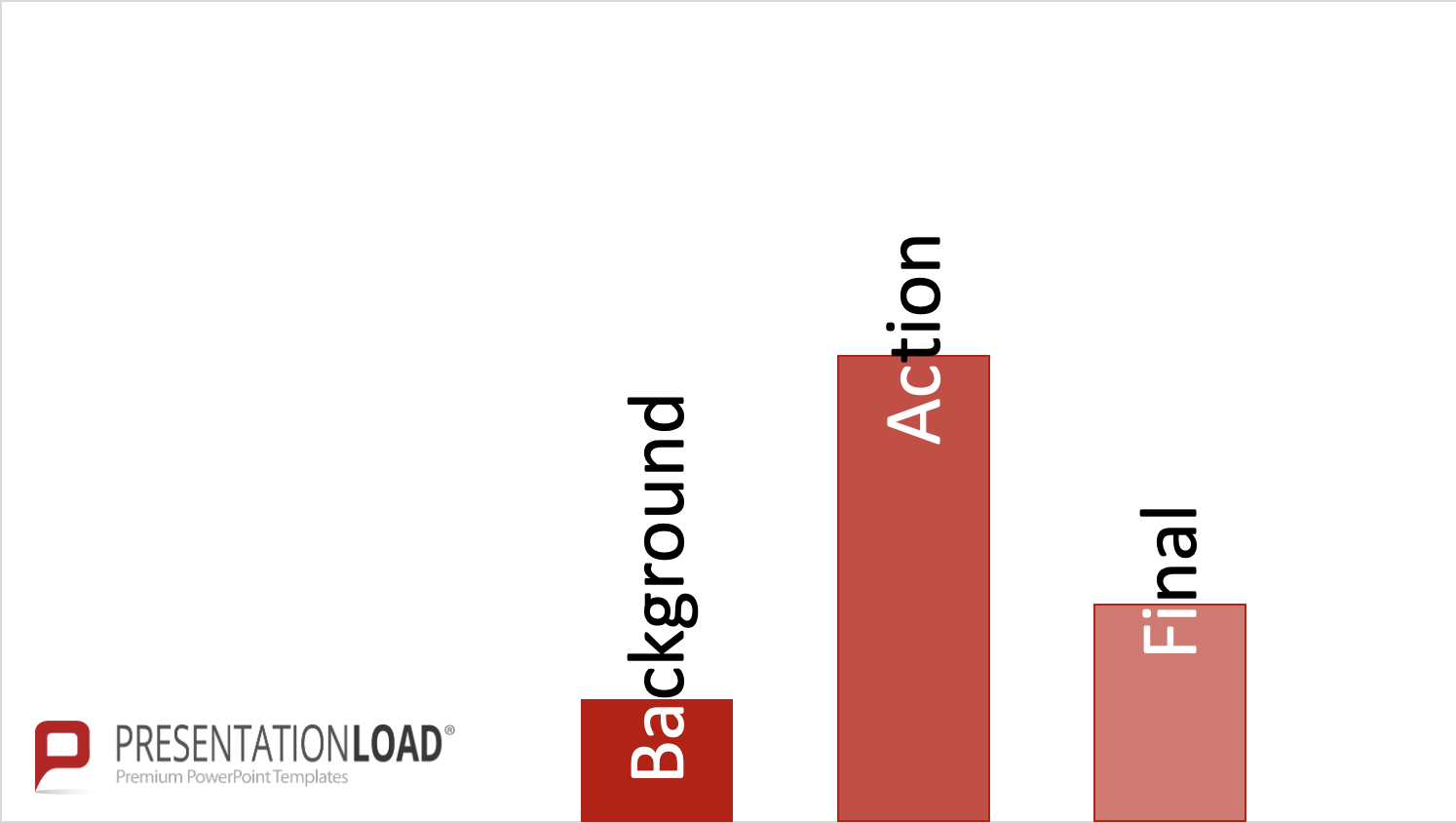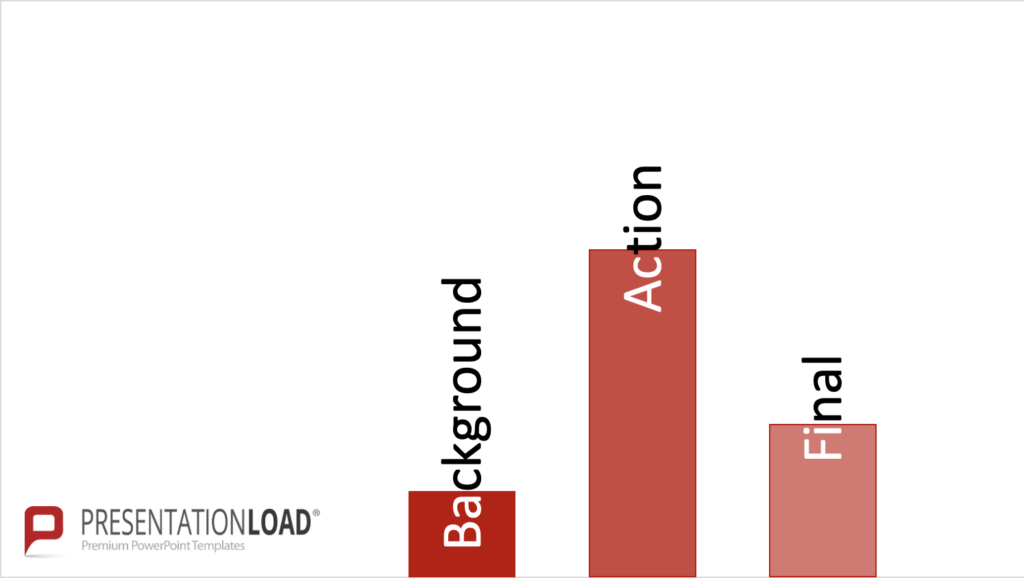 The stories you want to weave into a business presentation aren't literally about fighting dastardly enemies or saving the world, though; a wobbly merger resolving into smooth success, or a sales drive failing quite spectacularly invoke the same emotional response in your audience. With a little creativity, Your company's current situation can become the starting point of your story and your employees and competitors or challenges the heroes and opponents of your narrative.
A company's ultimate goal, of course, is market leadership. If you achieve this, it means success not just for the company, but for all its employees. So draw your colleagues into an adventure that will lead to this goal!
A relevant and well-structured story along these lines has so much more impact than a dry presentation of your company's figures, coming to the tired conclusion that things could be better and that more effort is needed.
4 Effective Storytelling Methods
Storytelling methods
You can use storytelling not only to make your presentation more exciting, you can also bring structure and order to your presentation. To do so, there are a variety of methods that you can also use to leave a lasting impression with your audience.
These models can be used for various purposes…
…1: to inform
…2: to convince
…3: to inspire
…4: to entertain
… and look like this:
#1: Facts and story
Presentations that follow this pattern move back and forth between facts and stories, describing the present situation and what could be.
To do so, describe the realities and current facts at the beginning of your talk and present contrasting content during the talk that describes the present and what could be instead. At the end of the presentation, conclude with a call-to-action that encourages your audience to work for what could be. To find out how else to motivate your audience, take a look at our "Call-to-Action" article in our blog.
#2: The Pitch
This presentation structure is based on metaphorically climbing over a hurdle during the presentation and concluding with a positive solution at the end. Storytelling is used here to show that the ideas of the presenter can make a difference.
To overcome said hurdle, also show what visions and options you want to use to overcome the problems. To successfully engage your audience, end the presentation with an added benefit, showing why your audience will benefit from your idea.
You can find out more on how to create a pitch presentation in our article on "Pitch presentations" in our blog.
#3: Situation – Complication – Solution
In B2B sales and management consulting, most presentations follow this structure. Consisting of three different elements, this structure is characterized by the fact that the storyline is connected by words like "but" and "therefore".
To do this, first explain what situation your story hero is currently in and offer your audience a neutral overview.
Next, explain the complication in which the story hero finds him/herself in and shine a light on their problem.
Finally, explain to your audience how your product or service can help solve your story hero's problem.
#4: Situation – Opportunity – Solution
This structure works similarly to the one explained in #3. Instead of a complication, however, with such a presentation you can show that no problem in the world is impossible to solve. You can thus shine a light of hope on your story hero's problem.
Facts fall by the wayside without Emotional Involvement to back them up; it's just how Our Brains are wired
We live in a society where communication and information transfer are more important than ever. Presentations are a great way to do this, even though in many cases a lot is said and little absorbed. When you incorporate elements which trigger the parts of our brains which really engage with subjects, though, it's amazing how focused we can actually become.
For example, think about the last movie that really captivated you. Were you engrossed in the action? Did your pulse rate maybe go up as the tension rose? Even though you knew the movie was fiction and had nothing to do with the reality of your life, you were eager to know what would happen next.
And now think about the last presentations you watched. It's a pretty safe bet that the opposite was true: even though the subject matter was far more relevant to you than a movie, you might have found it hard to pay attention.
So why is that?
Even if the content of the presentation is worth knowing, our Stone Age brain throws a wrench in the gears.
Our brain evaluates relevant information on an emotional level before a logical and factual level. It wants to hear a good story, and only then finds information interesting. So if you want to convey facts in your presentation, it helps to become a storyteller and link them to an emotional response.
Experiments at Stanford University have shown that we remember stories over twenty times better than facts and that they can be marketed at least twice as successfully.
A Story is only as good as the Person telling it
When using storytelling in presentations, keep your own role in mind. Your own motivation and experience qualify you to tell the stories you do, and by doing so you make yourself credible and trustworthy.
In order to maintain credibility, you need a certain amount of passion. Stand behind your story and express that energy during your presentation.
Accentuate Your Storytelling Presentation with Moving Images
If your presentation slides are purely dry text and the occasional graph, you run the risk of your audience's attention waning and them switching off mentally. Using interesting infographics, animated graphics and dynamic video will breathe life into your presentation.
This doesn't mean that you have to follow the latest fad trend; successful presentations embody a timeless elegance that involves and persuades the audience from the inside.
One tool very effective in bringing presentations alive is the morph effect in Microsoft PowerPoint. It allows you to easily create your own animations and transition effects, making your presentation look modern and professional. We set out here how to skilfully incorporate the morph effect into presentations. You don't have to be a PowerPoint expert to use this feature; even a beginner can radically improve their presentations using the morph effect. Its dynamism is particularly effective in content marketing and for tutorials.
The Zoom-Effect

The Covid 19 pandemic has hugely accelerated the trend towards webinars as a form of presentation; they are very popular with both presenters and viewers. Presentations can be delivered and accessed from any location.
Webinars allow you to make your content available to a wide audience at low cost, without having to deliver your content anew each time. The danger, though, is that it is very easy for the audience to up and leave the presentation early if it doesn't hold their attention.
To prevent this, and to liven up your presentation, why not try zoom effects? These let your audience easily zoom in on the information you present, focusing their attention. We've covered how to use these effects in your presentation here. They are useful not only for storytelling in presentations, but also in your social media presence and for content marketing.
Marketing through Storytelling
Storytelling is ideal for selling products and ideas. If you want to sell successfully, you have to be able to tell good stories to convince and inspire potential customers.
Facts alone are often not enough to arouse the emotions of your buyers. Great stories help your audience connect with the product and remember details more accurately. So your chances of a sale increase significantly if you can connect the product with positive emotions in your audience.
For correct storytelling, transfer the basic framework from the above paragraph "The Structure of Your Storytelling Presentation" to your marketing presentation. It will then look like this:
Part 1: The beginning- make it personal
The purpose of the opening is to create a context that helps your clientele form a personal connection with the main character of your story. They should be able to identify with the main character. When telling customer stories, make sure to not just mention your clientele's company name, such as Microsoft for example. Describe a similar person in the company, with name, title and other relevant details to the person you are talking to. These could be the industry (retail, security), size (companies with 500, 5.000 and 50.000 employees face different challenges), or location (global vs. one HQ office).
Part 2: Middle- Describe the conflicts and their negative effects
Take your clientele on a rollercoaster ride before revealing the positive result. Explain the challenges the characters of your story had to face and describe the negative side effects associated with them. Too often we do not build enough drama between the pain and the solution because we do not want anyone to feel bad.
Shortcuts like that then lead to a mediocre story. Instead, paint a picture of the conflicts and negative impacts that the company could face if they cannot resolve their challenges.
Part 3: Ending- The solution and positive effects
Your audience, and not your own company, is the "hero" of your story. Your ending should leave the impression that your company helped prospects just like Dumbledore helped Harry Potter or Yoda helped Luke Skywalker. Describe, how your audience felt after the solution to the problem.
If you say "After receiving support from our company,…" your story just feels like a sales pitch. Instead, tell your audience about the type of solution you helped with to build curiosity and neural coupling to the prospects' own experiences.
If done correctly, interested parties will ask you, "That is what I am looking for, how was that chieved?" to which the answer will, obviously, be your solution.
Learn from the Best
There are many examples of amazing presentations by successful storytellers worth looking at for inspiration: Steve Jobs and Barack Obama are two of the best. Both inspired, and still inspire, through presentations which expertly incorporate storytelling to carry their audience with them.
Even Donald Trump, whose statements are not always considered the most intellectually sophisticated, successfully sells his supporters the story of building a wall to halt migration as the solution to all the problems of the United States.
Extra Tip: Visual Storytelling with Infographics
It might happen that you come across the following question when planning your storytelling: How do you present dry facts? Many Business-presentations make it impossible to avoid dates, numbers and statistics. With this type of content there is a risk of your audience not paying attention or even dozing off.
So how do you design your presentation to present even these facts in a compelling and engaging way? The simple answer is Visual Storytelling.
It is not enough to put the data in a narrative context. First and foremost, you will help your audience if you link the facts with memorable images or graphics: Create infographics specifically to communicate your information.
You can find many professionally designed templates in our shop. There will be something for your (Business-)topic as well. ► to our shop.
We also offer regular workshops on the topic of infographics (Please note: These are mainly in German). You can learn how to create impressive infographics with simple tools. The workshop is especially helpful for assistants, product and marketing managers, sales managers, and consultants. This seminar is also aimed at all those who work with PowerPoint and would like to break new ground in terms of designing their business presentation.
The seminar is held by our experienced PowerPoint designer and creative coach
Tom Becker-Schweitzer,
PresentationLoad CEO.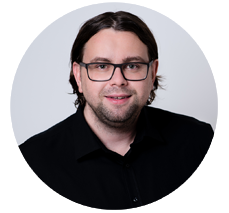 With him as your coach you can expect dozens of professional tips as well as time-saving techniques for successful presentations. With 25 years of experience, design professional Tom Becker-Schweitzer can present numerous examples from the world of presenting.
Learn how to create professional slide layouts and infographics with PowerPoint in this seminar. Feel free to check here for current dates ► dates
Conclusion: Connect with Your Audience by using Storytelling in Presentations!
Storytelling as an integral part of presentations can work in almost any setting and allows you to actively engage and inspire your audience. It really doesn't matter what the topic of the presentation is, nor who the audience is that you're trying to convince.
If you have any further questions about storytelling or PowerPoint presentations in general, please feel free to get in touch with us at [email protected].
In order to get you started on storytelling, we've produced a free PowerPoint template with storytelling quotes: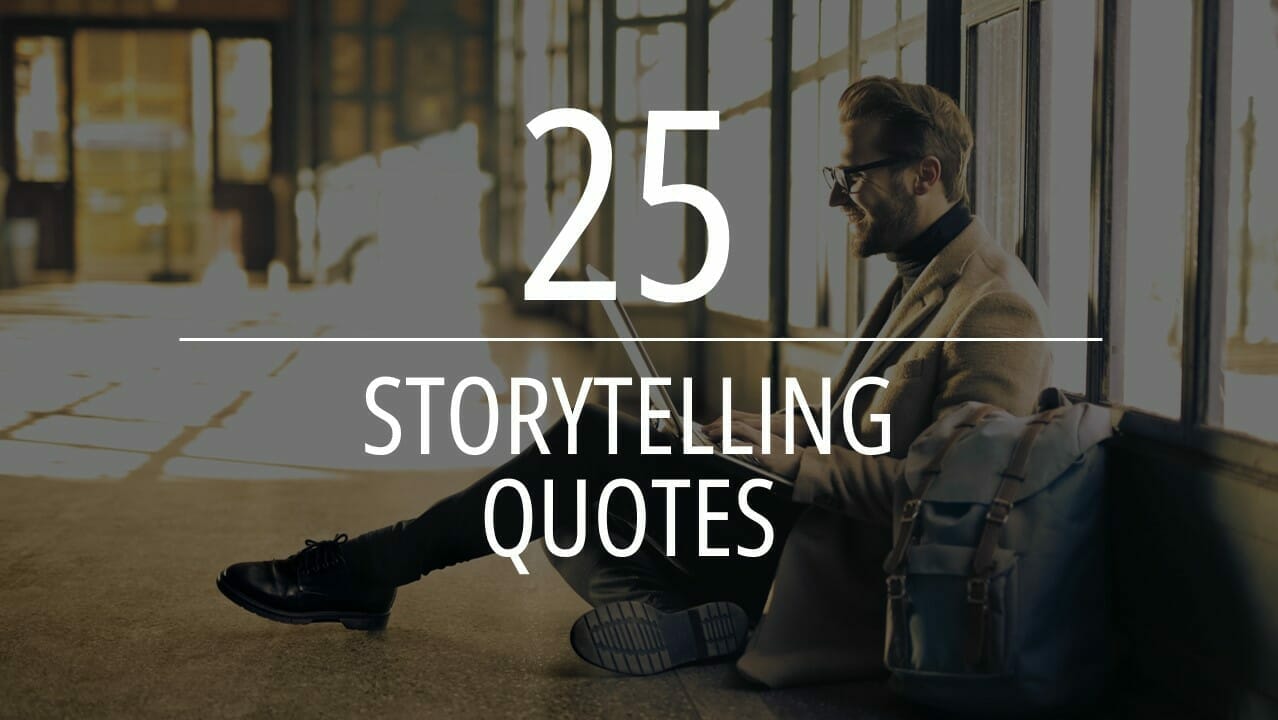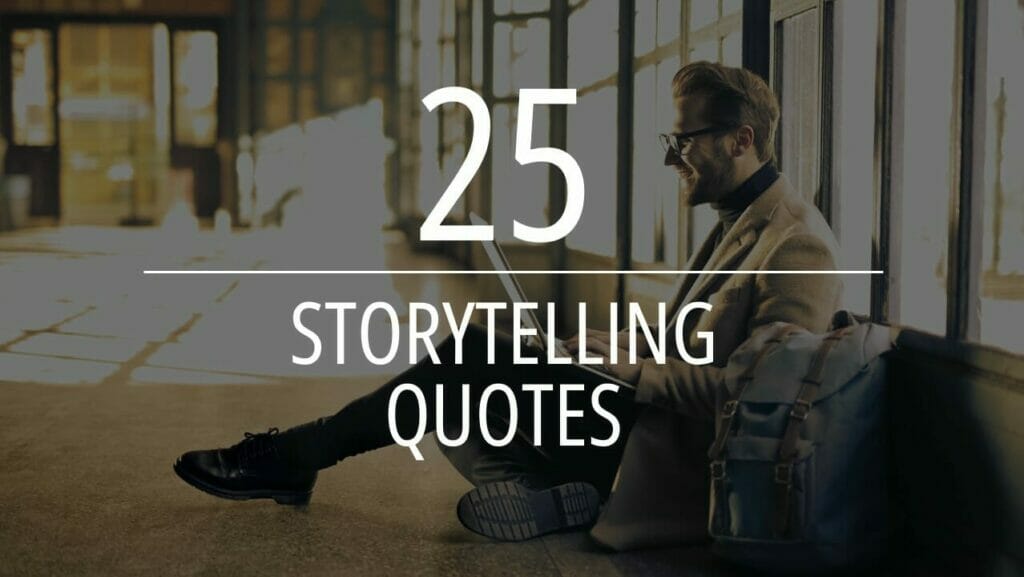 Other articles that may interest you: