Pitch Presentation: How to Make the Case for Your Idea in Minutes!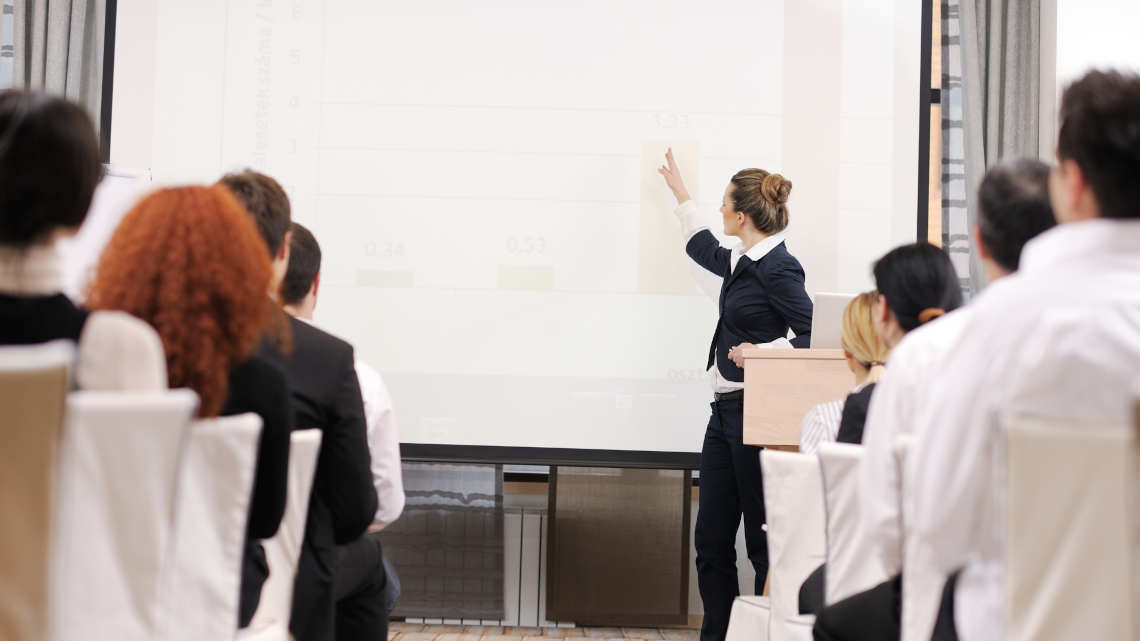 You'll probably have heard the word "pitch" in connection with PowerPoint and business ideas – but what exactly does it mean, and why is it so important in business?
This article will explain why pitch presentations are so vital, how to create a pitch presentation and what type of pitch might be suitable for your presentation goal.
So what does pitching, or a pitch, actually mean?
The basic meaning of pitching is throwing an idea at your audience, hoping to score a hit, as in baseball. It can also be thought of in terms of music (like a pitch change), or electronics/science. In the context of PowerPoint presentations, a pitch is a special type of sales presentation. Read on!
What is a pitch presentation?
A pitch presentation is a short presentation in which you introduce your company, product or idea. You only have a few minutes to convince your audience and attract potential investors. So you need to plan what you want to say really carefully.
First impressions matter. While you're preparing your pitch presentation, keep the time constraint firmly in mind. Pay special attention to getting your key messages across clearly and precisely, to achieve your goals.
Read more about this in our articles on Preparing a Presentation and Goal Setting.
We at PresentationLoad have a range of professionally designed PowerPoint pitch presentation slides for you to use!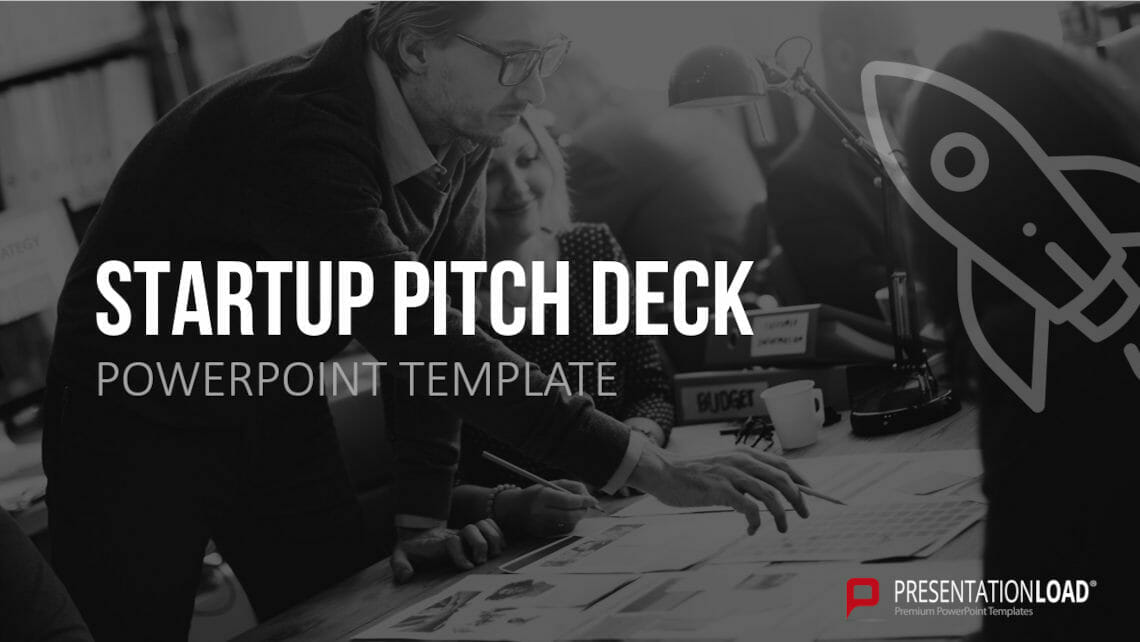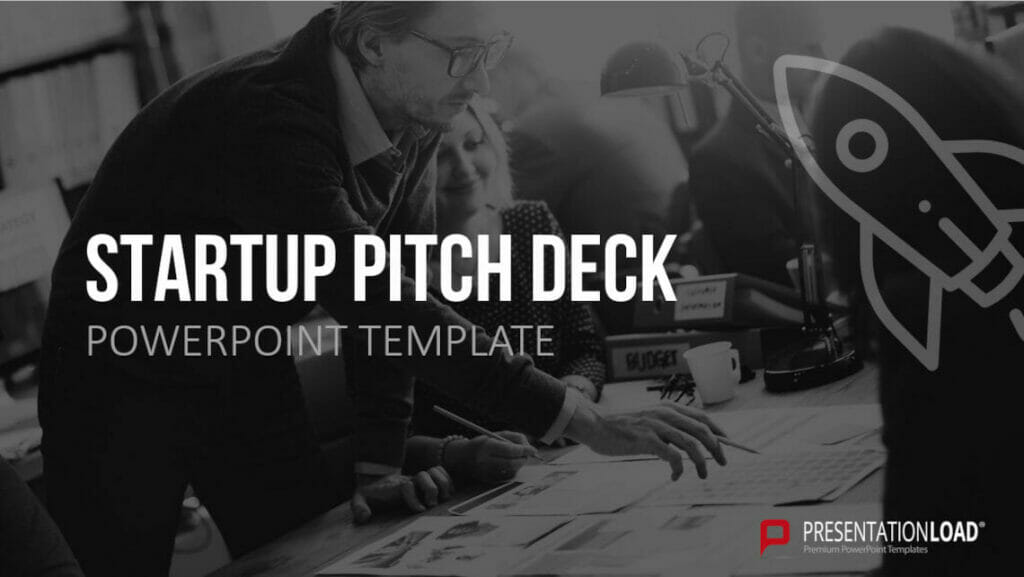 Your goal is to attract direct investment, or to be invited to further talks with investors.
Investors are looking for businesses that have growth potential. They want to see that your company is able to grow quickly, making profits. So when you prepare your pitch, you need to focus on your growth potential. Show investors why and how your company will grow quickly in the future, and why it is worth investing in.
To present your company vision and growth, we recommend slides from PresentationLoad!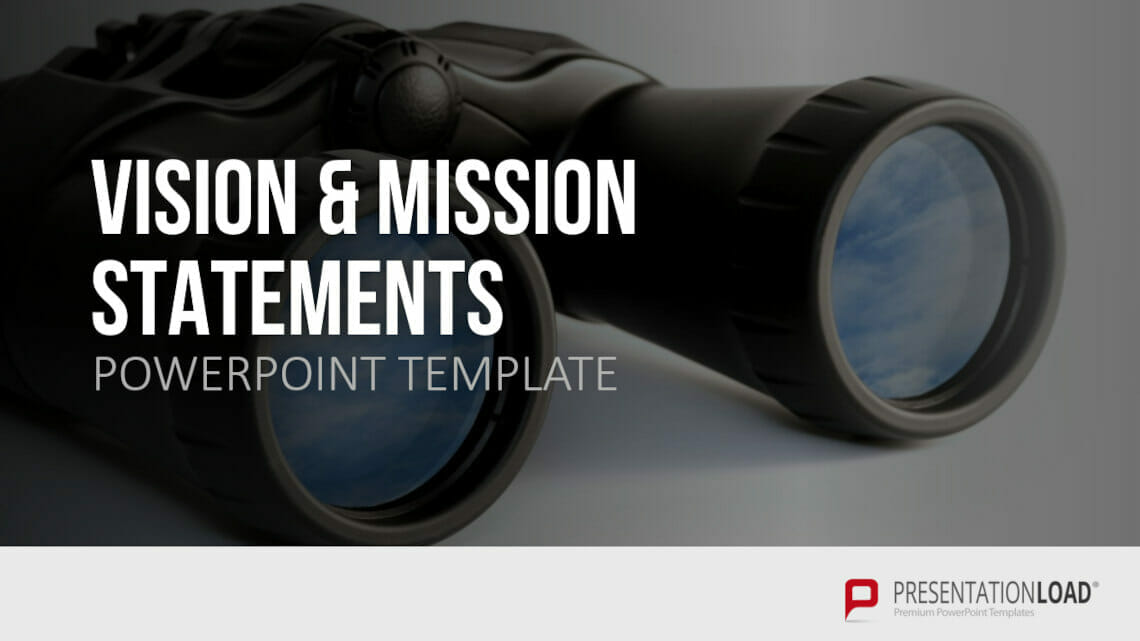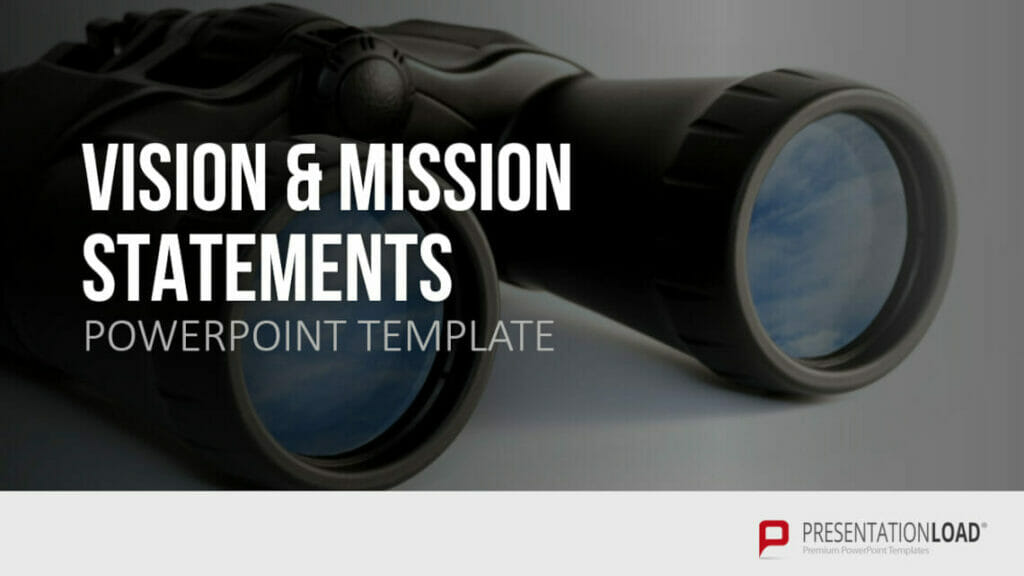 How do I make a pitch presentation?
The most important thing is to keep your presentation simple. Investors don't have time for complex presentations and explanations. They want facts, and to grasp what your company has to offer.
Keep your presentation as short and simple as possible and focus on the core elements that make up your company, market and product. The following structure is great for covering all the important information in your pitch presentation in the short time available:
Slide 1:
Title slide (Short, snappy dsecription of your business idea)
Slide 2:
The team (Who does what)
Slide 3:
Initial situation (What's the problem?)

Slide 4:
Solution (What you are offering!)
Slide 5:
Your product / service (What exactly are you proposing?)
Slide 6:
The market (Is the market environment / target audience big enough?)
Slide 7:
Added value / USP (Why is your solution better than others?)
Slide 8:
The competition (Who are the competitors? How do you differ from them?)
Slide 9:
Your business model (What do the financials look like? How will sales be generated?)
Slide 10:
Your business plan (How would the business model be implemented?)
Slide 11:
Funding requirements (How much money is needed, and for what?)
Slide 12:
Contact data

A good pitch presentation needs to be clear and concise, while getting the most important information over. Introduce your idea and the team briefly at the beginning. Follow this up with the most important facts and figures, as well as information on how you intend to implement your business plan.
BELIEVE in your business idea, and you'll be effortlessly persuasive. If you believe in your company and its potential, so will your investors. Convince them that you are the next big thing, and that they should definitely invest in your company right now!
Types of pitch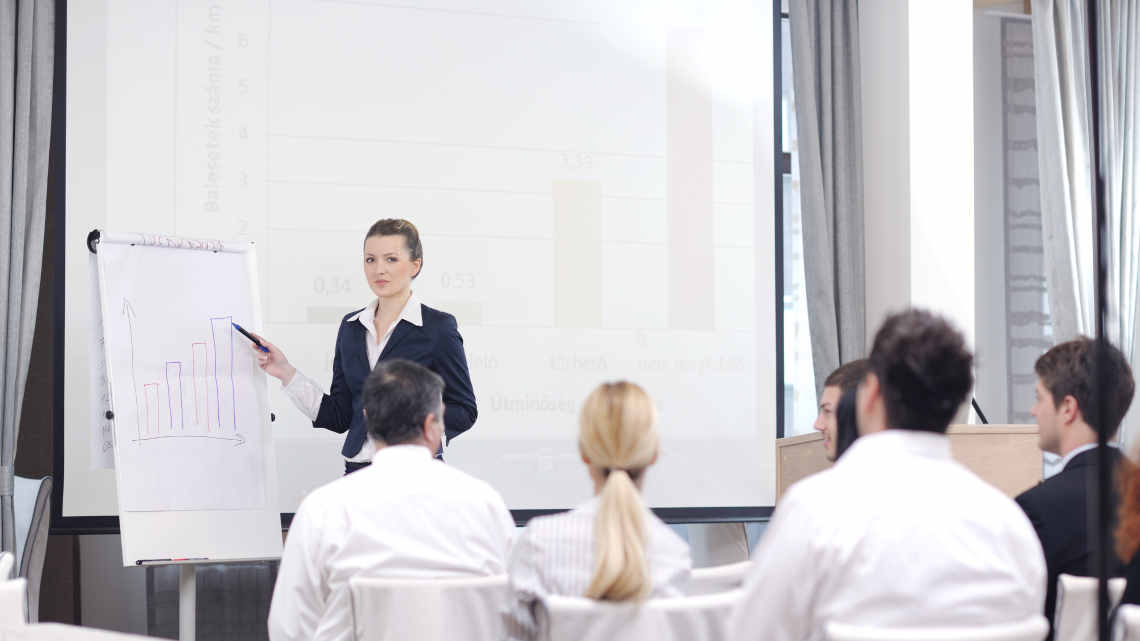 As the name suggests, this is one where you only have a very short time to get your ideas across. In an elevator ride, you only have a few minutes to talk to fellow passengers.
So an elevator pitch should be a meaningful, brief introduction to your idea. Be prepared for how little time you have! Introduce yourself, your company and your business idea. Your goal should be make a brilliant first impression in minutes.
Find more informations in our blog elevator pitch.
Start-up pitch / business plan pitch
This sort of pitch presentation allows you to set out not only your business idea or product, but your business plan too. Good figures and future potential attract potential investors, particularly for start-ups. Make a convincing pitch, and you're so much more likely to get the investment you need.

Speed pitching is basically a fixed event where speakers have something like five minutes each to convince investors of their idea. You get the opportunity to present your idea to several potential investors. This concept is similar to speed dating.
As the name suggests, a sales pitch is about selling a product. Potential investors and customers need to be persuaded to buy. A good sales pitch is tailored to individual customers or small groups and should focus, for best effect, on what benefits your product will give them.
An agency pitch is a competition on a level playing field, putting marketing or new business ideas to a potential client. The goal of the pitch is for you to win the contract. This form of pitch is often seen in the architecture business.
A company will invite potential contractors to an agency pitch for a particular job, giving them a briefing. Proposals which appeal to the client are then developed into presentations.
The winner gets the job; everyone else goes away empty-handed. So if you're participating in an agency pitch, keep in mind that you could also lose, using up time, money and resources. Tip: Weigh the pros and cons of the pitch, and read the briefing carefully.
Job planning / production pitch
This sort of pitch is about smoothly linking phases of a job. In order to efficiently produce goods, without a hiatus, there need to be skilled workers, machines available, and sufficient raw material.
Timing everything appropriately can be highly complex, so your pitch needs to emphasize your company's efficiency and experience.
Side note: Pitching like in Hollywood – The Pixar Pitch
Pixar is known worldwide for its mega successful movies. But how do they always stay at the top? It's simple: they've found the perfect marketing formula. It's not complicated, but punchy and unique – just like their movies.
Pixar movies are just incredible, keeping us spellbound from start to finish. Who doesn't remember Marlin's desperate search for his son Nemo, or Buzz Lightyear's famous line, "To infinity and beyond…"?
They all follow the same, time-tested formula – the secret of their success. Every screenplay, every movie, and every good investor pitch can be put together following simple but archetypal story structures.
How does the Pixar pitch work?
And why on earth are we talking about a success formula for animated films here? Because, as Daniel Pink explains in his book "To Sell is Human", the Pixar success formula can be applied to your business as well. And we'll tell you how to use this technique to improve your pitches.

The Pixar pitch is strongly grounded in storytelling. Nowadays, all the best TED Talks, Apple keynote speeches, and successful pitches use the storytelling principle to get their ideas across effectively.
This is because stories matter. They've been used since time immemorial to pass on facts and knowledge, from generation to generation. Why are we so captivated by stories? Because they evoke emotions in us, inspiring people to action, conveying values, virtues, humanity and morals. So we can use storytelling to create emotions that inspire customers and win their trust.
The structure of the Pixar pitch
The Pixar pitch consists basically of six consecutive sentences:
1. "Once upon a time…" …lets you start with a general description of the situation.
2. "Every day…" …presents what is happening on the ground, letting you show what the problem is. This is where you can elaborate on the habits, expectations, and general way of doing things of the user or consumer, adding statistics or evidence for them as needed.
3. "One day…" …this is the climactic, decisive moment. This is the catalyst. This is the reason that change is needed (the reason for what you're proposing).
4. "Because of this…" … What happened? What started to be done differently?
5. "That's why…" …. What changed as a result of this? What has the change done for the user or consumer?
6. "Until at last…" …this rounds up and highlights the essence of your message. A successful solution!
The Pixar pitch, using "Finding Nemo" as an example
1. "Once upon a time … there was a fish named Marlin, who loved and wanted to protect his only son, Nemo."
2. "Every day … Marlin warned Nemo about the dangers of the ocean, and begged him to stay close when swimming."
3. "One day … Nemo ignored his father's warnings and swam out into the open water."
4. "Because of this…. he was captured by a diver, ending up in a Sydney dentist's aquarium."
5. "That's why … Marlin set in motion a plan to rescue Nemo, enlisting the help of other sea creatures."
6 . "Until at last … Marlin and Nemo found each other again, learning that love depends on trust."
Why is the Pixar pitch so effective?
Telling a story like this really helps to focus on the key points of your topic, attracting your target audience's interest by playing to their innate human reaction to storytelling.
The vivid images you can create with this method allow you to present your audience with a short, dynamic pitch that will leave them wanting more!
Perfection is achieved, not wehen there is nothing more to add, but when there is nothing left to take away. – Antoine De Saint-Exupéry
How will the Pixar pitch work for me?
The Pixar pitch is an effective way to structure short, relevant stories. Its framework makes it easy to set out ideas and develop them.
Presenting a pitch in this way is really effective because it works with the way our brain pays attention to and processes information.
Studies show that we can only remember a maximum of six items of information at a time – that's why the Pixar pitch, with its six sentences, is so effective.
Conclusion: Pitch successfully to your audience
How about creating a Pixar pitch for your company, product, service or problem solving? It would be a great way to draw attention to your company and attract new customers! In just a few minutes, you can present the problem, introduce your solution and explain what makes it so special.
Before creating any pitch presentation, make sure you're clear exactly what your goals are, and which type of presentation is needed.
Our tips for creating a great pitch presentation will ensure you're well prepared and ready to face your audience with confidence.
Got more questions about pitch presentations or PowerPoint in general? Get in touch with us [email protected] and we'll be more than happy to help!
You might also be interested in the following articles: