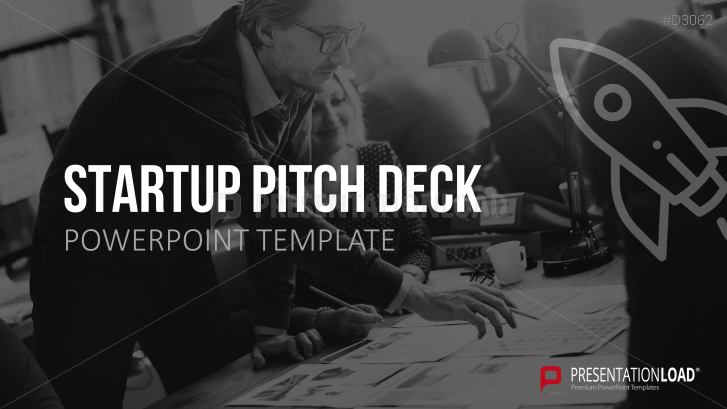 The PowerPoint Pitch Deck Template for Startups
This easy-to-use startup pitch deck template for PowerPoint allows you to create the perfect presentation for your startup pitch, successfully getting investors on board.
Impress at First Sight with Our Startup Pitch Deck Template for PowerPoint.
A startup pitch is all about attracting potential investors to your business idea. You often have only a few minutes to pitch your concept. So to get an investor interested, you need to make the strongest impression you can with your presentation. Our professionally designed startup pitch deck presentation template for PowerPoint allows you to easily create an impressive and professional pitch, maximizing your chances of securing investment.
Startup Pitch Deck Template: Powerful Visuals and Charts to Convince Quickly
In a pitch, you need to convey possibly complicated ideas quickly and clearly. As time pressures are enormous, you may only get to present a few slides, so the quality and content of those slides are of the utmost importance. This startup pitch deck template provides you with a selection of charts that have been proven to lead to successful startup pitches, and enhances them with unique design. Our template allows you to show off your ideas in the best light, setting you apart from the competition.
With the Startup Pitch Deck for PowerPoint, You Can
gain all relevant tools to present your startup
provide your presentation with a professional structure
present your figures and ideas using high-quality diagrams and graphs
This PowerPoint Template Includes:
a structured layout for your startup pitch
slides to present problems
slides to present your solution
slides to present your product
step-by-step descriptions of innovative applications
a market analysis diagram
a competitor graphic
a customer group diagram
slides to present your competitive advantage
a competitor map
a roadmap to present your concept
a timetable
a business model diagram
slides to present your team
financial requirement charts and diagrams
summary slides
customer testimonial slides