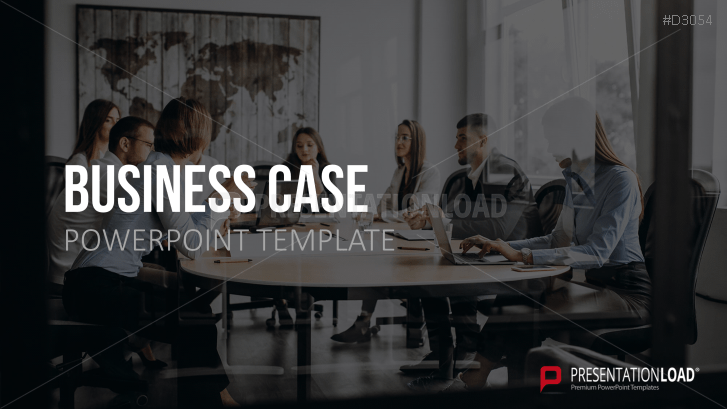 Our Business Case Template Set for PowerPoint
... lets you evaluate future projects in terms of profitability and present your results to your team and investors.
Make the right decision for each business case in PowerPoint
A business case is useful – indeed, essential - when your company is considering important projects and major investments. It presents all the possible risks and benefits across the board in the form of scenarios, which can then be directly compared with each other.

The business case serves as a tool for making the best decision in terms of the company's objectives. In addition to clarifying and setting out the options for action clearly, a business case lists their possible effects - including financial benefits and risks - and also evaluates the sensitivity of these results.

Finally, all the results are summarized, and a solid decision recommendation can be chosen.
Business Case Template: Structure and Tools in PowerPoint
Business cases don't have a rigidly defined structure; what is required of them depends on the sort of company you have, and the requirements you have of a particular decision. There are certain elements that have proven to be particularly useful in all cases, however, and we have included these, in clearly structured outline, in the Business Case PowerPoint template we have put together, which you can adapt for your particular needs. You'll also get a wide range of useful analysis and forecasting tools to enhance your presentation with professionally designed graphs, charts and tables.
Our Business Case Template for PowerPoint lets you…
access a clear structure for presenting your business case
present scenarios with the help of professionally designed diagrams
create a visually attractive framework for communicating your recommendation
Our Business Case PowerPoint Template contains:
Relevant quotation
Business Case definition
Business Case Mind Map
Advantages of the business case
Issues with the business case
How the business case can be used
Application in project management
Business case basic steps
Requirements
Scope and information to be included
MACHT method
Stakeholder analysis
SWOT analysis
Presentation of options for action
Comparison of options
Project schedule
Future Reality Tree
Negative Branch
Scenario Analysis
Capital requirements forecast
Financing
Profit and loss forecast (P&L)
Profitability forecast
Cost model
Cash flow analysis
Cost-benefit analysis
Amortization calculation
Break-even analysis
Risk matrix
Risk analysis
Sensitivity analysis
Decision tree
Cost/benefit comparison
Scenario evaluation
Payback comparison
Gap analysis
Cash flow forecast
Net Present Value method
Assessment templates
Business case title slide
Reasons for a business case
Project presentation templates
Status quo template
Project plan
Project recommendation
Project checklist
Business case agenda
Business case status
Business case template