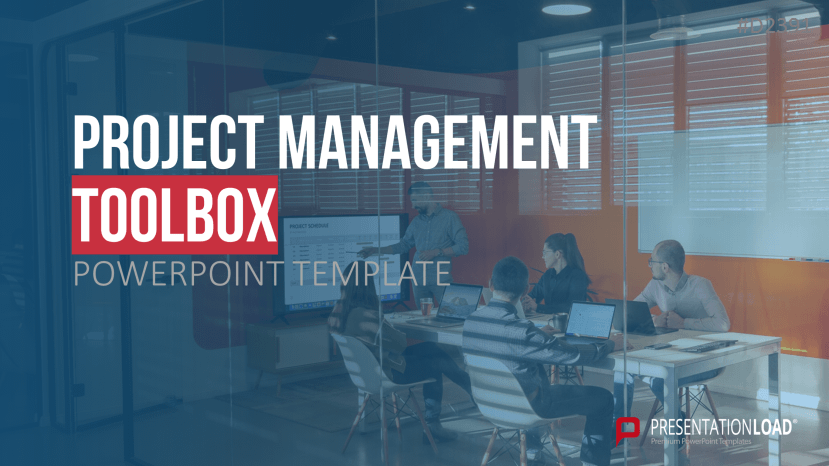 Cutting-Edge Project Management Tools PPT Template
The most comprehensive collection of models, templates and analyses around means you're perfectly prepared for professional project planning, implementation and presentation.
Project Management Tools: from PowerPoint to Your Business
Project management can be defined as a time-limited project (of varying size and complexity) with a defined start and end point. Project management is used to organize the project and prevent financial losses or project failure. Project management encompasses planning, control and monitoring, as well as the ultimate completion of the project. Various project management systems describe the activities to be carried out in different aspects. This is because process descriptions, role descriptions, methods, knowledge areas, templates and advanced management systems can vary and overlap depending on what your particular project needs.
In project management, a distinction is also made between the traditional and the agile approach. Traditional project management is more strongly focused on planning, while the agile approach encourages dynamic and flexible procedures.
Our Project Management Tools PPT Template Supports Your Project from Beginning to End
This amazing toolbox includes a comprehensive range of the most successful project management tools and models, arranged according to purpose. Choose tools that are perfectly adapted to your projects and corporate vision. The extensive range of models, from the network planning technique to phase plans and Kanban boards to the Raci matrix, will lead you successfully through every phase of the project process. Find exactly the right tools you need, and present your plans and analyses clearly and professionally.
Easily customize the templates with your own facts and figures, and arrange them as you need. The explanatory slides at the beginning of the chapters provide all the information necessary for an overview of how that topic is relevant to your project process, allowing you to present clearly and informatively. Thanks to the handy tool overview, it's simple to navigate this amazingly comprehensive Project Management Tools PowerPoint Template by simply clicking on the relevant link.
With the Project Management Toolbox for PowerPoint, You Can
find the right models and templates for all phases of your project
organize your project management processes
inform your project team about the current status of the project
This PowerPoint Template Includes:
Definition and quotes
Title slides
Project planning
Five phases of project management
Project Management Triangle
Phase plan, project schedule, work breakdown structure
Schedule Network Diagram
Critical Chain Management
Critical Path Method
Eisenhower Matrix
Activity and capacity planning
Decision Tree
The SMART Method
Brainstorming, mind mapping
Crosshair Method
Project requirements specification
Project organization and specification
Project organization structures (functional, projectized, matrix)
PDCA Cycle
Waterfall Method
Scrum
Extreme Project Management
Feature Driven Development
Kanban boards
Hybrid project management
Lean project management
Evaluation and analysis
Scenario analysis
Pugh Matrix
PERT estimation technique
Theory of Constraints
ABC analysis
SWOT analysis
Stakeholder analysis
Benchmarking
Project portfolio
Project visualization
Gantt-diagramm
Roadmapping
Swim Lanes
Projekt canvas
Strategy map
Risks and variances
Risk analysis
Spiral Model
RAID Log
Ishikawa diagram
Project controls
Target-actual comparison
Budgeting
Burndown charts
Milestone trend analysis
Project life cycle
Cost trend analysis
Earned value analysis
Cost performance index
DMAIC Cycle
Project status
Status table
Project team
Team building and leadership
Project roles
RACI matrix
Absence planning
Project templates for: meetings, minutes, change requests, project closure, project feedback