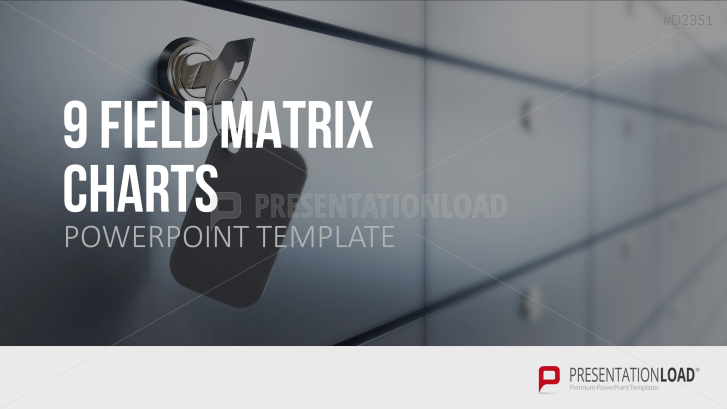 The Nine-Field Matrix for PowerPoint enables the clear weighting distribution of management units and strategy derivatives for future development by using assessment matrices and strategy area templates.
Determine the Strategy from a Variety of Factors
This matrix, also known as the McKinsey Portfolio, is part of a company's application of strategic management that attributes the profitability of the company to their business fields and products, which then deducts strategies from these weightings.
Therefore, the business units are classified in one of nine fields, each representing a standard strategy or recommended course of action for the future company approach.
The XY-axis of the graph represents the company's competitive strengths (market position, production potential, research and development potential, employee quality) and relative market attractiveness (market growth, market size, resource and supply position and environmental influences).
If a company has business units weighted according to its criteria and is registered as corresponding coordinates in one of the nine portfolio fields, then they can see which of the basic strategies (divided into three colors) they are assigned to in the matrix. Illustratively, the strategy can be determined between selecting a recommended growth strategy (area of capital commitment, fields at the top right) for each business unit or an offensive or defensive strategy (zone of selective strategies, fields of diagonal) or levy (Zone release funds, fields at bottom left.)
Templates, Work Tools and Thematic Introduction Slides for the Nine-Field Matrix
This collection includes nine-field matrices in various forms that can be filled quickly and easily by using placeholders with your business units. The assessment of these units is done via separate weighting matrices in which they will be judged on the criteria of the individual dimensions of relative market attractiveness and competitive strength. These factors are clearly listed and contain a description of the analysis gradually implementing the Nine-Field Matrix.
With the Nine-Field Matrix Templates for PowerPoint, You Can
quickly and easily visualize individual nine-field matrices by entering your criteria and weightings

acquire ideal strategies for further development of individual business units

graphically differentiate between profitable and unprofitable activities/ products
PowerPoint Templates Include:
Nine-Field Matrices in various designs

explanation of analysis procedure with the Nine-Field Matrix

matrices for the market attractiveness/ competitiveness assessment

a list of the assessment factors

Nine-Field matrices that display strategy-area distribution