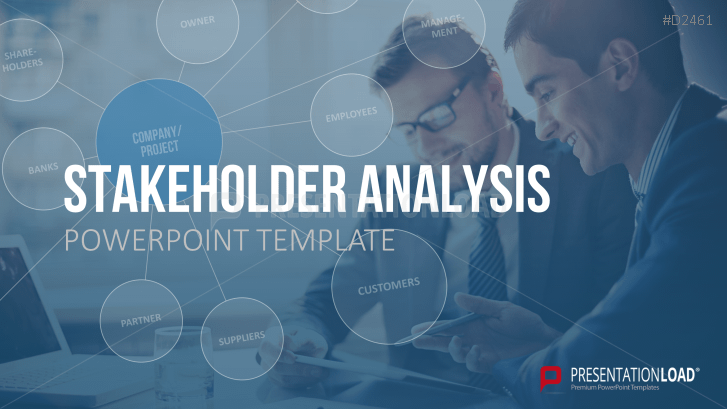 Professionally designed PowerPoint stakeholder analysis template for your business
Project environment analysis, influence-interest matrix, power, legitimacy and urgency model and analytical hierarchy formation process (AHP) - our collection offers you a range of templates for successful project management.
Holistic stakeholder analysis: taking consideration of all relevant interest groups
All business activity needs to be reconciled not only with shareholders' interests, but also those of other stakeholder groups. Stakeholders include everyone who is directly or indirectly affected by the company's decisions, i.e. employees, customers, suppliers, the state and the public. A targeted examination of these relationships serves to identify risks at an early stage.
Minimizing project risk
Our stakeholder analysis portfolio contains a variety of tools which you can use to classify and evaluate both internal and external interest groups. The process can be broken down into four steps: identification; representation of the relationships; assessment of the risks; and formulating practical measures. The analytical hierarchy formation process (AHP) is a mathematical method which supports your decision-making process.
This template can show the often complicated relationships between individual stakeholders using clear graphics. We have also included a toolbox providing further creative building blocks. A detailed table and matrix system, which includes an influence-interest matrix and a communication and reporting plan, enables you to analyze individual aspects more closely.
Our stakeholder analysis template gives you:
the ability to clearly display stakeholder relationships
tools to identify and weigh possible risks
an extensive system of tables and matrices
the ability to clearly display stakeholder relationships
tools to identify and weigh possible risks
an extensive system of tables and matrices
This PowerPoint template includes:
4-step stakeholder analysis
internal and external stakeholder lists (including graphics-based overviews)
power, legitimacy and urgency model
stakeholder map
various formulations of project environment analysis (PUMA)
several toolboxes with graphics building blocks
analysis of stakeholder interests, expectations, relationships and roles
tables for listing and evaluating individual stakeholders
portfolio, influence-interest, preference and goal matrices
analytical hierarchy formation process (AHP)
templates for action planning
communication and reporting plan
4-step stakeholder analysis
internal and external stakeholder lists (including graphics-based overviews)
power, legitimacy and urgency model
stakeholder map
various formulations of project environment analysis (PUMA)
several toolboxes with graphics building blocks
analysis of stakeholder interests, expectations, relationships and roles
tables for listing and evaluating individual stakeholders
portfolio, influence-interest, preference and goal matrices
analytical hierarchy formation process (AHP)
templates for action planning
communication and reporting plan