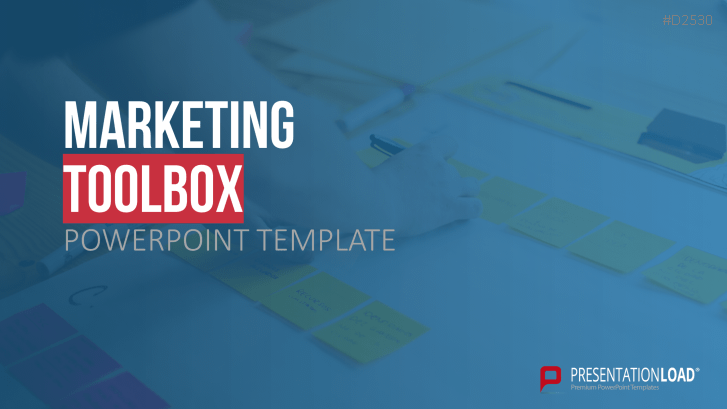 Marketing Tools for PowerPoint
This incredible collection of PowerPoint template slides includes marketing diagrams (such as the marketing triangle/pyramid, the marketing face according to Kühn, marketing models, situation analyses and more), templates on market entry barriers and many other presentations on marketing strategies, concepts, competitive analyses and market field strategies.
Versatility: Marketing Tools in PowerPoint
Marketing as a field aims to sensitize and align a company to current market conditions. This is incredibly important when dealing with markets that are highly competitive due to high demand and high supply. In this context, it should be obvious that marketing needs to be a priority in company management.
Applied marketing includes areas such as market and competition analysis, business analysis, price and cost management and competitor analysis, and these all encompass different approaches, covered comprehensibly in our marketing tools PowerPoint template.
Planning and Strategy: Marketing Tools in PowerPoint
Our fabulous Marketing Toolbox provides a huge range of charts, analyses and marketing presentations, guaranteeing you a professional presentation of marketing principles and plans. From marketing fundamentals to pricing and cost management, we have the perfect solution to all your marketing needs!
This Marketing Toolbox Provides You with
a broad collection of marketing charts, diagrams and analyses

various competition and market analyses

professional illustrations
PowerPoint Templates Include:
marketing basics and definitions

templates on market analysis/ competition analysis

templates on distribution and sales

situation analysis templates

marketing planning templates

product planning templates

cost management templates

strength and weakness table

chance and risk analysis

SWOT analysis

GAP analysis

ABC analysis

segmenting-targeting-positioning (STP model)
customer & buyer persona

marketing mix (4P, 5P, 7P)

AIDA model

five forces analysis

charts on marketing strategies and concepts

outpacing strategy

break-even analysis

benchmarking templates

collection of marketing graphics