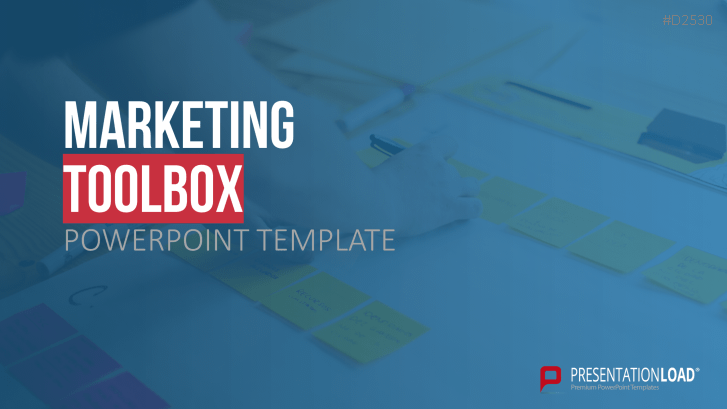 Find the right marketing tools for a wide range of topics
Our toolbox not only provides you with the basics of marketing, but also with tools and information on marketing strategy, customer management, products, market and competition, and corporate identity and image.
Marketing versatility
Marketing focuses on aligning a company with market conditions. In robust markets with high demand and supply, this is essential. In order to remain competitive and successful, companies need to prioritize a marketing strategy that takes different perspectives and approaches into account.
Planning and implementation in one template
With our Marketing Toolbox for PowerPoint, you receive a collection of methods, graphics and templates to plan and implement your individual marketing strategy and present it to your stakeholders. Win them over with sharply designed graphics and fully editable slides.
With the Marketing Toolbox for PowerPoint, you can
present your information using premium-quality templates
find the right methods and information for your marketing strategy
stay up to date on the latest marketing trends
This PowerPoint template includes:
Basics
Quote
Marketing definition
Marketing mix
Marketing triangle
Ohmae's marketing pentagon
Marketing pyramid
Marketing funnel
Marketing flywheel
Marketing management cycle
Marketing planning phases
Marketing organization
Matrix organization
Value chain

Marketing strategies
Marketing canvas
Marketing strategy canvas
AARRR model
SOSTAC framework
Unique selling point
Marketing roadmap
Growth hacking
P.O.S.E media
Content marketing matrix
Storytelling
Viral marketing
Affiliate marketing
Social Media Marketing
Influencer marketing
Search engine marketing (SEO and SEA)
Conversion optimization
A/B test
Multivariate testing
Lead nurturing funnel
Lead scoring
Targeting
Retargeting
SMART goals
Omnichannel marketing
Marketing automation

Customer management
AIDA model
AIDCAS model
DAGMAR formula
Value proposition canvas
Customer empathy map
Häusel's limbic map
KANO model
READY framework
RACE framework
RATER model
Customer journey
ABC analysis
Customer & buyer persona
Target group characterization: Sinus-milieus
Rogers' diffusion model
Maslow's pyramid of needs
SOR model (Howard & Sheth)
Customer development stages
Customer life cycle
Customer relationship management (CRM)
Net Promoter Score
Fan-Principle
Customer satisfaction score
Customer effort score
Customer development

Products
Product dimensions
BCG matrix
Purchase decision process
Product variation
Pricing strategies
Product life cycle
Blue Ocean method
S-curve concept

Market and Competition
Market research phases
Market analysis
Market system (Kühn)
Market segmentation
SWOT analysis
Competitive advantage matrix
STP model
Porters' five forces
Market field strategies (Ansoff)
Competitive strategies (Porter)
Competitive advantage: 5 principles
Competitive advantage (Kay)
Porter's diamond model
Advantage matrix
U-curve concept
Pricing strategies matrix
3C model (Ohmae)
"Stuck in the middle"
Outpacing strategy

Corporate Identity and Image
Corporate identity: components
Corporate identity vs. corporate image
Goal pyramid
Branding policy
PESTEL analysis
Corporate social responsibility (CSR)
Online reputation management
TrustRank

Templates
KPI dashboards
Call-to-action buttons
Marketing icons