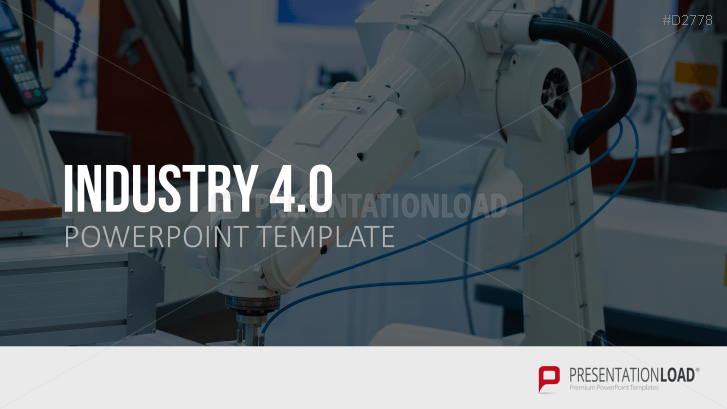 Our PowerPoint slides show how machines of Industry 4.0 can independently communicate with each other to optimize your production process.
Networked Manufacturing
The Internet of Things has laid the foundations for a "smart factory". The concept of Industry 4.0 is simple – in a variety of devices, small data storage is installed which can be read and written wirelessly. This data is then linked together and further processed via the Internet or other networks. After applying this technique to the machines and equipment at a factory, the "cyber-physical system" (CPS) or infrastructure emerges, in which all machinery in the manufacturing process can communicate independently with one another.
Increase Efficiency
Industry 4.0 technology leads to an "intelligent" networking of the production and logistics fields. "Smart Networking" means that within a manufacturing facility, the individual machines can automatically swap data and check the status of other steps. With this information, it is possible for them to bring their own activity dynamically. In other words, they can learn autonomously in the broadest sense. This is called a "vertical" integration of a concept or, that is to say, within a particular company. It can also apply "horizontally" across the entire value chain. Upstream or downstream industries can exchange related data automatically and independently optimize the flow of material and logistics.
In this PowerPoint set, we have summarized the most important information for industry 4.0 from diagrams on the possible structure of a smart factory to recommendations for practical implementation, including possible advantages and disadvantages of the concept. Furthermore, a range of statistics and data on predicted development and research requirements provides a future outlook. Use our presentation templates to update your customers, employees or supervisors about the technology of networked manufacturing.
With Our Industry 4.0 Template, You Can
get the most important facts about smart factories

convey technical implementation options in your company

make the pros and cons of autonomous communicating machines

This PowerPoint Template Includes:
a definition of Industry 4.0

slides for vertical and horizontal integration

IoT as a basis for Industry 4.0

the future structure of a smart factory

the influence of technology on businesses and employees

developmental phases from the first steam engine to Industry 4.0

actions and recommendations on the implementation of networked manufacturing

case studies (e.g. sudden change of supplier)

advantages and disadvantages by way of comparison

future outlook and expert opinions