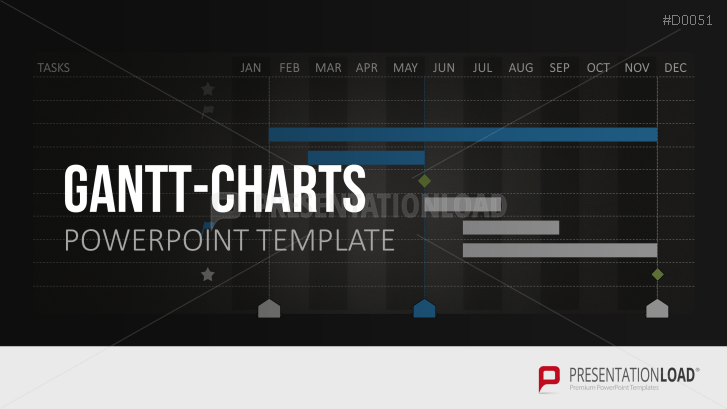 Use Gantt Charts to Schedule and Optimize Project Activities.

Overview of Project Processes

The Gantt chart, developed by US management consultant Henry L. Gantt, is a tool used in project management to plan and coordinate the individual steps of project.

A Gantt chart illustrates a project schedule as a bar chart. It is used to list all project activities and their expected completion times. Each bar represents an activity and clearly shows its start and end dates.

The chart provides an overview of how much time is required for each activity and when it should be completed, giving the project manager improved control over the project flow. It enables the project manager to identify the activities that are running smoothly and optimize those that are not.

Oversee, Coordinate, Optimize

Use our PowerPoint Gantt Chart templates to create an overview with your team of the activities that make up a project, how much time individual activities need, and which activities overlap. Coordinate and optimize project processes and ensure the project's successful development.

Enjoy the versatility of the templates, which allow you to create weekly, biweekly, monthly, quarterly, half-yearly, annual and milestone plans. Take advantage of a variety of design options, including individual labeling, language selection (English or German) and customizable colors.

Coordinate Your Schedules Better Using

professional presentation templates
a variety of versatile designs
multiple display options

This PowerPoint Template Contains:

6 weekly plans
5 2-week plans
7 monthly plans
8 3-month plans
10 half-year plans
9 annual plans
4 6-year plans
simple project plans without time specification