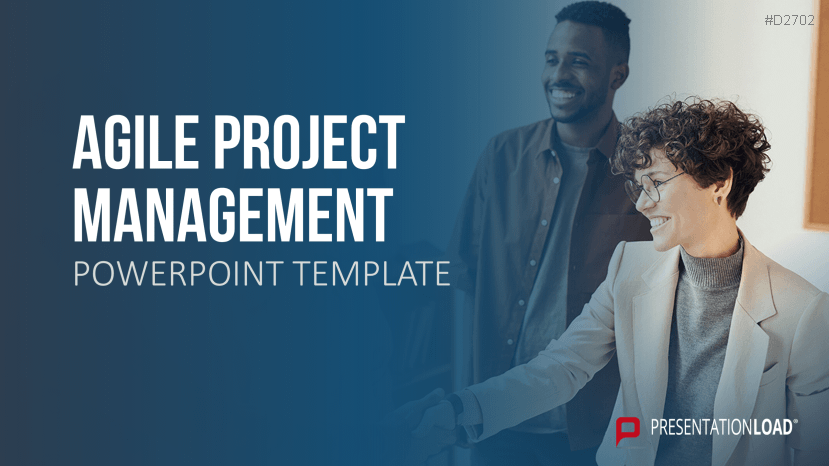 Agile Project Management Templates For Your Presentation
Bring the guiding principles, practices and most importantly the success of agile methods into the heart of your company. The agile manifesto originated in software development, but can be applied universally.  The methods and tools presented in this set allow you to develop products more effectively and to achieve optimum customer satisfaction.  
Flexibility Through our Agile Project Management Template
Agile project management streamlines work processes, making them more effective and efficient. Agile project management is rooted in the principles of the Agile Manifesto. Its strength lies in flexibility, transparency and its ability to adapt fully to customer needs.
A product is created using agile development processes in different phases. Intermediate results are tested and presented to the customer within these phases. Any subsequent changes are then incorporated to meet the customer's requirements. The next product development Sprint begins, and the process repeats until a satisfactory result is achieved and the customer gives the final approval for market release.
Efficiency and Customer Satisfaction in One Agile Project Management Template
As changes are immediately implemented, the agile project management approach ensures maximum customer satisfaction and increased development process efficiency. With one method, you can optimize two key business parameters and get one step closer to perfecting your product.
With the Agile Project Management Template for PowerPoint, You Can
provide employees and customers with information about the development process
supply clients with visual documentation of results
professionally present the agile methods and processes
The PowerPoint Template Includes:
Definition and guiding principles of the agile methodology
Outline of the differences between traditional and agile approaches
History of agile methods
Advantages of agile methods
The Agile Manifesto
Agile mindset
Four values of the Agile Manifesto
Twelve principles of the Agile Manifesto
List of agile practices
Diagram: agile software development
Definition: Agile methods in project management
The agile process
The Agile methodology
Survey: most popular agile practices
Traditional vs. agile methodology
Scope, cost and duration in project management
Waterfall vs. agile methodology
Agile methods
Scrum
Kanban
Scrumban
Water-Scrum-Fall
Lean Startup
Extreme programming (XP)
Scrum/XP
Design Thinking
Strengths and weaknesses of these methods
Survey: most popular agile methods 2020
Agile project management templates