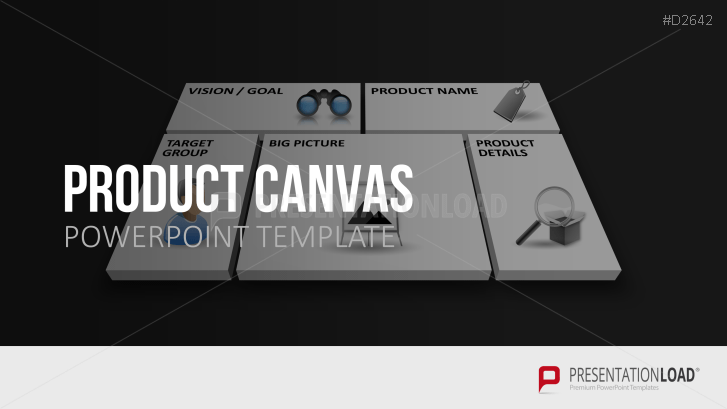 With the Product Canvas templates for PowerPoint, you can organize and present strategic product planning quickly and clearly just on one page, with various included designs and optically supported graphics.
Product Canvas
A Product Canvas is usually made up of five adjacent rectangles in which the product information is displayed, such as the product name, production objective, definition of the objective, the overall picture and specific product details. There can also be reference to critical elements of the product or of its production process. The aim is to provide a simple overview of the product, its planning and related requirements and challenges.
Visualize Product Strategy Quickly and Naturally
The preparation behind traditional business and market request plans usually takes a long time. The final documents are rarely updated and information is conveyed to third parties in a complicated way. However, the Product Canvas is a quick and clear alternative, in that the essential components of a product can be structured on one page in an understandable way and can be easily updated.
Design Variety
This collection offers Product Canvas templates in various styles. 3D perspective or simple 2D designs on a white background are included as well as creative photo backgrounds. With the ready-made text placeholders, you can fill the pages with content about your product quickly and easily.
With the Product Canvas Templates for PowerPoint, You Can
clearly convey your strategic product planning

feature Product Canvas in modern design

detect and update your product information quickly and easily
PowerPoint Templates Include
Product Canvas templates in different styles (3D, photo background, etc.)

text placeholders to insert product information