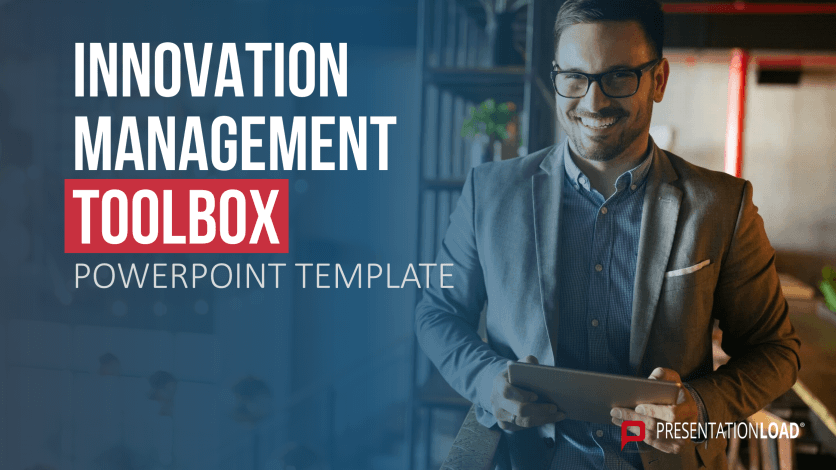 Innovation management tools for everyone
Innovation management facilitates breakthroughs within a product portfolio, in business management and with new technologies, services and processes. Introducing innovation should be an integral part of corporate management to ensure economic and commercial success.
Innovation management addresses this by addressing different areas, such as corporate organization, and typically requires specialized talent to guide the processes and developments.
PowerPoint templates for innovation management
Use ready-made templates that clearly present innovation management analyses and models to help you derive innovation concepts. Use various matrix templates (attractiveness-risk matrix, idea portfolio matrix, market positioning matrix, etc.) and strategy and analysis tools to create professional management presentations quickly and easily.
With the Innovation Management Toolbox for PowerPoint, you can…
obtain the most important innovation management methods as PowerPoint slides
present the latest tools to drive innovation processes
save yourself the time of creating your own elaborate slides in PowerPoint
Innovation model templates:
Innovation Roadmap

Four dimensions
Innovation process phases
Phase-gate model
Chain-linked model
Innovation funnel
Target costing
Service innovation
Research & development management
Doblin's 10 Types of Innovation
Cyclic Innovation Model
Innovation Matrix
Areas of Interest
Innovation in the Company: Assessment
Strategic Fit Checklist
Market positioning
Potential analysis
Strengths & weaknesses analysis
Preference matrix
Idea portfolio matrix
Idea prioritization
Market overview
Utility analysis
Attractiveness-risk matrix
Innovation portfolio
Innovation radar
Innovation strategy
House of Innovation
Strategic options
Life cycle
Experience/learning curve
PIMS model
Open/closed strategies
Market entry strategies
Market entry graph
Push and pull strategies
Innovation cube
Design thinking process
FORTH innovation method
Idea form
Troubleshooting approach
Project assignment
Project requirements
Milestone plan
Implementation plan
Network diagram
Project plan