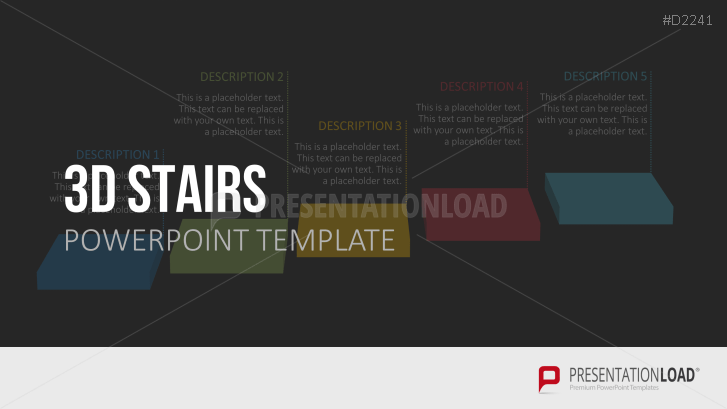 Implement the 3D Stairs PowerPoint templates to present hierarchies and process steps.
Step by Step
In order to achieve a higher-level target by means of a stairway, each step has to be climbed. A typical, everyday staircase has been incorporated into the form of 3D steps in this PowerPoint presentation to illustrate gradual processes, particularly in the form of process stages.
Representation of Process Steps and Hierarchies
Use the 3D Stairs PowerPoint templates to show your team the importance of individual process steps in the context of an overall development. For this purpose, you are provided with slides of different colors designed with stair-like steps that can be described in detail by using placeholders.
In order to underline the gradual process and the target (final stage,) arrows, figures and people silhouettes have been integrated into the PowerPoint templates. But it is precisely the latter that lends itself for presenting hierarchies and organizational principles in terms of workforce.
The 3D Stairs PowerPoint templates offer
the possibility of displaying process steps and hierarchies
customizing options (placeholder, color change)
design elements that underline the gradual process (arrows, figures)

PowerPoint Templates Include
slides for displaying hierarchies (numbers, people silhouettes)
slides for displaying process steps (numbers, people silhouettes and arrows)