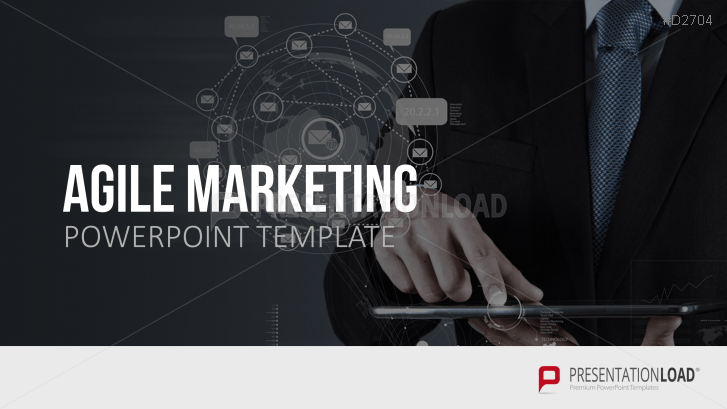 Find detailed definitions on agile marketing, charts on marketing processes (radial diagram, the agile manifesto, agile iterations, etc.) and an extensive application guide on the flexible marketing concepts all in one PowerPoint set.
Flexible Marketing Programs for Effective Results
The agile marketing concept is a flexible process of short marketing cycles. Each cycle includes planning, launching and measuring the marketing program and adjusting it according to any insights you may gather after the first release. This approach is based on the principles of agile (project) management and was originally created for software development.
These iterative marketing processes adapt to any market situation within a short time frame. Consecutive cycles improve the marketing programs and increase the transparency of the process because feedback can be immediately implemented.
Innovative Workflows with Agile Methodology
Break through conventional methods and create efficient and flexible marketing programs by staying adaptable during the whole process. Show a better interest in your customer's demands and improve your team spirit. When applying agile iterations, you will always be flexible.
Agile Marketing and PowerPoint Presentations
Included in this agile marketing collection for PowerPoint you will find a number of definitions, charts (which explain the agile marketing idea in detail), worksheets and flowcharts. Inform your employees and the management of your company about future marketing programs and document all results in PowerPoint.
By Using the Agile Marketing PowerPoint Set You Receive
agile iterations illustrated on smart charts

definitions to implement the innovative marketing concept

worksheets to document agile processes

PowerPoint Templates Include
definition on agile marketing

the agile manifesto

charts on the agile marketing process

a chart on agile marketing versus the waterfall model

radial diagram on agile marketing

various user story templates

icon toolbox