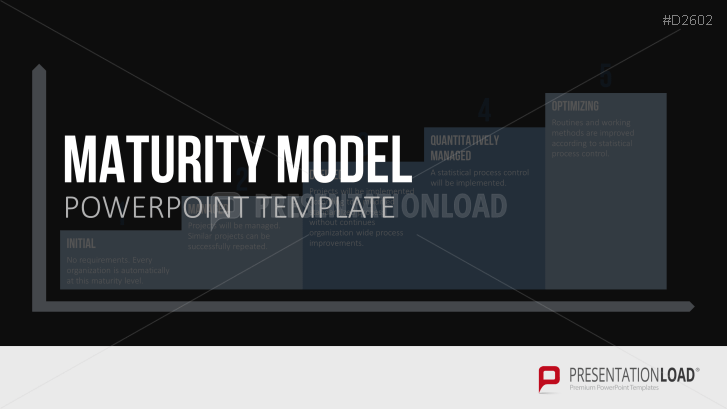 The Capability Maturity Model collection for PowerPoint includes graphs in various display formats, such as a pyramid or chart to assess and illustrate the maturity level of a software process.
Five-Stage Maturity Model for Assessing the Quality of Software Development
Companies often need to manufacture their software and deliver it to the client within a certain time frame and under specific quality standards and cost requirements.
With the Capability Maturity Model, the maturity or quality of a software process and the competence of the software developer can be assessed through five levels. These stages, Initial, Managed, Defined, Quantitatively Managed and Optimizing, are defined using key process areas, which dictate how to achieve the company's improvement of process objectives and sample activities.
If a company is classified, for example, in the Optimizing Level, weaknesses of the software process will be identified in order to make appropriate improvements. The level assessment and derivable measures to achieve the process objectives can be clearly communicated to the relevant employees in software development through professionally designed presentations.
Capability Maturity Model in Different Designs
This collection contains charts in various design options, for example, as a pyramid diagram or ladder. The individual rating levels of graphics are provided with explanatory texts and may be supplemented with customized content in pre-text placeholders on slides.
With the Maturity Model Templates for PowerPoint, You Can
clearly create quality assessment of software processes
vividly convey the model to third parties
feature the Capability Maturity Model graphics in professional designs
PowerPoint Templates Include
Maturity Model graphs in different varieties: pyramid, ladder, column, diagram, etc.
Combined slides with charts and text placeholders