Define Goals for Your Presentations – Here's How to Succeed Every Time!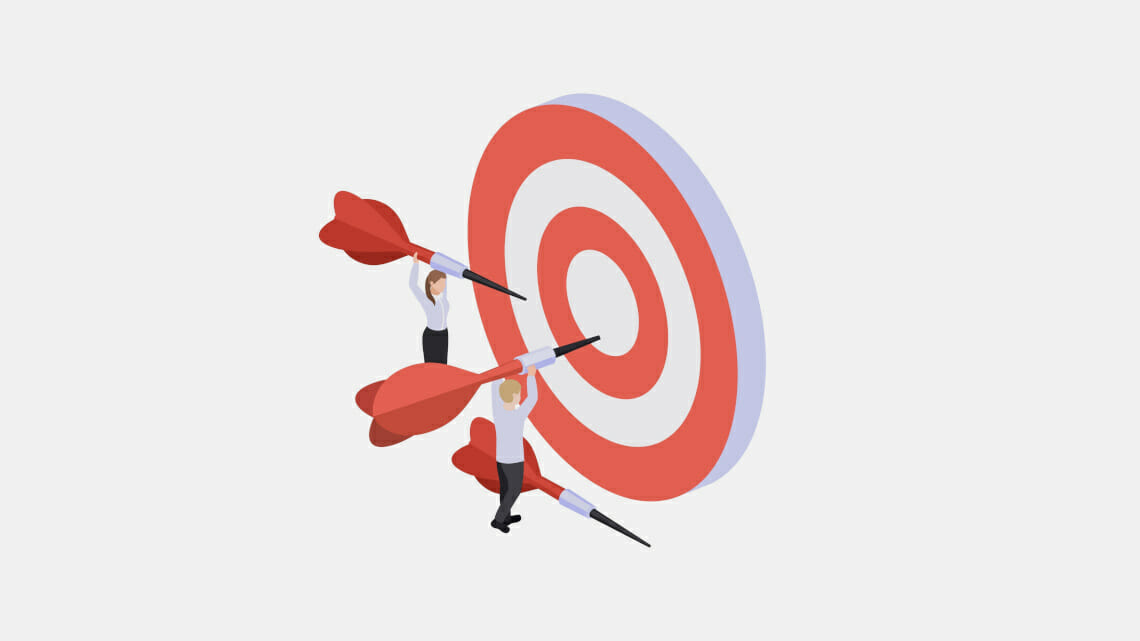 The way it often goes is that you start with a great idea, and eagerly start to work towards realizing it. Your goal seems clear! Then as you go along, more goals start to sprout.
New ideas and new goals can quickly crowd out your original clarity, and as your thoughts are a mess, the whole project falls apart. To avoid this, it's absolutely essential that that you define goals as soon as possible.
Why is defining goals so important?
Goals are totally necessary to success in any situation. Having a fixed goal in mind helps to focus and realize your wishes and ideas, and also helps to measure how close you are to that goal.
Goals also serve as an incentive; when achieved, they boost self-confidence. Without goals, people can become aimless and waste a lot of energy. Whatever the goal is, (e.g. getting a raise, saving enough money for a vacation, completing a qualification) – achieving those goals makes us feel happy and confident.
The Importance of Goals in PowerPoint Presentations
Goal setting is also important in the context of PowerPoint presentations. This is because when you put a presentation together, there is an intention behind that presentation, whether it's sales-oriented or purely informative. What is the purpose of your presentation? Why do you want to talk about a certain topic? Learning to define concrete objectives helps you create a really effective presentation around your goal.
Goals are also beneficial in these areas within presentations:
Goals as a guide for the presentation process
Goals serve as a guide in the planning and creation of a PowerPoint presentation. They help structure the entire presentation process and ensure that all content, slides, and arguments align with the desired goals.
By defining clear goals, you can better plan the flow of the presentation and ensure that all relevant information is covered.
For more tips on how to prepare your presentations properly, you can also refer to the article "Preparing Presentations: 11 Tips".
Goals to enhance clarity and effectiveness of your presentation
Defining goals significantly contributes to the clarity and effectiveness of your PowerPoint presentation. When you know exactly what goal you want to achieve with the presentation, you can select and present the content more purposefully.
Goals help avoid irrelevant information and focus on the essentials. This makes the presentation clearer and more concise, facilitating your audience's understanding and absorption of the message.
Goals as a guide for your audience
Goals also serve as a guide for the audience. When the audience is aware of the presentation's goals, they can better understand what is expected and which information is relevant.
Goals help the audience recognize the underlying structure of the presentation and process the information more effectively. By defining clear goals, you ensure that your audience perceives the presentation as relevant and valuable and actively engages with it.
Bring Order into Chaos
You need to get clear and keep in mind why you want to give your presentation and what you want to achieve with it. A structured plan will help you to get chaotic thoughts in order. The ideal way of doing this is to use the SMART method. This article will go through what it entails and how to use it to set effective goals for your presentations.
Here are the steps to define your goals in PowerPoint presentations:
Analyze the presentation context
The first step is to thoroughly analyze the presentation context. This includes considering the audience, occasion, time frame, and expectations of the presentation. Having a clear understanding of the context allows you to define goals that are appropriate and tailor the content and presentation style accordingly.
It is important to have a basic understanding of your target audience to adapt the presentation to them and choose goals accordingly. Read more in the article "Target Audience Analysis".
Identify the main message
It is important to identify the main message of the presentation. What is the central statement or primary goal that needs to be conveyed? By establishing a clear main message, the presentation becomes focused and concise.
Learn how to identify, define, and communicate your main message in the article "Developing Key Messages for Presentations".
Building upon the main message, you can define specific goals. These goals should be clear, measurable, and realistic.
For example, a goal could be to convey specific information, promote certain behavior, or elicit a particular response from the audience. The goals should be aligned with effectively communicating the main message.
Assess goal attainment possibilities
Before finalizing the goals, it is important to assess the possibilities of achieving them. Consider the available resources, time, and the presenter's skills. It is important to set realistic goals that are achievable and do not exceed the scope of the presentation.
By carefully following these steps, a clear goal definition can be achieved in PowerPoint presentations, supporting the success of the presentation and achieving the desired impact.
Define Goals Optimally with Information Questions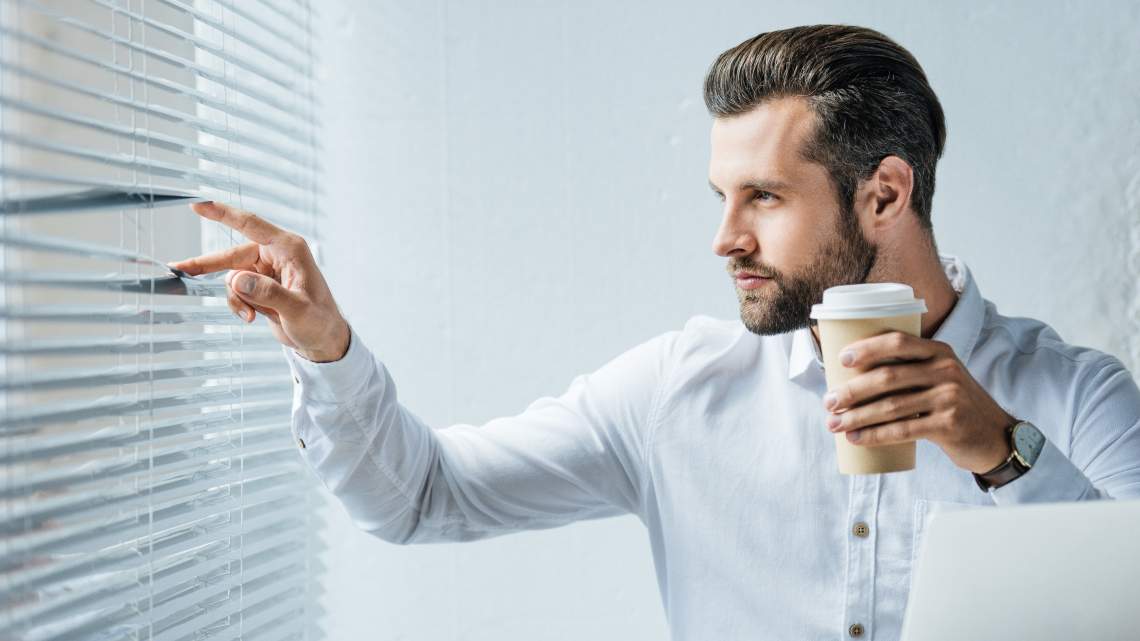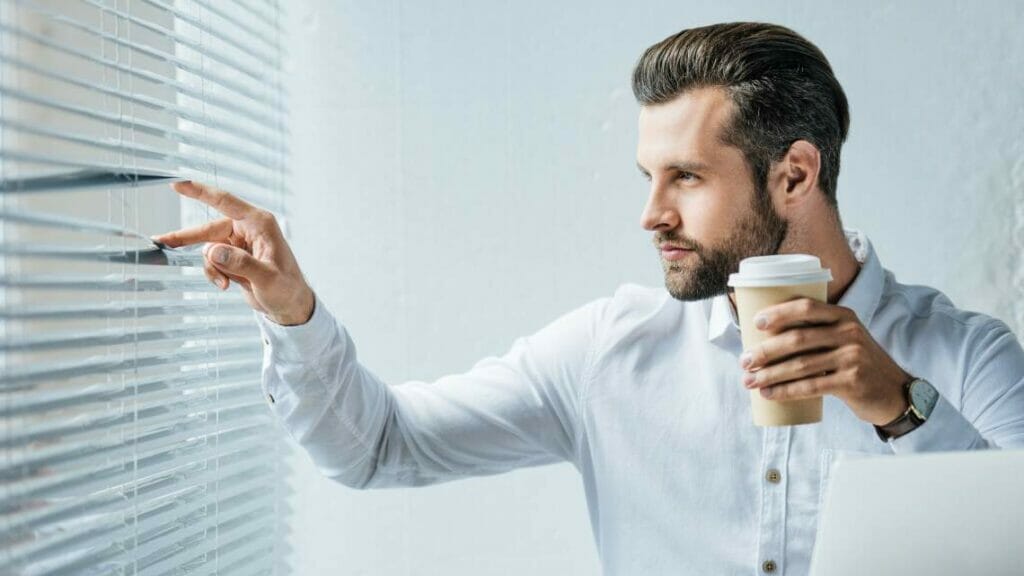 Before we go into more detail about the principle of SMART goals, it's useful to revisit some basic tips on the subject of goal definition. To be able to grow both professionally and personally, we need goals that help us to make progress. The same applies to companies: it is essential to define goals and to realize visions in order to grow.
Who is giving the presentation?
Even setting a goal can be a challenge. Setting a goal that is too high to reach, or too low to ensure progress, is counterproductive. A good way to help define goals is to ask information questions. When preparing a presentation, it's really useful to ask yourself the following:
What topic are you covering?
Why this topic, exactly? What in particular do you have to say about it?
What does your audience expect from you?
How will you convey your key messages? How do you want your presentation to look; how can you optimize your slide design to help?
When are you going to give your presentation? Do you have enough time to prepare?
Where will your presentation be taking place? Does it have suitable equipment, such as a projector and screen?
Defining Goals with the SMART Formula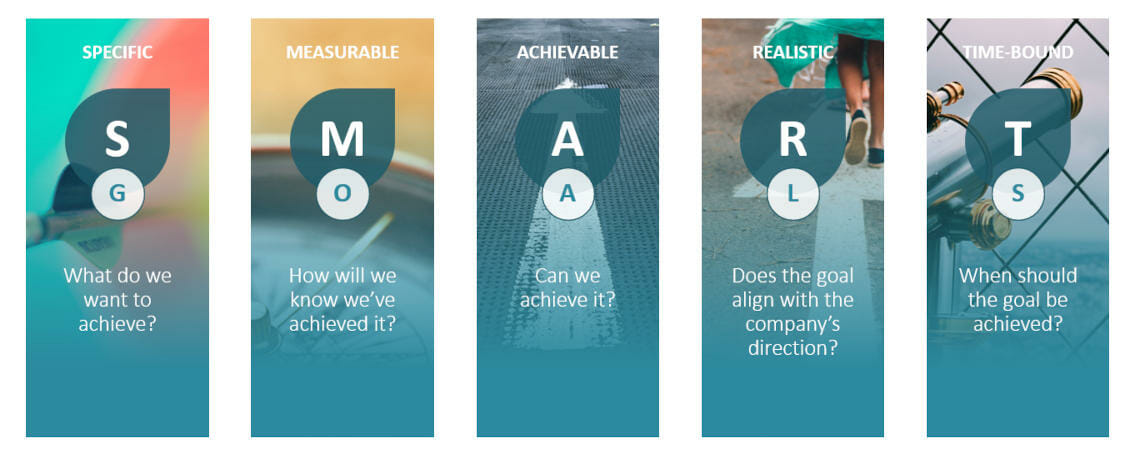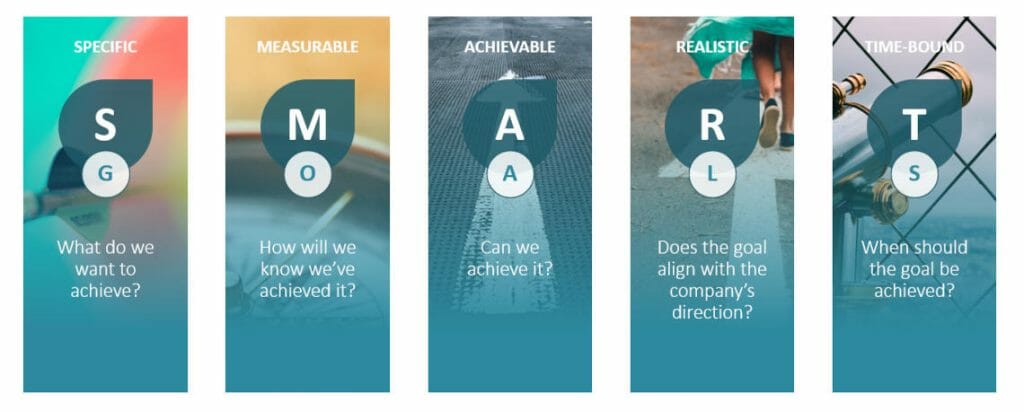 As mentioned above, the SMART method offers a solidly useful way to define goals.
SMART is an acronym for the following terms:
S– Specific: Formulate your goals precisely so that you know exactly what you want to achieve.
M– Measurable: Define clear criteria to measure your goals.
A– Attainable: Make sure your goals are achievable and can be practically implemented.
R– Relevant: Make sure your goals align with your overall vision.
T– Time-bound: Set a deadline for yourself.
Here's an example of how to apply the SMART method in practice. We're going to use the goal of "more Facebook fans", which can obviously also be applied many other things.
1. The specific goal is to reach 50,000 fans.
2. This is measurable as Facebook counts your fans for you.
3. Since you already have 45,000 fans, this is a goal that is achievable. Sufficient funds and time are available for acquiring the additional 5,000.
4. This would benefit your company, since more fans ensure higher traffic.
5. This is scheduled and should be achieved by the end of the year.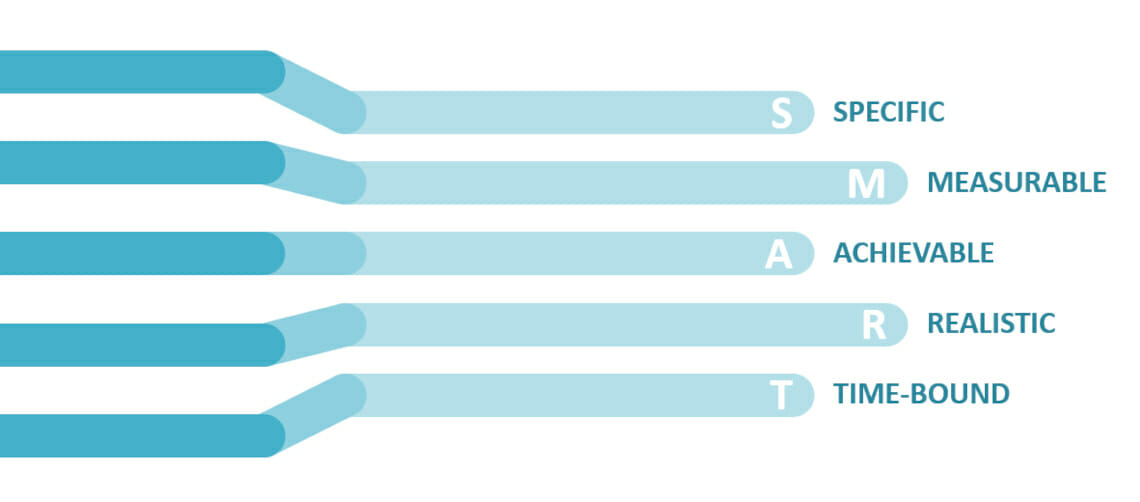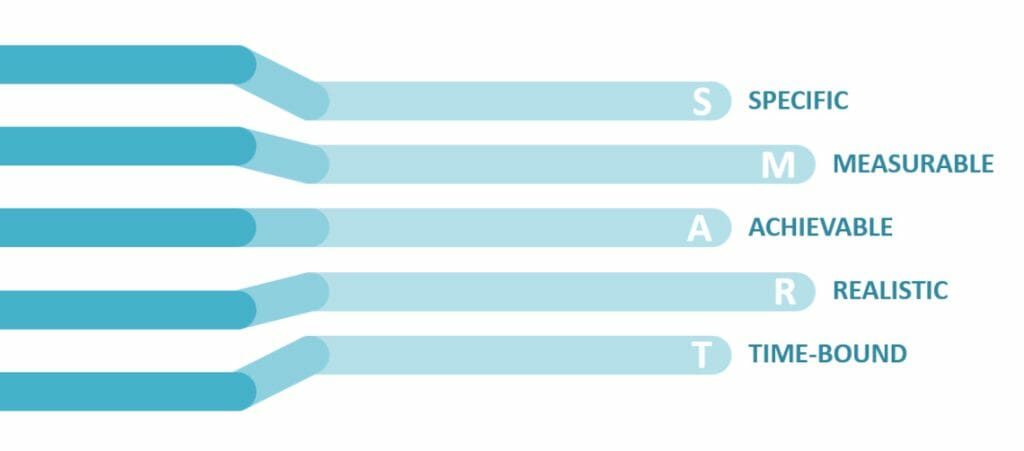 SMART Method PowerPoint Templates
In order to help you define your goals as effectively as possible, we offer numerous templates around the topic of Smart working. These can help you to design a PowerPoint presentation around your goal easily and optimally. Our Smart Goals PowerPoint template slide set offers practical working aids, explanations and overviews around the Smart method, and checklists for defining goals and creating presentations.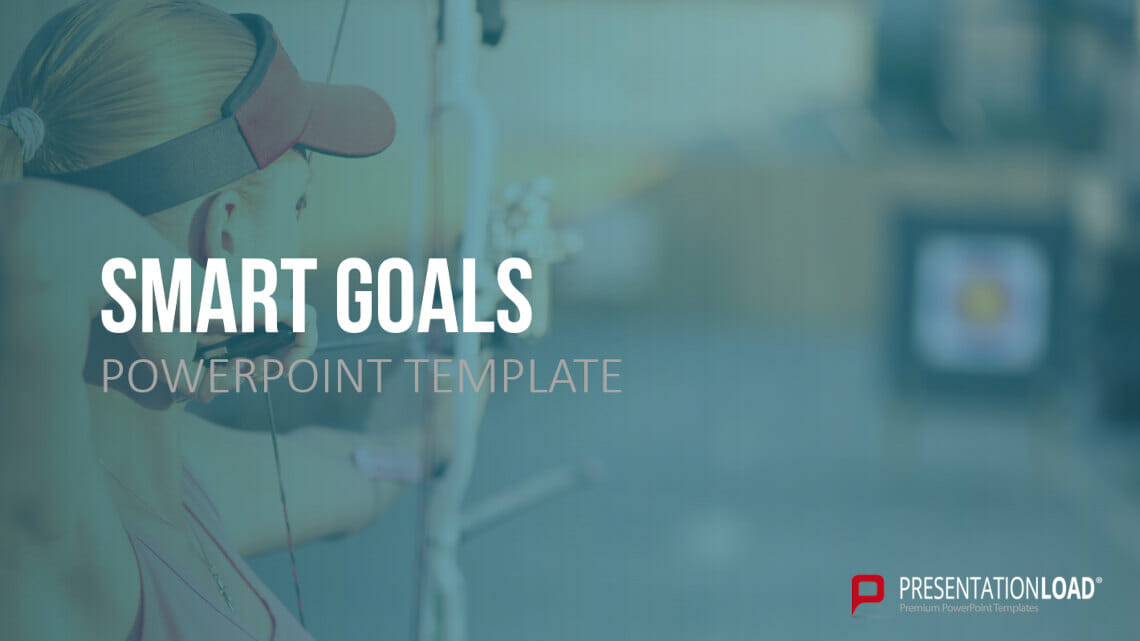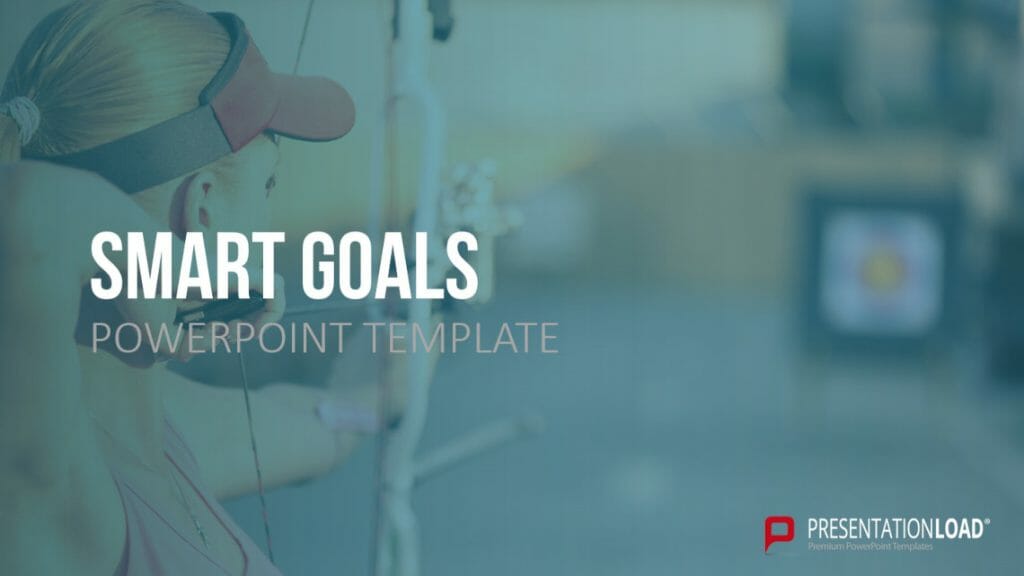 WOOP – an Alternative to the SMART Method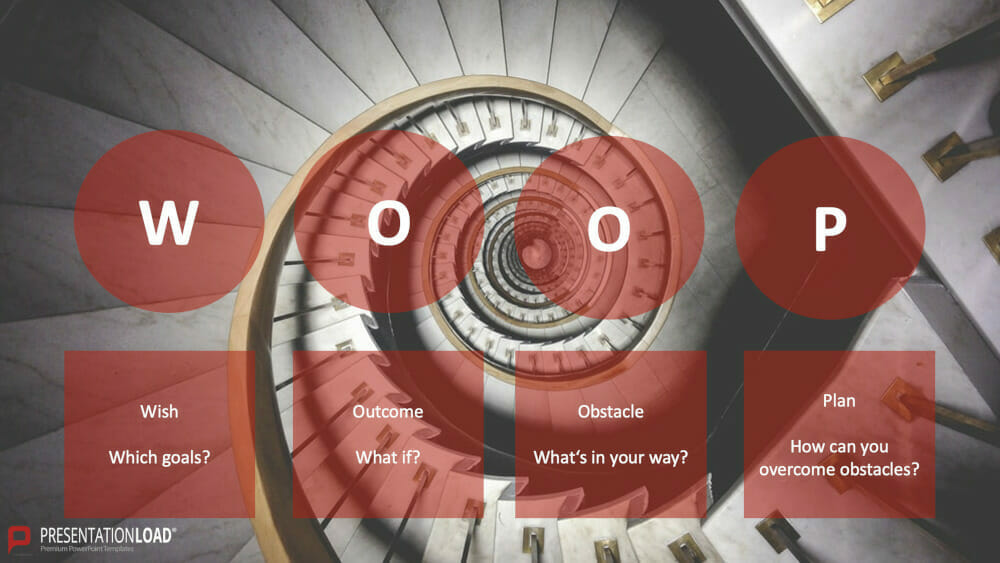 Like the SMART method, the WOOP method, is an acronym intended as a tool for defining and achieving goals. The method was developed by Professor of Psychology Gabriele Oettingen. The individual letters stand for the following terms:
W– Wish: The starting point is defining what you want to achieve.
O– Outcome: The next step is to visualize the result. What will change if you implement your wish? Will your business be positively changed by the goal? Does thinking about this step fill you with the energy needed to implement it?
O– Obstacle: What are the obstacles that might prevent you from reaching that goal? This is when you identify and and all reasons that may keep you from achieving your goal.
P– Plan: Plan how you will break down these barriers and work consistently toward your goal.
Conclusion: Define Your Goals and Achieve Success!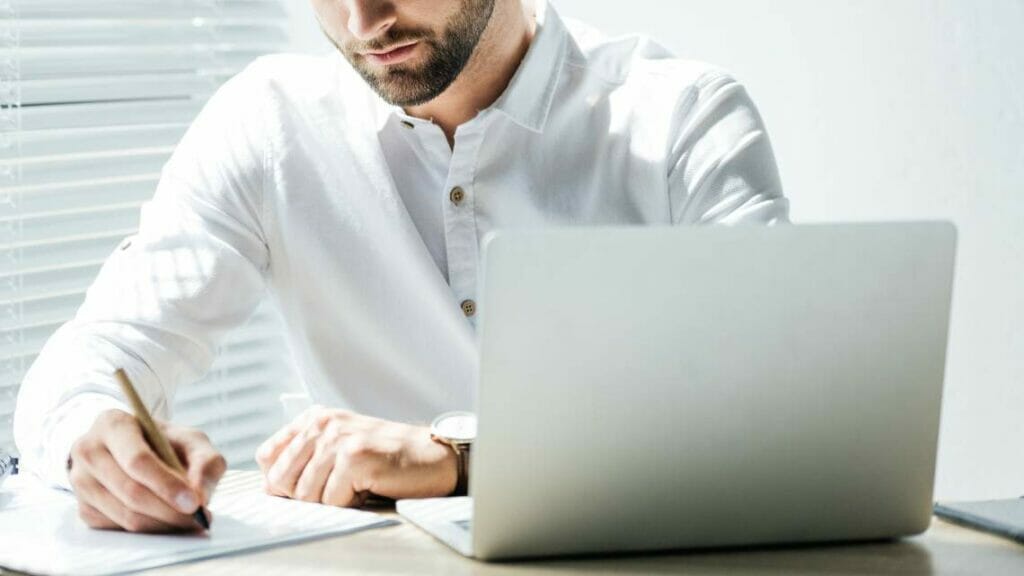 We hope the above article, setting out really effective means such as the SMART method for defining goals, will mean you are optimally equipped for your next presentation. Get your next presentation in order with a structured plan, and persuade your audience without any difficulty.
If you have any questions about the SMART method and define goals, or about PowerPoint presentations in general, please don't hesitate to contact us at [email protected].
Other articles which may be of interest to you: