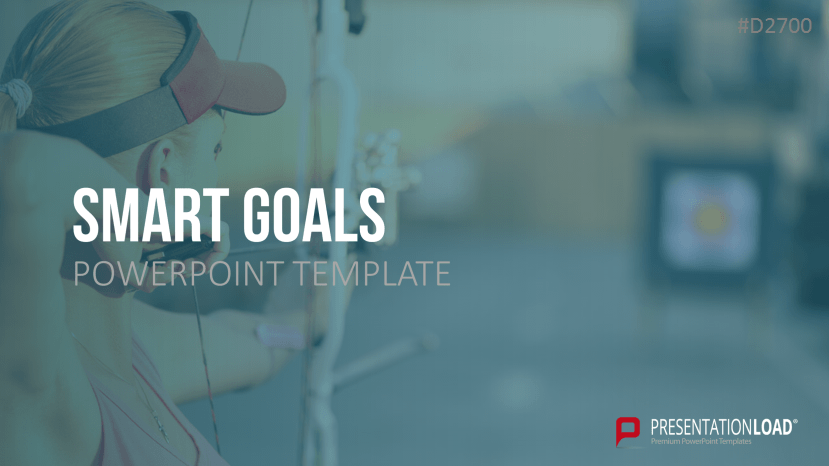 Define goals in PowerPoint
SMART Goal Templates includes definitions, work sheets and checklists for a successful project planning.
SMART Goals
Define business goals precisely by using professionally-designed SMART Goals Templates. With the help of definitions, work tools, overviews and checklists, the presentation set is easy to use and the templates are perfectly suitable for presentations on marketing, sales, strategy management, personnel management and social media.
SMART is the acronym for:
S – Specific: Define your goal precisely

M – Measurable: Can your goal be measured?

A – Attainable: Make goals appealing and attainable

R – Realistic: Be realistic when defining your goals

T – Timely: Define a deadline
Use this principle to define your goals most effectively and make them comprehensible as well as traceable for all employees. Create a marketing plan based on your SMART goals, plan projects and make your company more successful.

Clever features such as stylish flat design graphics, diagrams, tables, lists and SMART goals complement your business presentation. Text placeholders simplify your work and you can easily insert your own content and ideas. Adjust and customize all features such as size, shape and color according to your own professional requirements.
With SMART Goals templates for PowerPoint ...
you have working aids for the implementation of a structured project plan.
communicate the SMART method to third parties.
develop and define project goals."
This PowerPoint Template contains
Quotes
Definition SMART Goals
SMART Categories
SMART goals: Questions
SMART Goals: Specific
SMART Goals: Measurable
SMART Goals: Executable
SMART Goals: Realistic
SMART Goals: Scheduled
SMART Goals: Overview
Developing SMART goals
Dos and Don'ts when creating SMART goals
Achieving SMART goals
Implementing SMART goals
Numerous templates, infographics and tables