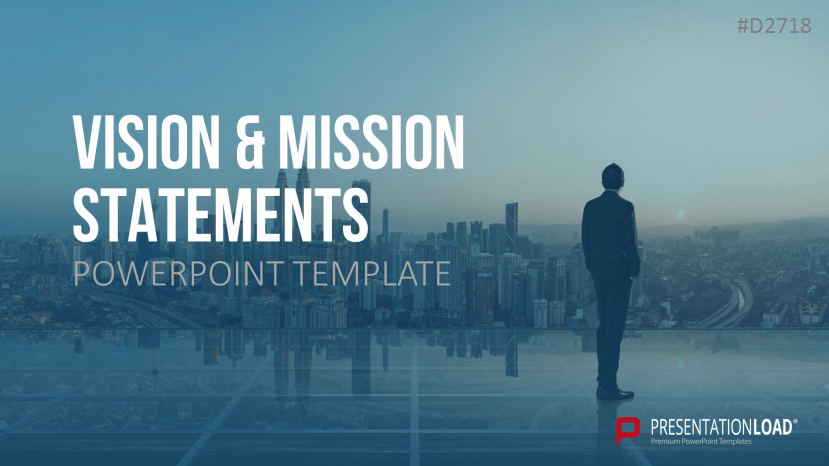 Inspire strategic decision making within your organization. A collection of worksheets, definitions and charts help to identify and present both your company's mission and vision with Microsoft PowerPoint.
What are Mission and Vision Statements?
While a mission statement describes what a company wants to do now, a vision statement outlines what a company wants to be in the future. Combine both in order to lay out a solid foundation for your organization.
Mission Statement
The focus of the mission statement lies in the present. It describes the customer base and outlines important processes. Even though it might change over time, it should still be connected to core values, customer needs and the vision.
A mission statement deals with objectives and values of your organization. It describes your primary customers (stakeholders), and their expectations. Here are some key questions for developing your mission statement: what do we do today? Why do we do it? For whom do we do it? What are the benefits of our actions?
Vision Statement
The focus of the vision statement, on the other hand, lies in the future – its purpose is to motivate and inspire. It defines the future of your organization, of your industry and its effect on the social environment.
When formulating your vision statement, ask yourself where you want to be going forward, when you want to reach your goal and how you want to accomplish it. A good vision statement has no place for ambiguity, rather, it's all about transparency. It outlines a promising future, sets realistic goals, and expresses entrepreneurial values and culture.
Inspire Collective Efforts
Inspire strategic decision making by providing clear and transparent objectives. Mission and vision statements help employees to act according to your organization's objectives and also help streamline marketing and public relations messages.
Which Comes First?
In a well-established company, the vision statement is often led by the mission which has already been accomplished, and by strategic future plans. If you build a startup, formulate the vision statement first. This will guide the mission statement and the rest of the strategic plan.
Put These Worksheets to Work for You!
This presentation does not merely consist of placeholders! Let professional worksheets guide you through the process of formulating your mission and vision statements. You can use these slides to go through the entire process with your team, or do it yourself and just present the results. We have included various charts, diagrams, tables and layouts to make the process and your results visually attractive.
This business presentation template includes:
Worksheets to support you in formulating your very mission and vision statements
Strategy pyramids
Tables with sample questions – just fill in your own answers!
Various layout options to showcase your company's vision, mission and values
Venn diagrams
Onion charts
Icons to illustrate values
Business background images
Sample mission statements from Apple, GAP, Microsoft, Starbucks and McDonald's
Sample vision statements from Amazon, Deutsche Bank, UNICEF and H&M
---
Compatibility note:
This product is optimized for PowerPoint versions 2007/2010 and 2013. In older versions of PowerPoint and in Mac Versions the usage of this product is limited. To open the PPT file in PowerPoint 2003 the "Microsoft Office Compatibility Pack" is required. It can be downloaded for free from the Microsoft website.