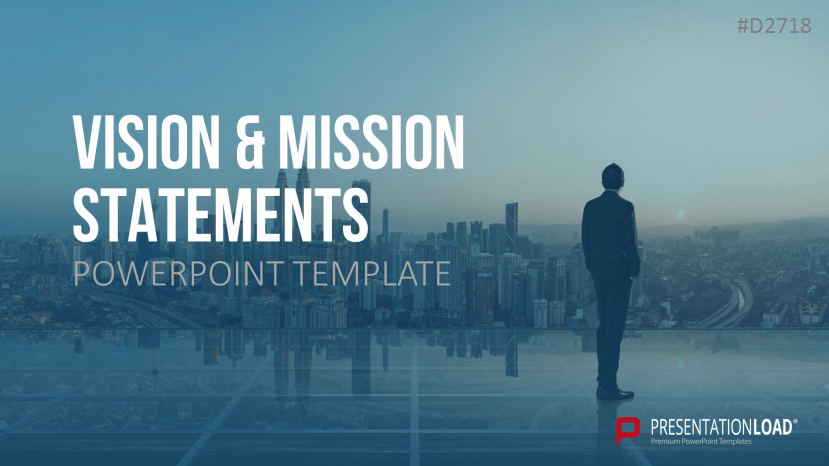 Vision and mission statements for PowerPoint
Kick-start strategic management in your organization. A collection of numerous templates, definitions and diagrams will help you identify and present your corporate mission and vision using Microsoft PowerPoint.
What are vision and mission statements?
The mission statement defines what a company is doing right now. The vision statement expresses where a company would like to be in the future. Defining both statements provides a solid foundation for a company's launch and its business plan.
Vision statement in PowerPoint
A vision statement is designed to motivate and inspire both you and your employees by setting the tone for your company's future and defining its sphere of influence.
To formulate a vision statement, simply ask yourself what direction you want to move in, what your goals are, and how you plan to achieve them. A good vision statement avoids ambiguity – it's transparent and easy to understand. It defines a promising future, sets ambitious but realistic goals and sums up your corporate culture.
Mission statement in PowerPoint
Unlike the vision statement, the mission statement focuses entirely on the present. It looks at the current situation and describes the strategies, measures and goals that form the path to achieving the vision. It involves all stakeholders and outlines key processes. While it can change over time, it's always aligned with core values, customer needs and the vision.
Important guiding questions when creating the mission statement include: What are we doing today? Why do we do it? For whom are we doing it? How do we benefit from what we do?
Strengthen team spirit through shared goals
In a healthy company, the vision statement and mission statement are always intrinsically linked. When creating a startup company, formulate the vision statement first and the mission statement will follow suit.
With this PowerPoint template, you can
formulate and present your vision & mission statement.
show the values that matter in your company.
utilize a variety of professionally designed templates.
This PowerPoint template includes:
Mission statement definition
Vision statement definition
Infographic: Vision vs. mission
Agenda
Vision statement templates
Mission statement templates
Graphic templates
Mission, vision, goals
Corporate values
Strategy pyramid
Venn diagram
Vision, mission, values, strategy
Outlook graphic
Vision, mission, values, goals cloud
Circle diagram
Company introduction template
Team introduction template
Vision timeline template
Icon and text templates
Company chart templates
World map