36 Years of PowerPoint: You probably didn't know these 8 Facts before!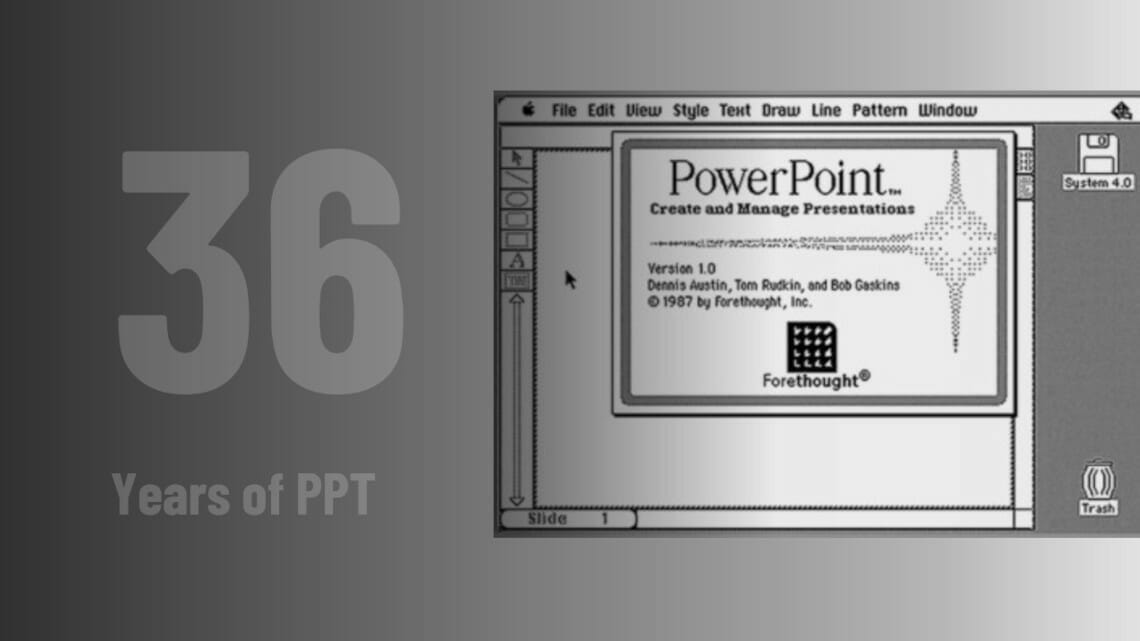 In April 1987, Microsoft released the now widely known and used program PowerPoint. 36 years have passed and still, PowerPoint is one of the most used tools for presentations worldwide.
With numerous new features, PowerPoint has been able to constantly expand its popularity over the past 36 years. The simple user interface with a wide range of possibilities provides the perfect basis for professional presentations.
How come PowerPoint is still relevant after 36 years?
Initially, PowerPoint was called "Presenter". It was developed for Apple Macintosh by former Berkeley student Robert Gaskins. Only in 1987 the name was changed to PowerPoint and Microsoft acquired the rights to the program.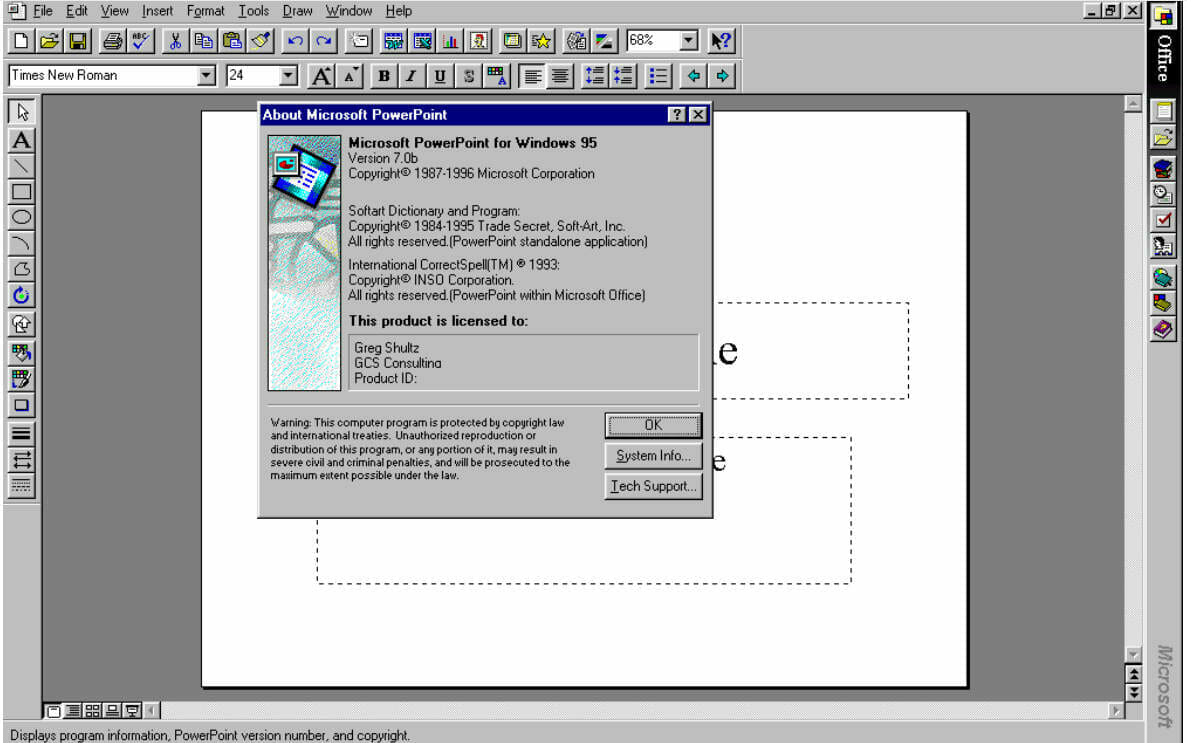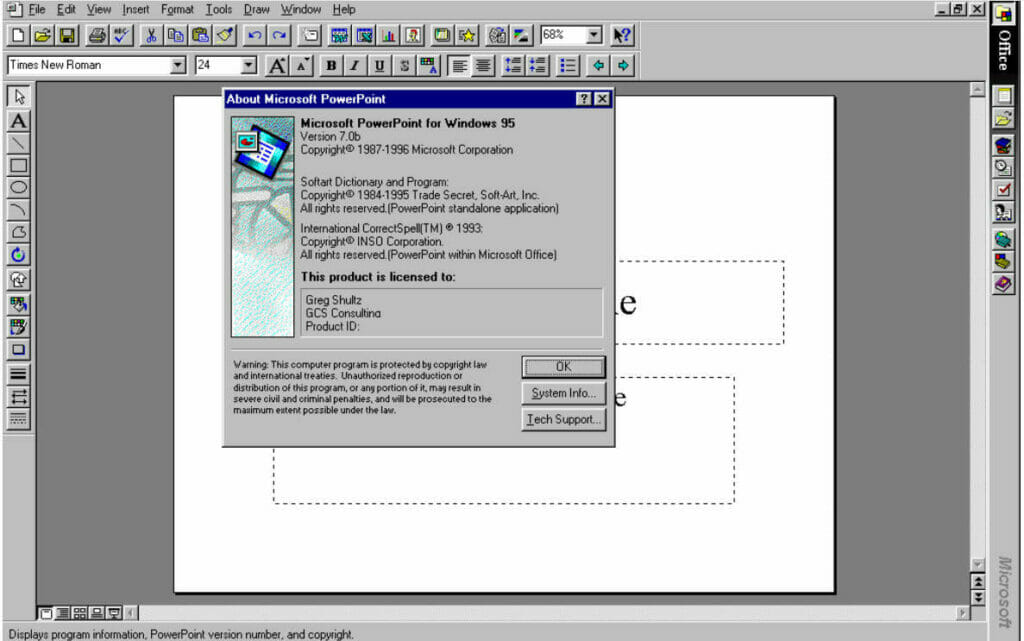 Although PowerPoint has often been criticized over the years for being abused or poorly used, it remains an essential tool for many businesses and presenters in school, college and work.
Nowadays, in a world of digital communication and remote work, PowerPoint has become an important part of virtual meetings and webinars. Hardly any corporate event can do without a professional PowerPoint presentation. PowerPoint convinces with numerous application possibilities, which can always be individually tailored to the required presentation.
Further, another important aspect is that PowerPoint offers the opportunity to create fully accessible presentations. To ensure that the audience, regardless of ability or limitations, can understand the content of the presentation, text alternatives for images and graphics can be added to the slides.
8 surprising facts from 36 years of PowerPoint
From 36 years of PowerPoint, we have collected 8 surprising facts for you, that you probably didn't know before.
In 1987, Microsoft acquires the rights to PowerPoint for 14 million US-Dollars.
In 1992, Microsoft released PowerPoint 3.0 and introduced the virtual slideshow we know today.
Starting with Version 97, PowerPoint has been significantly updated which each version. In the latest version, PowerPoint 365, existing features have been refined and new innovative features have been introduced. These functions include, among others, the morph or the zoom effect.
More than 500 million people around the world use PowerPoint.
Today's PowerPoint is a powerful software that has permanently changed the world of presenting. Despite competition from e.g. Keynote, Prezi or Google Slides, PowerPoint is the preferred tool for creating presentations.
An average PowerPoint slide consists of 40 words and the preparation time of a presentation takes 2 hours on average.
People can follow a presentation attentively for an average of 15 minutes, after which attention decreases noticeably.
Every single second, more than 350 PowerPoint presentations are launched around the world. This means that per day, around 30 million presentations are held around the world.
You too should (continue to) rely on PowerPoint
Your company's corporate presentation is often the first personal contact with customers and clients. After this you don't get a chance to leave a goof impression again. Your presentation should therefore inspire, convince and sell accordingly!
Continue to work with PowerPoint for your content visualizations! Skillfully use the application capabilities of the last 36 years and put them to work for your purposes.
We are also happy to advise you on the creation of a presentation or take over this for you. Please contact our agency ► To the agency
Of course, feel free to get inspiration from our blog on a wide variety of PowerPoint topics. ► To the blog
Conclusion: Use PowerPoint to design unique presentations!
Not only company presentations, but also presentations for school, university or other purposes can be created with PowerPoint. Constantly improved and expanded over 36 years, PowerPoint offers an optimal platform for this.
Do you need assistance with the creation of a presentation, or would you like to leave the creation of your presentation completely in professional hands? We are here for you and happy to help. With over 25 years of PowerPoint experience, we know all the tips and tricks from 36 years of PowerPoint to create a compelling presentation. ►To the agency
Do you have any questions about the article? Please feel free to contact us by e-mail at [email protected]. We will help you further!
Are you looking for visually supportive and professionally designed slide templates? Feel free to look around our store. Here we have numerous slides prepared for you to download on a wide variety of (business) topics. Take a look today! ► To the store
Further articles that might also interest you: