Networking with PowerPoint: Use Your Presentation to Build Your Network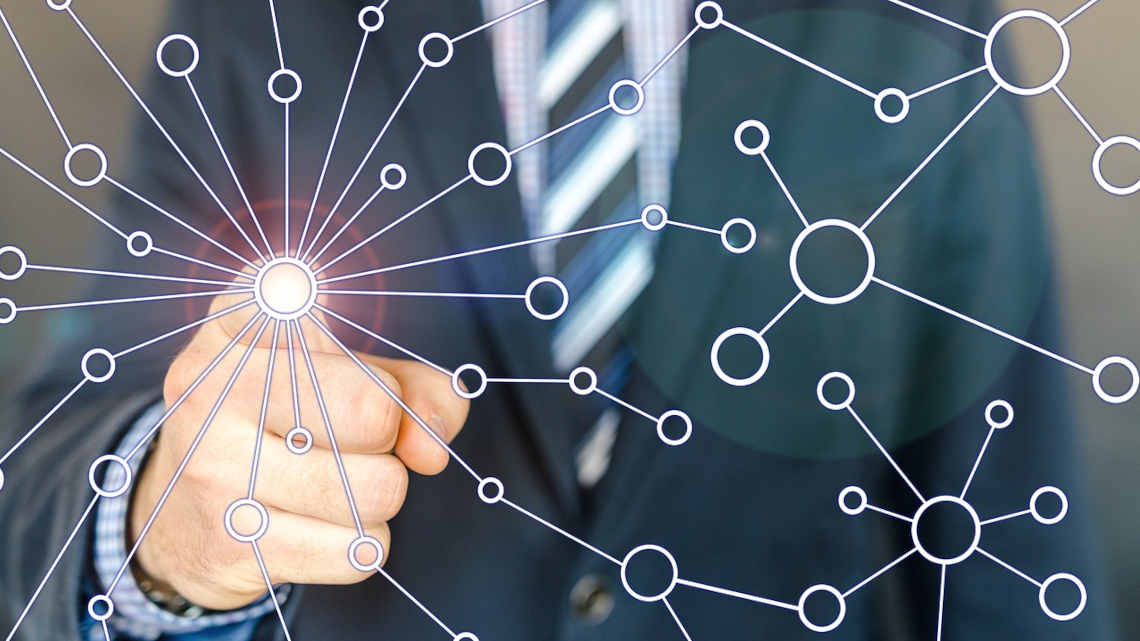 LinkedIn, Xing, your personal blog – all are great tools for increasing your visibility in the business community. But what about networking with PowerPoint presentations? A presentation doesn't have to end with the last slide. Engaging with your audience is the key to creating networking opportunities once your PowerPoint presentation is finished.
---
Networking: What is it and how do you make new business contacts?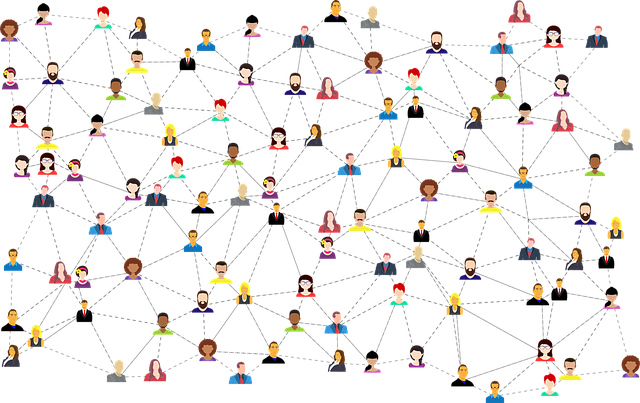 ---
Networking is the process of building and maintaining a system of contacts. Each member of the network brings their own contacts, leading the network to continue growing.
A network brings a lot of advantages. Professional support and shared knowledge are not the only benefits; a network also brings career-building advantages. Network contacts often make a job search a much simpler process and can even help kick-start a career.
We've put together four effective networking tips to help you start networking with PowerPoint:
1. Set goals
Decide what you hope to gain from your contacts and what you hope to achieve through networking.
2. Quality over quantity
A good network is only as valuable as its members. Don't keep adding new members for the sake of statistics – only add new members that are pursuing similar goals.
3. Give and take
The best way to get a network started is to find contacts with the same goals and professional interests. Exchange ideas with other members without expecting anything in return. Sooner or later, you too will gain valuable tips and information.
4. Keep at it
Cultivate your contacts and strengthen the connections you make. You can do this both online and in person. To learn how to become an ace at networking, take a look at this article.
---
Networking with PowerPoint: How to use presentations to make business contacts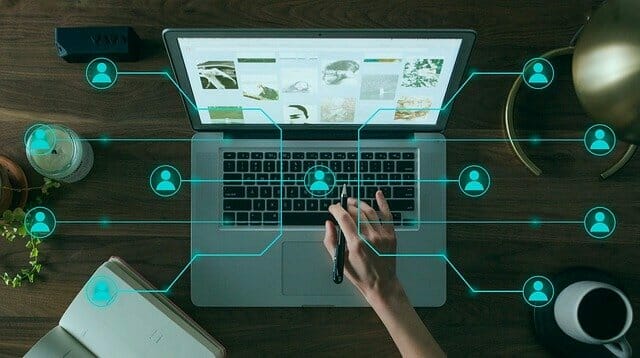 ---
No matter what the topic, presentations are all about sharing information with your audience in the most descriptive and interesting way possible. Successful PowerPoint presentations exude competence and inspire confidence. These same qualities are the backbone of effective networking, which is why building contacts after a presentation is a natural next step.
PowerPoint presentations: Connect with genuine prospects
Presentations are an ideal platform to share your information and messages with others.
We're all inundated with information, 24/7. And that can be overwhelming, to say the least. While email newsletters or Instagram posts are often deleted or ignored completely, an audience makes a conscious decision to listen to a presentation. Those who attend your presentation are genuinely interested in learning more about your topic. What's more, your audience trusts that you're competent in your field. Take advantage of this opportunity and win over new business contacts, customers and followers.
---
6 tips for effective networking and building business contacts with presentations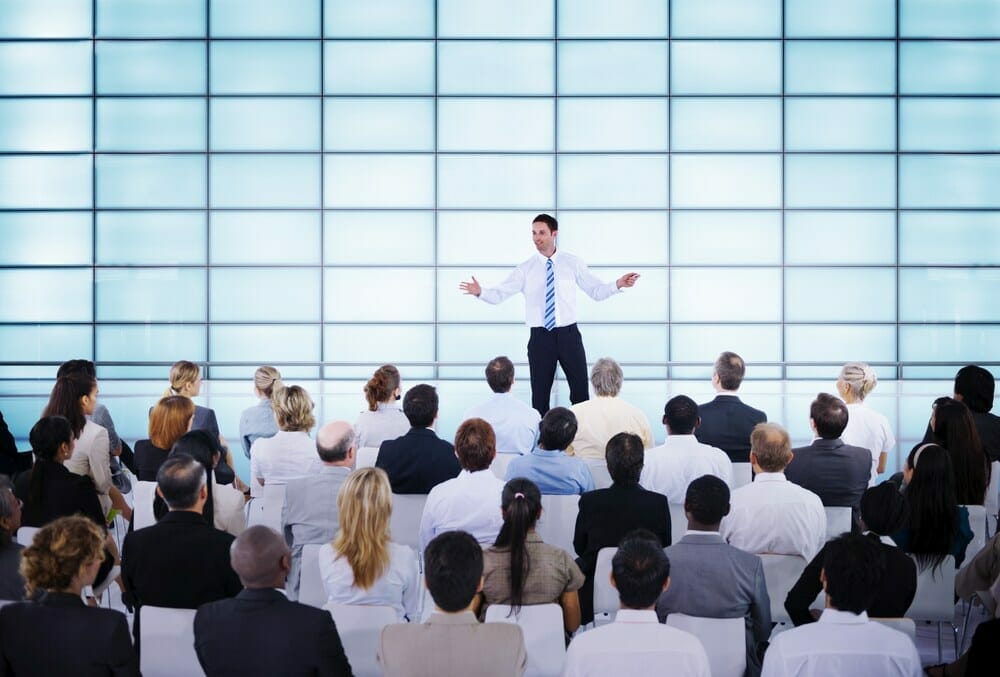 ---
1. Be yourself
Even though you may think you're playing your role perfectly, most people know if someone is pretending to be someone they aren't. Stay true to yourself during your presentation. This is a surefire way of gaining your audience's confidence and at the same time, laying the foundation for new business contacts.
2. Your presentation should be interesting and relevant to your audience Think about what information you want to share with your audience and how you want to deliver it. It's important to provide them with facts and information that they'll find interesting.
Read this article to learn how to use rhetoric and public speaking techniques to deliver an inspiring presentation. Sharing pertinent information with your audience creates confidence and provides a solid basis for networking.
3. Use the right body language
Even the most interesting information will be less than convincing if it's not presented in the right way. Your body language not only communicates confidence and poise, but also supports your content. Needless to say, body language plays a decisive role in successful networking too. In this article, you'll learn what body language is all about and how you can use it to sell yourself to your audience.
4. Stir your audience's emotions
Meaningful facts and figures are the core of any presentation. But you need to engage your audience on an emotional level, too. Rouse your audience, inspire confidence and motivate them to improve their professional and/or personal lives. When it comes to networking, you need to connect with potential business partners and customers on a more emotional level. A great way to do this is through storytelling. You'll find some great tips on storytelling in our blog.
5. Prepare for your presentation
Being nervous is normal. While some people seem to be made for the stage, others find it utterly nerve-wracking to speak in front of an audience. But with the right preparation, you can control your nerves and present confidently.
It's always a good idea to rehearse your PowerPoint presentation and prepare a mental checklist. Go over your core messages, make sure your slides and equipment are in order and that you're ready for any questions from your audience.
6. Engage your audience
Networking is all about building rapport and trust with others and a presentation is a great way to lay that foundation. Actively involving your audience in your presentation creates a connection and builds excitement. Interacting with your audience will not only increase their interest, but also creates a personal connection between you and them. Ask your audience for personal stories or give them the chance to answer technical questions.
---
Networking doesn't stop – not even after your presentation!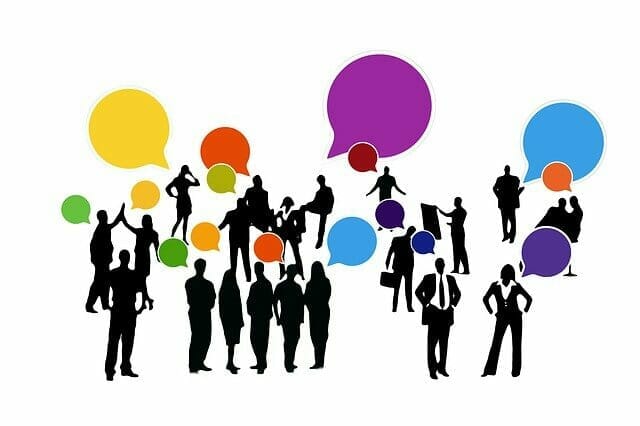 ---
Most presenters are happy when the presentation is over, and the stress of presenting behind them. Nevertheless, it's still important to continue networking and exchanging ideas with the audience. We've put together 10 tips on how to network after your presentation.
1. Be accessible
Don't rush out after your presentation. Instead, plan some time to talk to your audience. This gives you the opportunity to receive feedback and discuss your topic with them.
2. Set a goal
You may have a goal for your presentation, but you need a goal for networking afterwards. For example, aim to collect at least 10 business cards or speaking to 7 people.
3. Listen
Being a good listener is key to establishing contacts. Your presentation was the time to put your ideas in the spotlight. Once it's over, let your audience ask questions and listen attentively.
4. Avoid sales pitches
Making contacts is not about selling yourself. It's more important to exchange ideas and have conversations that can be followed up on later. You've already presented your facts and figures; follow-up conversations shouldn't signal a second round of your presentation.
5. Revisit comments and concerns
If anyone has asked questions or made comments during your presentation, make sure to follow up with those people. Address any concerns and try to come to an understanding before the rest of the audience has left the room.
6. Get feedback…
Seek feedback from your audience and be open to it. Getting face-to-face feedback is a great networking opportunity.
7. … with a questionnaire
If you don't have time to talk to your audience personally, there are other ways to get their reaction to your presentation. Hand out a questionnaire or send a call-to-action email to get feedback.
8. Set a time limit
Networking can be pretty exhausting. You have to be patient; you may have to put up with criticism or uncomfortable questions. If this seems a bit daunting, it may help to set a time limit.
Allow at least 15 minutes for questions and comments. Providing your audience with additional information in a handout will allow you to moderate and steer the discussion at any time.
9. Keep in touch
If you get someone's contact information, reach out to them. This is how you continue to share ideas and open up potential business opportunities.
10. Learn from mistakes Maybe your presentation didn't go perfectly. Take a look at your presentation the day after and make a list of things that did and didn't go well. Review this list before your next presentation and learn from any mistakes you may have made.
---
Use your presentation for effective networking!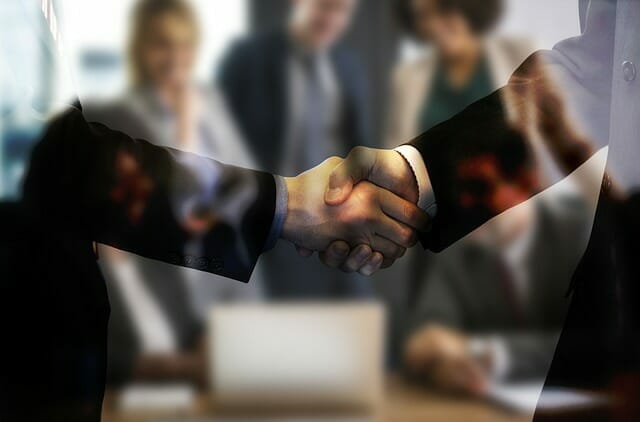 ---
A presentation gives you the chance to convince an interested audience of your expertise. This lays the foundation to steadily expand your network and build your professional reputation.
If you have any questions about networking or PowerPoint in general, please feel free to contact us at [email protected]. We'd be happy to help you! Looking to build your network at your next presentation? Take a look at our shop. You'll find everything you need to make your next PowerPoint presentation a success.
Check out our blog for more helpful articles on how to master your presentation and build a strong foundation for networking. here are a few that might interest you: