9 Winning Tactics – Presenting like a TED Talk!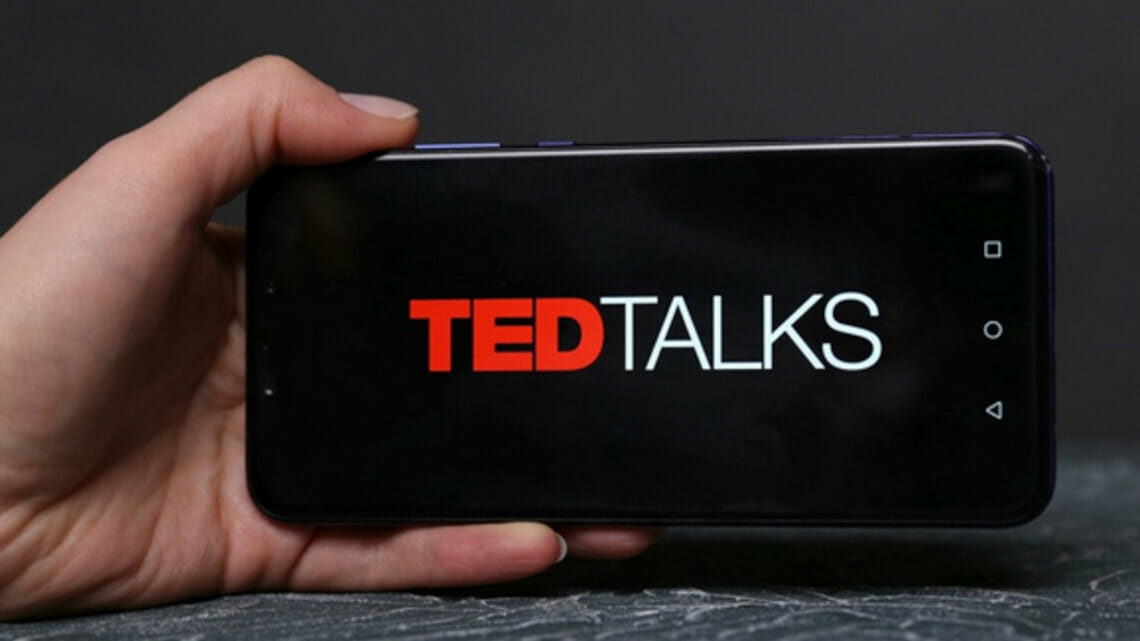 Forget everything you know about presentations. It's time to evolve and present like a TED Talk!
What's the secret of a good TED talk?
TED events now take place in 170 countries, and the videos are viewed online millions of times. It's all about passion and engagement because the goal of your TED talk should be to inspire your audience. You need to be able to connect with your audience on a personal level. And the best way to do that is by telling a story.
TED Talk Tactics
TED Talks are known for their time-limited presentations that aim to deliver the most important information in a short amount of time. To effectively convey all key messages, specific tactics are necessary. The following statistics provide an overview of the most commonly used supporting tactics in TED Talks at the beginning of presentations: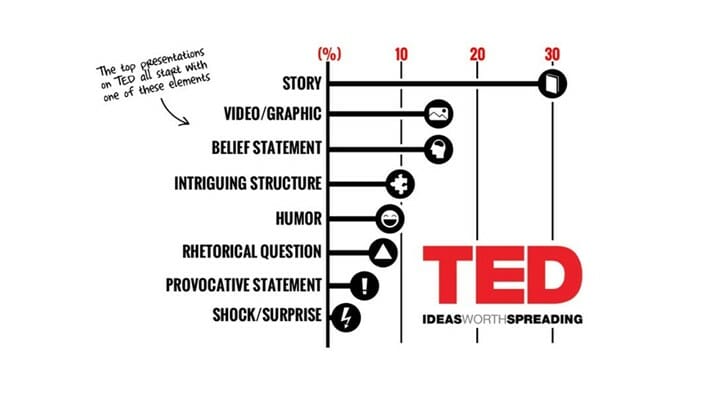 Studies prove that stories are remembered 22 times better than mere facts. That's why 30% of top TED Talk speakers use storytelling in their presentations. Additionally, using compelling visuals or impactful videos can increase attention at the beginning and ensure a strong first impression.
The combination of images and text remains in memory by 65% after three days. Images and stories have a fascinating power over us. Why? Simply put, stories and images have been a part of human tradition for centuries. They are the oldest means of communication, through which people have shared and passed on knowledge and experiences. They remain the most effective levels of communication.
To learn how to not only have a successful start to your presentation but also deliver a successful overall presentation, continue reading. Present professionally using TED Talk tactics!
The big idea
The most valuable currency today is a good idea, says former journalist and author of the book "Talk Like TED," Carmine Gallo. But a great idea is worthless if you are not able to effectively communicate it.
In the following section, you will find nine fail-proof tactics that you can apply to deliver great, TED-worthy presentations:
 #1: Show your passion.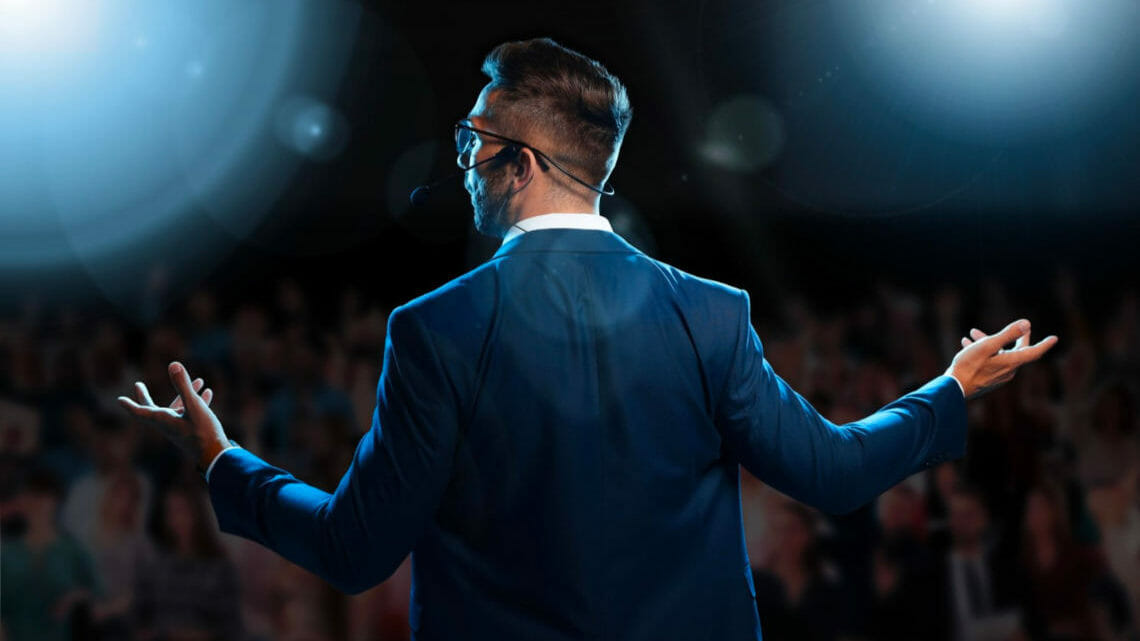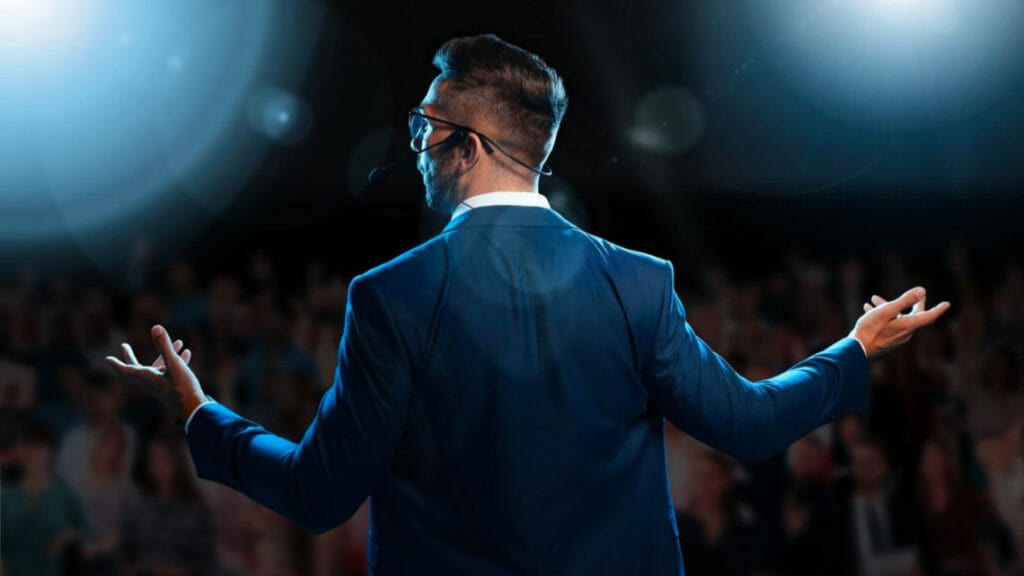 To inspire your audience with your ideas, it is important to show positive emotions and charisma. Be passionate about your topic and share your curiosity and energy with others. Enthusiasm is the key!
You can find tips on how to effectively use emotions in the article on Emotions in Presentations.
#2: Use storytelling!
If you want your audience to agree with your message, tell them a story. Find a narrative that has an authentic connection to your topic and start your presentation with it. Personal and unique stories are the most powerful. Storytelling is paramount!
For more tips on storytelling, refer to our blog article.
#3: Speak like a friend!
People tend to trust those who speak to them in a warm and friendly manner, as if they were a close friend. Don't hesitate to share your personal experiences – that's what will connect people with you.
#4: Stay transparent
If you want others to trust you, you should be yourself. People need to see that you are sincere for them to believe what you say. If you're not honest with yourself, it will be difficult for you to be honest with others.
#5: Novelty
Share new ideas or information with your audience to help them solve familiar problems. Your audience will appreciate your efforts to enlighten them and will be more willing to listen to your grand vision or new idea. Good presentations touch the emotions of listeners, they tell them something new in a way that they can remember later.
 #6: "Wow" moments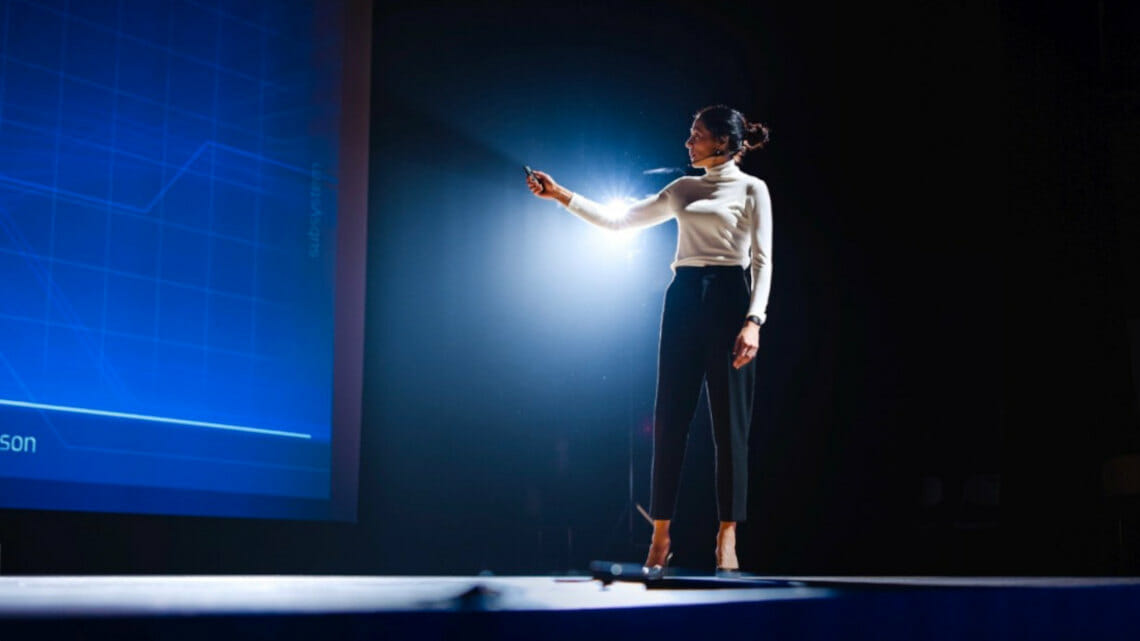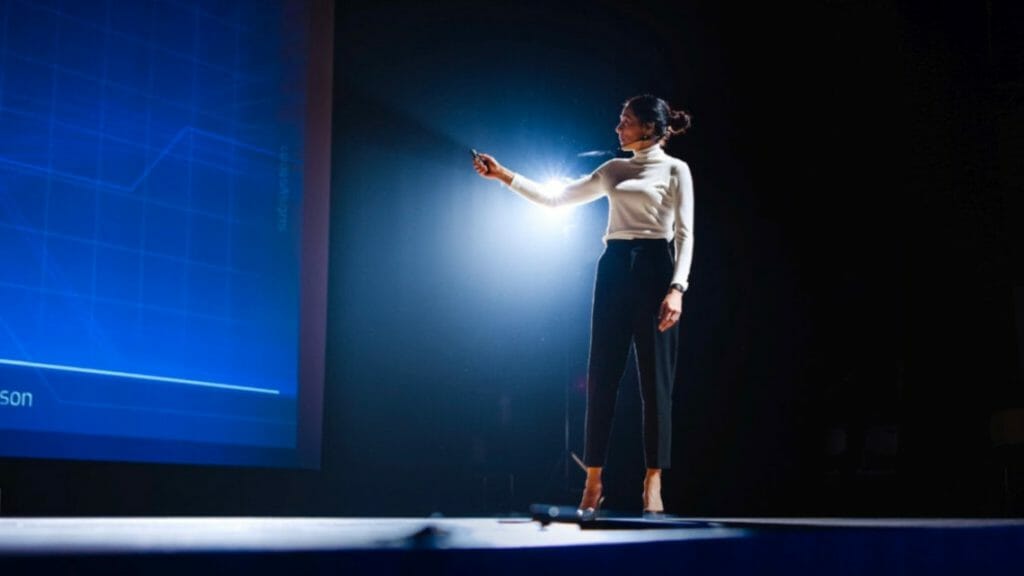 You can grab your audience's attention by doing something unexpected or impressive. Steve Jobs, for example, used emotionally charged "aha moments" to present his ideas.
#7: Humor
Using humorous jokes can help break the ice with your audience and make you appear more likable and trustworthy. Additionally, someone who is funny is often perceived as friendlier and more approachable.
You can find tips on how to use humor effectively in the article on Humor in Presentations.
#8: Time limitations
TED presentations are limited to 18 minutes, which may not always be realistic for business presentations. However, it is still important to keep your talk as short as possible. Every word counts!
This forces you to be creative and decide what is most important in your presentation. The goal is not to delve into details, but to convey an idea in a way that stimulates the audience to further engage with it. For this, we recommend a three-part structure: announce the narrative, tell it, and then summarize it again.
Tell the audience what you are going to tell them; tell them and then summarise what you have told them.

Jeremy Donovan (author of How to Deliver a TED Talk)
For tips on delivering presentations with time constraints while conveying all the essential information, refer to the following articles:
#9: Engage the senses
If you want your audience to remember the information you convey, use images and graphics. The likelihood that viewers will remember is six times higher compared to just listening to your words. Combine facts with stories that evoke genuine emotions to appeal to the right hemisphere of the brain.
Make use of professionally designed graphics from PresentationLoad for your presentation. In our shop, we have a wide selection of pre-designed slides, such as these ones:
Check it out today! ► Go to the shop
An example:
Tim Höttges, CEO of Telekom, delivers a presentation at a Telekom event. He first holds up a copper cable. Then he displays a fiber optic cable and says, "This is the future." He visually engages his audience on different levels.
Approximately 40% of well-known TED Talk presenters do not use slides. However, if you do need slides, consider hiring a professional designer to create them for you.
People remember information better when more than one sense is stimulated.

    Carmine Gallo (author of "Talking like TED")
Conclusion: Presenting like a TED Talk and achieving your goals!
Do you wonder how to make your presentations more engaging? Don't worry, you can definitely present like a TED Talk! Take our tips to heart to make your next presentation truly shine.
Visit https://www.ted.com/talks for inspiration for your next talk.
If you have any questions about presenting like a TED Talk or PowerPoint in general, feel free to reach out to us at [email protected]. We're here to help!
You have found your presentation topic and want to support it with professionally designed slide templates? Then check out our shop. We have numerous slides ready for download on a wide range of (business) topics. Visit our shop today! ►Go to the shop
You might also be interested in these articles: