Introducing Your Team in Company Presentations: 4 Great Ideas!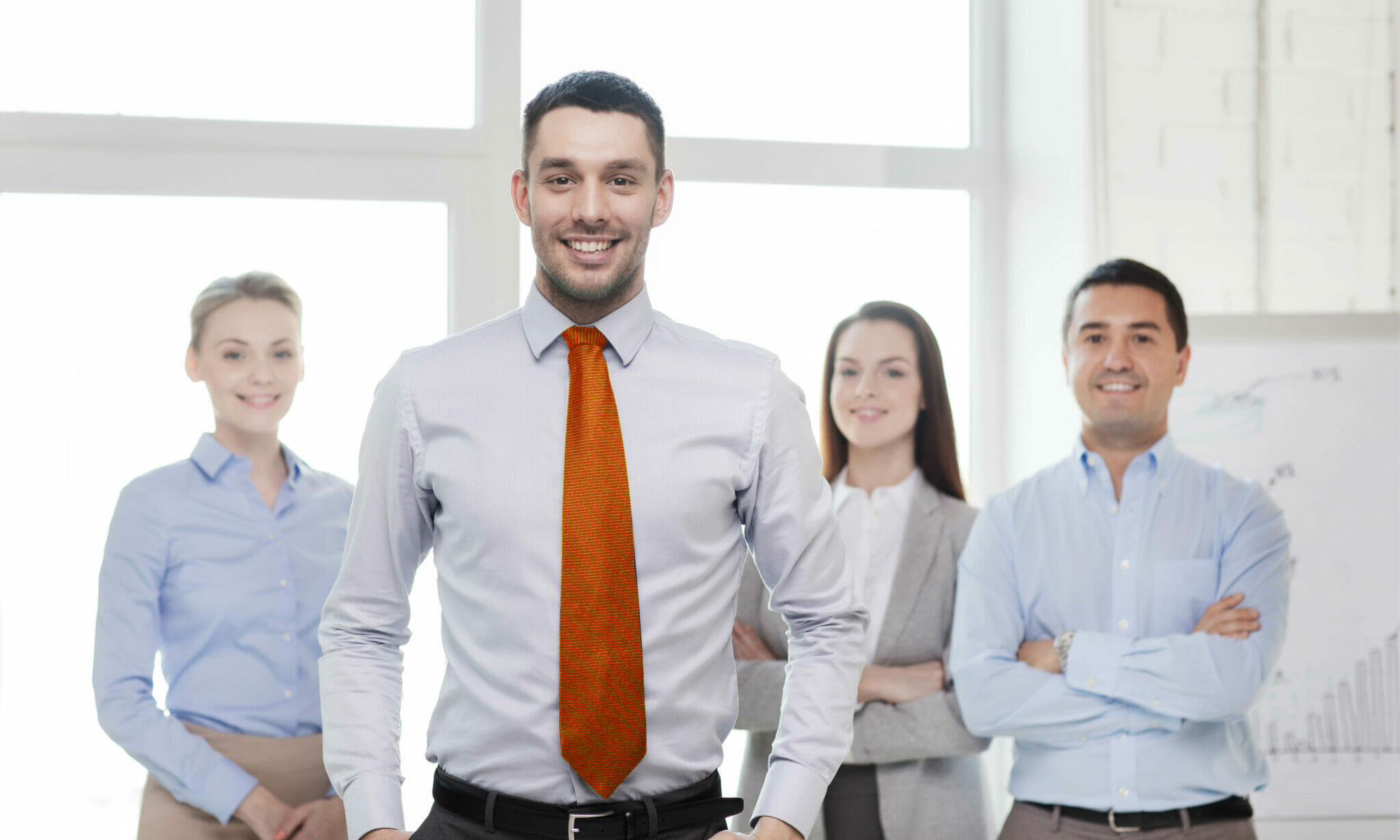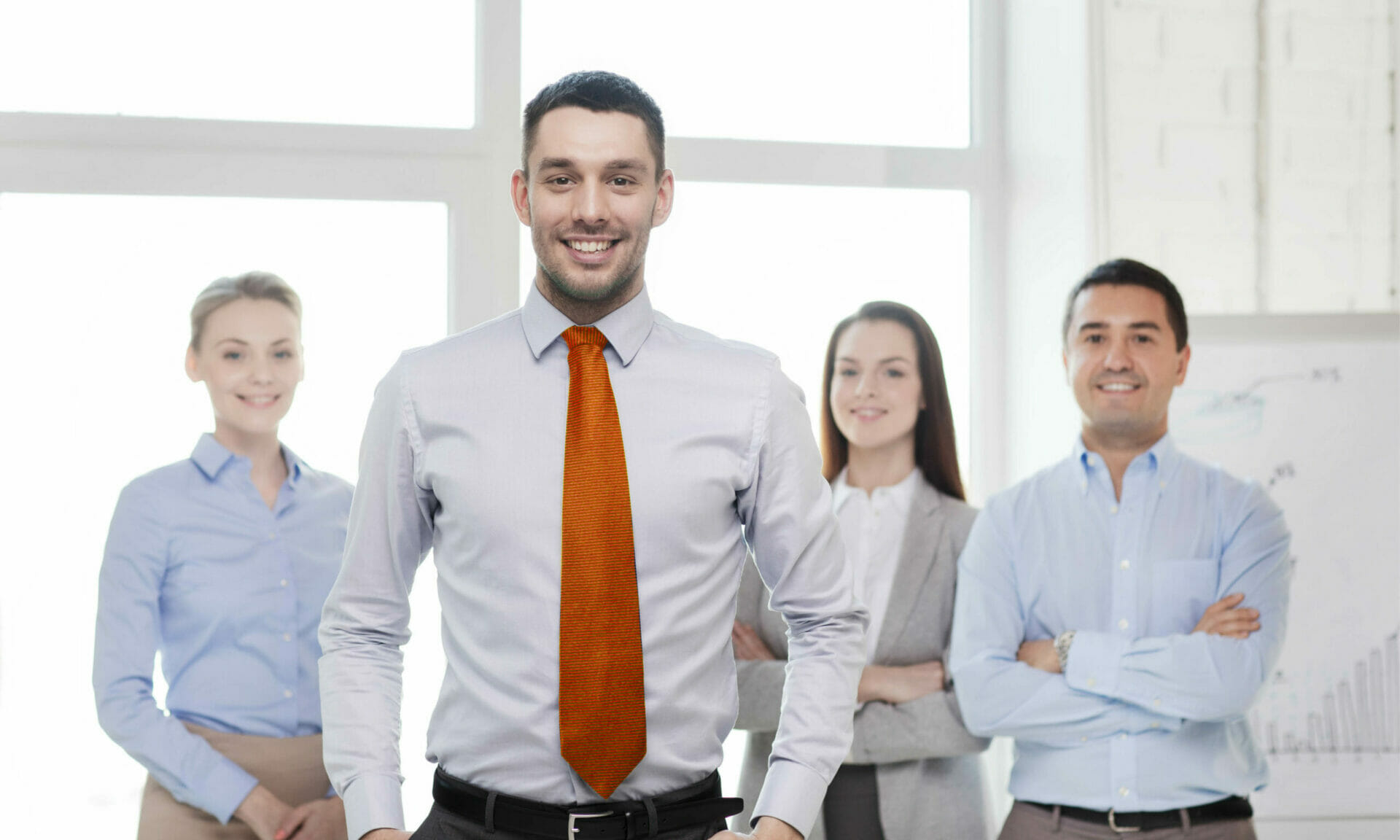 You've probably already had to introduce your team within a company presentation: in 2023, this is no longer a rarity. Presentations which require you to talk about your company structure, or onboardings, for example, are going to need a team introduction, and knowing how to clearly visualize your team is a useful skill.
Why introduce your team in a presentation?
Introducing your team is a great way to positively influence public perception and to present the strengths and achievements of your company.
Products are rarely developed by individuals working on their own, so companies should never miss an opportunity to showcase the teams responsible for tomorrow's innovations. This tends to increase stakeholder confidence and generate interest.
Involving your team in your presentations is essential to highlighting both the competence of your employees and your skills as a leader. At the same time, you double down on the authenticity of your presentation and acknowledge your colleagues' performance, which in turn boosts their self-esteem. The positive impact of even a single slide in a presentation should not be underestimated!
Team introductions are brilliant for onboarding, where you can clearly and transparently visualize your company hierarchy.
Why not browse the PowerPoint templates for onboarding that we at PresentationLoad have put together for you?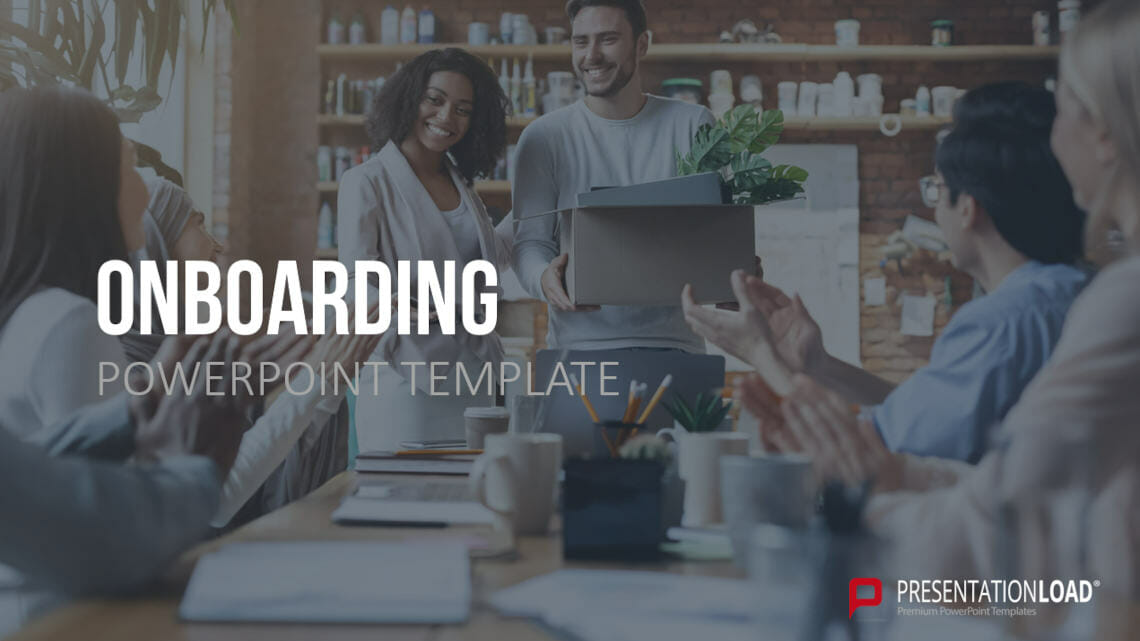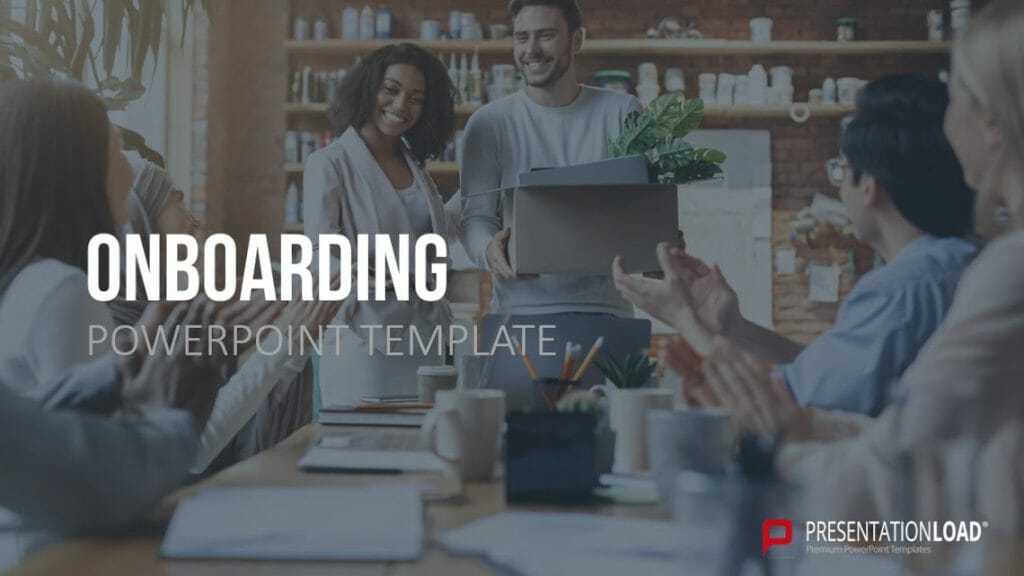 Bonus tip: Paste images faster with the Scan&Paste app
Pictures generate feelings. This applies to team introductions as well as more generally. If people can see what a particular employee looks like, they're more likely to want to build connections than if they're just described in words.
To help you quickly and easily insert images of your team into your presentations, a great tip is to use the Scan&Paste app. This app allows you to upload images directly from your smartphone gallery through a PowerPoint add-in. We've covered this for you in our blog post "Scan&Paste-App".
4 great ideas to optimize your PowerPoint team presentation!
You want the team introduction in your company presentation to be memorable, right? Here are four great ideas to achieve just that!
Use an organizational chart
One way to visualize your team structures is to use an organizational chart, or org chart. Their visual clarity and simplicity make them ideal for showing how teams work.
Org charts show at a glance how a team fits together and how different employees relate to each other. They might not be the most exciting things in the world, but they are really effective. Keep your org chart as simple as possible, though; overloading it will be counterproductive.
Use high-quality pictures of your employees. Your main focus should be on clarity: choose a clear, clean design, make sure people's names are legible, and avoid unnecessary lines and cross-connections. We've covered how to create an org chart quickly and easily yourself in our article "Creating an organizational chart".
Why not use PresentationLoad's organizational charts template to introduce your team?
You can also introduce your team in the classic way, using text to cover the most important key points, and adding visual interest in a modern and stylish way by using rounded pictures.
PresentationLoad have got this covered too! You can find them here.
Including a team introduction in your presentation
There are several ways of introducing your team – here are a few of the best:
Idea #1: Team Slide
The simplest way to introduce your team is by means of a team slide. This should show high-quality images of your team, either individually or in a group photo.
Keep text to an absolute minimum here. Anything more than the names of your employees can be distracting. You can go into greater detail in your narration.
The advantage of a team slide is that you can clearly show all the important people on one slide.
A team slide might look something like this: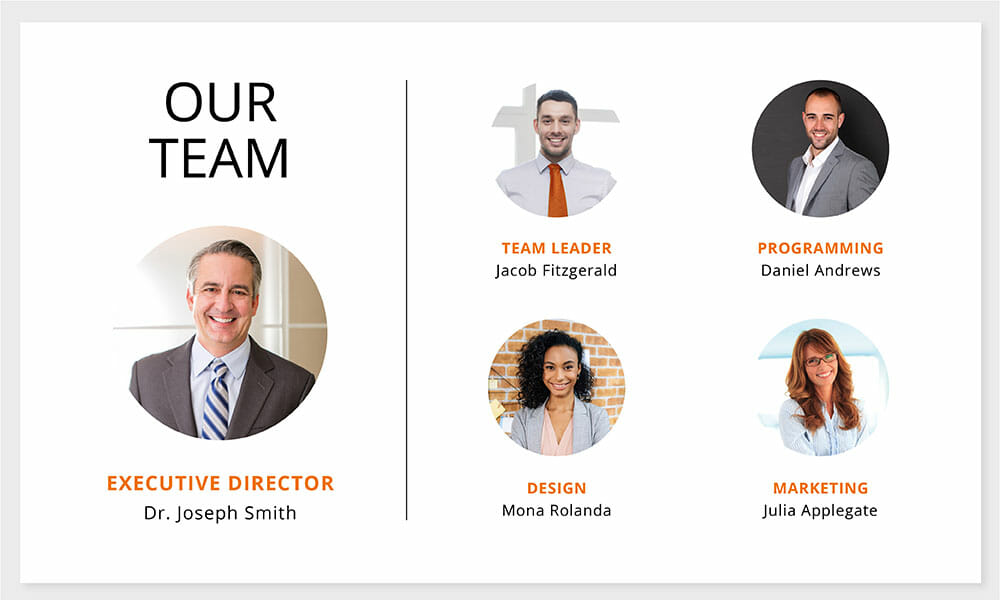 The disadvantage of such a simple slide is that it shows little in the way of a team structure. If you need to show this, go with idea #2.
Idea #2: Team Structure
A team structure slide obviously shows how your team is structured, meaning it's clear who works for whom and how responsibilities are divided up. They are perfect for onboarding, for example, allowing new employees to easily recognize internal structures and contact persons.
Keep in mind that team structures are not necessary for every presentation; team slides can quickly become confusing if there are too many connections. So keep them as clear as possible.
A team structure slide might look something like this: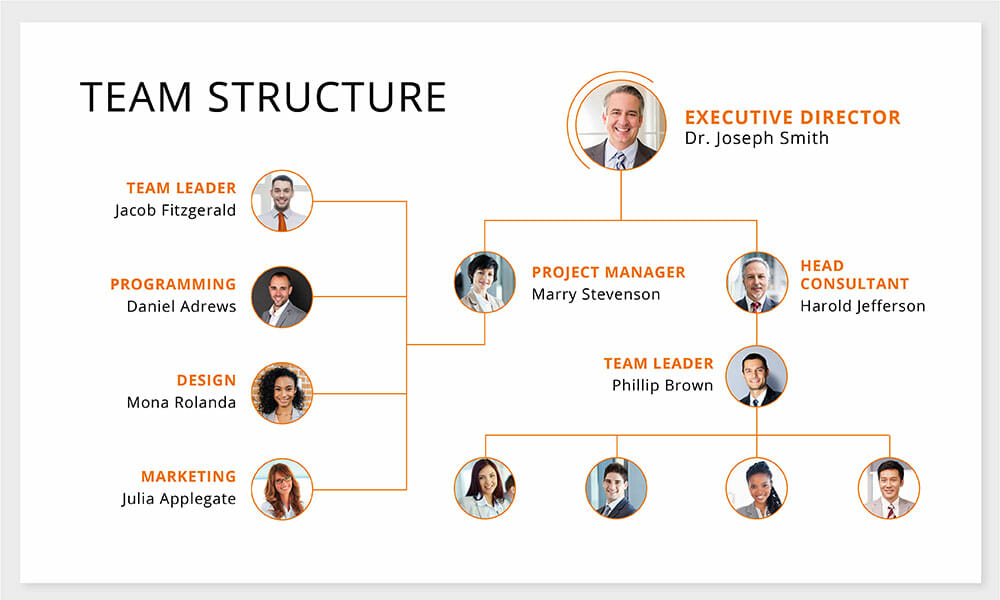 Idea #3: Individual Slides
In some cases it may be useful to introduce your team individually. In this case, you can get all the important information on one slide per person. You'll need to include a picture and the person's function within the company as well as their name, and there may also be room for contact details or a short CV. Here's an example: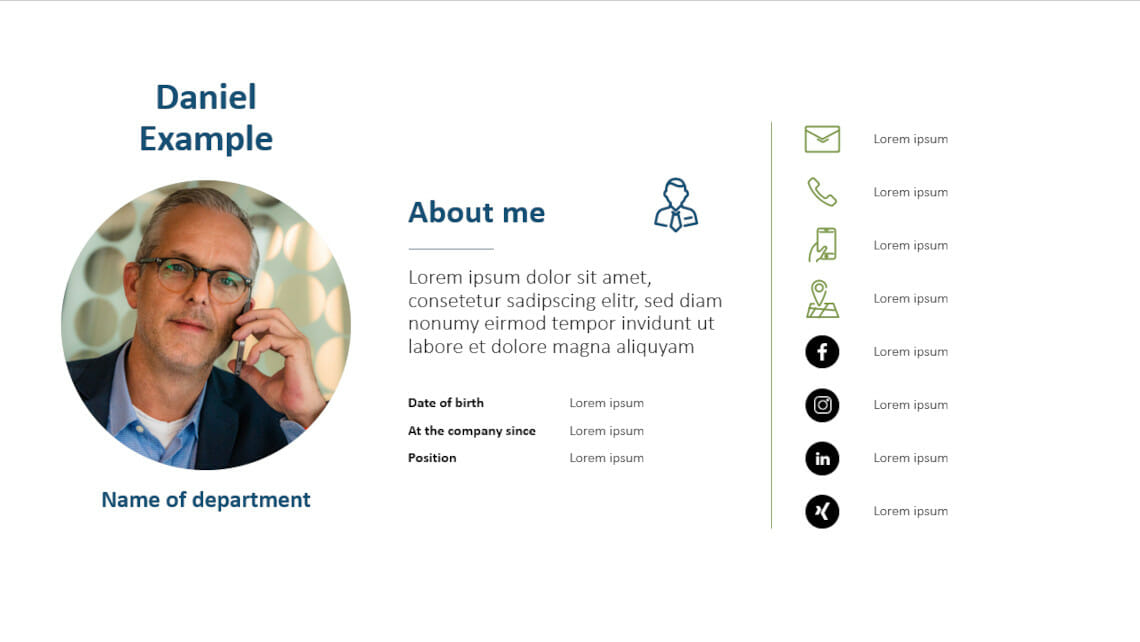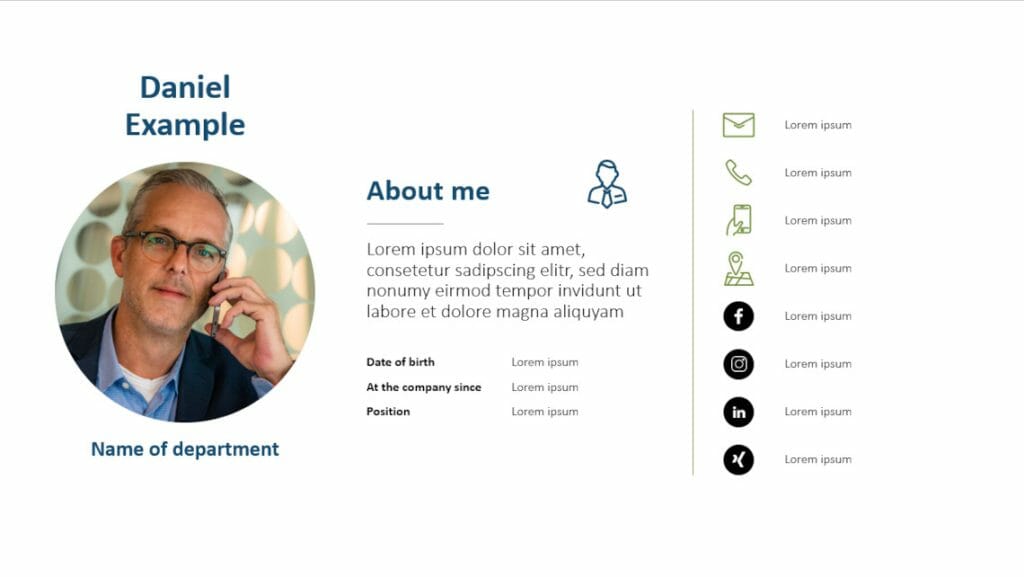 Idea #4: Quote slide
A slightly different take on this is the quote slide. Quotes can be another way to introduce your team's thinking. Let your employees have their say by including core ideas and statements in your presentation in the form of quotes.
This highlights how important your team is, and emphasizes their individuality and competence. Quotes also help to make your presentation more interesting, which means you get to grab and keep your audience's attention.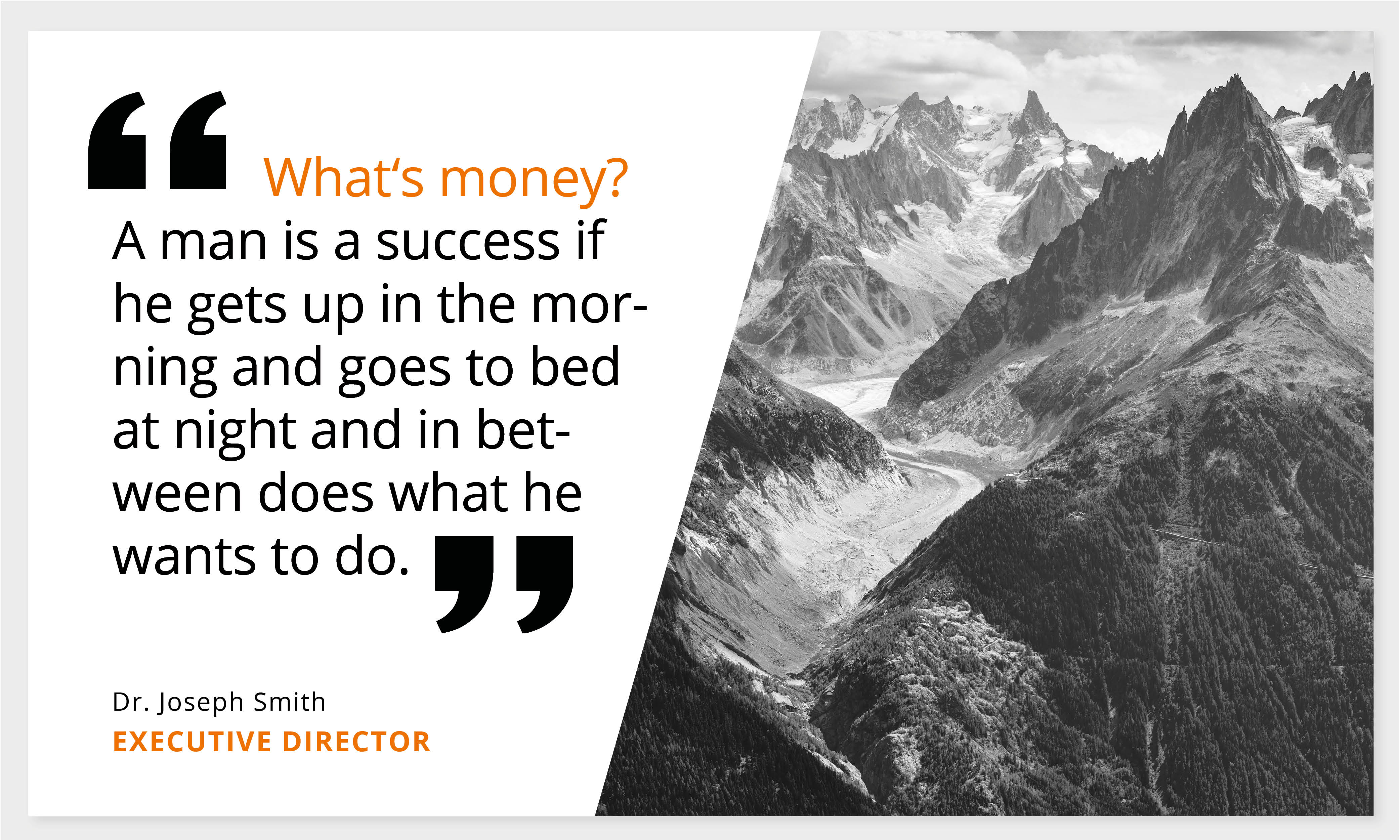 Bonus tip: Pay attention to layout in team introductions
When creating your team presentation, don't forget that your slides need to be visually interesting. Use a clear structure and don't overcrowd the slides; aim for a good balance of images and text.
We have a lot of useful tips in this respect in our article "PowerPoint Layout". For example, a picture-text combination slide might come in really handy here. Grids of three or four usefully combine pictures of your team members with just enough text to give the important information: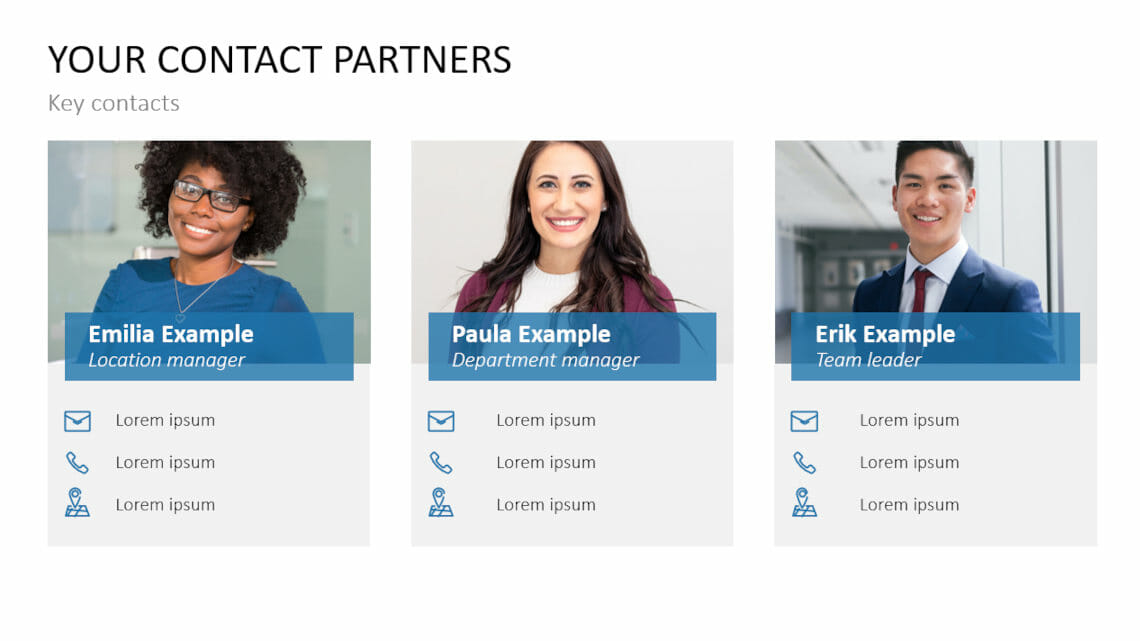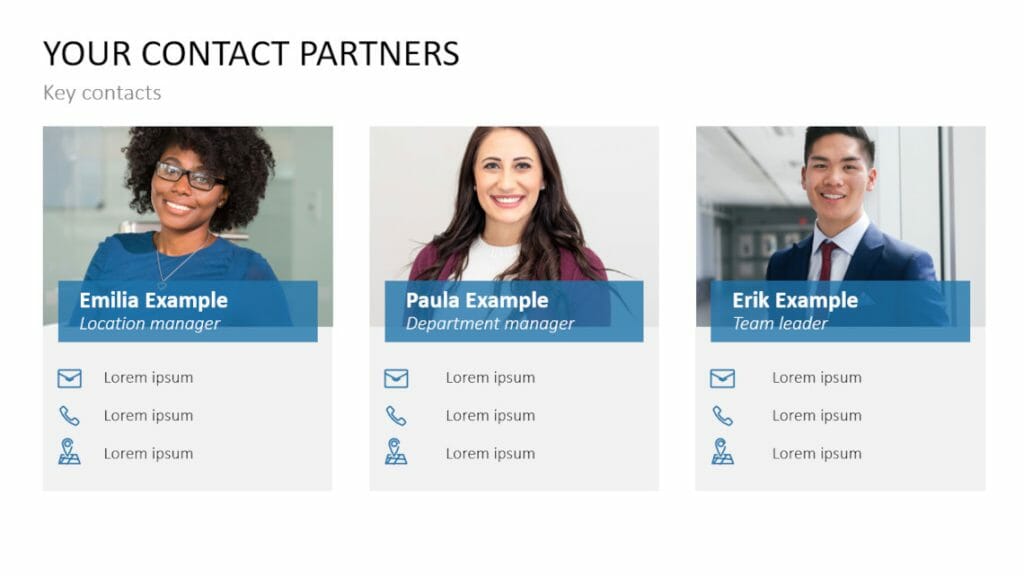 To sum up: Project your team image effectively in presentations
A team introduction is a great way to introduce your company and its structures within a presentation. Depending on what you need, you can keep it short and introduce your team on one team slide, or go for more detail and use several slides.
Use our tips the next time you need to introduce your business and colleagues, and see how effective they are!
Still have questions about team presentation? Feel free to contact us by email at [email protected]. We're always happy to help! Interested in great-looking,professionally designed, easy to use slide templates? Feel free to take a look around our store! We have a huge range of great PPT templates to download, covering just about every business topic you need. Take a look today! ► To the store
You might also be interested in the following articles: