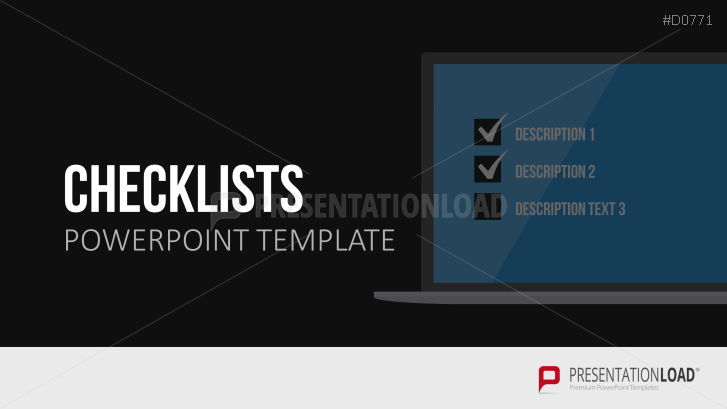 The Checklists set contains a variety of checklist templates in various designs and with different numbers of checkpoints that can be ticked off one by one.
Tick Tick and Done
Checklists are versatile, whether as questionnaires with different answers, or as illustrations of content information, as appointments, tasks or project overviews, or as development or career stages. Achieved, completed or applicable works can be ticked or otherwise marked off.
Check Present Results and Completed Points
Companies use checklists, for example, to monitor production and work processes, check for order completion or to survey employees and customers. The results of these checks can be clearly communicated to a third party in a presentation. In addition, the lists can be used as a content overview at lectures, where topic points already done may be checked off as "completed."
Large Selection of Checklist Templates
This set includes numerous templates for checklists and evaluation slides in various designs for professional business presentations. Check your content and enter review options easily into the standard text placeholder. Individual points of the lists can be checked off to illustrate completed tasks, processes and deadlines.
With the Checklist templates for PowerPoint, you can
have professionally designed checklists and evaluation slides
make an individual checklist with your own content
present a clear overview of completed and pending tasks
PowerPoint Templates Include
checklists in different variations (columns with business symbols, tabular, 3D appearance, etc.)
a different number of checkpoints
various backgrounds referring to business (monitor, calendar, time card etc.)
graphics (hand holding a checklist, pen checking off a list, etc.)