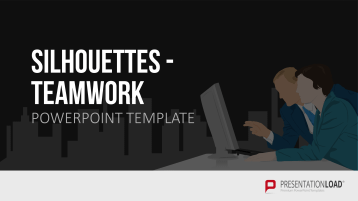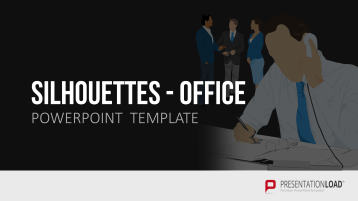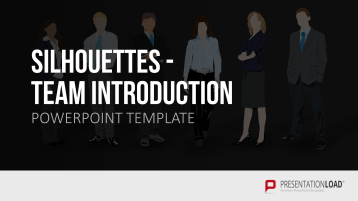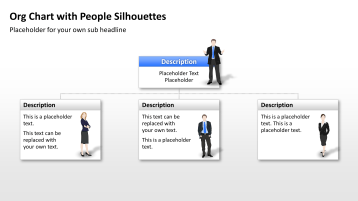 A Total of 220 Silhouette Graphics for Professional PowerPoint Presentations

Save money with the
People Silhouettes Bundle 2
and pay 64 percent less. This bundle includes
132 slides
to illustrate topics as teamwork, team introduction, office, communication, sports, business, org charts and family life.

Design professional PowerPoint presentations to outline teamwork in your company or to illustrate job interviews, hierarchies or gender equality. Person silhouettes help to underline the message of your presentation. Outline topics like customer service, communications or global networking with our silhouettes on communication.

Upgrade your company presentation with a choice of 18 different org chart templates. This bundle also includes 21 different silhouettes of sportsmen and women involved in various activities like basketball, volleyball, soccer, track and field athletics or gymnastics as well as silhouettes to illustrate a modern company policy, e. g. sustaining family-friendliness.

All silhouettes are flat design vector graphics and are adjustable in shape, size and color. Editable features are linked to the PowerPoint color palette and can be changed easily according to any corporate design.

Set features

- Over 220 silhouette graphics on 132 PowerPoint templates
- Immediate access after download
- Save 60 percent by purchasing the bundle
- Collection of silhouettes on subjects such as office, teamwork, team introduction, communications, sports and business, family and org charts
- Editable and vector-based
- Pre-formatted text placeholders
Compatibility note: This product is optimized for PowerPoint versions 2007/2010 and 2013. In older versions of PowerPoint and in Mac Versions the usage of this product is limited. To open the PPT file in PowerPoint 2003 the "Microsoft Office Compatibility Pack" is required. It can be downloaded for free from the Microsoft website.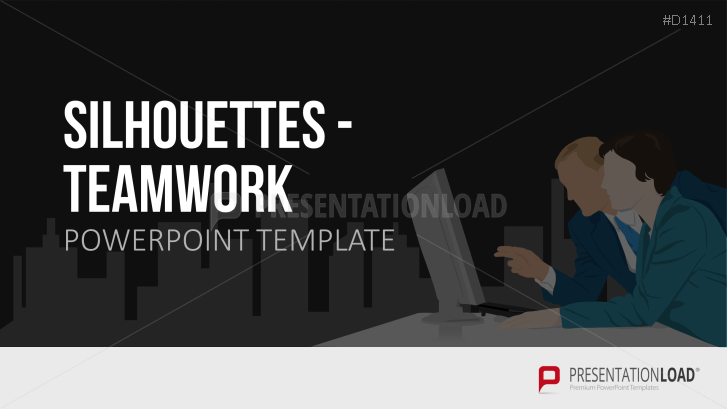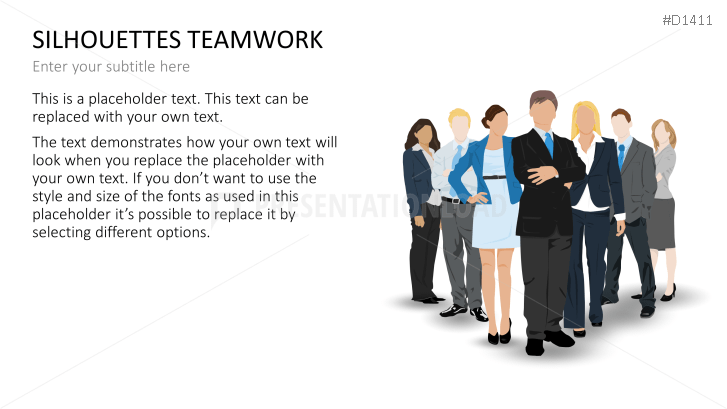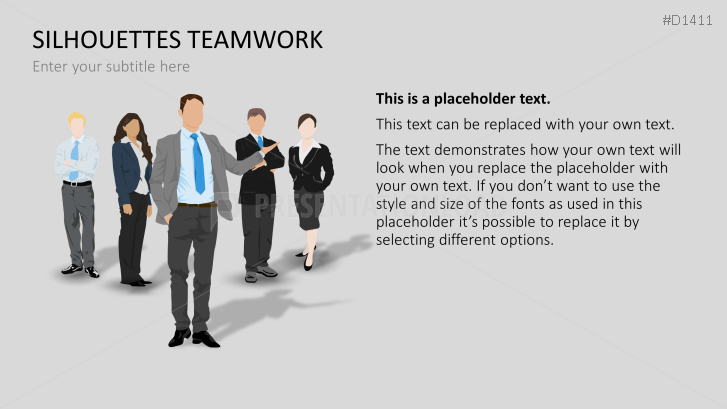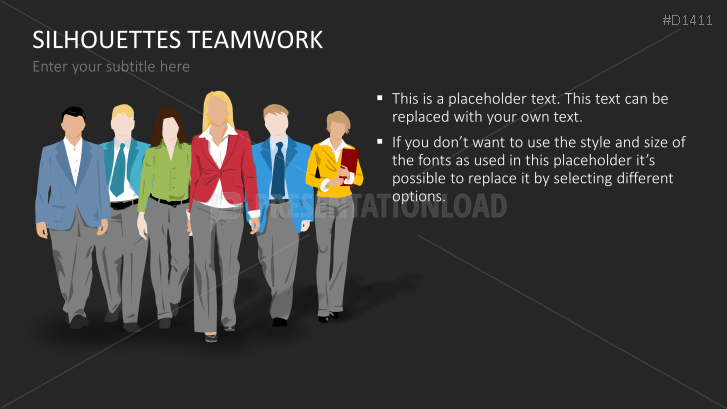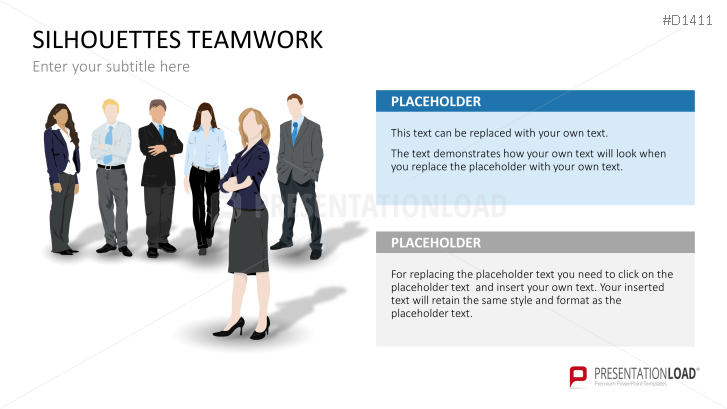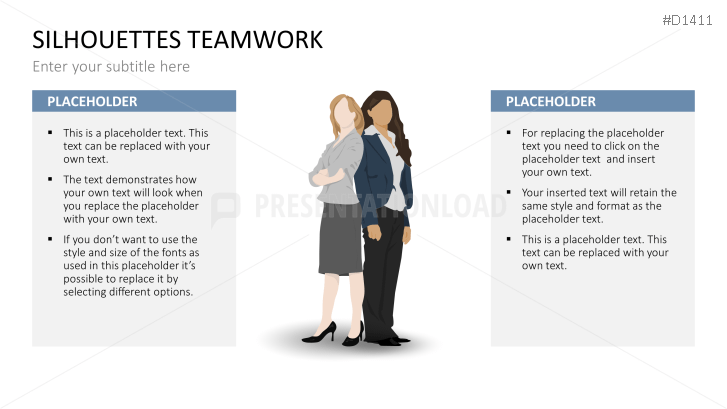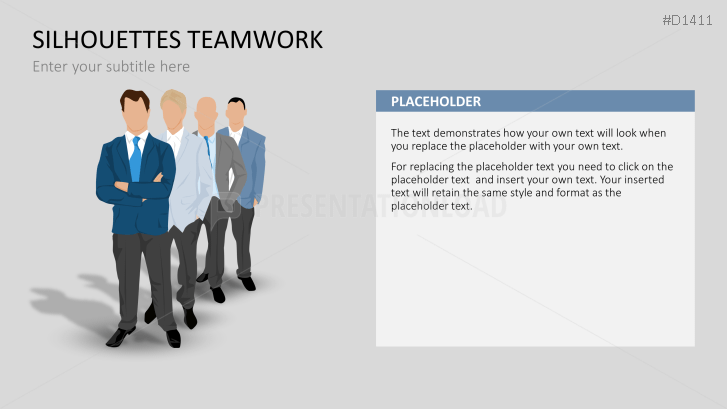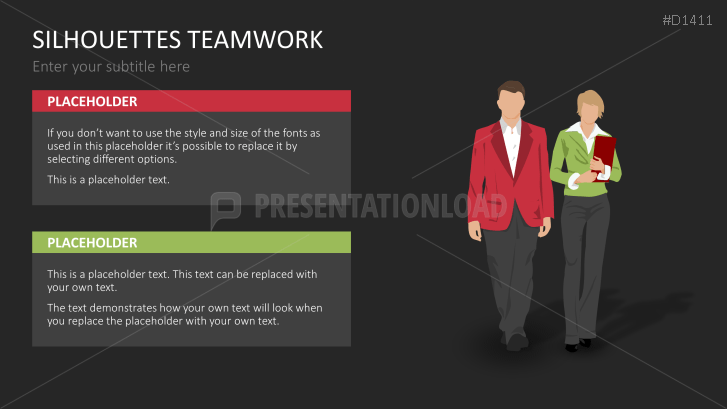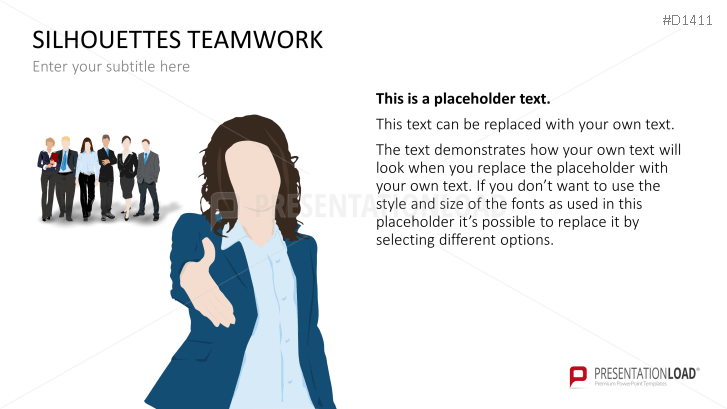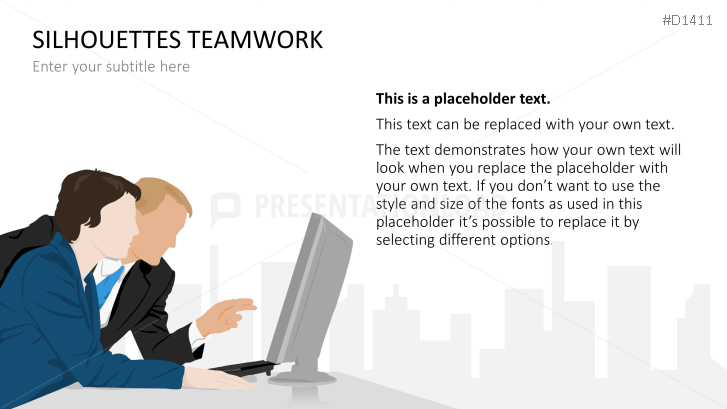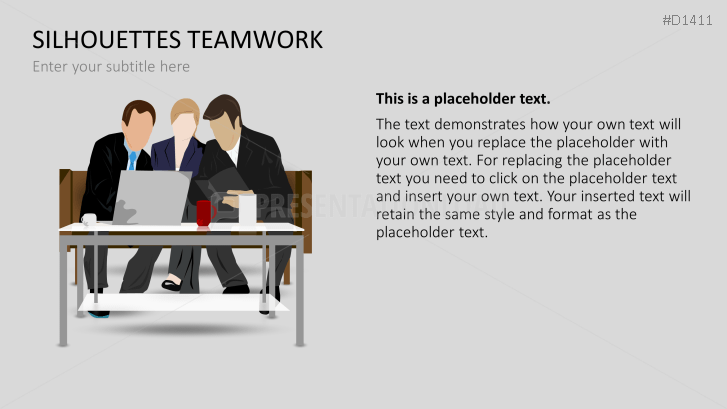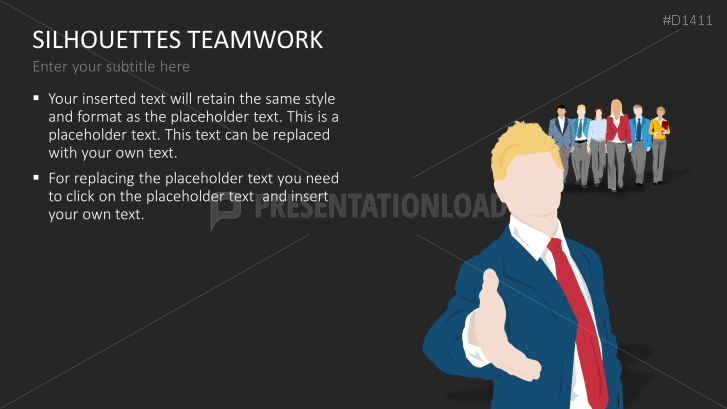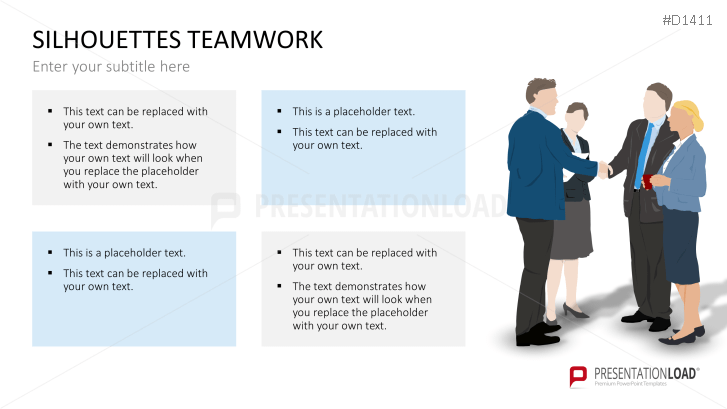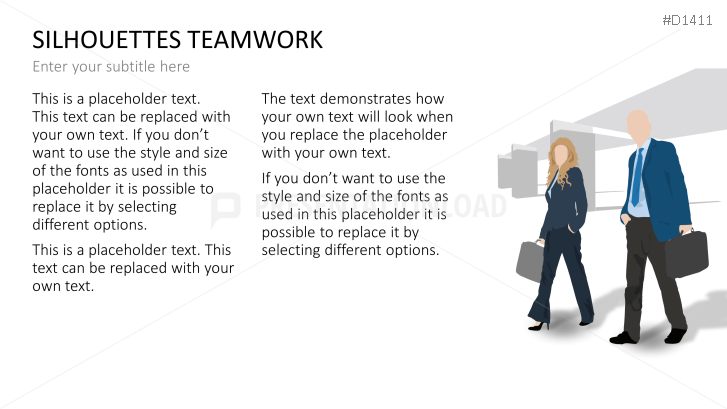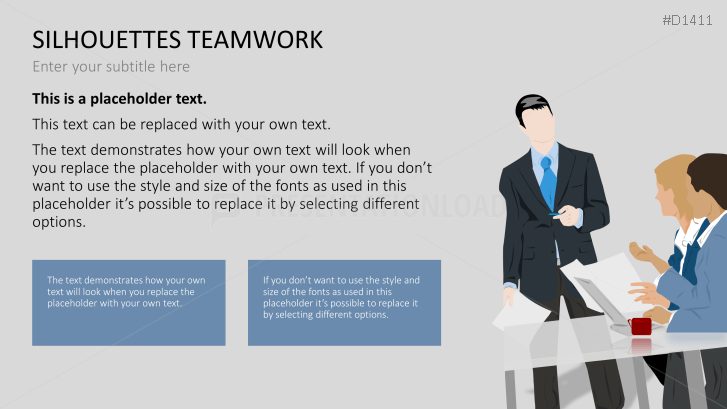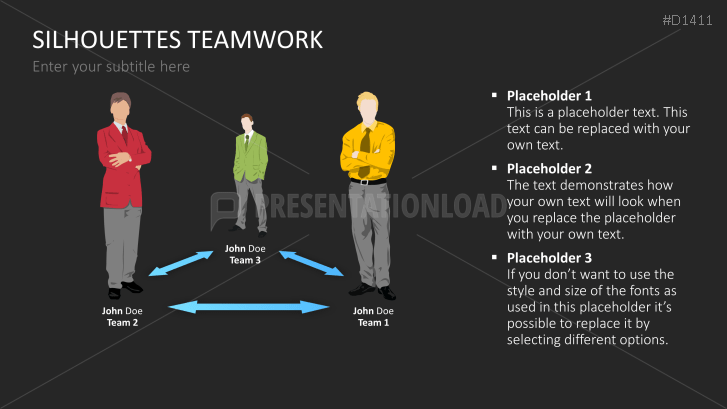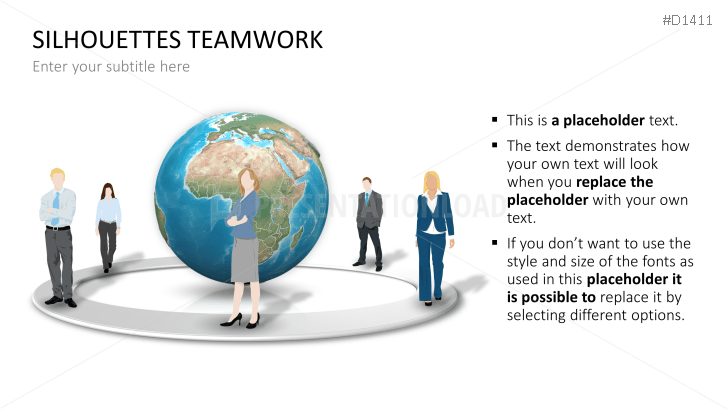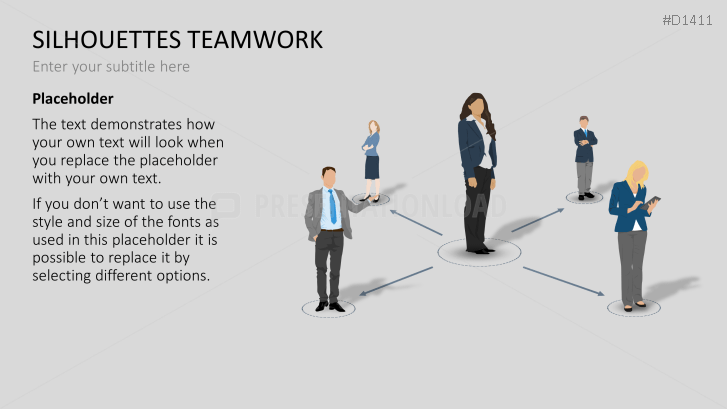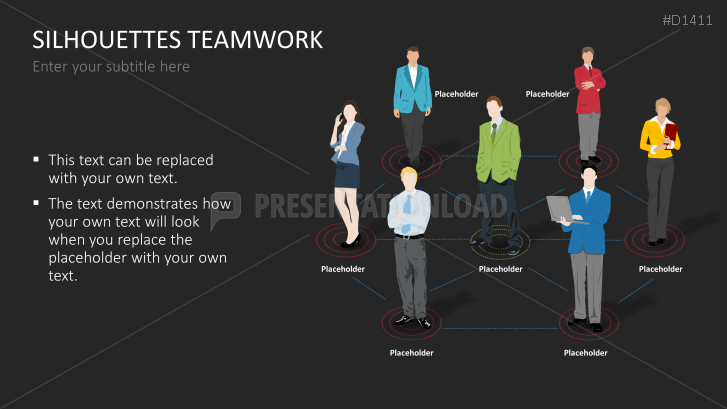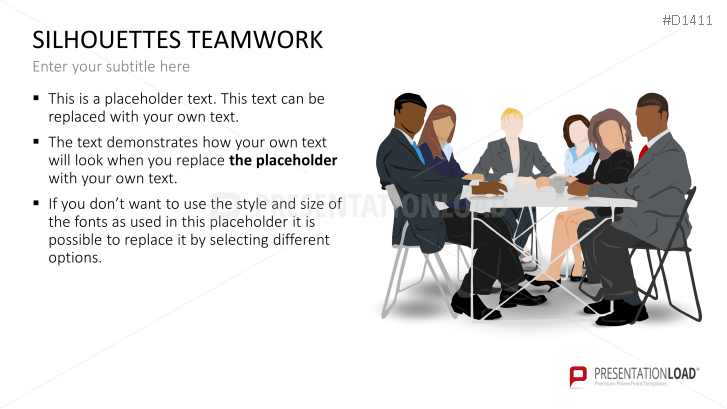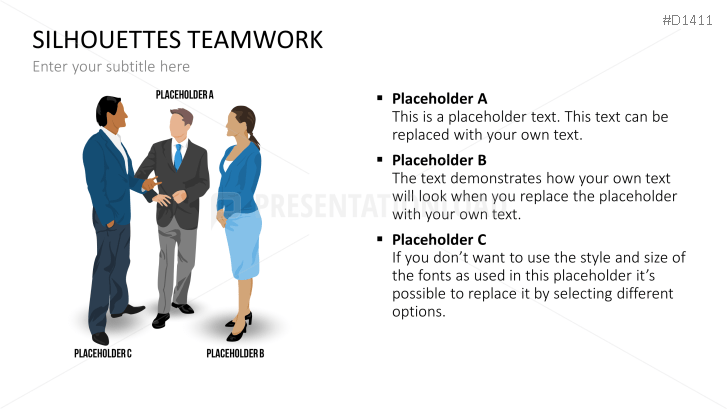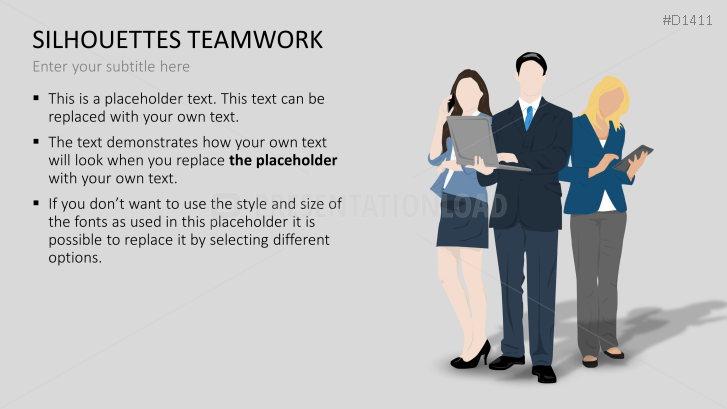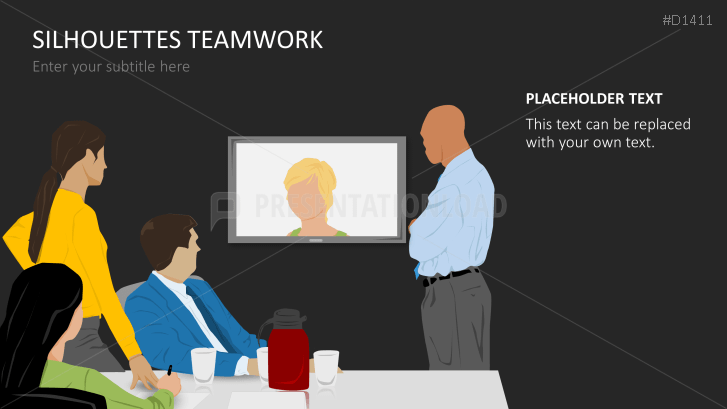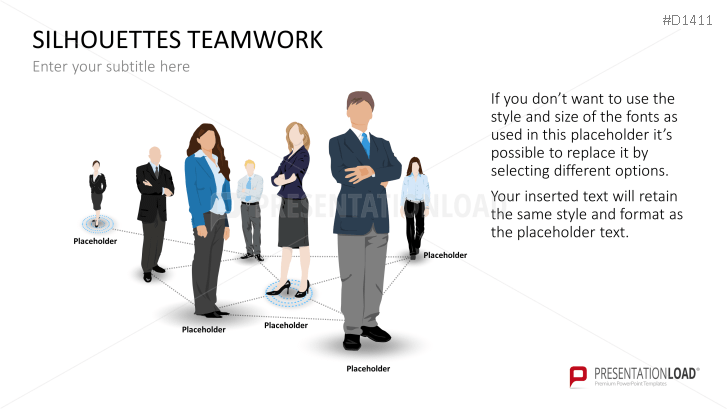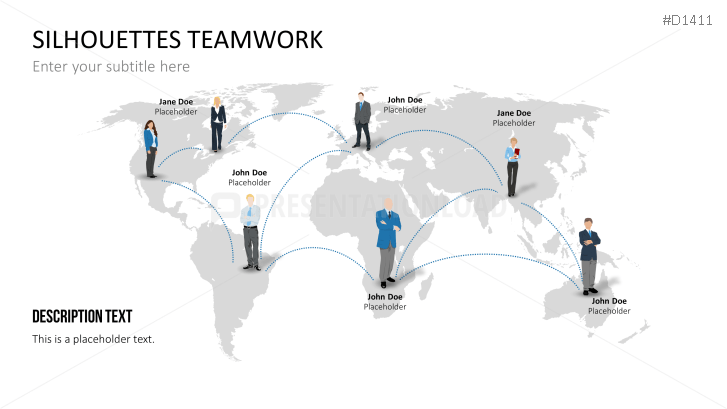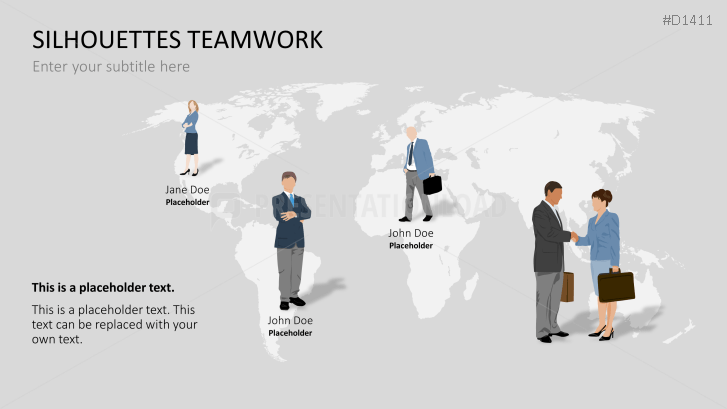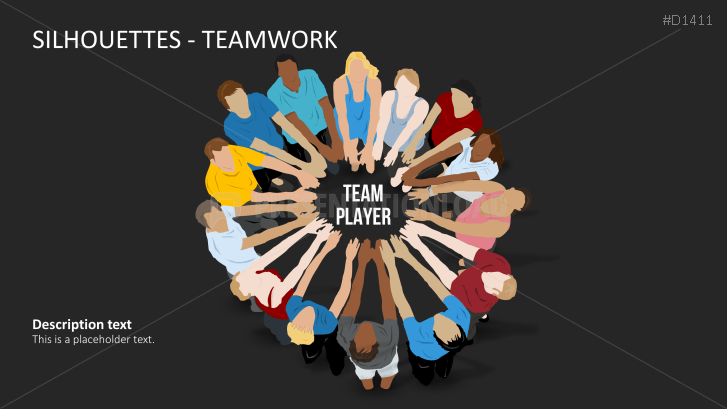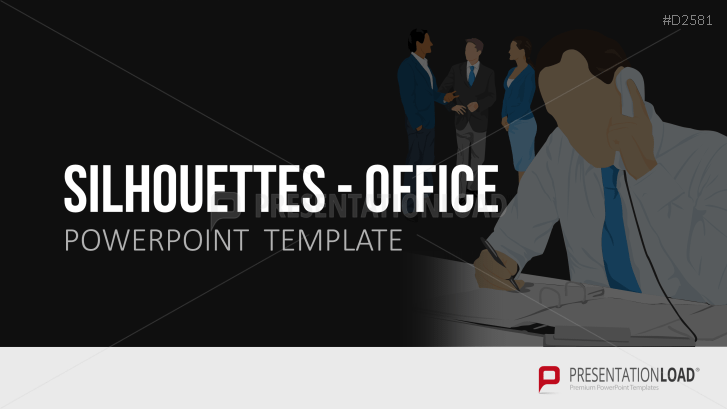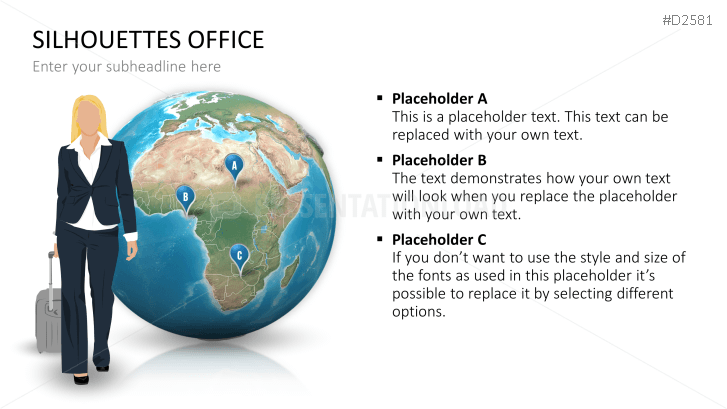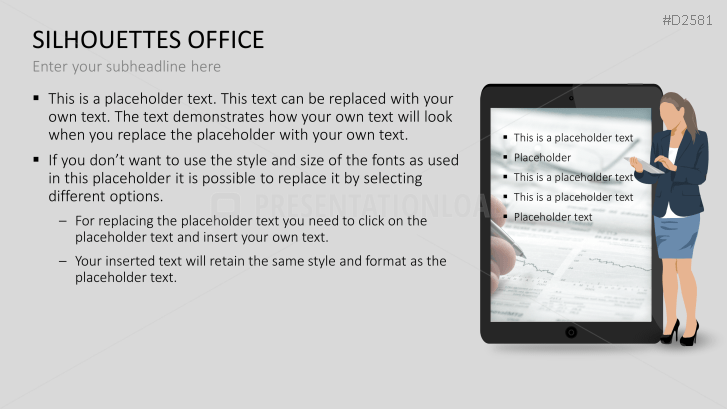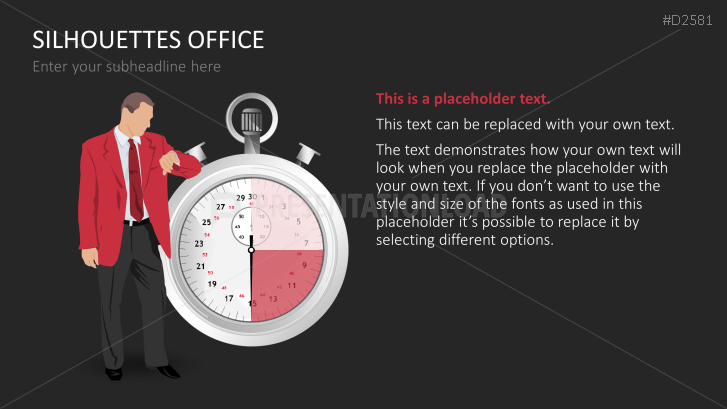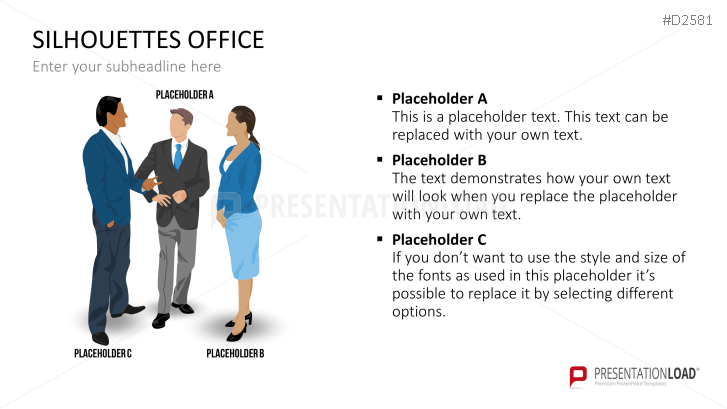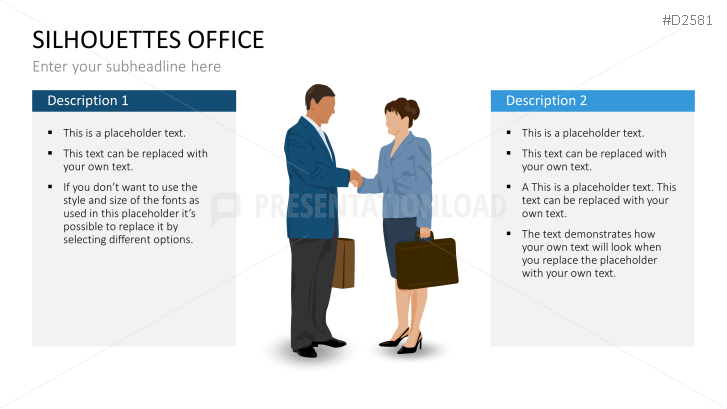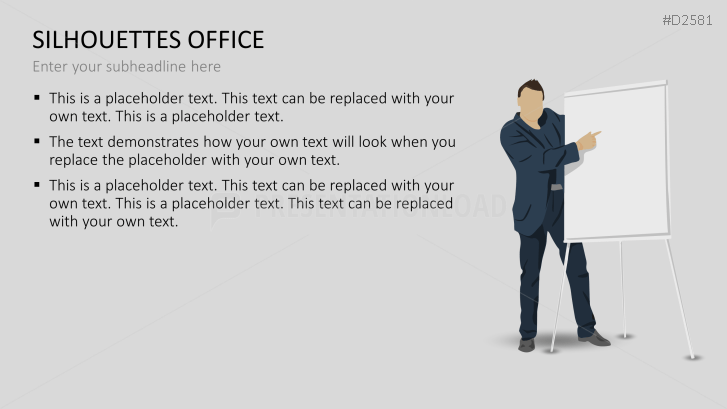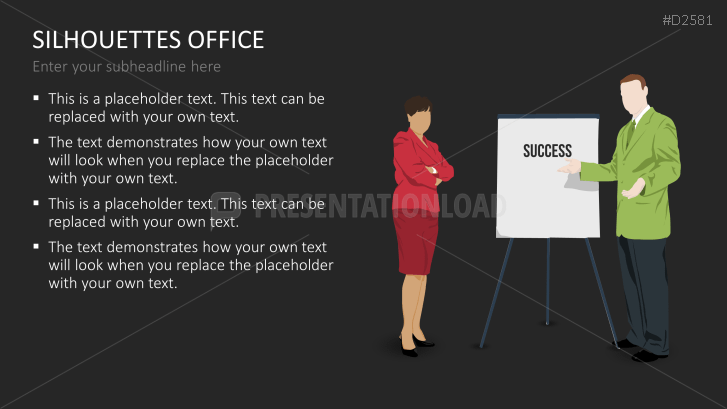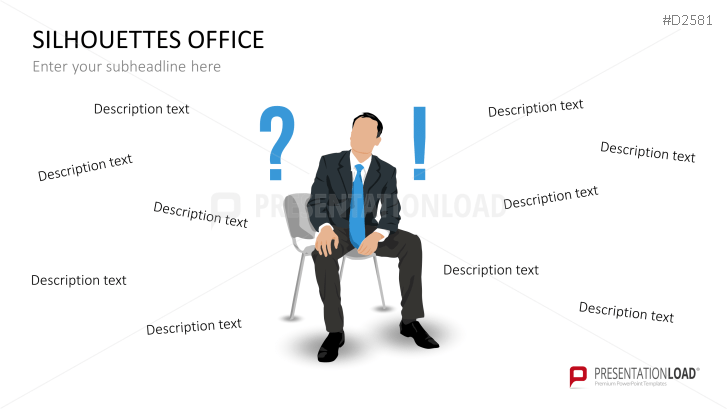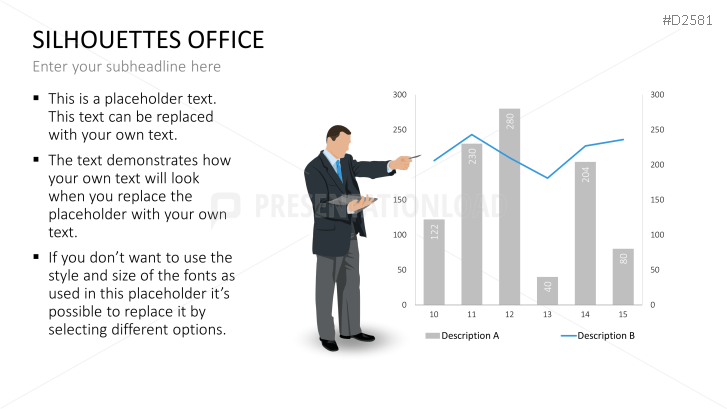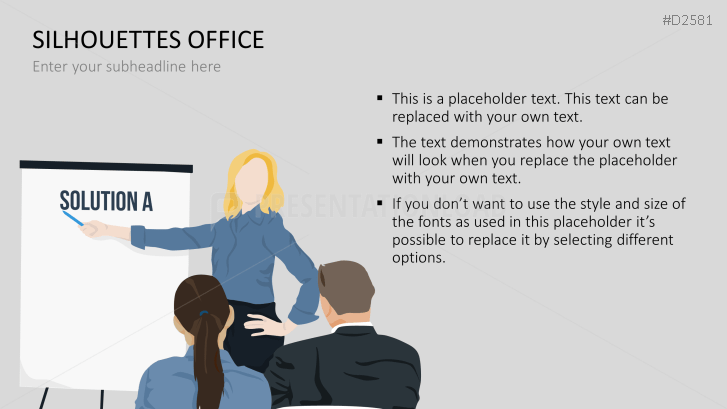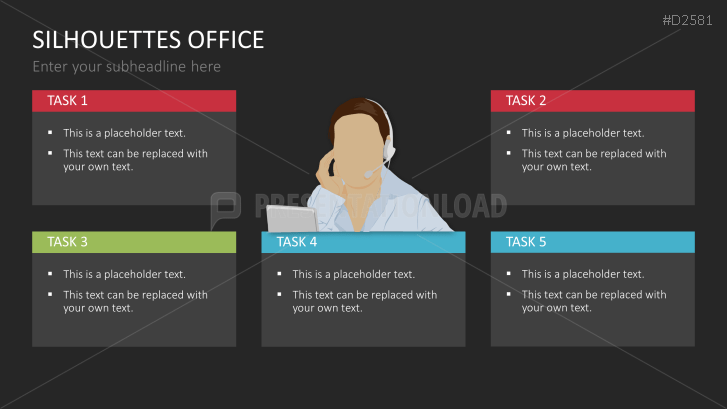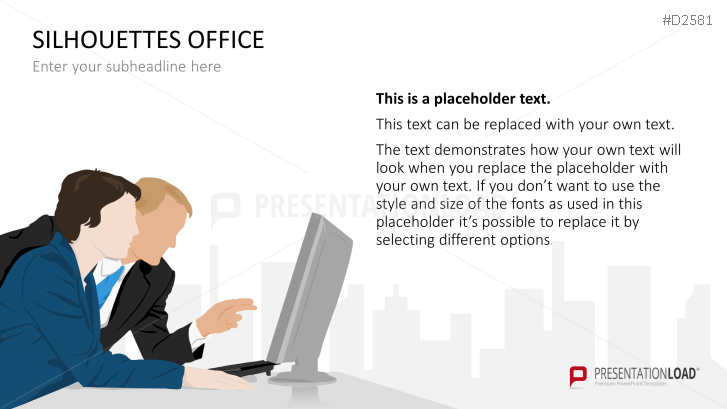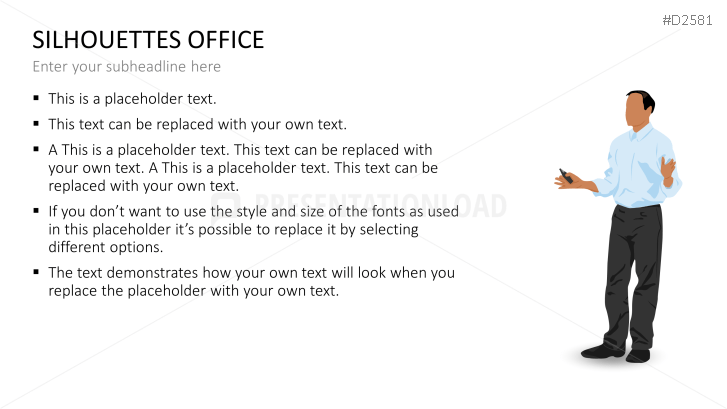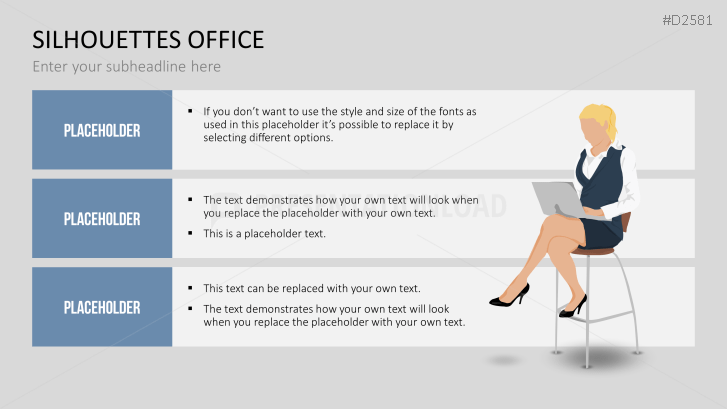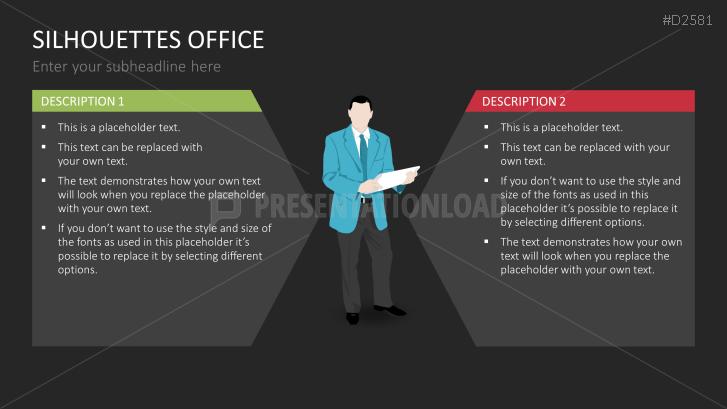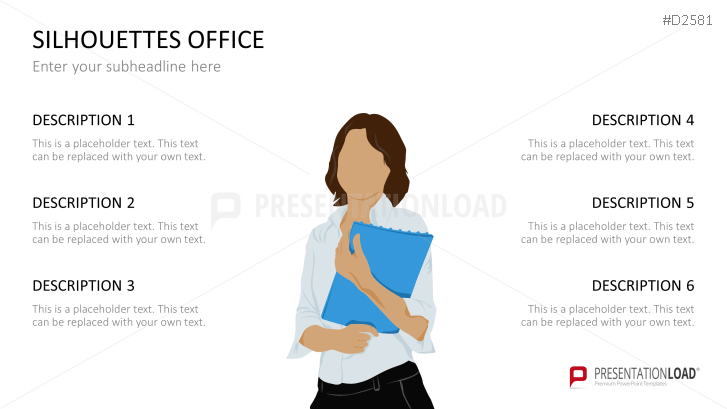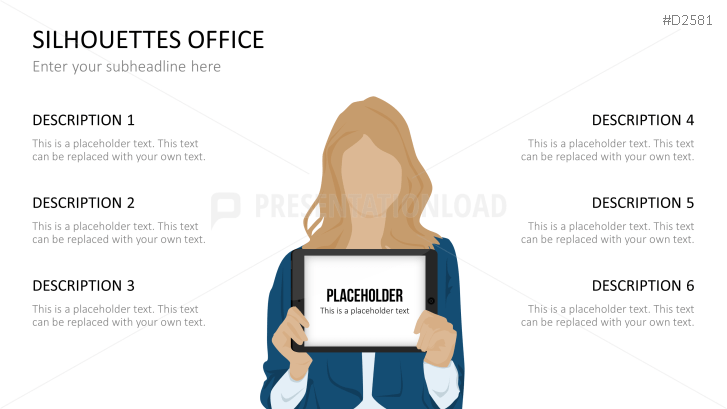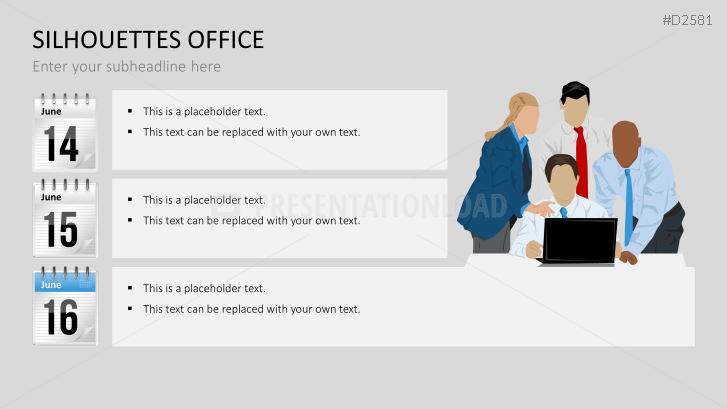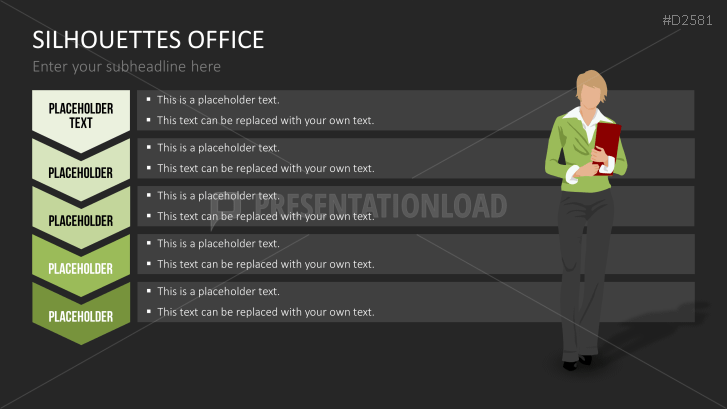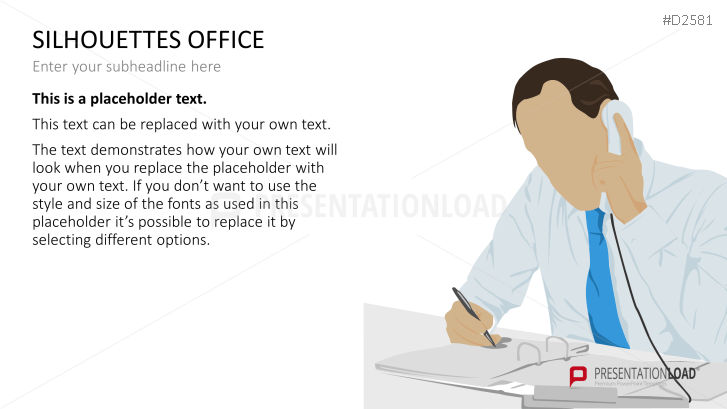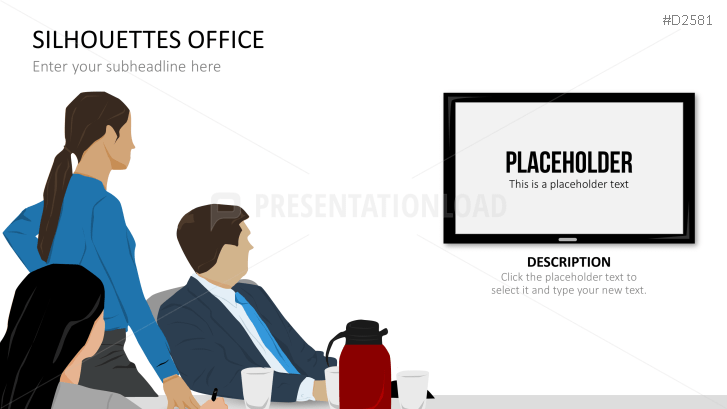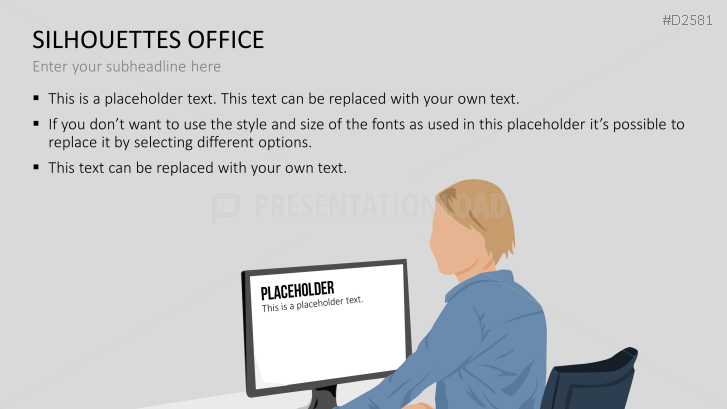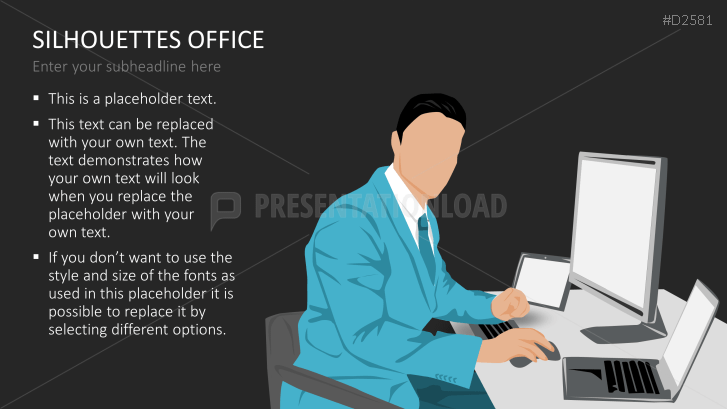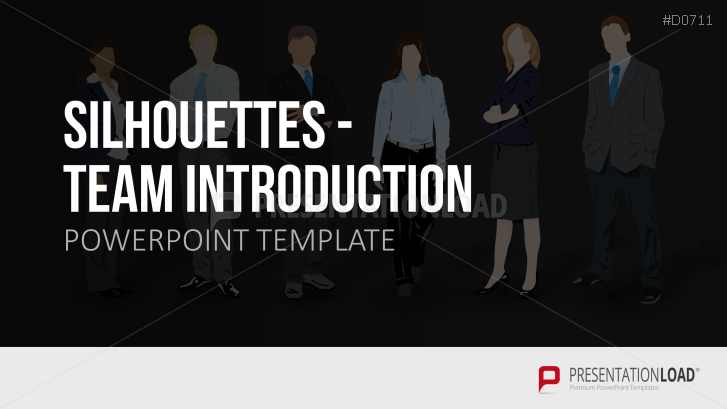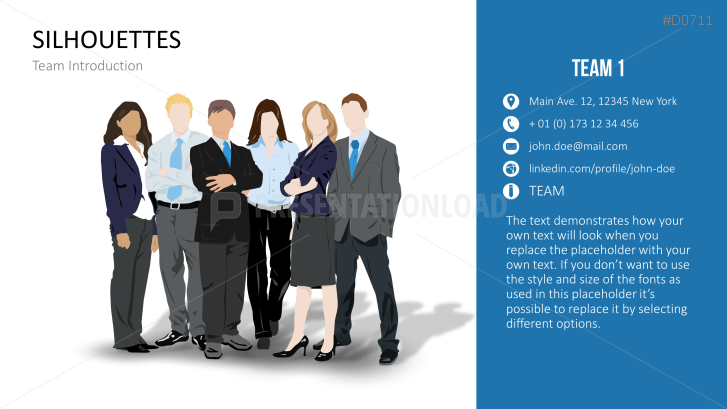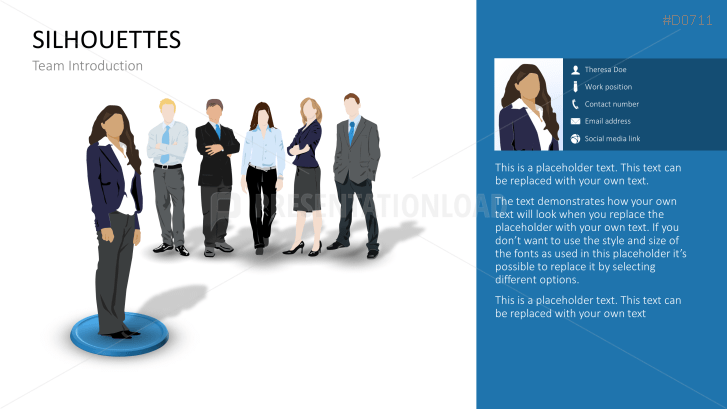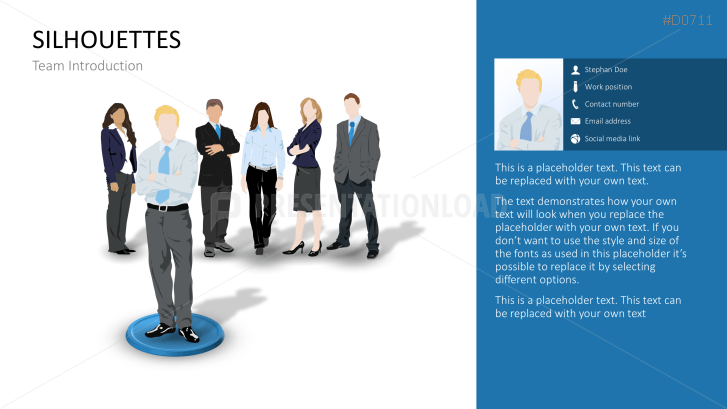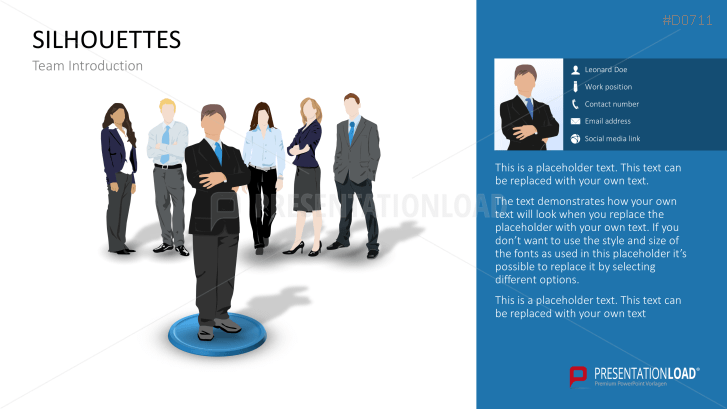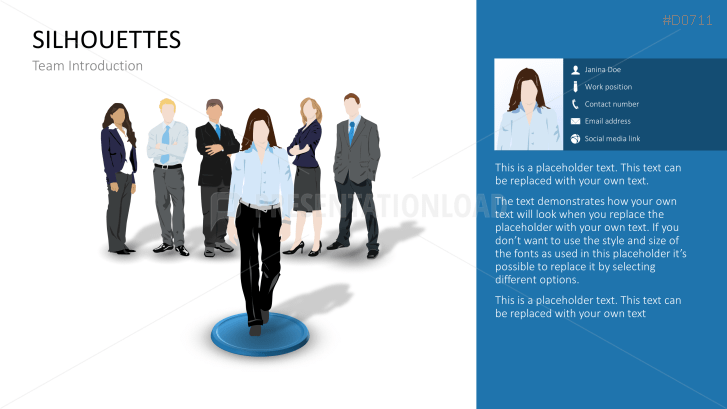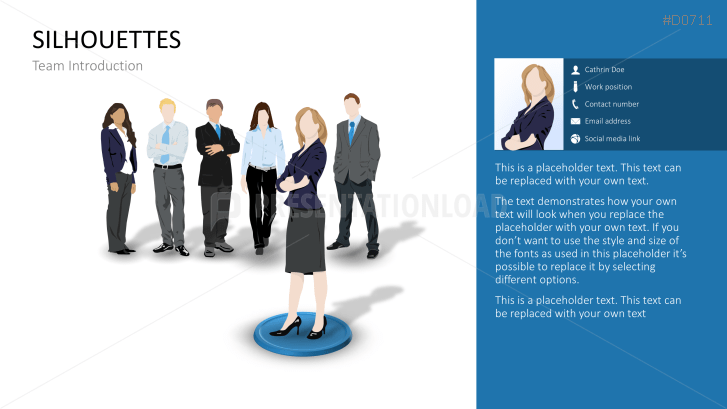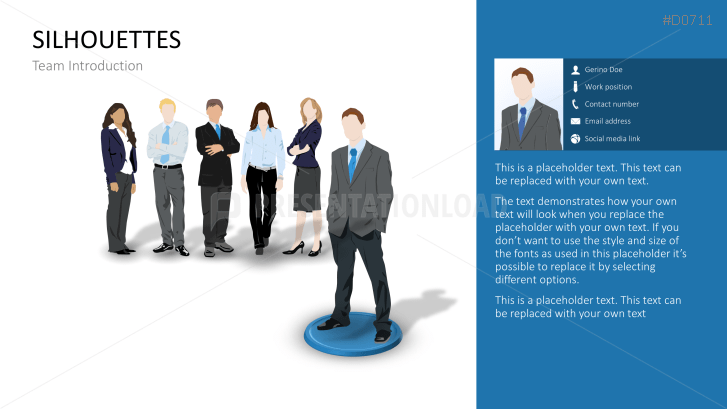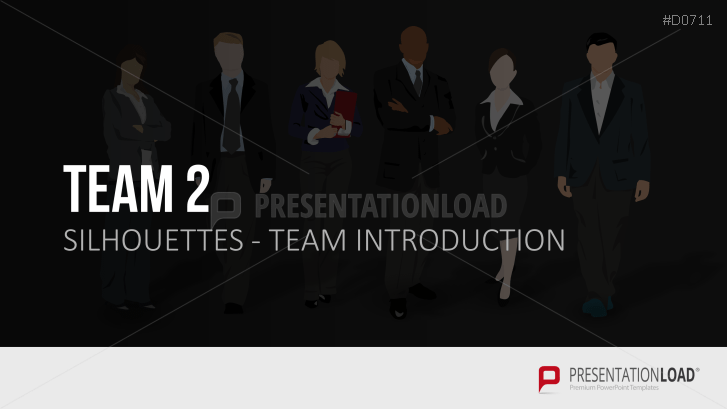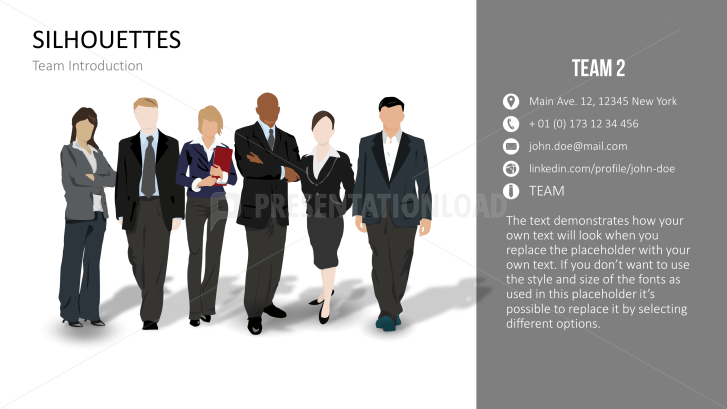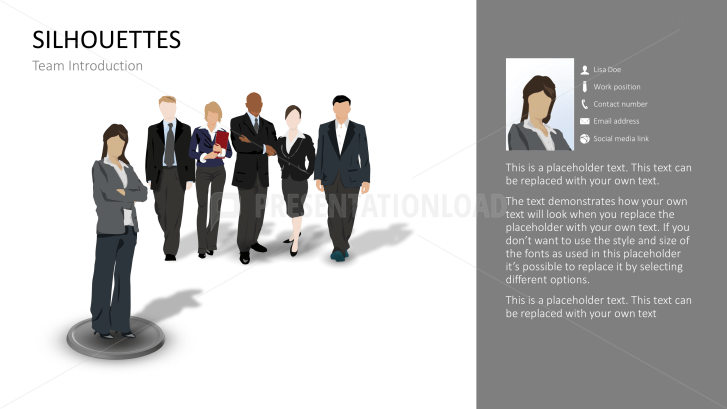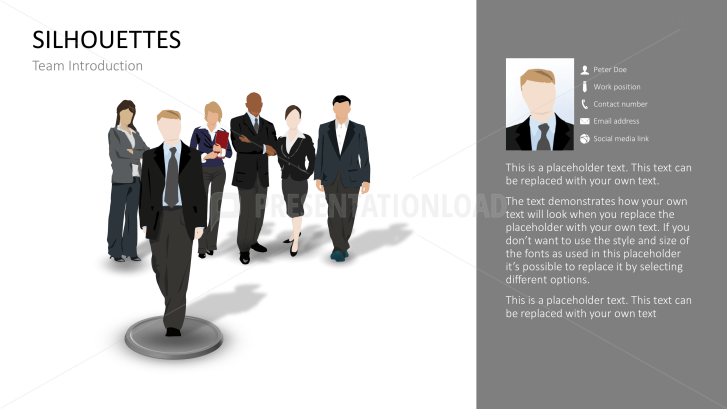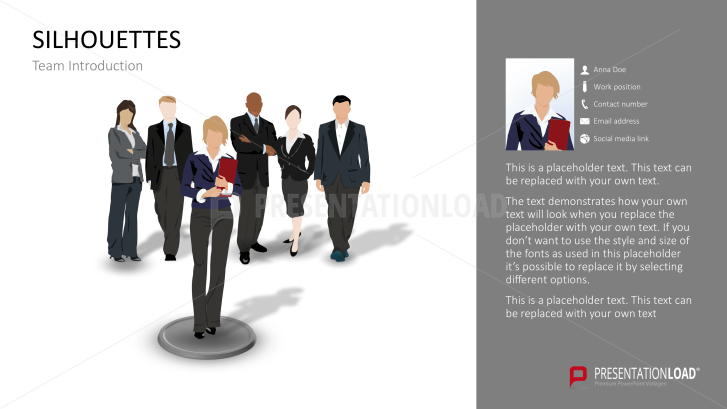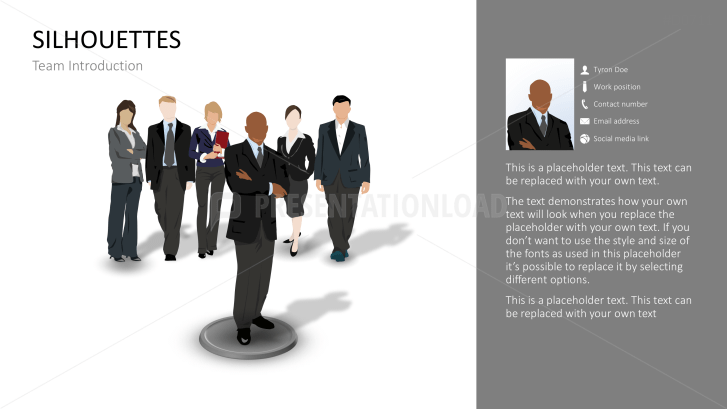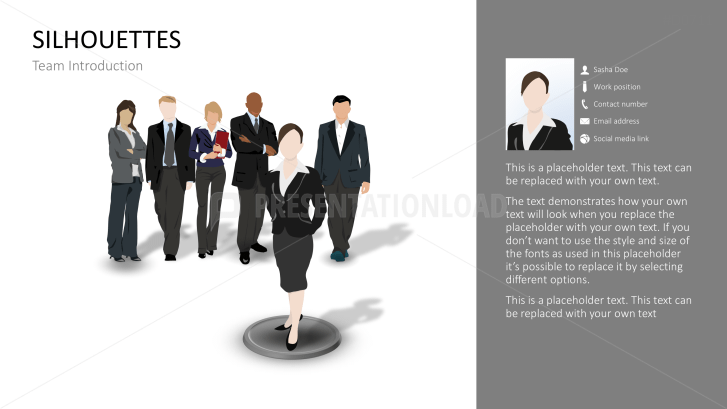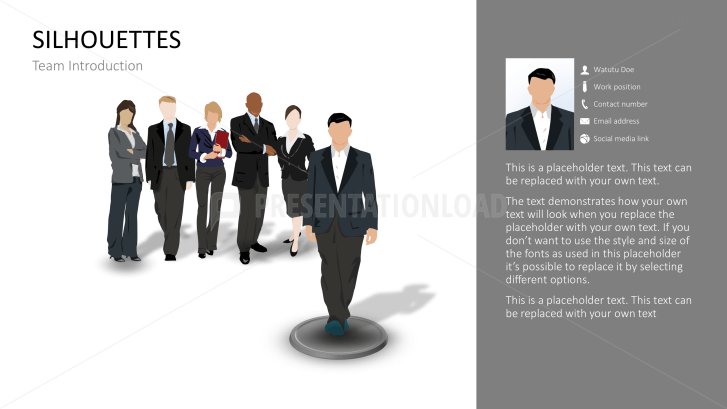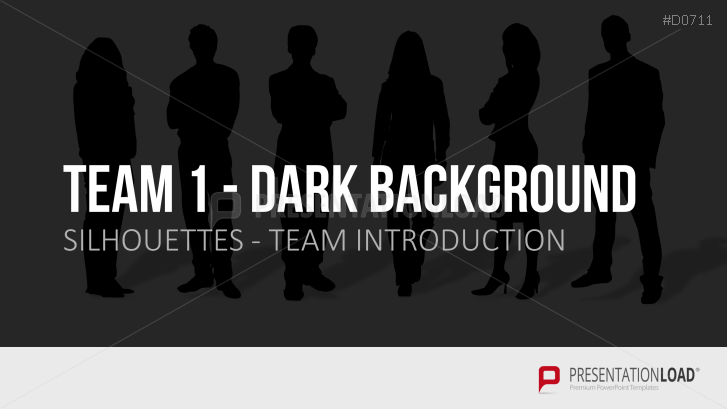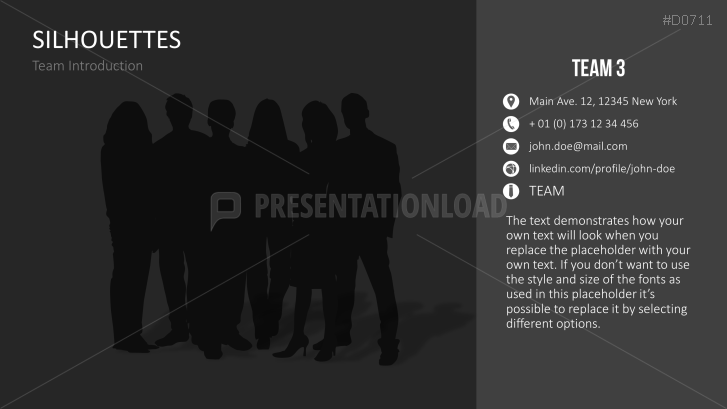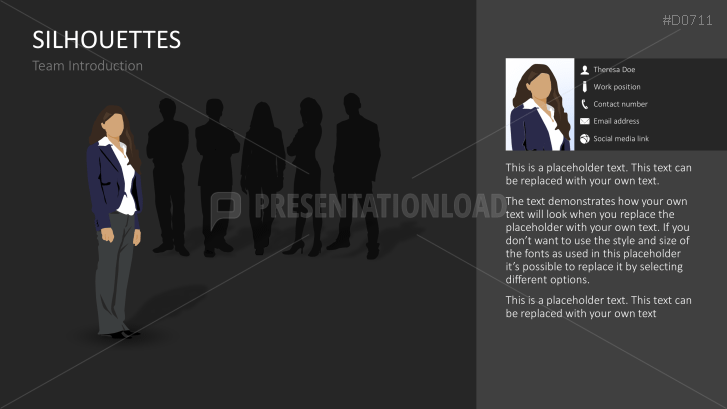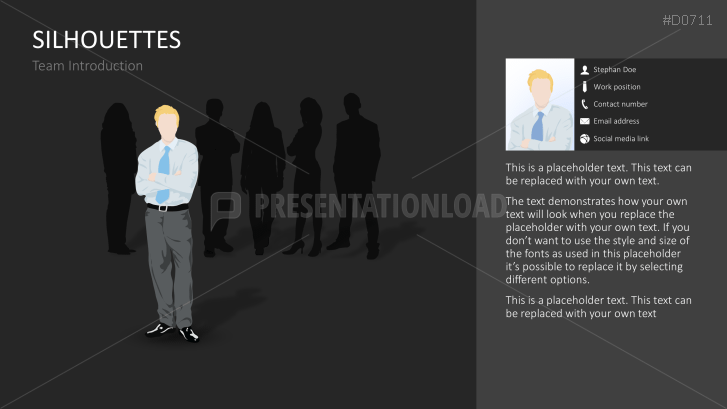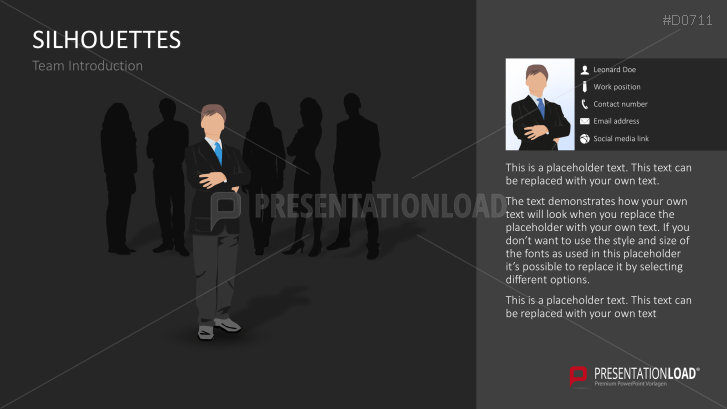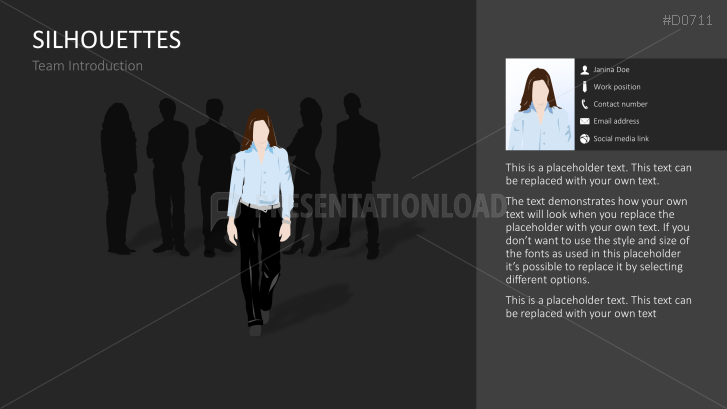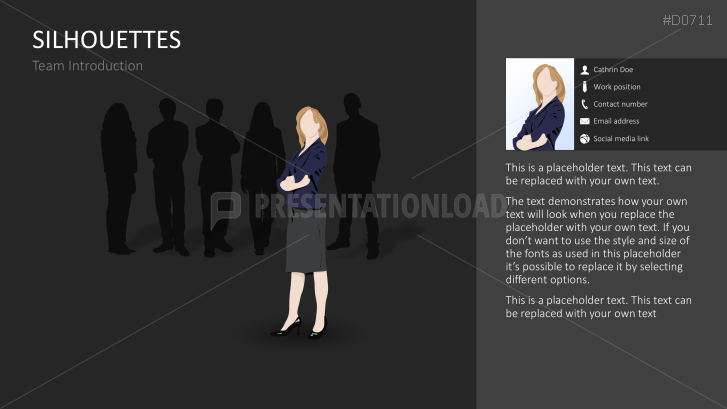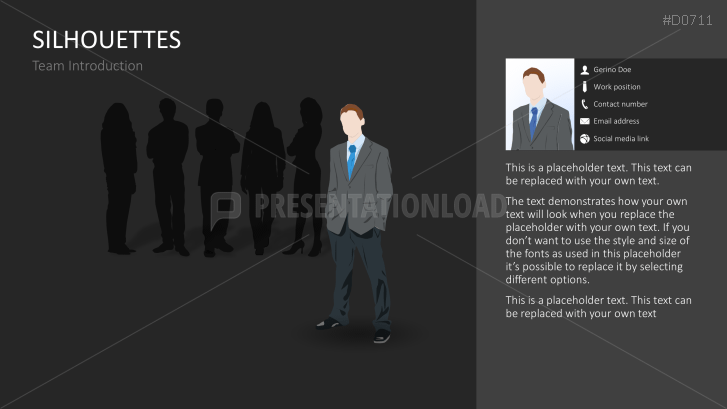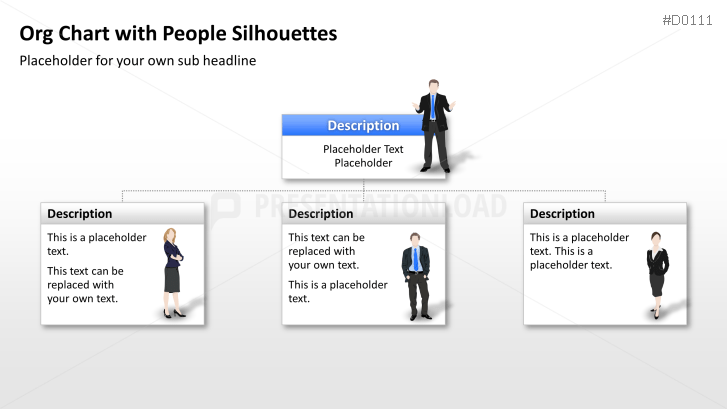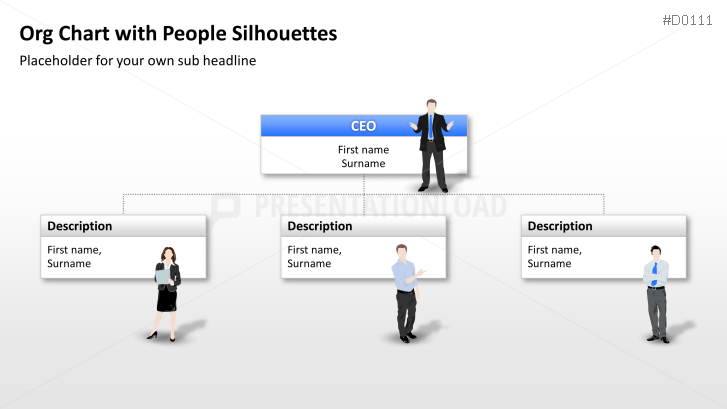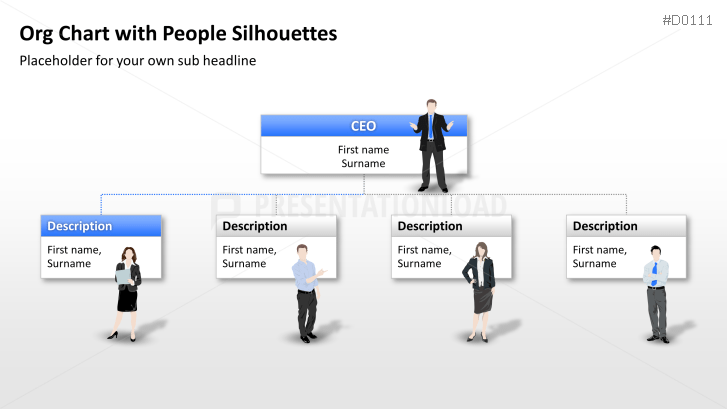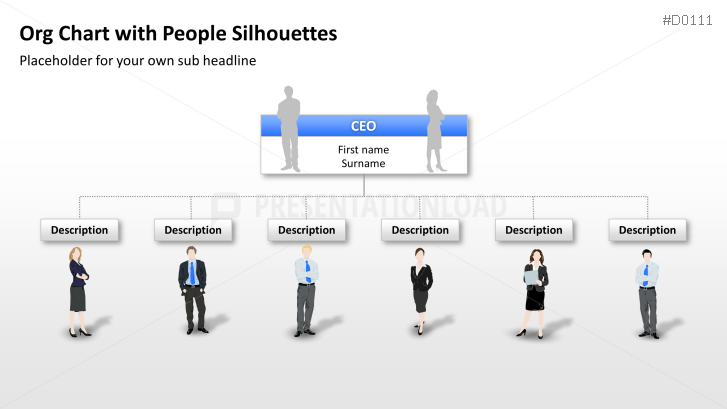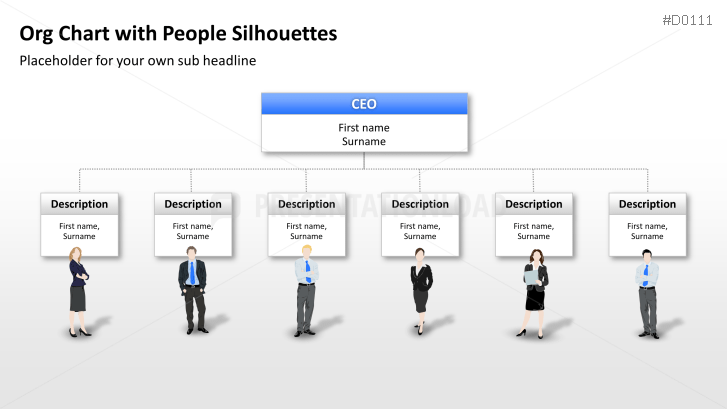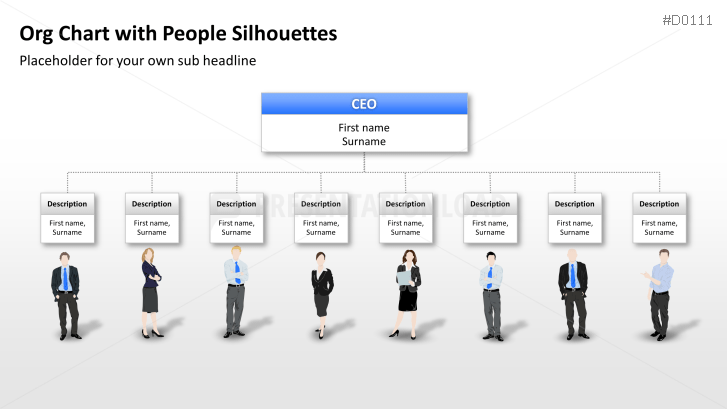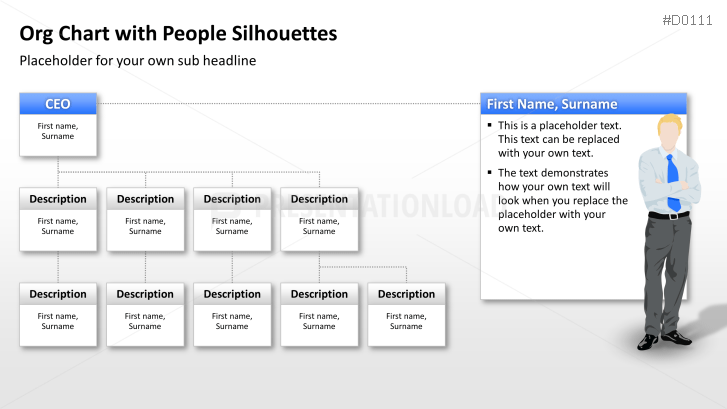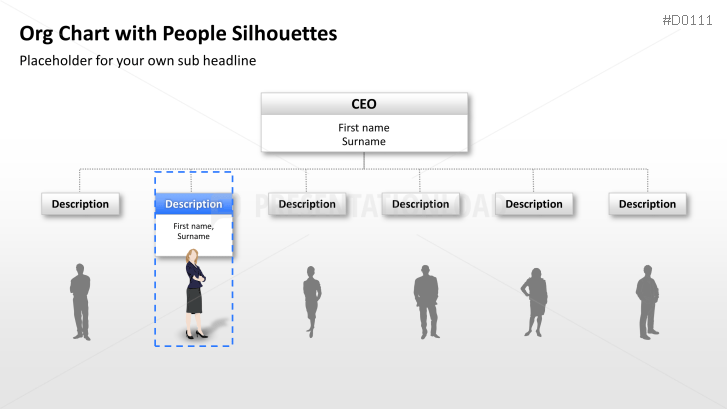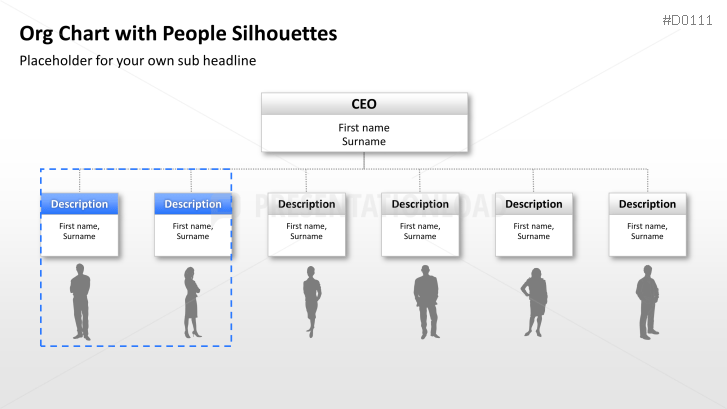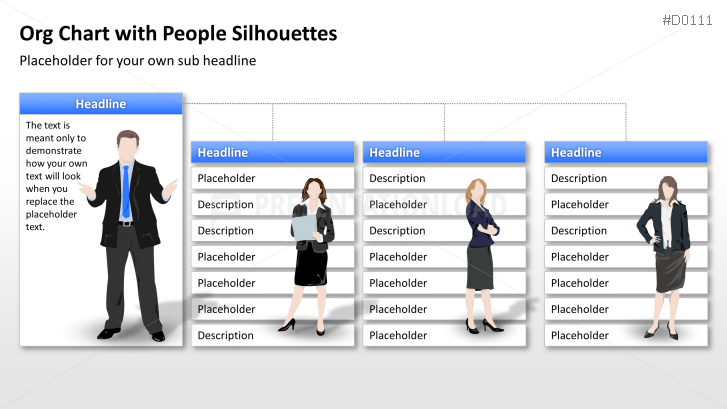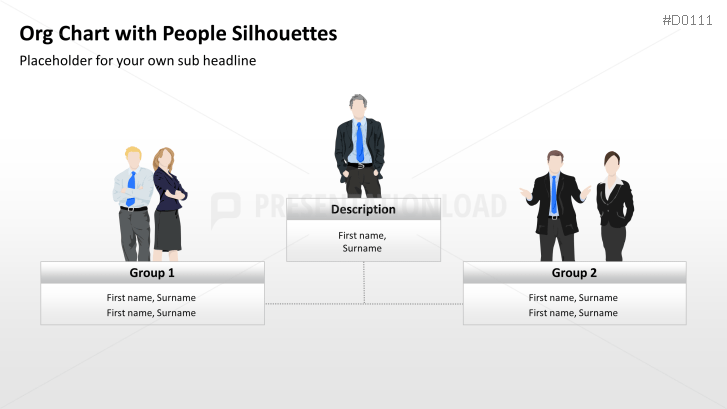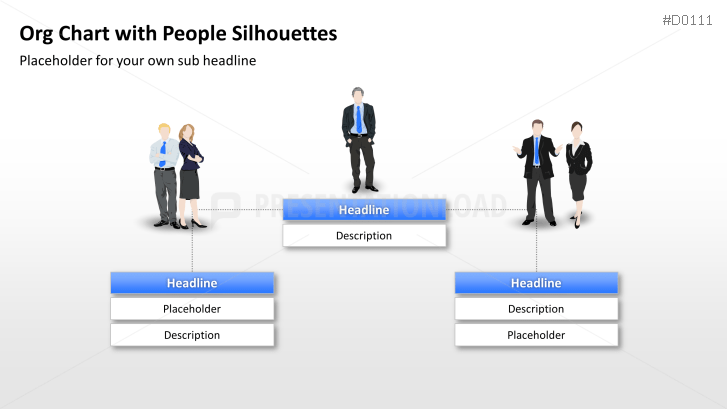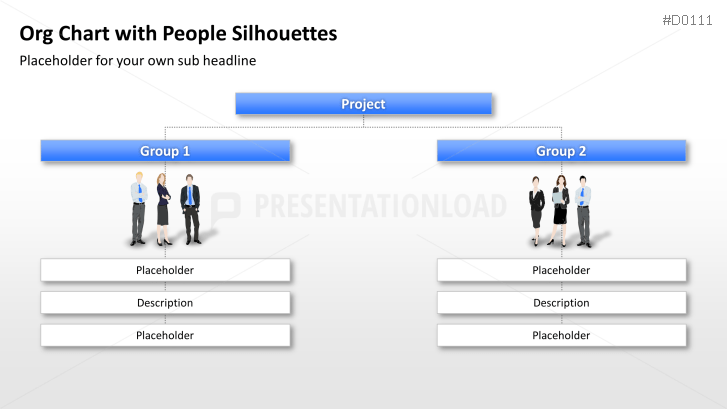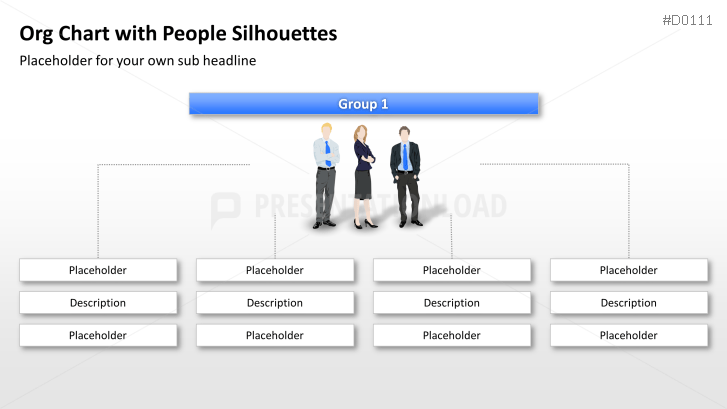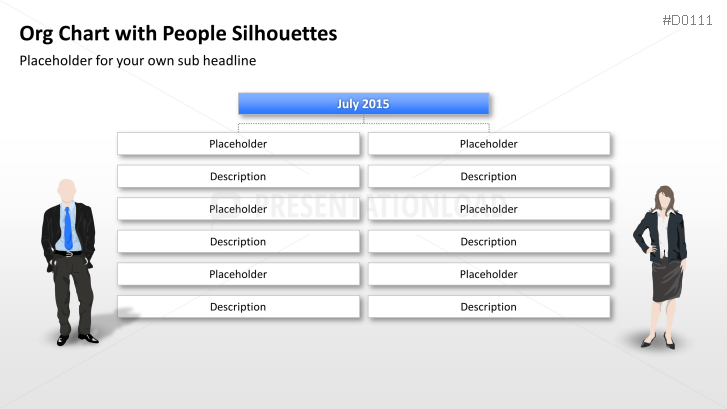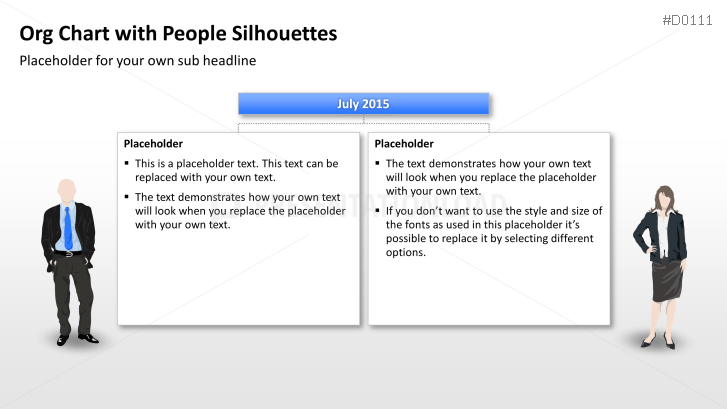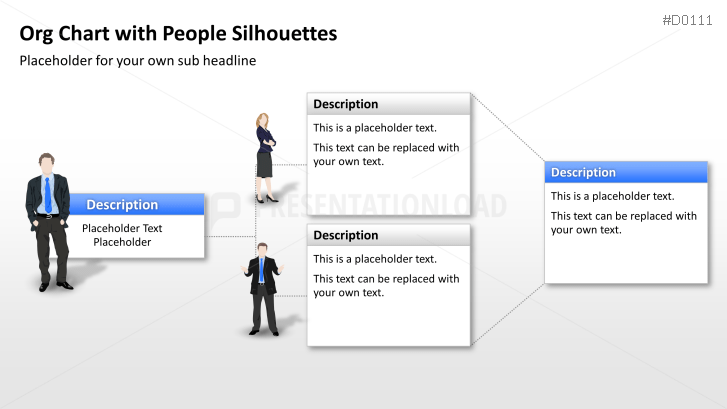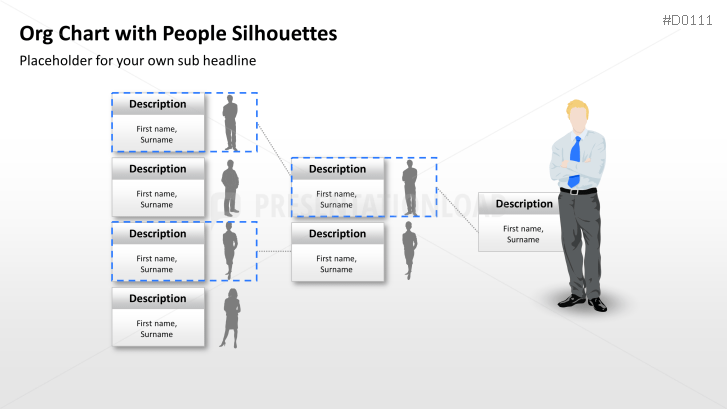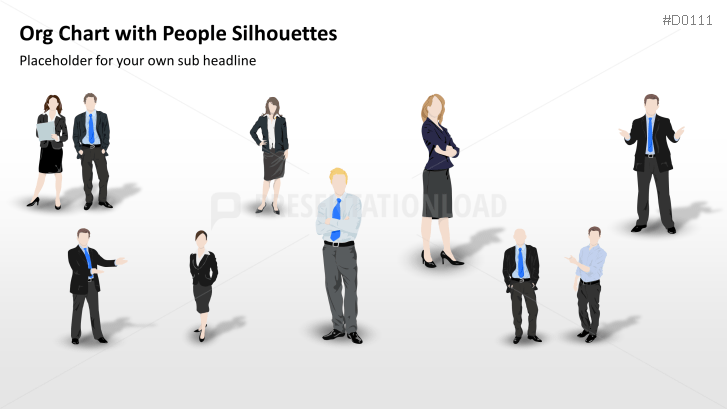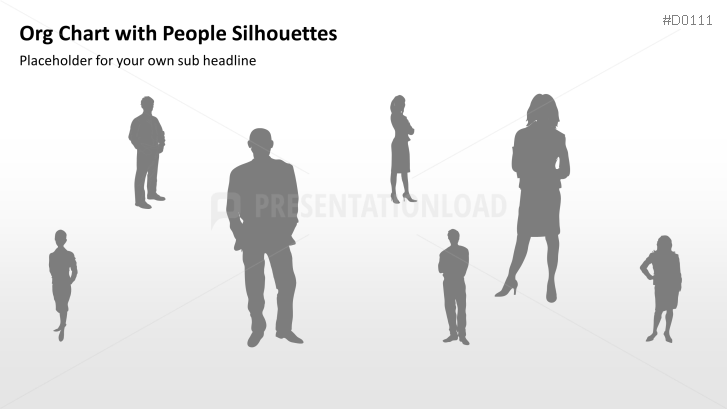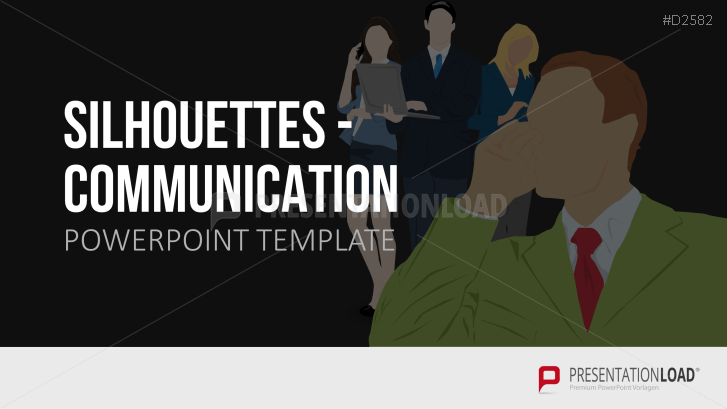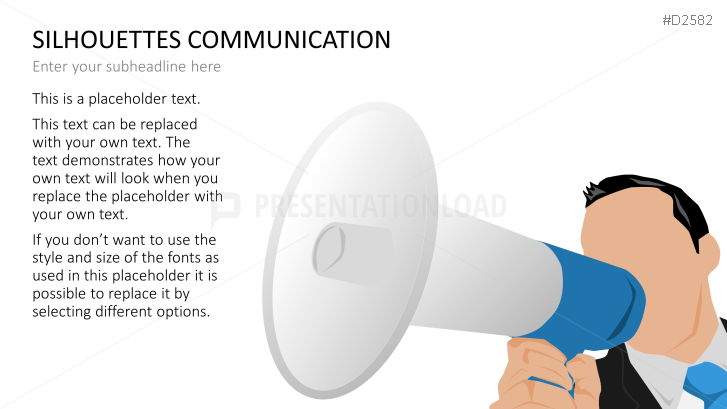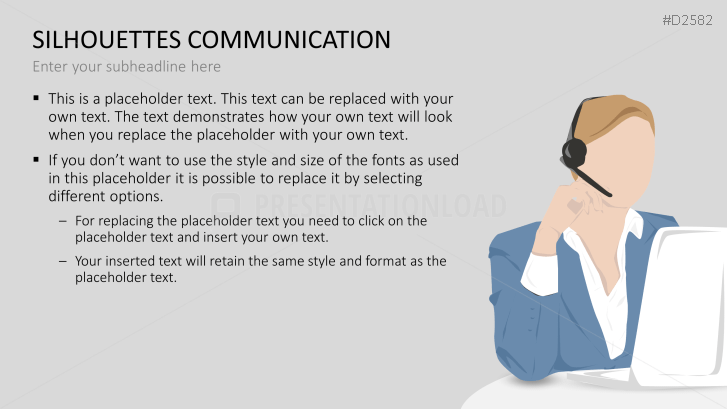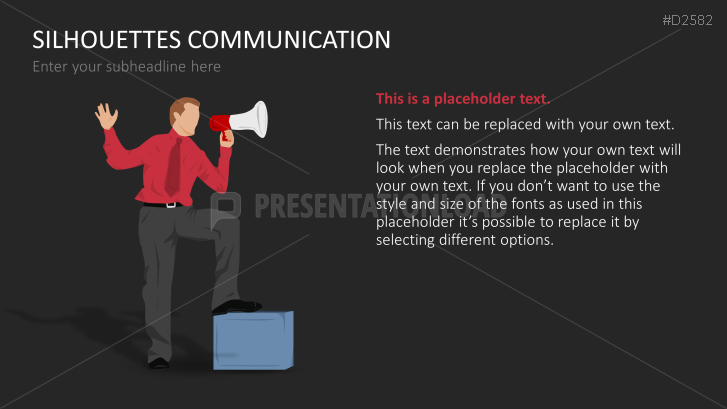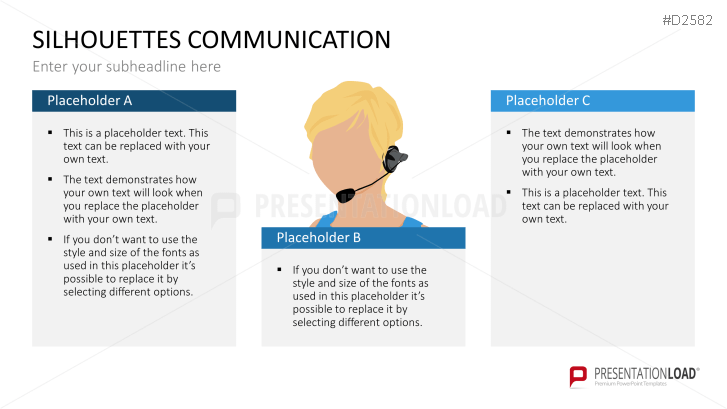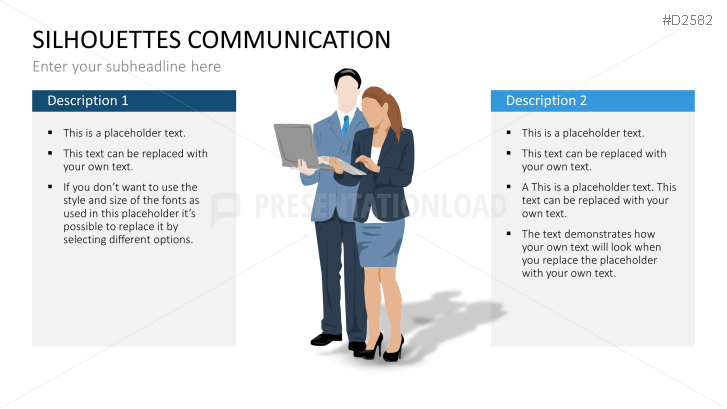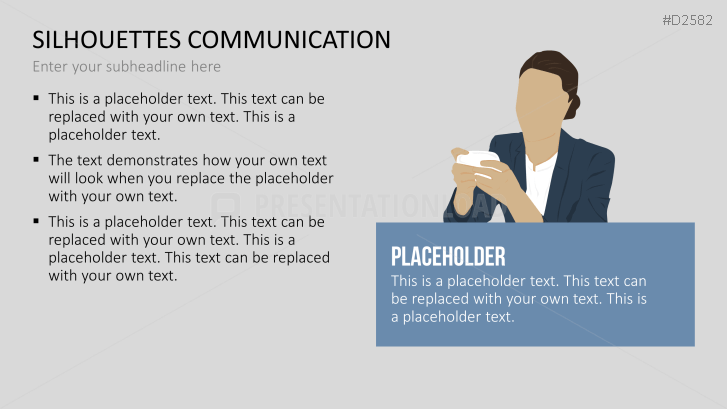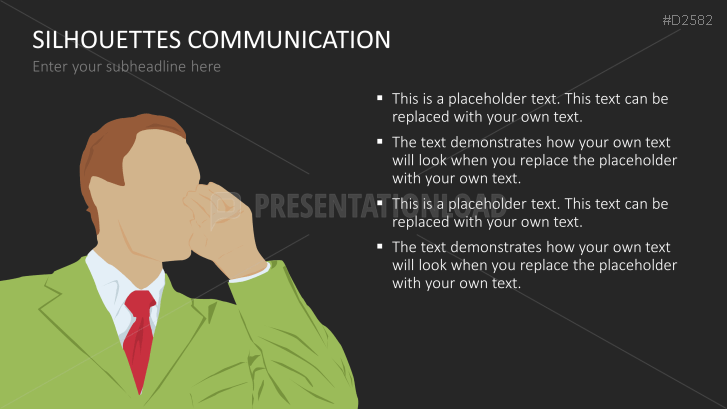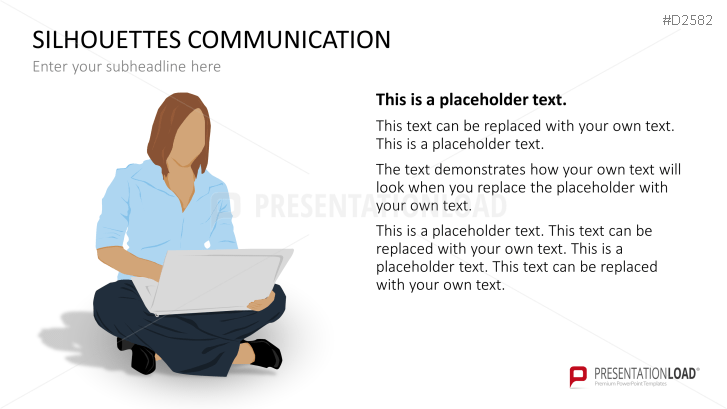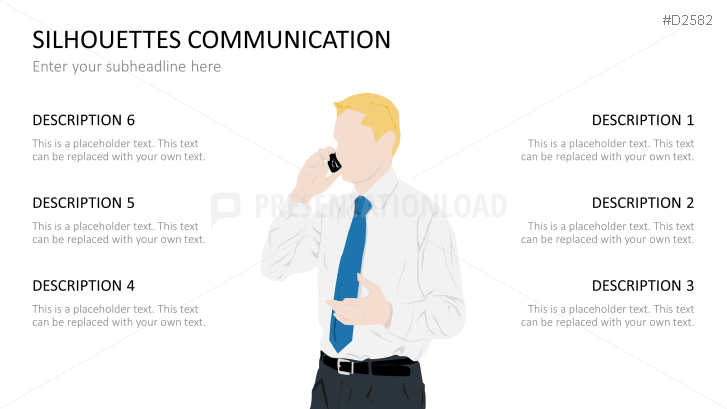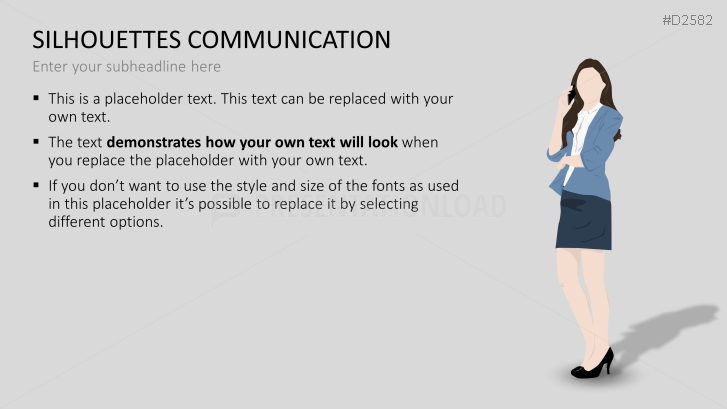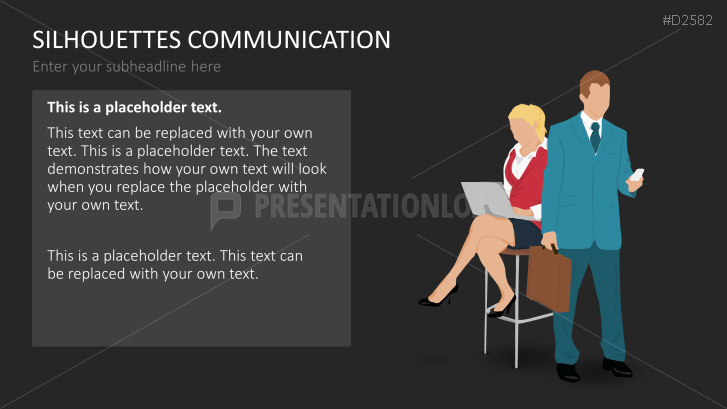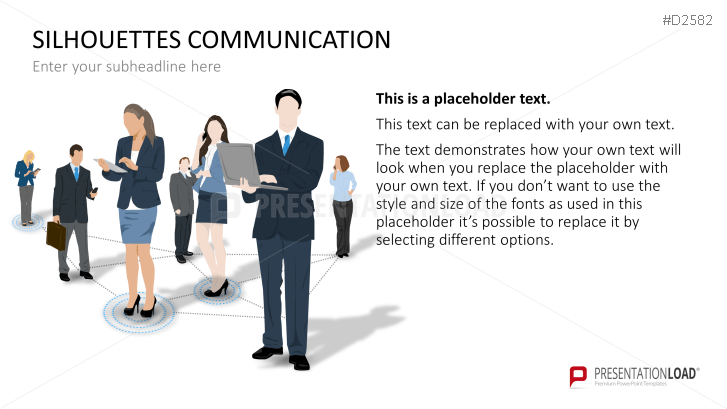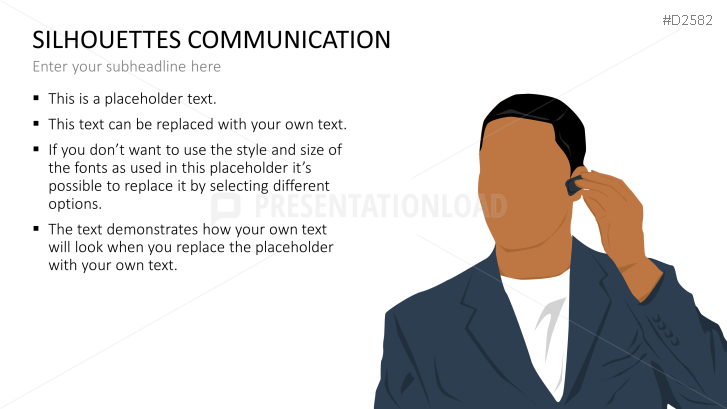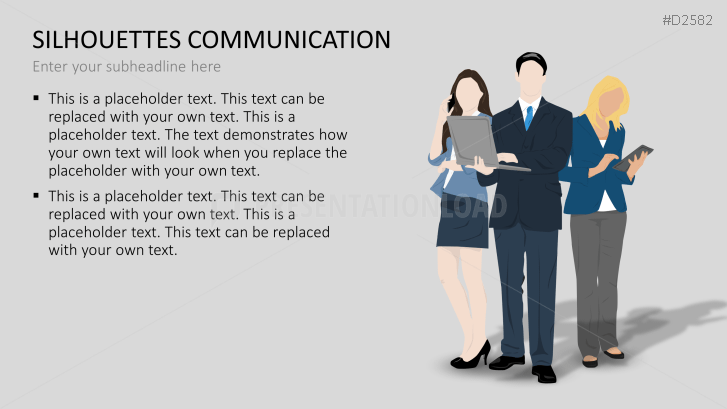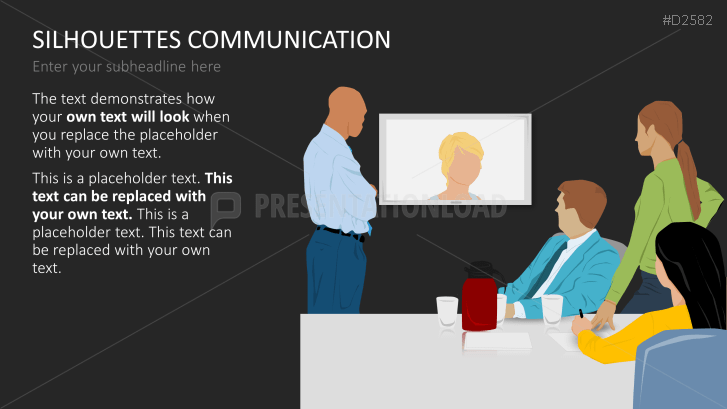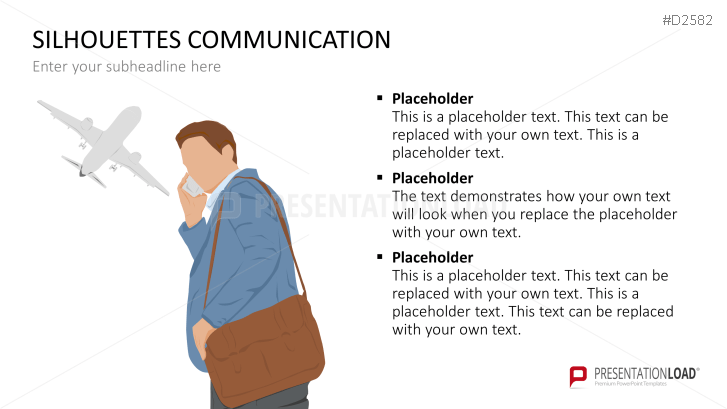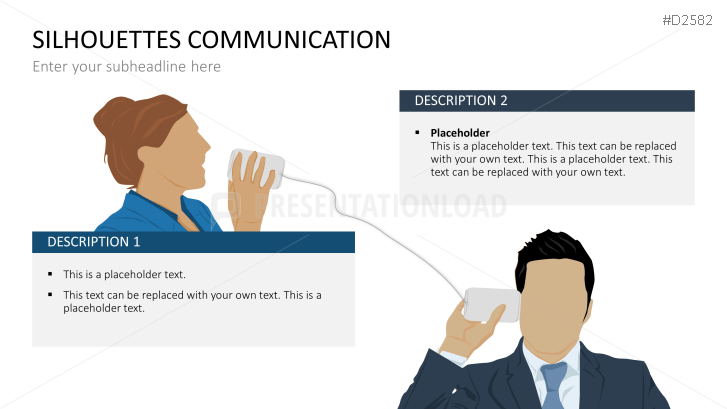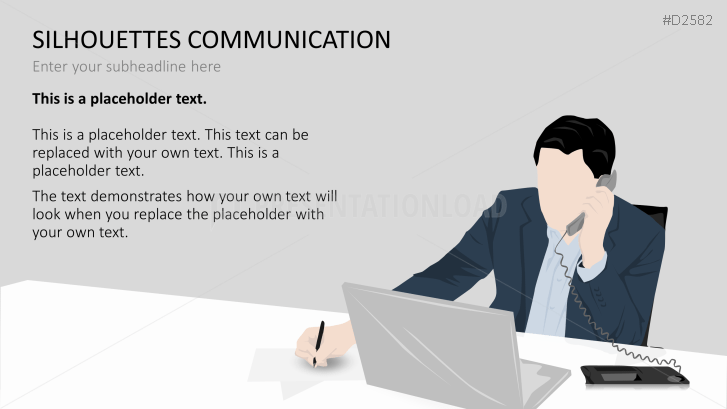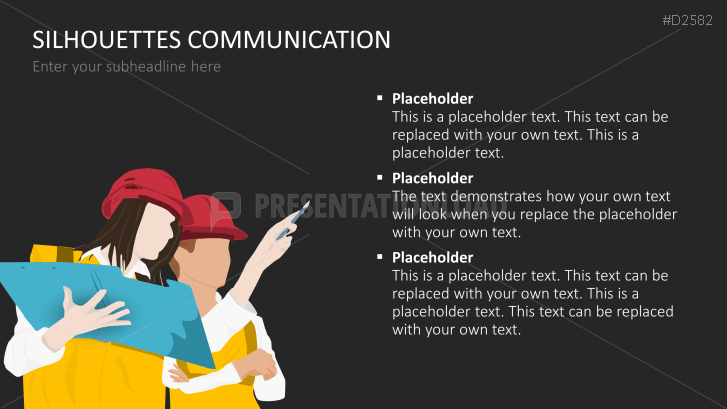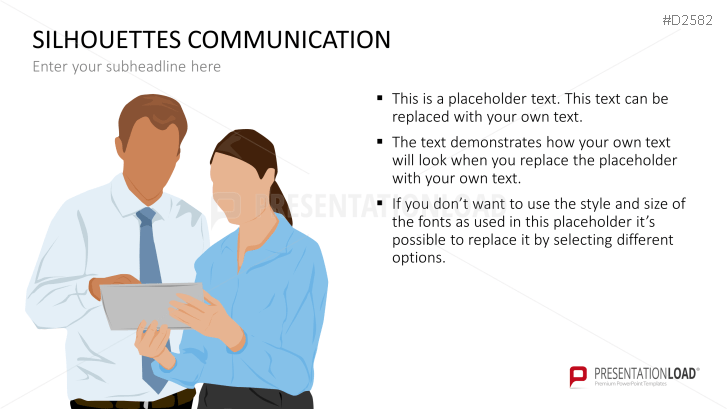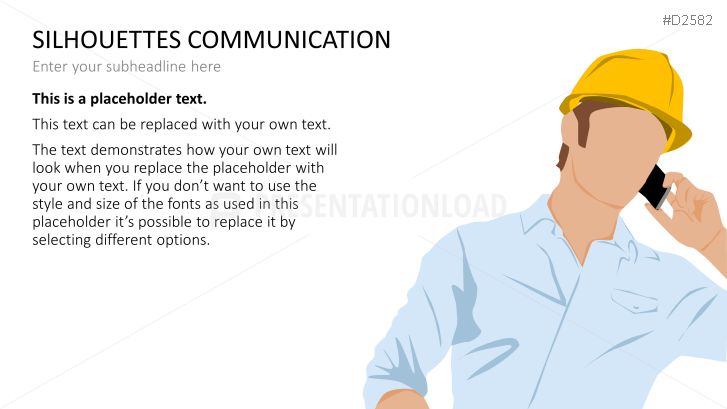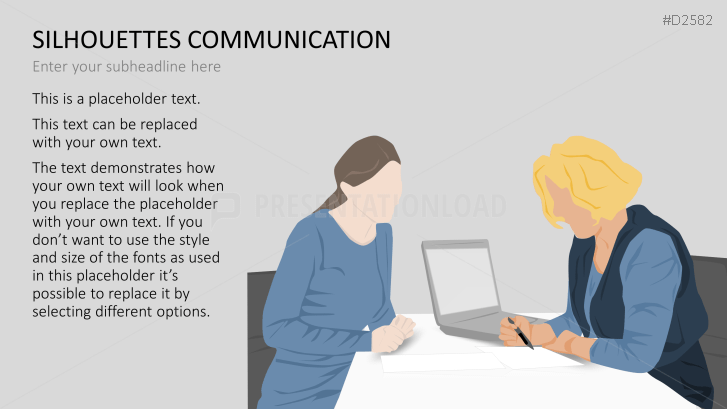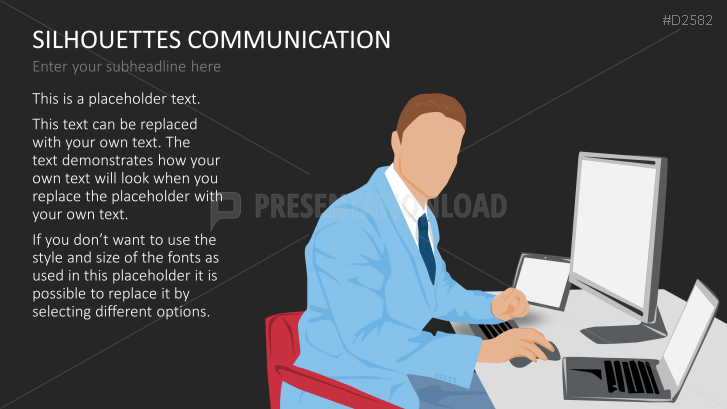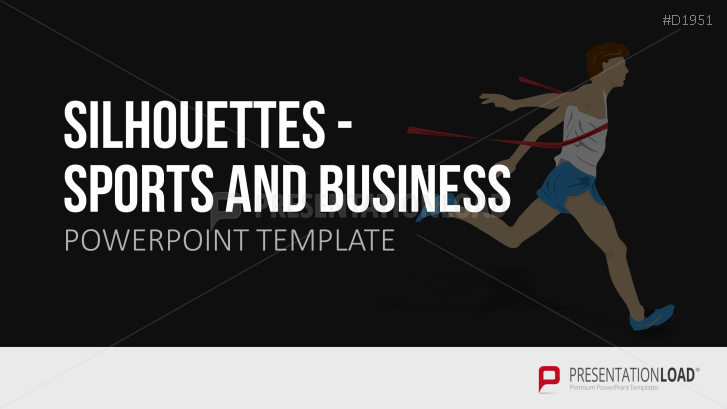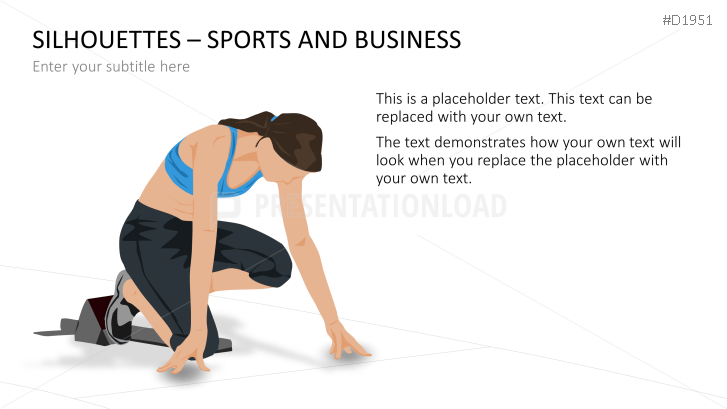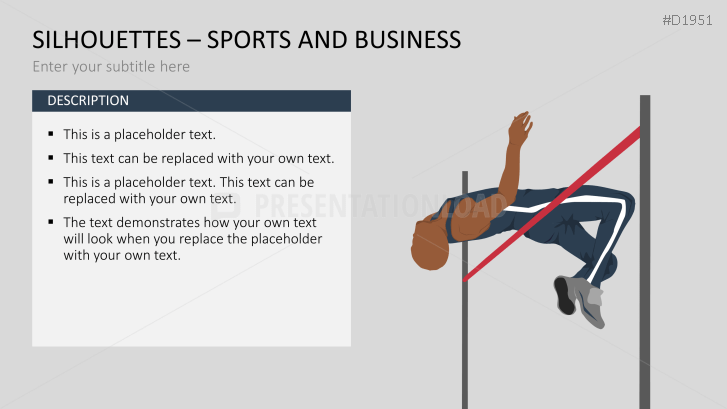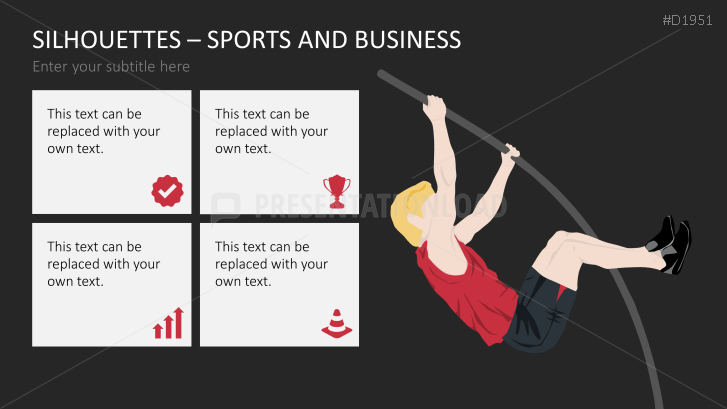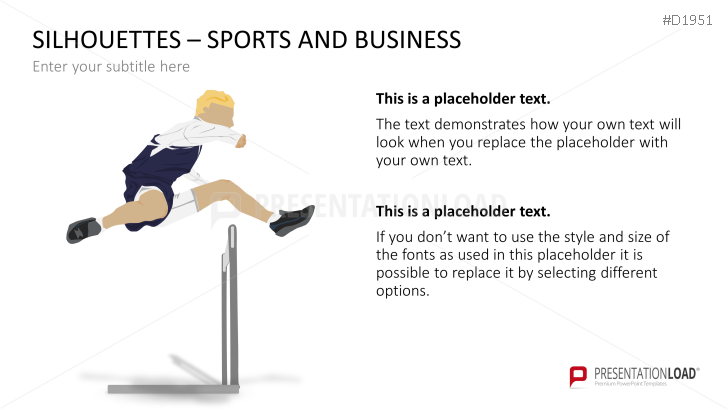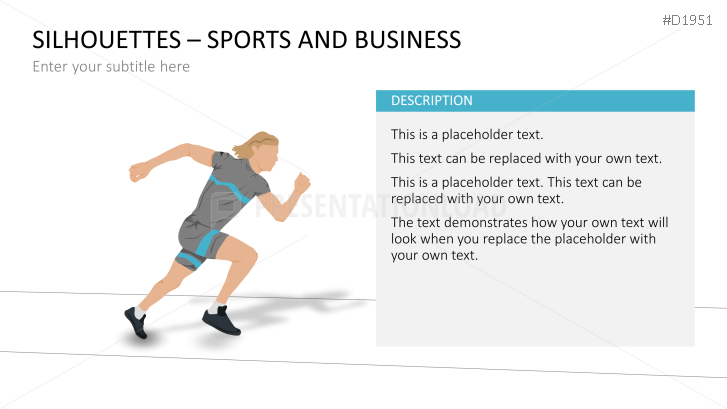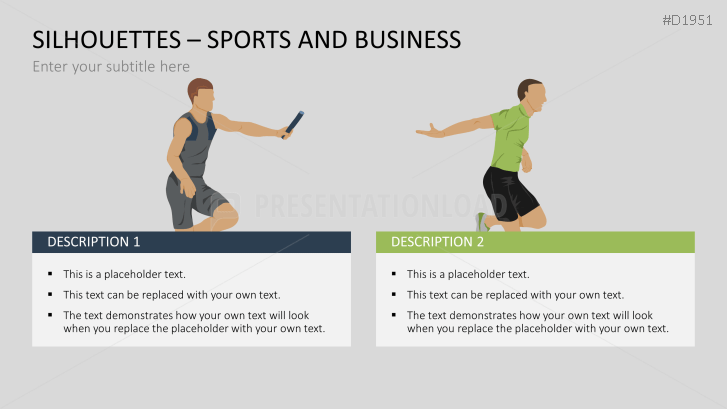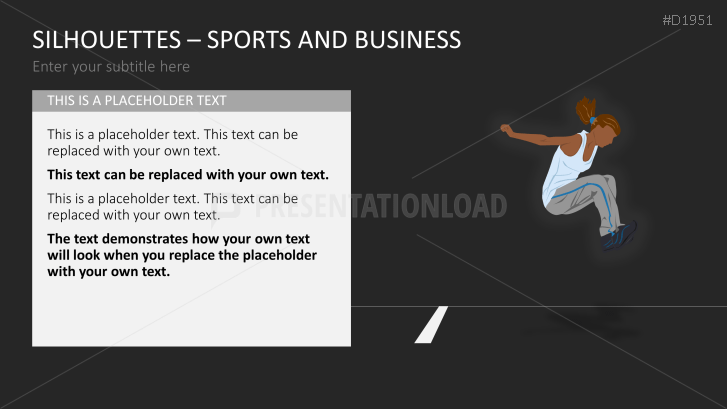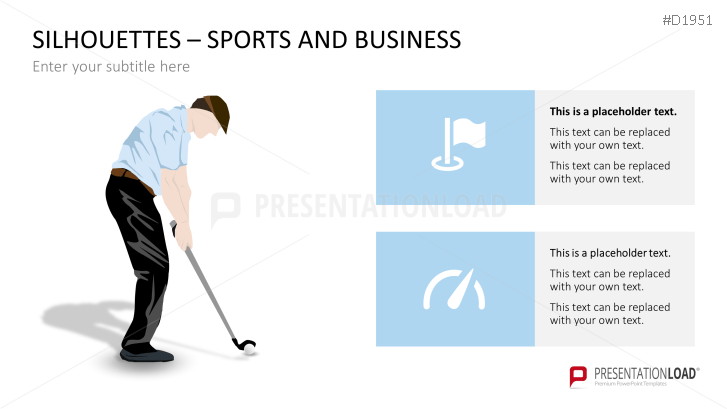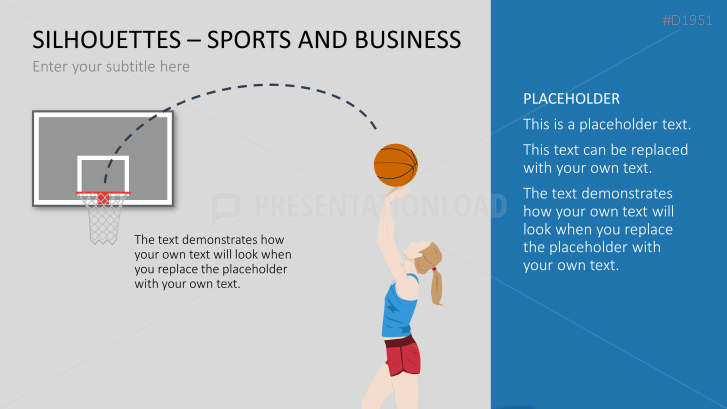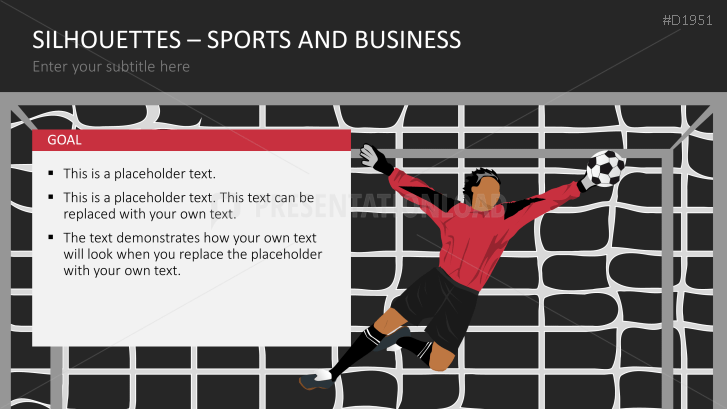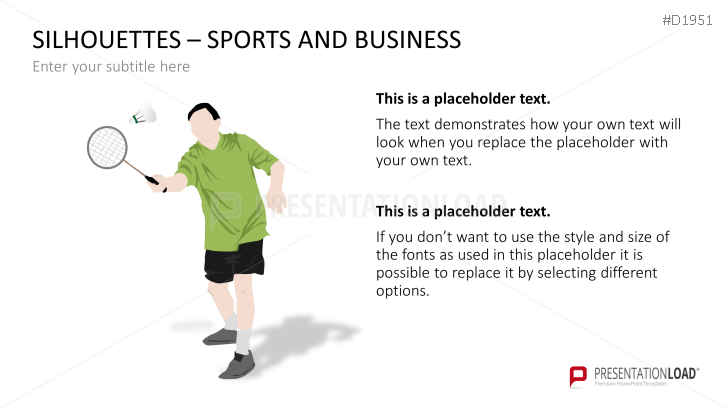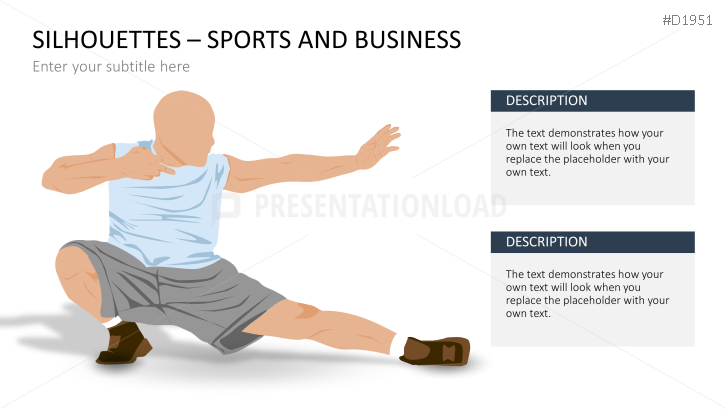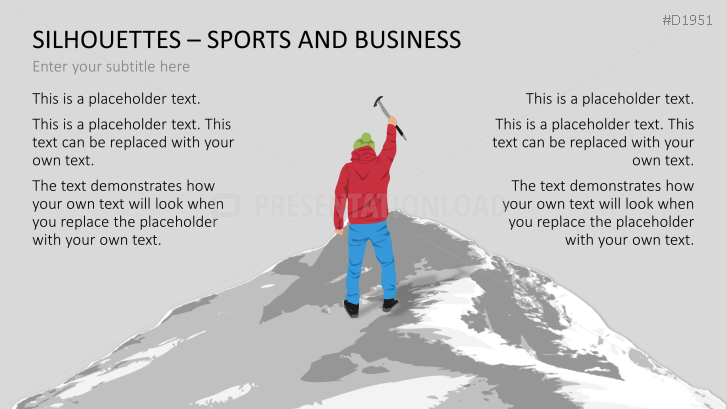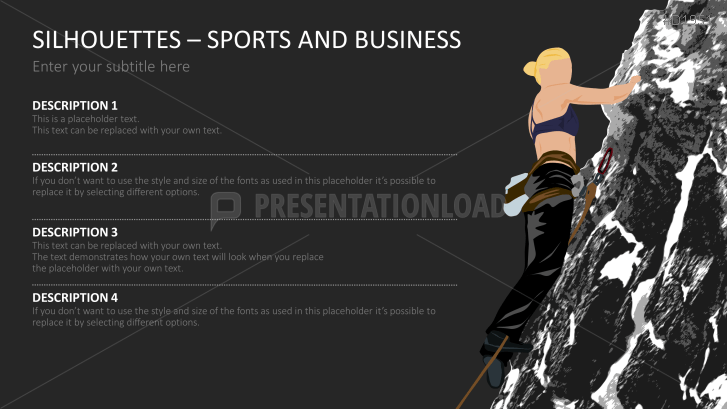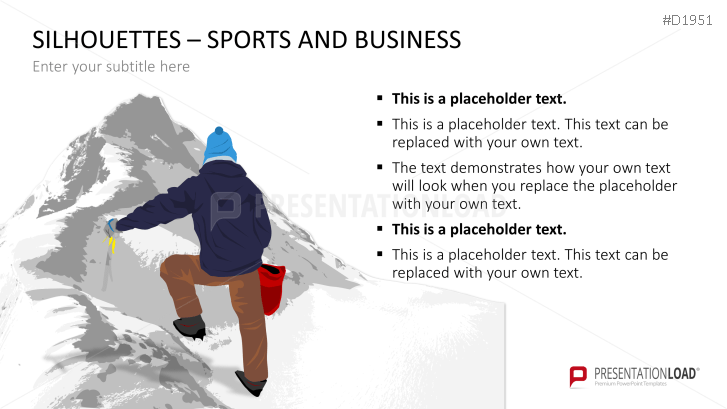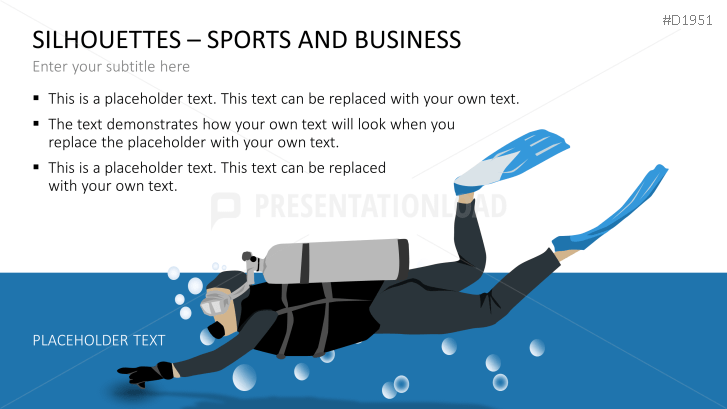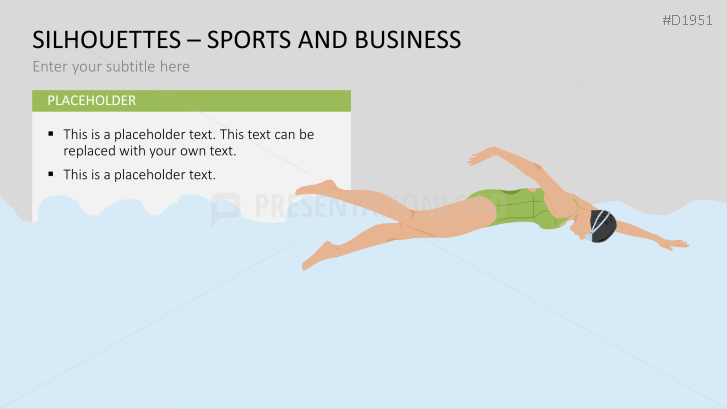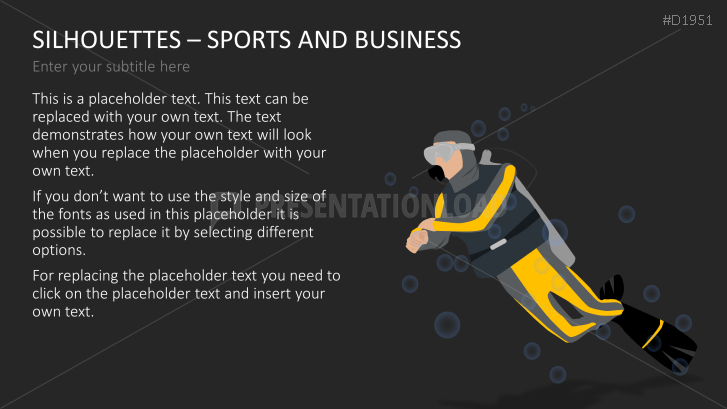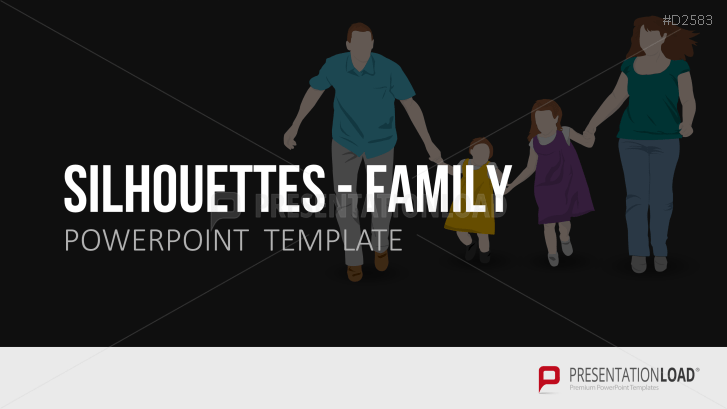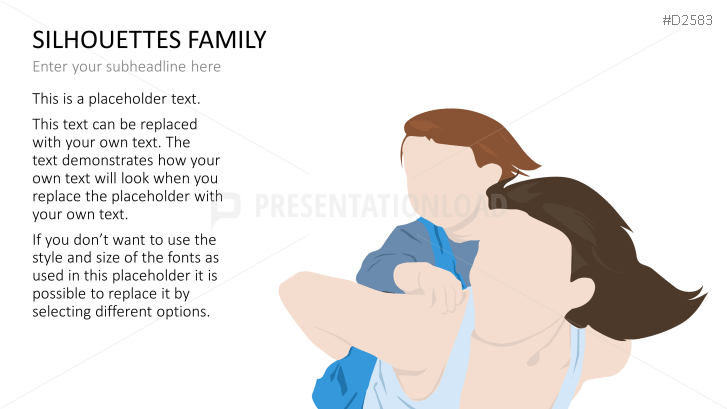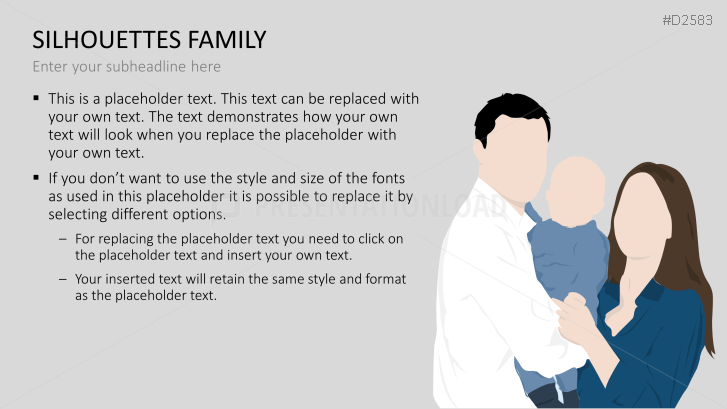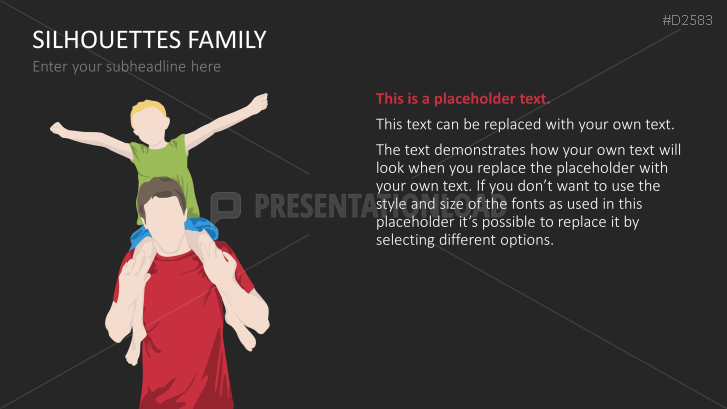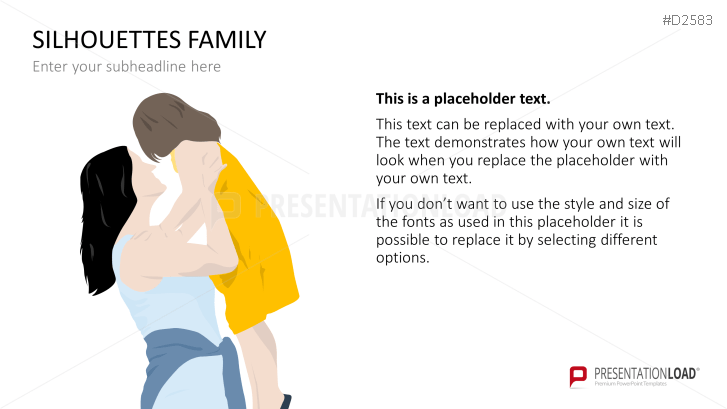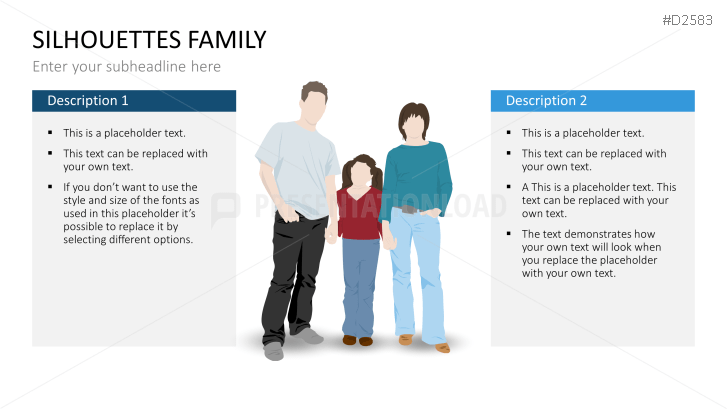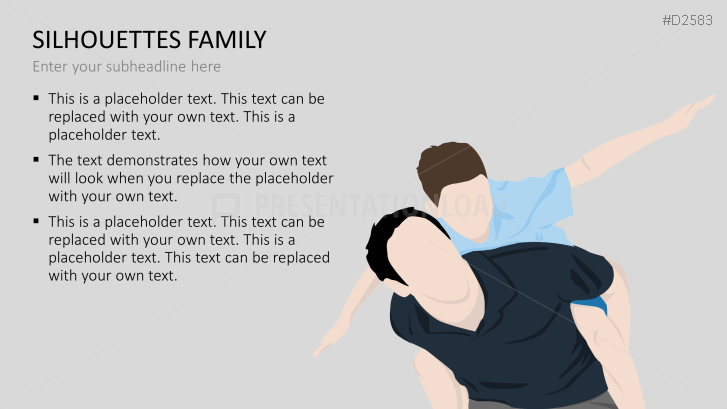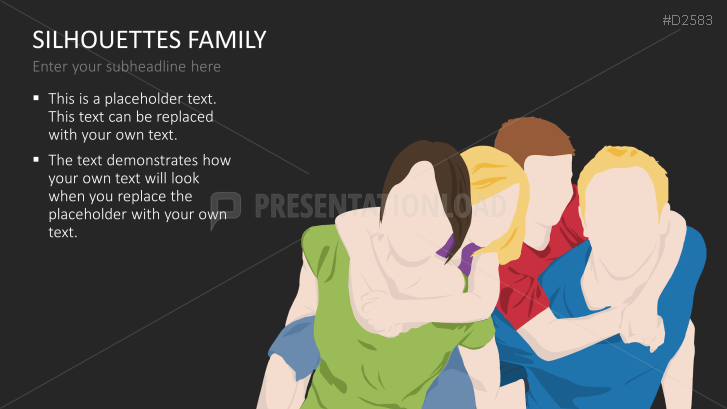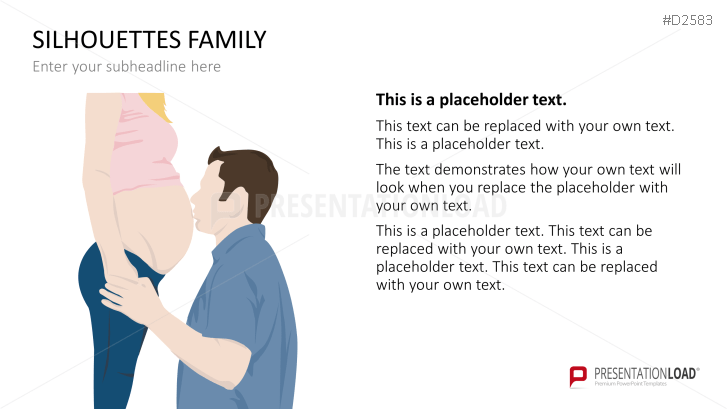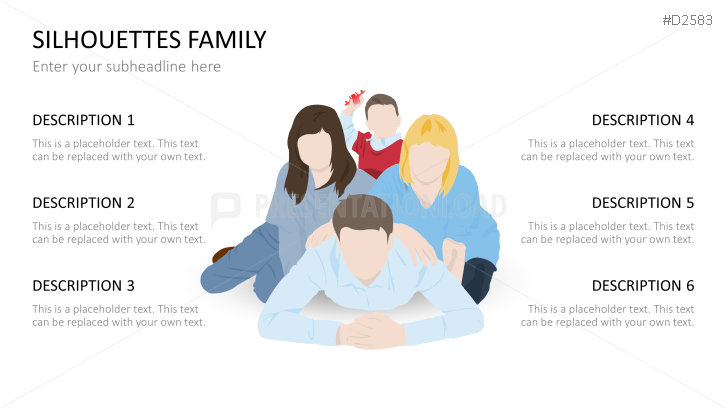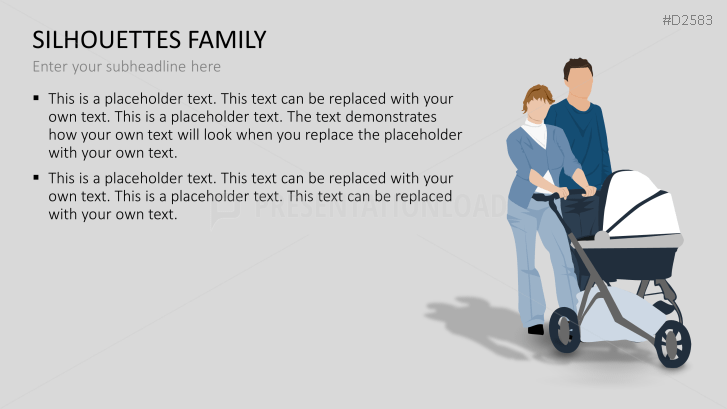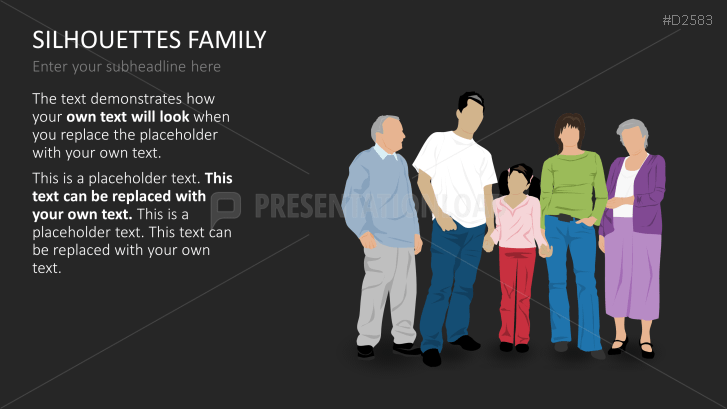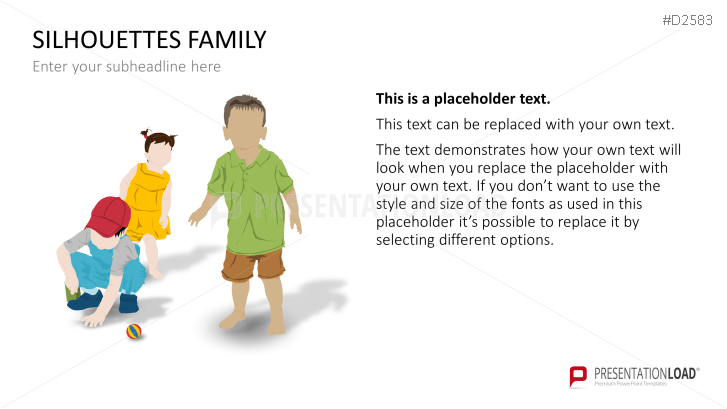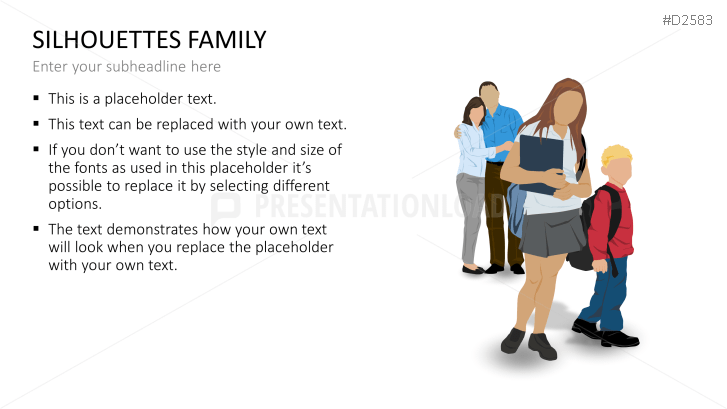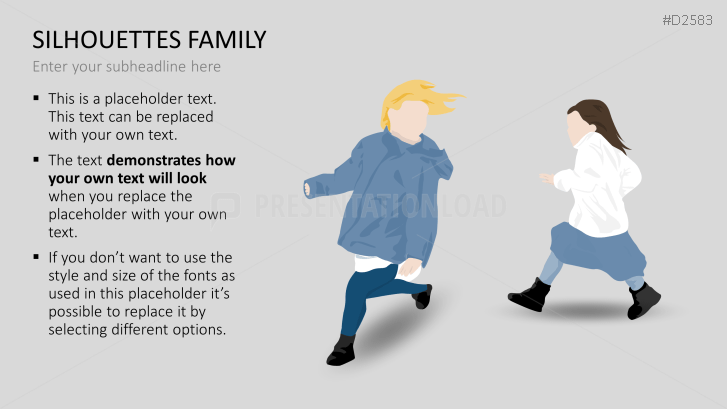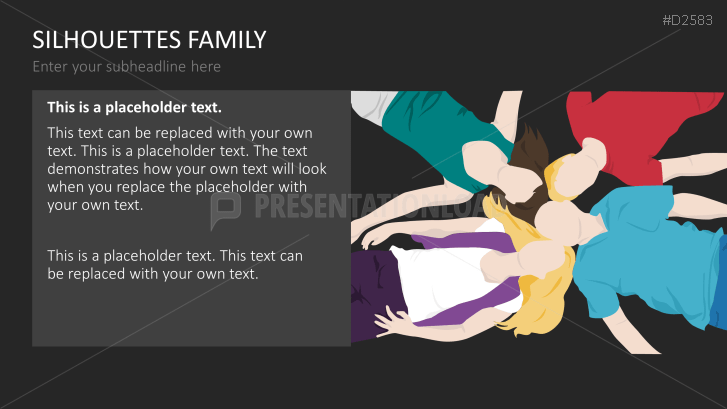 D1411 Silhouettes Teamwork (28 Slides)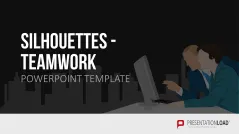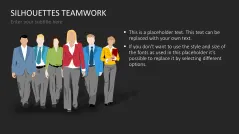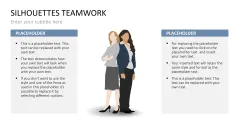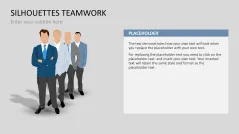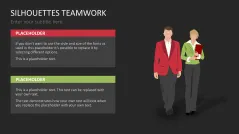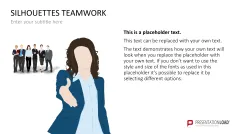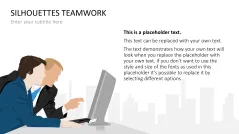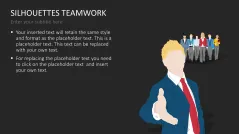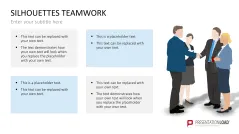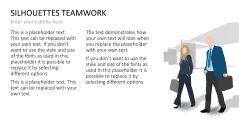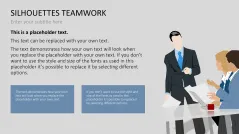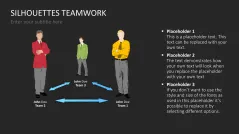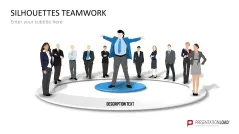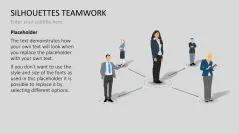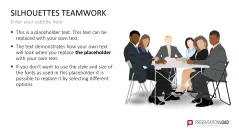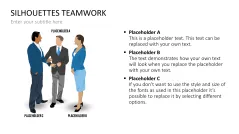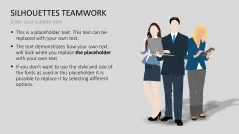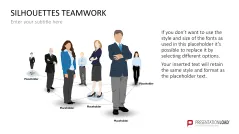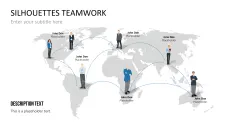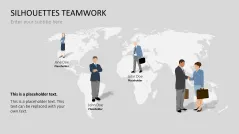 D2581 Silhouettes - Office (24 Slides)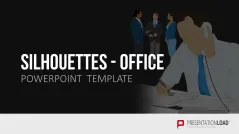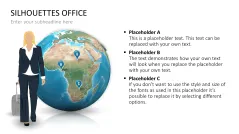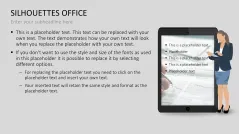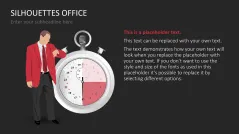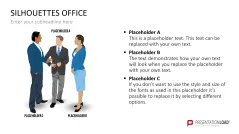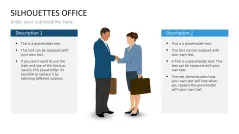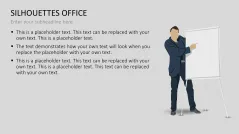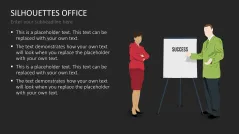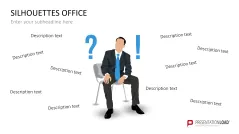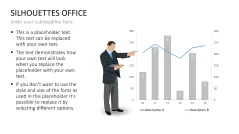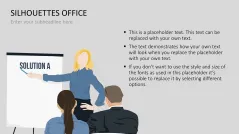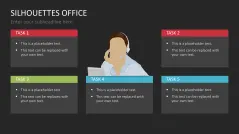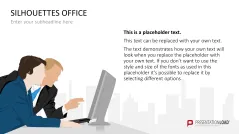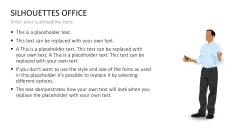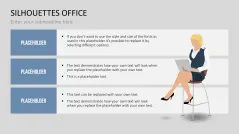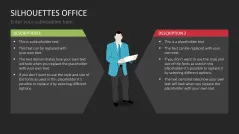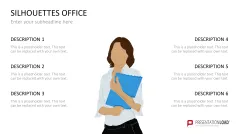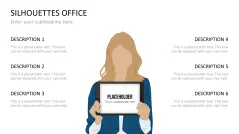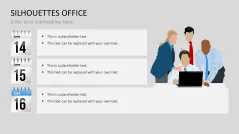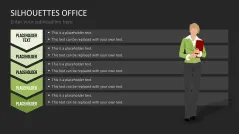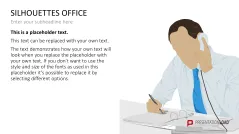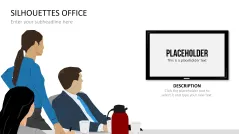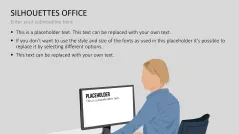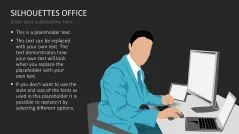 D0711 Silhouettes - Team Introduction (24 Slides)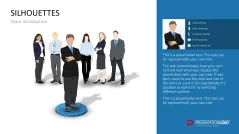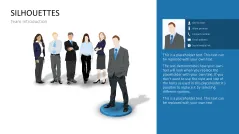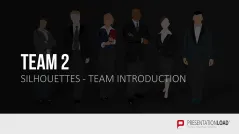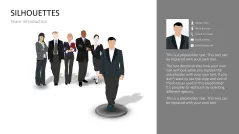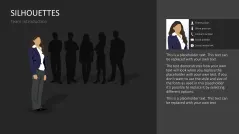 D0111 Org Charts - Silhouettes (20 Slides)
D2582 Silhouettes - Communication (24 Slides)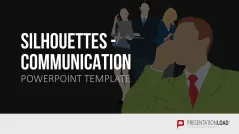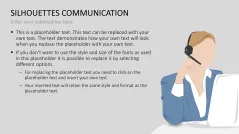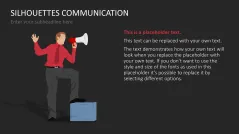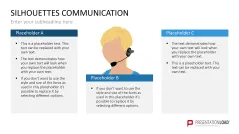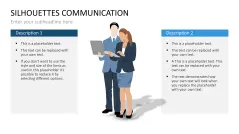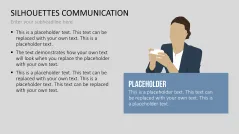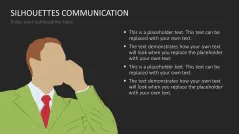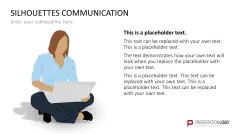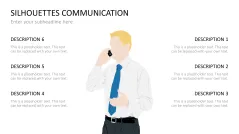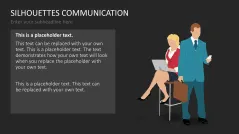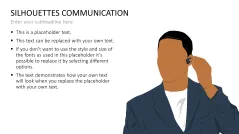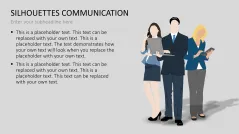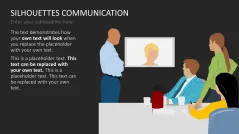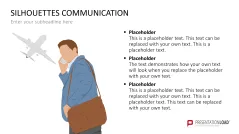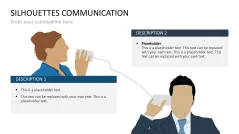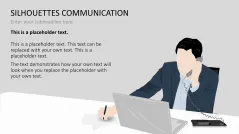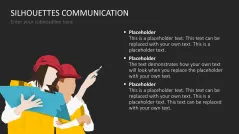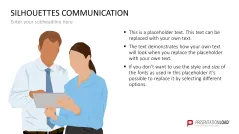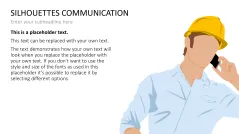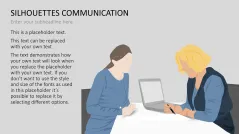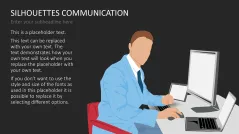 D1951 Silhouettes-Sports and Business (20 Slides)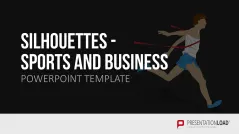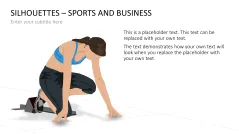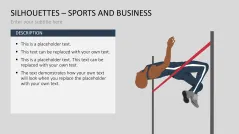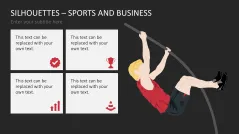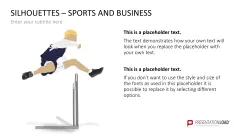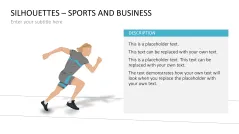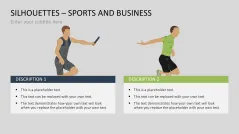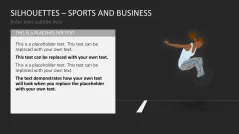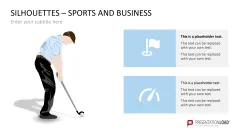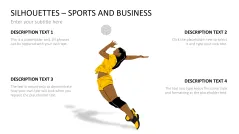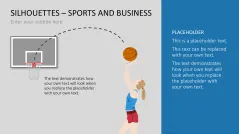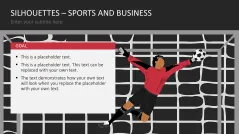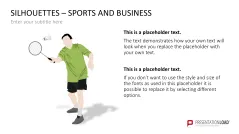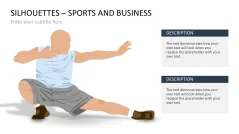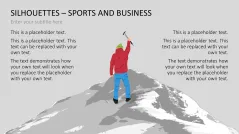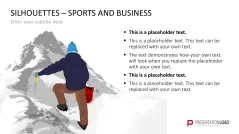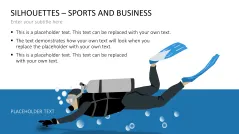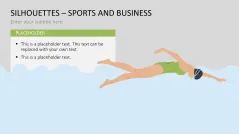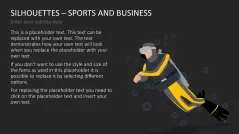 D2583 Silhouettes - Family (16 Slides)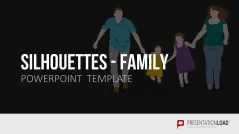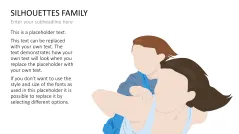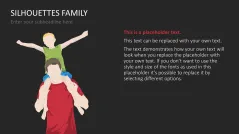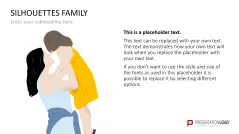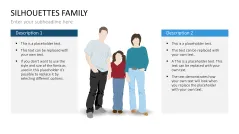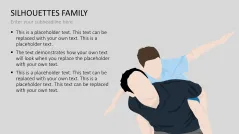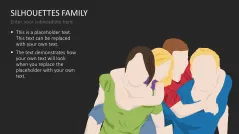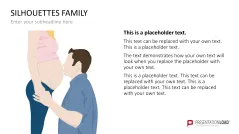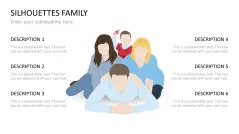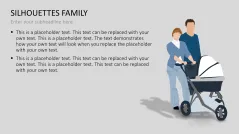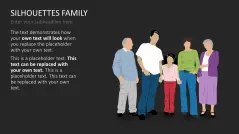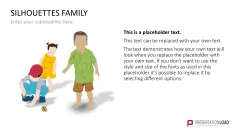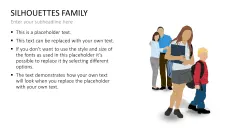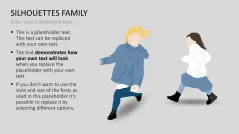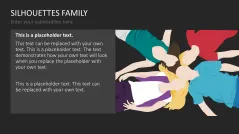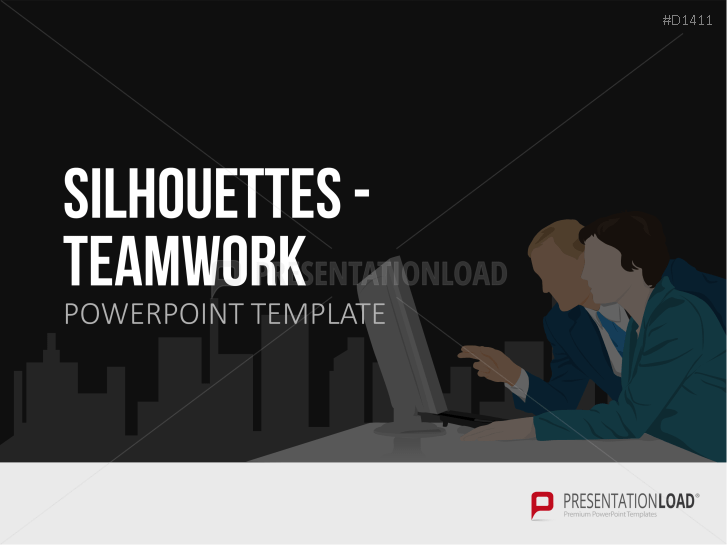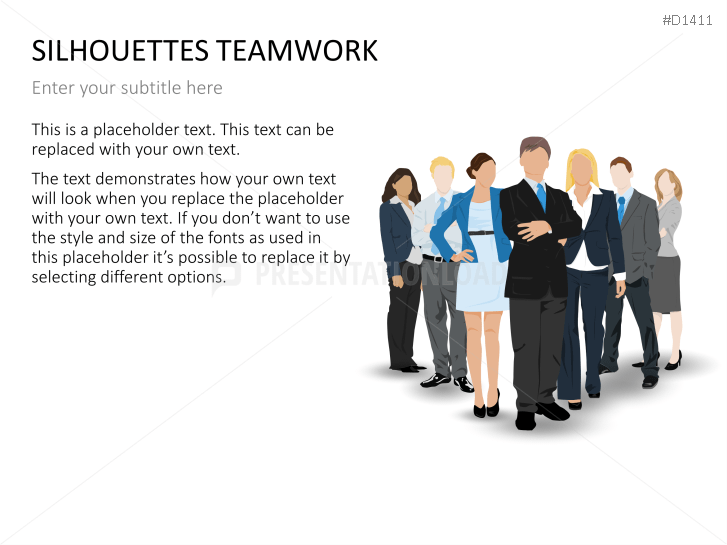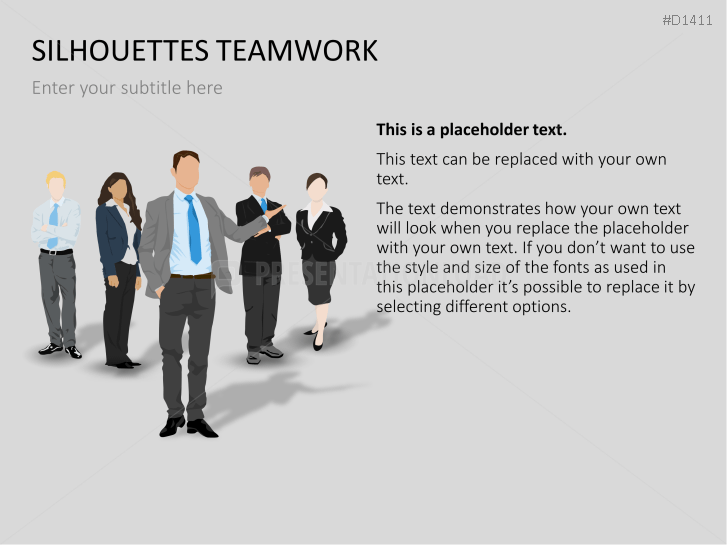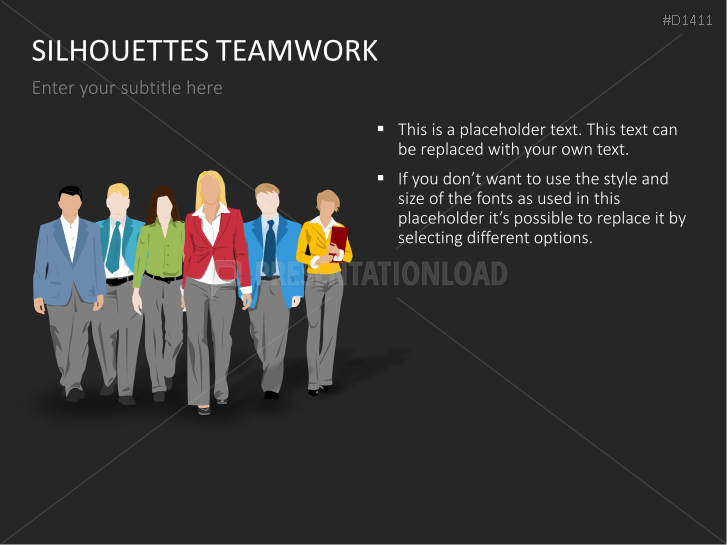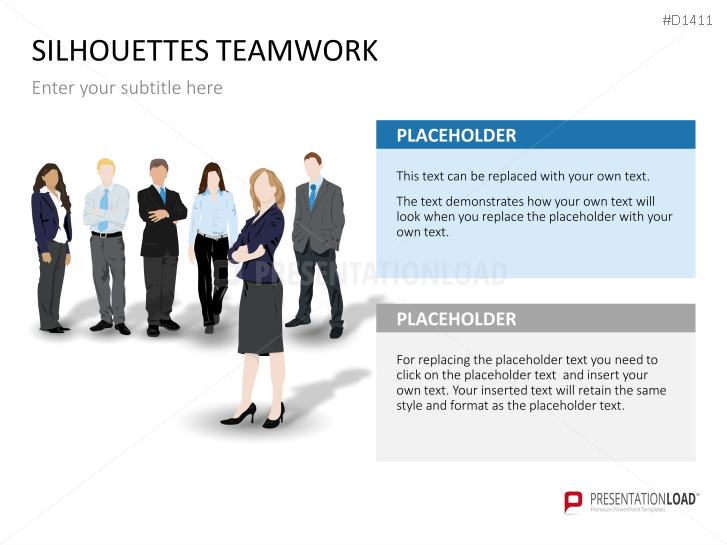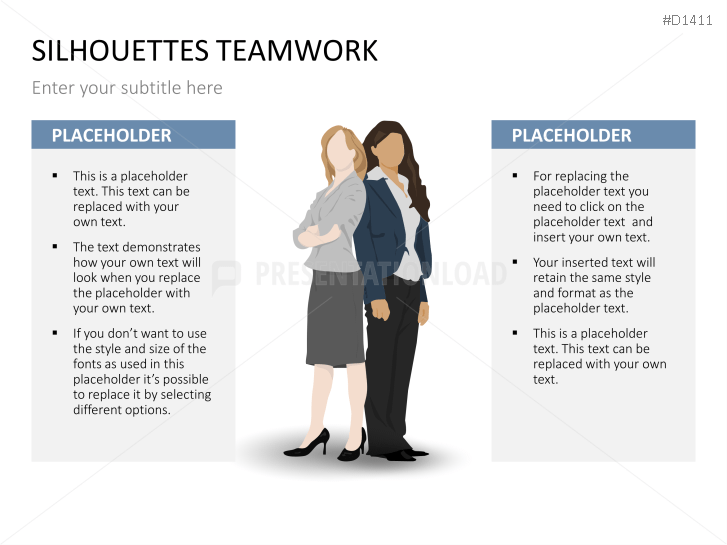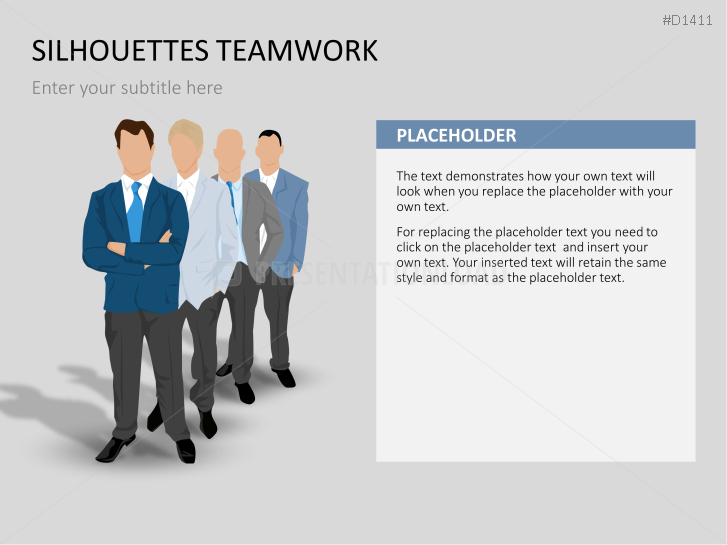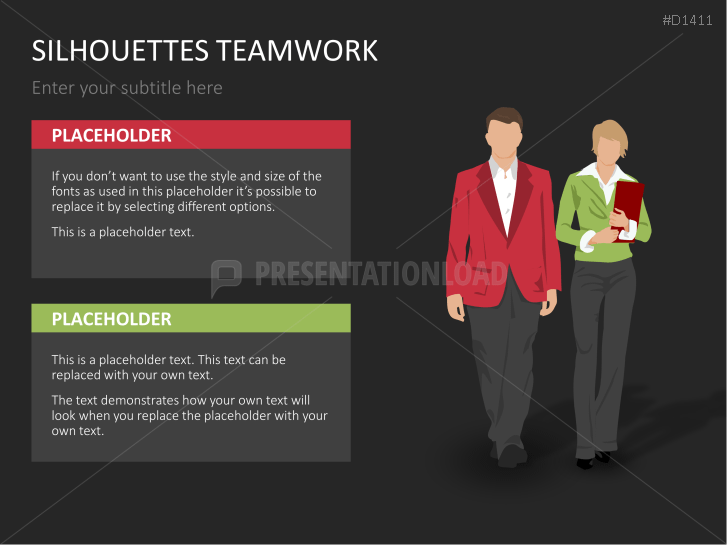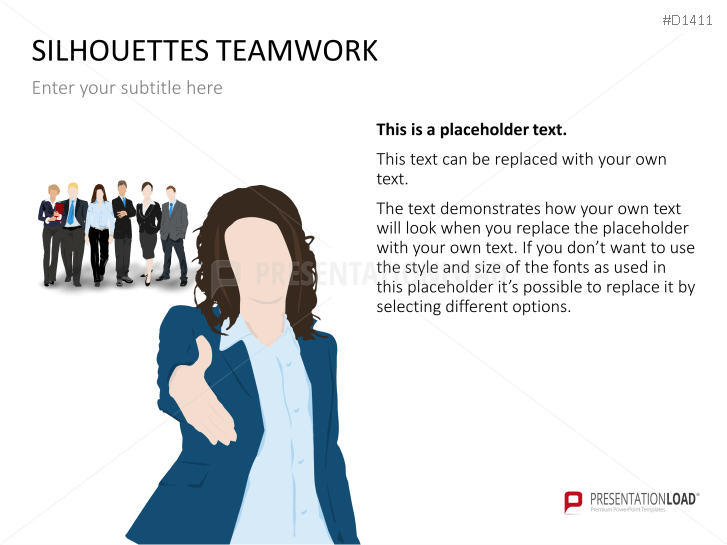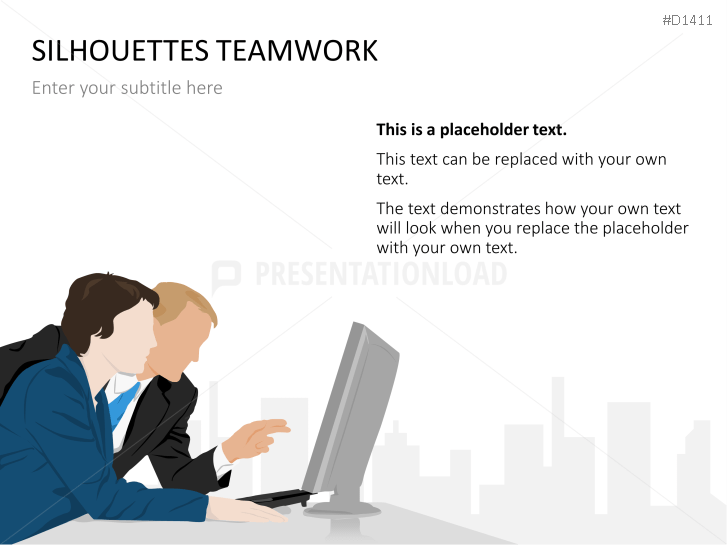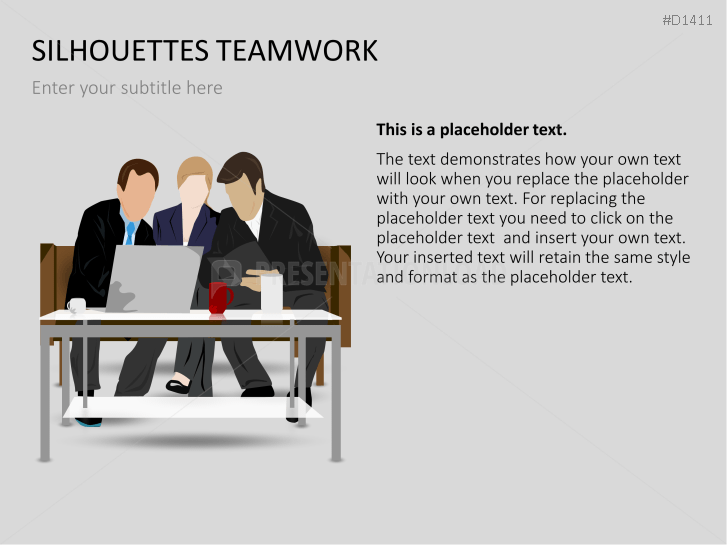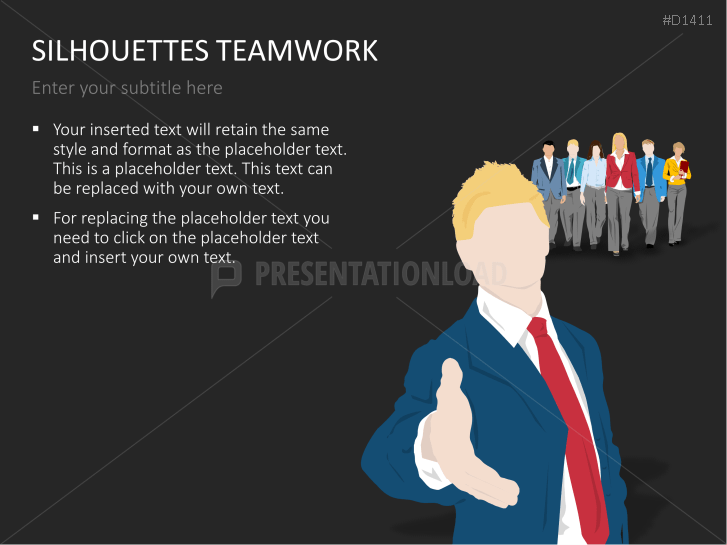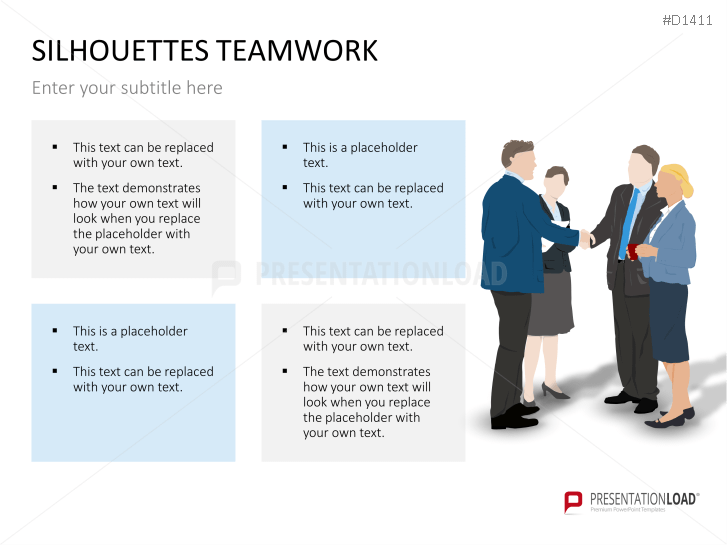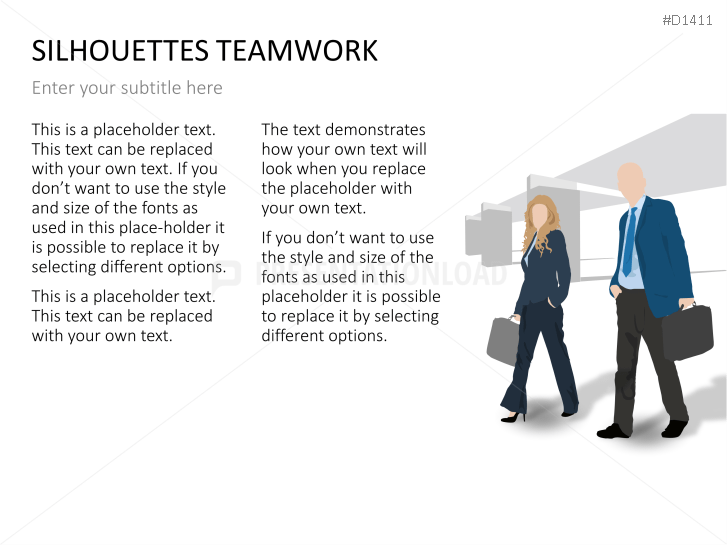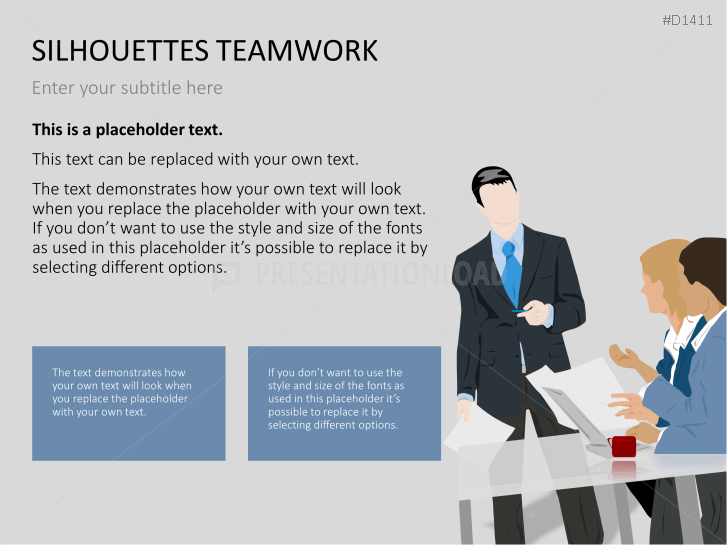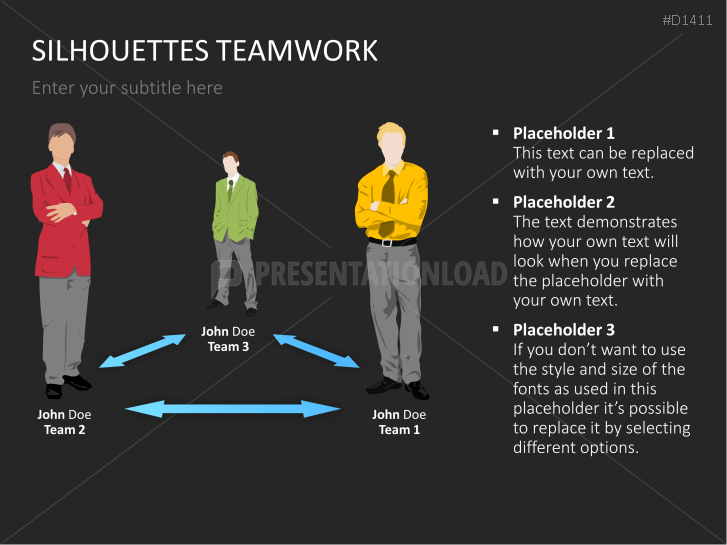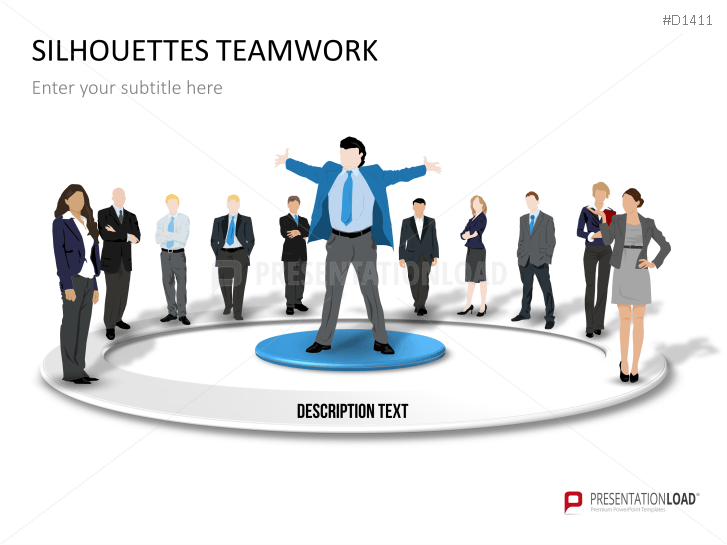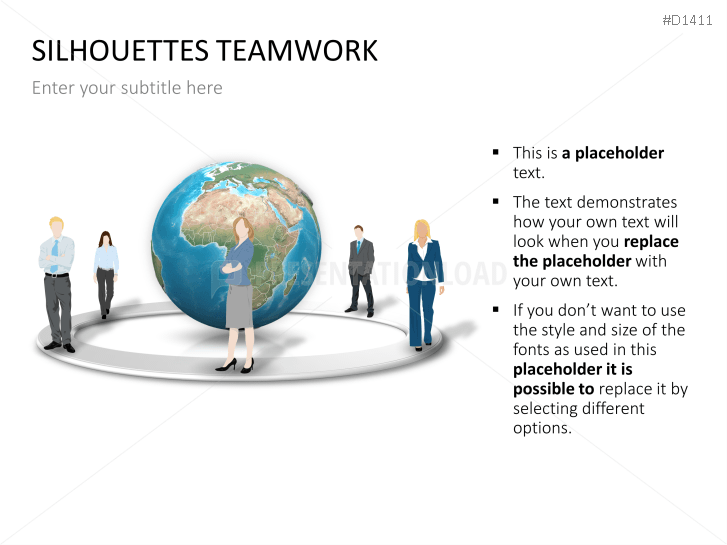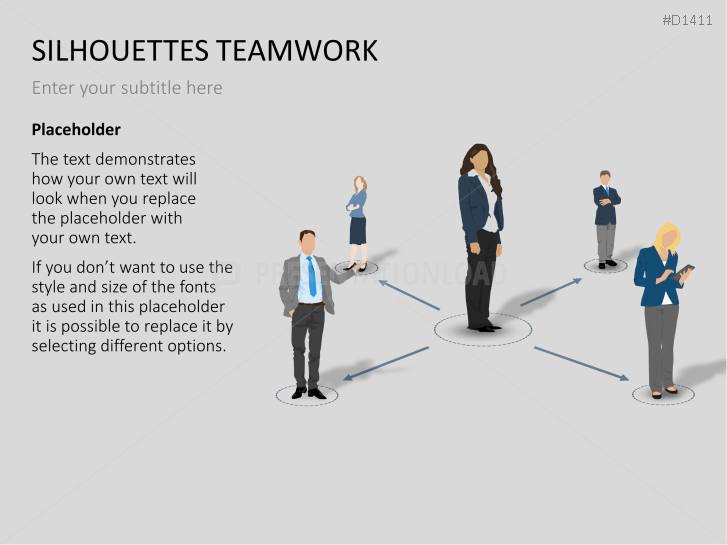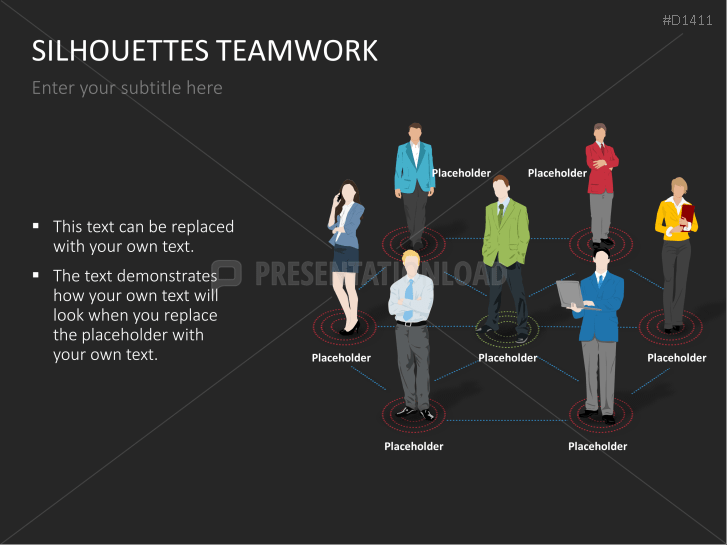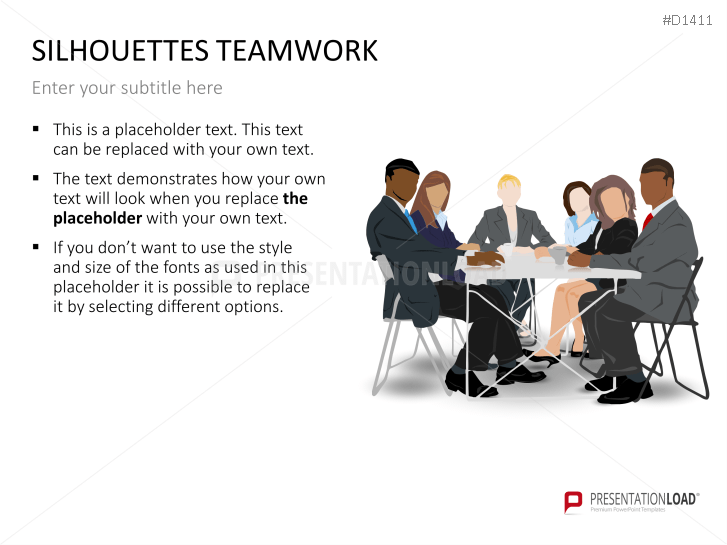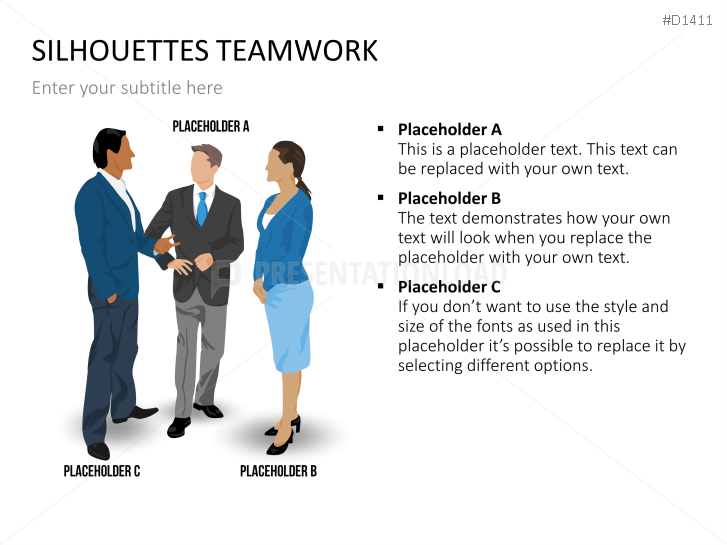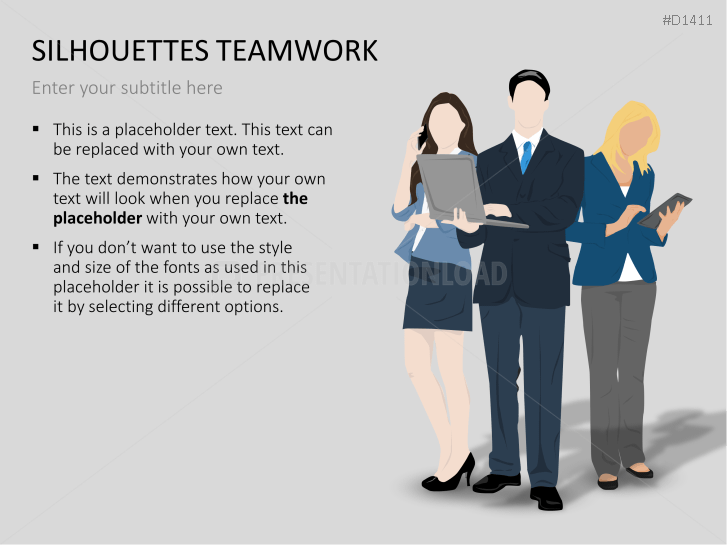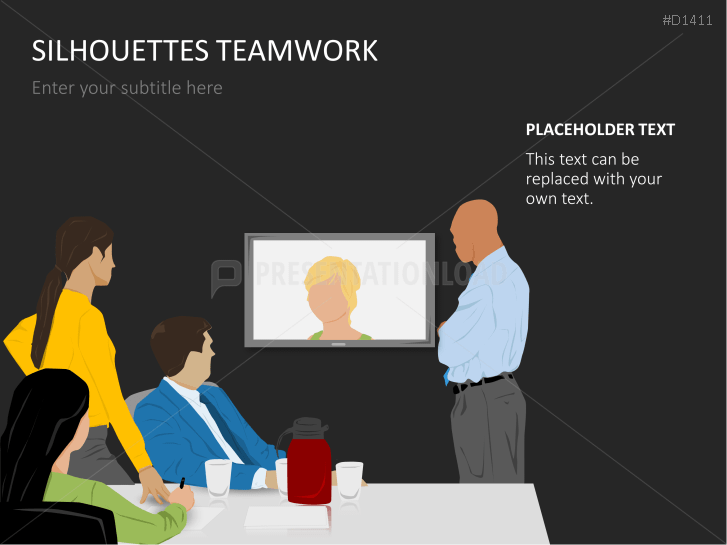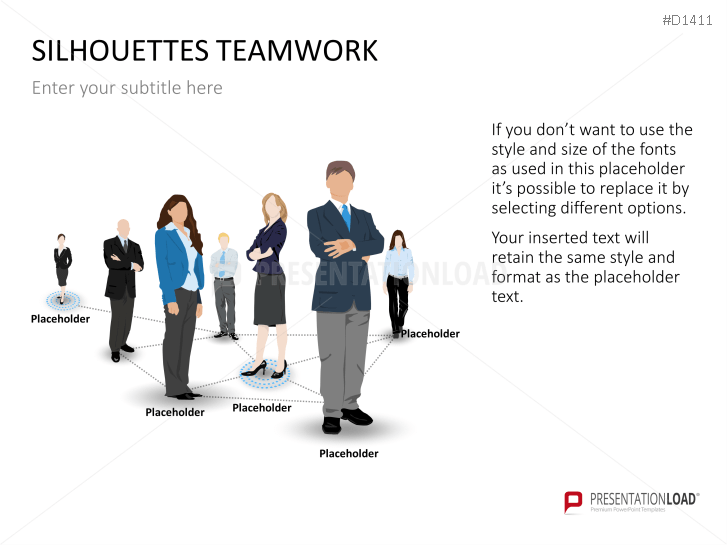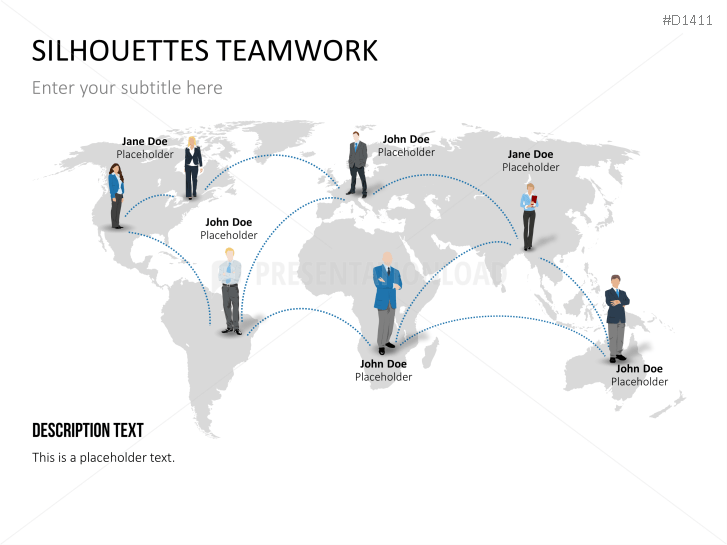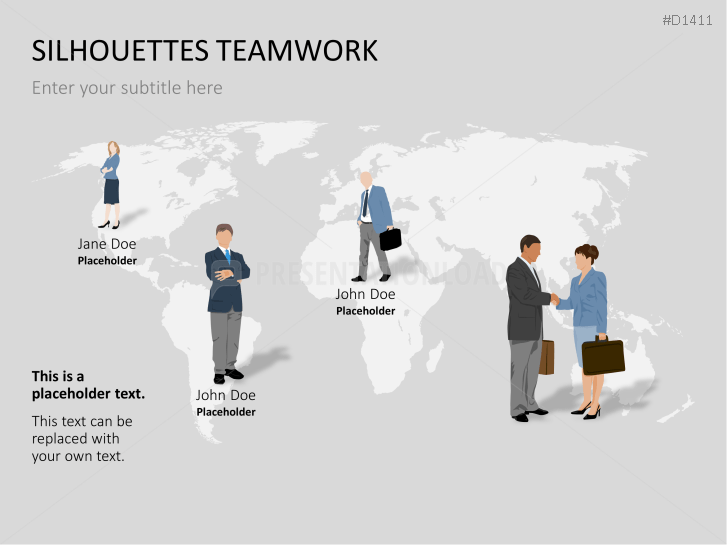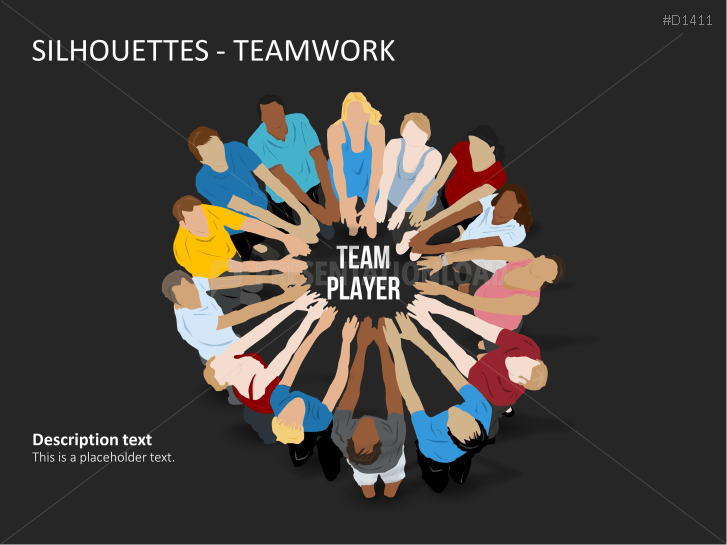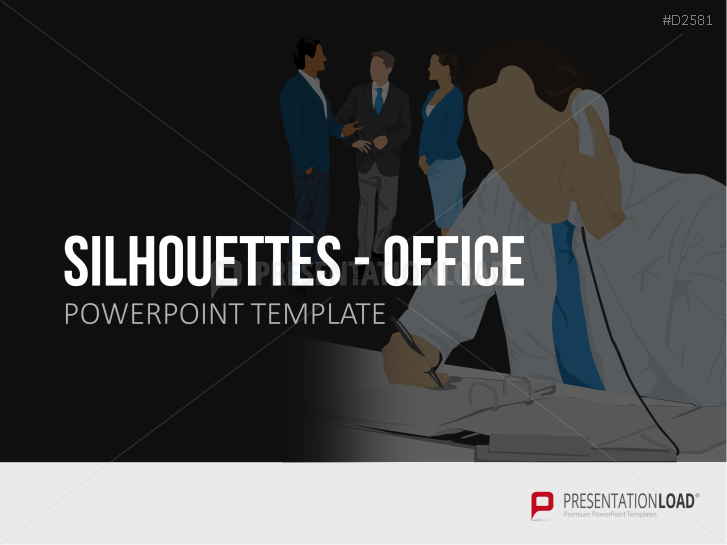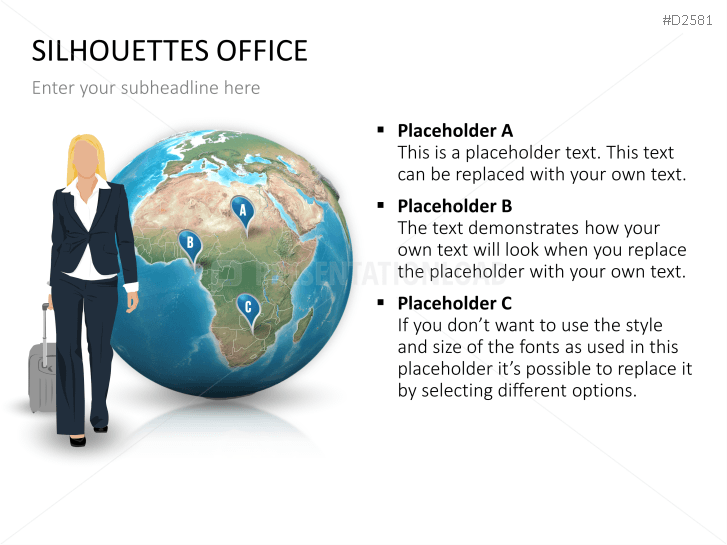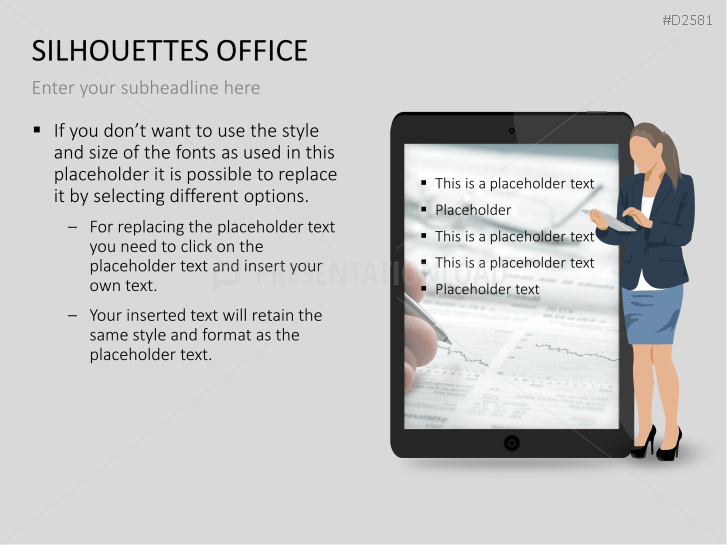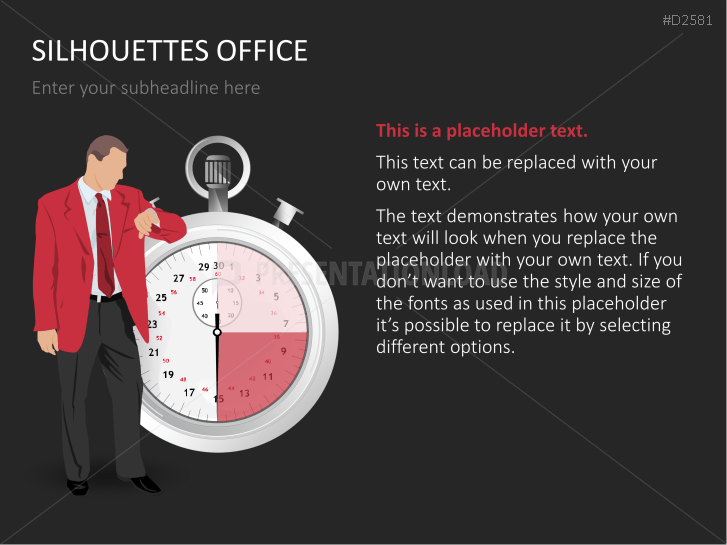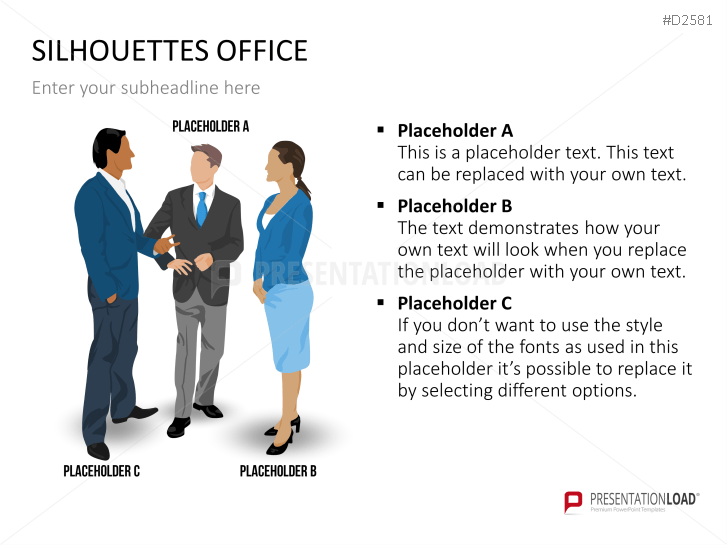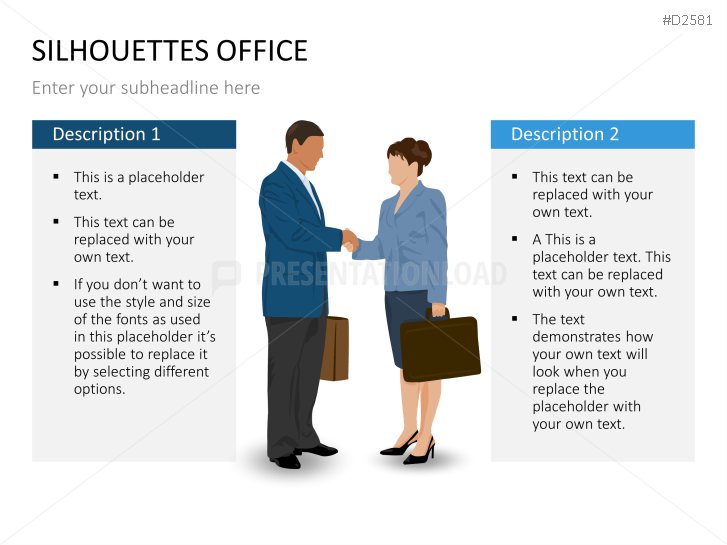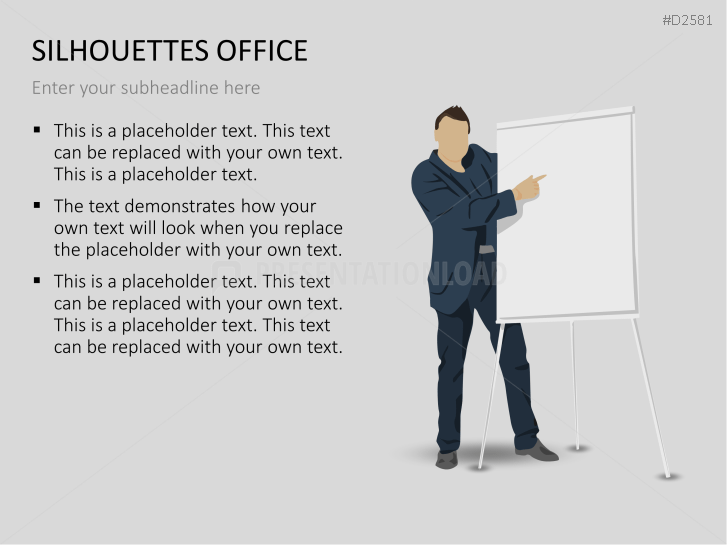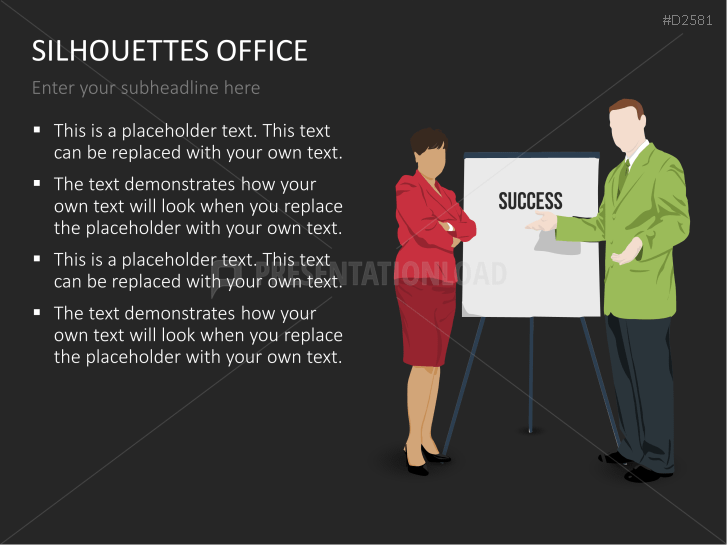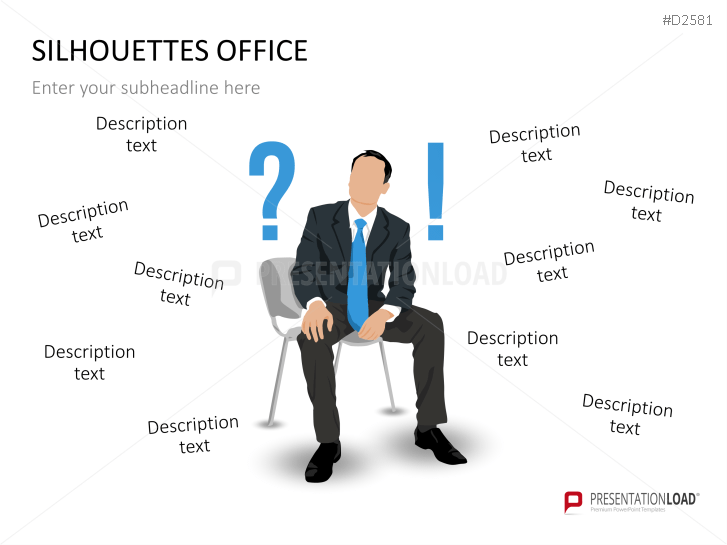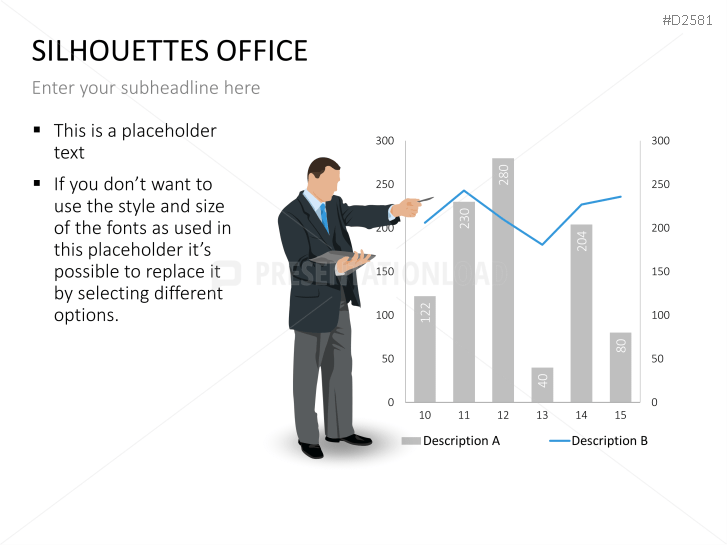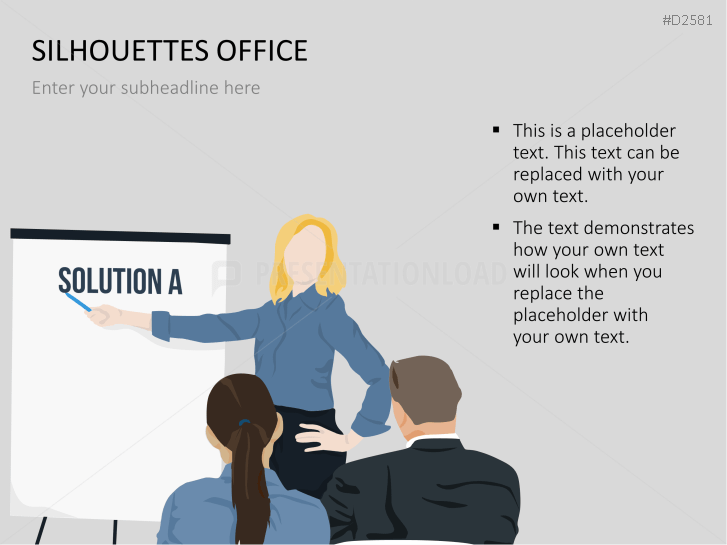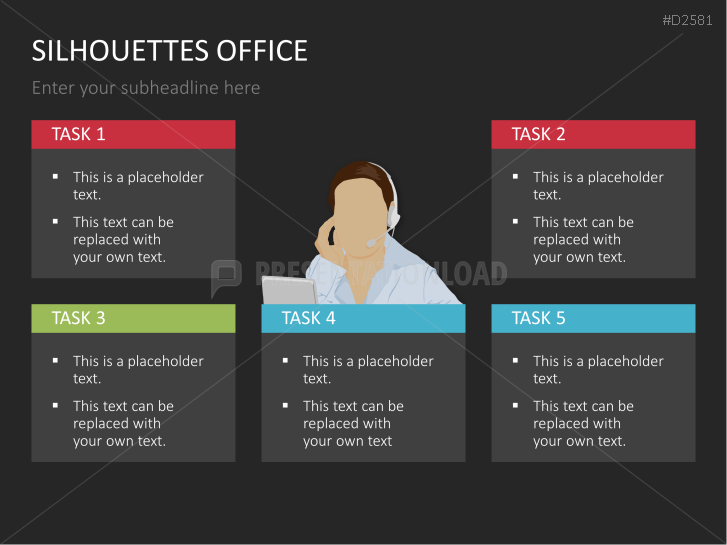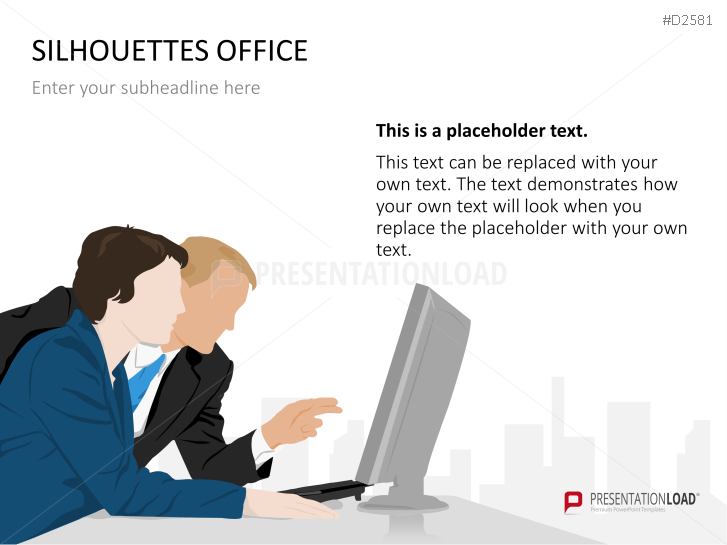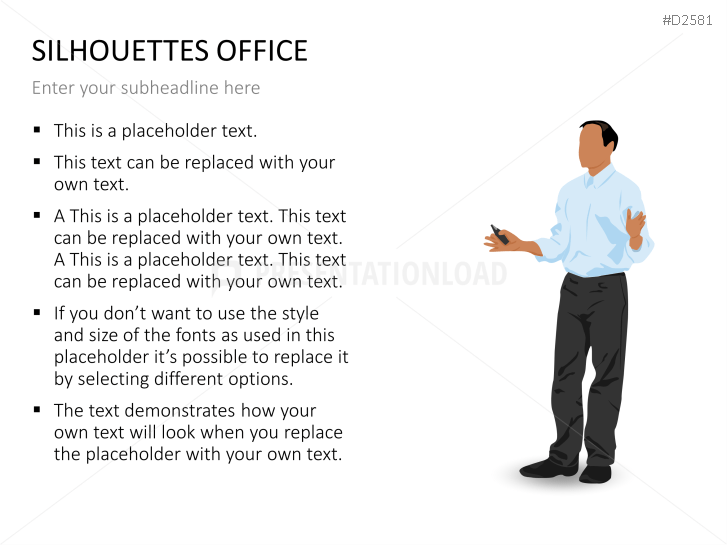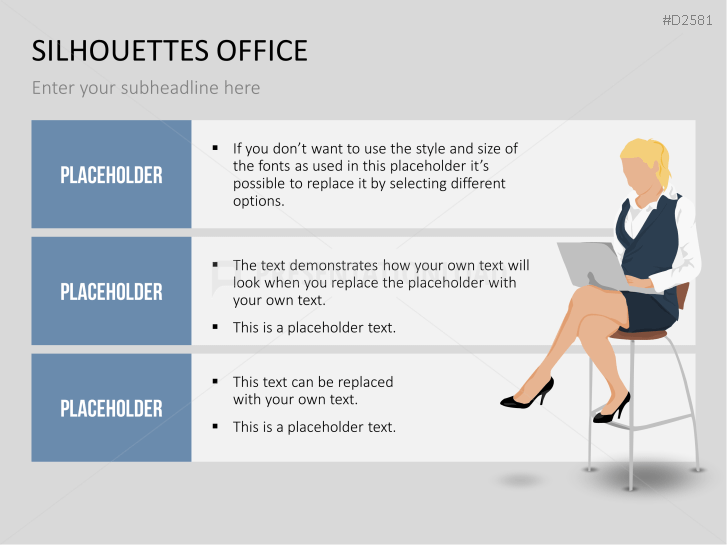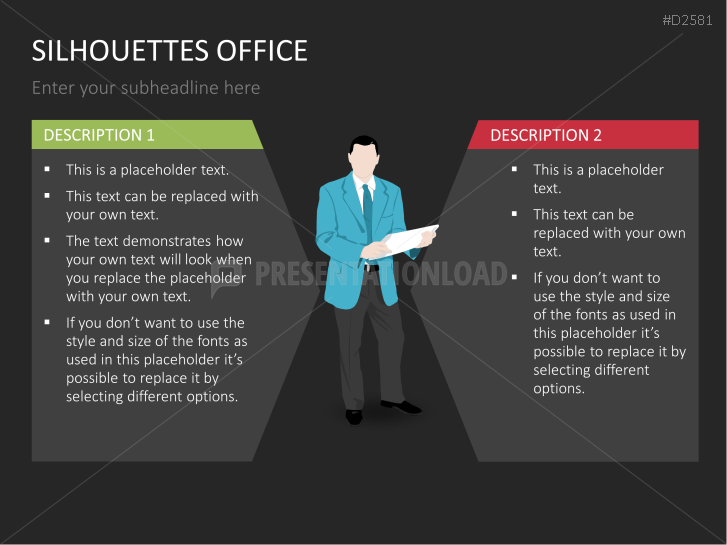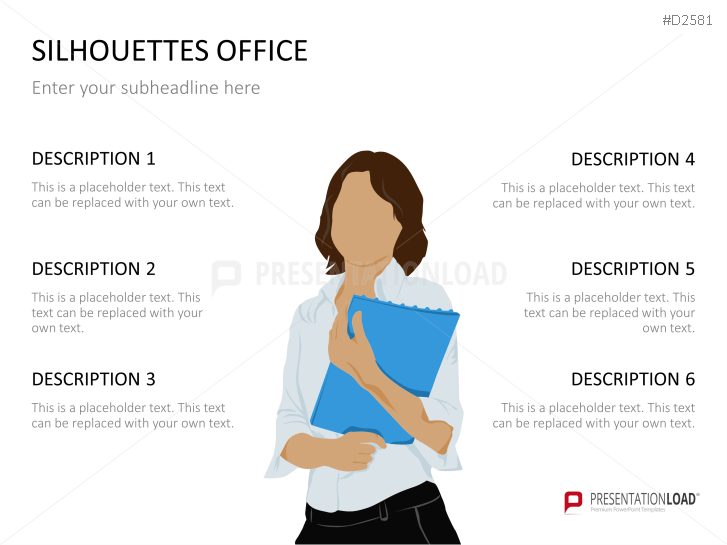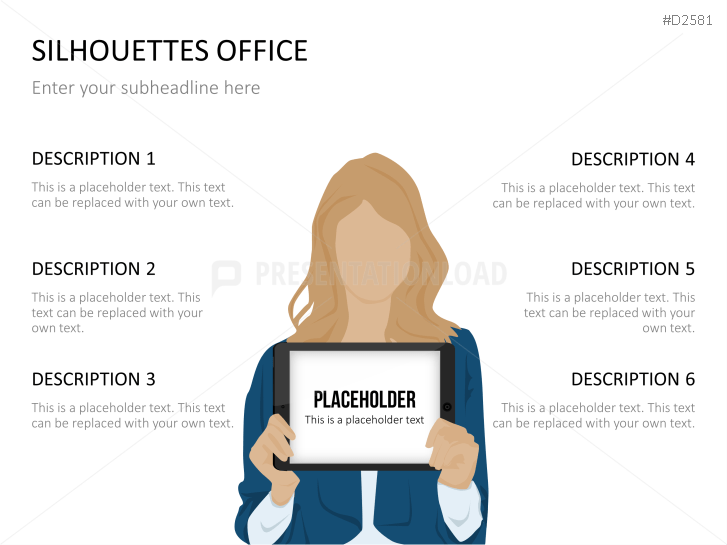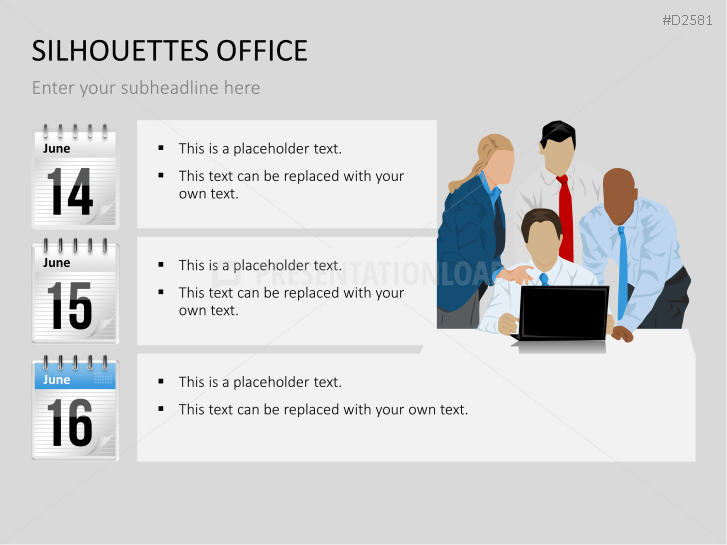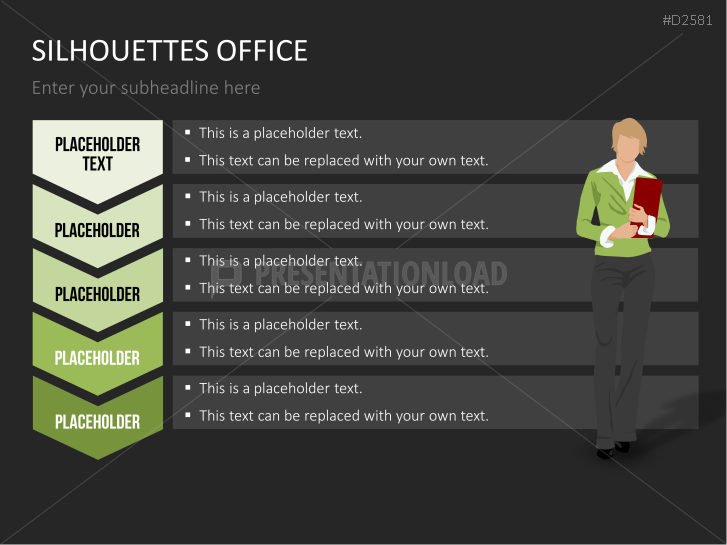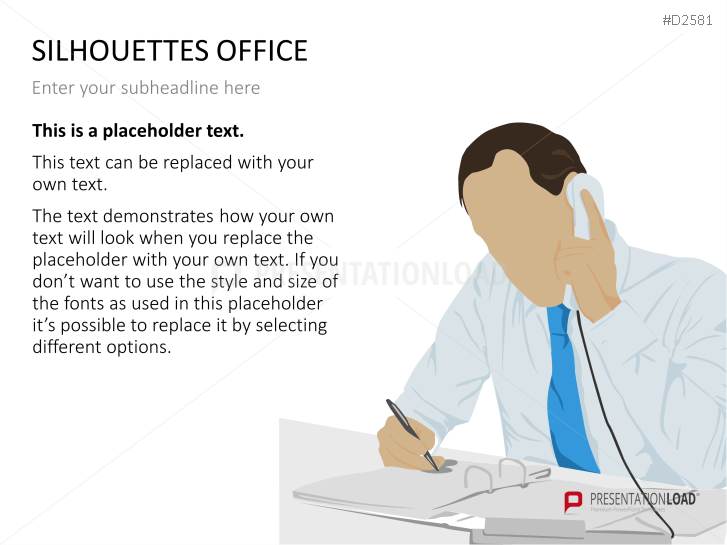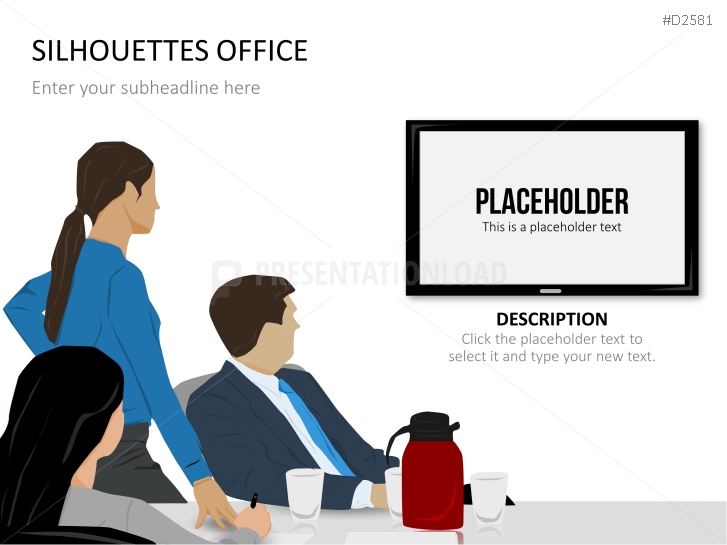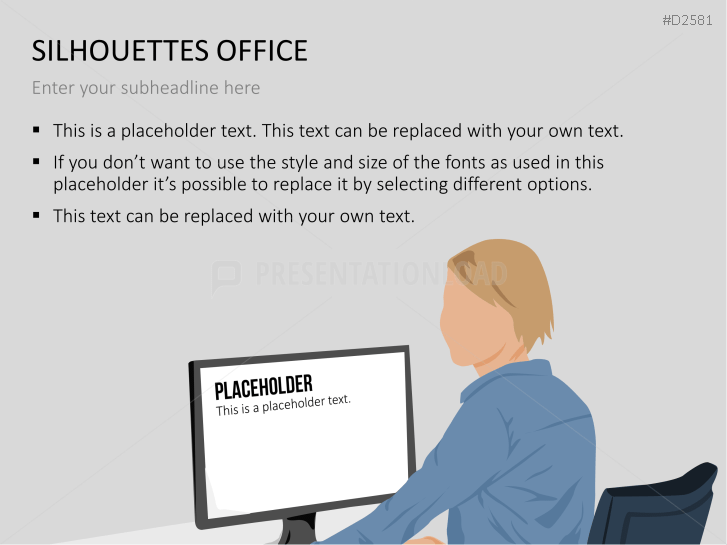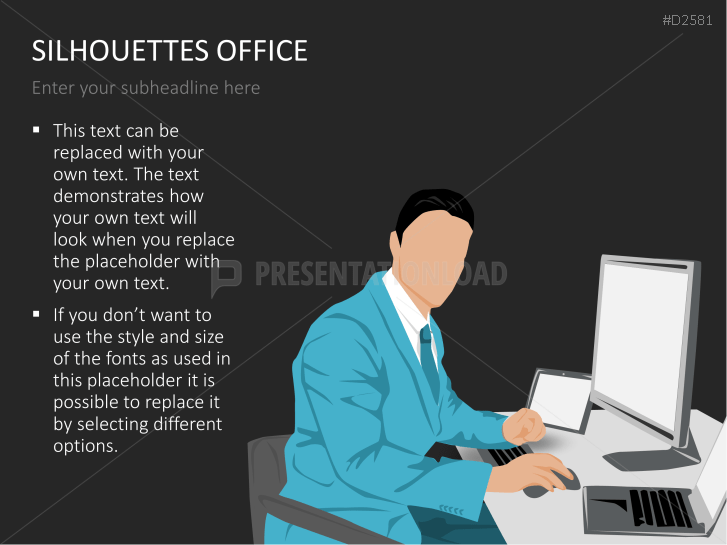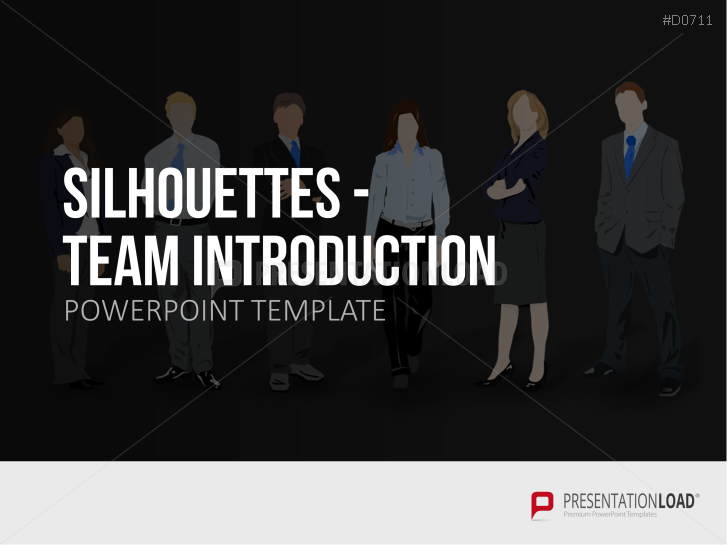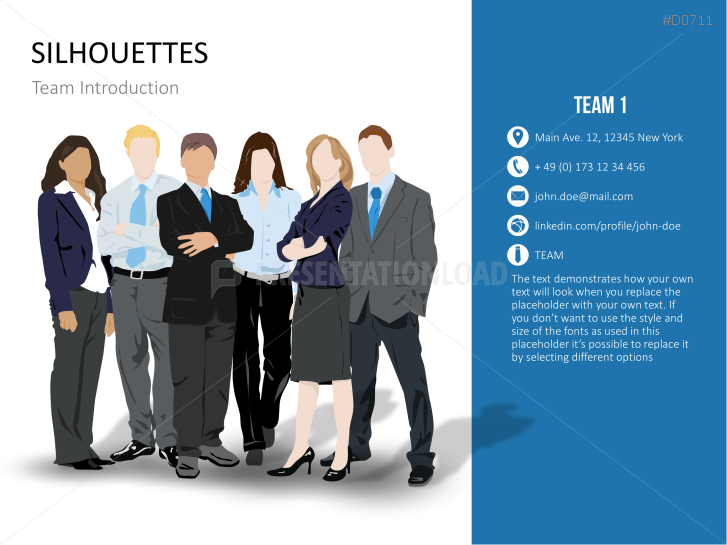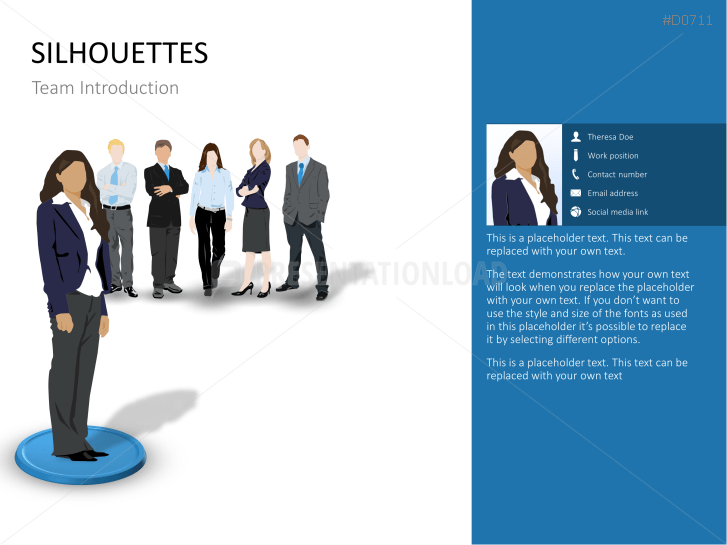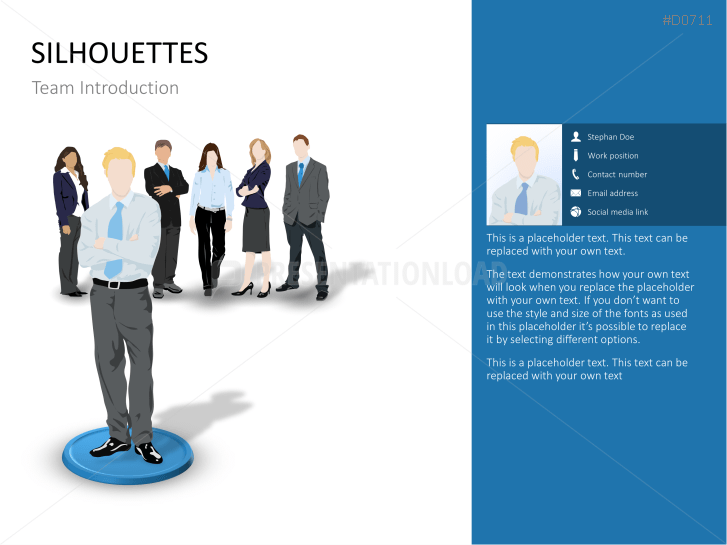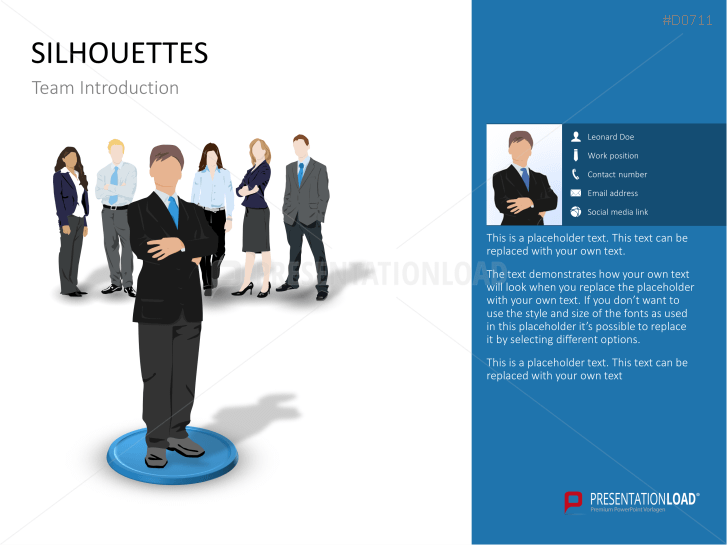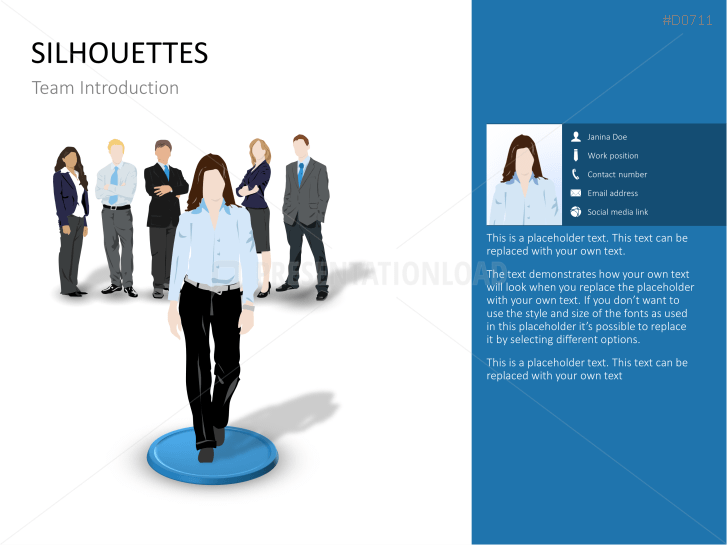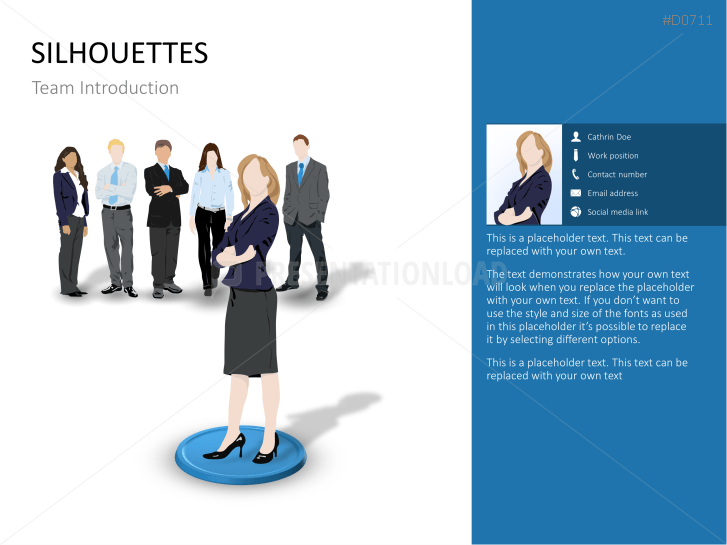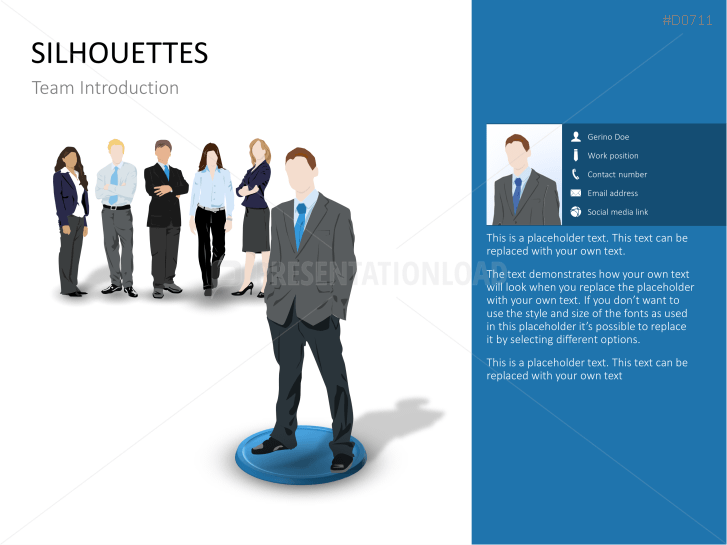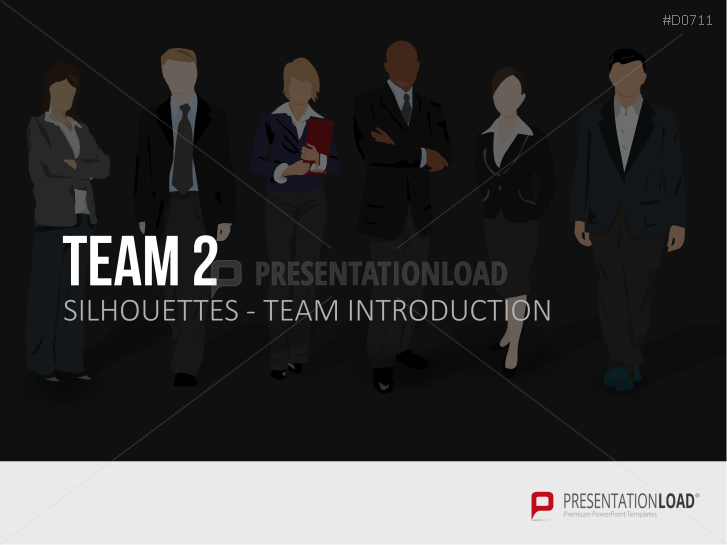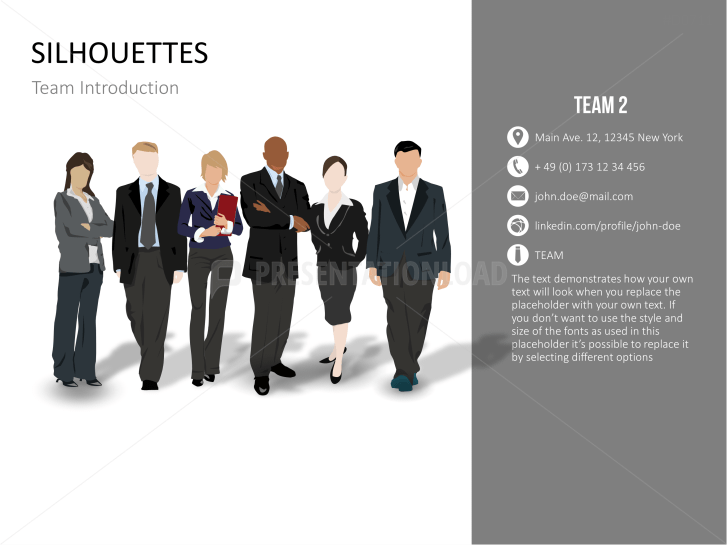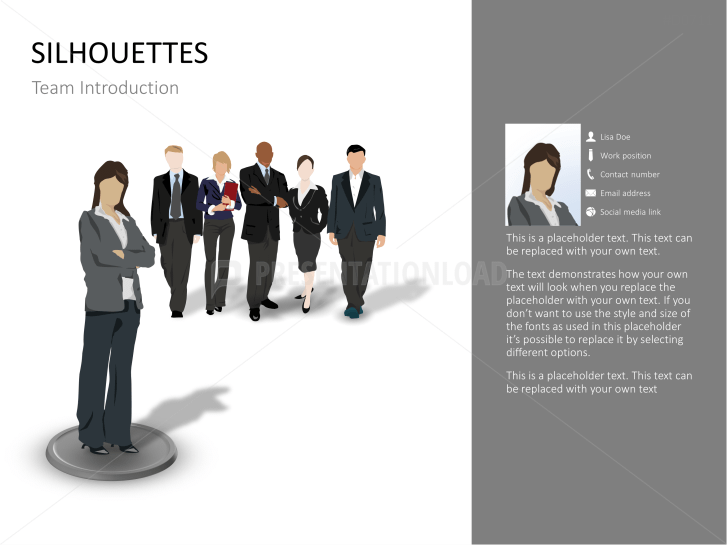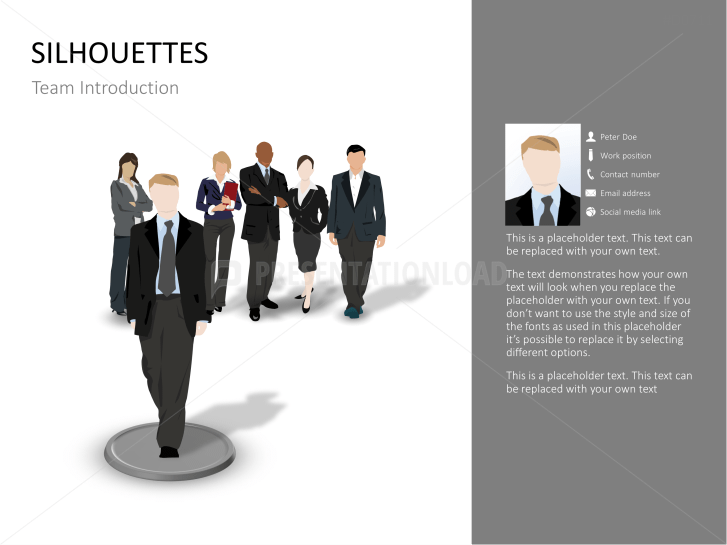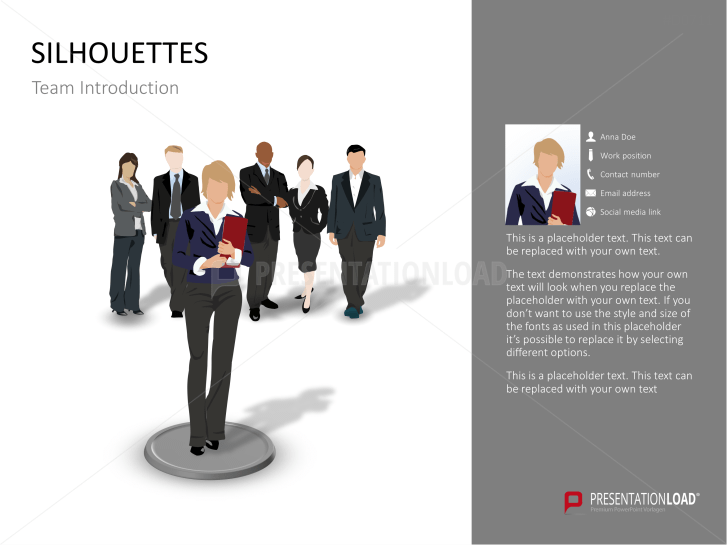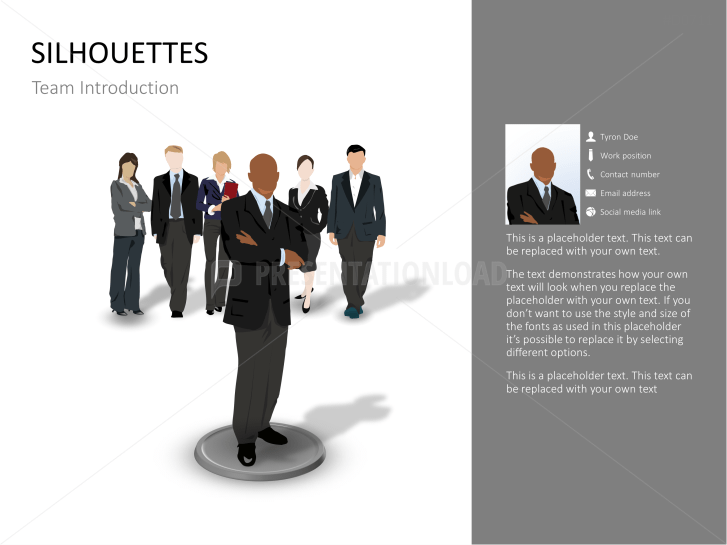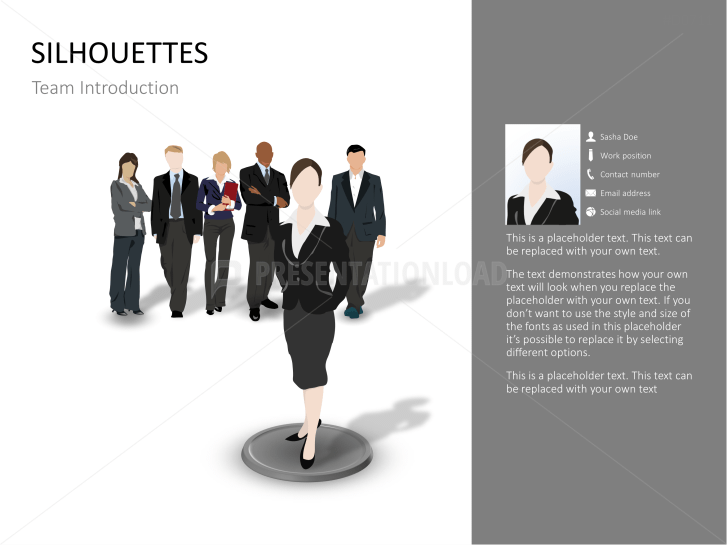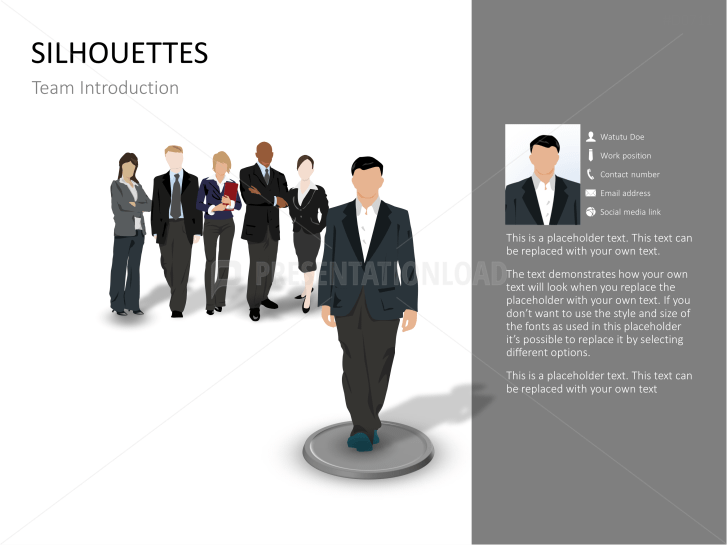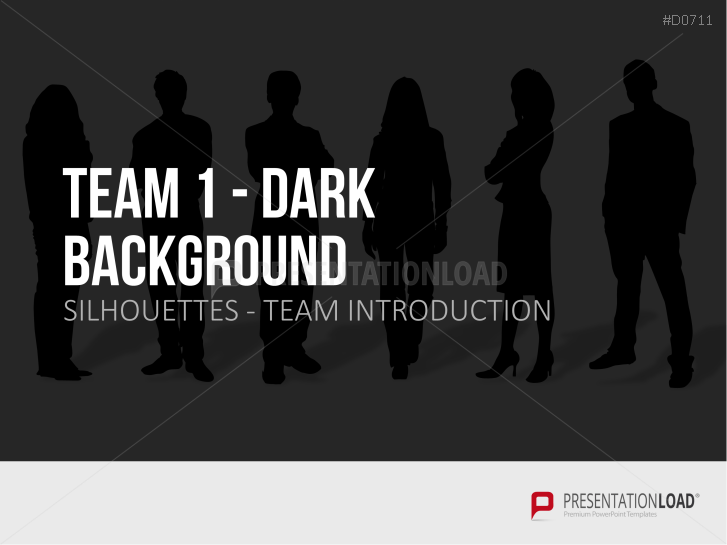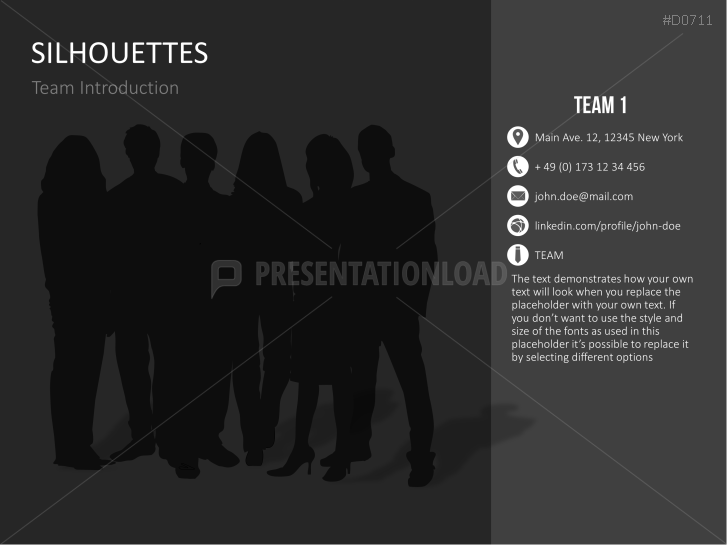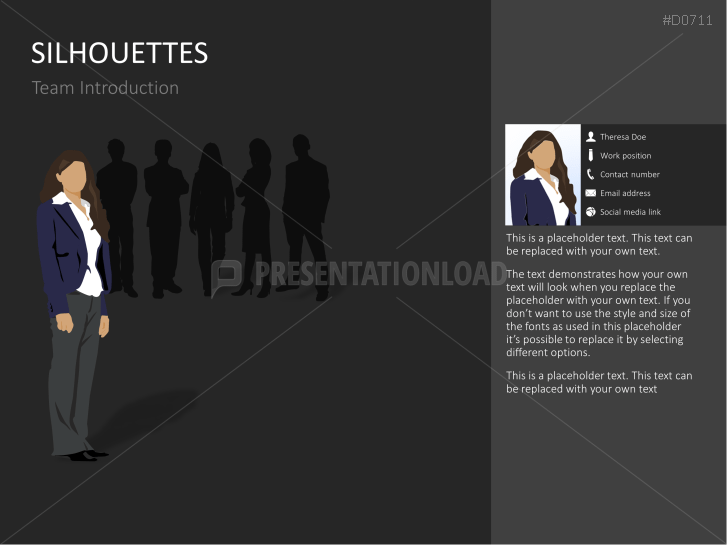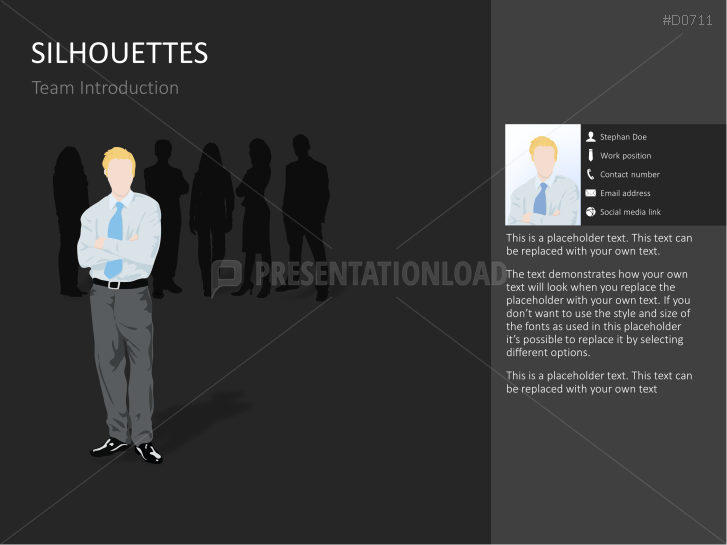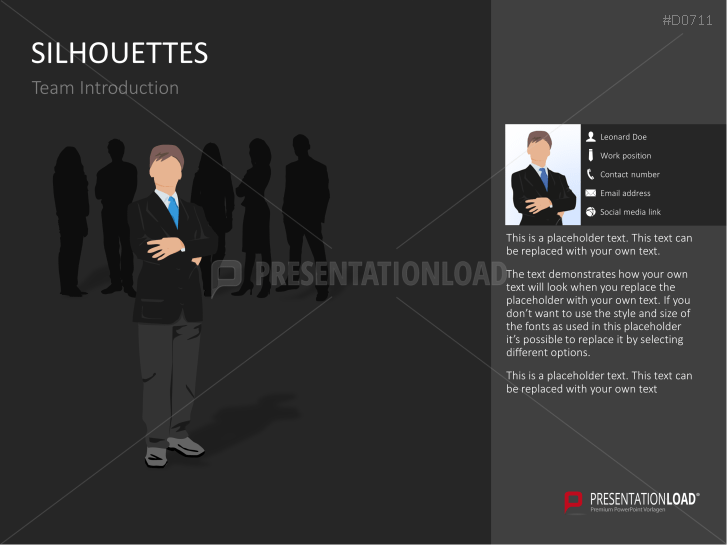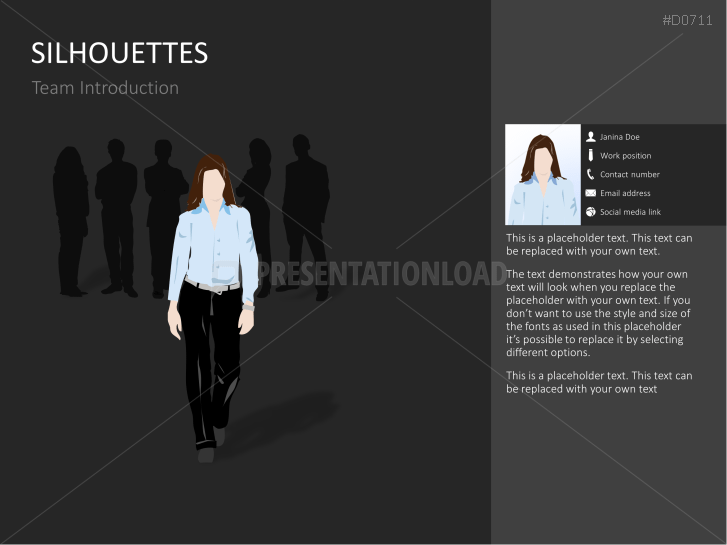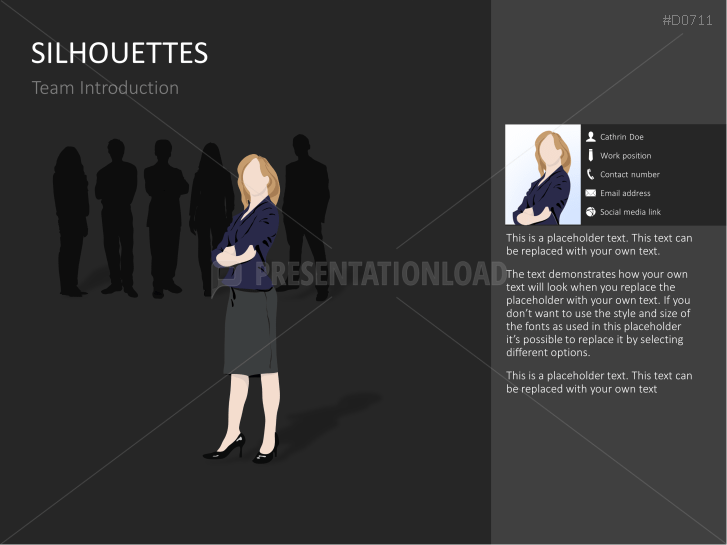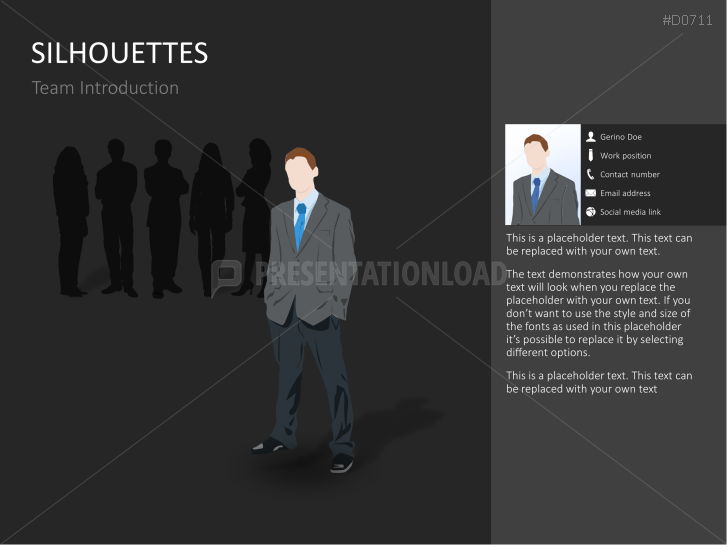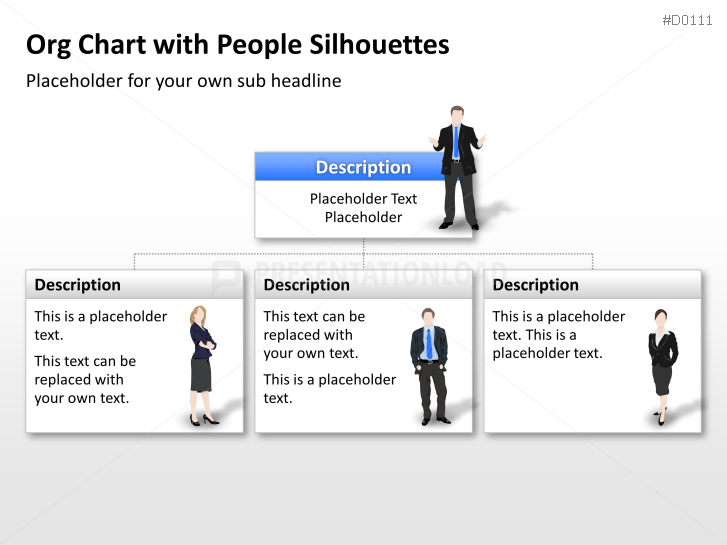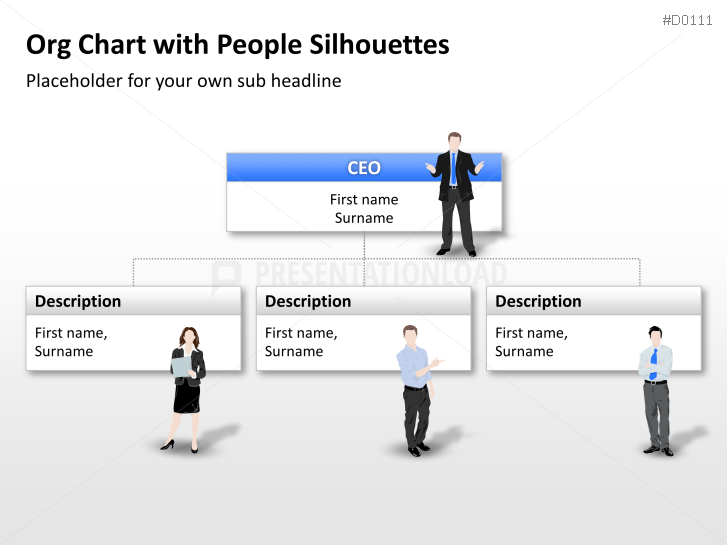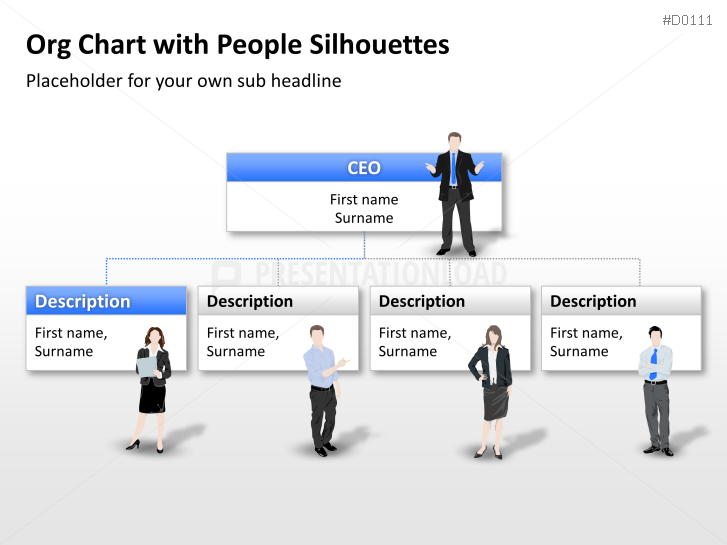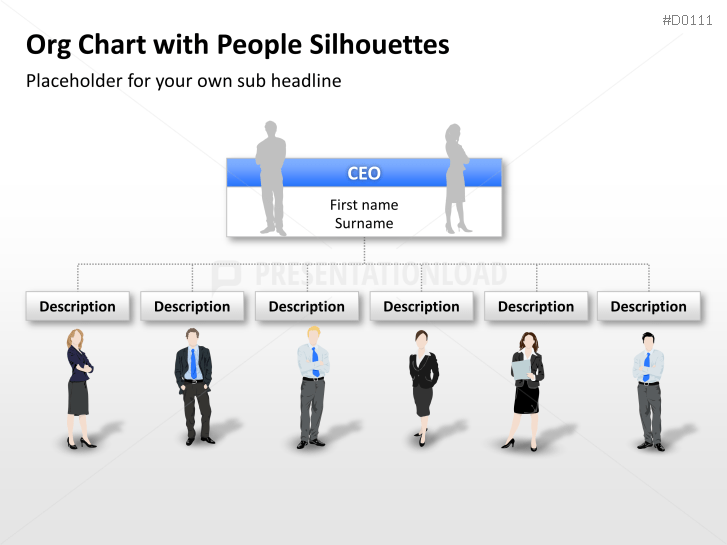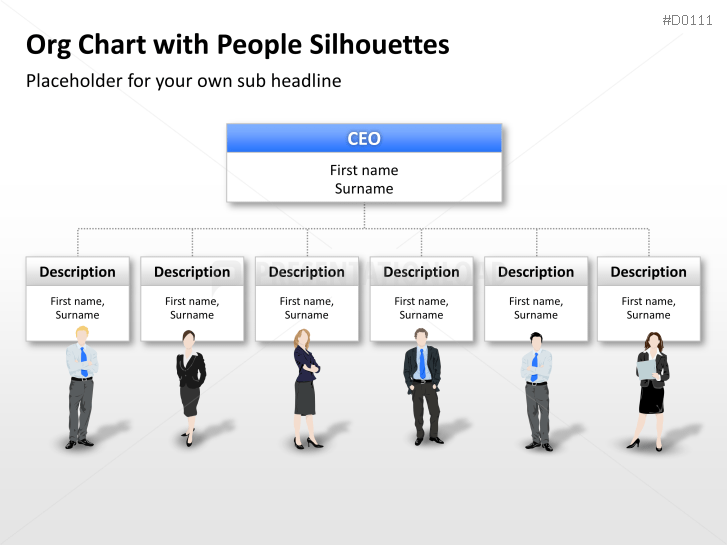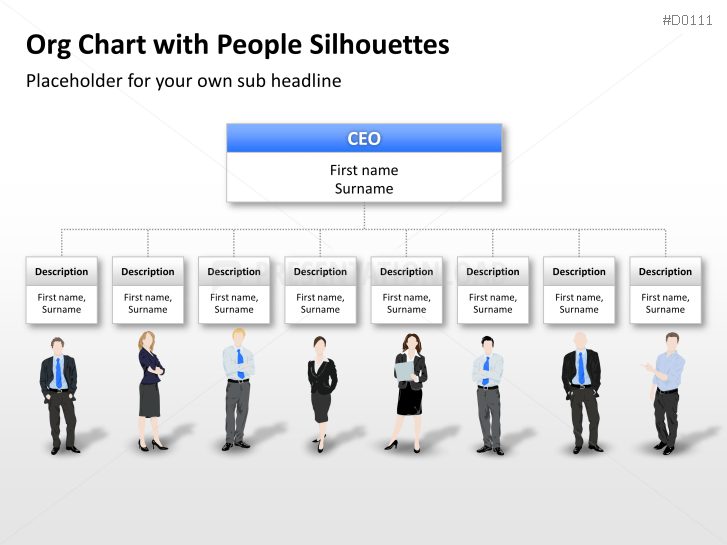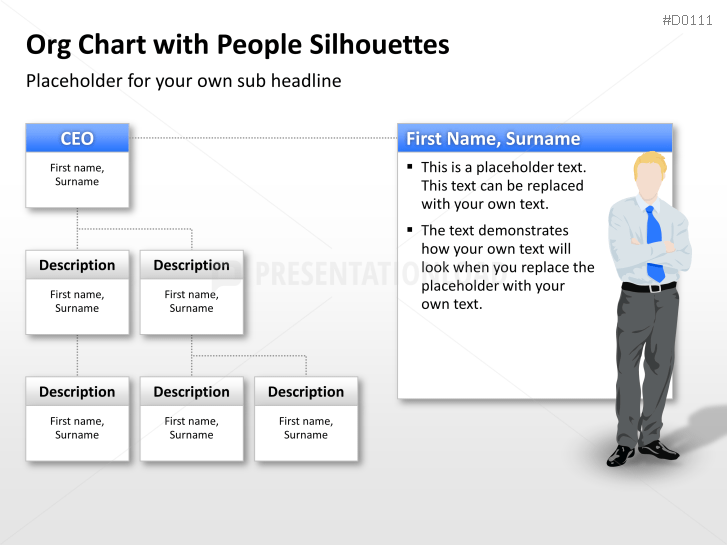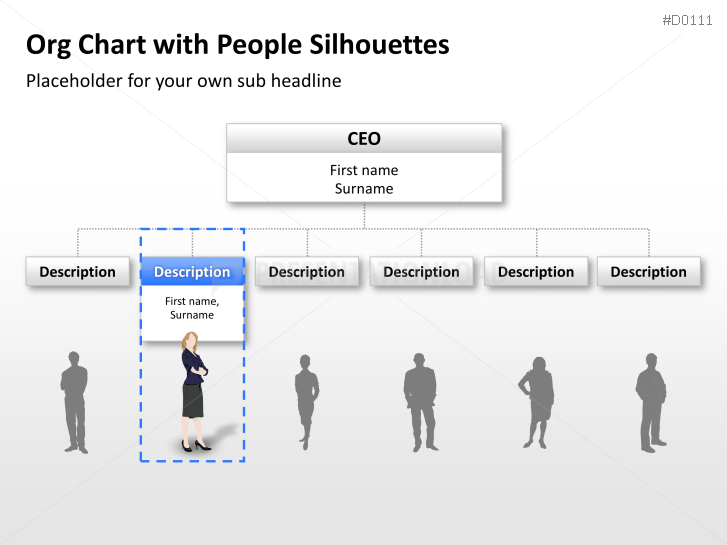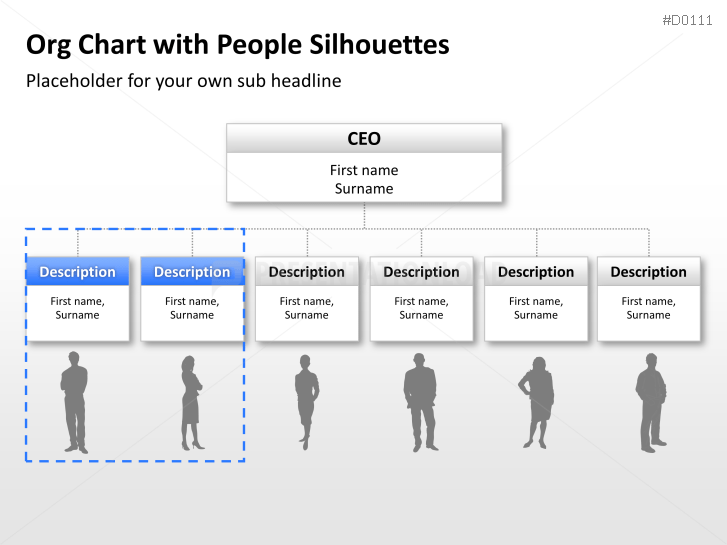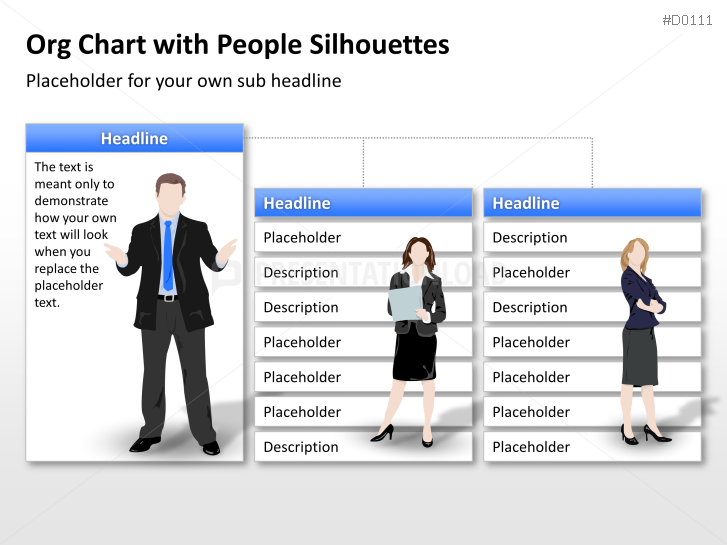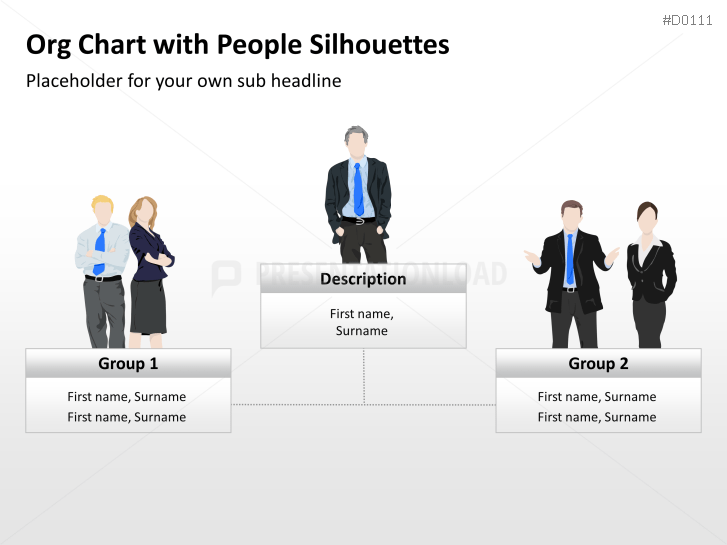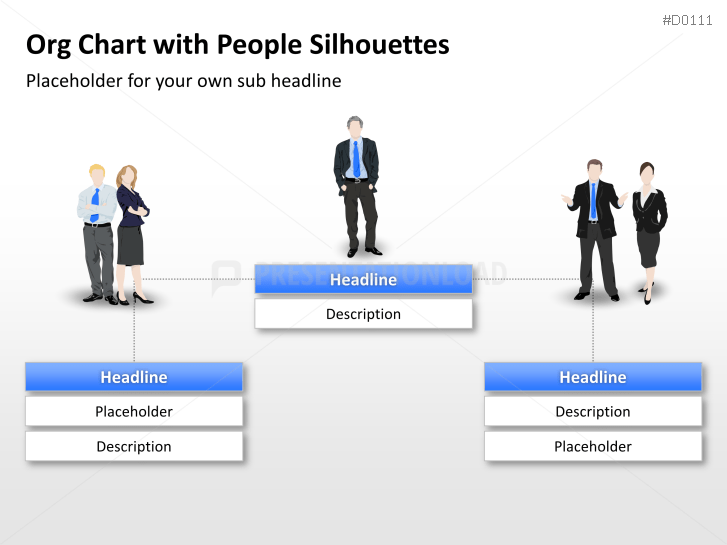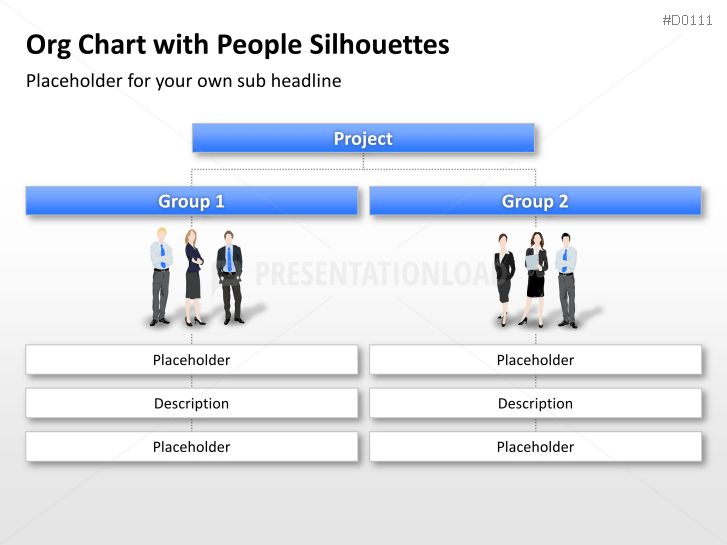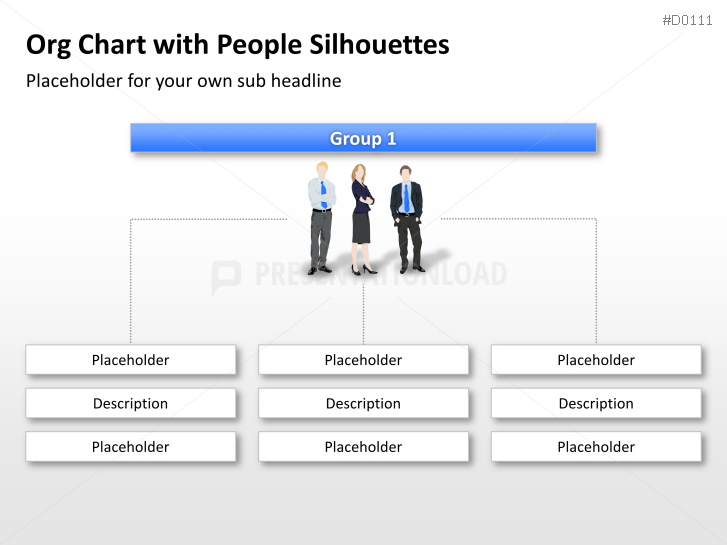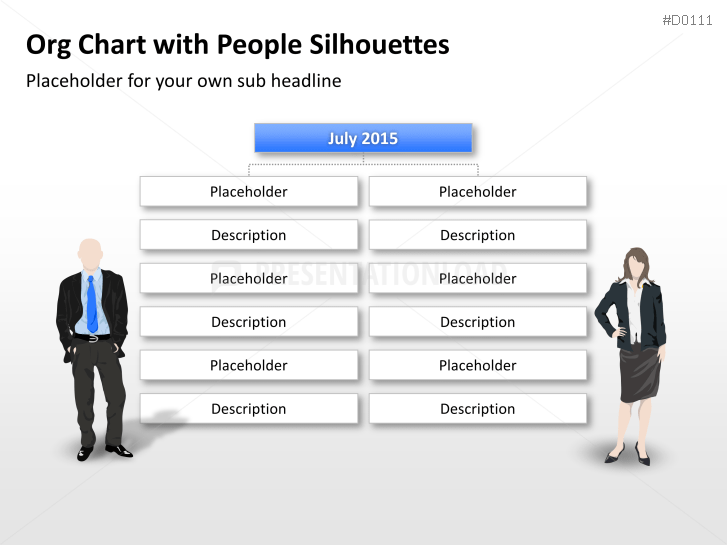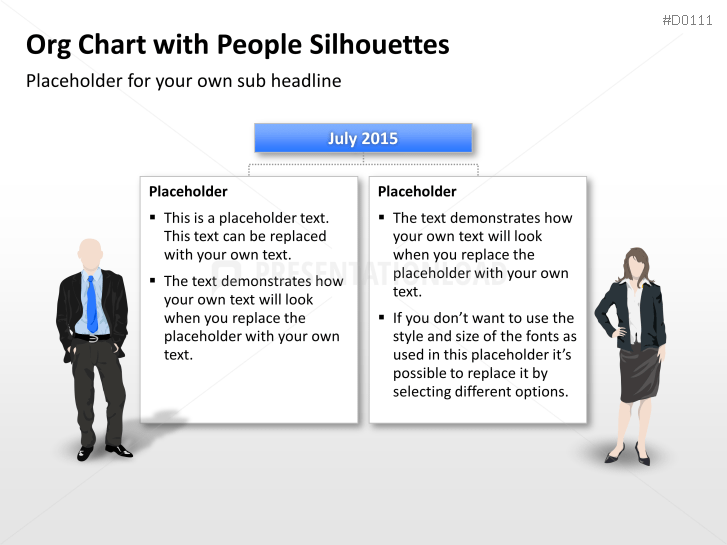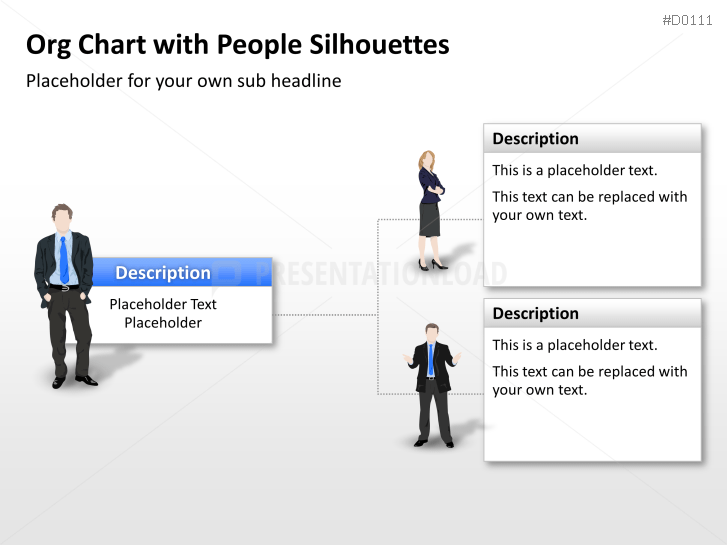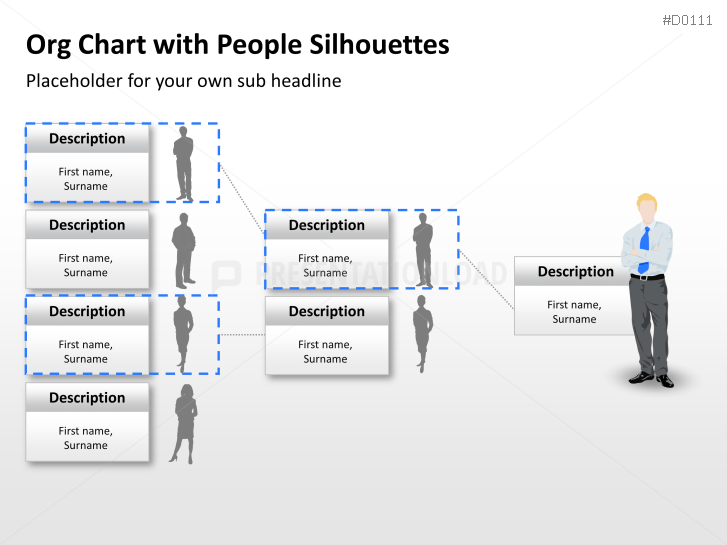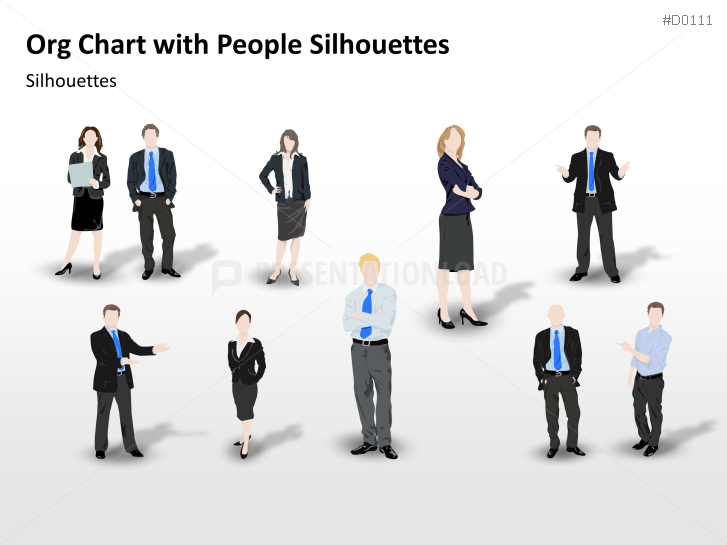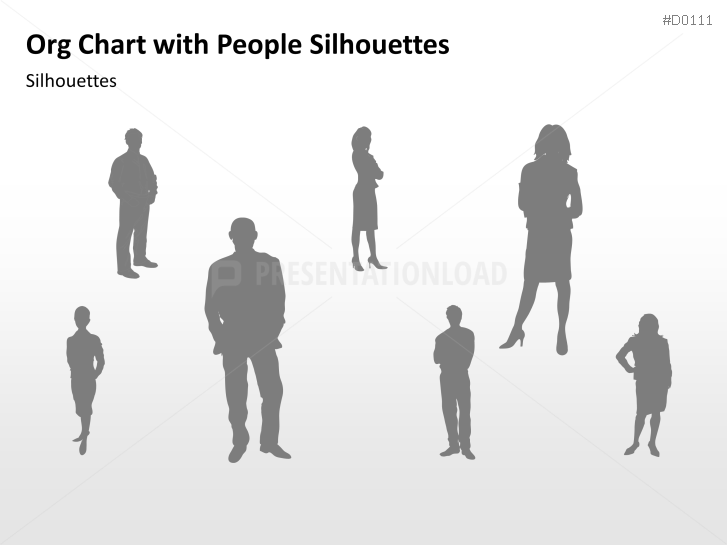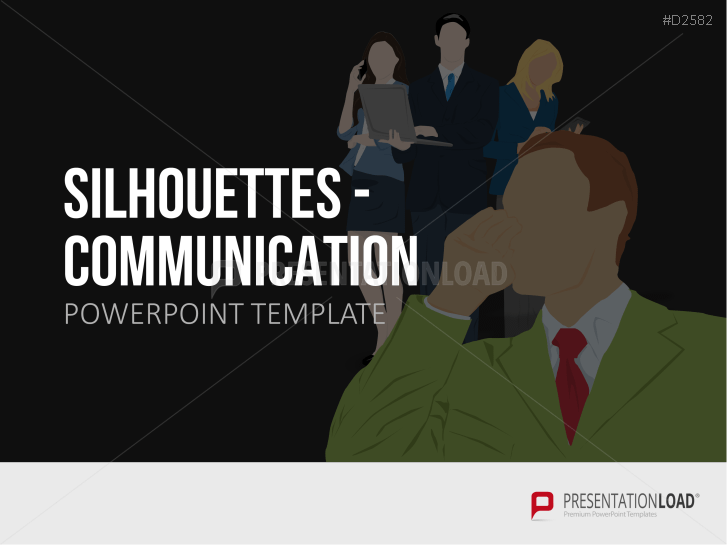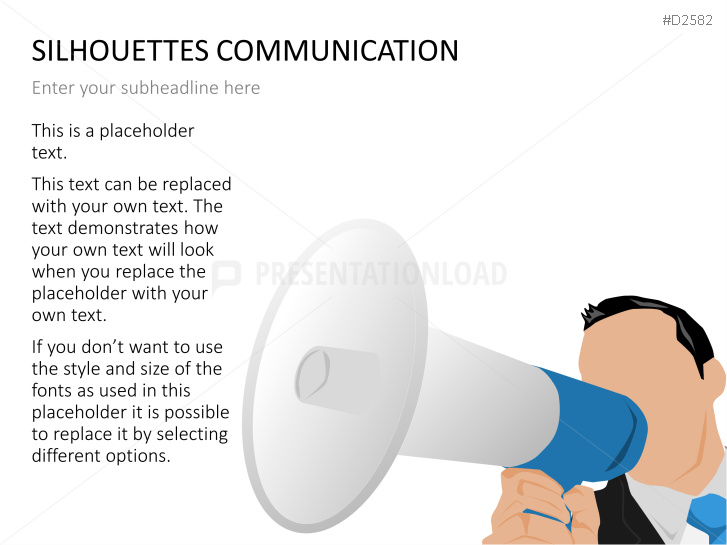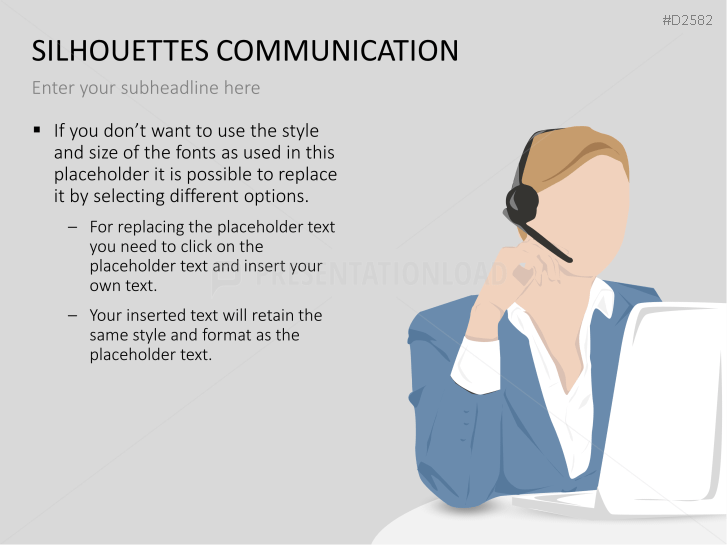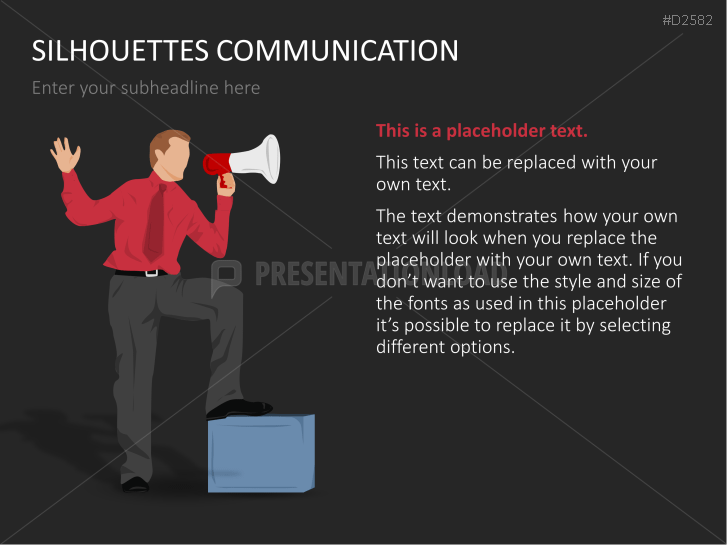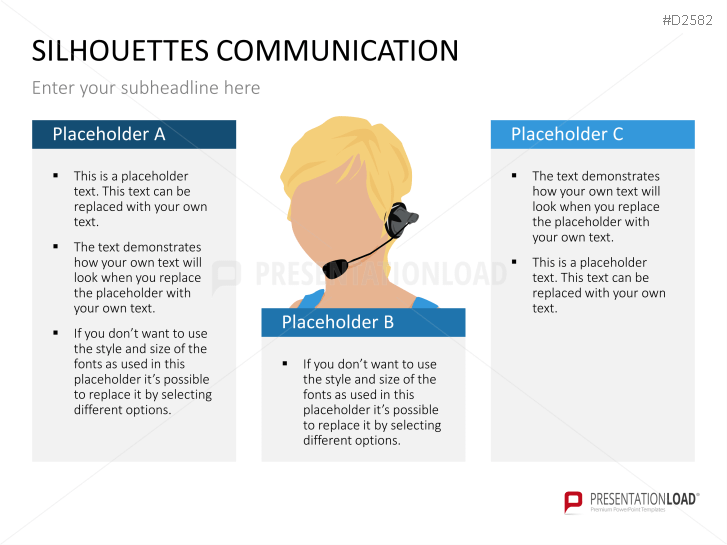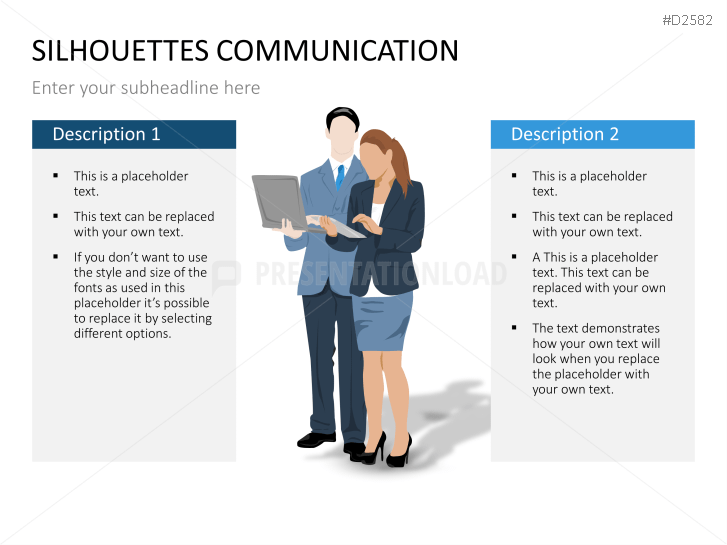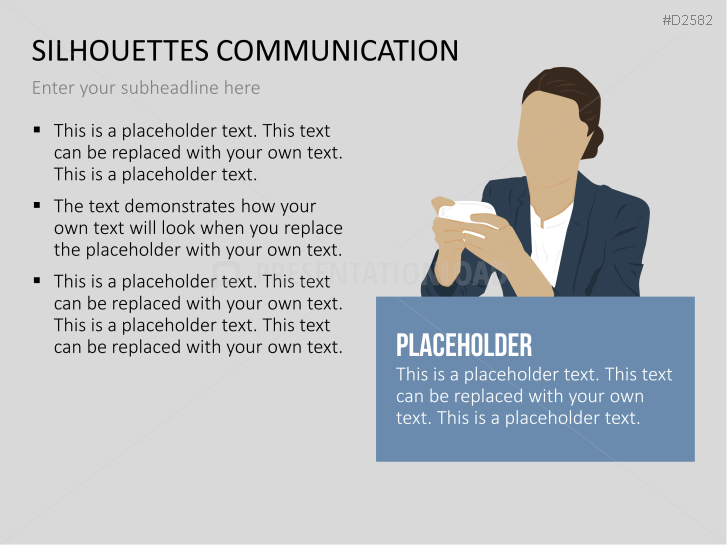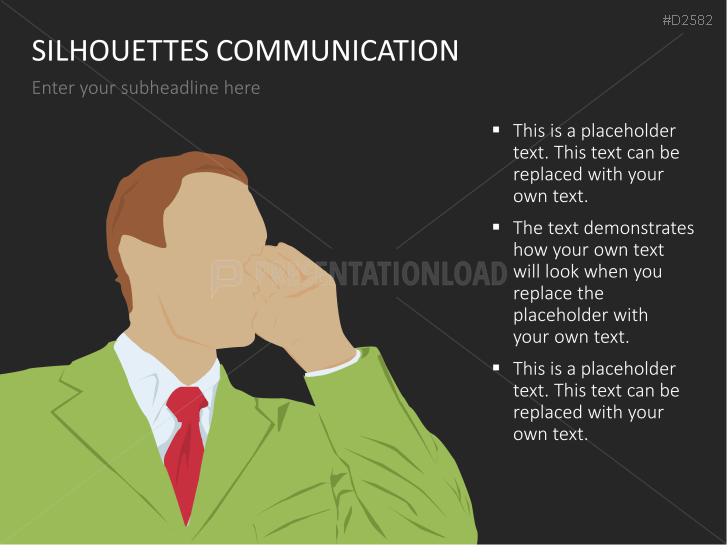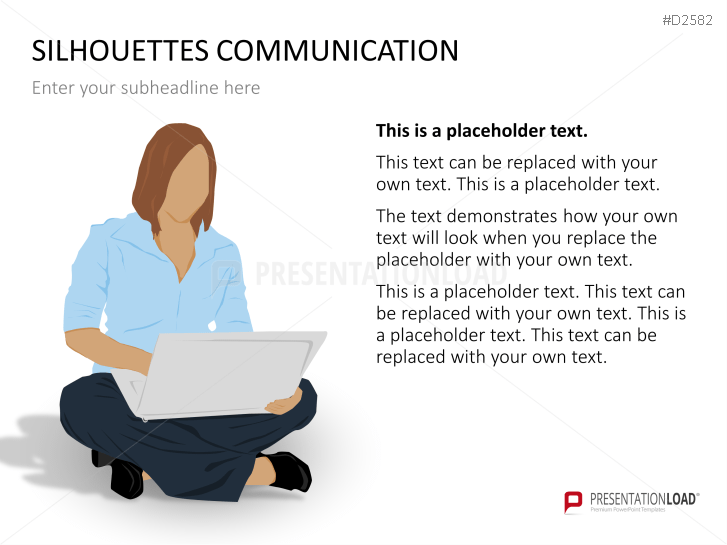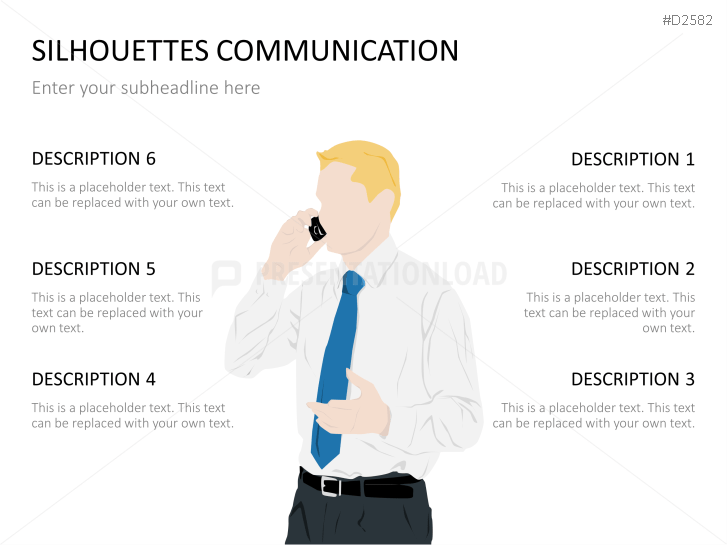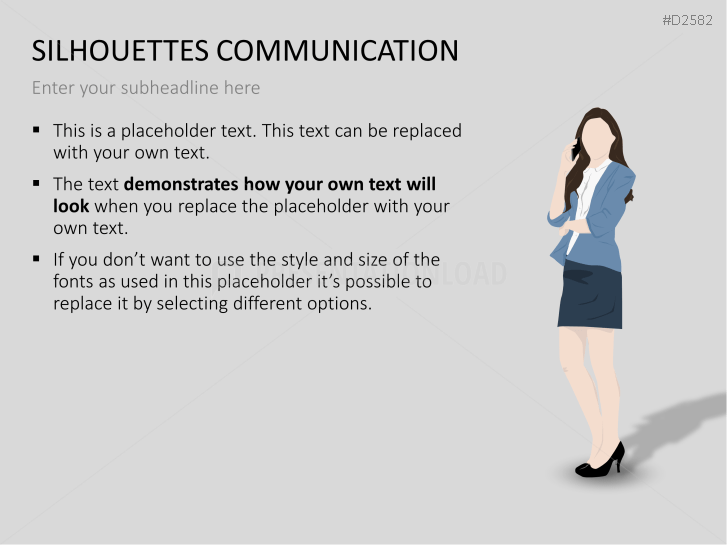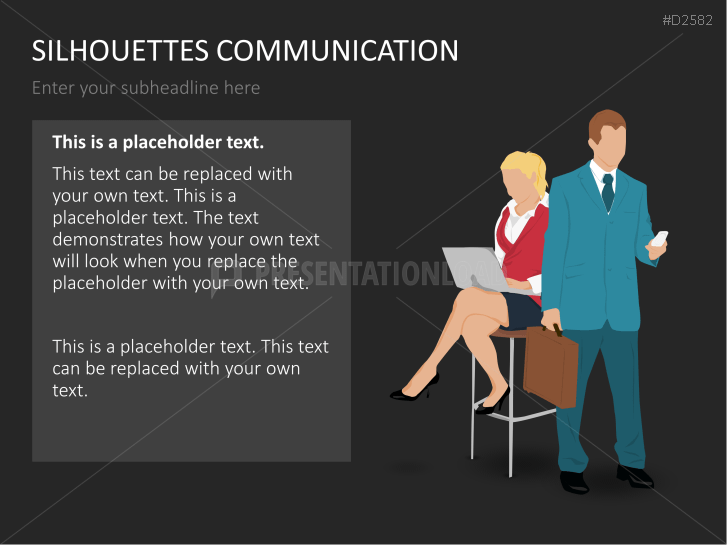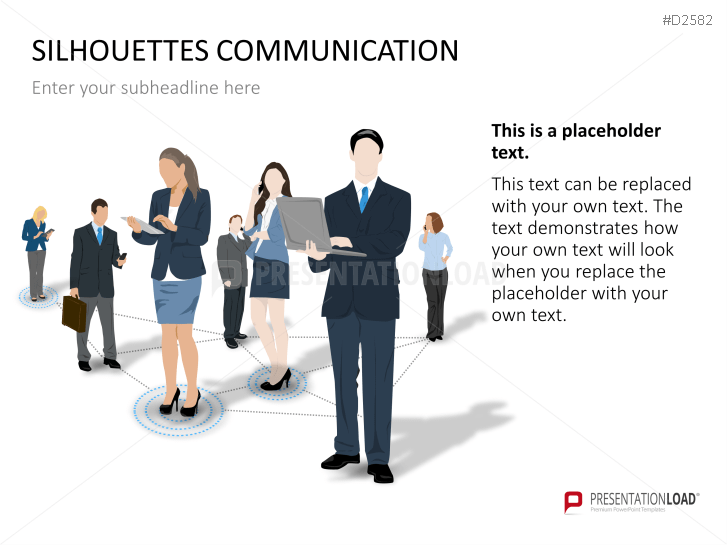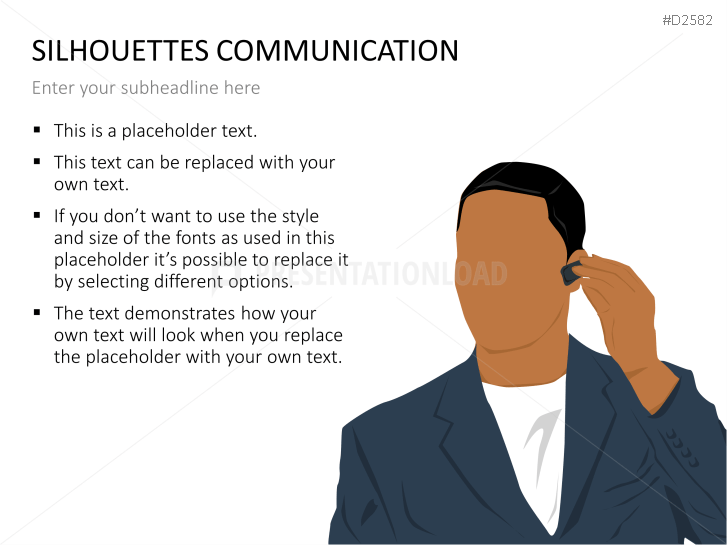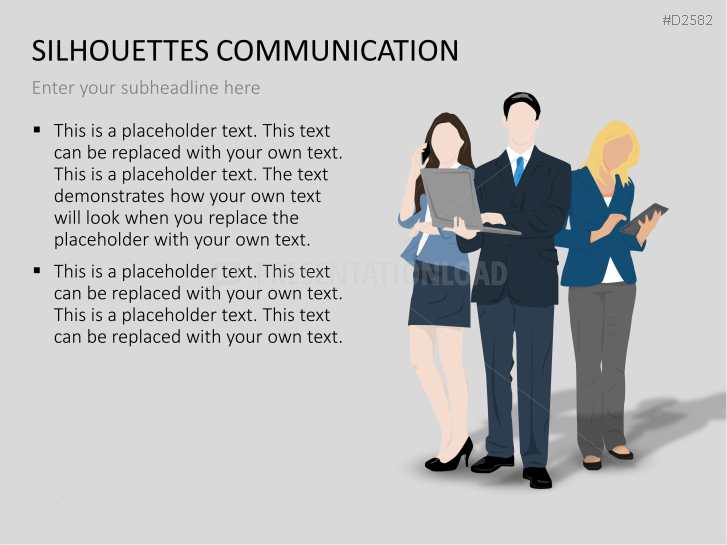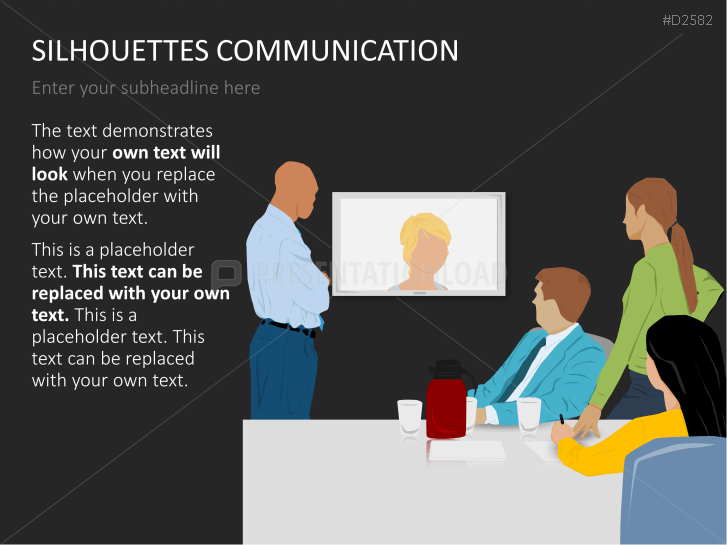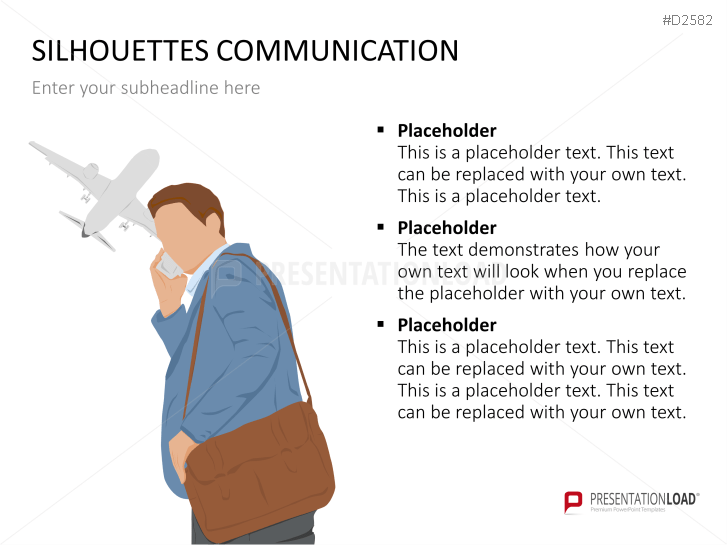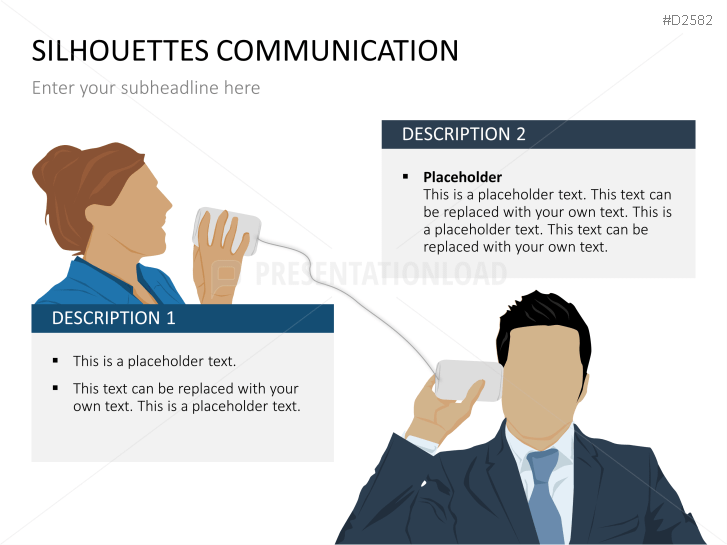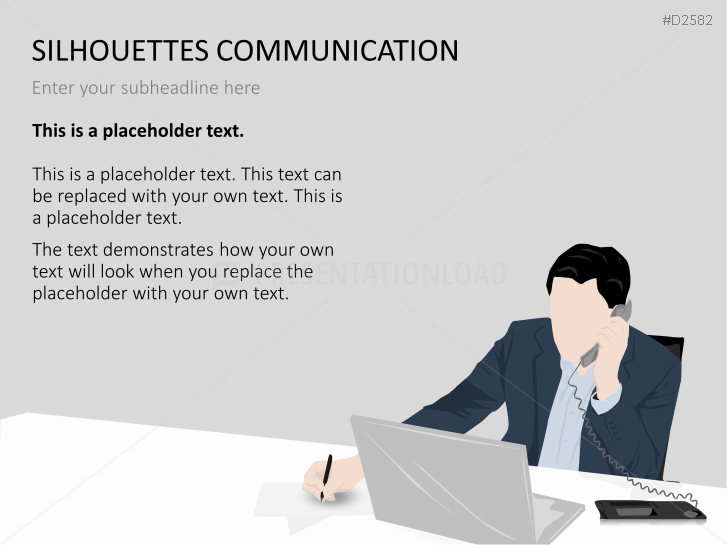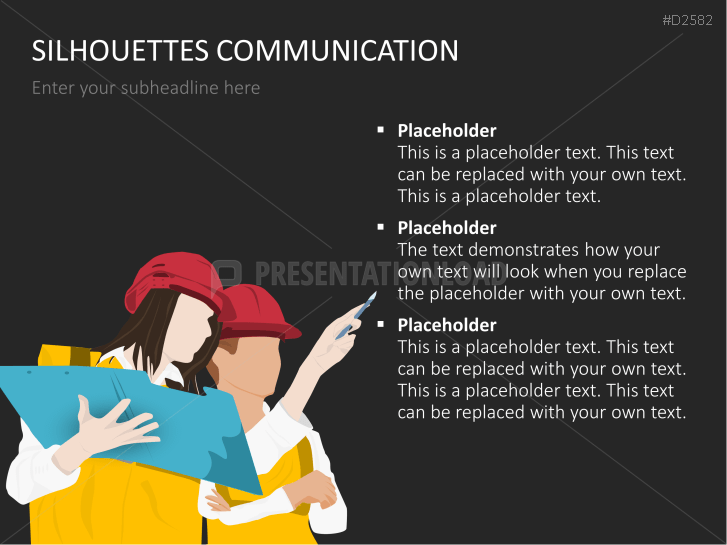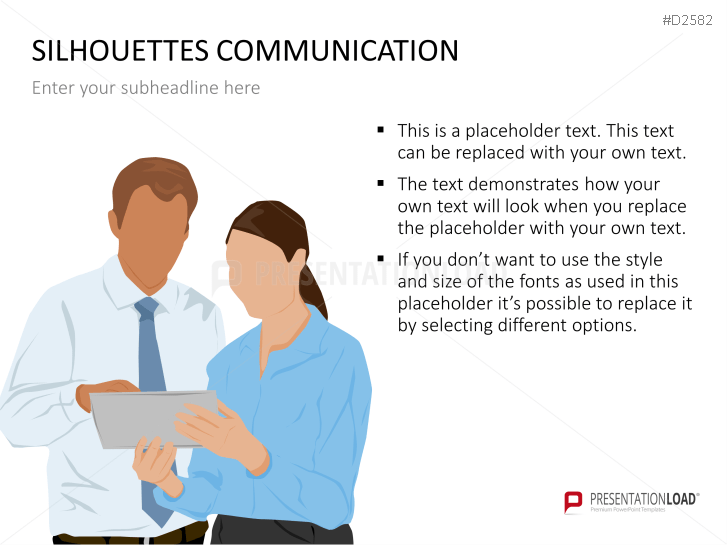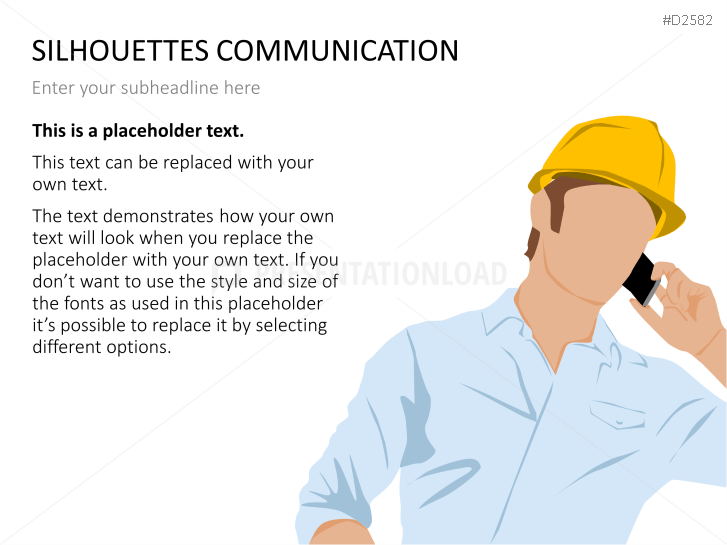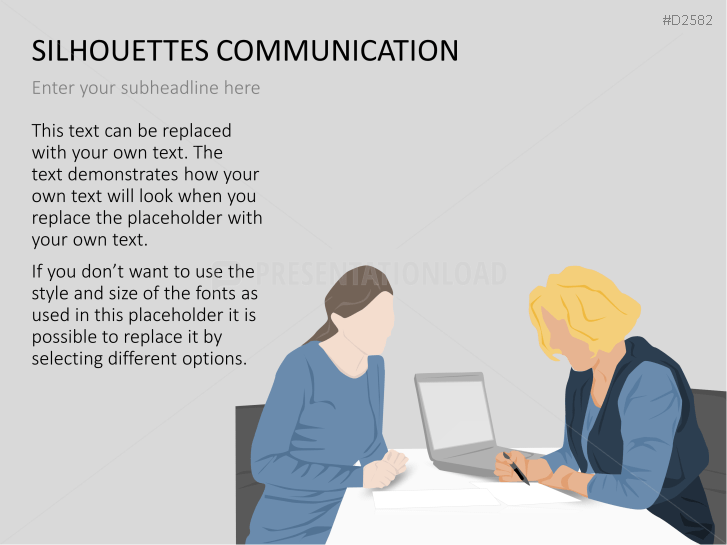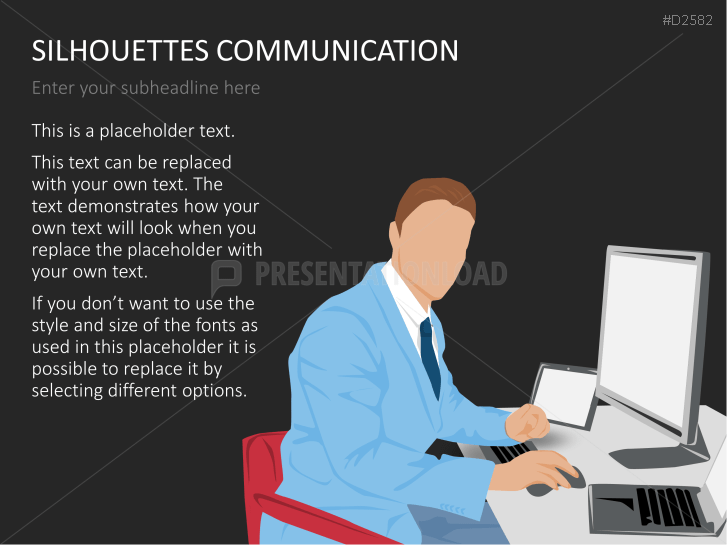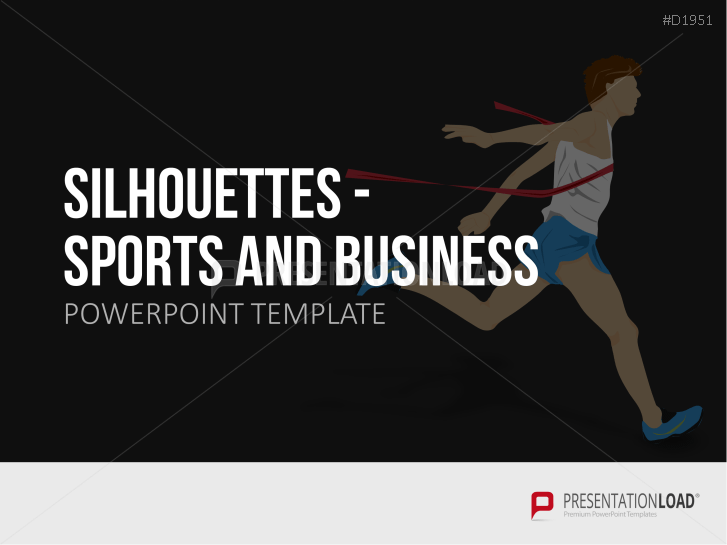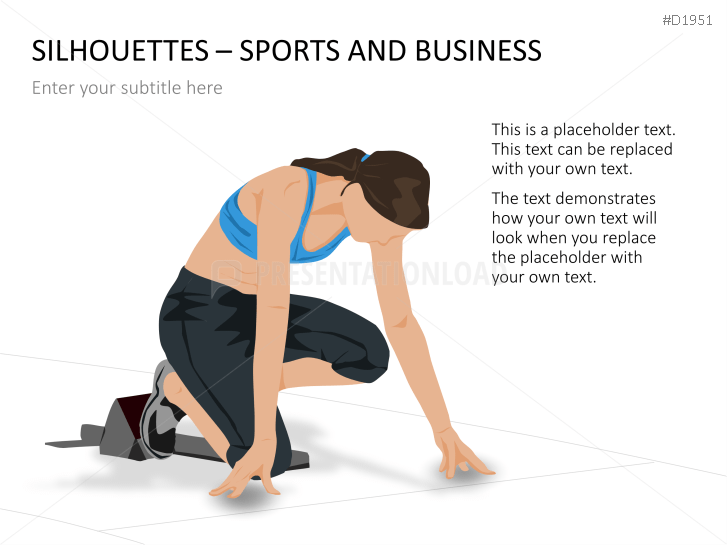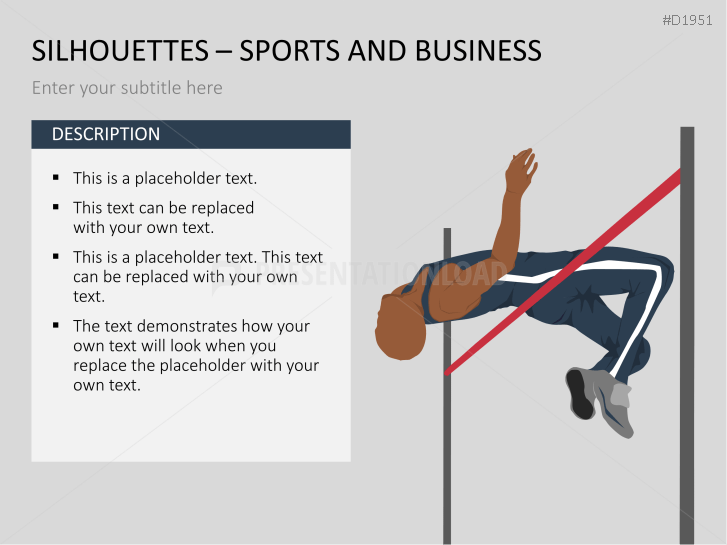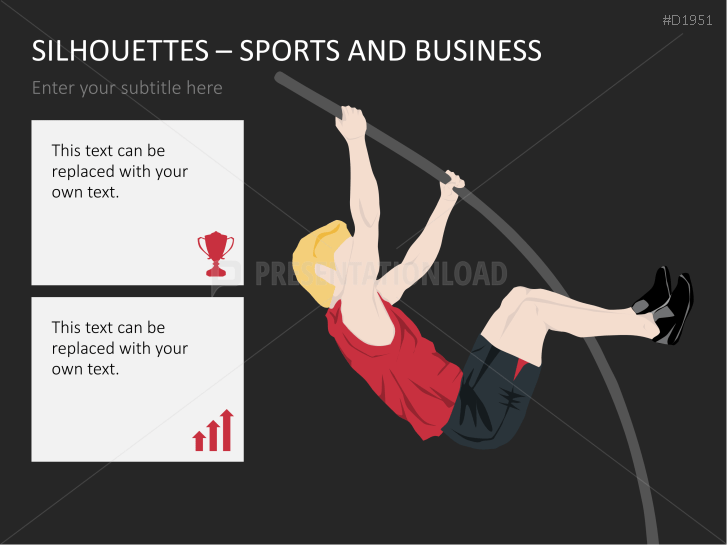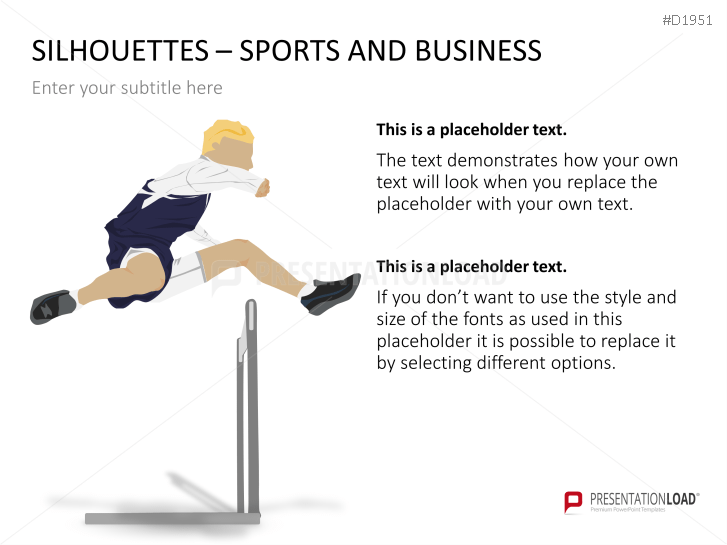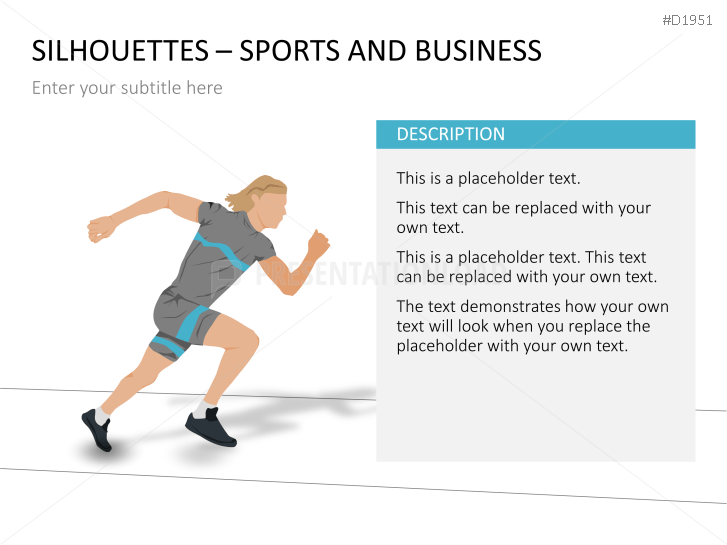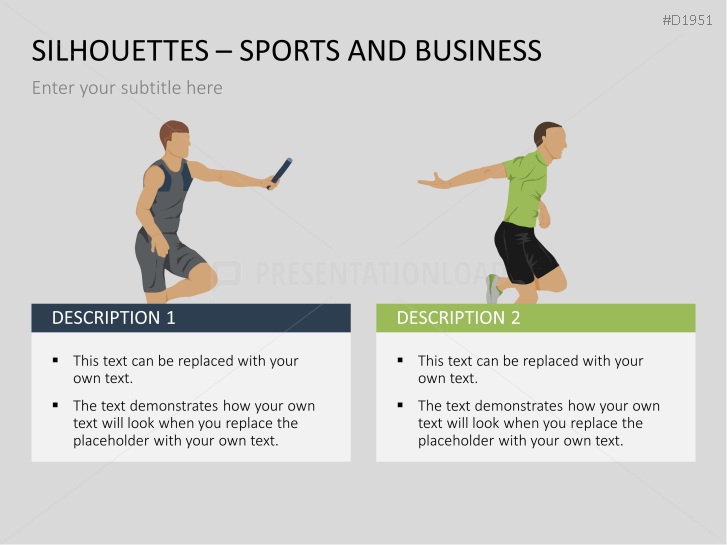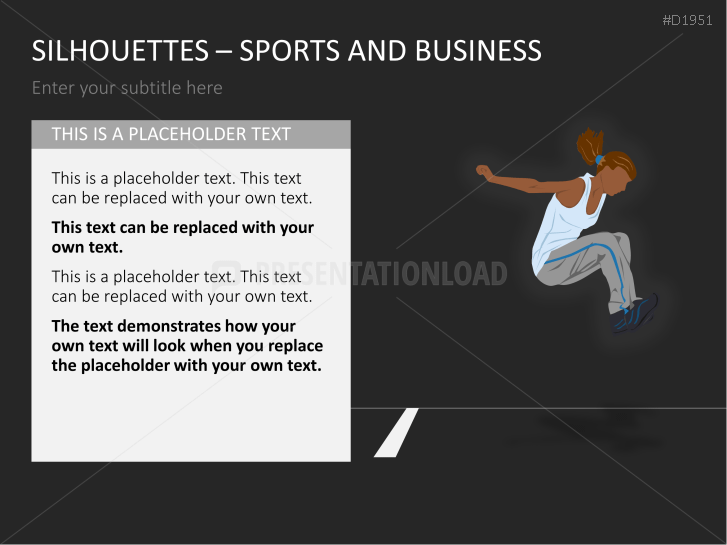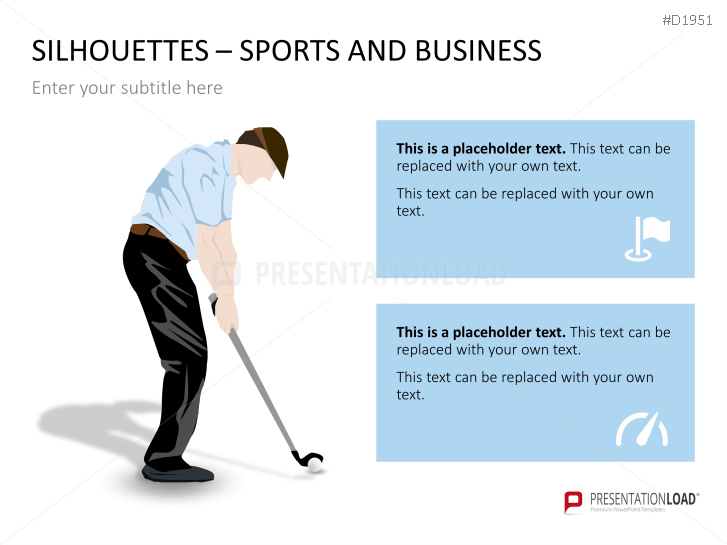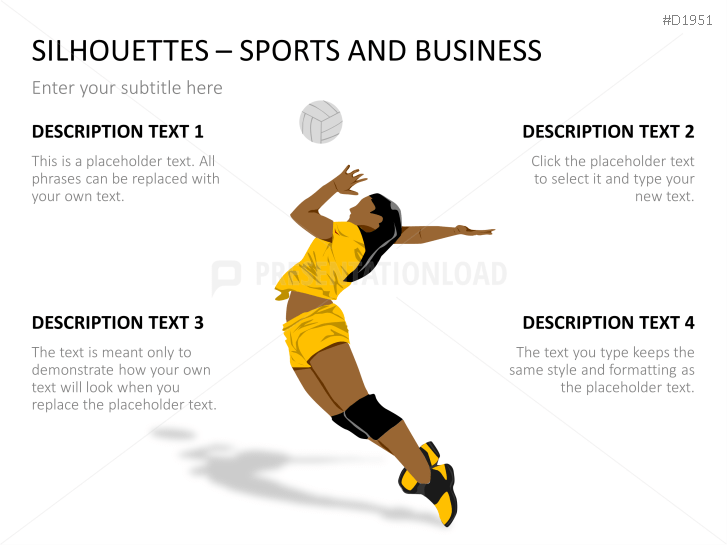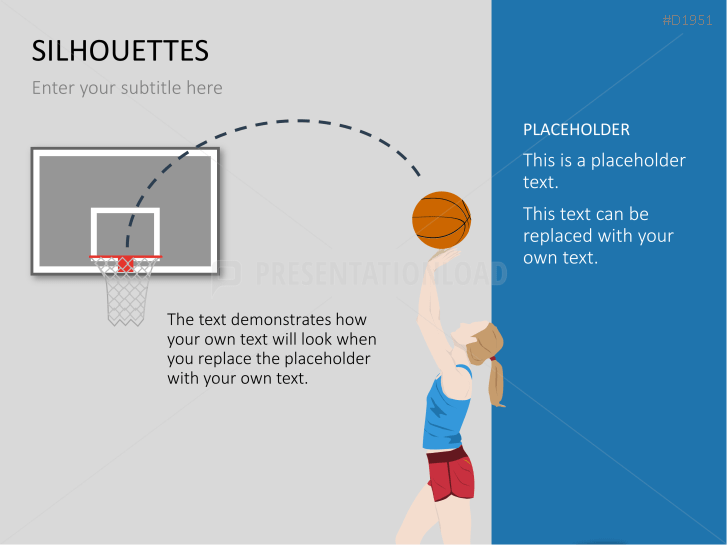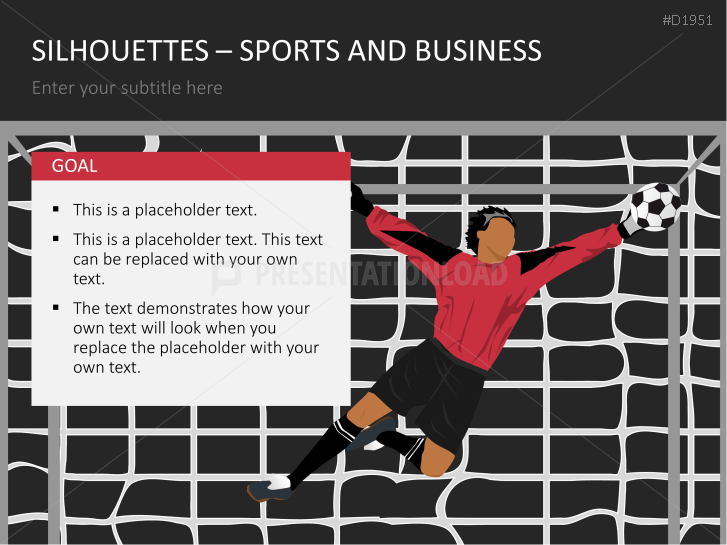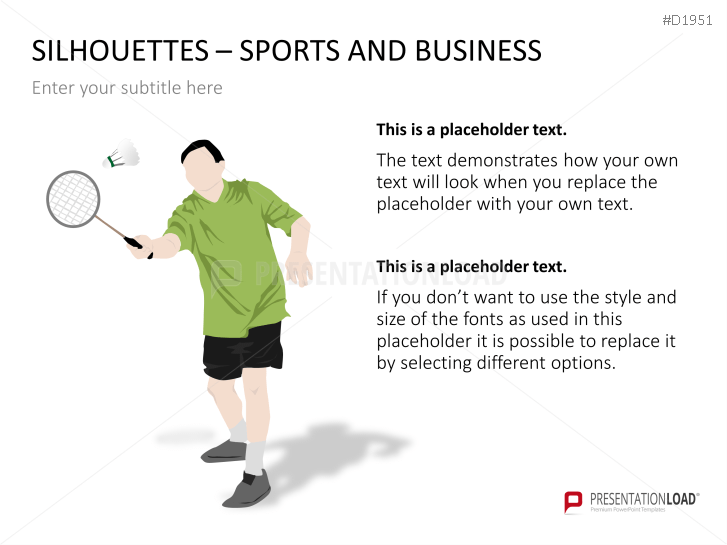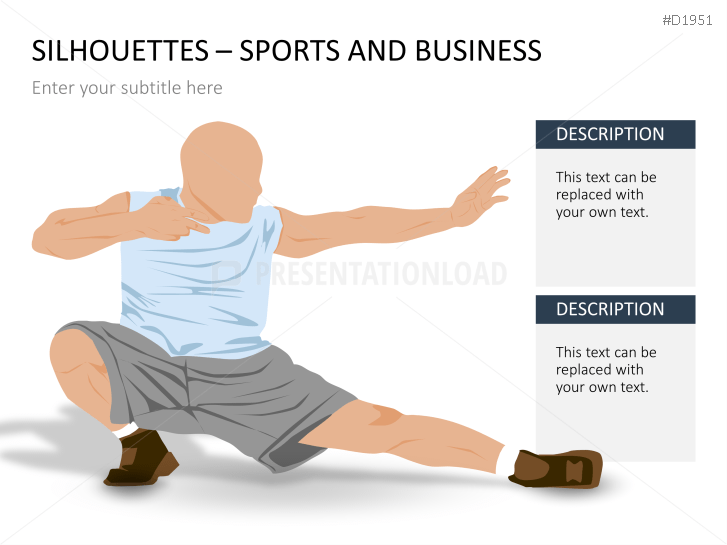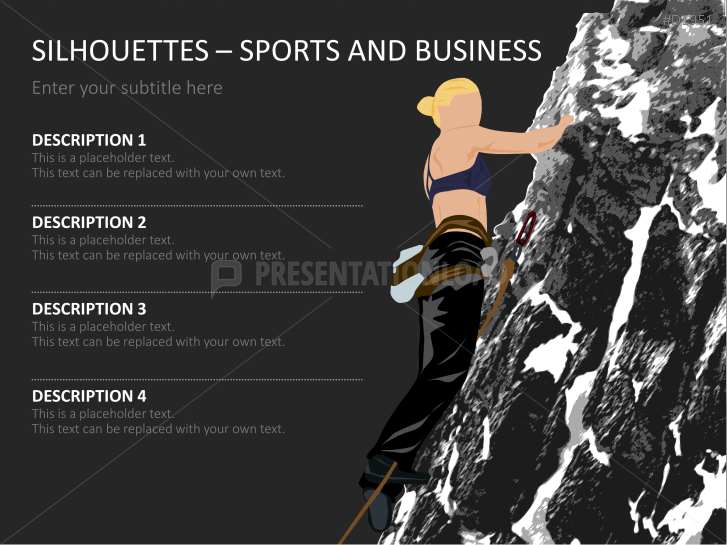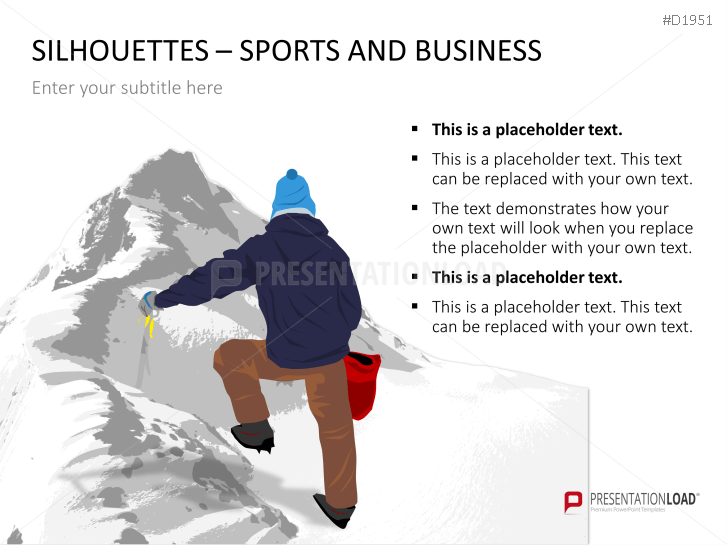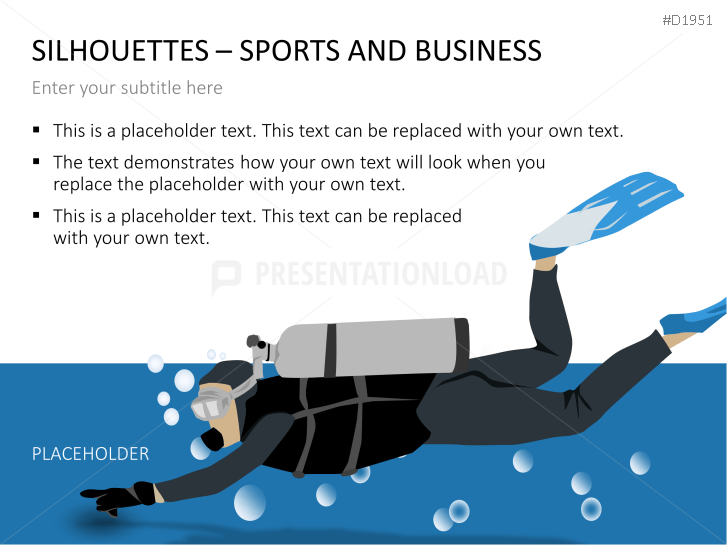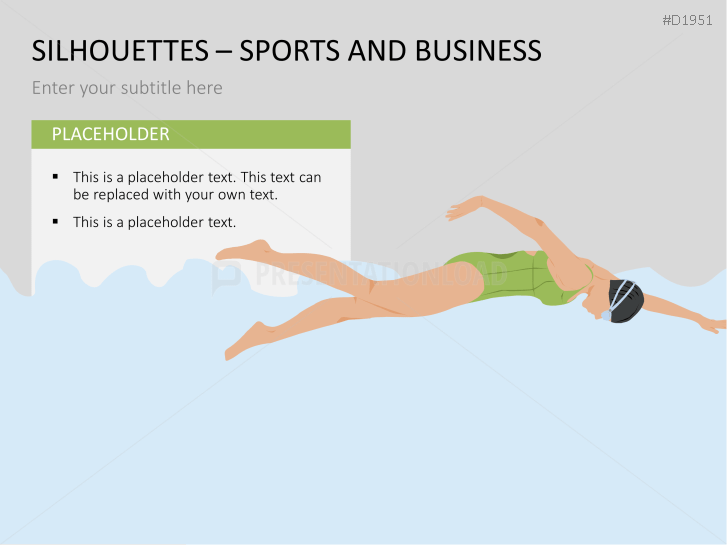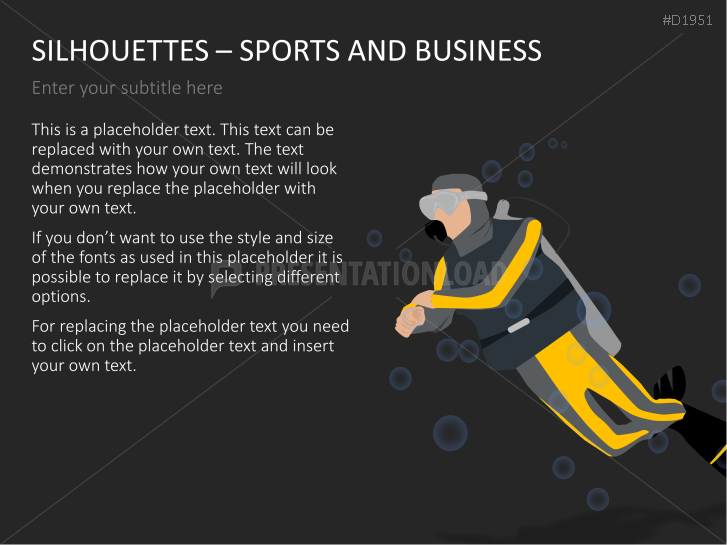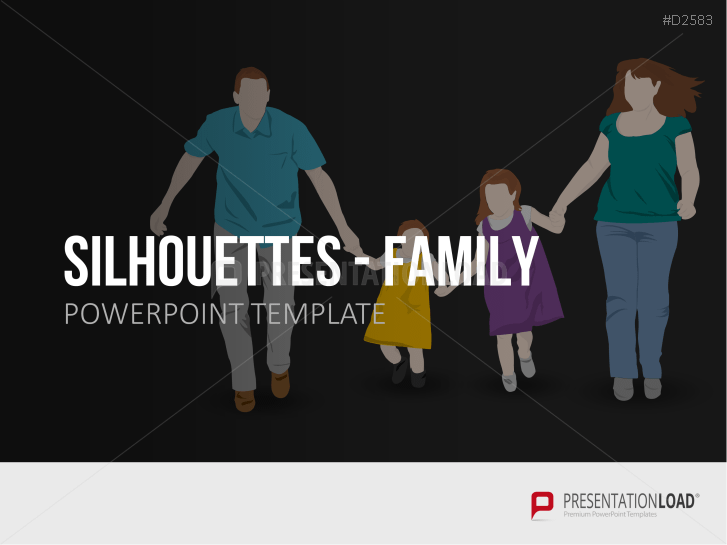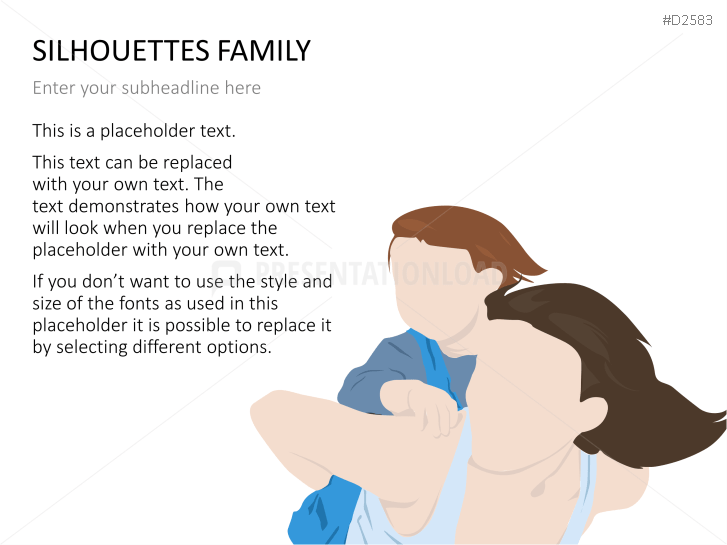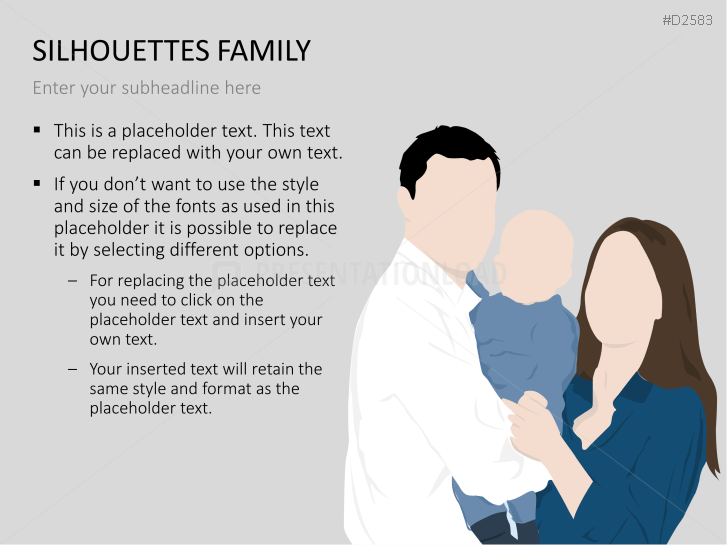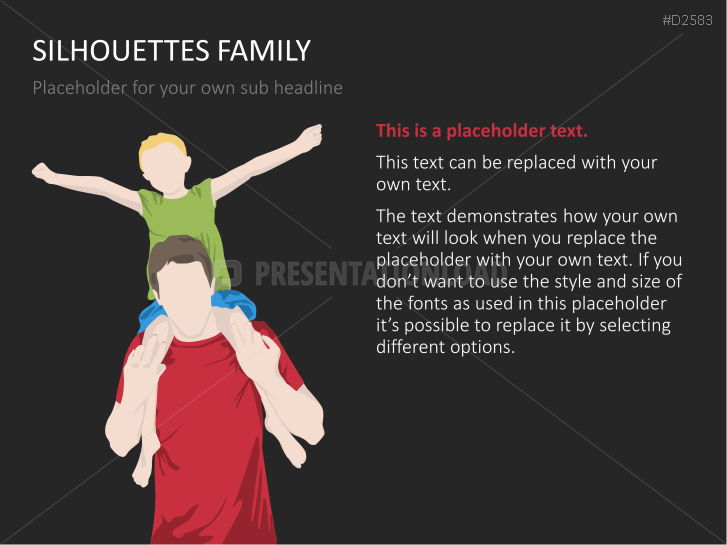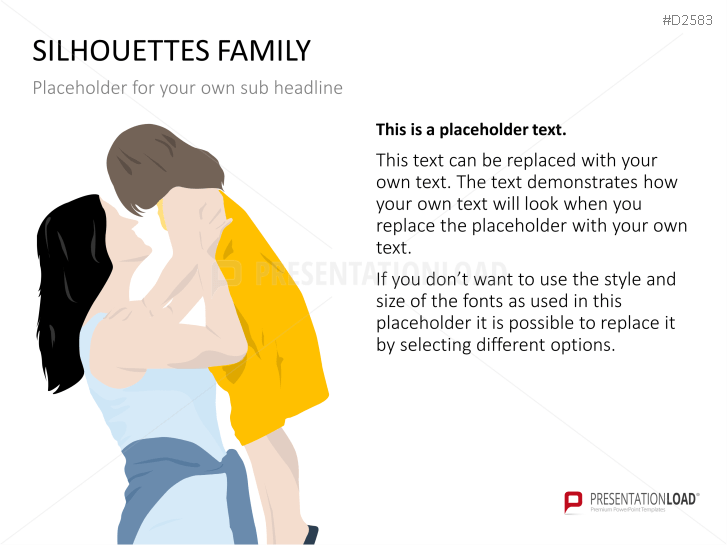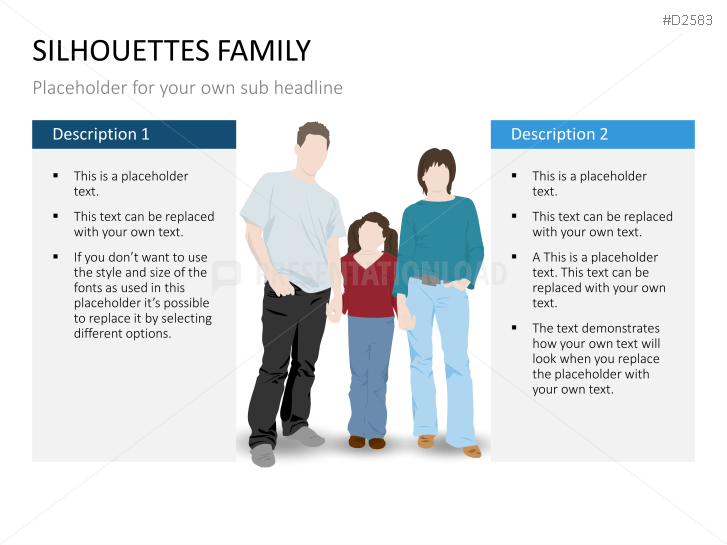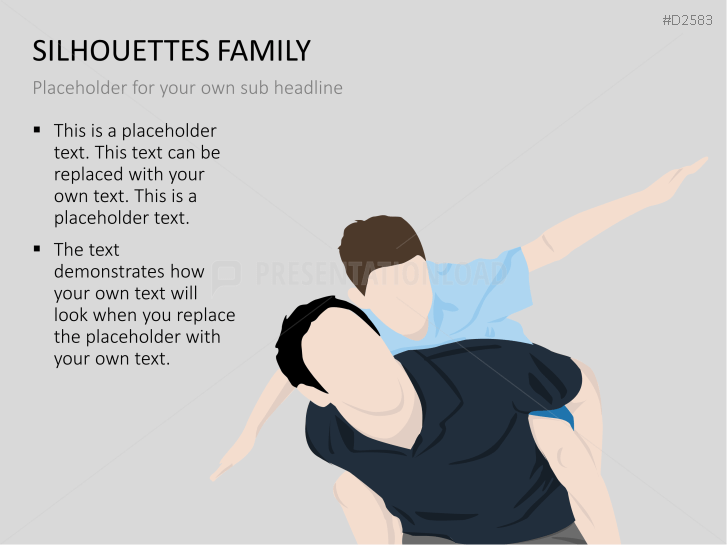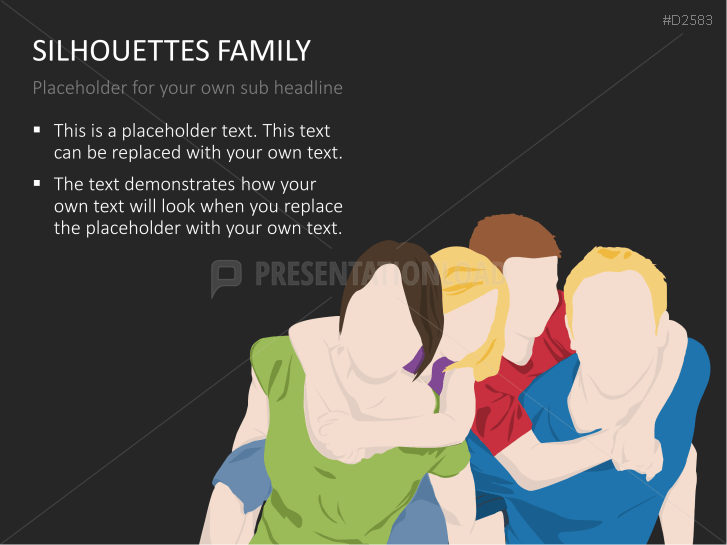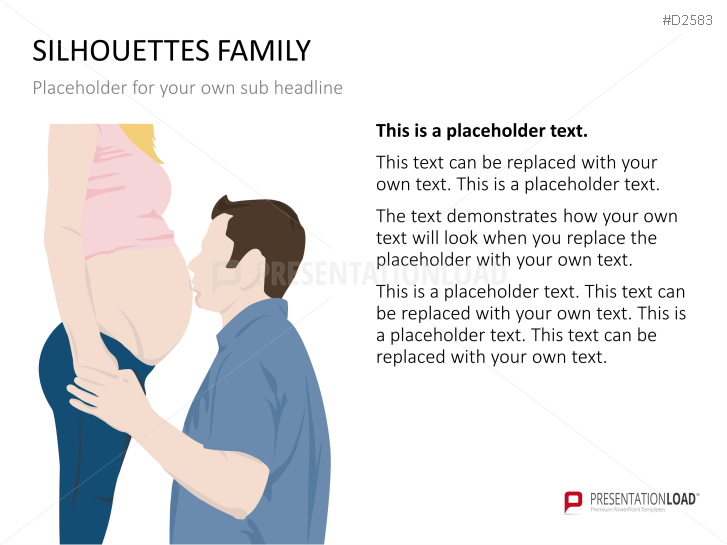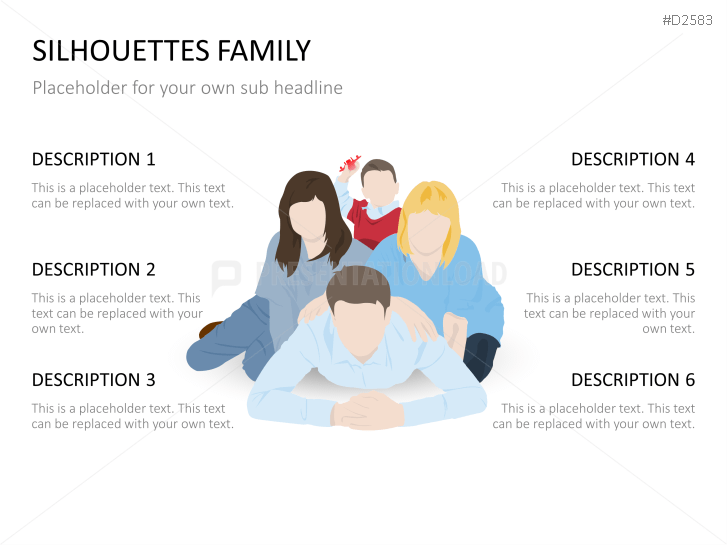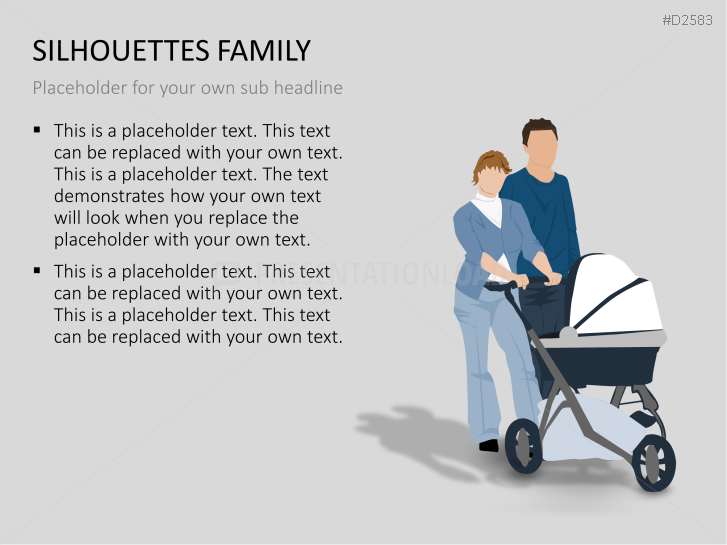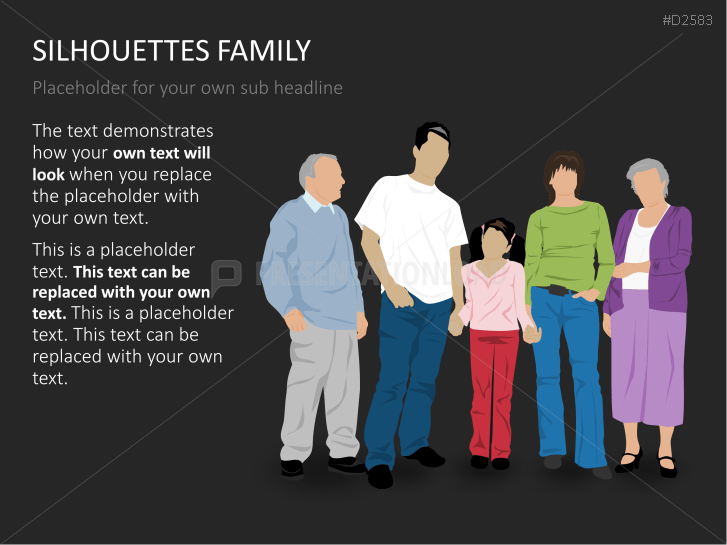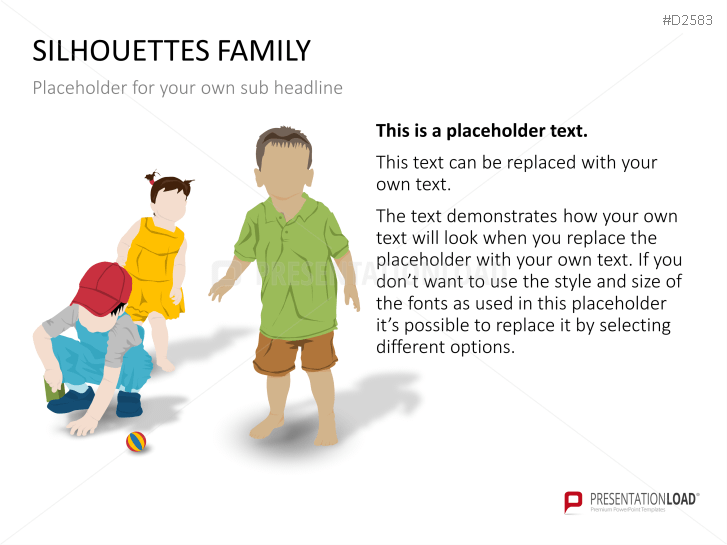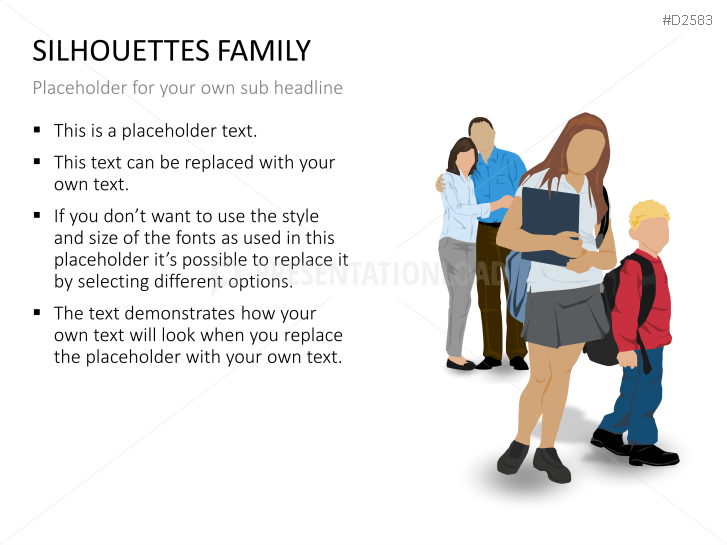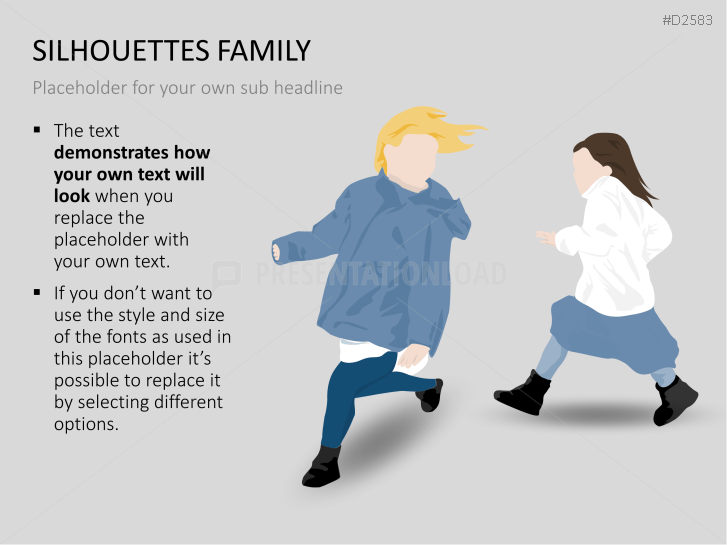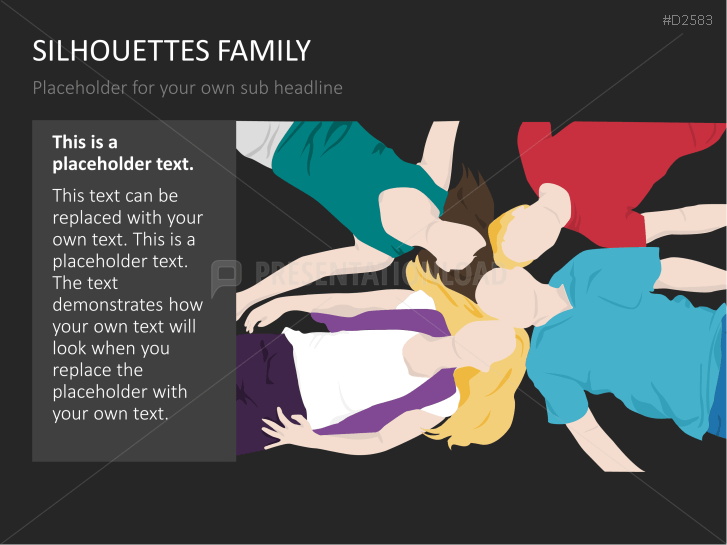 D1411 Silhouettes Teamwork (28 Slides)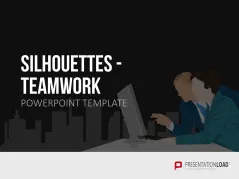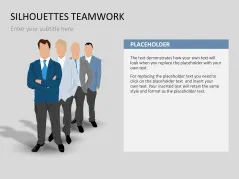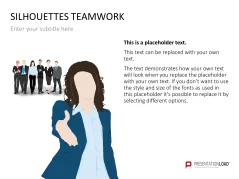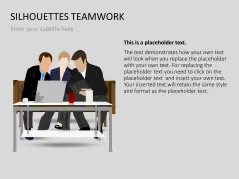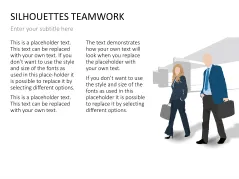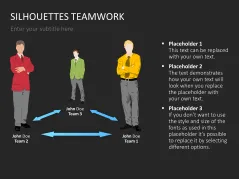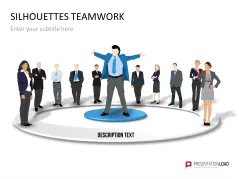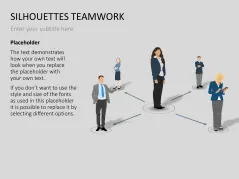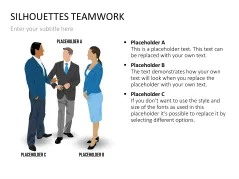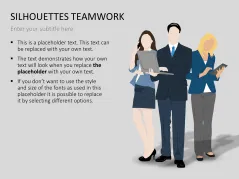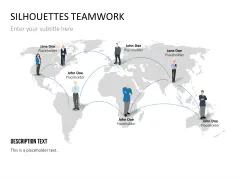 D2581 Silhouettes - Office (24 Slides)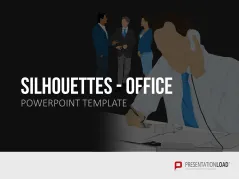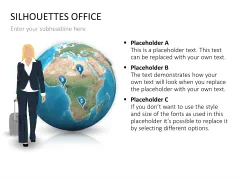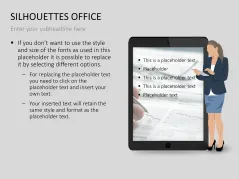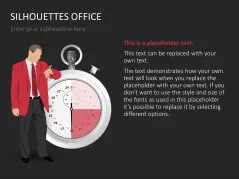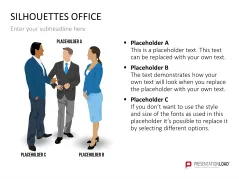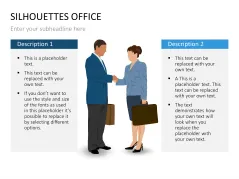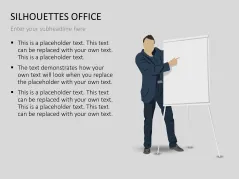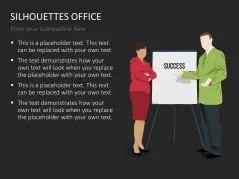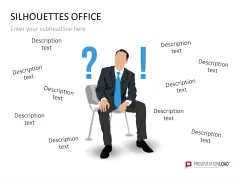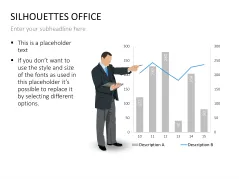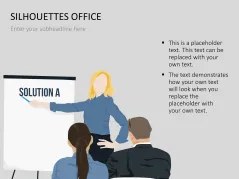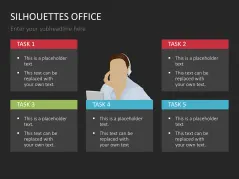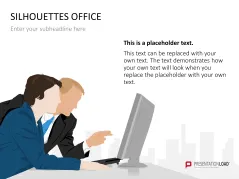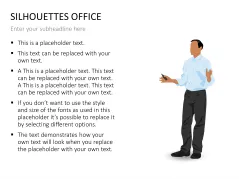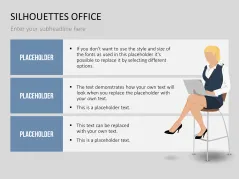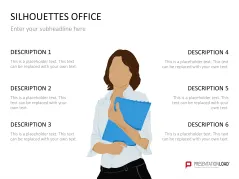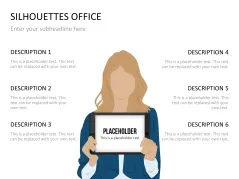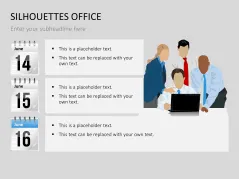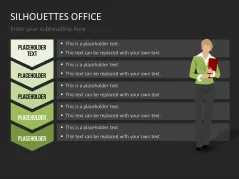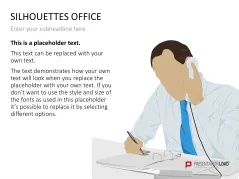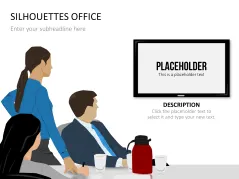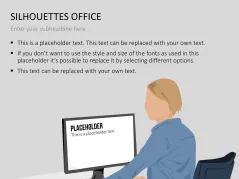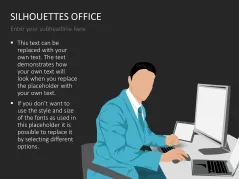 D0711 Silhouettes - Team Introduction (24 Slides)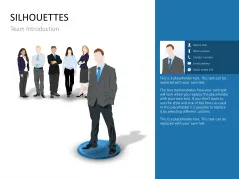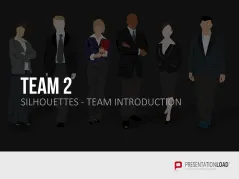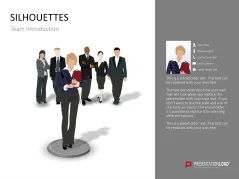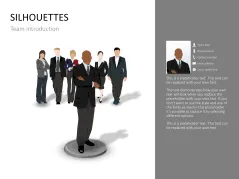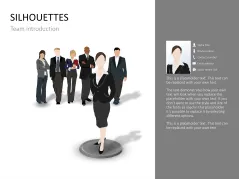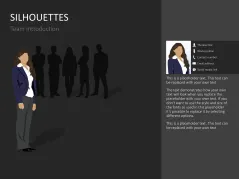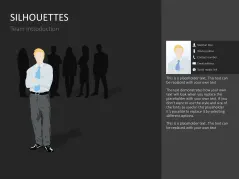 D0111 Org Charts - Silhouettes (20 Slides)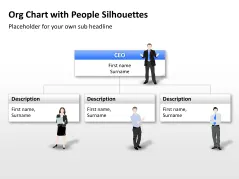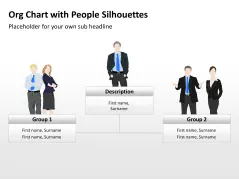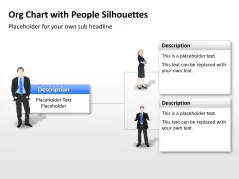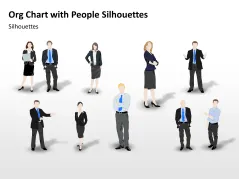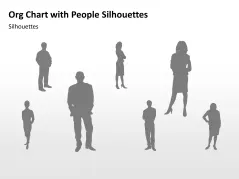 D2582 Silhouettes - Communication (24 Slides)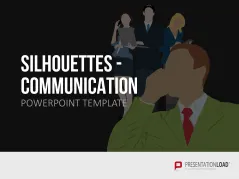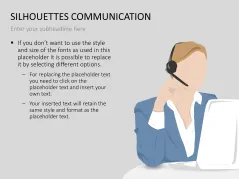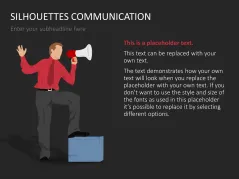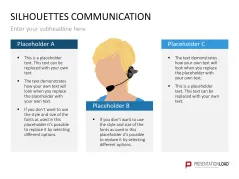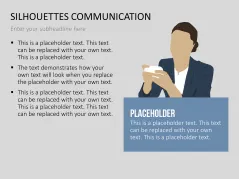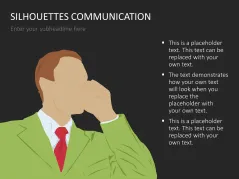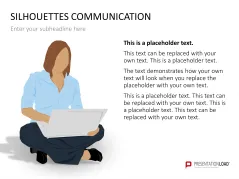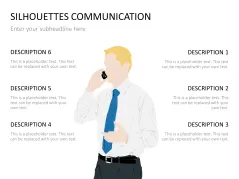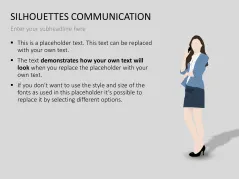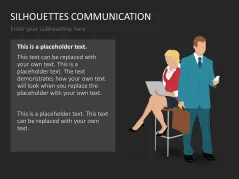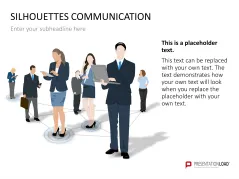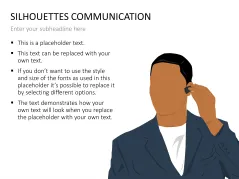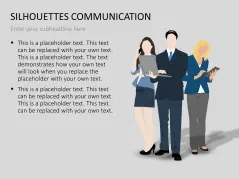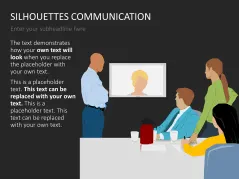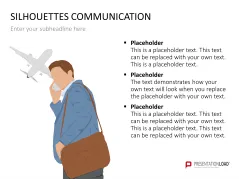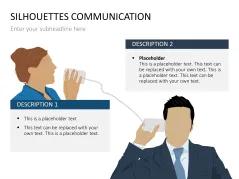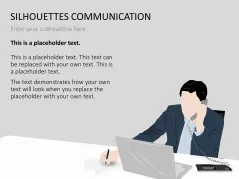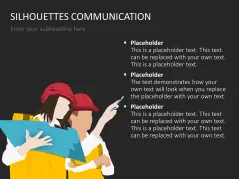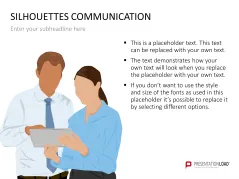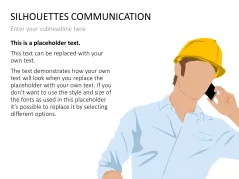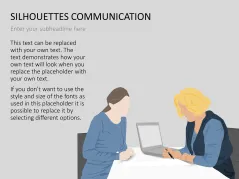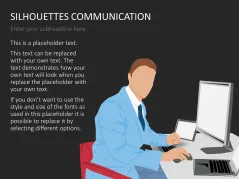 D1951 Silhouettes-Sports and Business (20 Slides)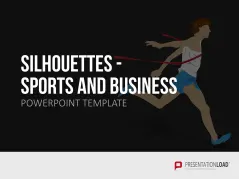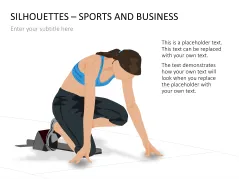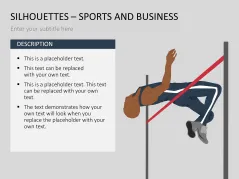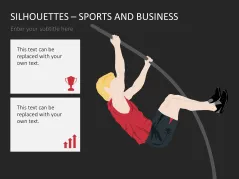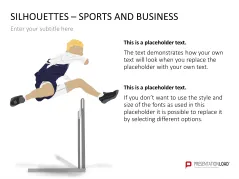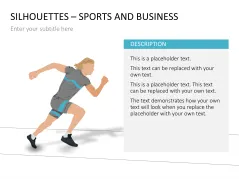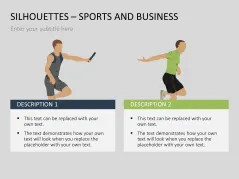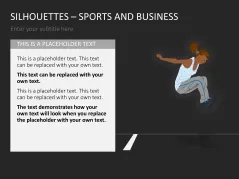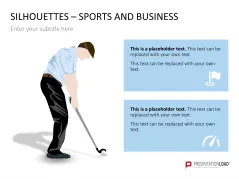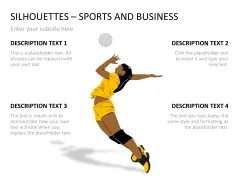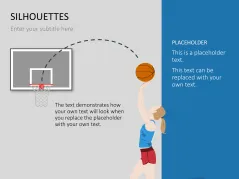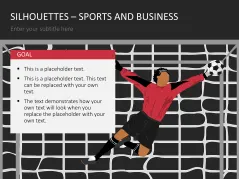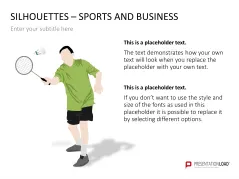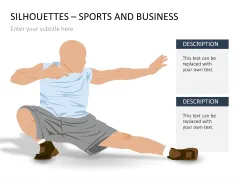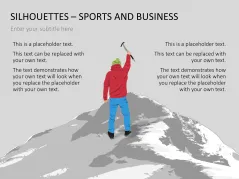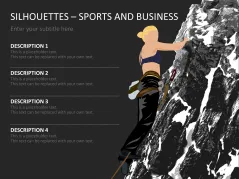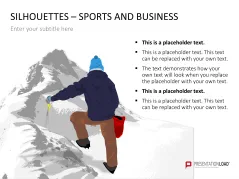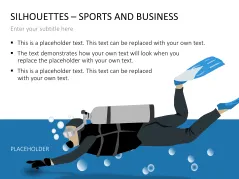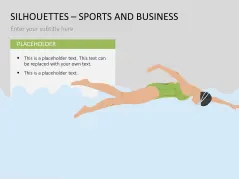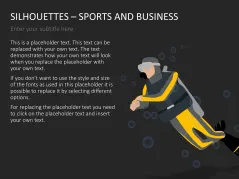 D2583 Silhouettes - Family (16 Slides)