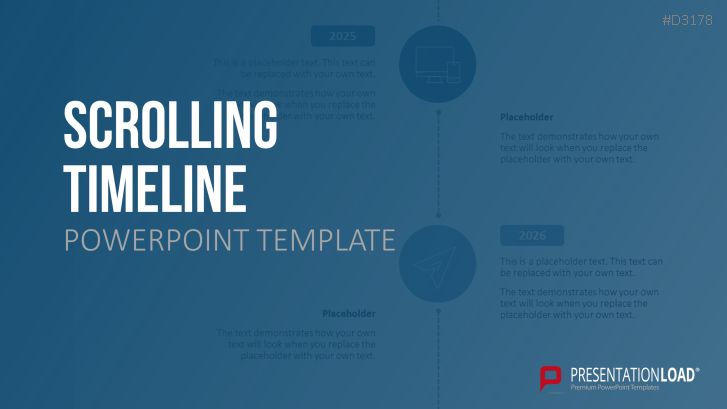 No ordinary timeline
Timelines are designed to provide a clear and concise overview of events. Whether it's a company history, events or even project and event schedules – a timeline allows your audience to focus on the most important content. But a timeline with an abundance of can quickly lose cohesion. Scrolling timelines offer a solution to this problem.
What is special about scrolling timelines?
Scrolling timelines are chronological graphics that spread across several presentation slides. Their unique feature is their transition effect between each slide. It provides a seamless, scrolling progression to visualize a shifting timeline. Long timelines can be presented to an audience in several stages and individual points can be highlighted. Your presentations will not only be more concise but scrolling timelines will also give them a professional aesthetic.
Choose the best scrolling timeline for you!
Our Scrolling Timeline template for PowerPoint offers you scrolling timelines in unique designs and styles. Choose between horizontal and vertical timelines to find the right one for your content. All you have to do is to fill the editable templates and let your content shine for your audience.
With the Scrolling Timeline Template for PowerPoint, you can
enjoy timelines with a scrolling effect
present your events in a clear and stylish design
choose between horizontal and vertical scrolling timelines
This PowerPoint template includes:
timelines in assorted designs

different alignments (horizontal or vertical scroll effects)
timelines with icons and images