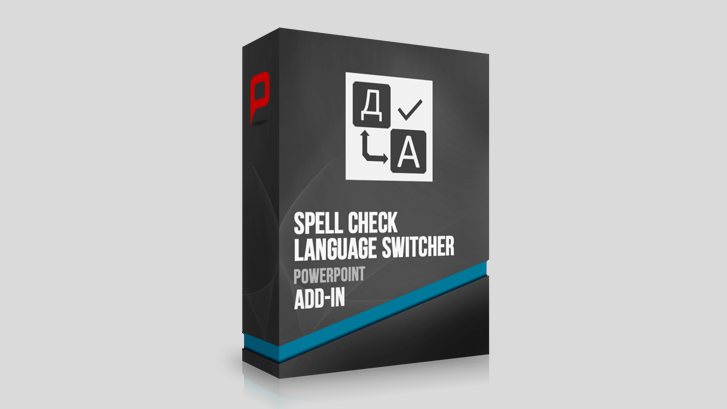 With the Spell Check Language Switcher add-in for PowerPoint , you can switch the spell check language for all slides, shapes and text boxes.
Spell Checker...
In Microsoft Office programs, entered text is automatically checked. Misspelled words are underlined in red and can be corrected by right-clicking them. This can also be done to view possible synonyms. Words underlined in green indicate grammar errors and those with blue show passages with words out of order.
…in Different Languages
With content written in different languages, spell checking can become complicated and time-consuming. Each time, the section must highlighted and the proofing language set. That may be acceptable for a couple of slides, but it can become inconvenient and time consuming for entire presentations.
Change the Language with a Single Click
Our add-in allows you to quickly change the spell check language, not only of all shapes and text boxes, but also grouped elements, tables and notes. Up to four different language icons can be displayed under the "Review" tab. The default icons are German, English (UK), English (US) and French but can be customized to other languages such as Chinese, Spanish, Greek, Russian, Turkish and more.
The Add-In Spell Check Language Switcher
allows you to quickly check spelling in different languages
offers up to four customizable language icons
can proof read text boxes, shapes, notes and tables
Compatibility
PowerPoint 2010 (32-bit and 64-bit)
PowerPoint 2013 (32-bit and 64-bit)
PowerPoint 2016 (32-bit and 64-bit)
After the purchase the license key will be sent to your email address within 48 hours.*
* This does not apply to weekends and german public holidays.