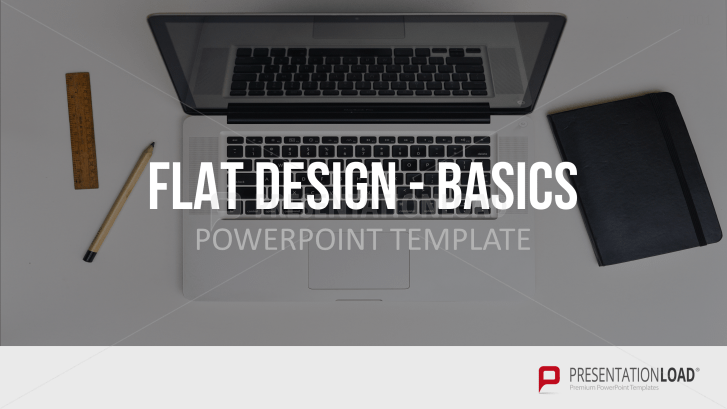 With the Flat Design Templates Basic Set for PowerPoint you create presentations with charts, graphs, tables, timelines and many other tools in a minimalist, flat design style.
Flat Design
This design style is characterized by the interaction of a minimalist form design in 2D and a bold color scheme. It generates realistic representations with elements such as shadows or textures that provide a three-dimensional appearance.
Less Is More
Whether with Google, Apple's iPhone or Microsoft's Windows 8 Operating System, the Flat Design is presented with all. The simplicity draws the users' attention to the essential functions.
This principle can be beneficial in presenting lectures at work or in educational settings. If the graphs are kept in a minimalist style, core content can be conveyed to third parties without unnecessary distraction.
Presentation Variety
The Basic Set also offers numerous options for your PowerPoint presentation. From the title slide with individual text as well as graphic slides with different tools to the final slide, the templates for the construction of a complete presentation are included in the set, which you can fill with the content of your choosing.
The Flat Design Basic Set Templates
present content in a modern flat design
highlight key points of your presentation
can convey complex topics through graphical simplicity
PowerPoint Templates Include
timelines
charts and diagrams such as pie chart, circle diagram, and bar chart
picture galleries
title slides
text slides
agendas
chapter dividers
slogans, motivational sayings
business icons
contact information
final slide