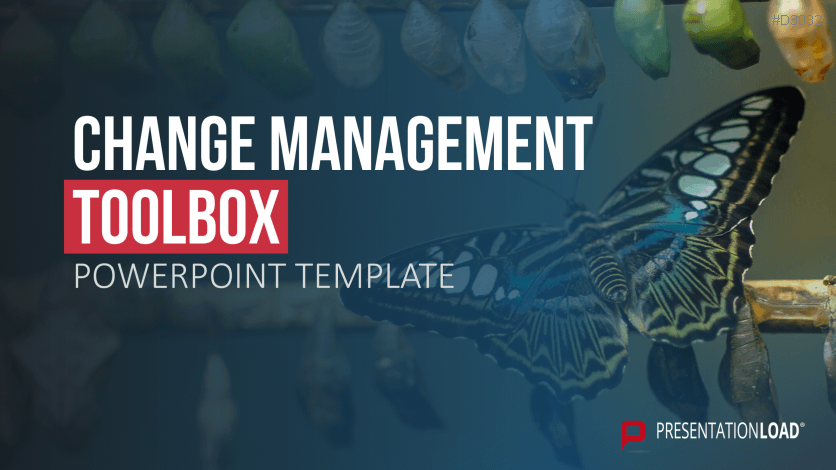 Our Comprehensive Change Management Toolbox  
Over 80 of the Most Successful Change Management Models: Present the processes of change on a company-wide or granular level in a vivid, visually appealing way.
Use Our Change Management Toolbox to Explain and Present the Best Change Management Models
Change is just part of life in business – you, too need to adapt to new demands to stay competitive or, better, to keep ahead of the competition. External drivers such as technological progress or global political developments play a major role. But internal drivers such as a change in corporate strategy or a cost-cutting program can also necessitate a comprehensive change process.
Getting employees meaningfully involved is absolutely key to the success of the change process. They need to be involved, informed and taken seriously, so that no major problems arise when integrating new processes into their day-to-day work. Managers, in line with the strategic overview, may specify the content and measures of the change process, but employees need to be empowered to make their own suggestions for implementation within the framework of these specifications, thus taking ownership of their involvement in the change process.
Use Our Change Management Toolbox to Simplify Change
Change processes in business are often associated with major challenges. However, complex change processes can be simplified using models. Each model in this set offers individual solutions to specific problems that may arise during the change process. Presented properly, these prevent employees from feeling overwhelmed and rejecting the change.
Given the sheer range of change management models, you're bound to find the solution to your change management challenges in our Change Management Tookbox PowerPoint template. One example might be phase models, which are used to show the typical reactions of employees in different phases of the change / change process, but can also be used to formulate interim goals, reflect on what has been achieved and plan further steps.
With the Change Management Toolbox for PowerPoint, You Can
apply a comprehensive selection of models to support your change project
convey complex change processes in a clear and illustrative way
include both company-related and personal changes in your presentation
This PowerPoint Template Contains the Following Models:
Classic Change Curve
ACMP Standard for Change Management
ADDIE Model
Beckhard's Change Model
Bridges' Transition Model
Burke-Litwin Change Model
Business Process Redesign (BPR)
Change Curve
Clayton's Change Curve
Change Management Adoption Curve
Drucker's Paradigm of Change Model
Change Management Iceberg Model
Johari Window
Katgar Model for Change
Kirkpatrick Model
Kotter's 8-Step Change Model
Leavitt's Diamond
Lewin's Force Field Analysis
Lewin's 3-Stage Model
Management of Risk (M_o_R)
Managing Successful Programmes (MSP)
Martec's Law of Disruption
7S Framework (McKinsey)
Onion Model of Resistance
Iceberg Model of Organizational Culture
Organization Development Intervention Cycle
Osgood-Schramm Model of Communication
Deming Cycle/PDCA Cycle
PRINCE2 Project Management
Pritchett's Change Management Model
Project Management Body of Knowledge (PMBoK)
Purpose, People and Process
Revolutionary Change Cycle
Rogers' Tech Adoption Curve
John Shook's Change Management Model
Simon Sinek's Golden Circle
Six Sigma DMAIC Improvement Cycle
Transtheoretical Model
Szpekman's Communication Framework
Theory of Change
Training Needs Analysis Model
Xerox Benchmarking Model
Change Delta Framework
Beckhard & Harris' Change Management Process
Bullock & Batten's Planned Change Model
Carnall's Change Management Model
CHAMPS2 Business Change
Change Leader's Roadmap Methodology
Change Management Body of Knowledge
Conner Partners' Change Execution Methodology (CEM)
Cooperrider's Appreciative Inquiry
Cummings/Worley's Change Management Model
Delta V
Edwin Cornelius Model
EFQM Model
Galpin's Model
GE Change Acceleration Process
Judson's 5-Phase Model
LaMarsh Global Managed Change
Lipitt, Watson and Westley Model
Nadler/Tushman Congruence Model
People-Centered Implementation
PMI Change Life Cycle Framework
Senge's Five Disciplines
Viral Change Model
Teece's Dynamic Capabilities
Weisbord's Six Box Model
William Bridges' Model
Change Communication Huddle
Project Management Change Process
Nudge Theory
Stephen Covey's Model
Virginia Satir Change Management Model
Chip & Dan Heath's Switch Framework
Kübler-Ross Model
Stages of Change (MacDonald & Boyd Associates)
Personal Change Model
Otto Scharmer's Theory U
Spiral Dynamics Change State Indicator
Prochaska & DiClemente Model
4 Stages of Learning