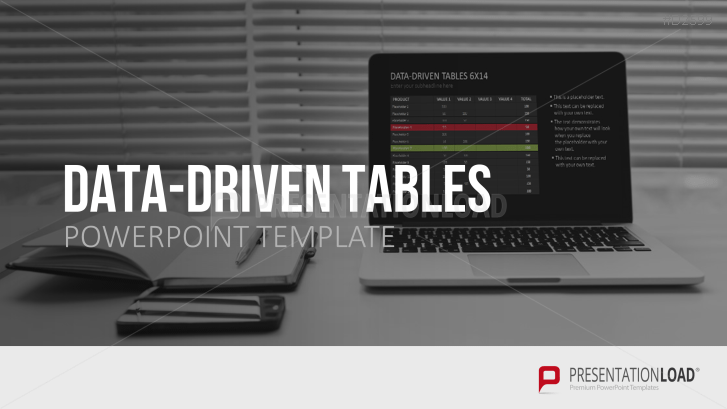 The Data-Driven Tables templates for PowerPoint can be used to present sum and value calculations on neatly designed tables with a various row and column compositions.

Conveying Figures

In business, tables can be used to represent calculations according to formulas or to present adjusted data and figures such as sale totals. In order to convey the relevant information to third parties, tables should be not only clear but also visually appealing.

Excel Tables in an Attractive Design

Anyone who has tried to make the embedded PowerPoint Excel spreadsheets has found out quickly that not all PowerPoint design tools are available, for example, gradient fills and shadows on the tables. However, it is not only about the implementation of invoices, but also the presentation of them along with their results. Therefore, it is essential to have a professional table design to illustrate all calculations.

Comprehensive Table Set

This set provides a wide range of tables that have been created graphically with numerous PowerPoint design elements. They consist of a variety of columns and rows (4x16, 10x10, 12x6, etc.) where you enter your values and perform calculations. Slides with two combined tables help to compare representations whereas additional information can be entered into the provided placeholders.

With the Data-Driven Tables Templates, You Can

create quick reports with pre-calculated tables
illustrate values in tables in an appealing design
formulate tables for a variety of applications in companies

This PowerPoint Template Includes:

tables with different columns and rows
tables with shadow and gradient filling
combined slides with graphics and tables
combined slides with placeholders to insert customized content and tables
combined slides with two tables