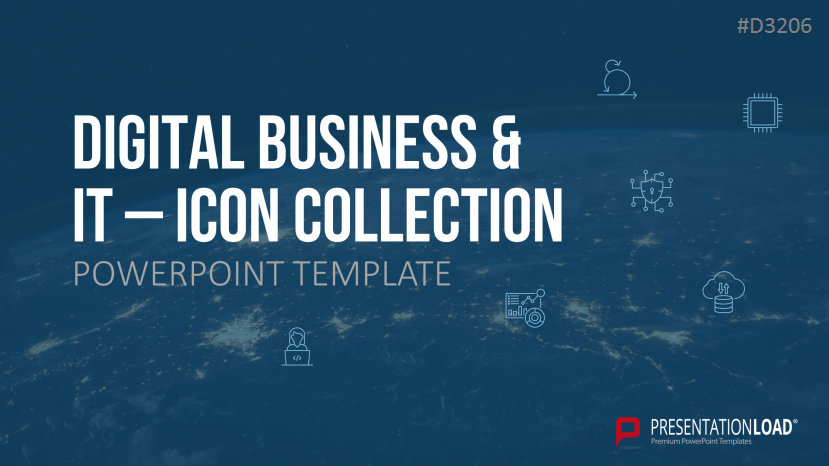 Presenting digital business and IT topics
Are you planning to present the latest digital topics in digital business and IT? Unfortunately, it's not always easy to find the right visual material. These topics are often complicated and can only be conveyed with images. Our icon collection offers the perfect solution. Icons are an excellent way to present complex topics with clarity and simplicity. The right icons will visually support your content and make your audience understand your topics better.
Large collection of icons with icon templates
Our icon collection provides you with 240 stylishly designed icons relating to digital business and IT. For each topic, you'll have 40 icons to help you get to the heart of your content. You'll also receive numerous icon templates that provide examples of how to incorporate the icons into your presentation. Get inspired and use our highly detailed icons to enhance your content.
Why line icons?
Line icons are extremely popular in today's design world, and for good reason. Unlike other types of icons, line icons have a clean, minimalist aesthetic that complements modern designs and presentations. Line icons are versatile and can be used for a variety of topics and industries. What's more, line icons can help improve the readability and clarity of your presentations. By using icons, you can convey complex information quickly and easily without distracting your audience with too many details. Line icons are a great choice for anyone who wants to create a modern and engaging presentation. Adding line icons to your slides ensures your message will be delivered clearly, and your presentations will be stylish and professional.
With the Digital Business & IT – Icon Collection for PowerPoint:
You'll find the right icons for your presentation.
You can visualize complicated IT topics, such as software development and cybersecurity.
You'll have editable icon templates to fill with your own content.
This PowerPoint template includes:
Software development icons
Software development icons templates
Cybersecurity icons
Infographics for cybersecurity
Data management icons
Infographics for data management
SEO and online marketing icons
Infographics for SEO and online marketing
Network, process and service icons
Infographics for network, process and service
Hardware and devices icons
Infographics for hardware and devices