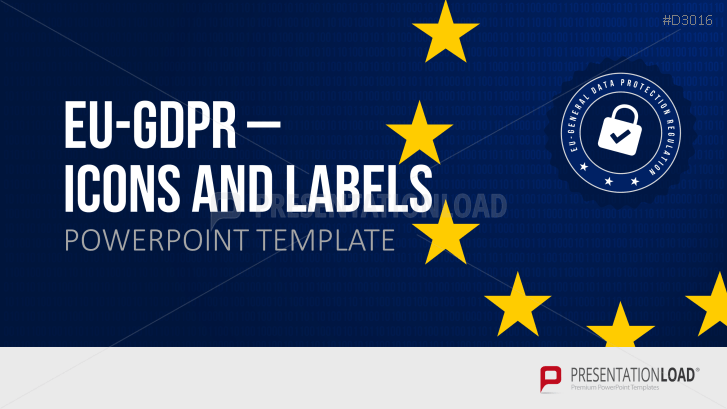 Create your presentation on the new General Data Protection Regulation (GDPR) using corresponding icons and seals.
EU General Data Protection Regulation
The General Data Protection Regulation (GDPR) is a uniform data protection regulation within the European Union (EU). Companies are expected to implement it by 25 May 2018. This legislation addresses the processing of personal data, specifically of EU citizens. It applies to all member states within the EU and any business outside of the EU that stores, processes, or shares EU citizens' personal data.
Certification Seal
With the introduction of the new data protection regulations of the GDPR, both employees and primarily Internet users must be informed about the legislation and their rights. This graphic set supports you in designing your PowerPoint presentation to provide your audience with the information they need.
You can choose between icons with locks, check marks, or the twelve-star circle of the European flag. In addition, GDPR seals are available in various designs to indicate that your company is legally compliant with GDPR.
With Our EU GDPR Set, You Can
use a collection of GDPR icons and seals

graphically illustrate your presentation on the EU GDPR

visually inform Internet users about their rights
This PowerPoint Set Includes:
GDPR icons and seals in various designs

slide background images of European countries

motifs with locks and the European flag