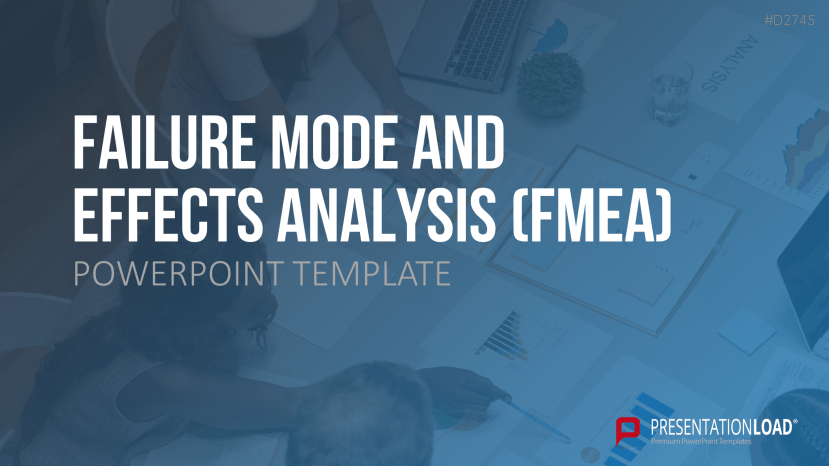 The Failure Mode and Effects Analysis (FMEA) PowerPoint template set serves as a tool to efficiently present the analysis of component failures and identify the effects on system operations.
Theory of Failure Mode Effects Analysis (FMEA)
FMEA is a technique designed to systematically analyze and review components, assemblies and subsystems to find possible failure modes and the cause and effects of malfunctions. Developed in the 1950s to study problems arising in military systems, FMEA is foremost used as a system reliability study and for the means of quality control and failure prevention.
Benefits of Implementing FMEA
The basic concept is to identify and evaluate the causes of potential errors in the concept phase rather than using error detection and correction. Preventive, rather than reactive, FMEA seeks to improve products and processes during the inspection phase. Thus, error-tracking costs that may otherwise occur in the production phase or even after delivery can be avoided. Errors, more severe the later they are found, can have varying degrees of costs concerning financial and existential consequences as well as damaging a company's reputation. Various graphs display these costs as well as explanations and benefits of FMEA are attractively represented for easy comprehension. The FMEA template set also outlines the development stage, work preparation, production planning and sourcing phases. Variants of FMEA are incorporated such as the Kepner-Tregoe Method (KT-Method), and also different analysis tables and form sheets.
FMEA Templates provide you with:
a guide to recognizing, evaluating and avoiding risks

an explanation of implementing, launching and training FMEA steps

a visualization of avoidance and detection measures for possible failures

These PowerPoint Templates Include:
Basic Concept

Definition

Benefits and Goals of FMEA

FMEA Approach

Types of FMEA

Cause and Effect Diagram

FMEA Steps

Avoidance and Detection Measures

Launch and Training FMEA

Phase Model Damuk

KT-Method

HAZOP Table

HACCP Table

FMEA Tables

Variants of FMEA Form Sheets