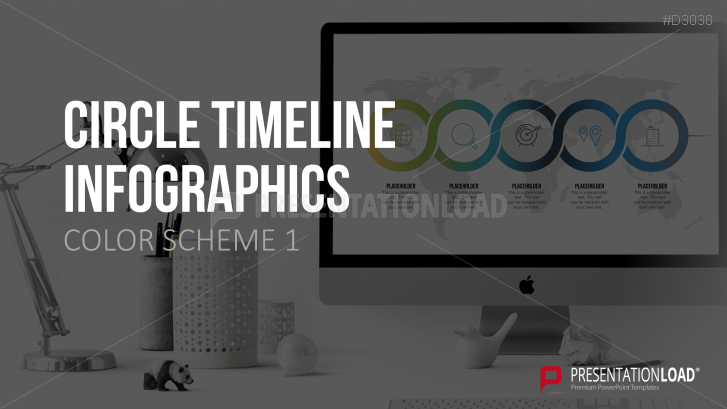 Use our Circle Timeline Infographics for PowerPoint to present chronological developments and processes in an attractive, innovative design.
An Attractive Alternative to Traditional Timelines
Circle timeline infographics are ideal for presenting chronological events, developments and connections in a visually engaging way. They are the perfect alternative to conventional timelines or bullet points. These graphics can be easily combined with icons, small pictures or key figures to optimally support your content.
Easy to Use and Highly Versatile

This set contains a variety of different templates with circle timeline infographics that can be easily customized to your needs. Choose a template with numbers, symbols or descriptive texts and fill the placeholders with your data. Whether a chronological history with milestones or process flow consisting of several stages – present professionally in no time at all.
With the Circle Timeline Infographics set for PowerPoint, You Can
create stylish timelines with an attractive design
quickly fill timelines with your data and text
give your slides a unique and distinctive design
This PowerPoint Template Includes:
a variety of circle timeline infographics
diagrams in different color combinations
timelines combined with different elements:
text fields

icons
placeholders for numbers

datelines