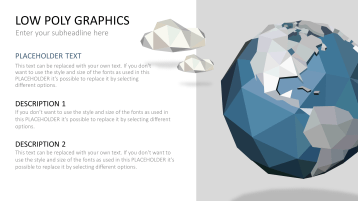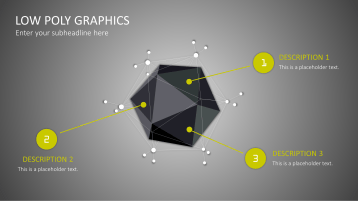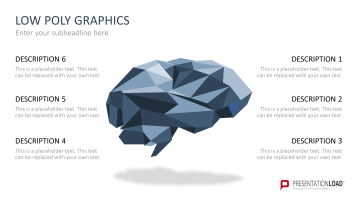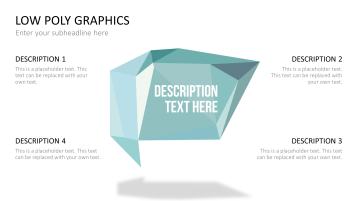 Use polygonal elements for a fresh outlook in PowerPoint. Change color and size of Low Poly Graphics and introduce design expertise.
Stylish Polygonal Models for PowerPoint
Low poly graphics are 3D computer graphics which are created by polygonal modeling. By using the technique of polygonal modeling, three vertices connected as one triangle become one simple polygon. When two or more polygons are combined with each other, they are called complex polygons. Three-sided and four-sided polygons, which are usually called quads, are the most commonly used polygons in order to create polygonal models.
Low Poly Graphics consist of a low number of polygons. With the method of polygon 3D objects for computer animations are easily created. Low Poly Graphics are also a popular design layout to create stylish graphics, portraits and abstract illustrations.
Color Your Life with Abstract Designs
We have built and combined a collection of items which are created in the Low Poly design. Find illustrations such as the world map, globes, clouds, speech bubbles, polygonal backgrounds, topic-related images (nature, city life, etc.), planets with orbit and many more included in the Low Poly Graphic set for PowerPoint. Pre-defined slides with placeholders serve to add individual content with a few clicks and are ready for immediate use.
Use Low Poly Graphics to
lift your design standards to a professional level

break the ice with modern designs

show design expertise and progress
PowerPoint Templates Include:
topic-related designs such as planets, globes, the world map, nature items (tree, iceberg, star, mountains, clouds, stones, etc.), rockets and many more

professional layouts and graphics