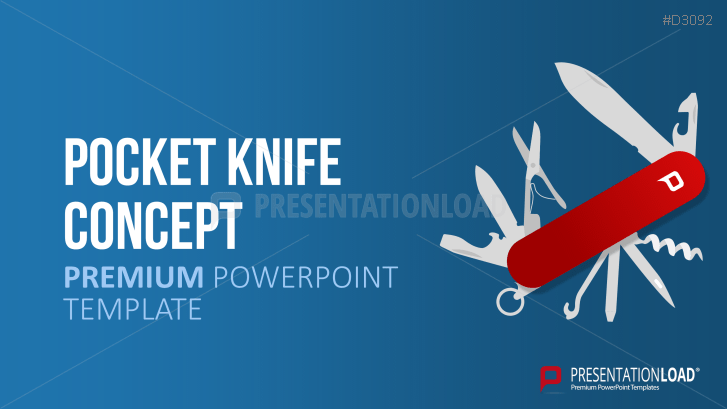 The Army Knife: Flat Design Graphics and Infographics to Visualize Business Concepts
The Army Knife Concept
The Army Knife with its red grip is world famous. The product design is fascinating: a small object that fits into a pocket and, in addition to its main function as a knife, features a multitude of useful tools, including a corkscrew and file.
This world-famous knife can be used as a metaphor in a variety of business contexts. For example, you can use it to represent a primary idea and the options that arise from it. Or, you can show different tasks and functions within an organization using the various Army knife tools.
Extensive Collection of Pocket Knife Graphics
Visualize a wide variety of concepts and ideas with these flat design graphics. Ready-made text placeholders allow you to quickly add your content and data to the graphics. Entire infographics can be created in just a few minutes. Create your own pocket-knife graphics using the toolbox, consisting of various tool designs, housings and blades.
With the Pocket-Knife Concept Template, You Can
enjoy ready-made graphics and infographics
use the Army knife as a metaphor in your presentation
create your own pocket-knife graphics
This PowerPoint Template Includes:
various Army knife graphics in flat design
infographics with text placeholders
a toolbox with customizable individual elements of Army knife