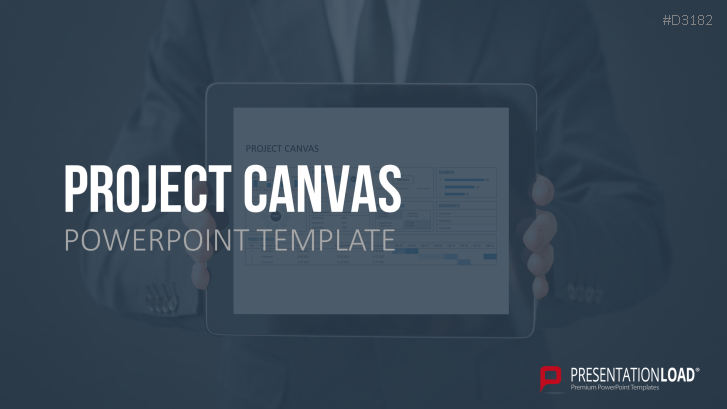 When do I need a Project Canvas?
The Project Canvas provides a quick overview of the most important aspects of a project. It presents all project elements on one slide, allowing key issues and arguments to be easily identified and discussed. The Project Canvas is versatile. It can be used to quickly convince stakeholders of an idea, or in a team meeting to provide an at-a-glance, visual orientation of a project.
What belongs on a Project Canvas?
Because every project is unique, there's no one answer to this question. A Project Canvas has no rigid, predefined elements. Finance, stakeholders, goals, resources, team, scope, risks, requirements, and timeline play an important role in almost every project and represent the elements of most canvases.


The level of detail is important for all potential elements. A Project Canvas should in no way attempt to map an entire business case.


When configuring your canvas, always focus on the key aspects of an element that currently need to be addressed. The Project Canvas evolves with the project and is continuously adapted. As a result, it accompanies the actual project and is useful at every stage."
Create a Project Canvas
Create your own Project Canvas with our Project Canvas PowerPoint template. Choose from numerous variations of many different project elements. Decide for yourself whether a simple list is enough for an element, or whether you need a more detailed table, diagram or matrix. Once you've made your choice, simply fill each element with your content. Our fully editable slides offer ample room for creativity and individuality.
With the Project Canvas template for PowerPoint, you can…
present your entire project on just one slide
get Project Canvas templates in a modern and professional design
create your own individual canvas with just a few clicks - directly in PowerPoint

This PowerPoint template includes:
Several variants of the Project Canvas elements

Different design variants of the Project Canvas
Project finances
Project stakeholders
Project goals
Project resources
Project team
Project scope
Project environment/risk
Project requirements
Project progress (timeline)