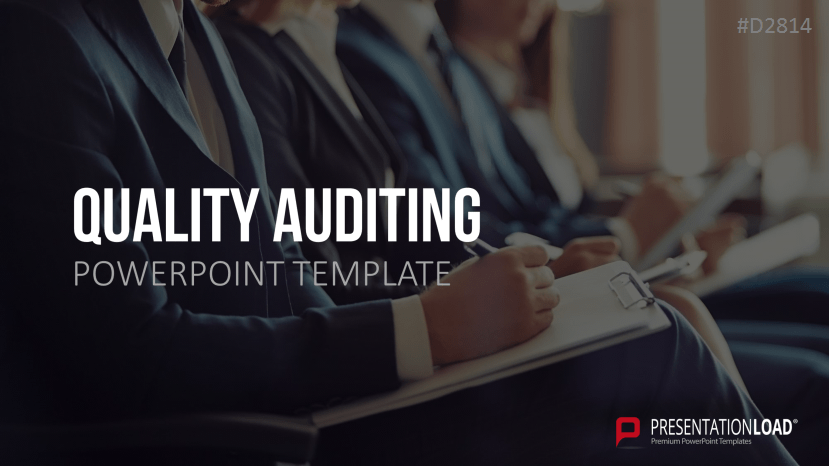 Utilize diagrams of the Deming Cycle (PDCA), tasks, process steps and other features of quality auditing for PowerPoint.
A Comparison with Defined Standards
An audit systematically assesses whether a business process meets certain pre-defined standards. When this process concerns quality management (QM), it is known as a quality audit. Its purpose is to show the areas for possible and necessary improvements.
A Systematic Concept of Quality Improvement
Quality assurance aims to maintain a certain product or service quality. Quality management goes a step further by ensuring continuous improvement in quality and efficiency. Quality auditing is a proven method to achieve this objective.
All information on how to perform quality audits can be found in our PowerPoint template. Every step of the audit process is explained, and detailed charts and graphs display how to implement them. Our comprehensive set makes briefing your audit team or introducing quality audits to your company a simple task.
With Our Presentation for Quality Auditing, You Can
structure quality management actions

brief your staff about quality auditing

visualize the results of quality improvement

This PowerPoint Template Includes:
a quality audit definition

quality assurance vs. quality management

parts and principles of quality management

graphs of the Deming Cycle (PDCA)

benefits of a quality management system

an overview of total quality management

auditing basics (criteria, tasks, goals, etc.)

internal vs. external audits (first, second, and third-party audits)

the implementation and certification of an audit

detailed slides with steps of the audit process

qualifications and requirements of an auditor

checklists for a successful audit