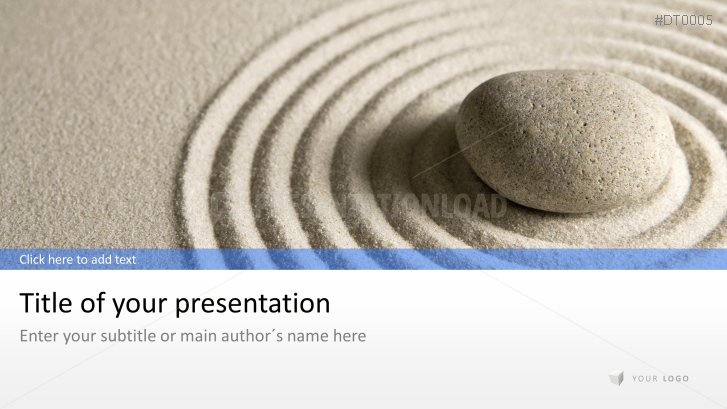 PowerPoint Template Stones for Health and Spa Sector
Choose a pre-designed presentation set for your next business presentation. This presentation set consists of 48 pre-designed slides which can be used for various purposes and businesses. All elements can be edited and adjusted to your own professional requirements.
The presentation layout includes various images of stones on sandy grounds to produce associations with Japanese Zen gardens. Due to these images, the presentation set "Stones" is perfectly suitable for the health and spa sector. Different slides will be provided to add images and content and placeholders can be filled with your own ideas and information. Image galleries with up to six images can be created and a presentation slide to introduce staff, colleagues and team members is included. With the help of charts, diagrams and table you will be able to structure and display important information. Close your presentation with a separate slide to present contact information and a sophisticated and professional performance will be guaranteed.
Compatibility note: This product is optimized for PowerPoint versions 2007/2010 and 2013. In older versions of PowerPoint and in Mac Versions the usage of this product is limited. To open the PPT file in PowerPoint 2003 the "Microsoft Office Compatibility Pack" is required. It can be downloaded for free from the Microsoft website.