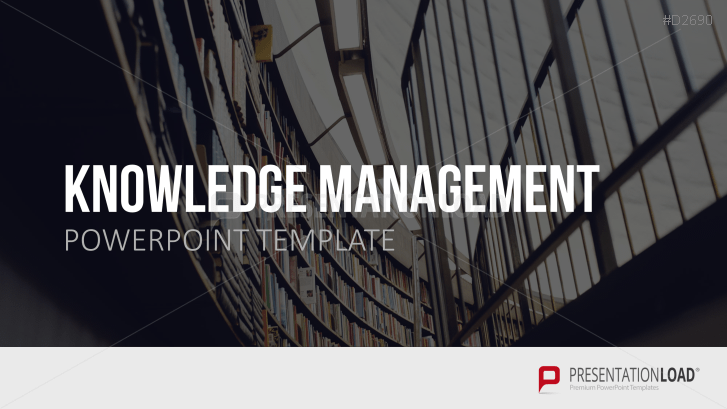 Blended Learning, mentoring programs, job rotation and learning communities are just a few methods for promoting the skills of your employees. Use templates, examples and guidelines for these and many other Knowledge Management models in a PowerPoint presentation.
Competitive Advantage Know-How
Knowledge management focuses on the various skill aspects of your employees. The question is how personal and professional capabilities can best be used to improve the quality in your company. In this context, knowledge is not understood as a collection of information ("know-what"), but rather how these messages link mentally to a larger context ("know-why"). Therefore, this type of knowledge is not a commodity easily traded, but is individual and must be managed carefully.
Collecting, Storing and Passing on Knowledge
Knowledge management distinguishes between explicit and implicit knowledge. Explicit is easily reproducible in forms like sentences, formulas or images. Examples include instructions for new software or the representation of an organizational structure. Implicit, however, is personally characterized by individual experience and skills acquired over a period. One example is the experience of a longtime employee. His detailed knowledge of all business processes not only ensures he can work more quickly and flexibly, but also enables him to intuitively and creatively solve problems.
The task of knowledge management is to keep as much knowledge within the company, because with implicit knowledge, it is very difficult to pass on and is irretrievable when an employee leaves. Therefore, the knowledge of your employees must be collected, stored and made available to colleagues in case it needs to be accessed again. To help implement this, we offer this slide set as an extensive overview. As an example of further training, the "Blended Learning" concept presents the combination of classroom education with online e-learning resources. Creative techniques such as the "635 Method" that promote the mutual development of ideas are part of this set as well as a list of different software that facilitate information exchange.
Our Knowledge Management Set Helps You to
keep important know-how within your company

make information quickly and efficiently accessible for where it is necessary

train your employees through various learning methods

This PowerPoint Template Includes:
facts about the importance of knowledge in society and the economy

definitions of knowledge

potential knowledge management objectives

different types of knowledge

guidelines for implementing knowledge management in your company

SECI Model of knowledge creation

templates for identifying existing knowledge

skill acquisition model based on that of Dreyfus or Benner

presenting knowledge in your company by using an intellectual capital report

knowledge acquisition techniques (blended learning, mentoring programs, job rotation, etc.)

alternative learning methods (learning communities)

knowledge transfer concepts (knowledge database, push vs. pull principle, etc.)

a list of various incentive systems for sharing knowledge

several creative techniques (635 Method, Osborn Checklist, etc.)

software overview for transferring information

quality circles

ways of measuring skills (e.g. skills network)