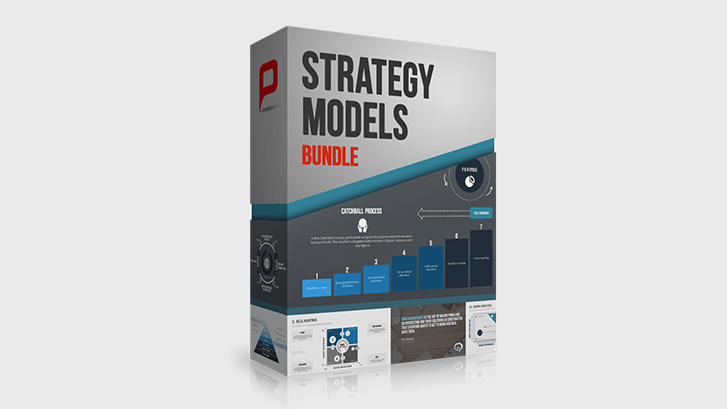 Strategy & Management Models
Our template bundle includes a total of 150 strategy and management models for PowerPoint presentations covering analysis and planning across all areas of business.

Create Your Strategy & Management Models PPT Presentation Quickly and Easily
Whether you're a manager or a consultant, you need to create and clarify your business plans and strategies, and that's where strategy and management models come to the fore. Most established management methods and analysis tools can be presented using charts and graphics, allowing their application and results to be presented quickly and easily. The challenge in presentation design lies in creating good graphics. If you have to create the graphics yourself, it's going to take a lot of time and a certain talent in design!
So we've done the hard work for you!  This strategy & management models PPT template bundle contains three sets of templates, each containing fifty top strategy and management models. Our professionally designed slides are easy to adapt to your company's data, requirements and ideas, and the vivid graphics will make your presentation hit home powerfully (without you having to design them yourself!).
With this Bundle, You Can
obtain 150 ready-to-use diagrams

structure and present your strategies and management methods

incorporate professional graphics to display important business models
This Bundle Includes:
50 Strategy & Management Models Part 1
1. Strategic Dialogue
2. Blue Ocean Method
3. BCG Matrix
4. Porter's Five Forces
5. Value Disciplines
6. Value-Based Management
7. Value Chain Model
8. 4 P's of Marketing (Marketing Mix)
9. Branding Pentagram
10. Client Pyramid
11. Growth Model
12. Business Process Redesign (BPR)
13. MABA Analysis
14. Purchasing Model
15. Six Sigma
16. EFQM Model
17. Value Stream Mapping
18. Eight Phases of Change
19. Six Thinking Hats
20. PDCA: Problem-Solving
21. Cultural Dimensions
22. Big Hairy Audacious Goal (BHAG)
23. Business Scope
24. Roadmapping
25. Activity-Based Costing (ABC)
26. Customer Journey Mapping (CJM)
27. Network Analysis
28. 5C Principles
29. PESTEL Analysis
30. Hierarchy of Needs
31. 3C Strategic Triangle
32. Strategy Development Model
33. House of Purchasing and Supply
34. Strategic Business Planning Methodology
35. Baldridge Excellence Framework
36. APQC Process Classification Framework
37. Toyota Production System/Lean Management
38. Six Steps of Kaizen
39. Cause and Effect Diagram
40. Harvard Model of Strategic Human Resource Management (HRM)
41. Theories E and O of Change
42. 5 Learning Disciplines
43. RATER Model
44. Nine-Field Matrix
45. Opportunity/Vulnerability Matrix
46. Market-Driven Organization
47. Profit from the Core
48. Price Elasticity of Demand
49. VRIN Analysis
50. Aggressive and Proactive Strategies
50 Strategy & Management Models Part 2
1. DuPont Analysis
2. Economic Value Added
3. Offshorin
4. Bass Diffusion Model
5. Disruptive Innovation
6. Hype Cycle
7. Innovation Cycle
8. Schein's Three Levels of Culture
9. Trompenaar's Culture Dimensions
10. Organizational Configuration
11. Stage-Gate Model
12. Architecture Development Method
13. Compensation Model
14. Seven Habits of Highly Effective People
15. Focus-Energy Matrix
16. Risk-Reward Analysis
17. SMART Targets
18. Belbin's Team Roles
19. Seven Levels of Sustainability
20. ADL Matrix
21. Cradle to Cradle Concept
22. Generic Strategies
23. Bottom of the Pyramid (BoP)
24. BoP Framework
25. CAGE Distance Framework
26. Competing Values
27. MDA Framework
28. Model of Entrepreneurshi
29. Aacker's Brand Equity
30. Core Quadrants
31. Competing Values Framework (CVF)
32. Balancing Transparency
33. DMIS Model
34. 3R Model
35. Total Perceived Service Quality
36. Elaboration Likelihood Model (ELM)
37. Service-Profit Chain
38. AMO model
39. Cialdini's Six Principles of Influence
40. Two-Factor Theory
41. Gainsharing
42. Business Process Management (BPM)
43. Identity and Image by Birkigt and Stadler
44. Situational Leadership by Hersey and Blanchard
45. Kotter's 8-Step Change
46. Situational Crisis Communication Theory (SCCT)
47. Cynefin Framework
48. Blue Leadership
49. Boonstra's Eight Routes for Culture Change
50. Interpersonal Circumplex
50 Strategy & Management Models Part 3
1. Ansoff Matrix
2. Business Model Canvas
3. Core Competence Model
4. Internationalization Strategy Framework
5. Scenario Technique
6. Strategy Map
7. SWOT Analysis
8. 7S Framework
9. Balanced Scorecard
10. Benchmarking
11. Overheard Value Analysis
12. Capital Asset Pricing Model
13. Net Present Value
14. Financial Ratio Analysis
15. Investment Stages
16. Real Options Theory
17. Crowdsourcing
18. stakeholder Management
19. Just-In-Time/Lean Thinking
20. Value Stream Analysis
21. Strategic Alignment Model
22. Socially Engineered Change
23. Flow Theory
24. Adaption-Innovation Inventory
25. ADDIE Model
26. Serious Play
27. Open Innovation
28. Crafting Strategy
29. Myers-Briggs Type Indicator
30. Evolutionary Growth of Organizations
31. STAR Method
32. Managerial Grid
33. Leary's Rose
34. Means-End Approach
35. Learning Style Inventory
36. Scrum
37. Delphi Method
38. Kano Model
39. Theory X and Theory Y
40. SECI Model
41. Buygrid Framework
42. Six Boxes
43. Star Model
44. Business Ecosystem
45. Stage-Gate Innovation Process
46. HR Competency Model
47. Bridges' Transition Model
48. Ulrich's Four HR Roles
49.People Capability Maturity Model
50. Senge's Five Disciplines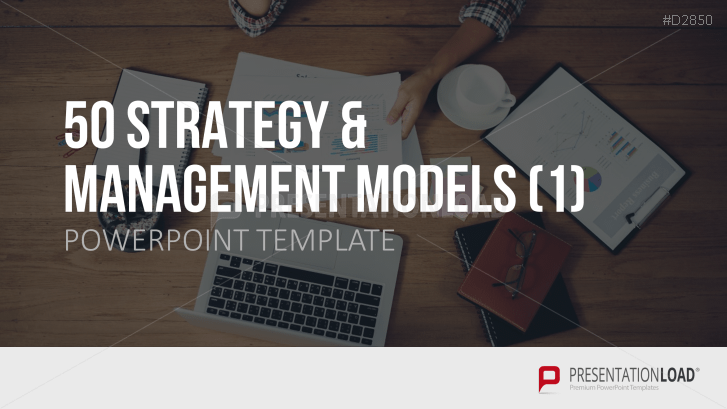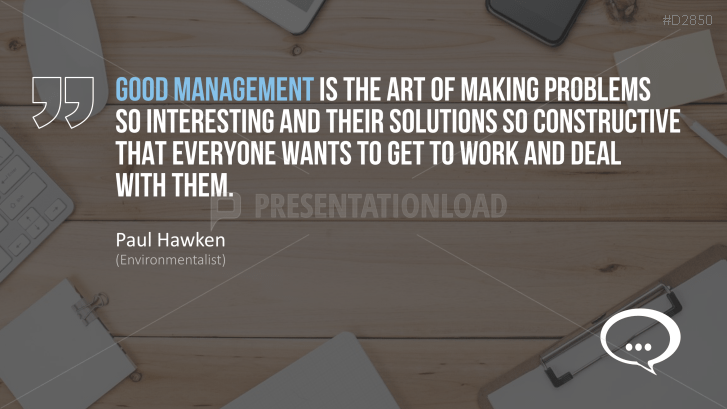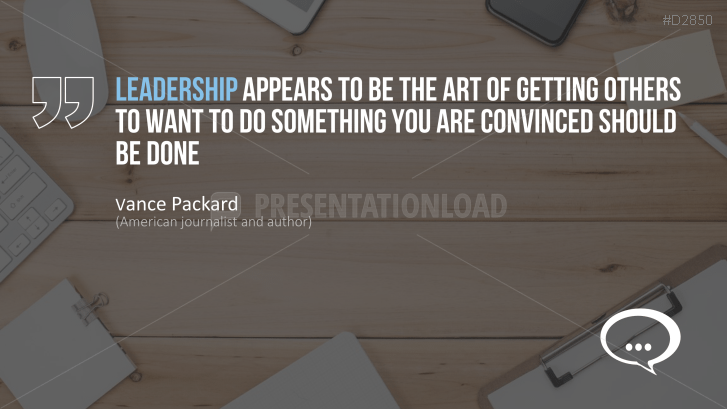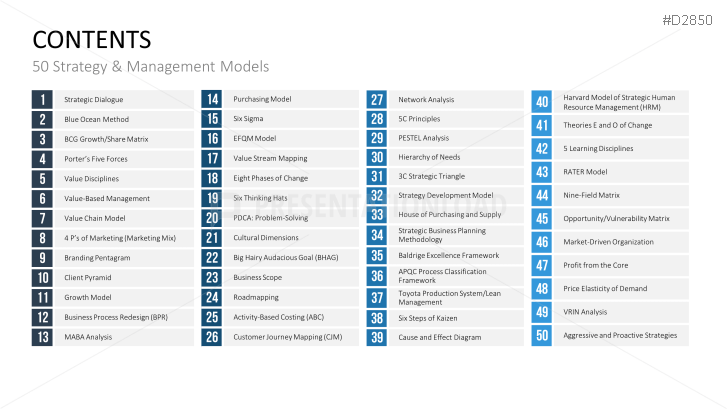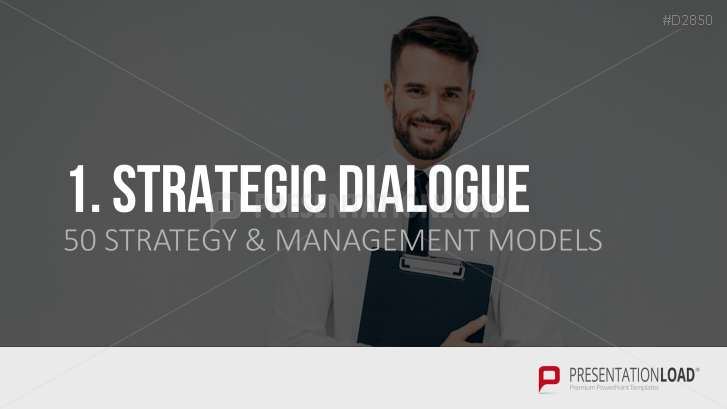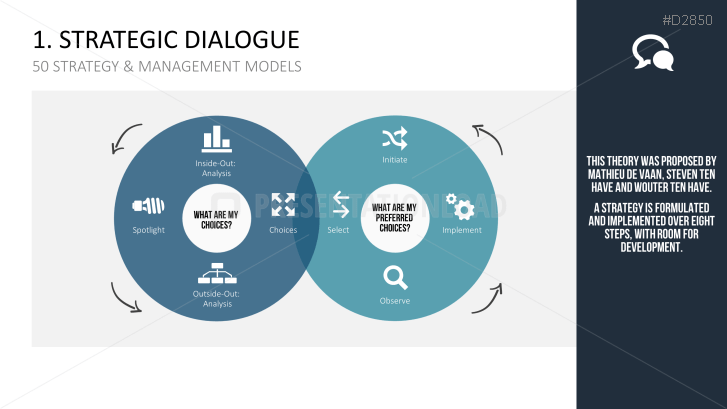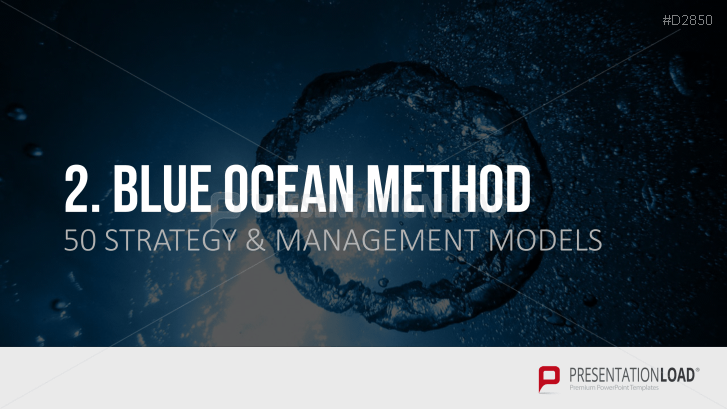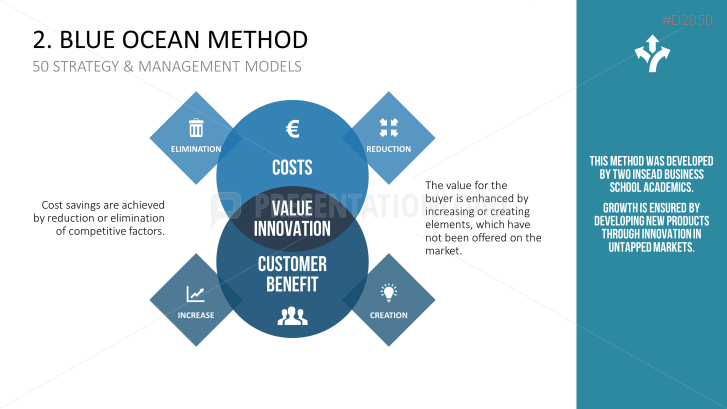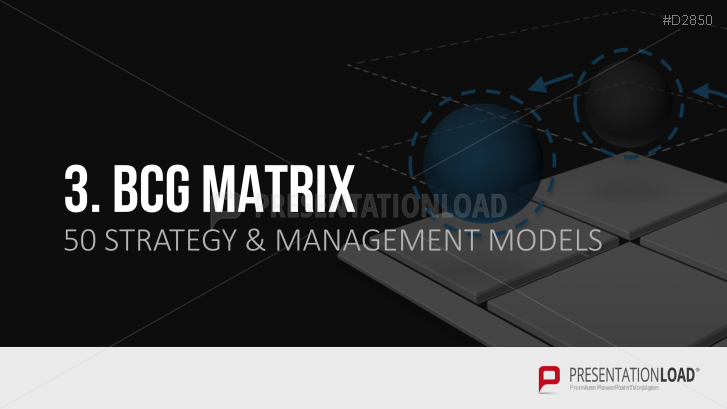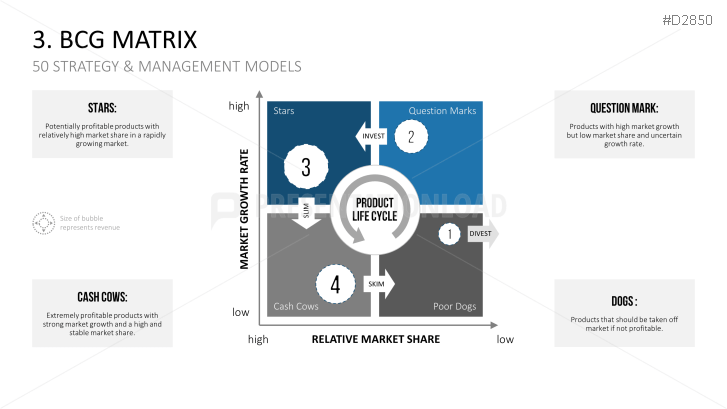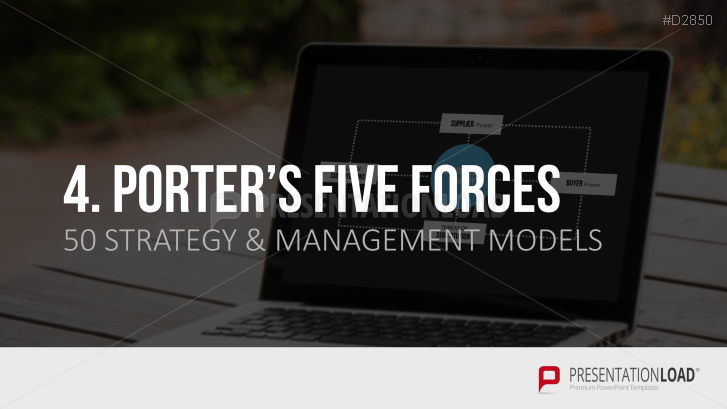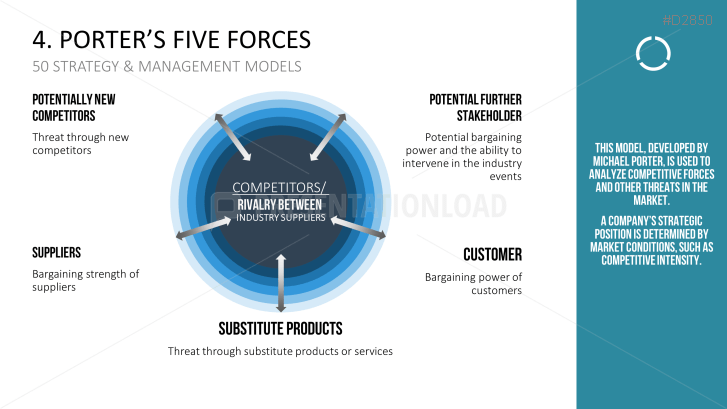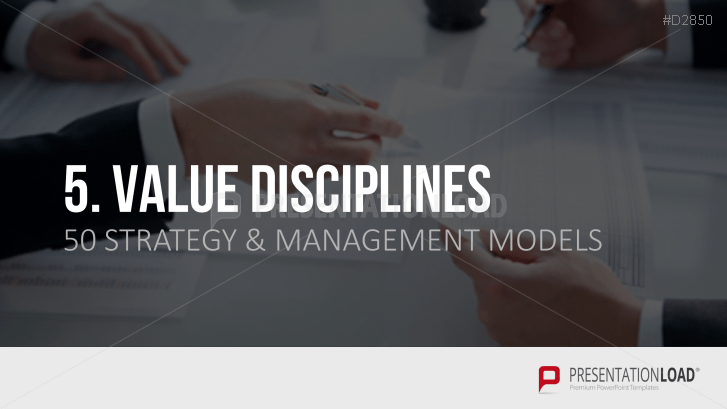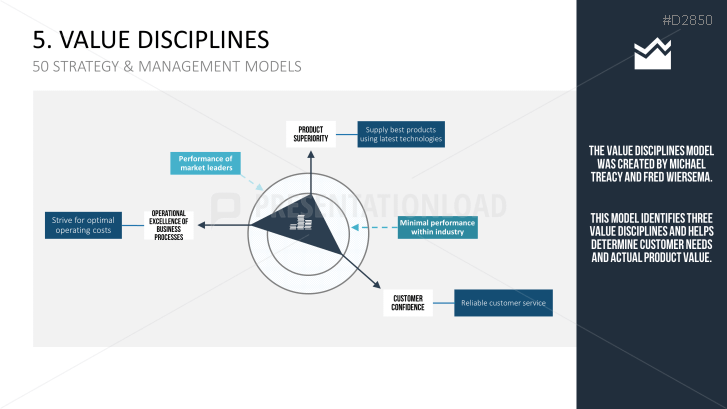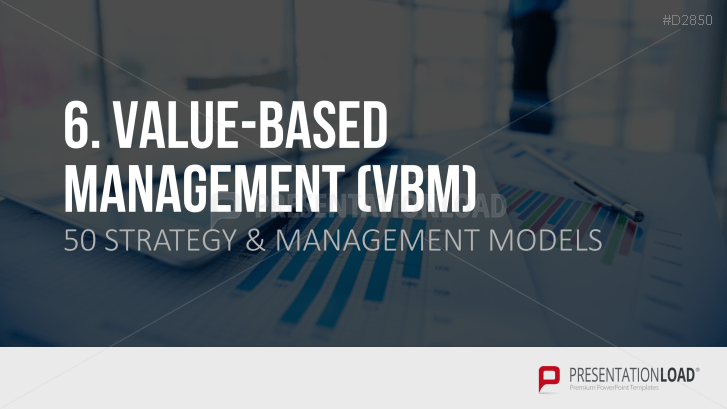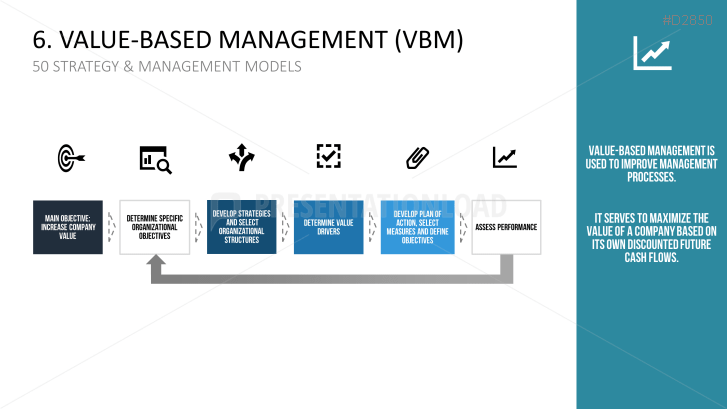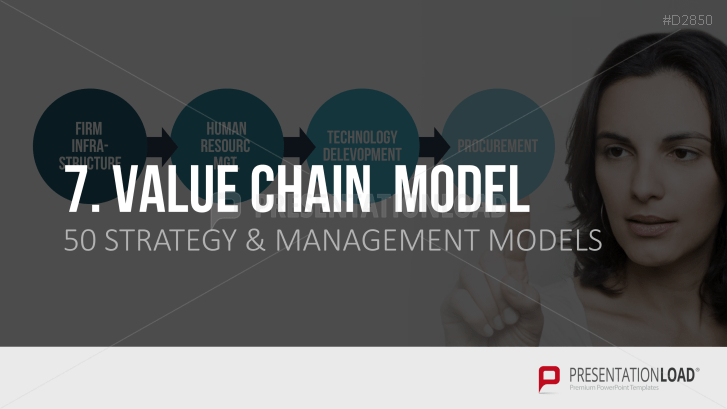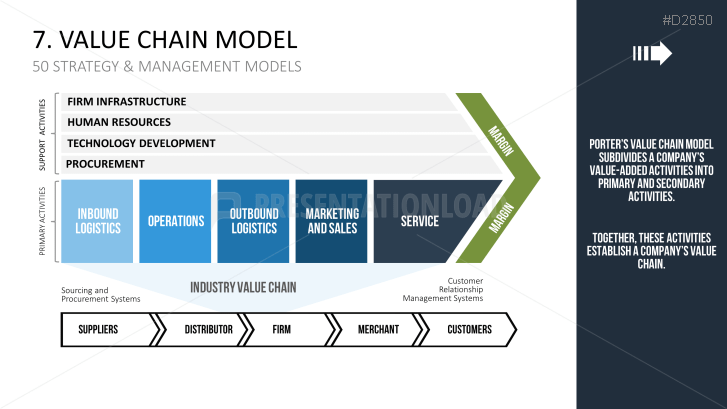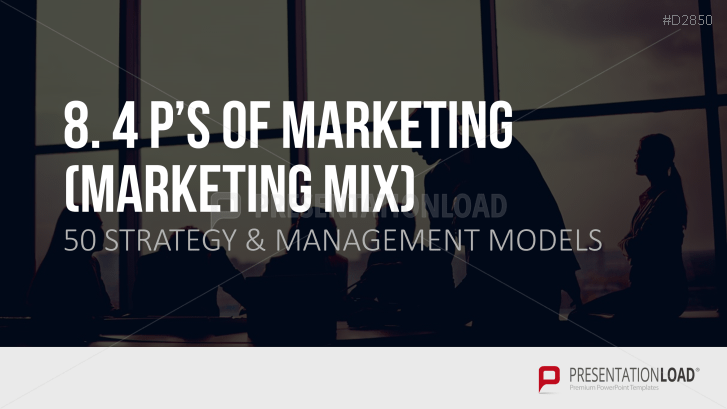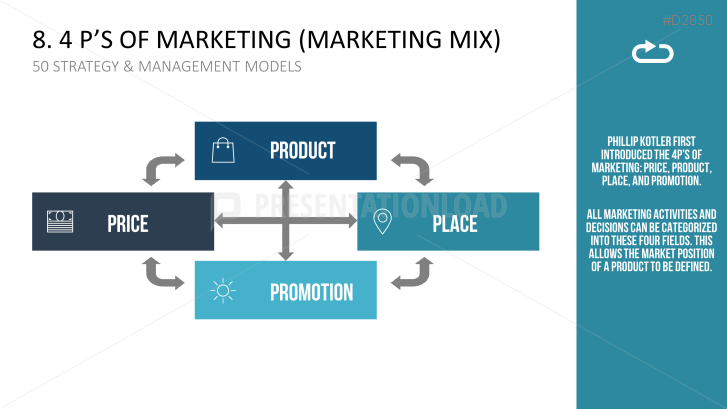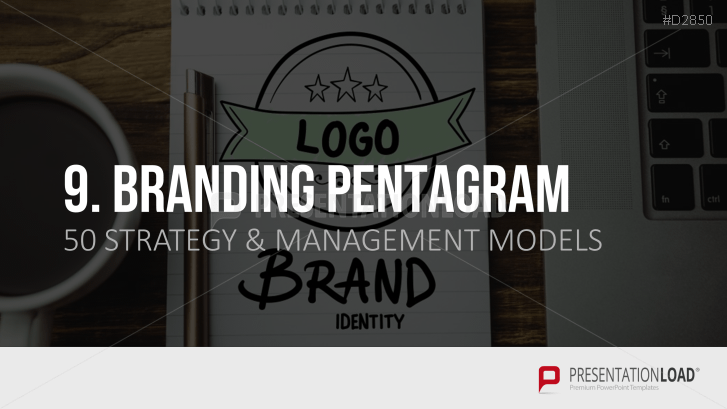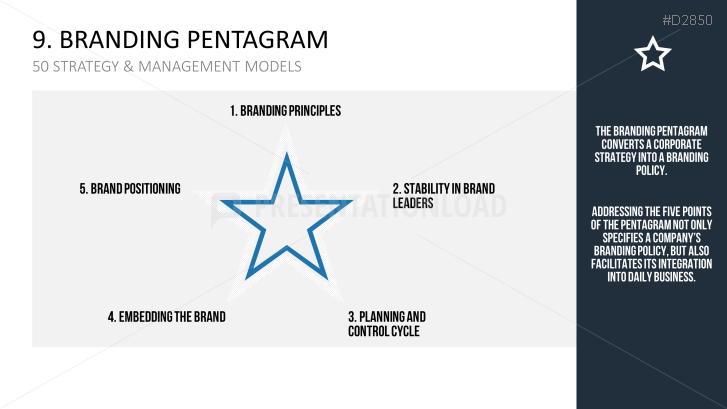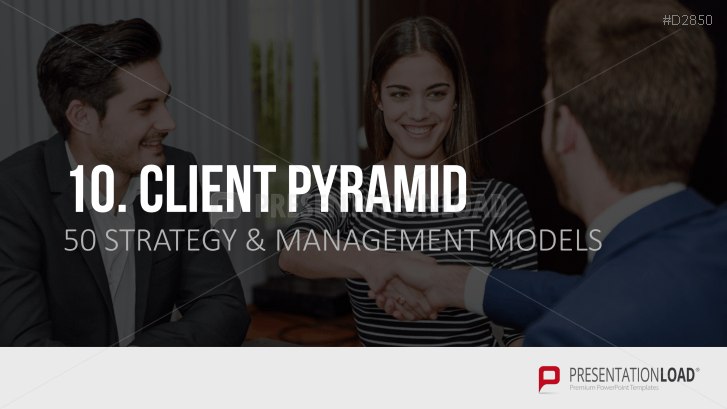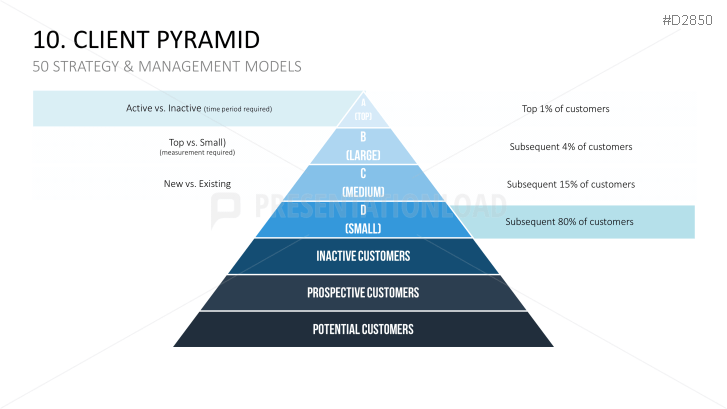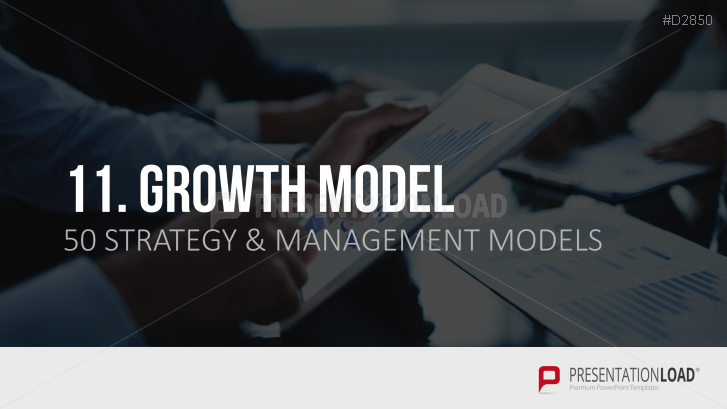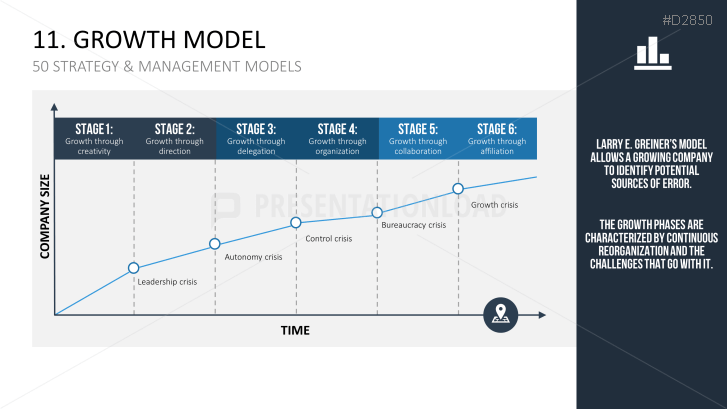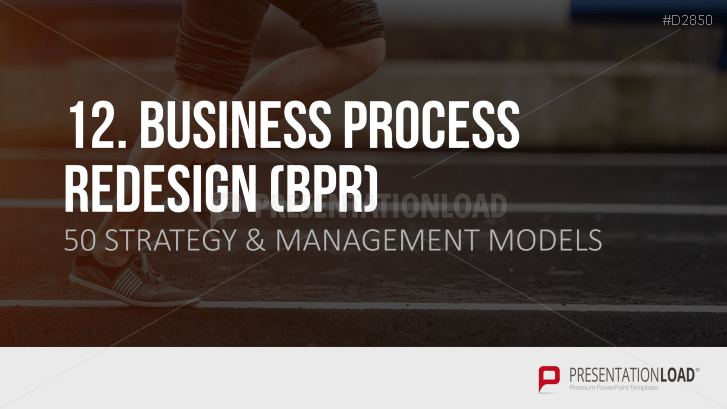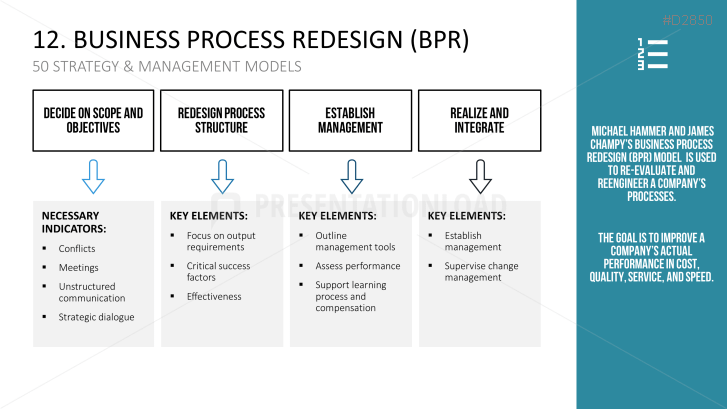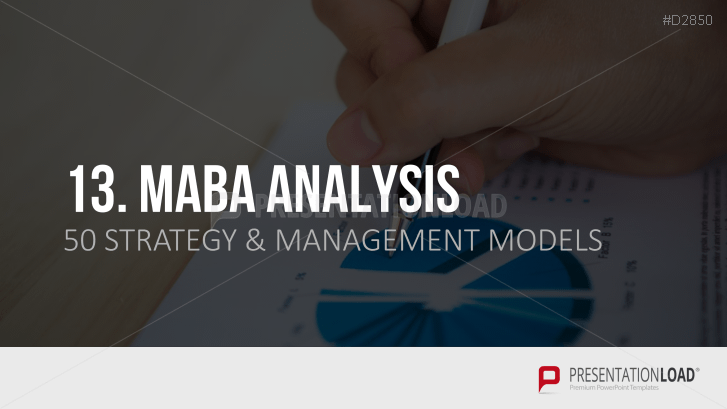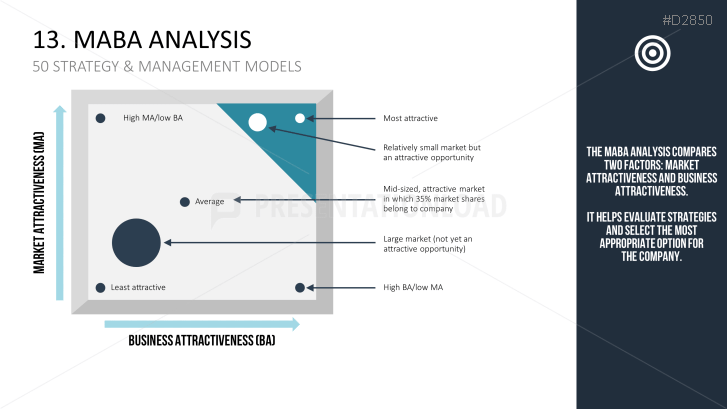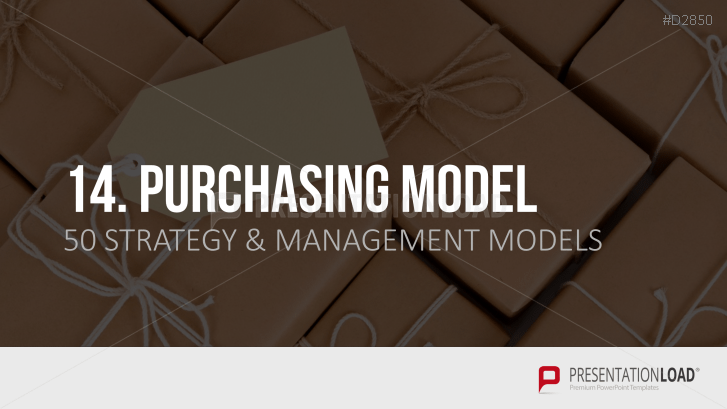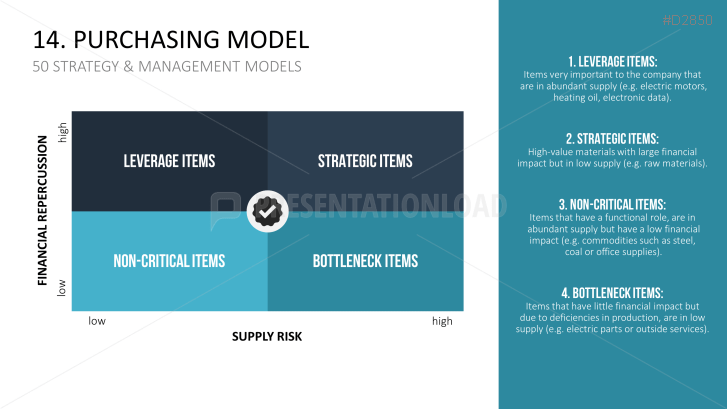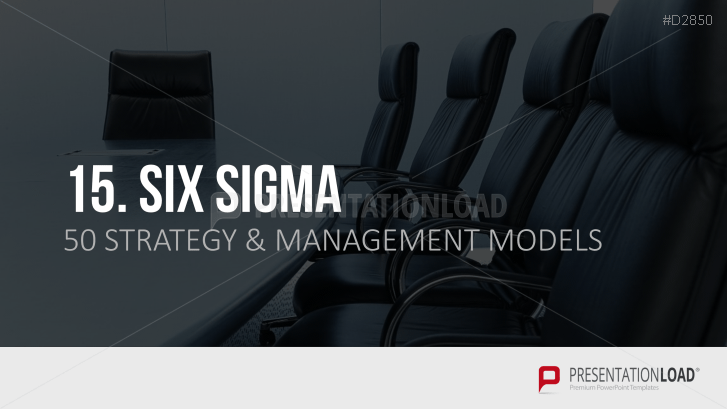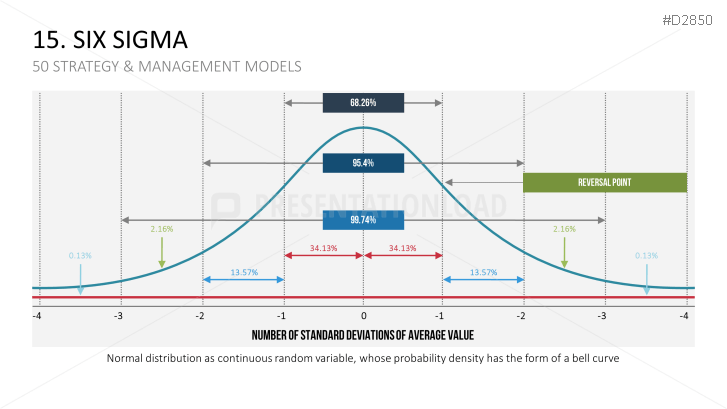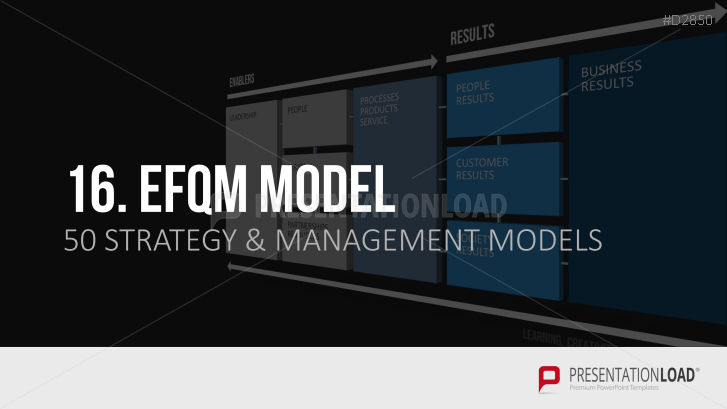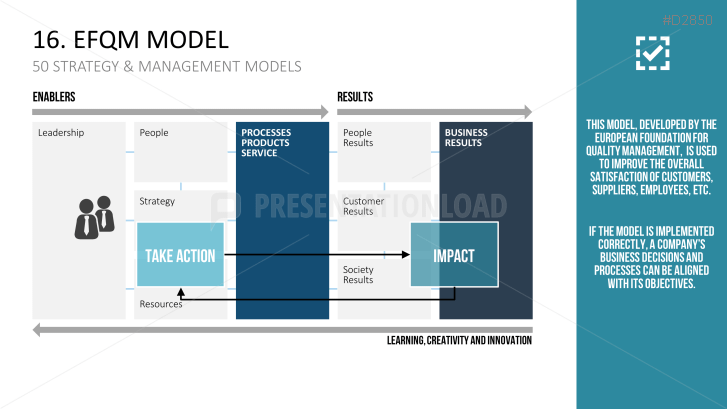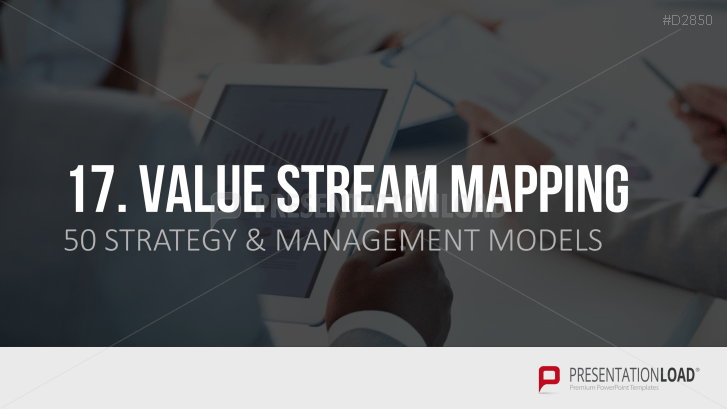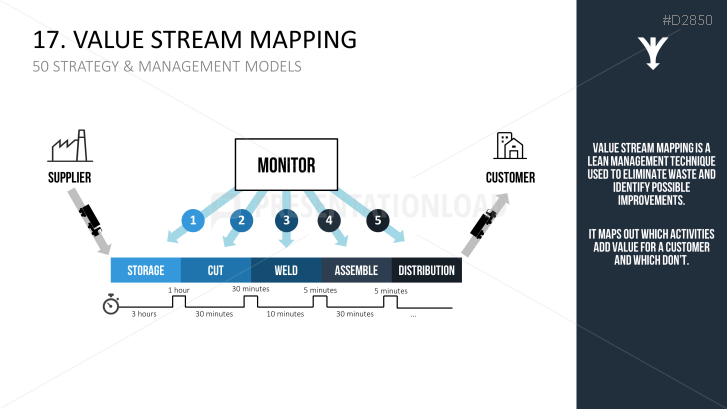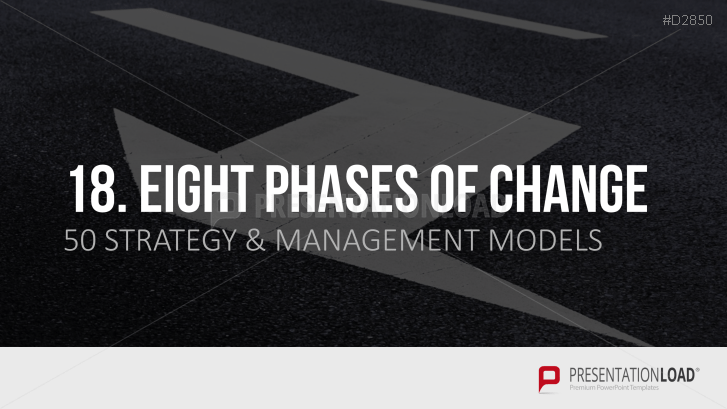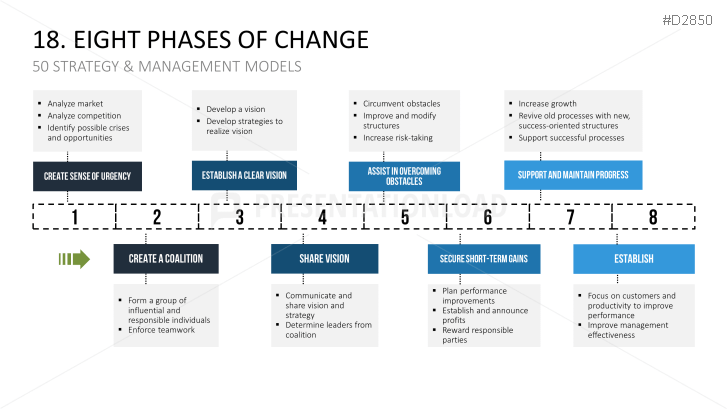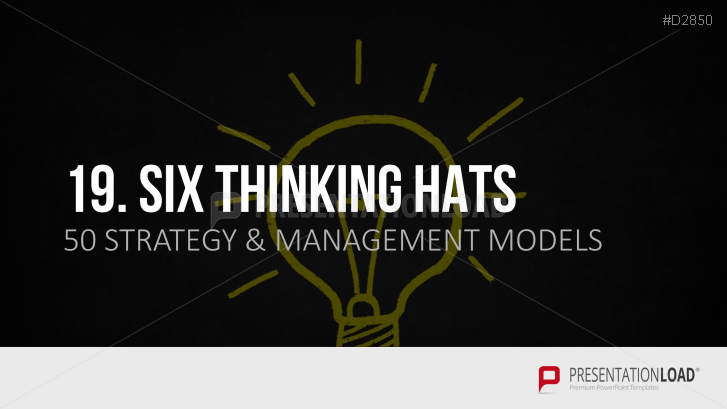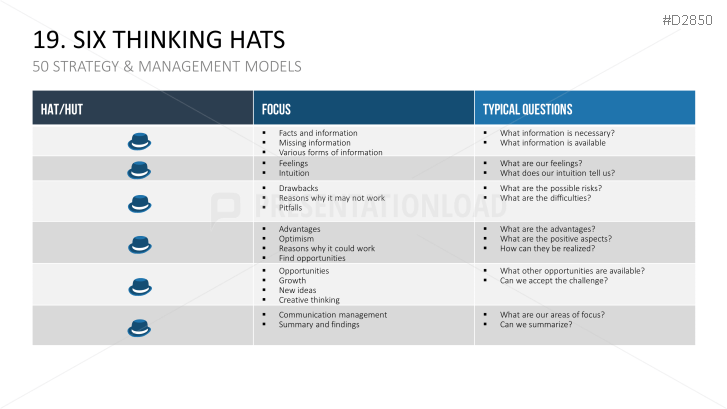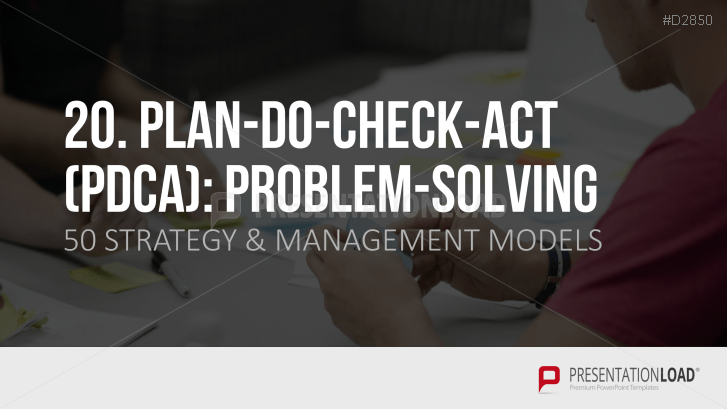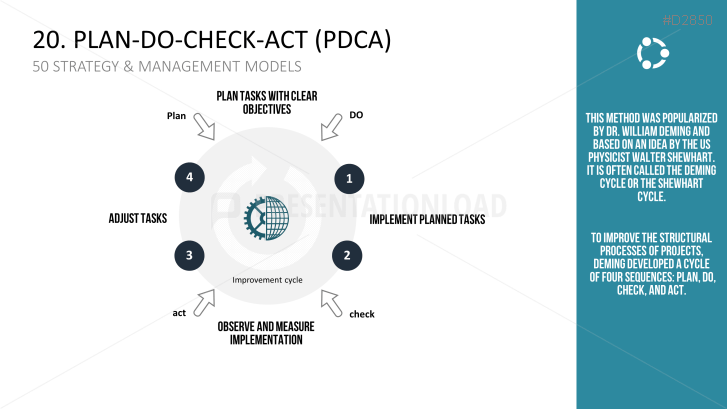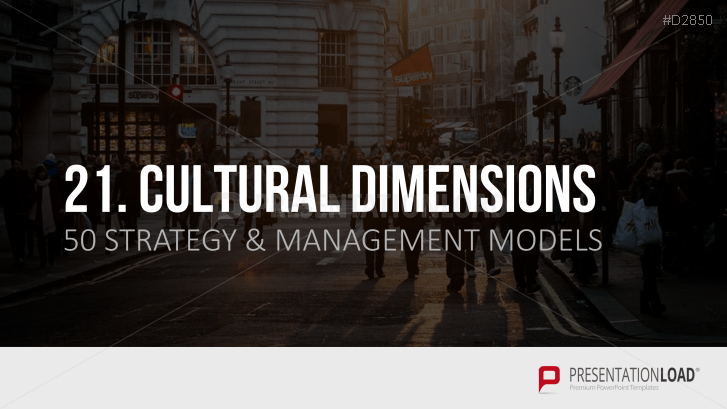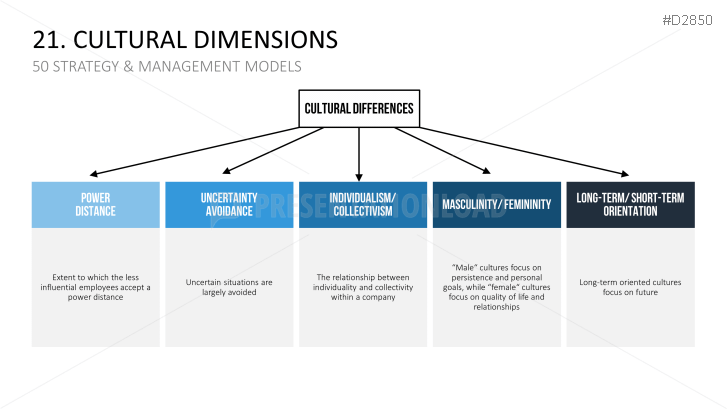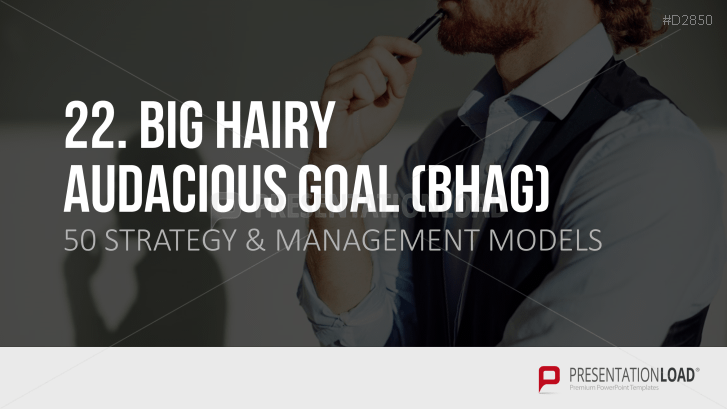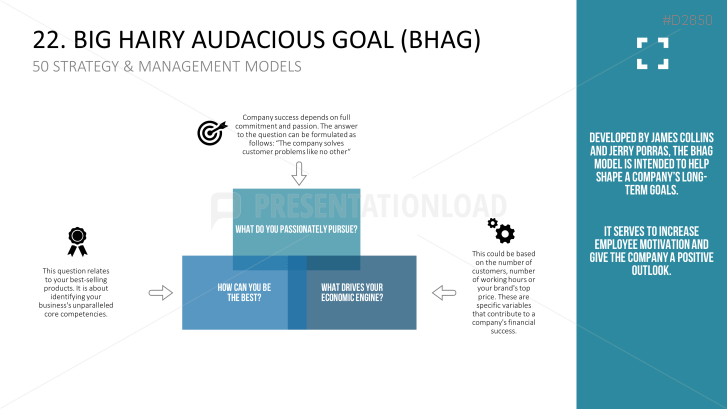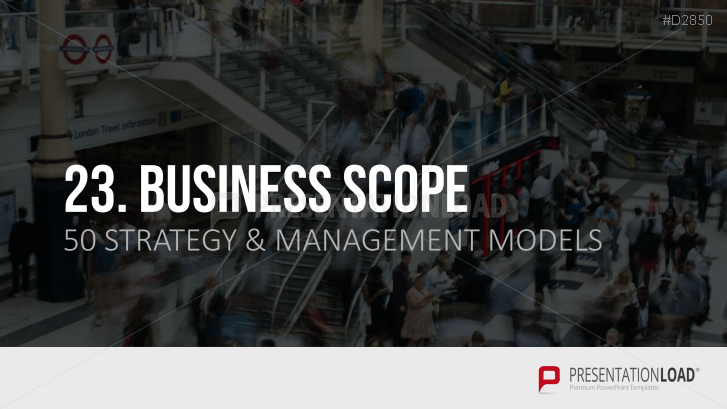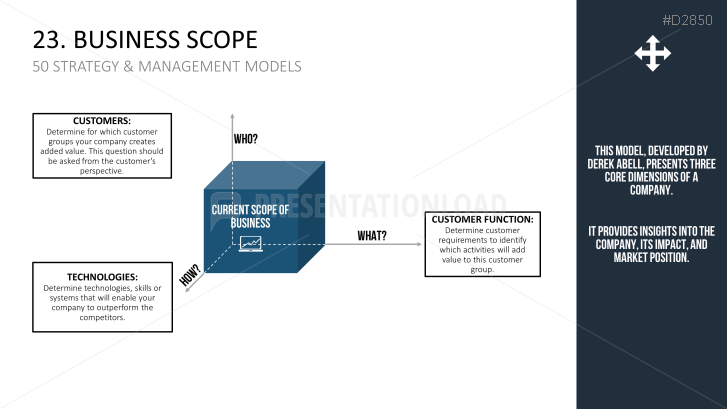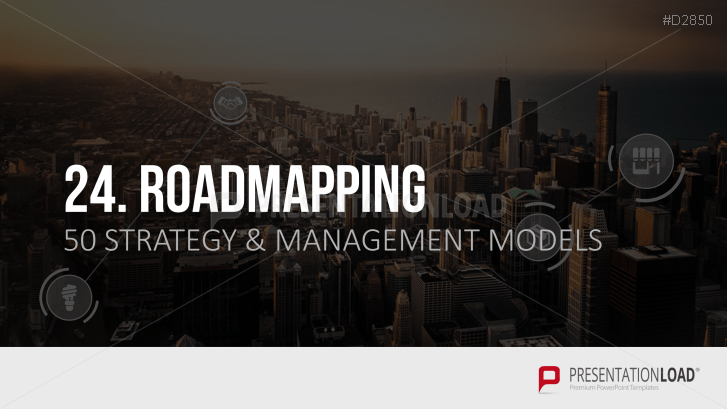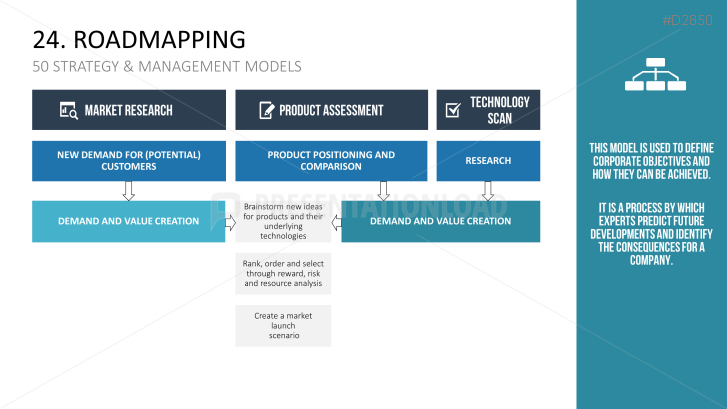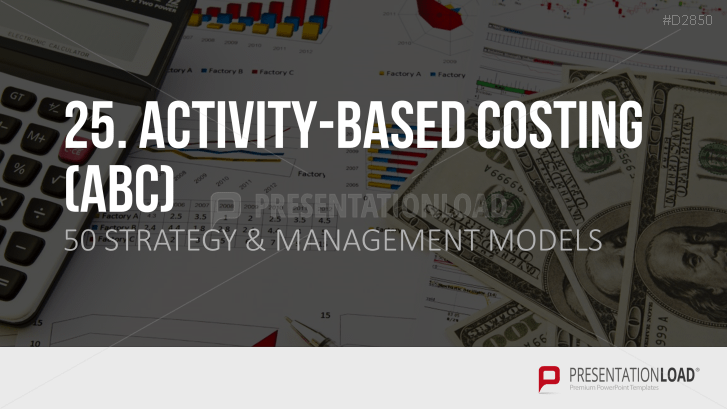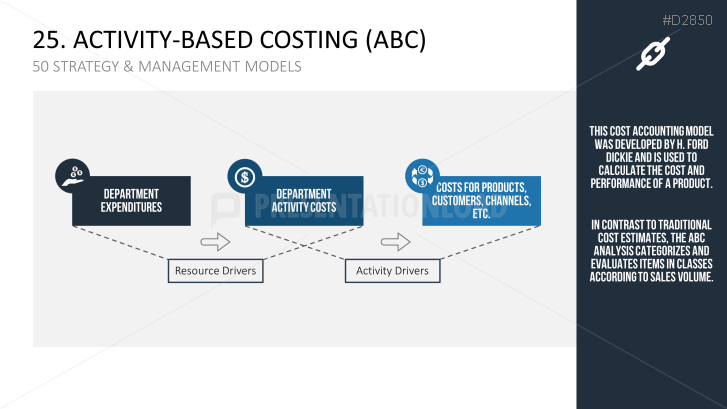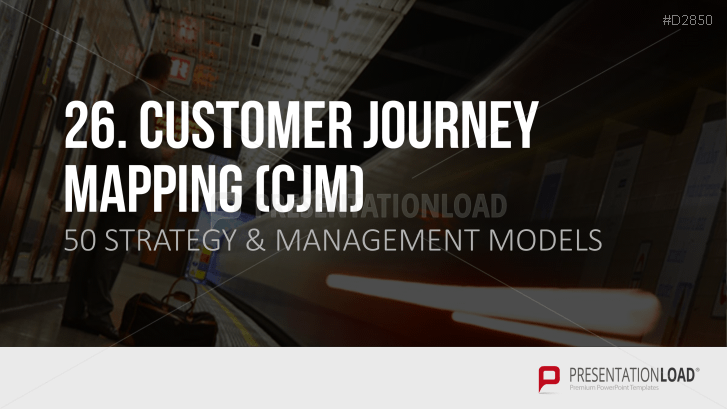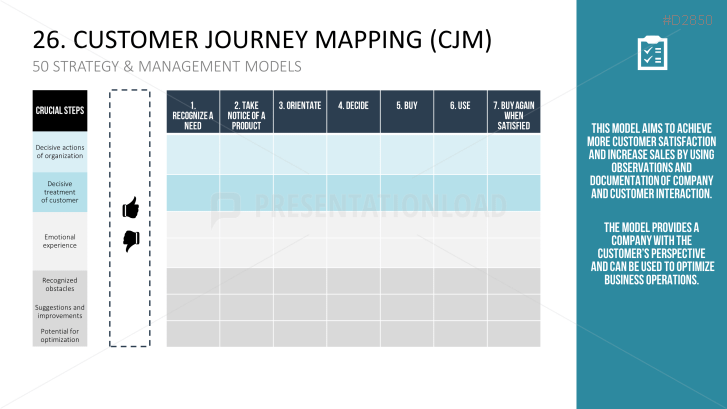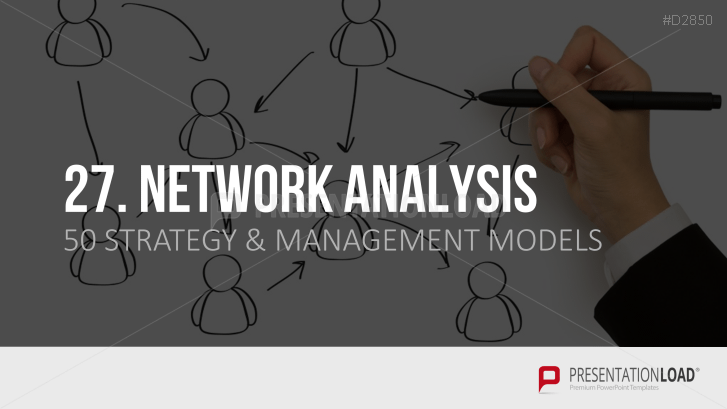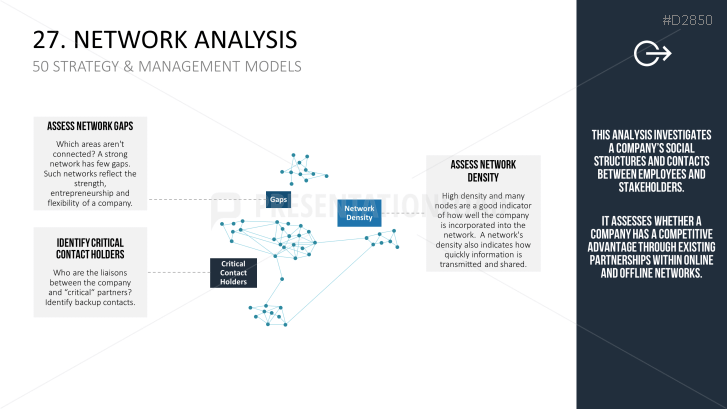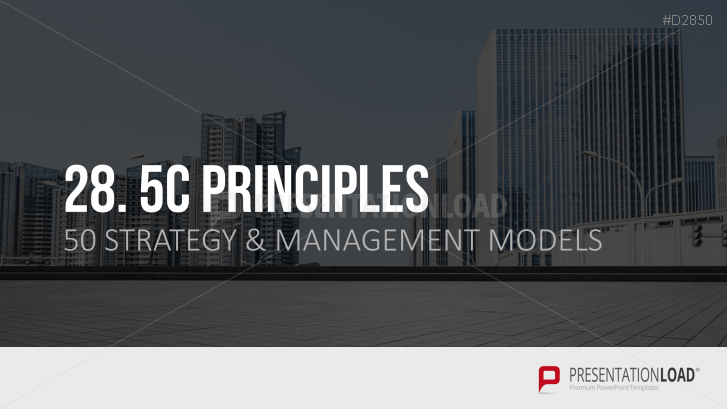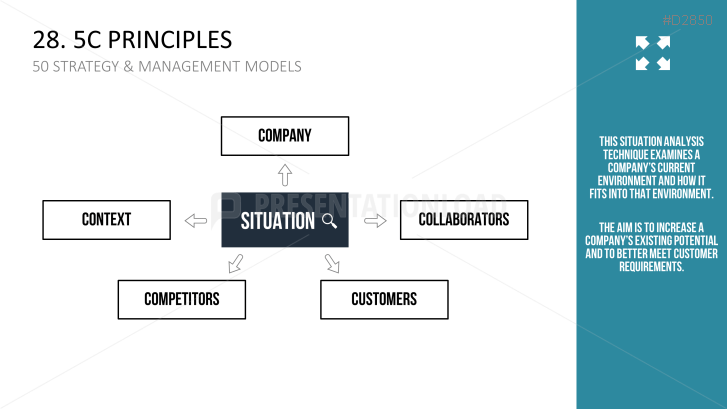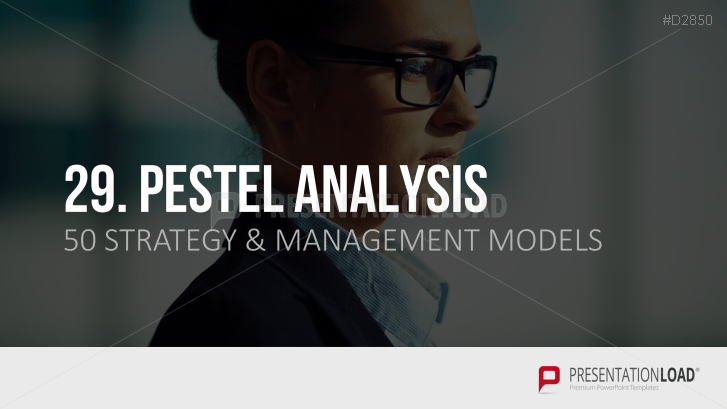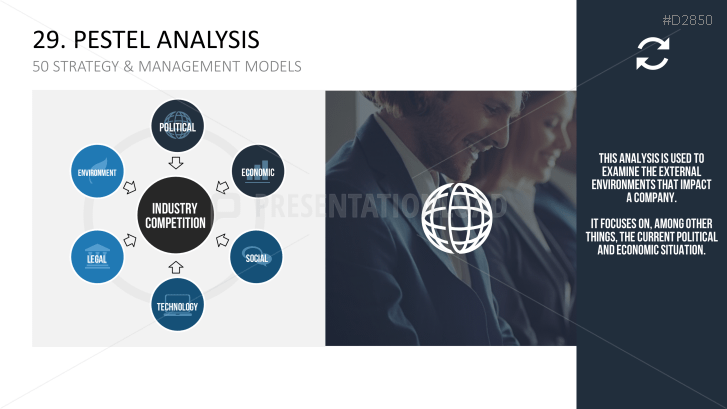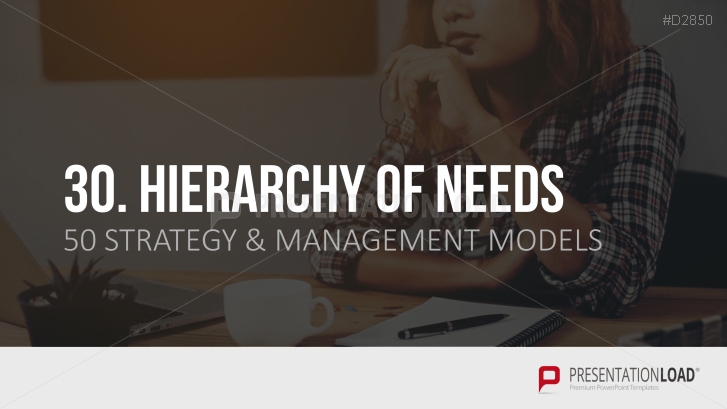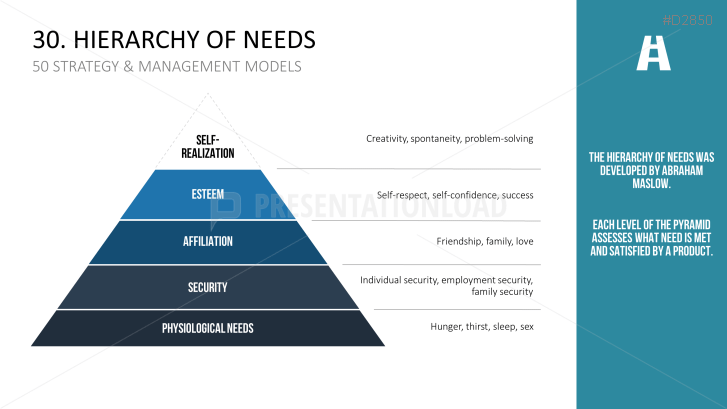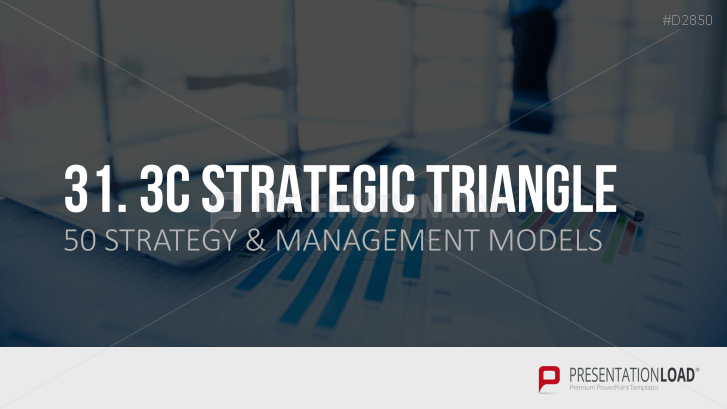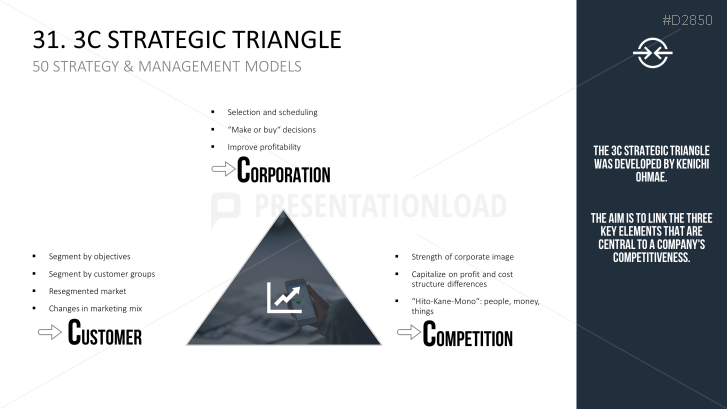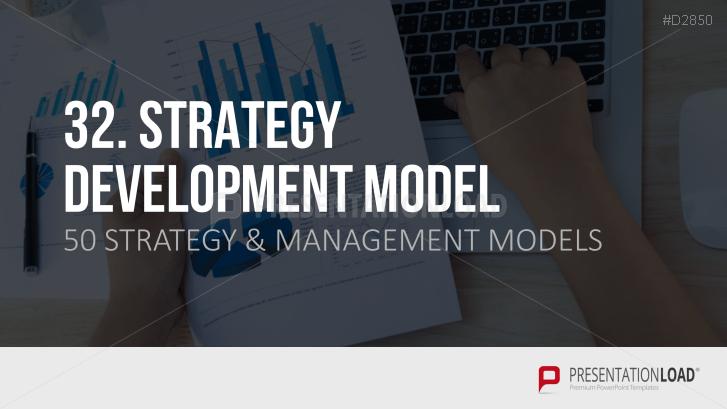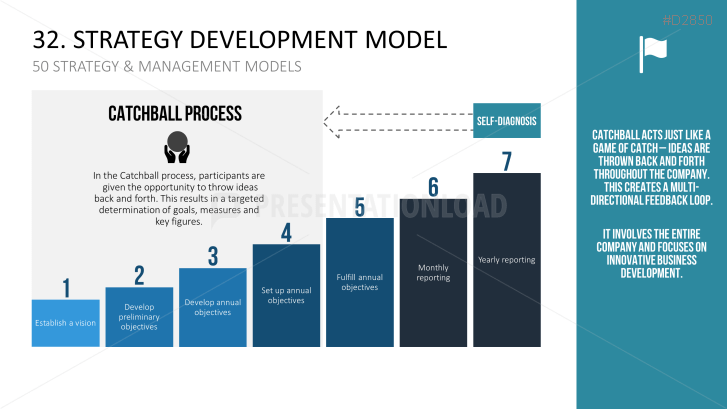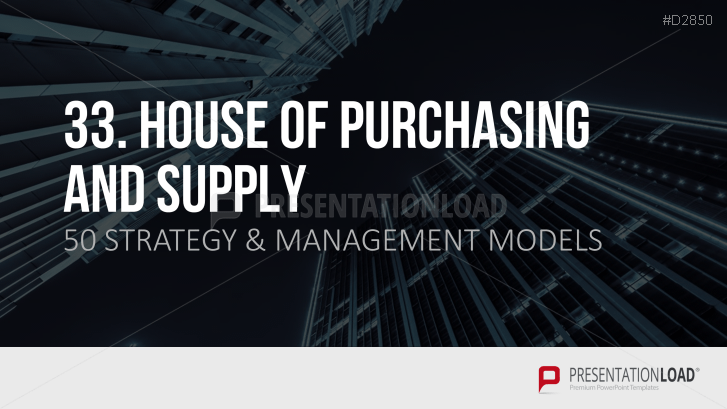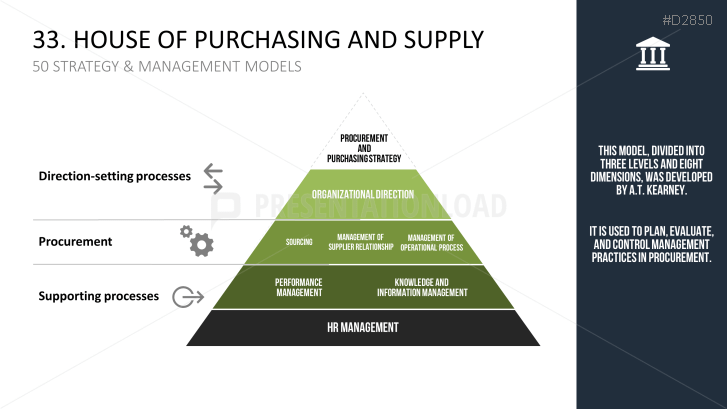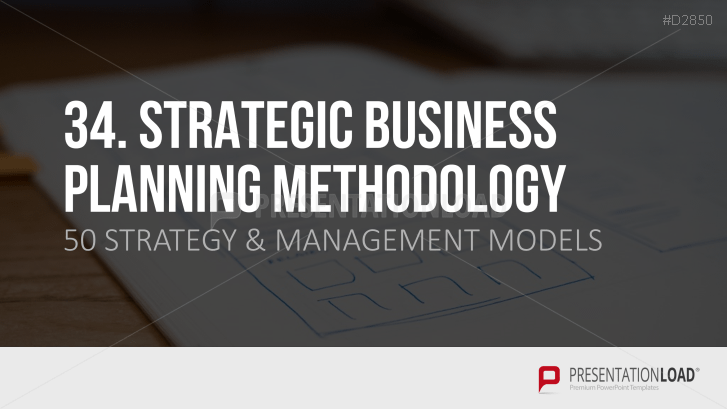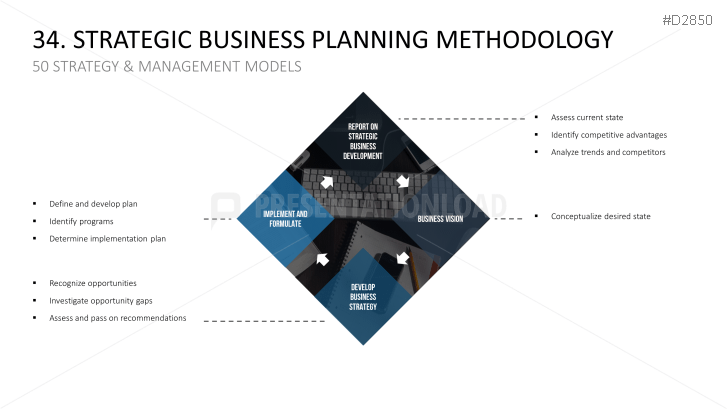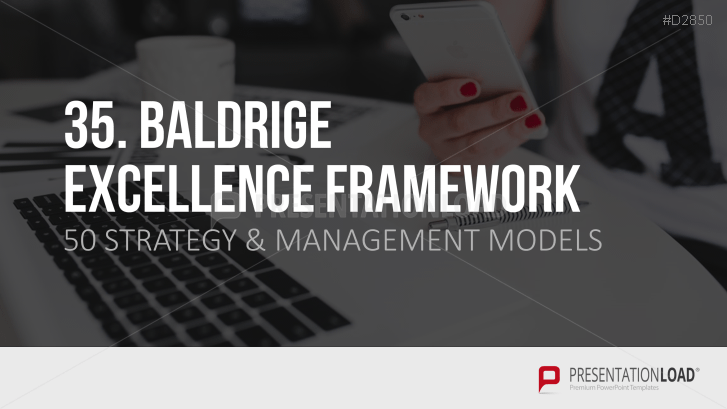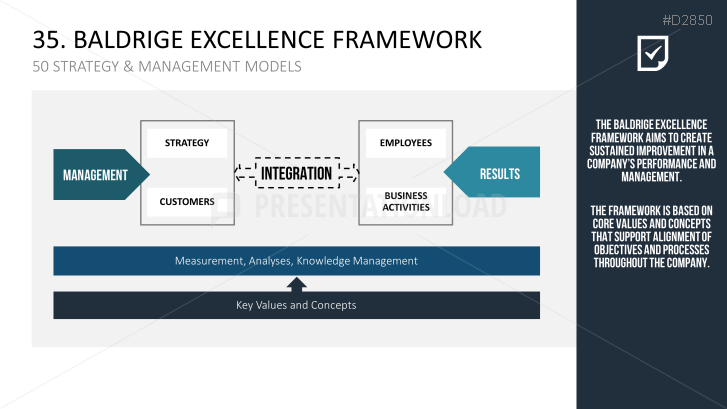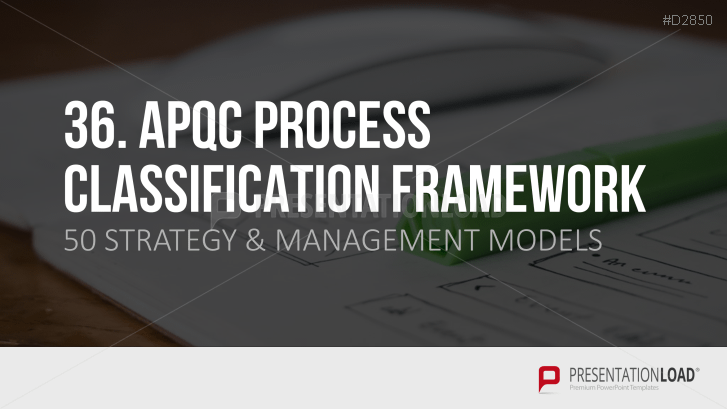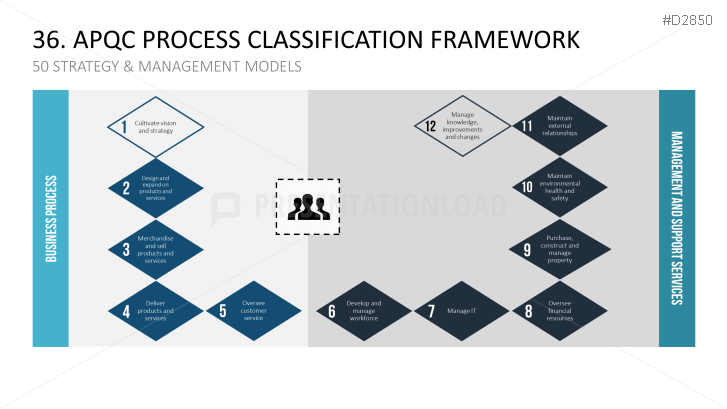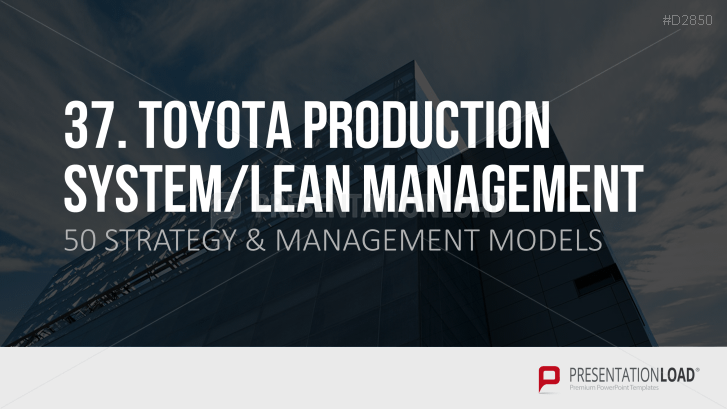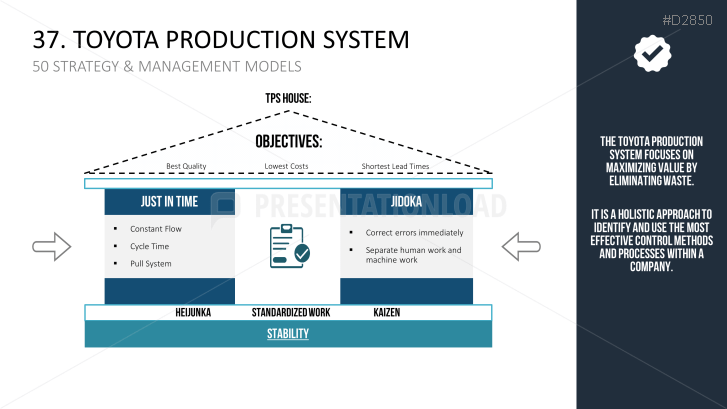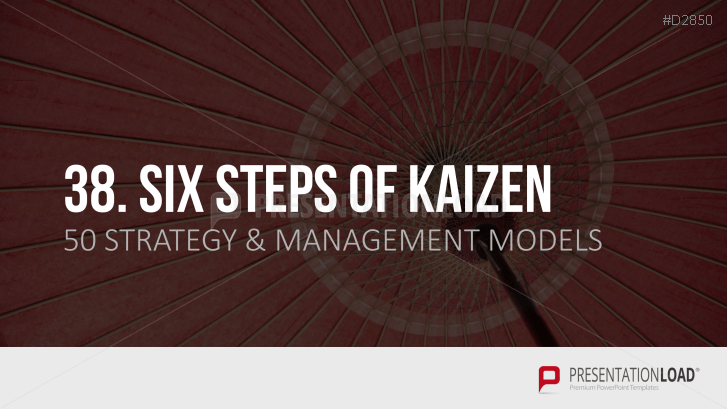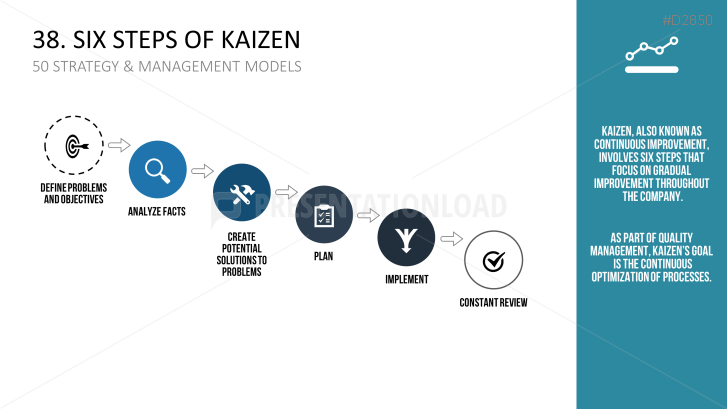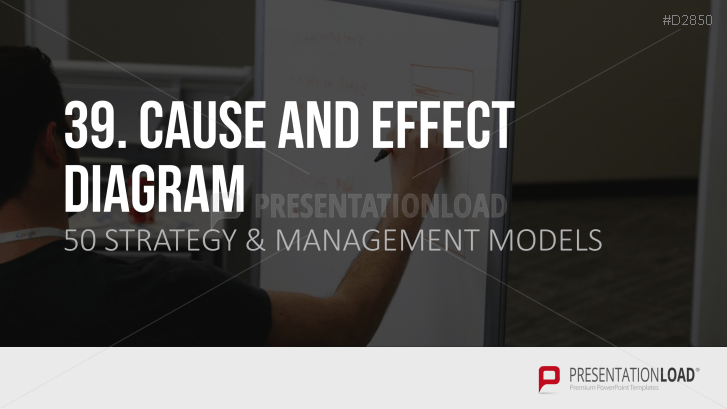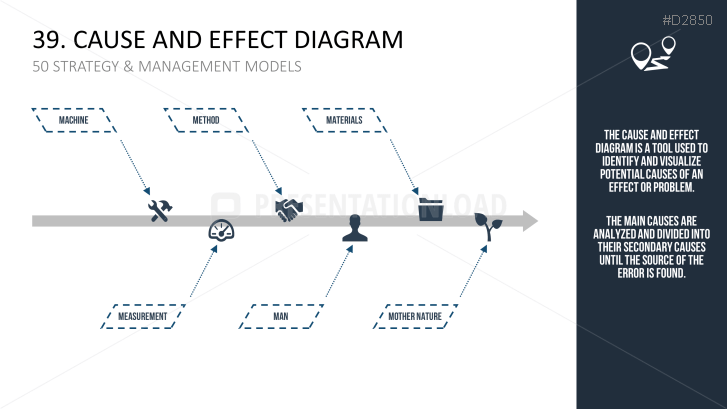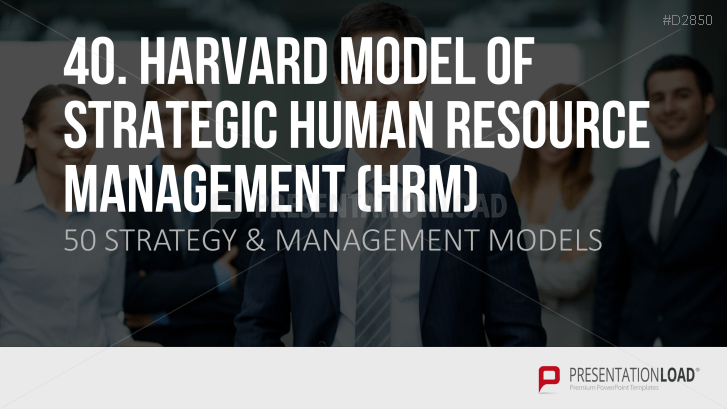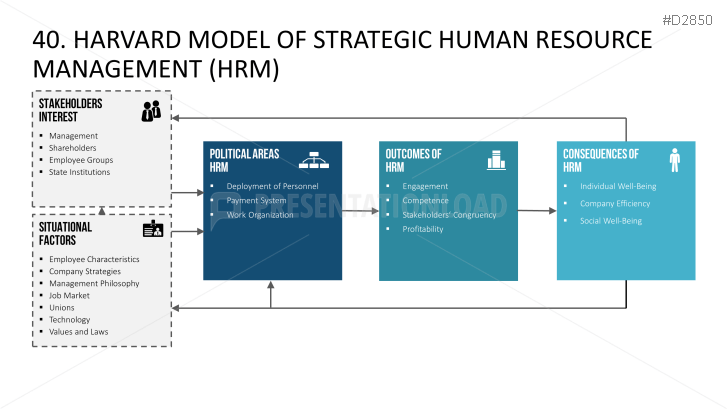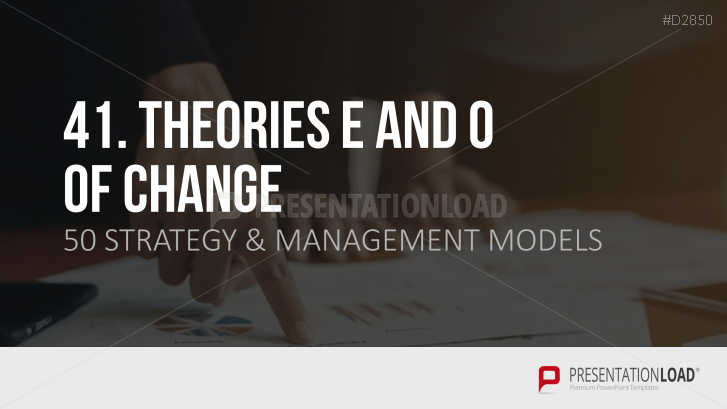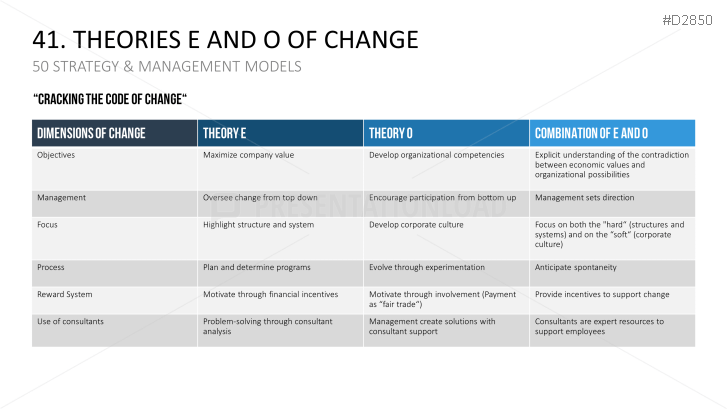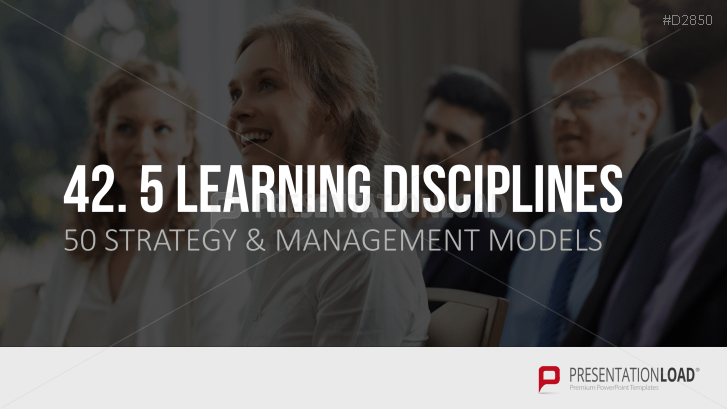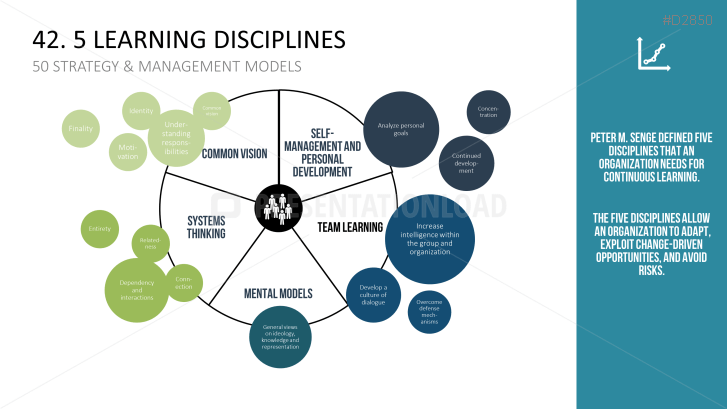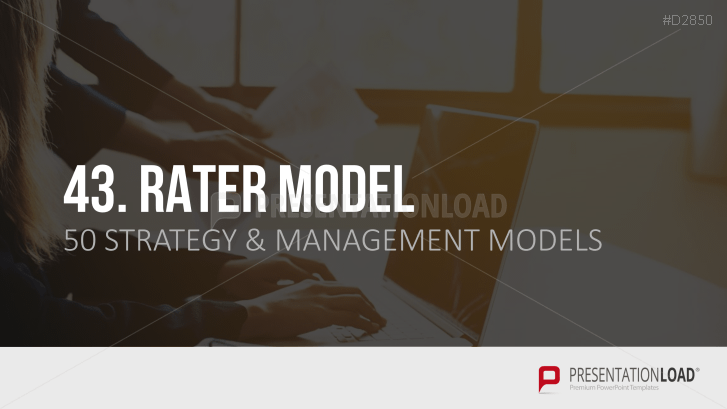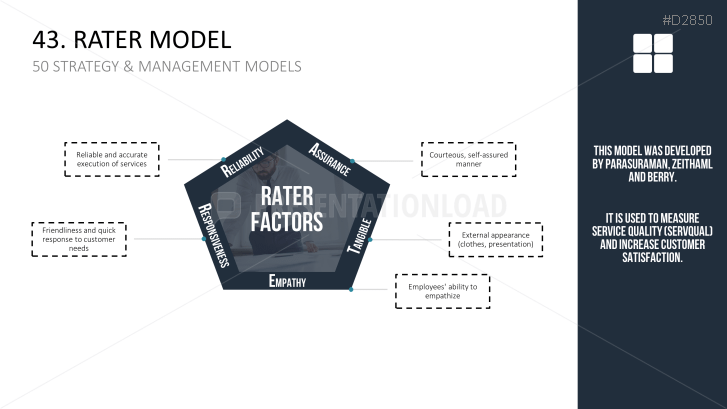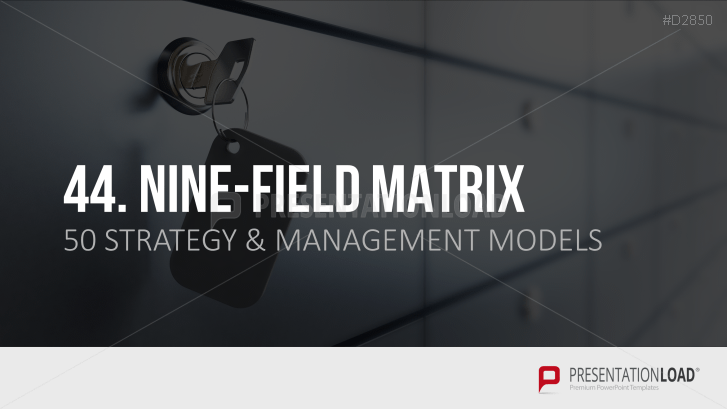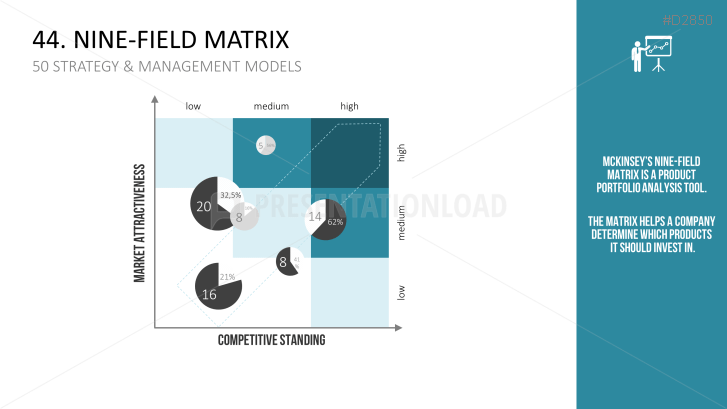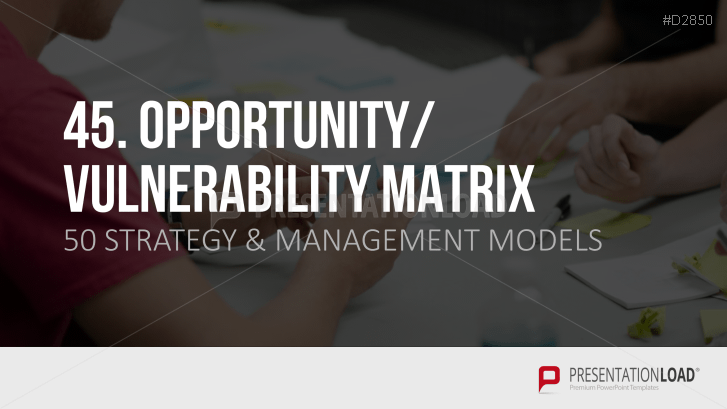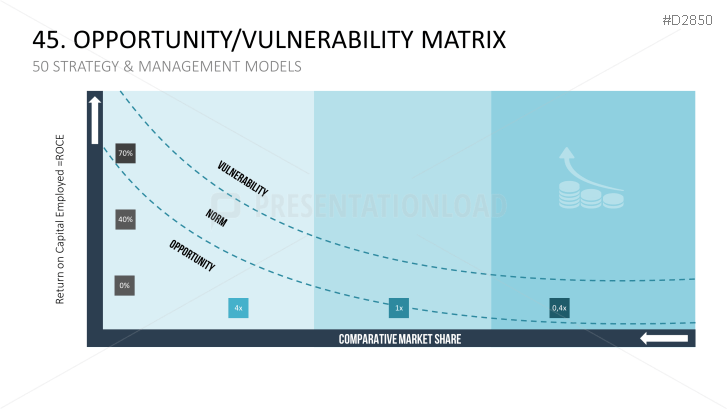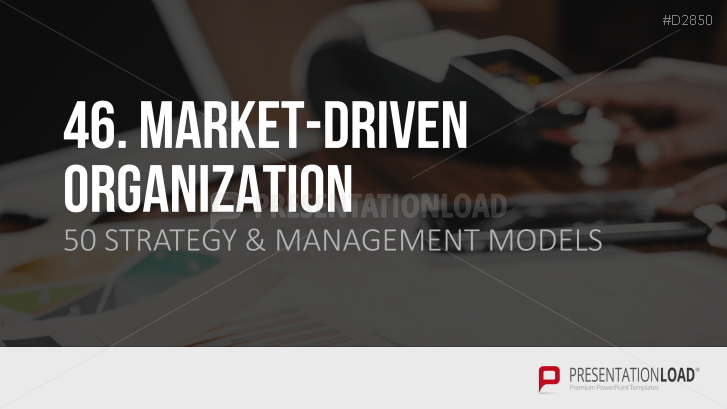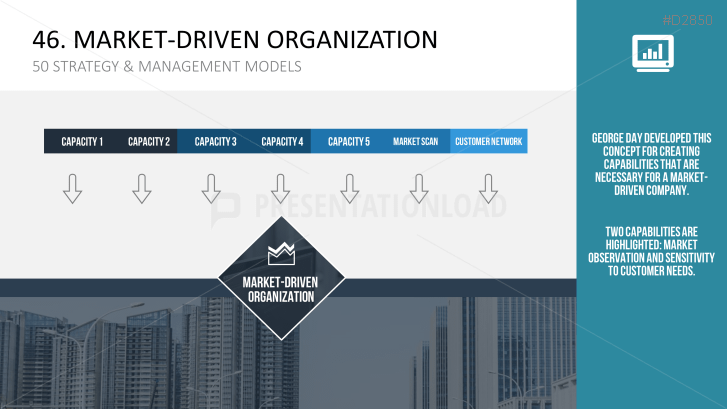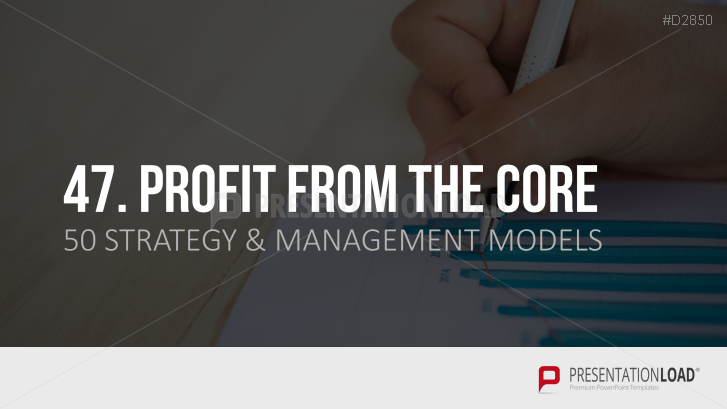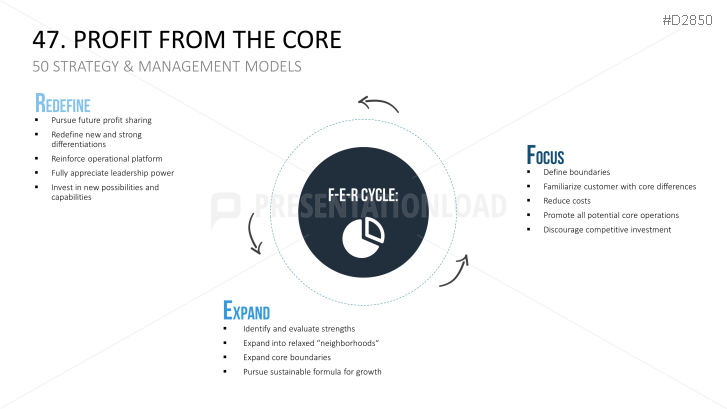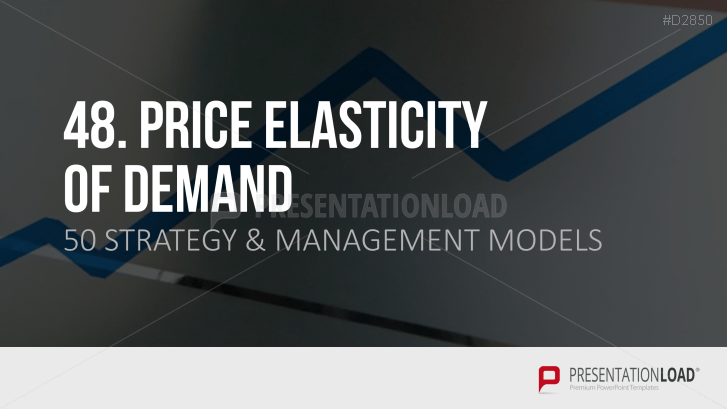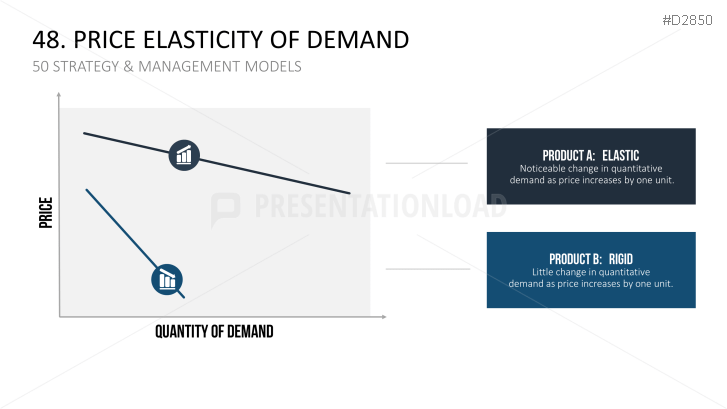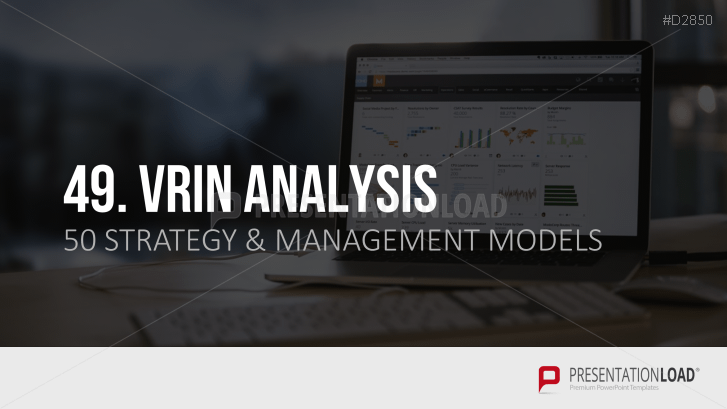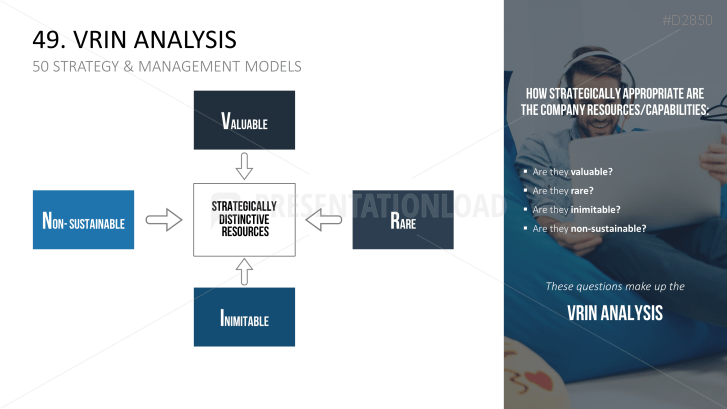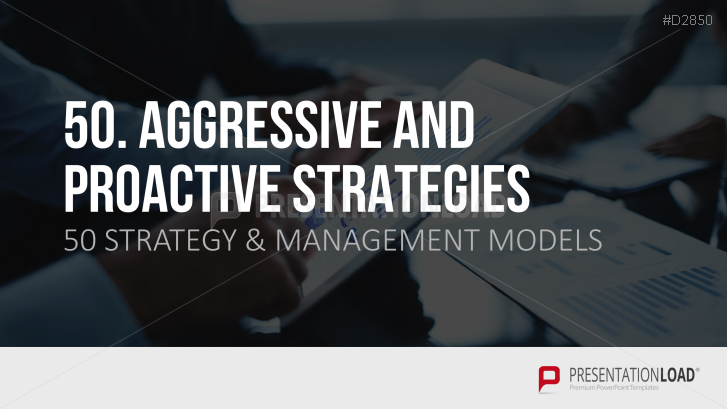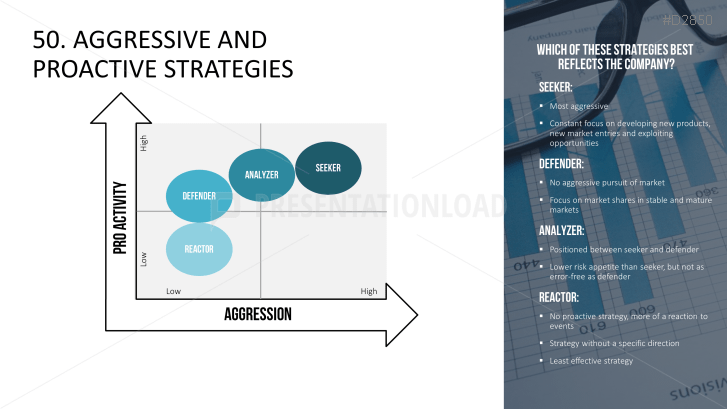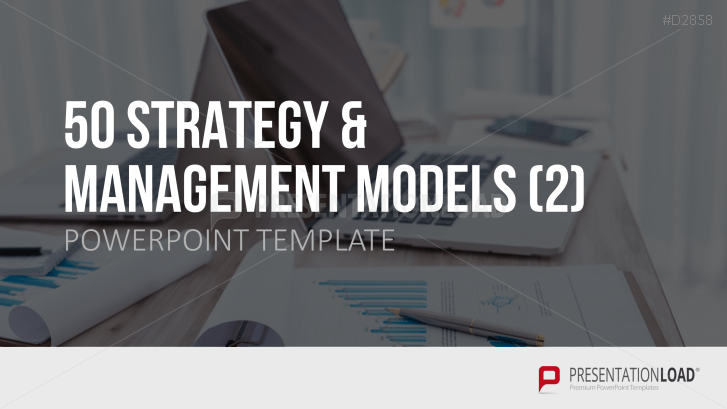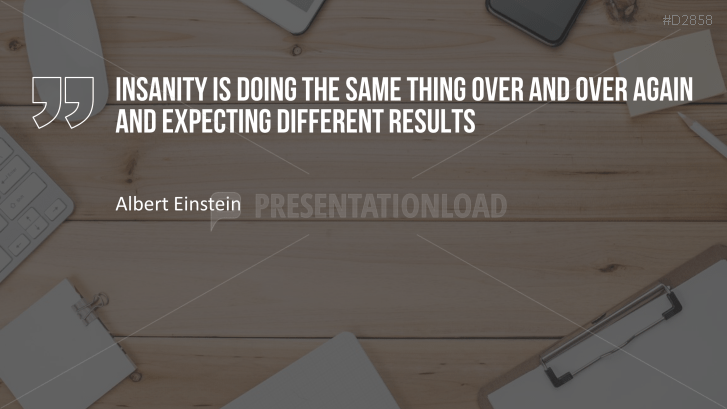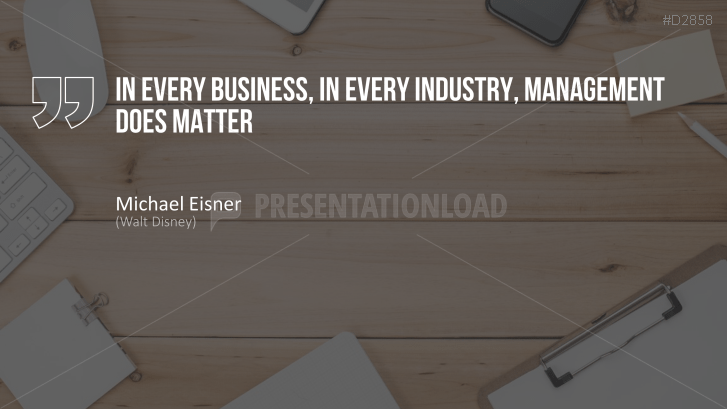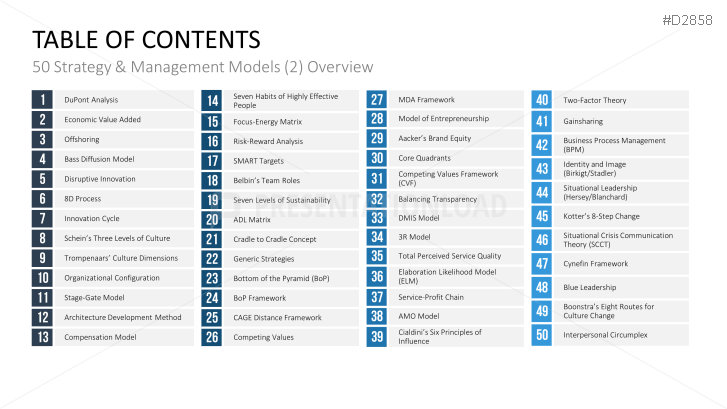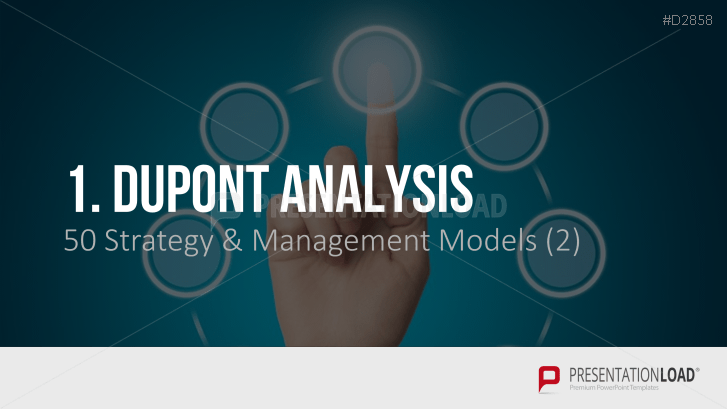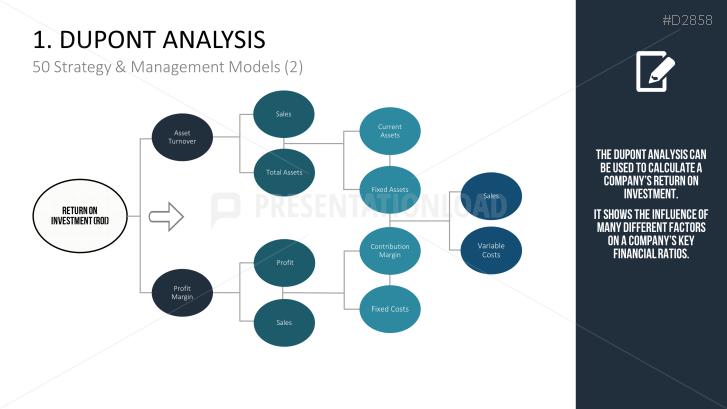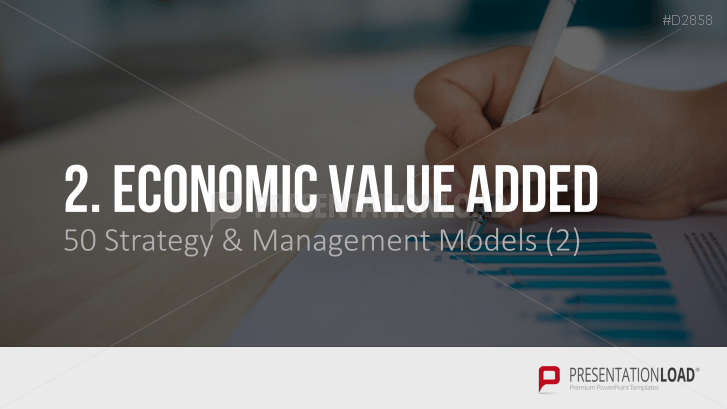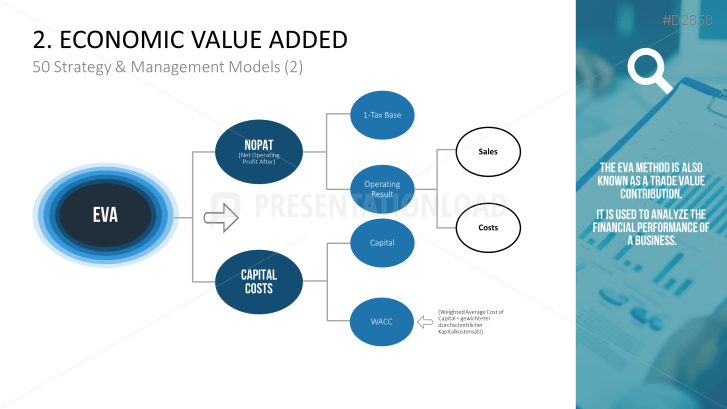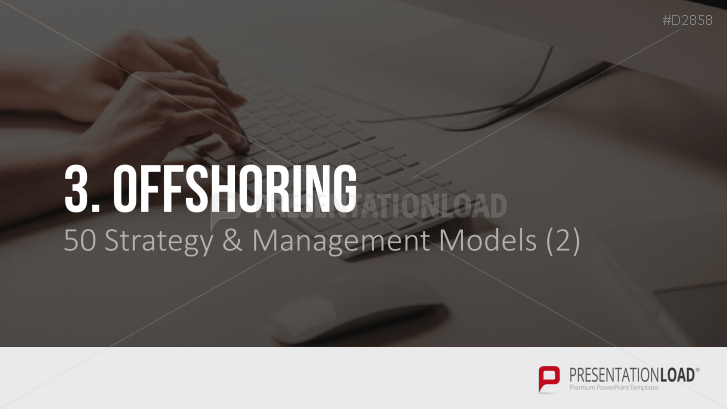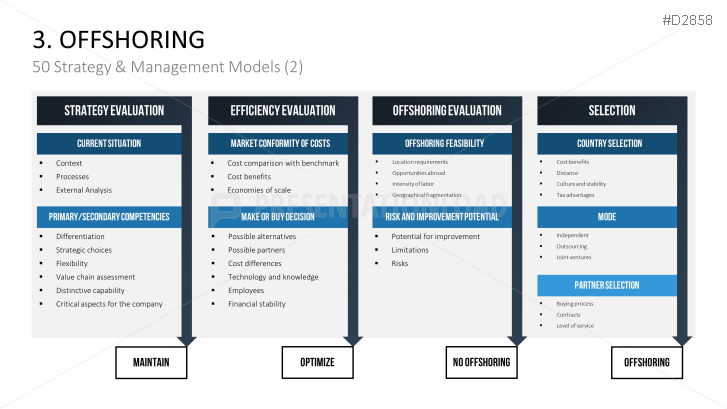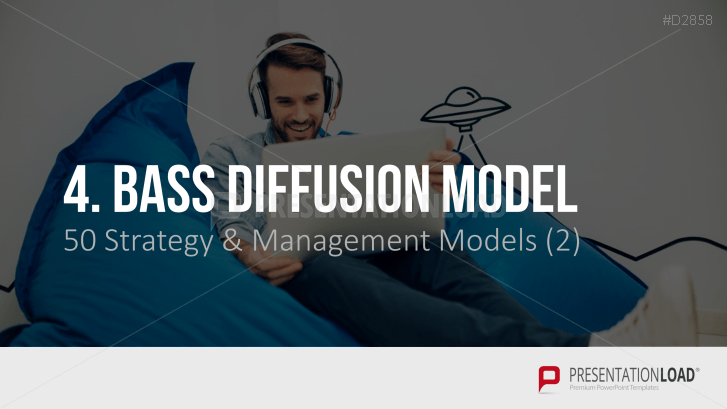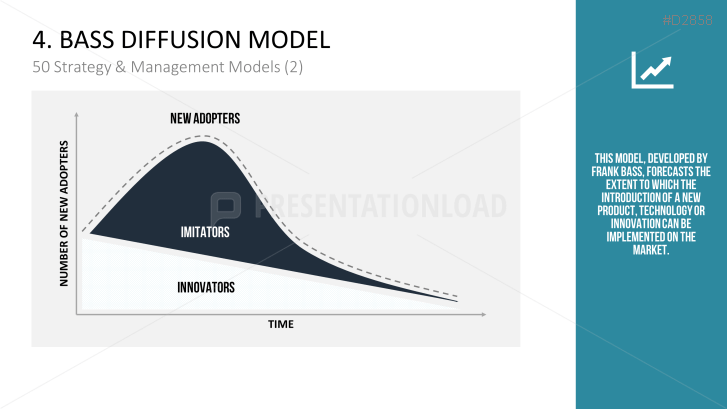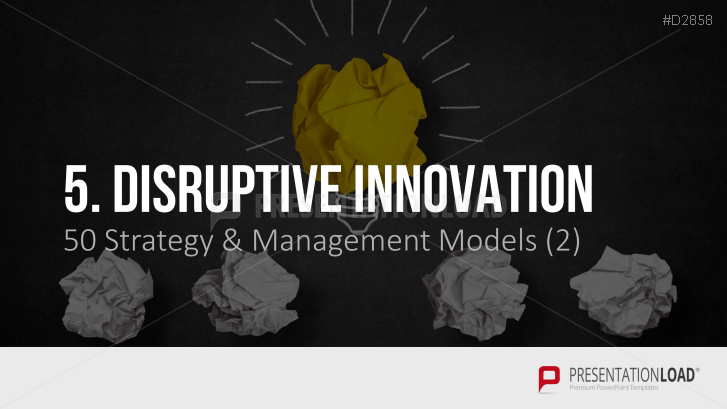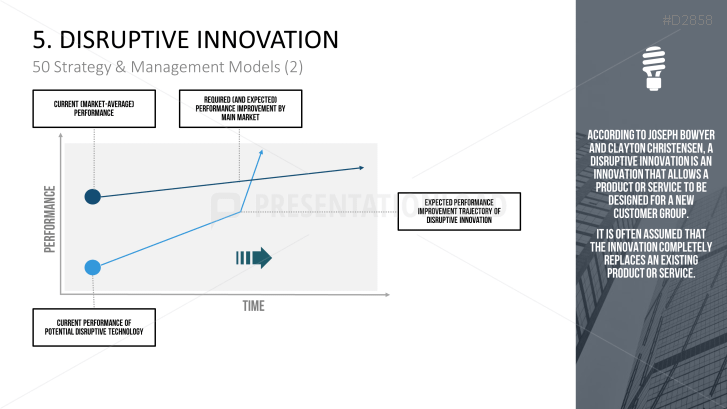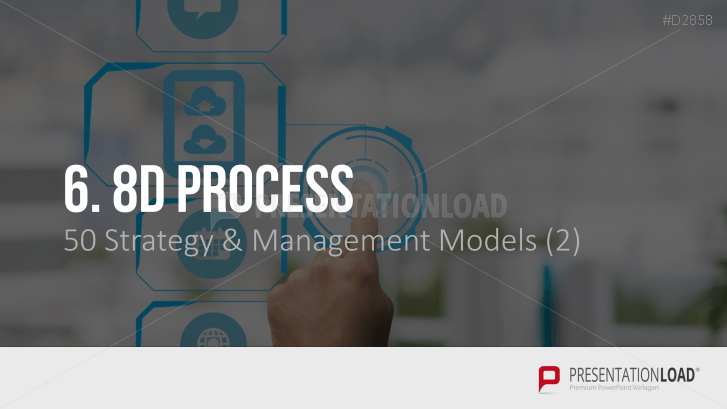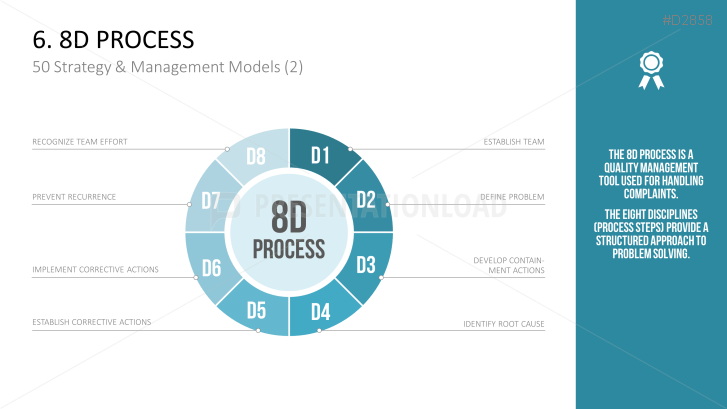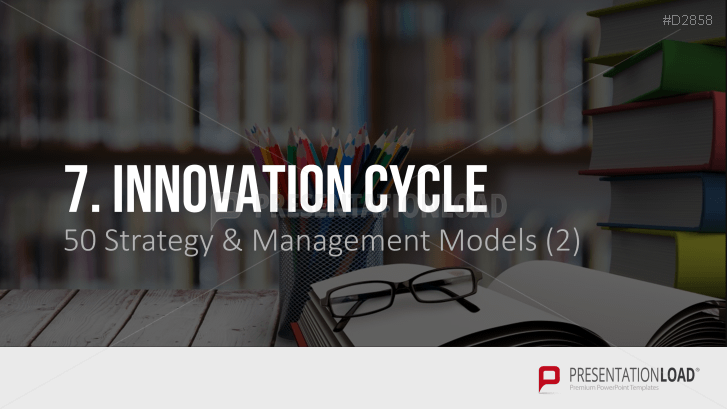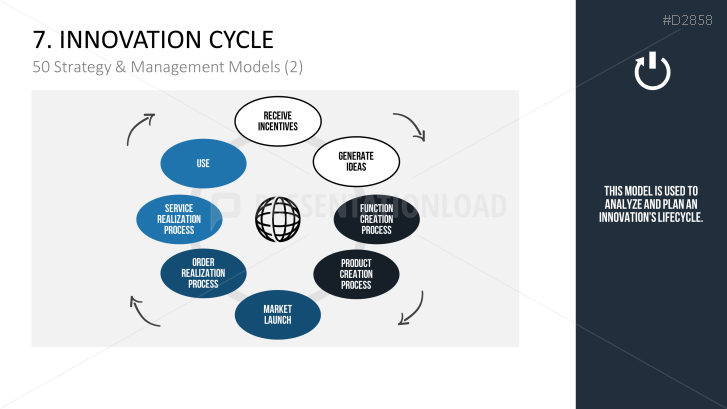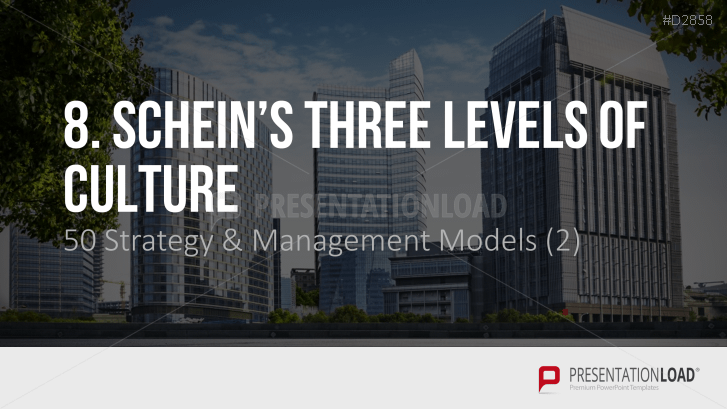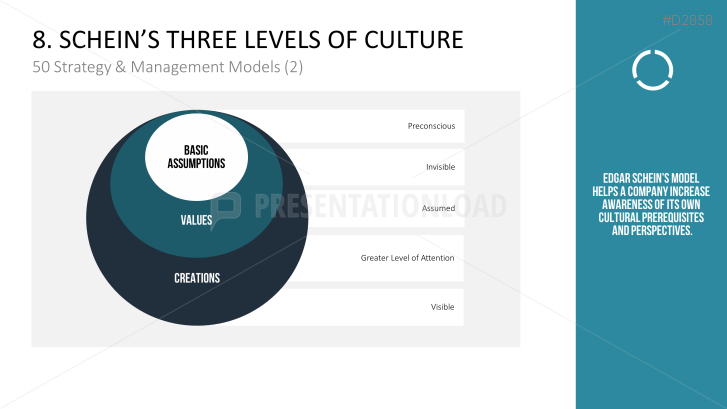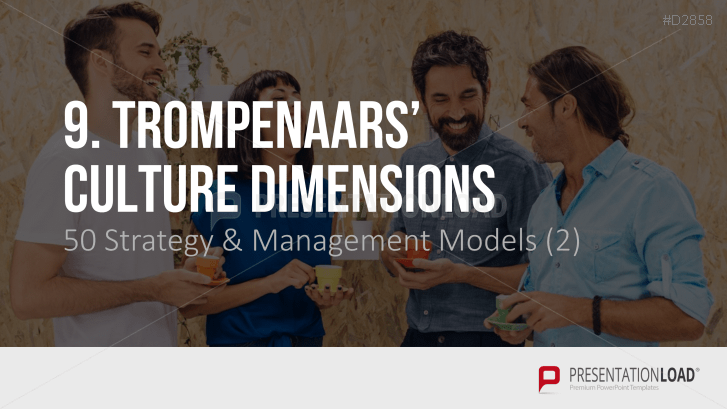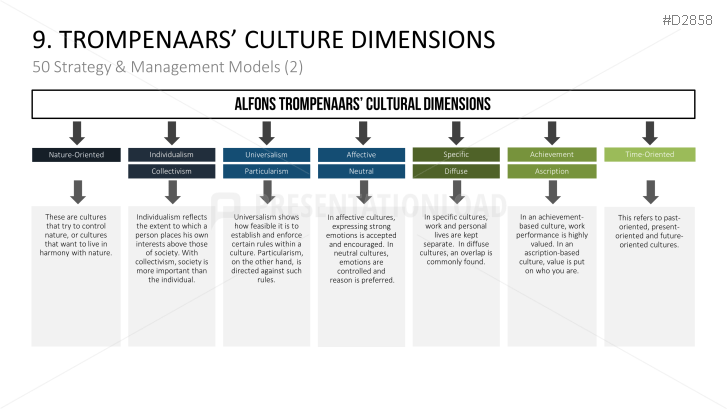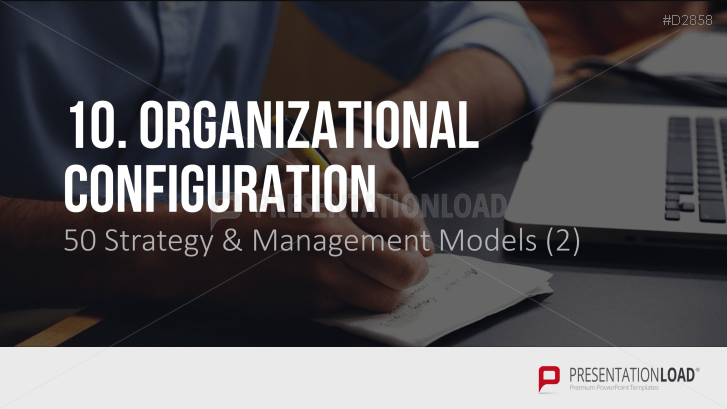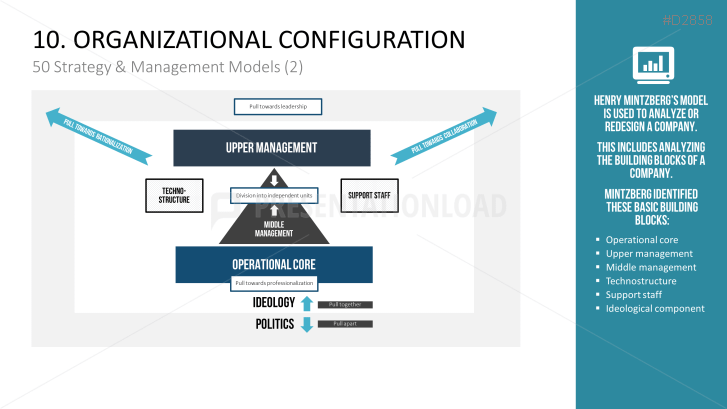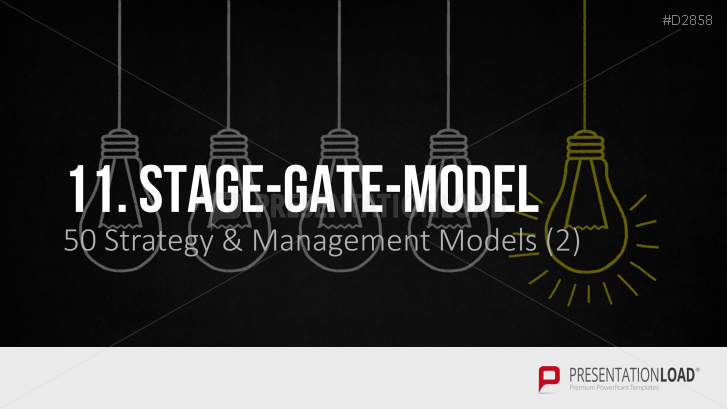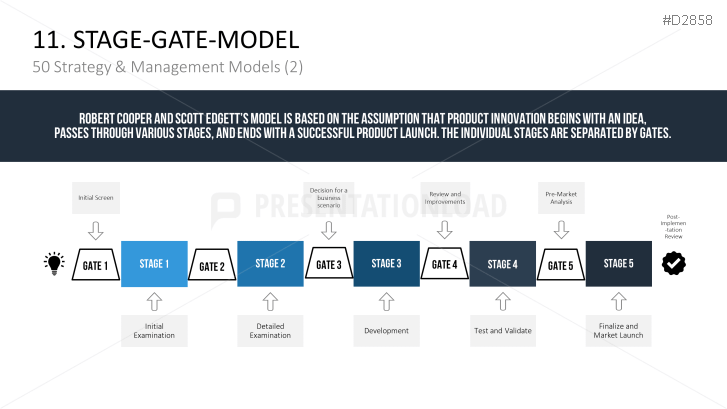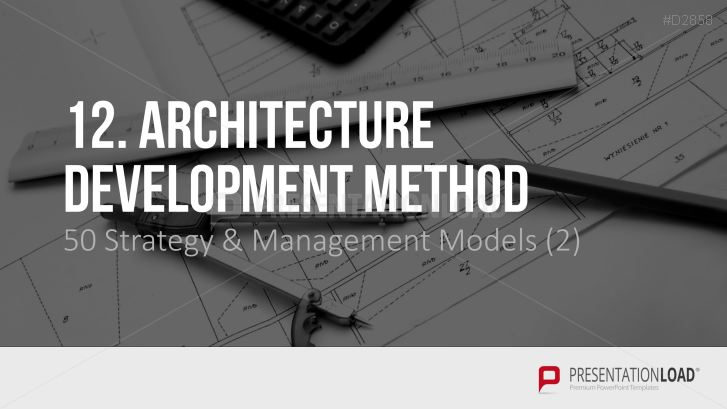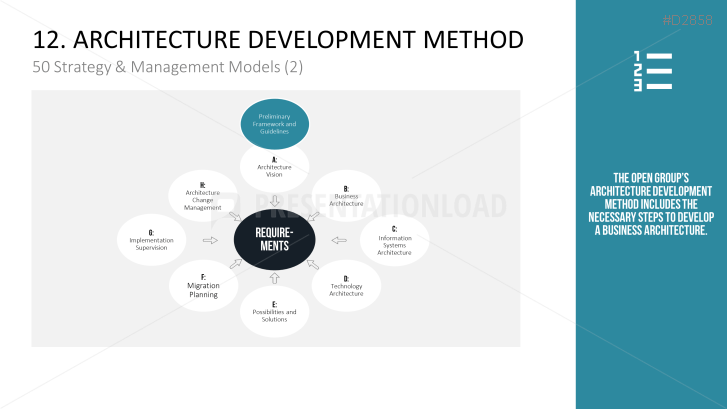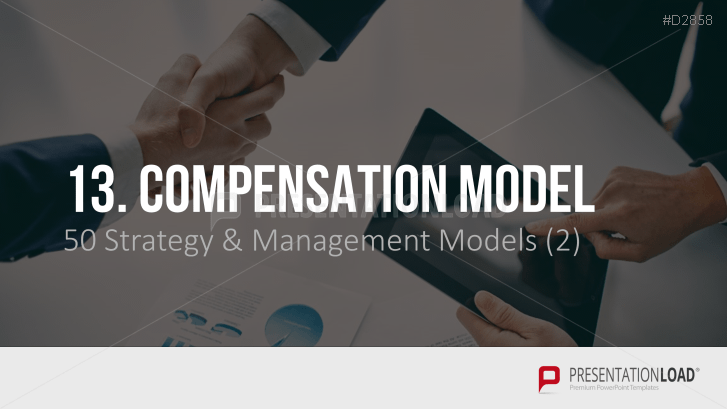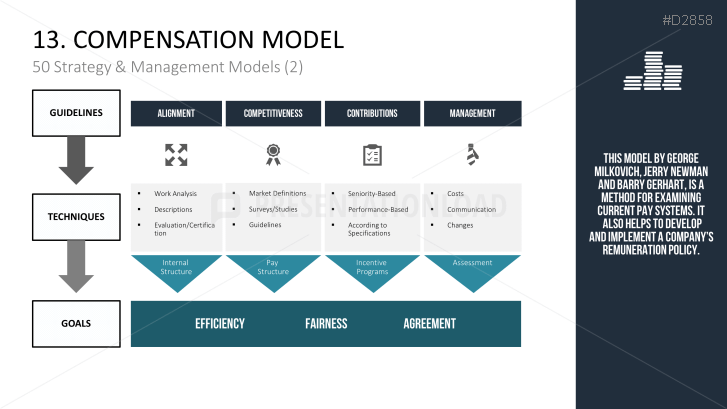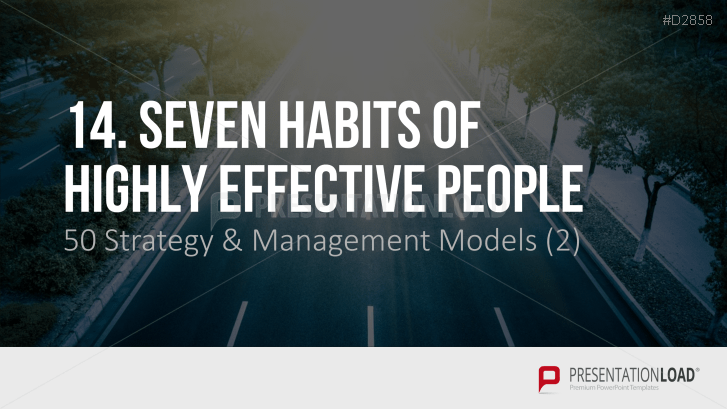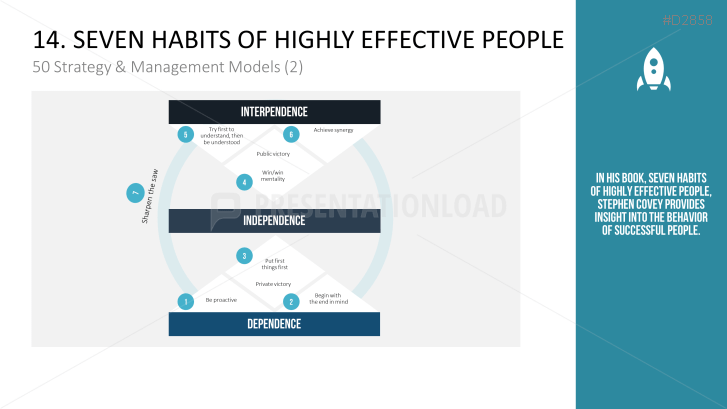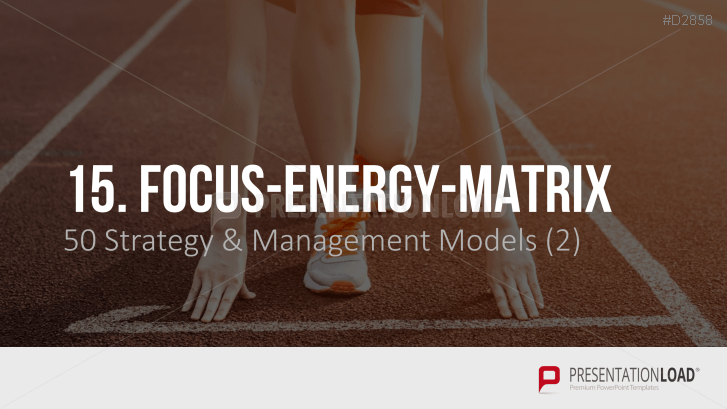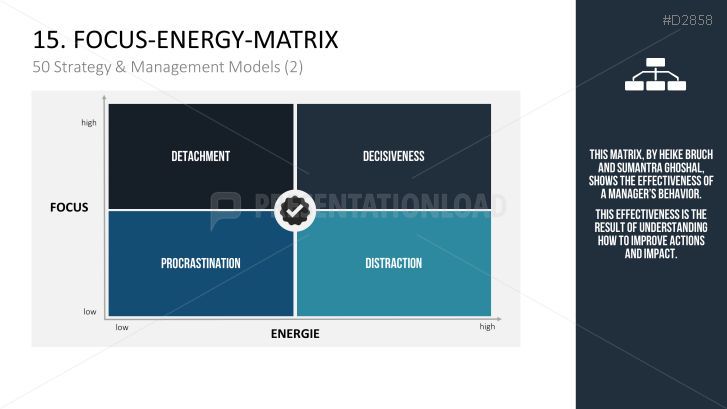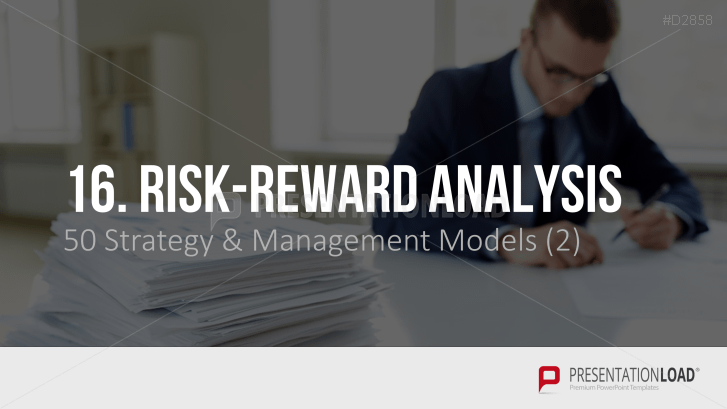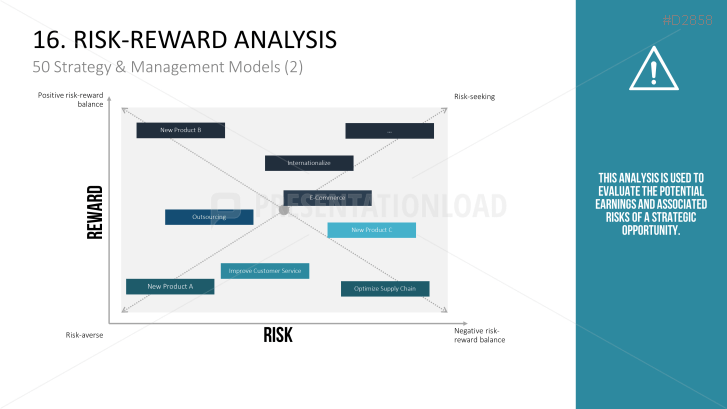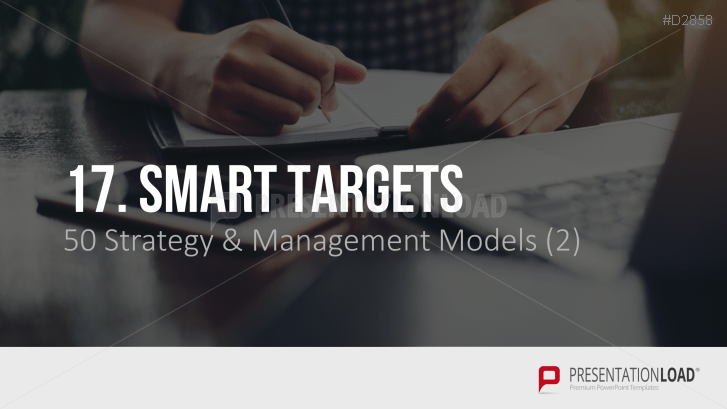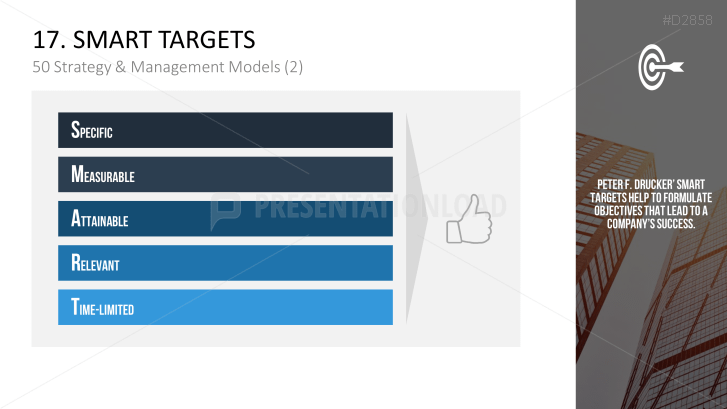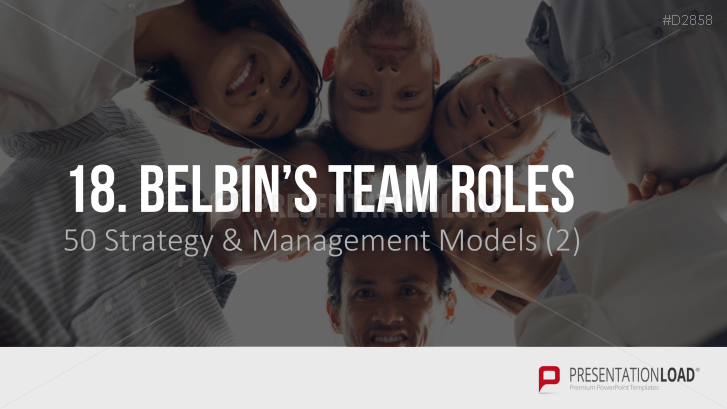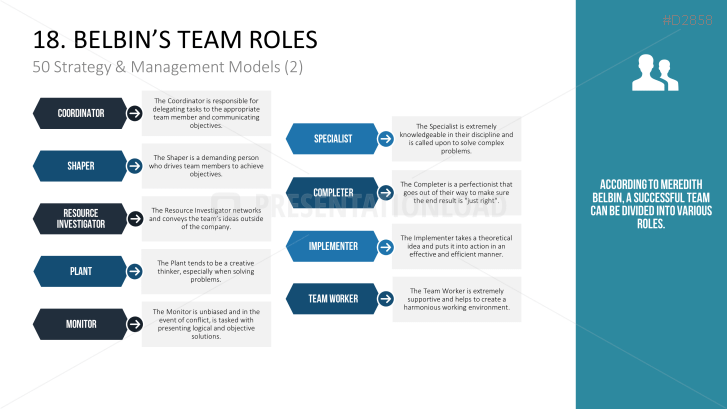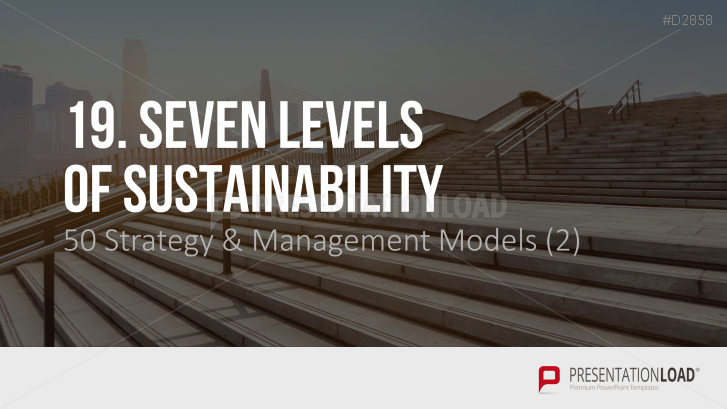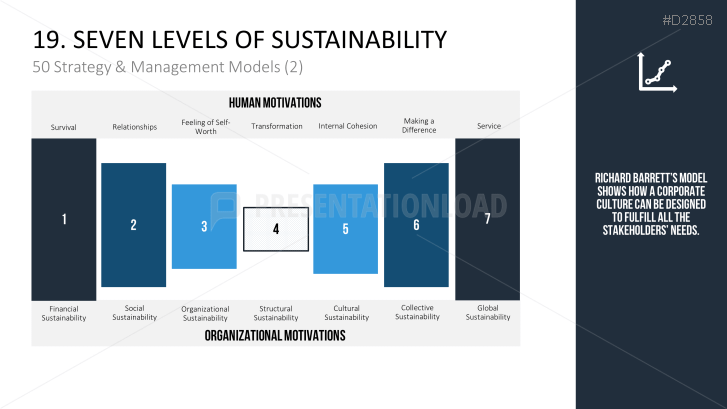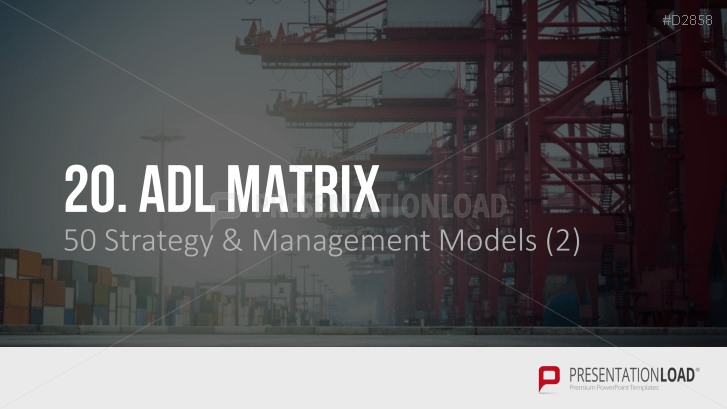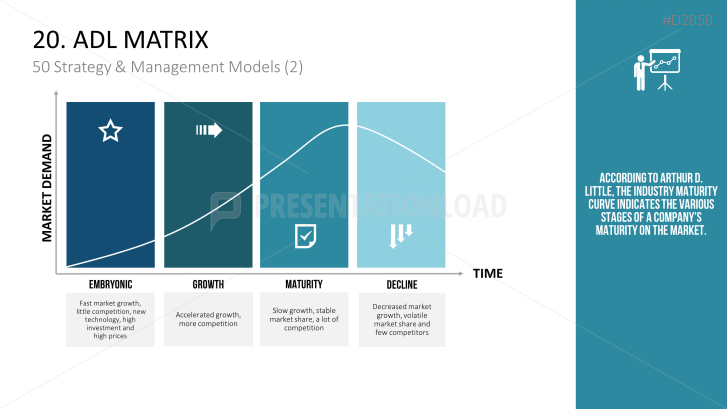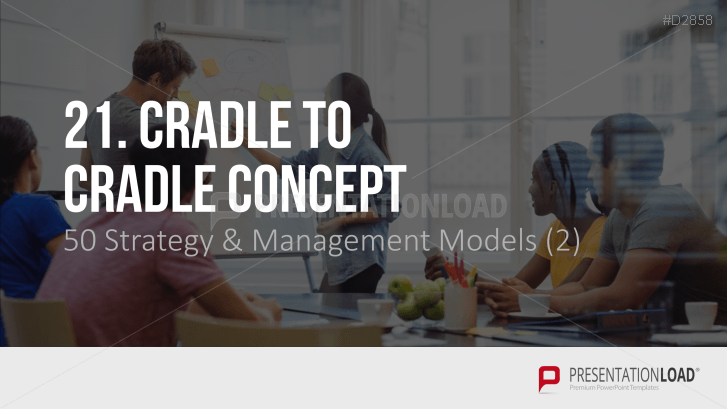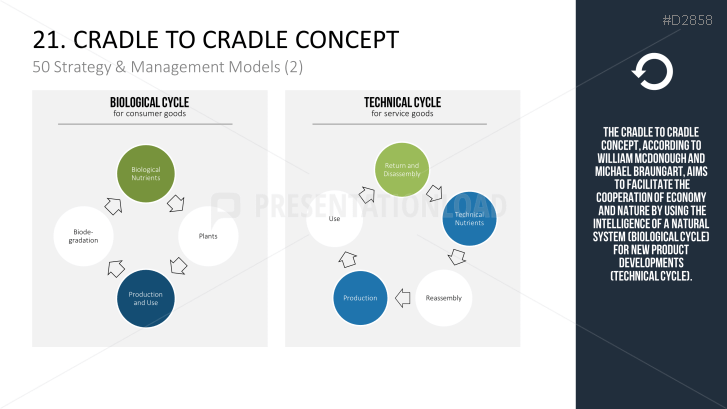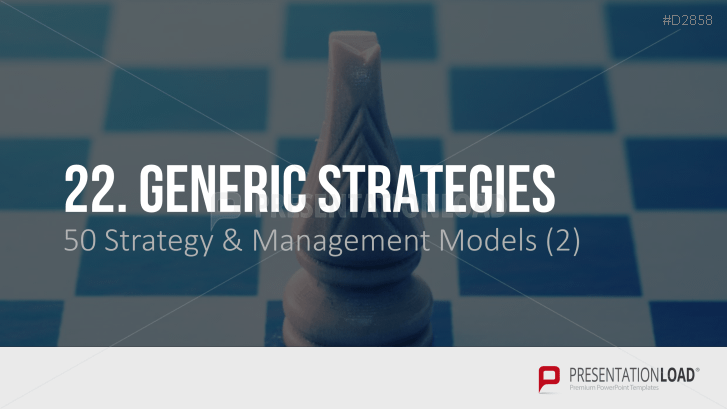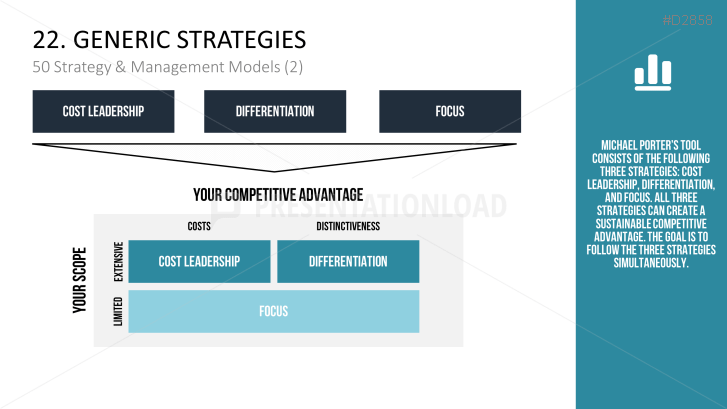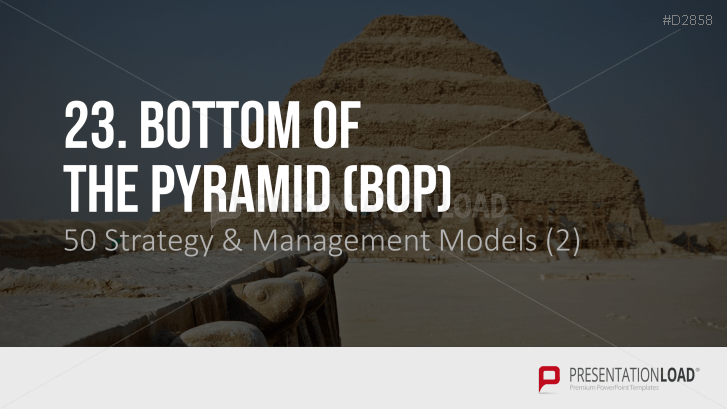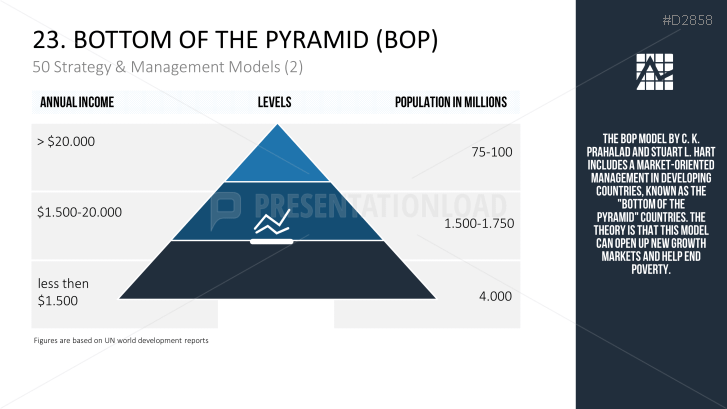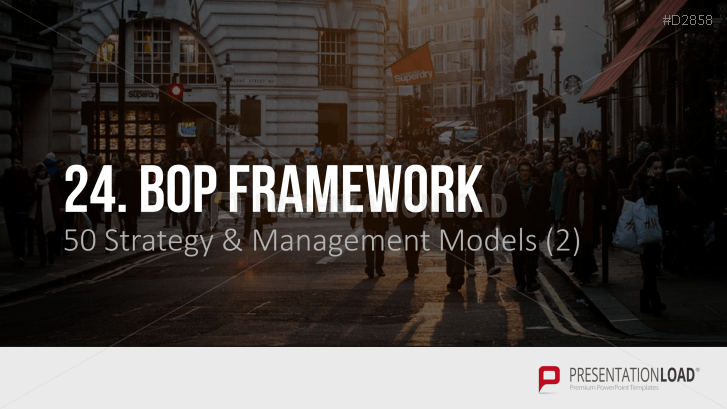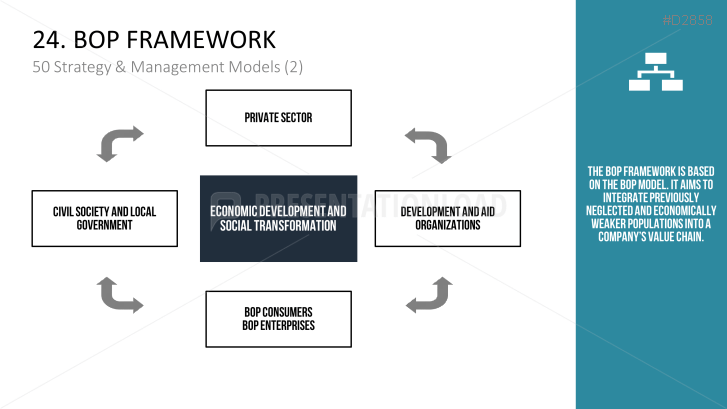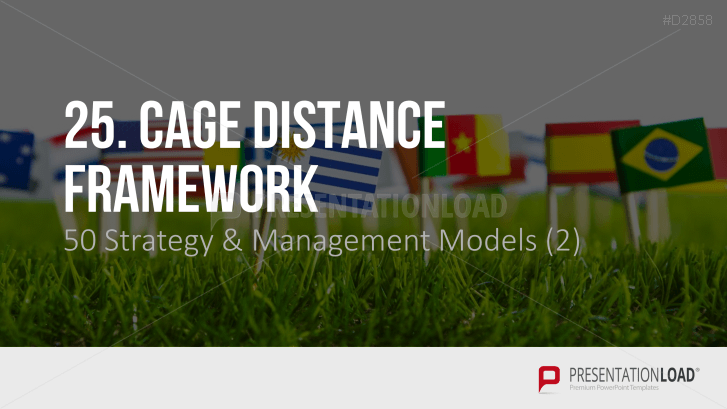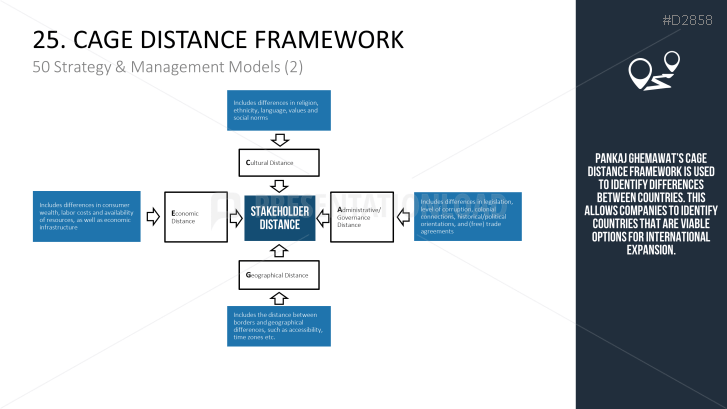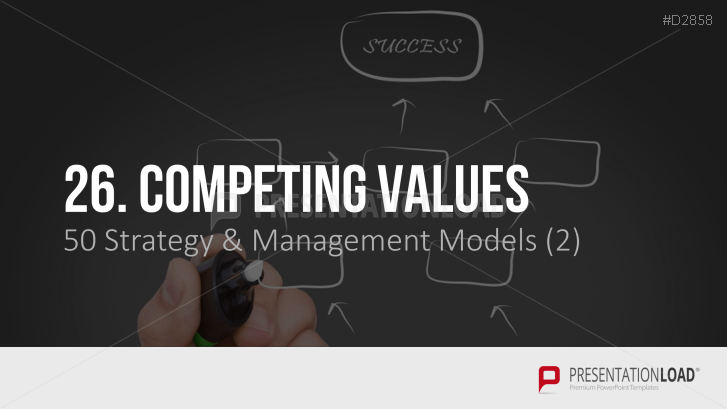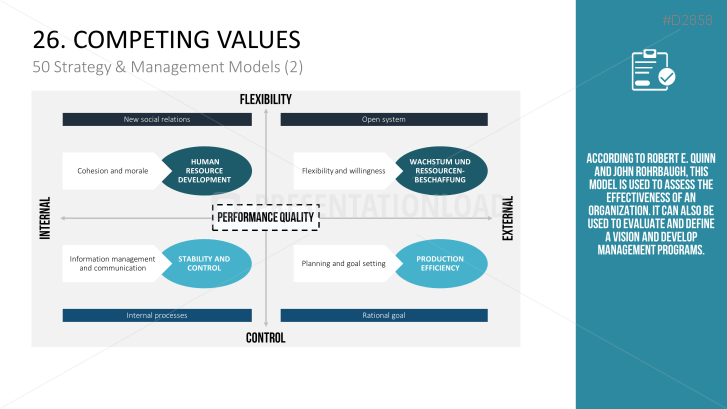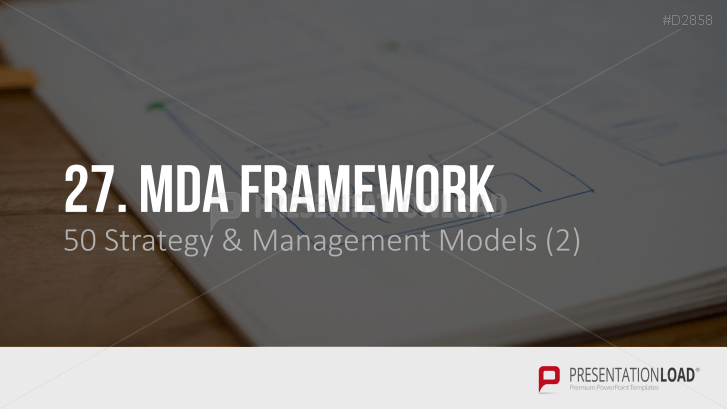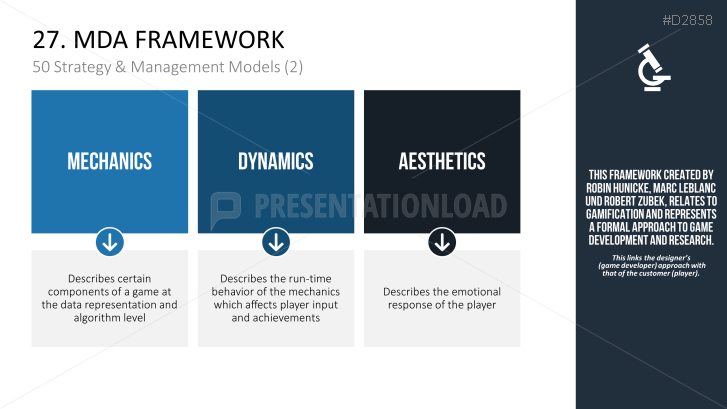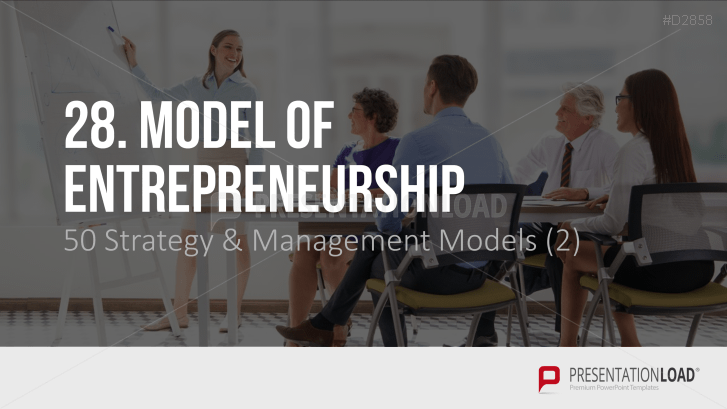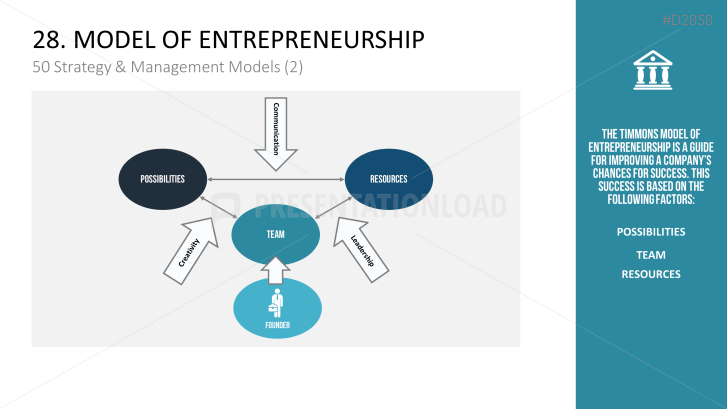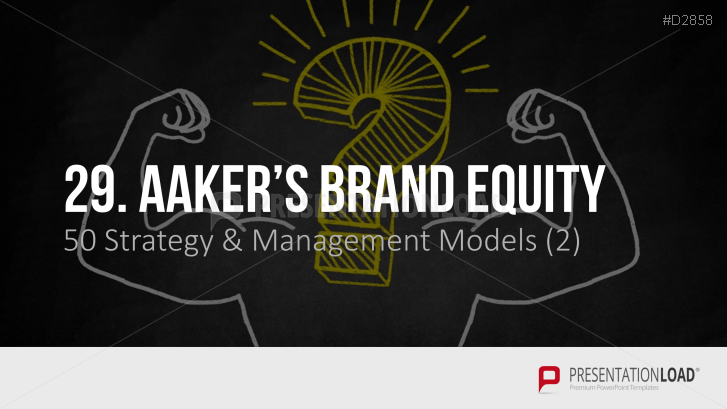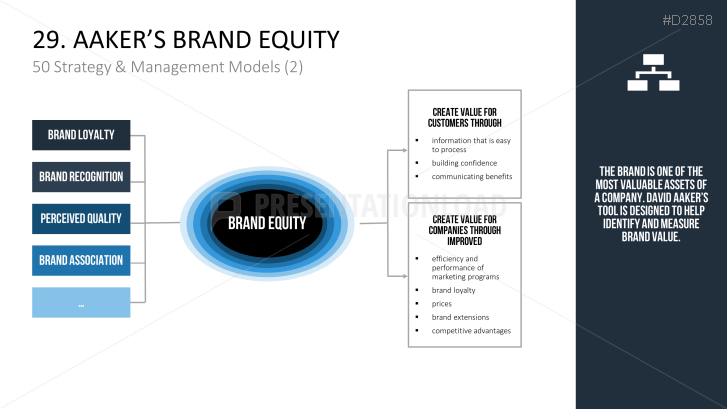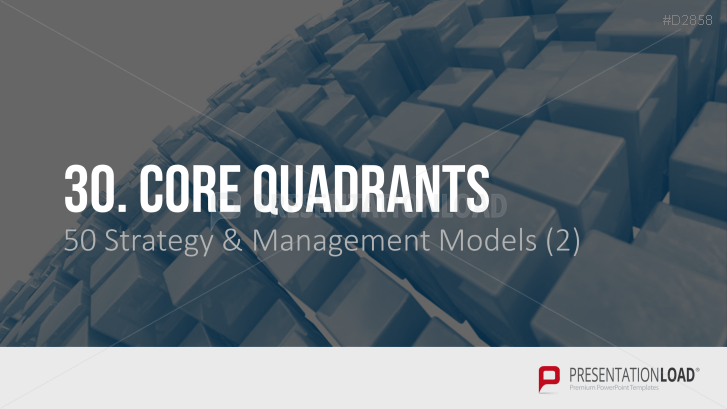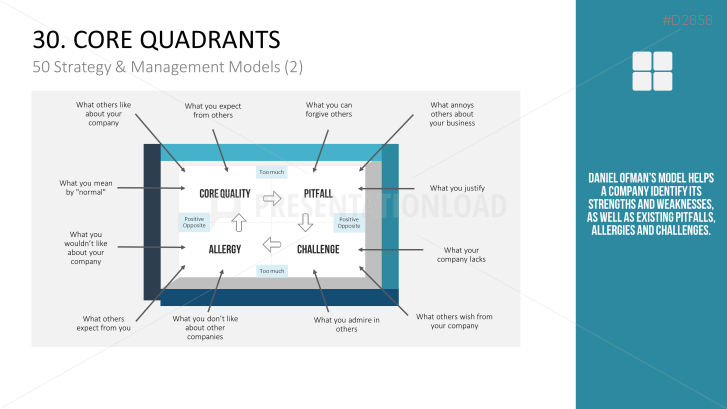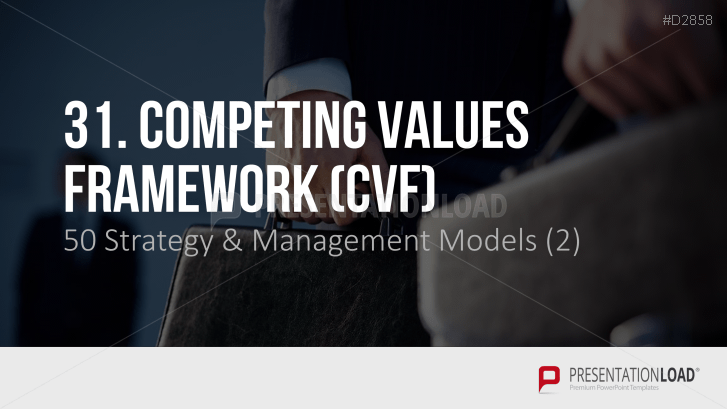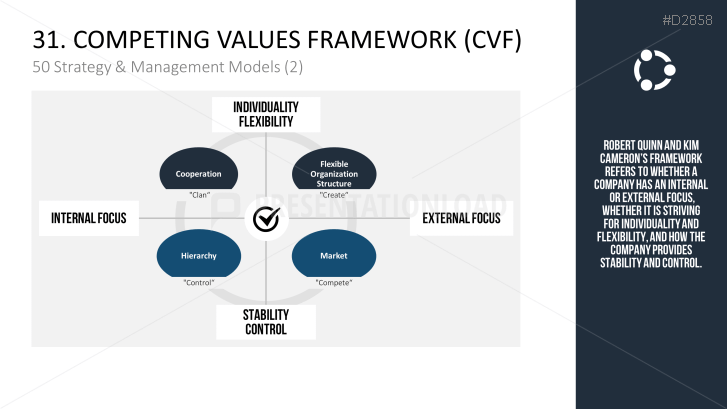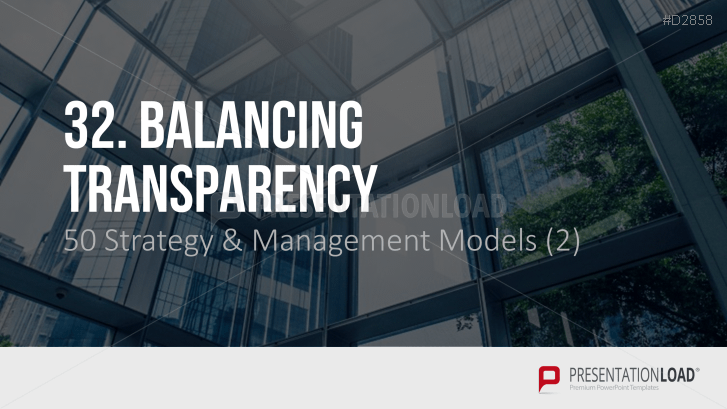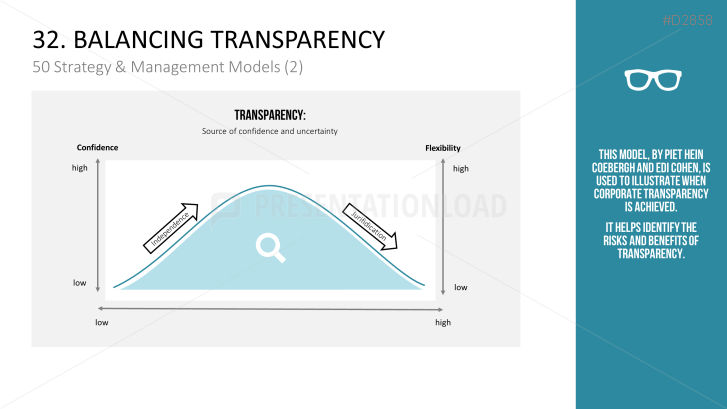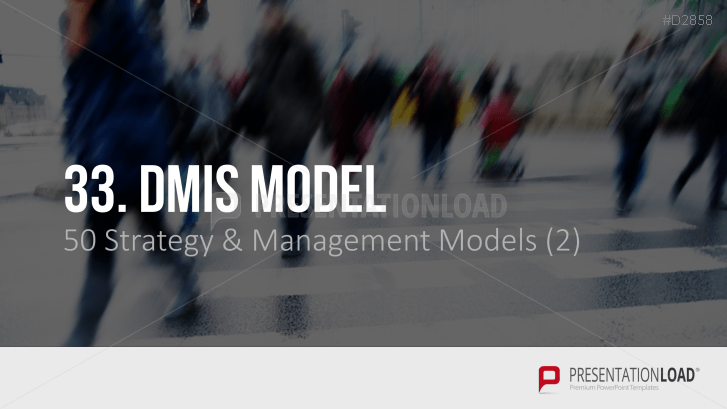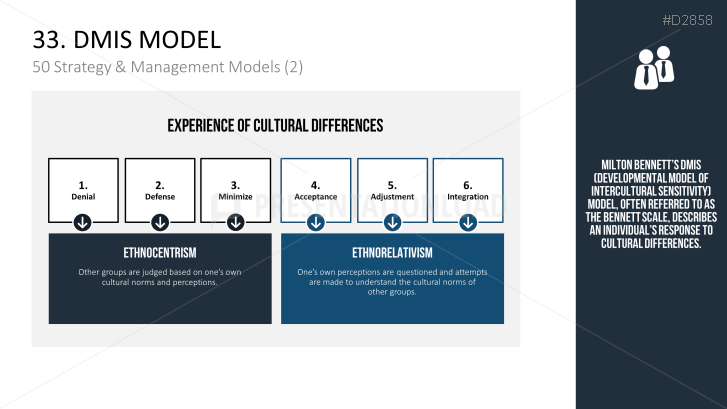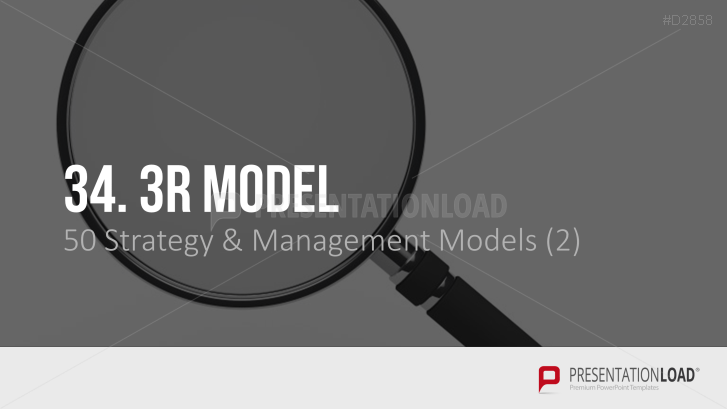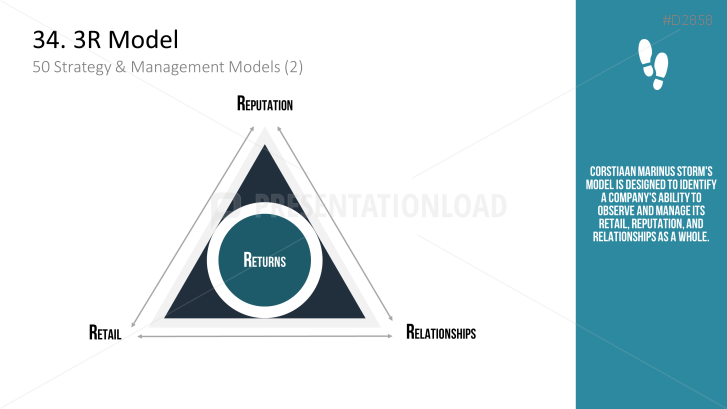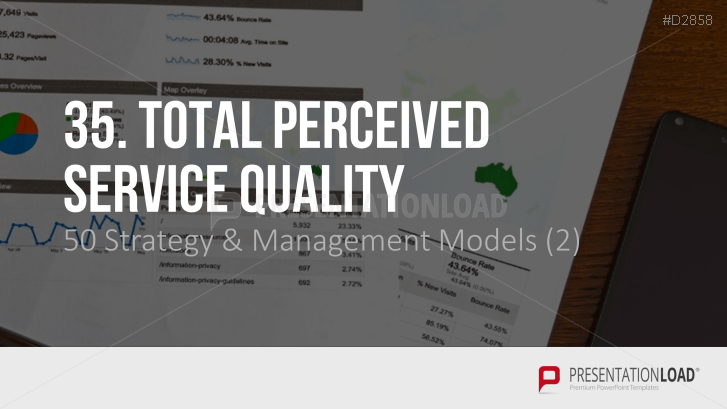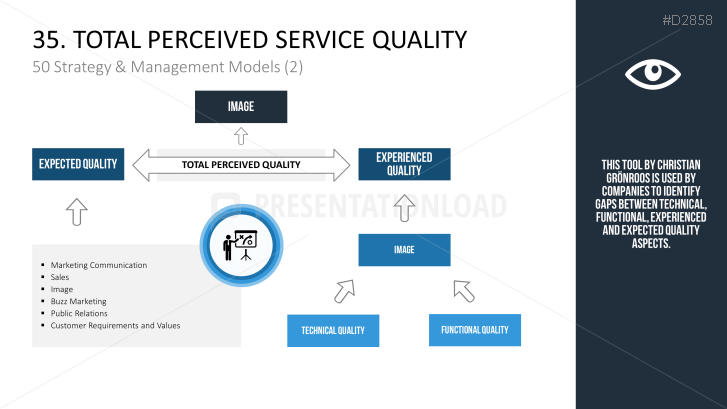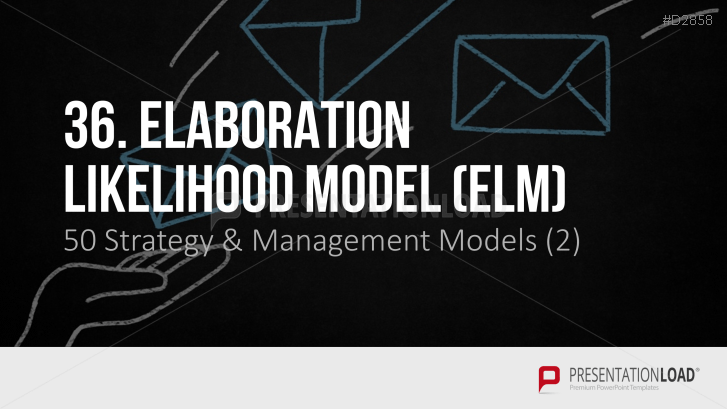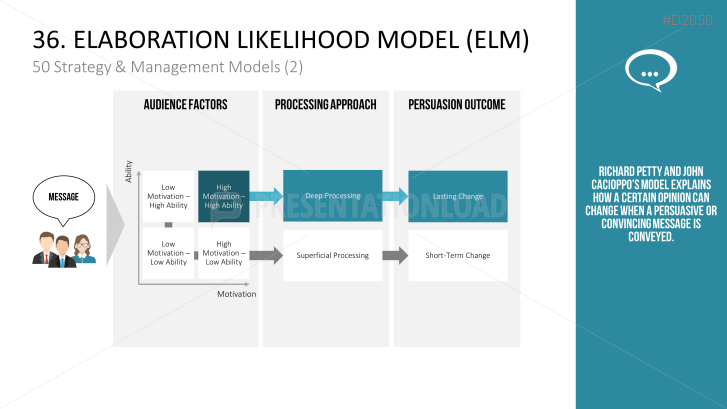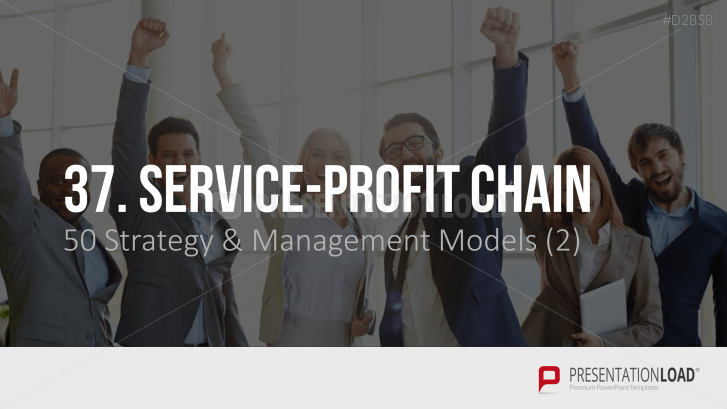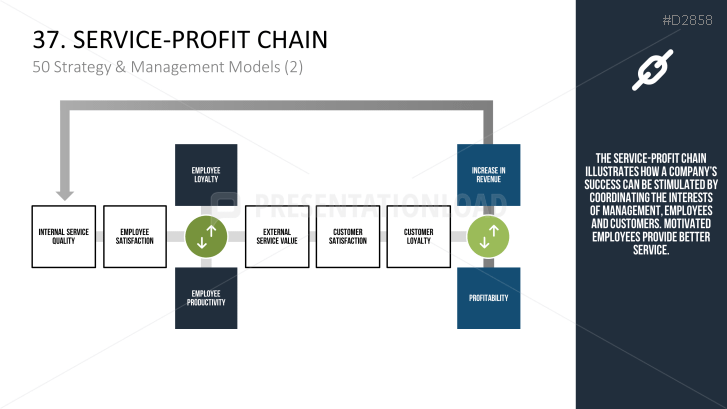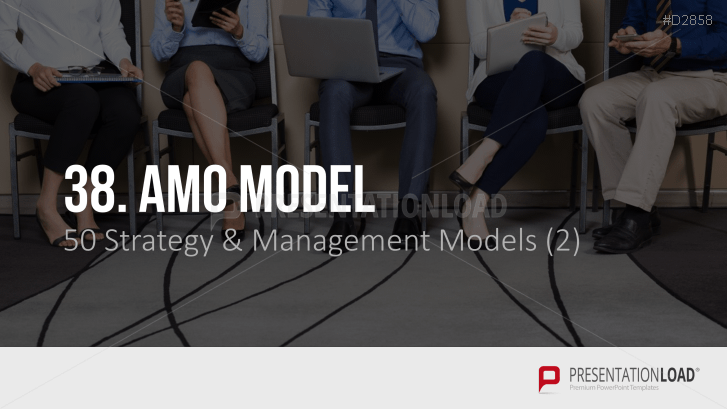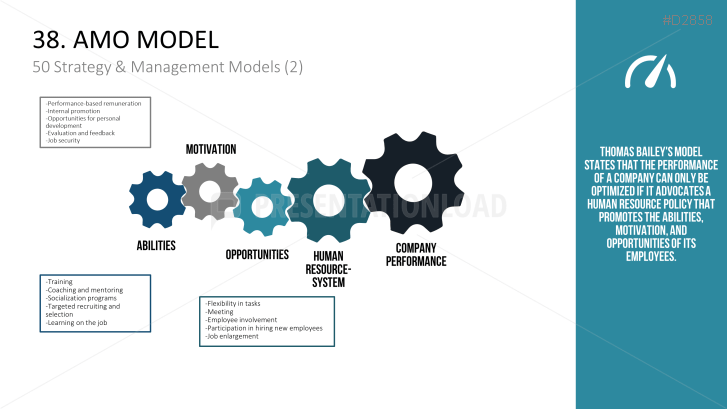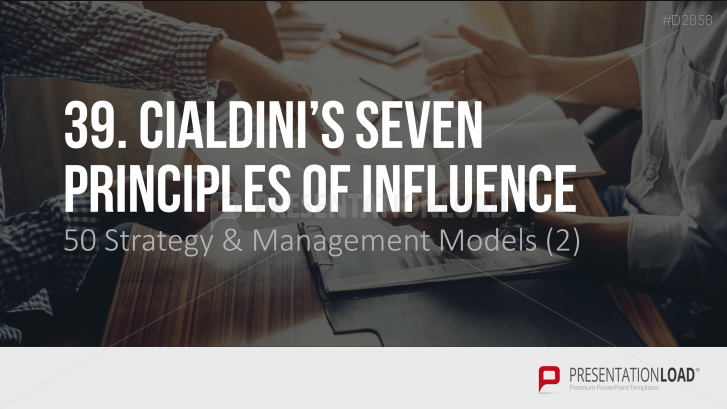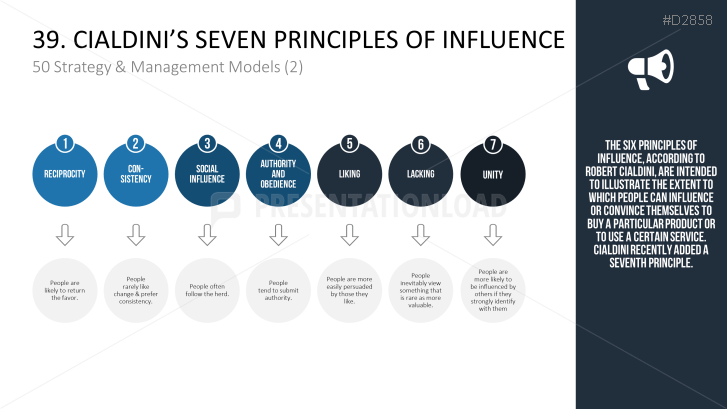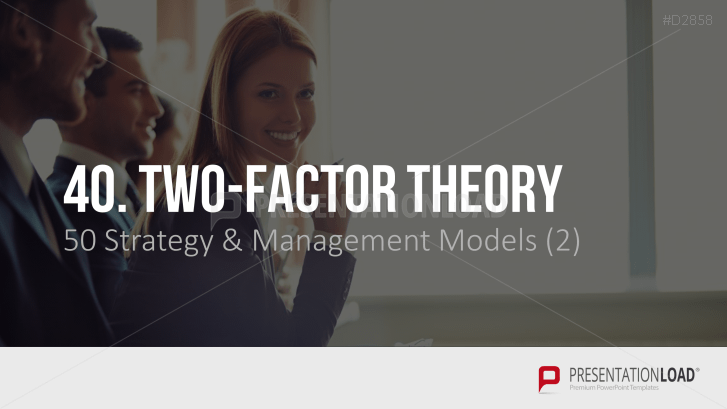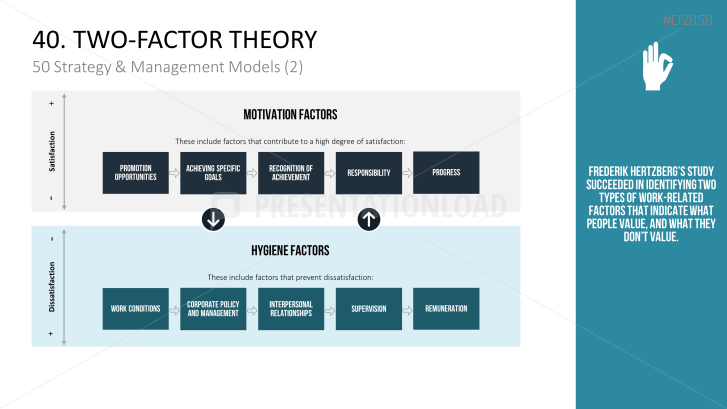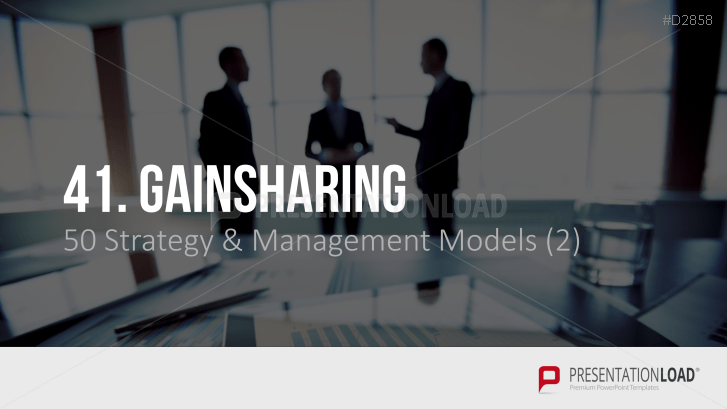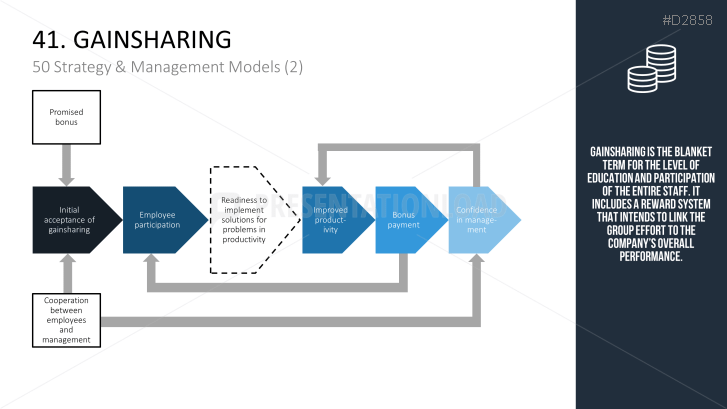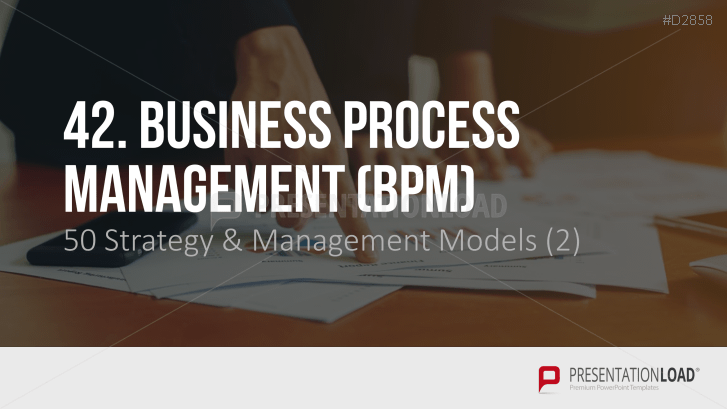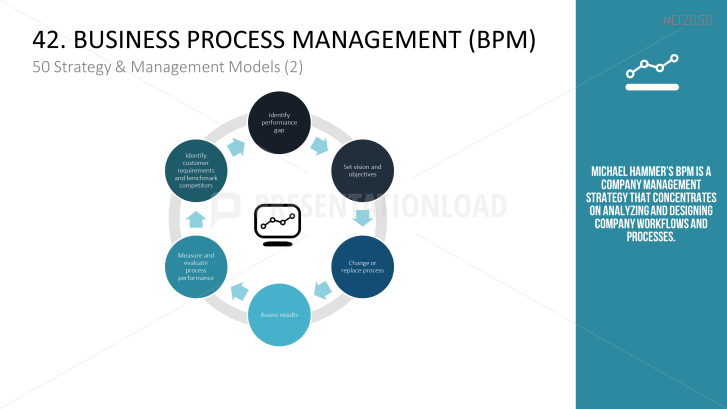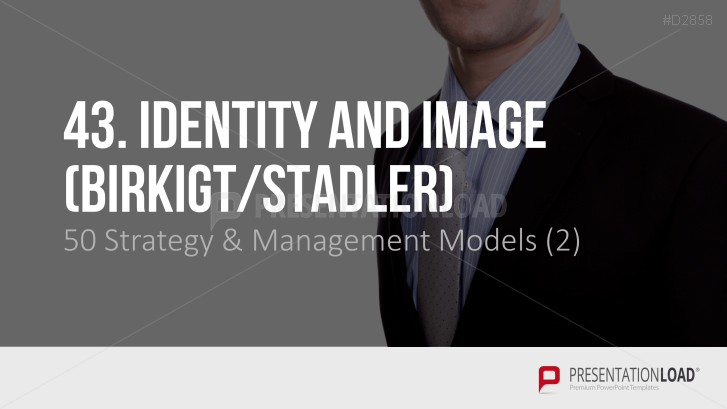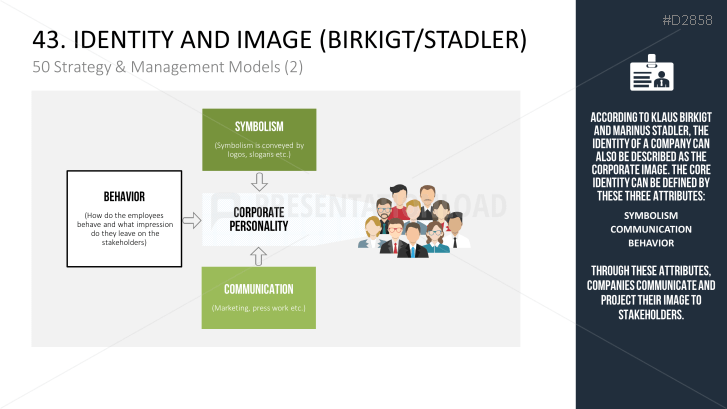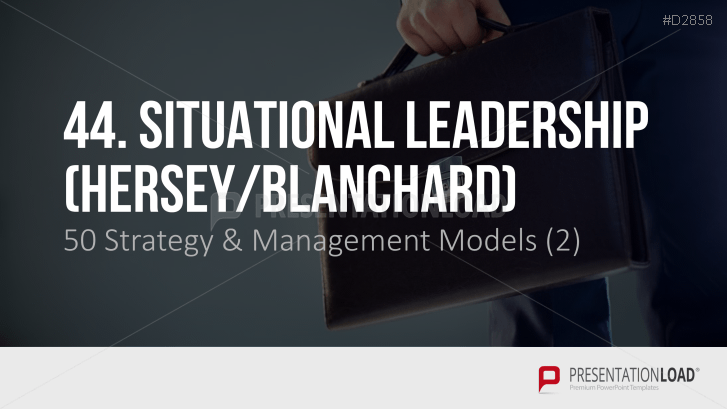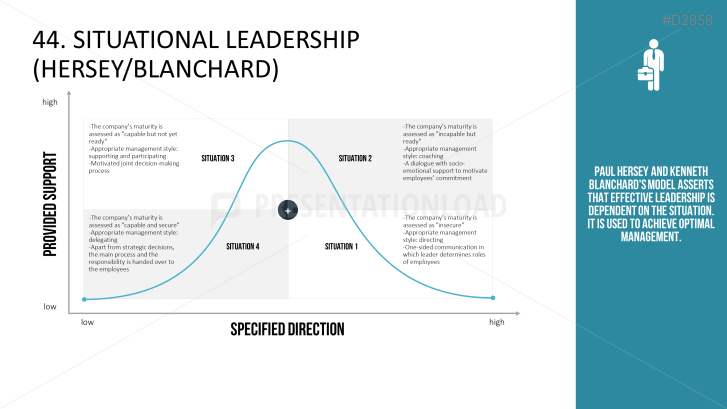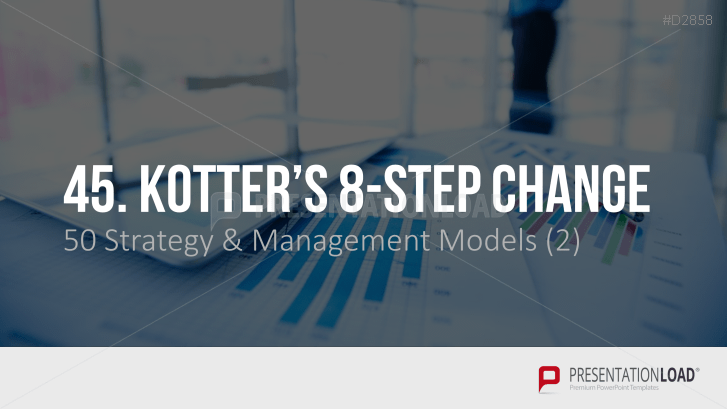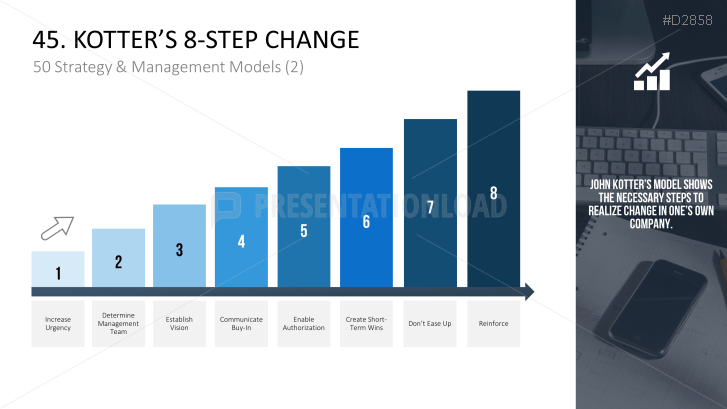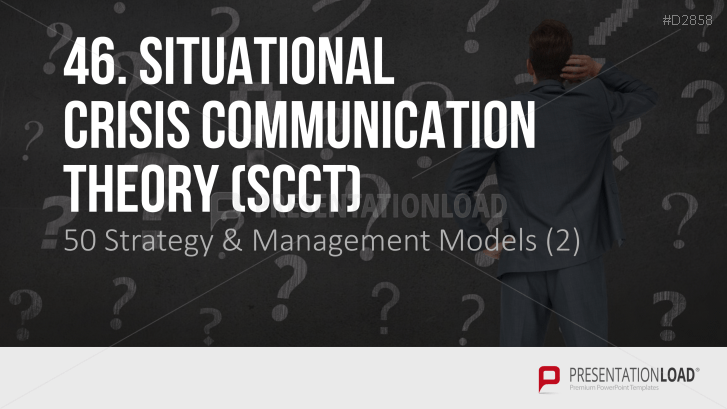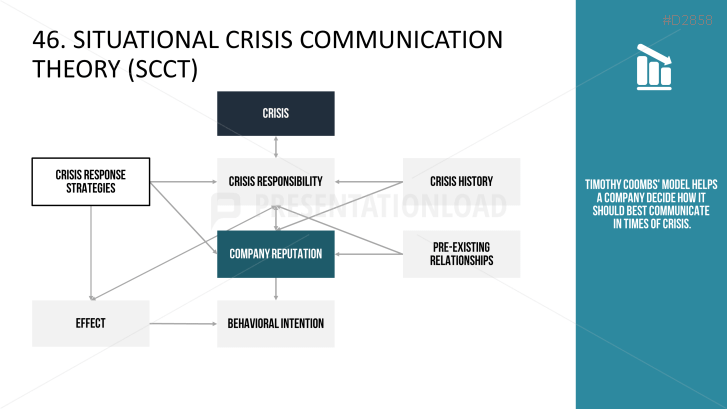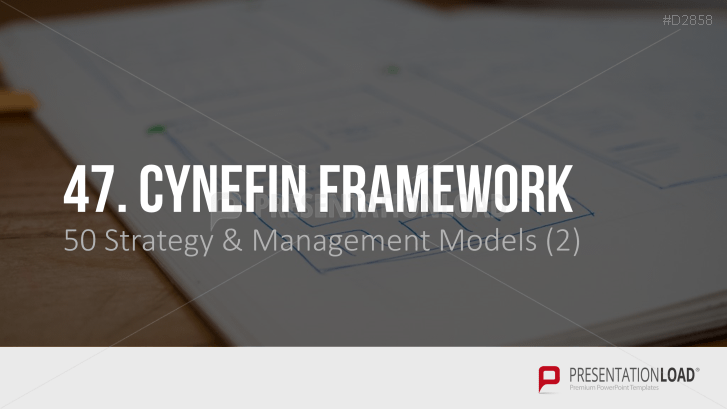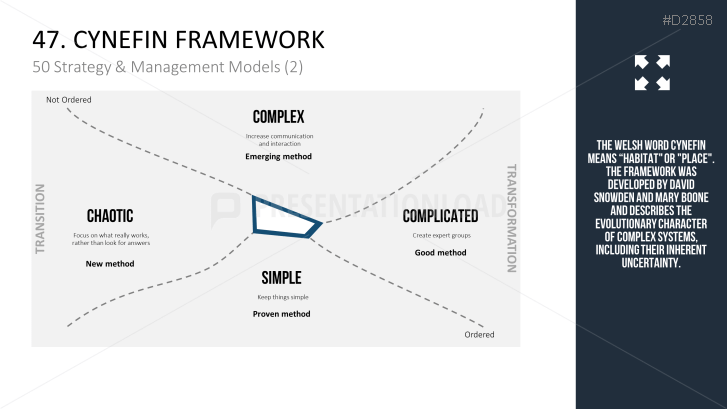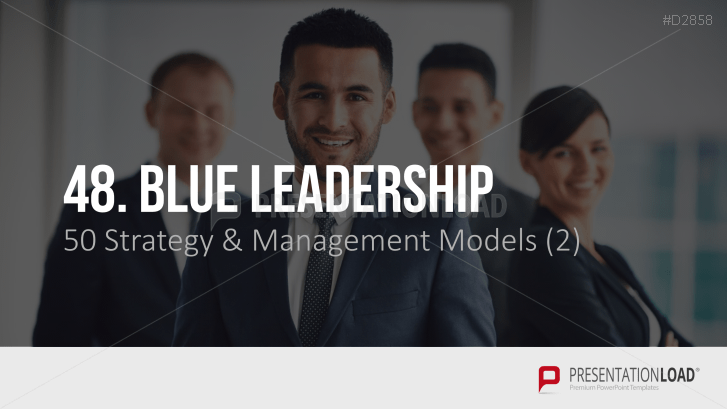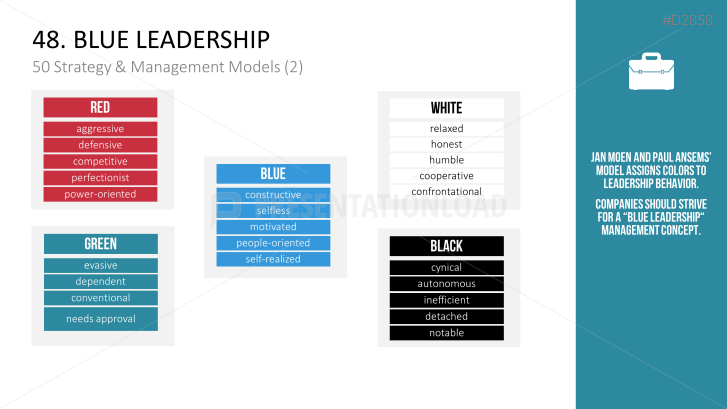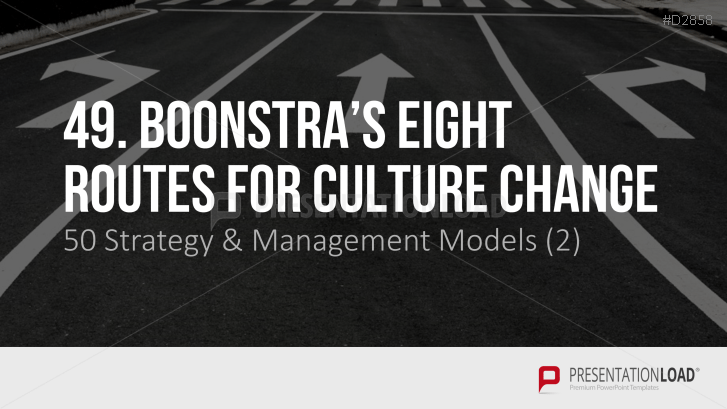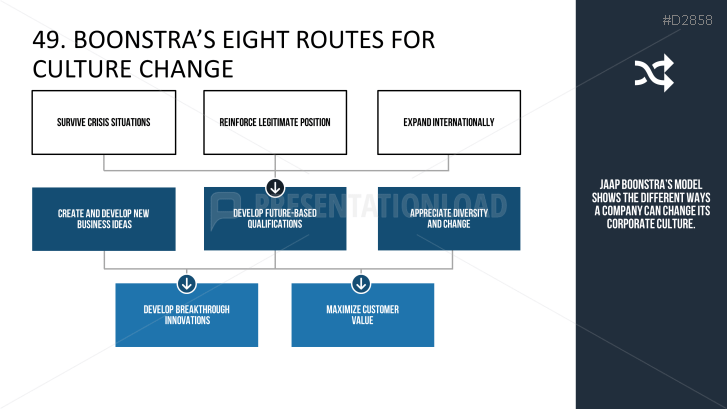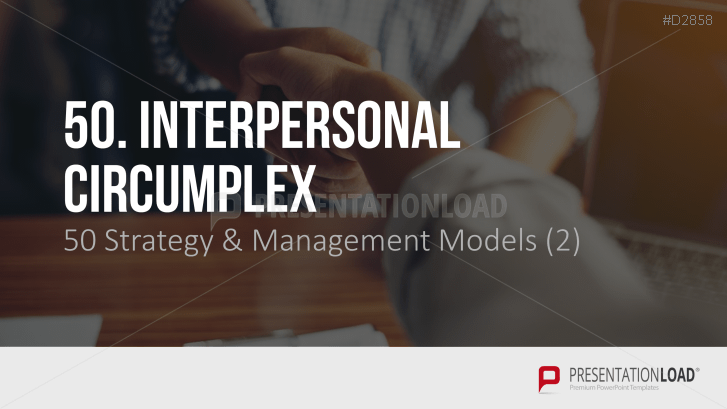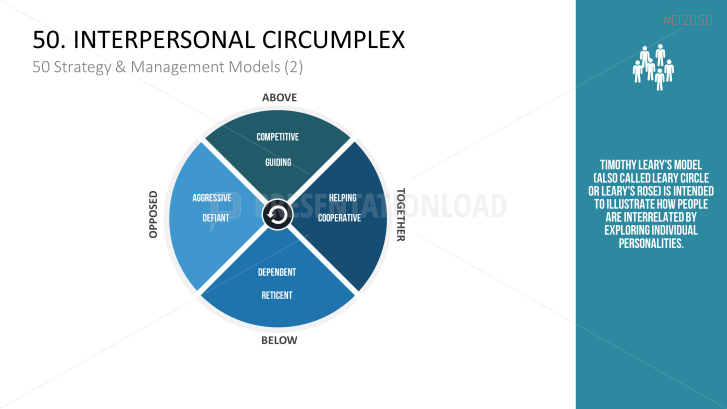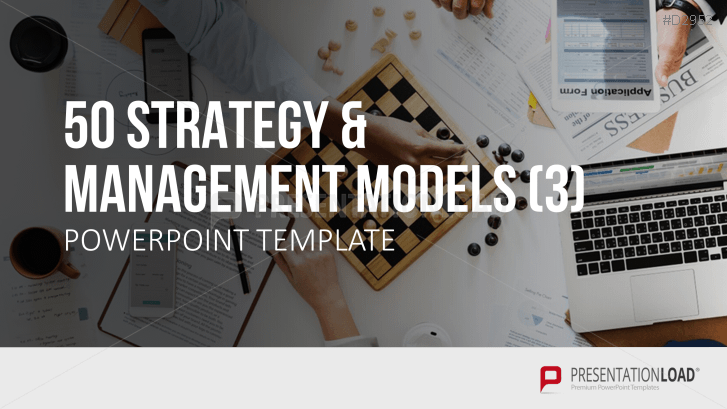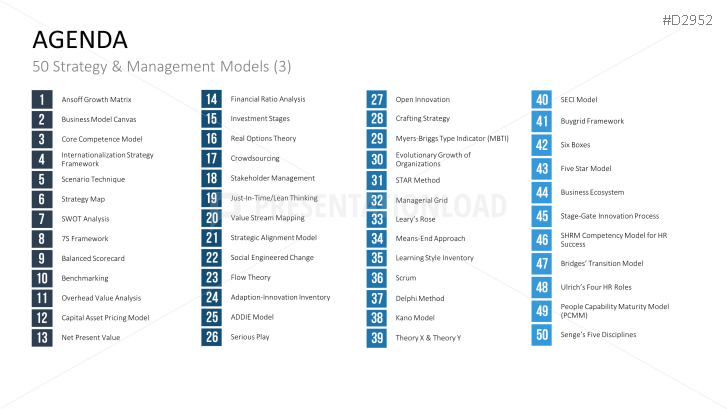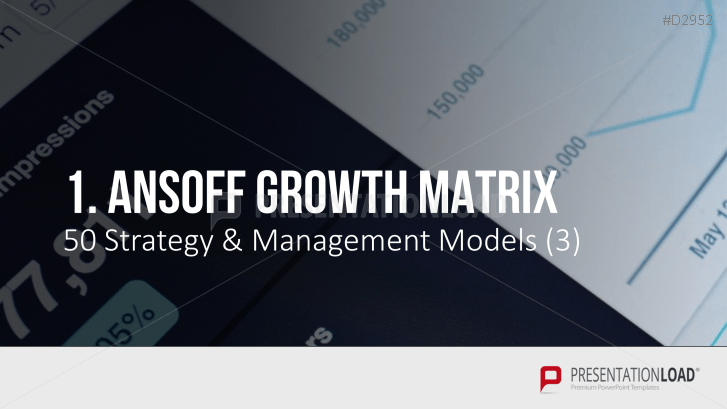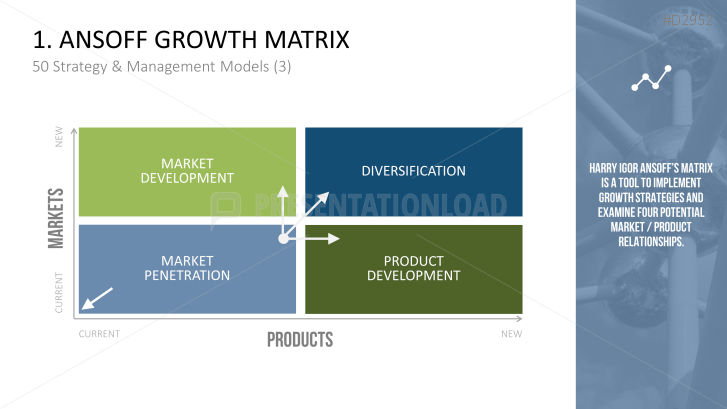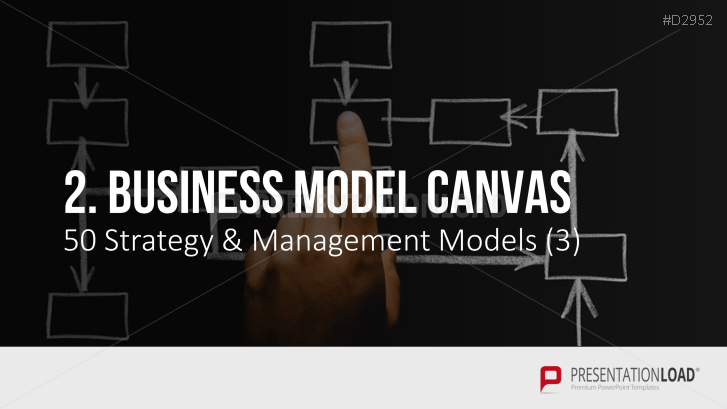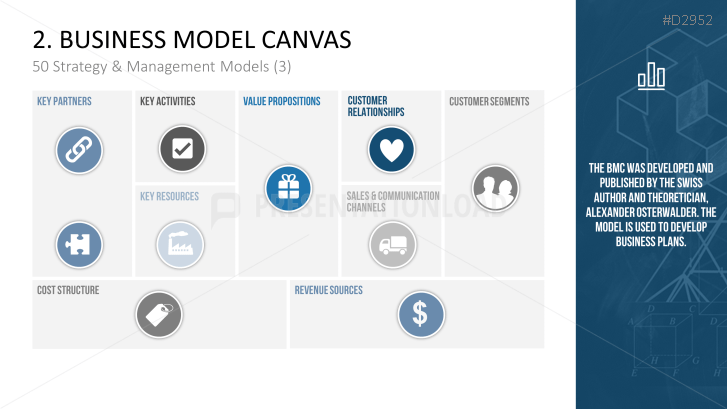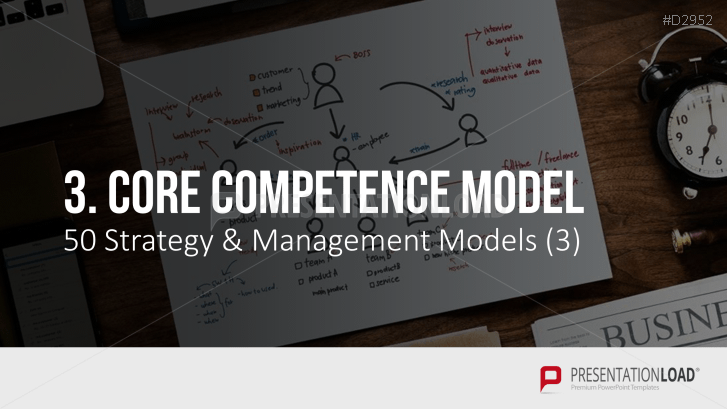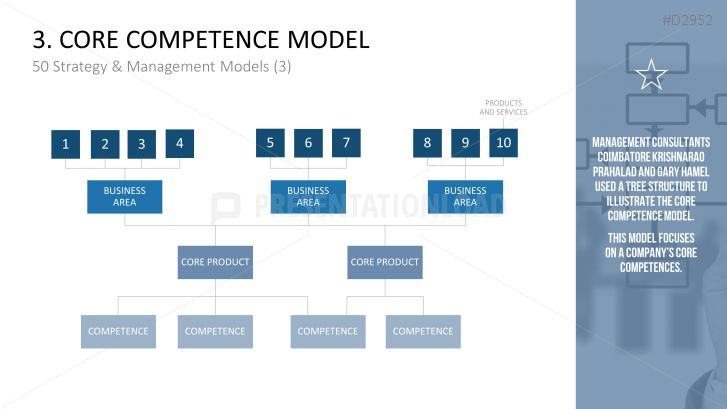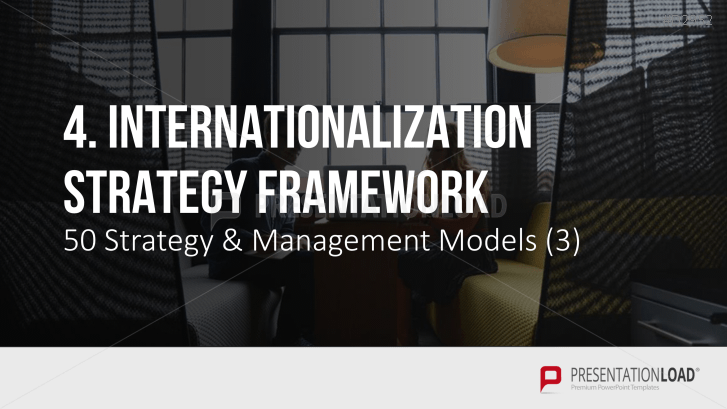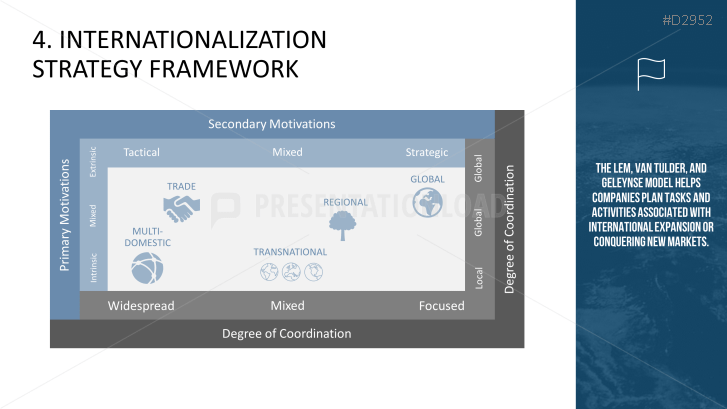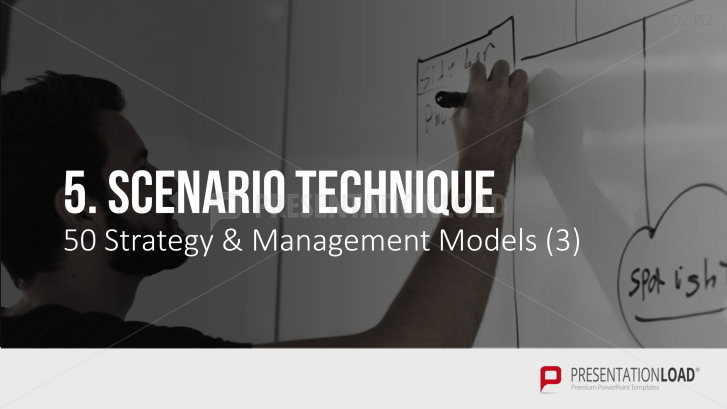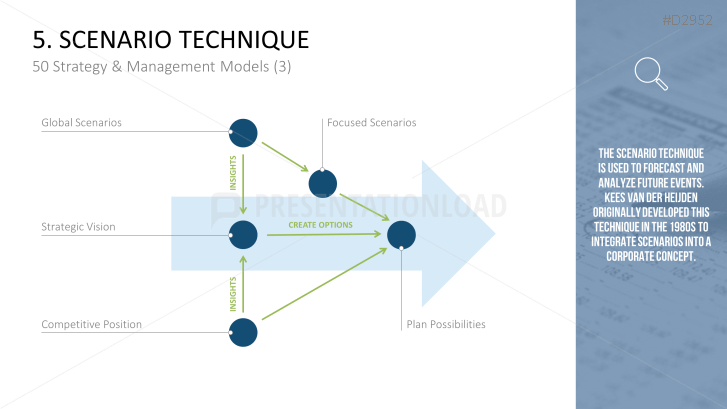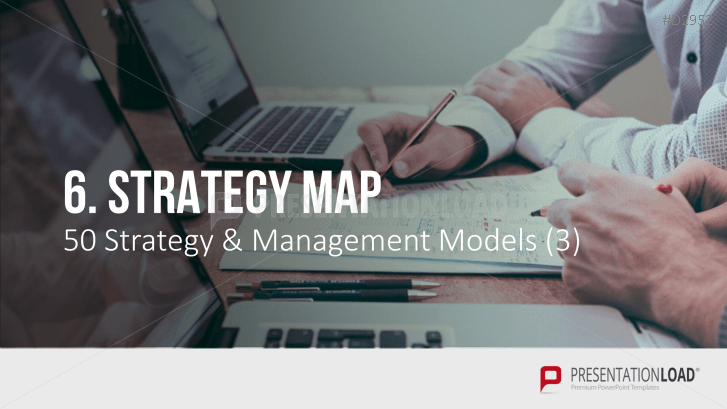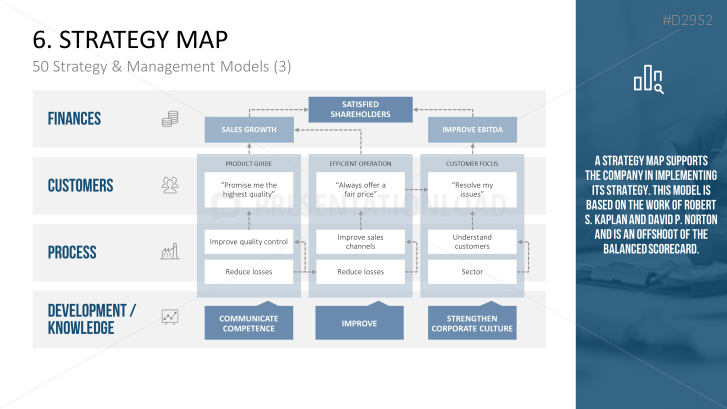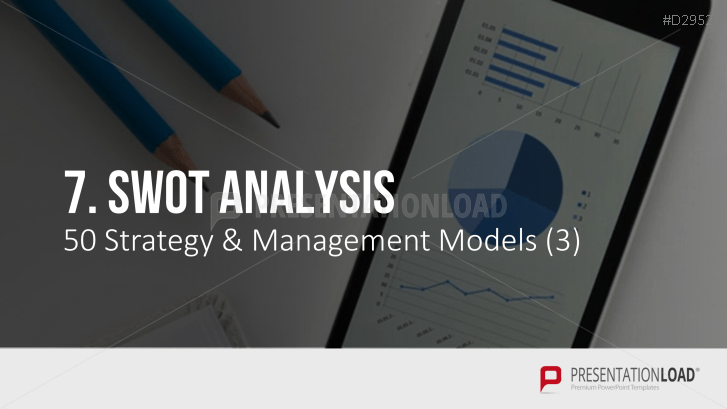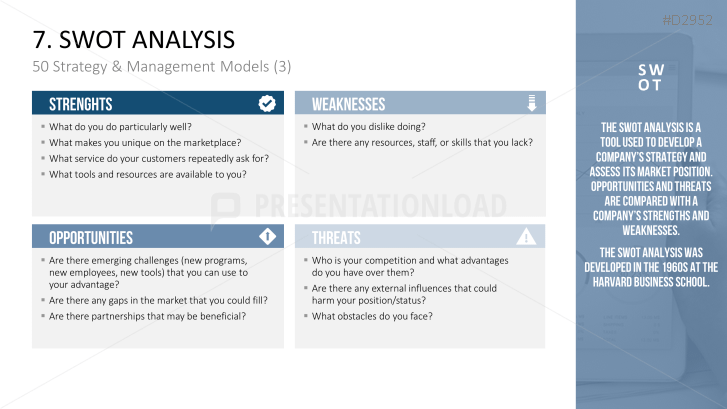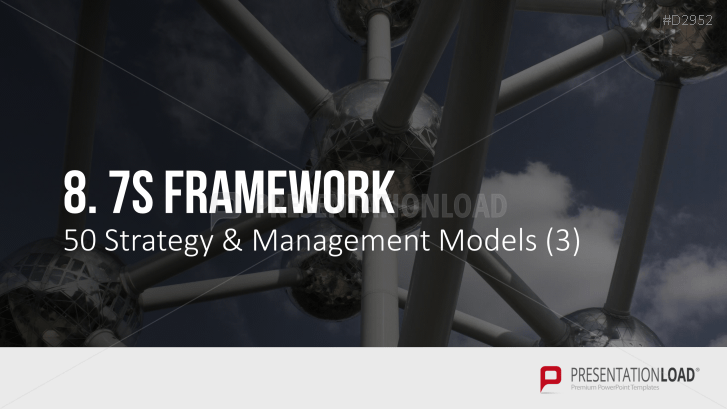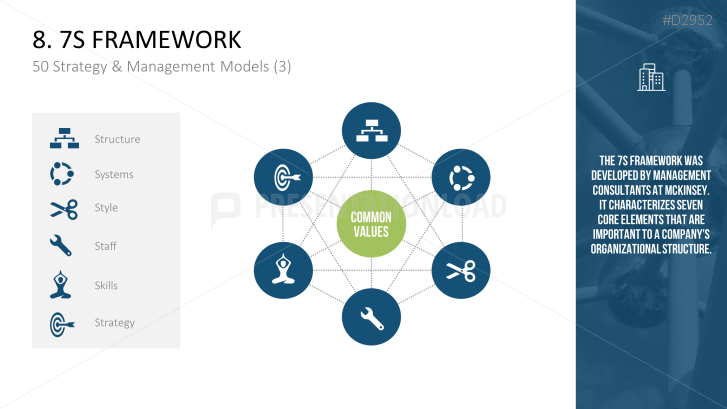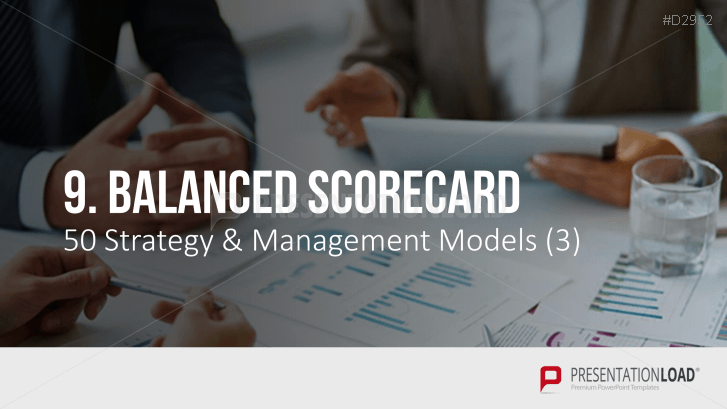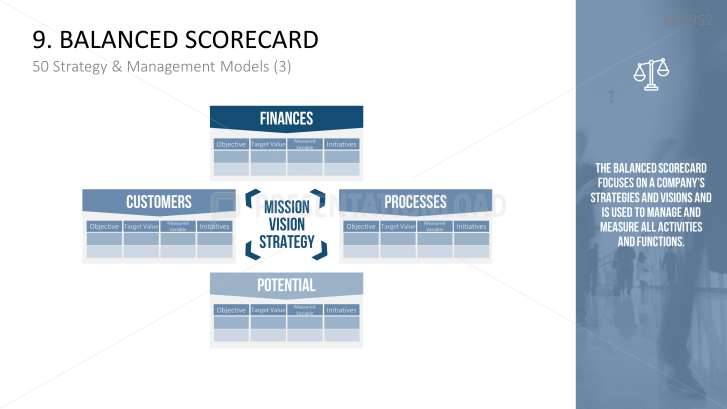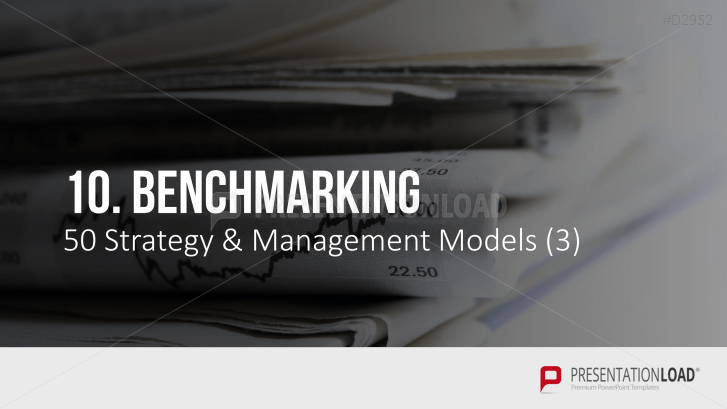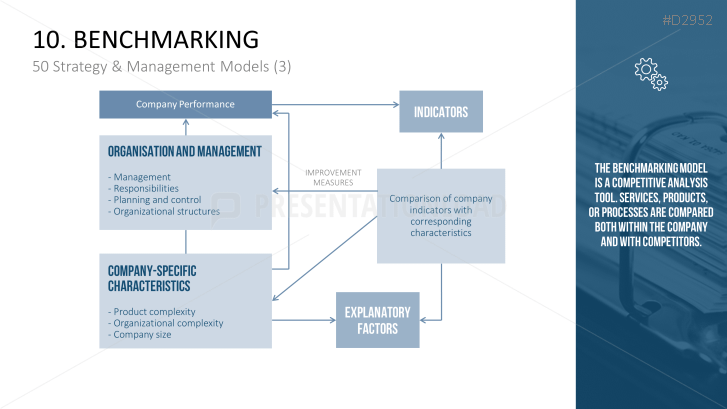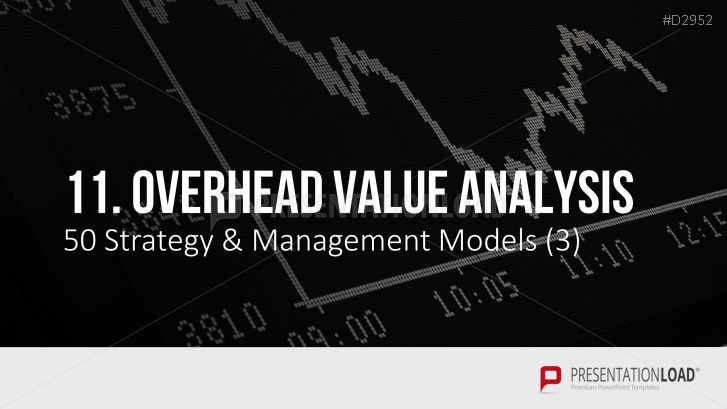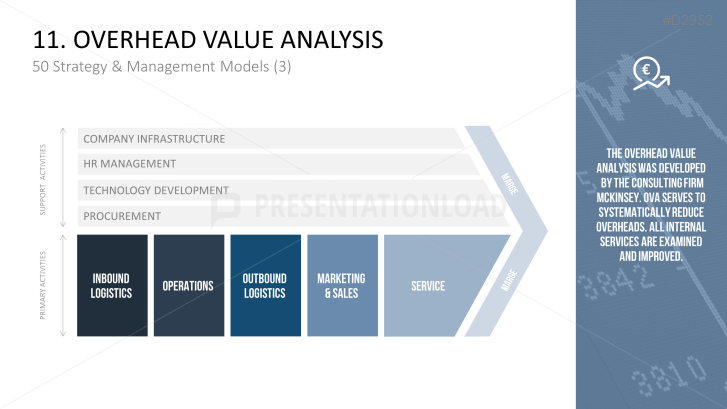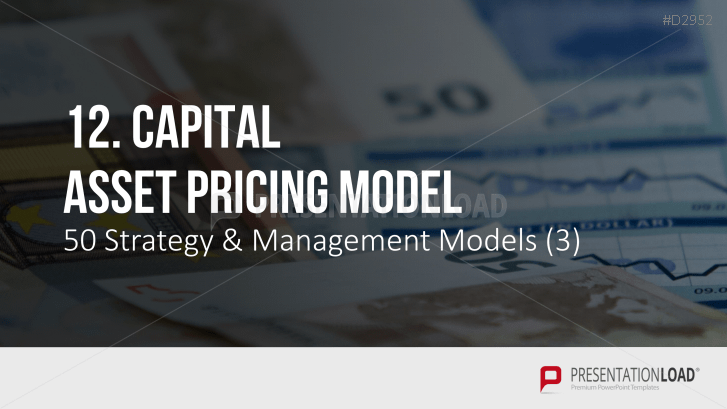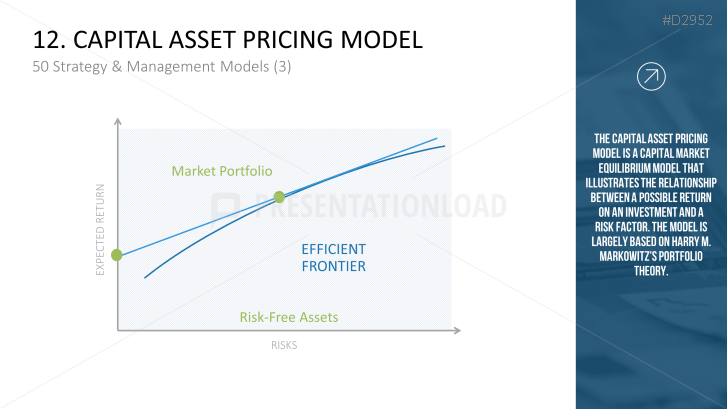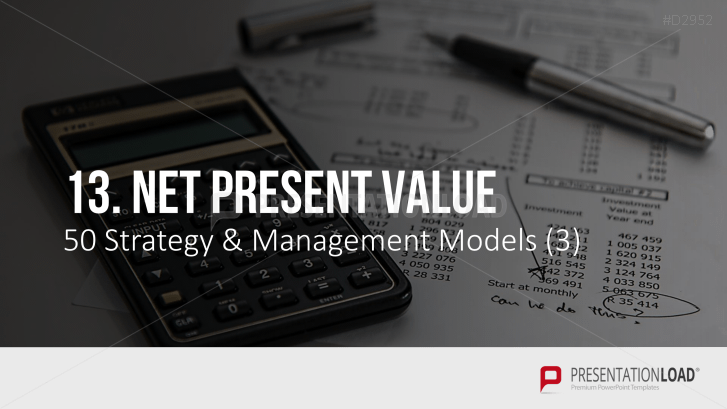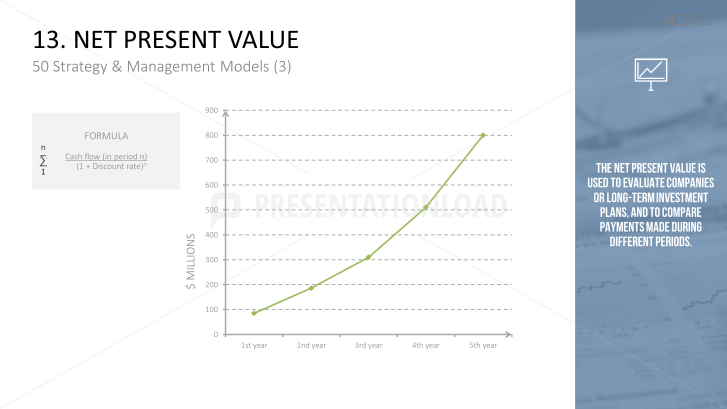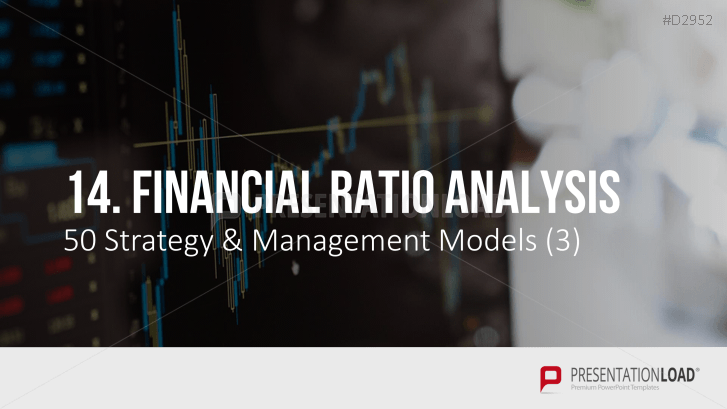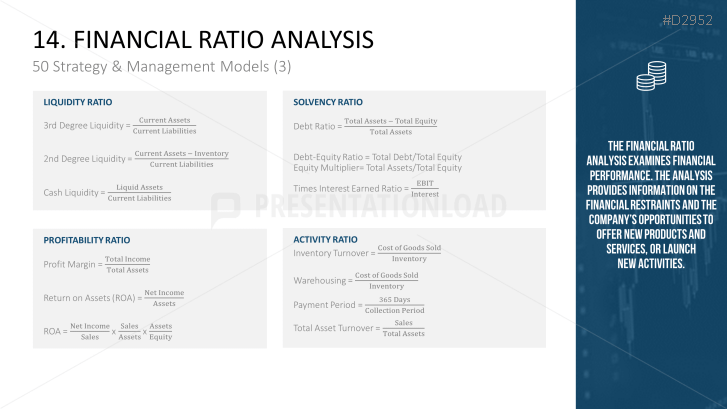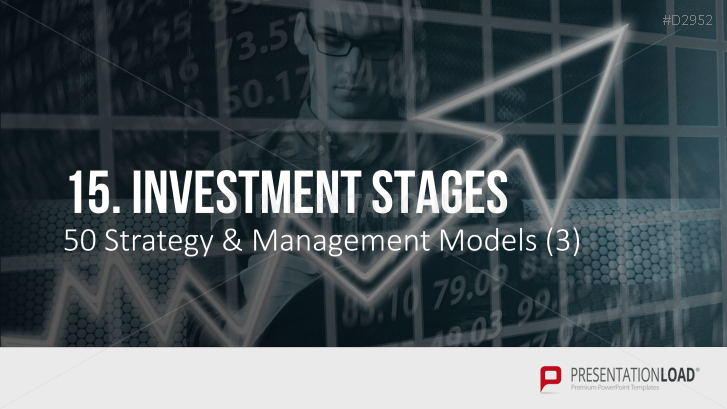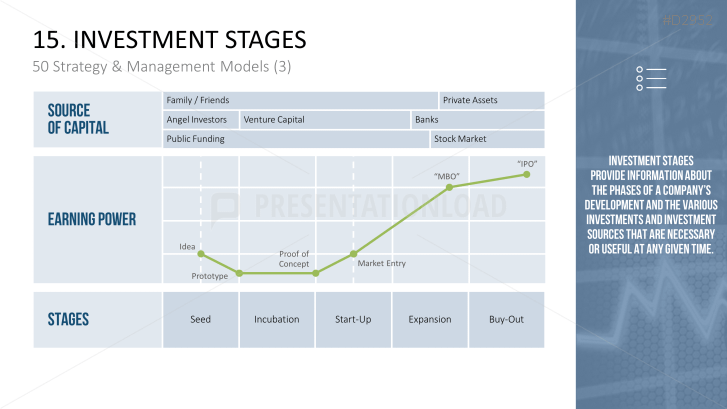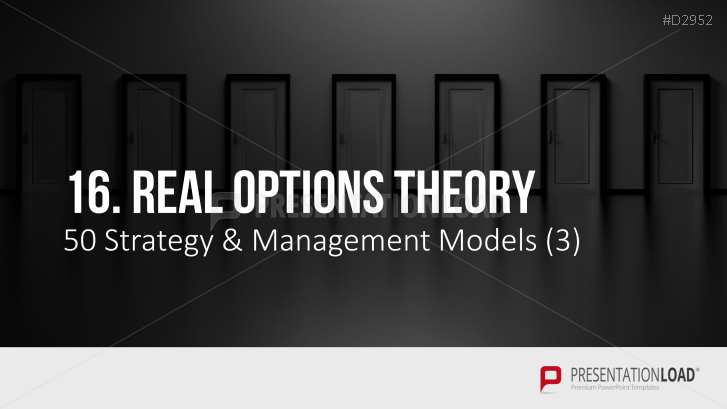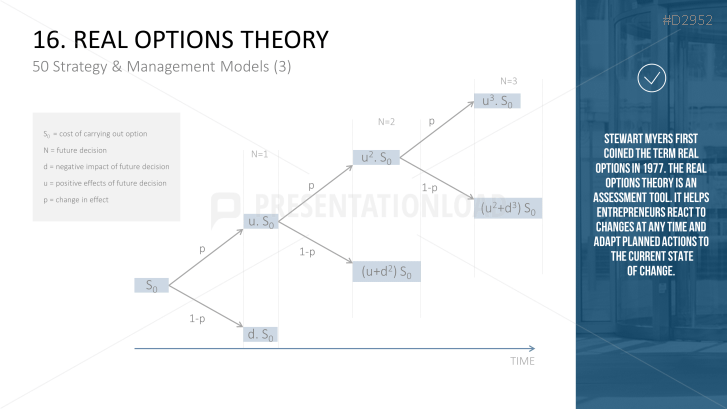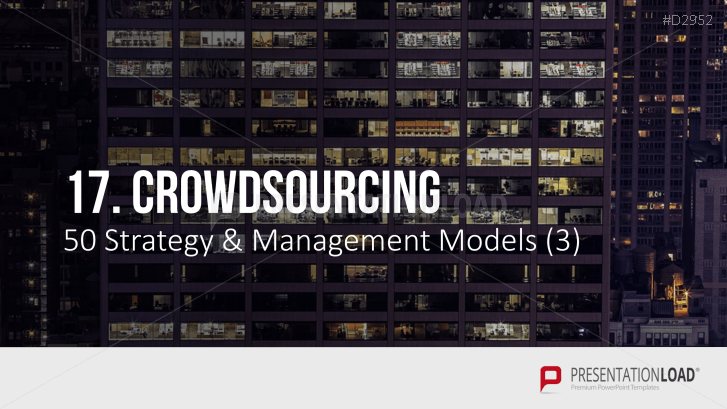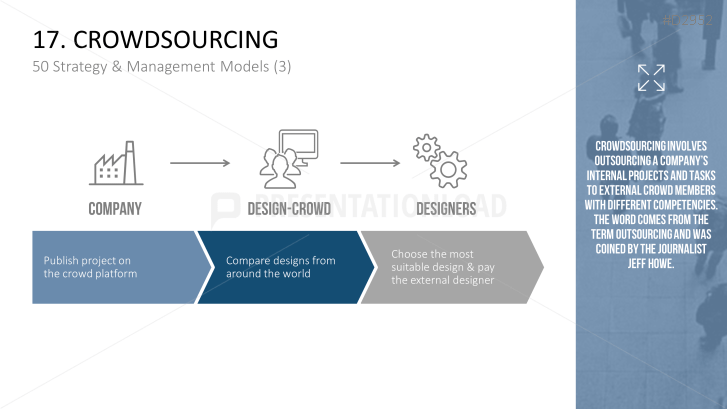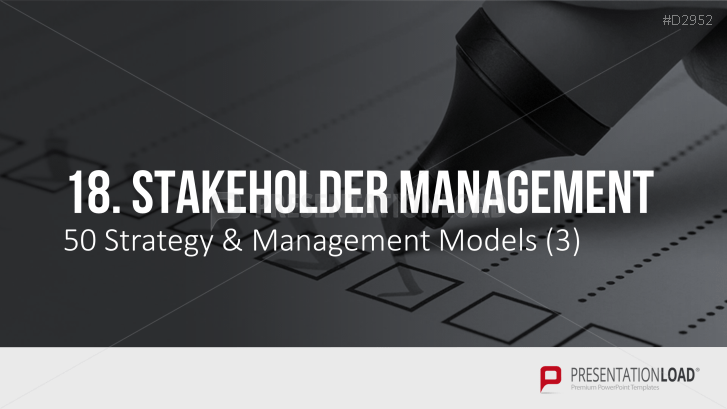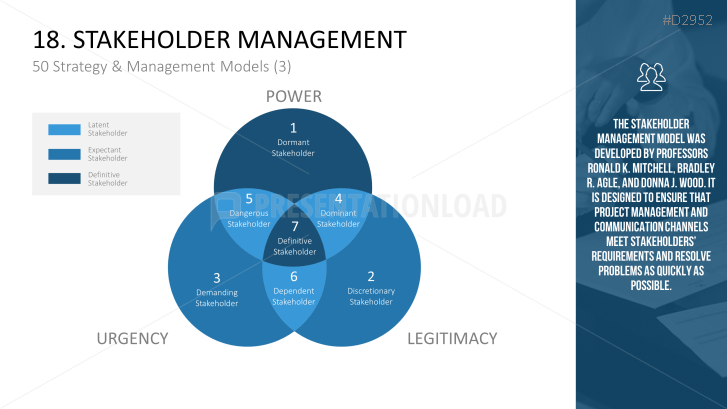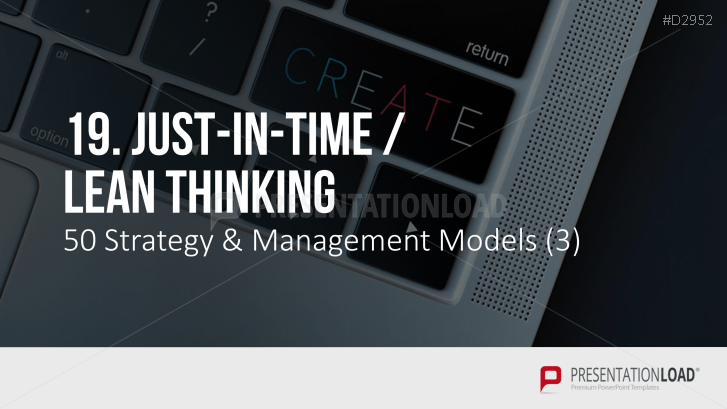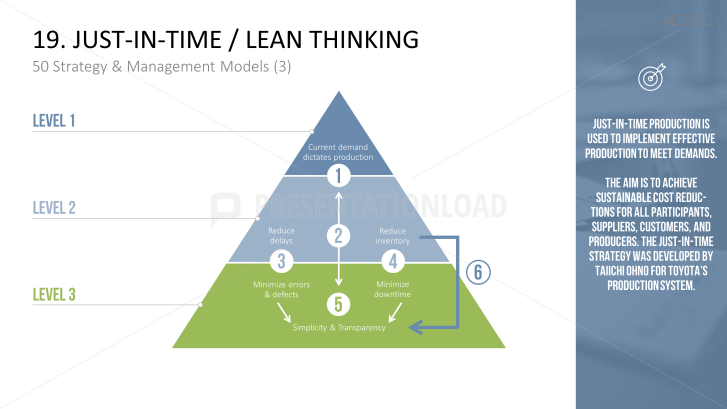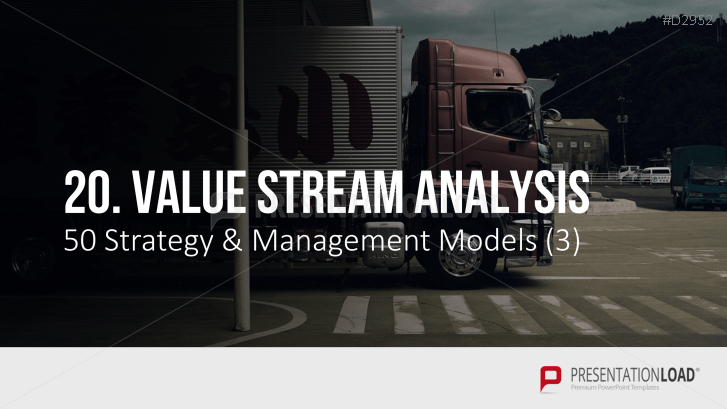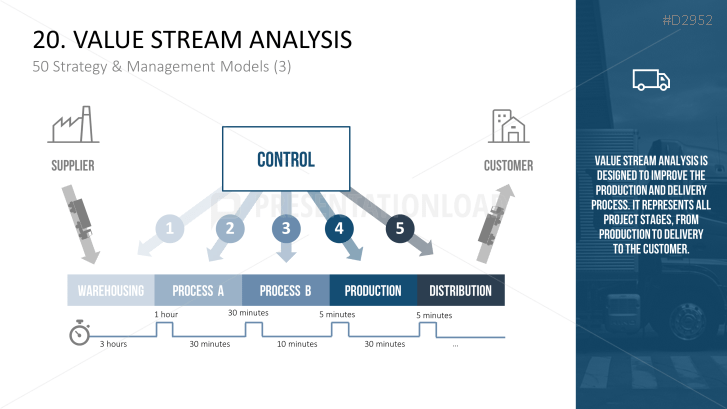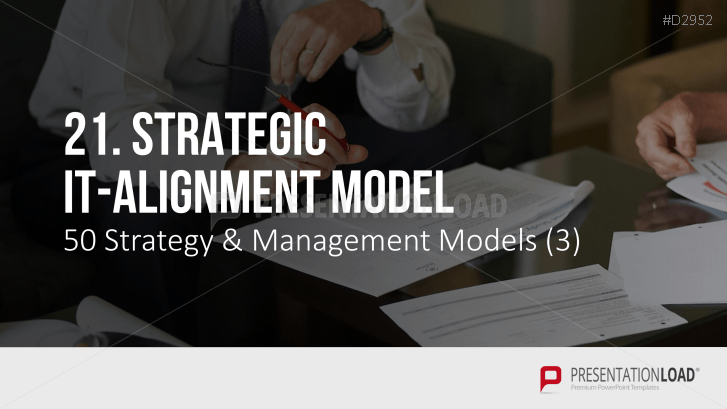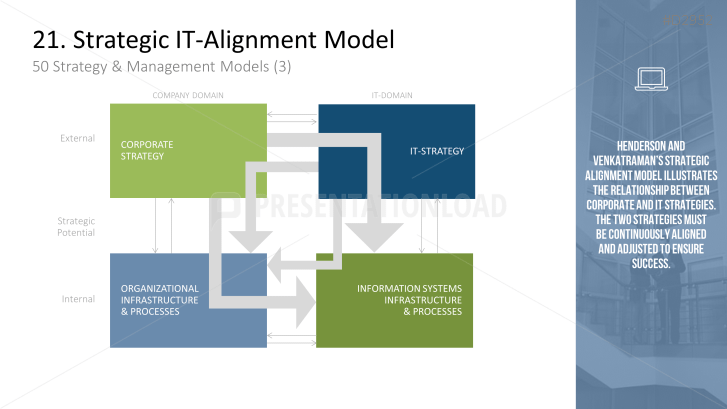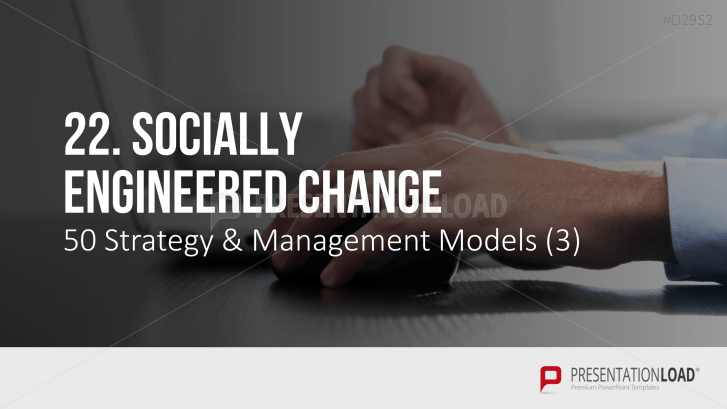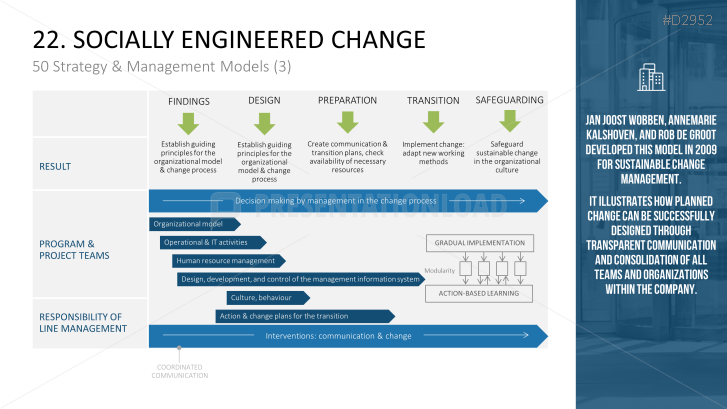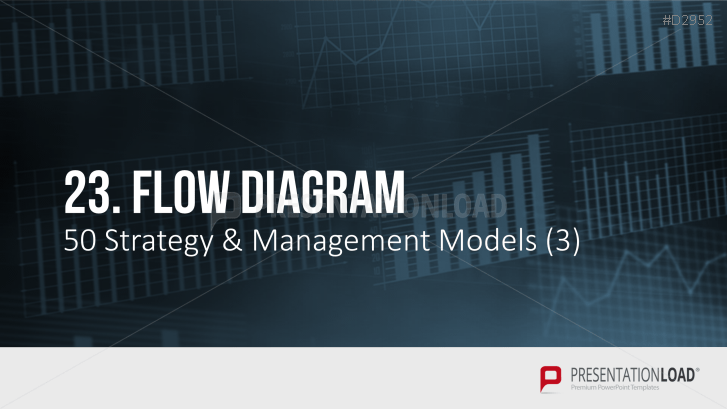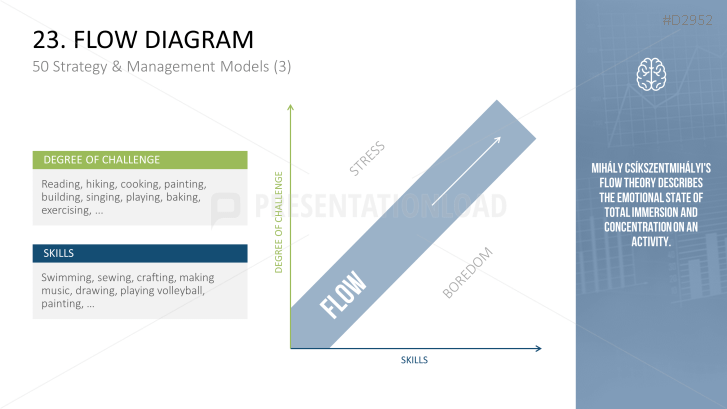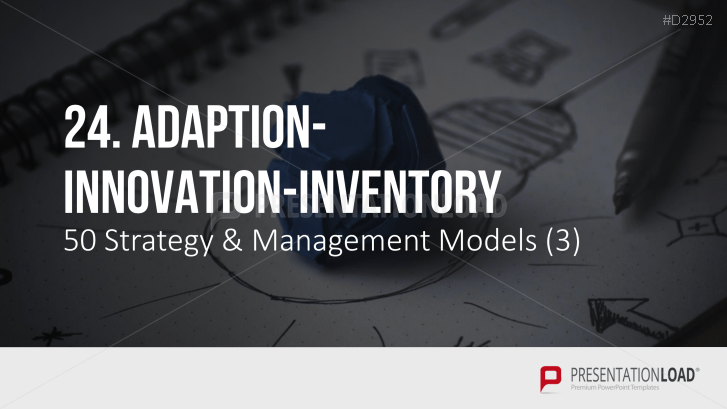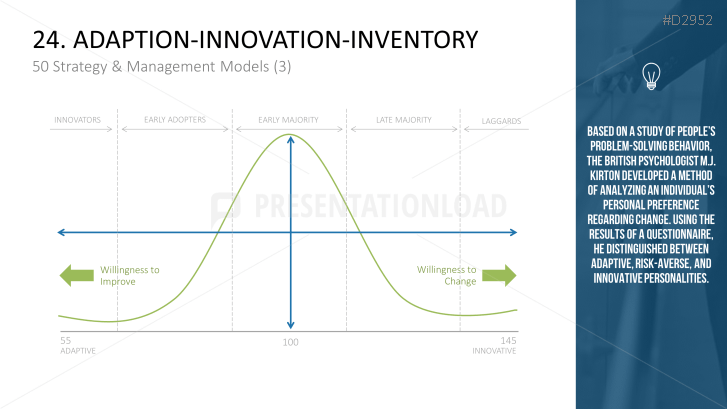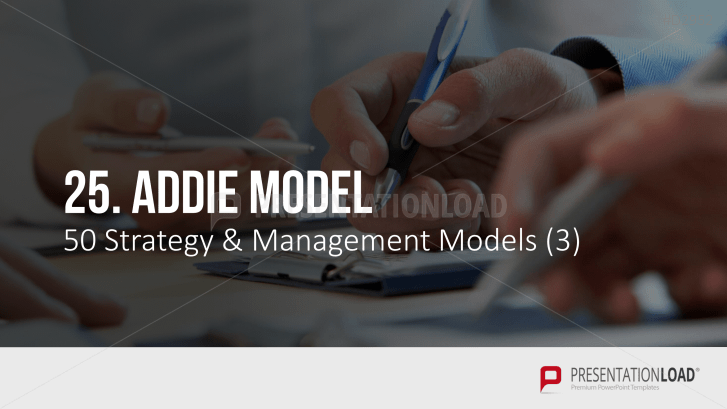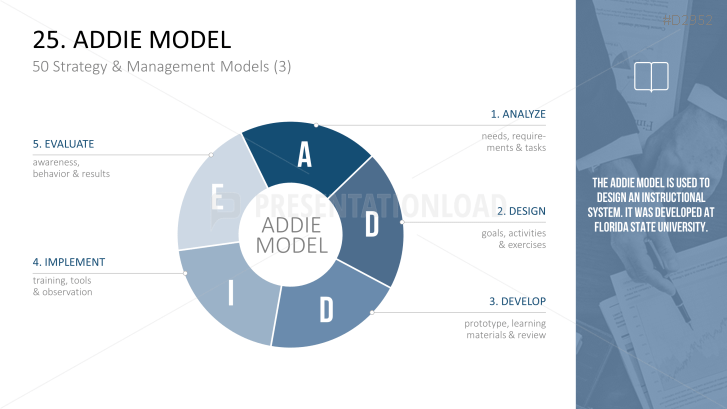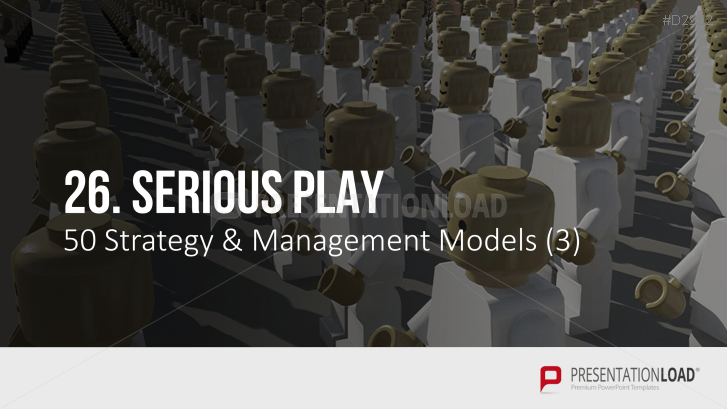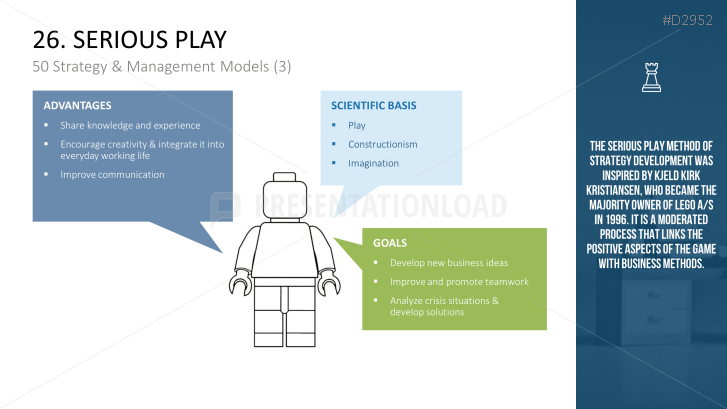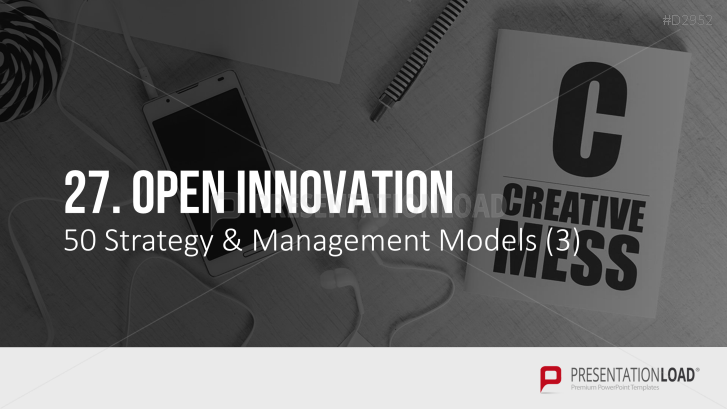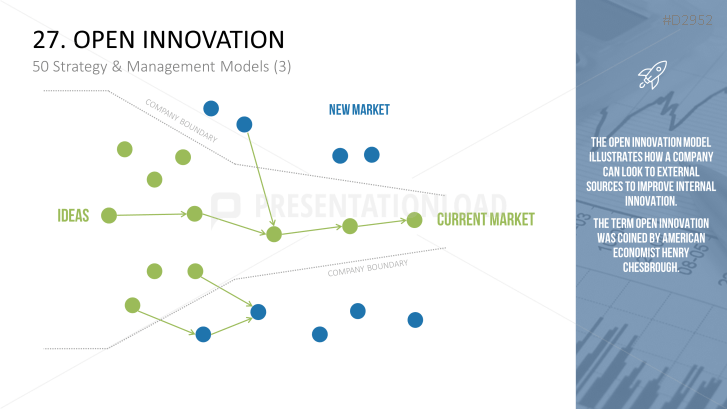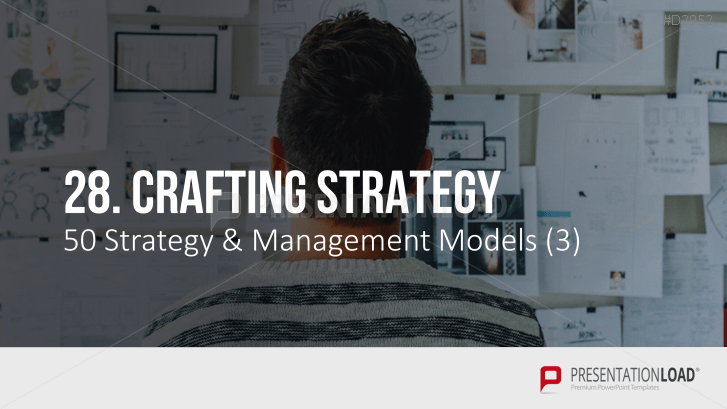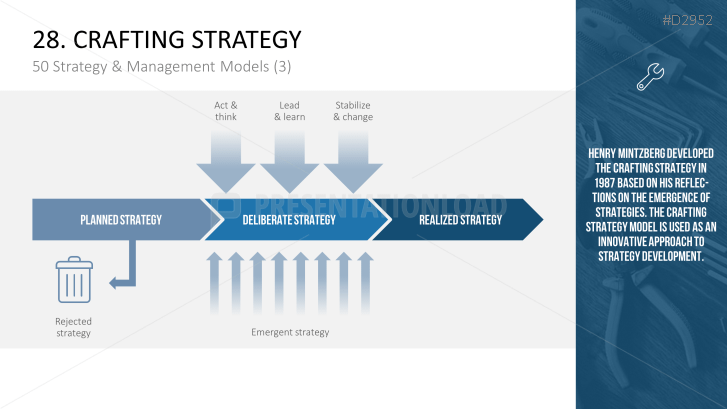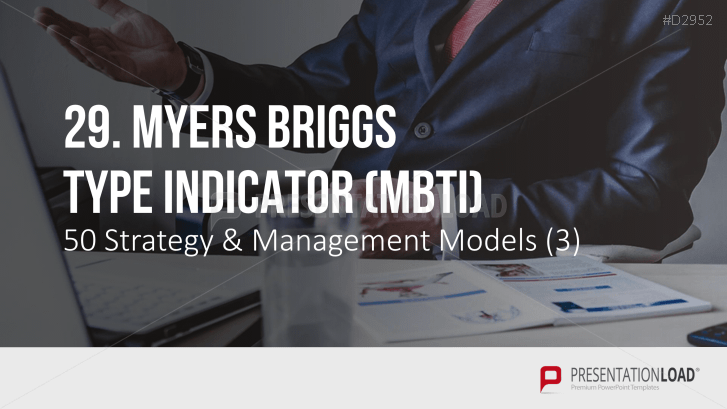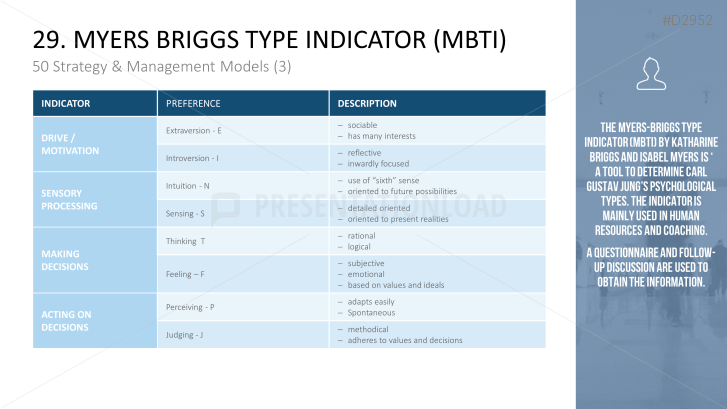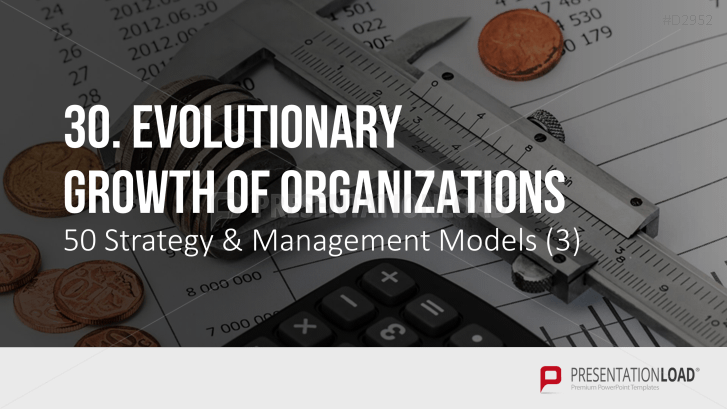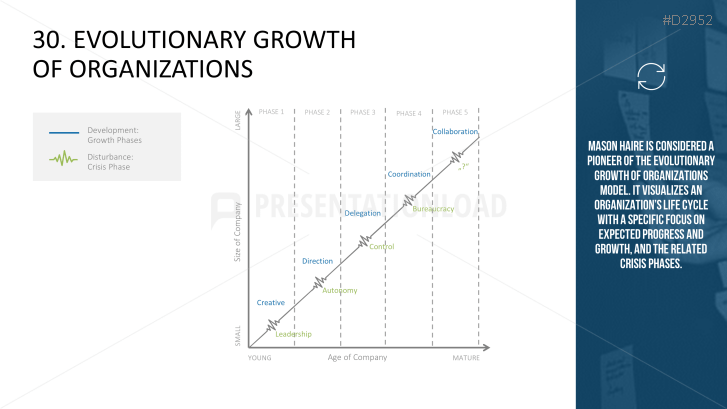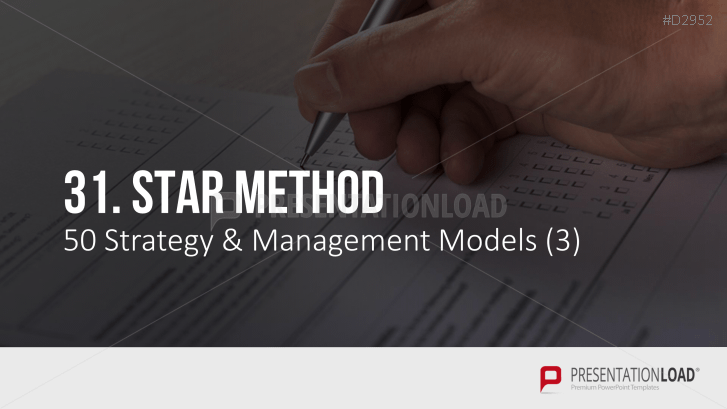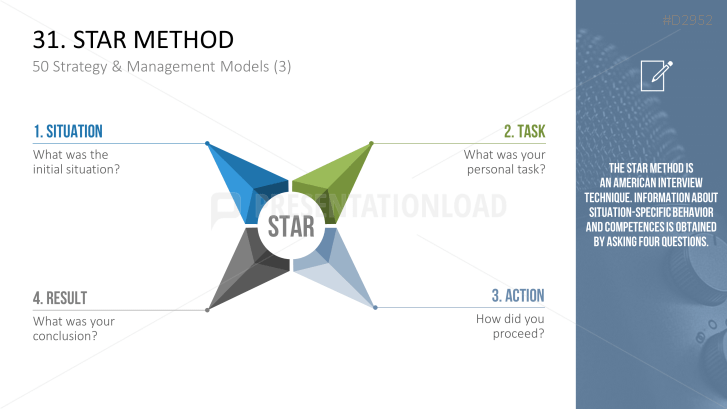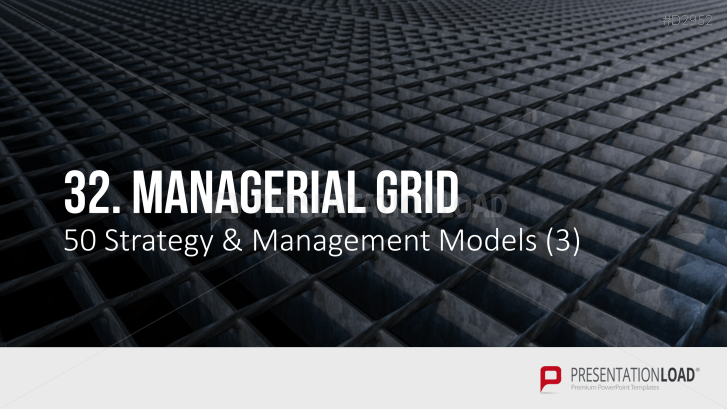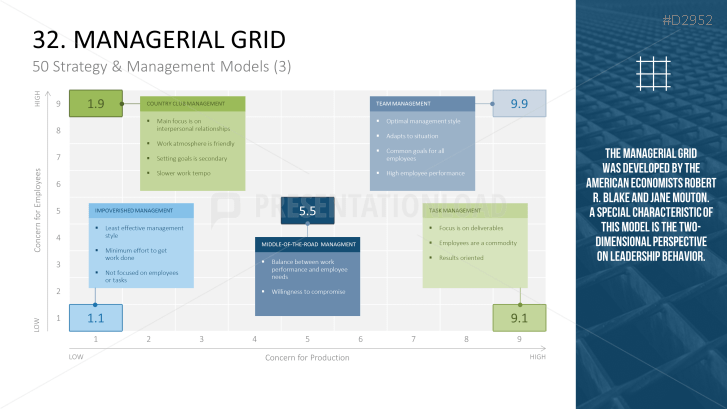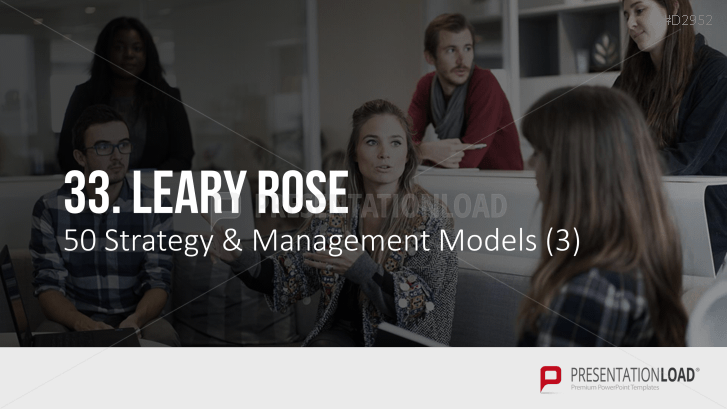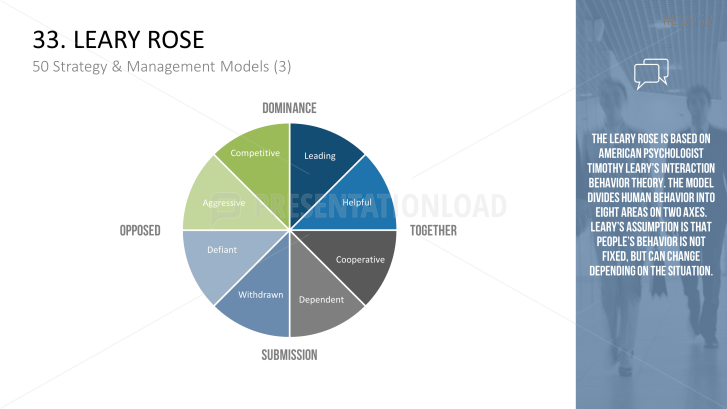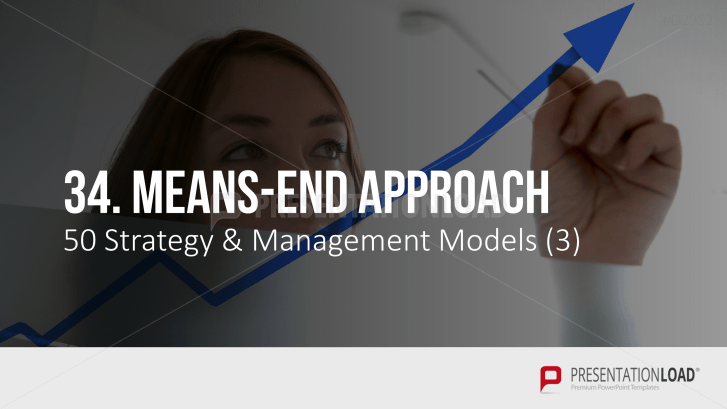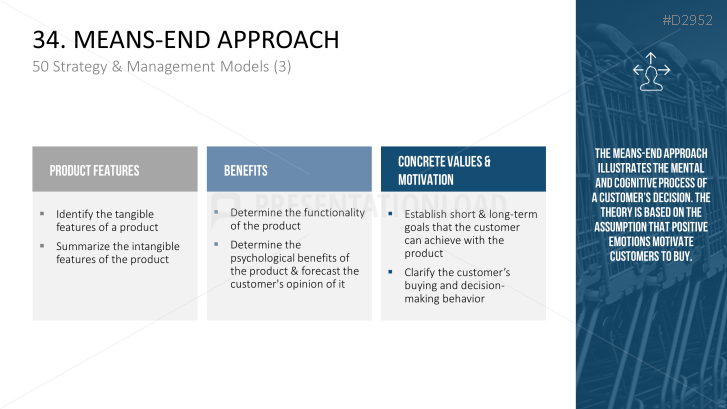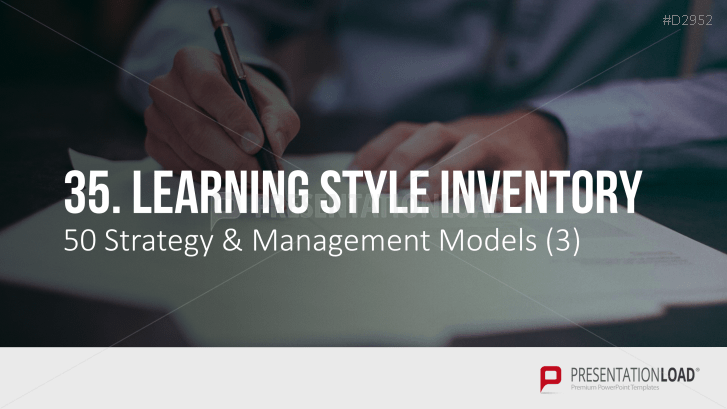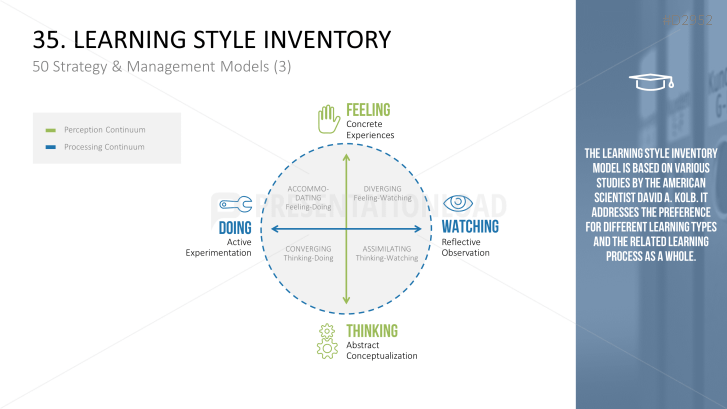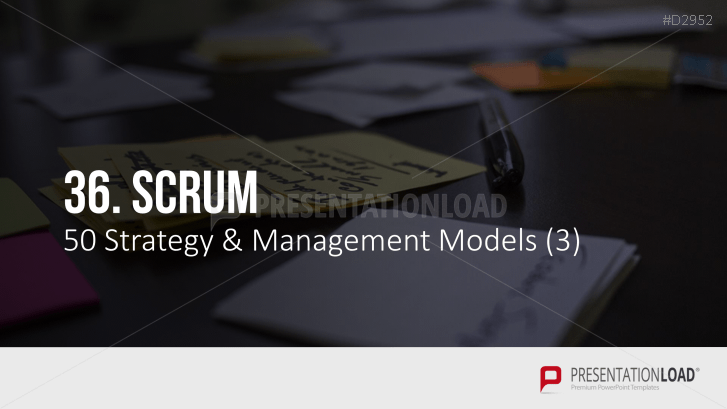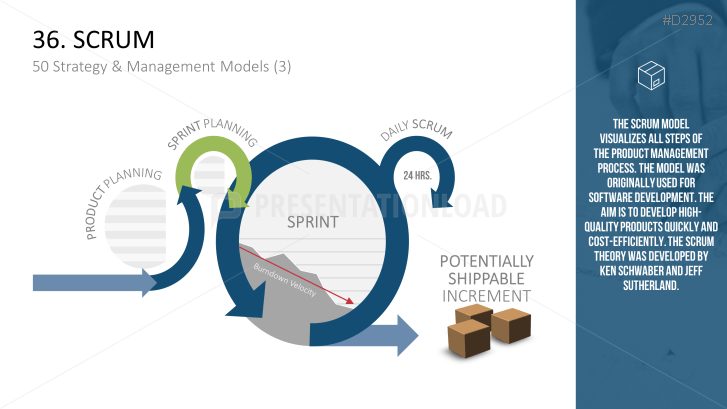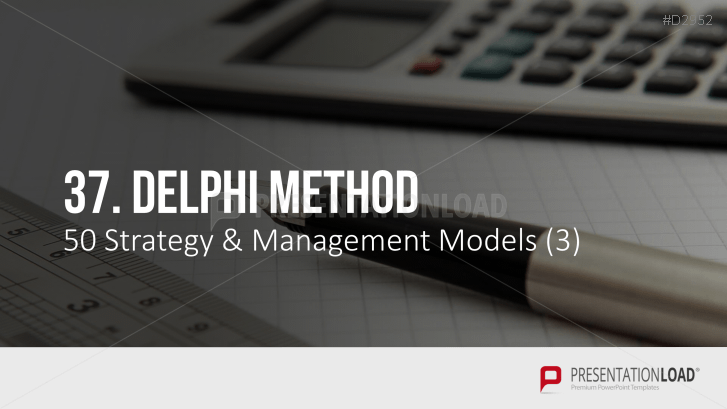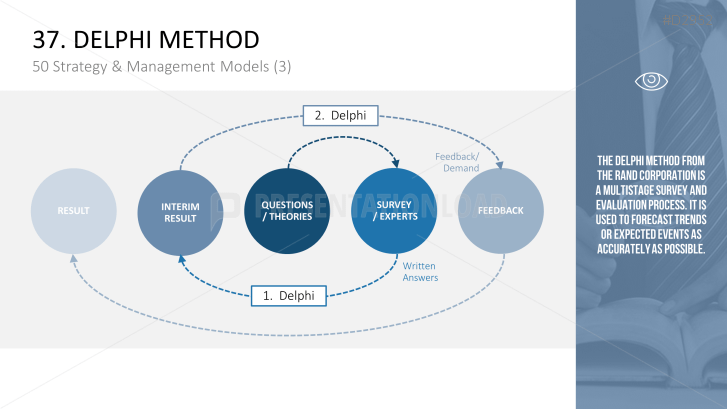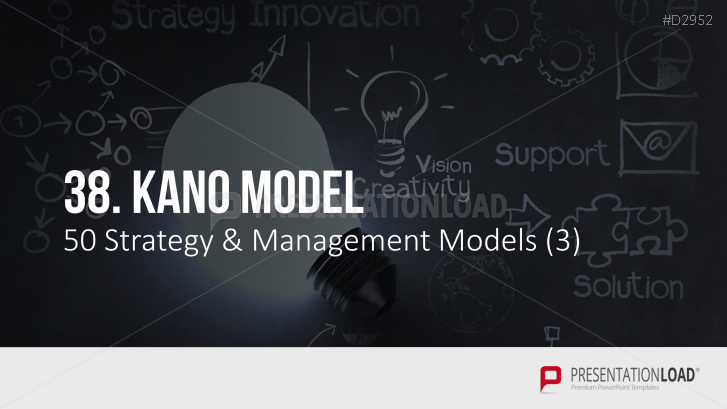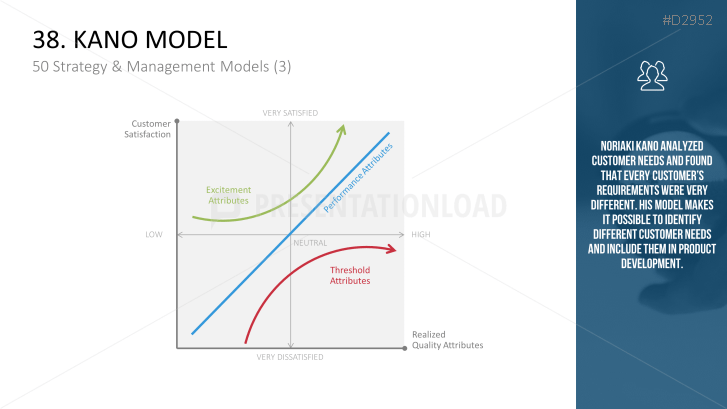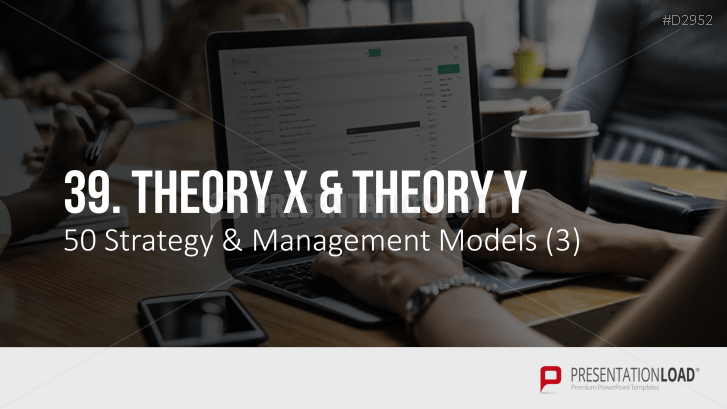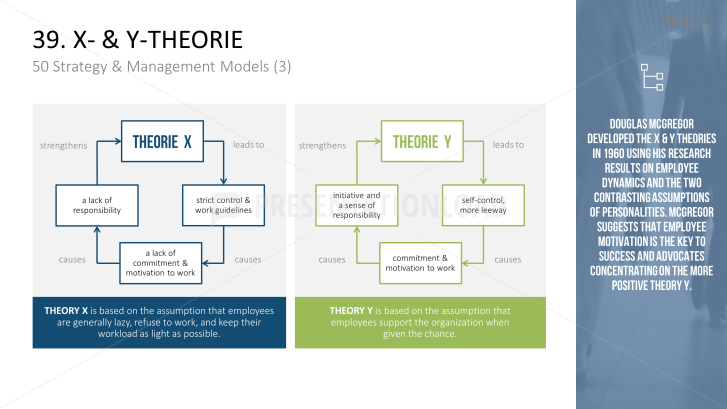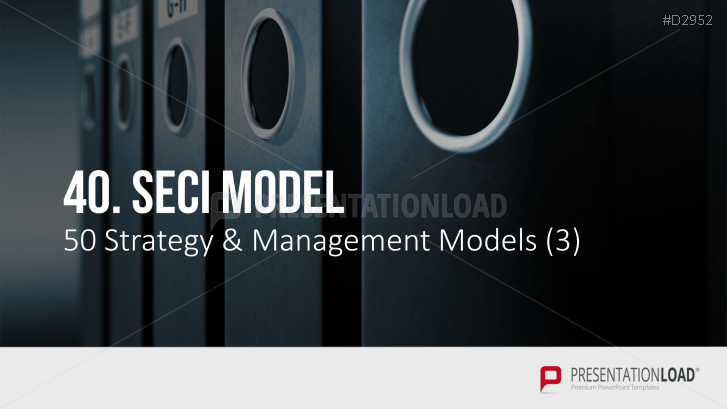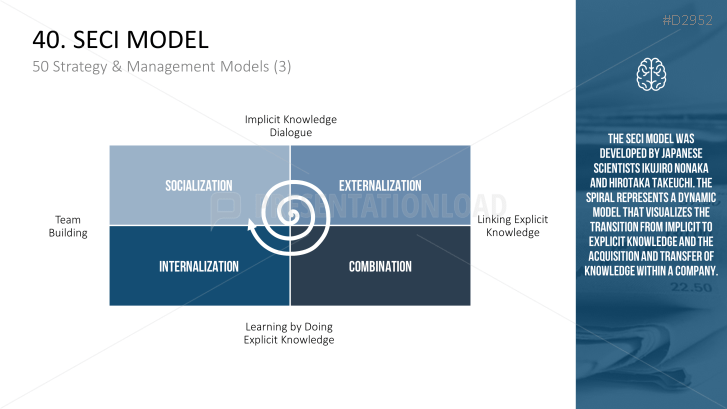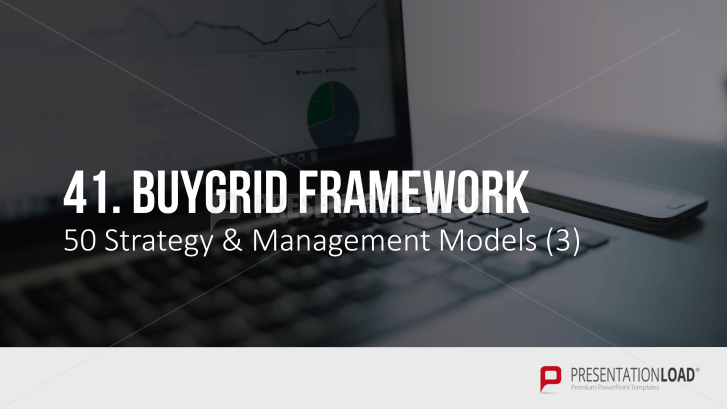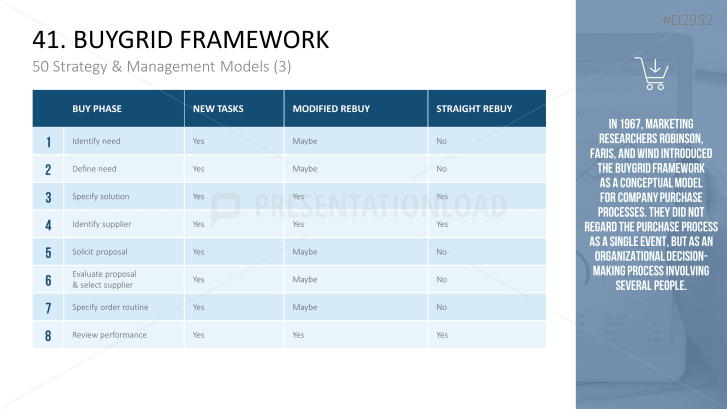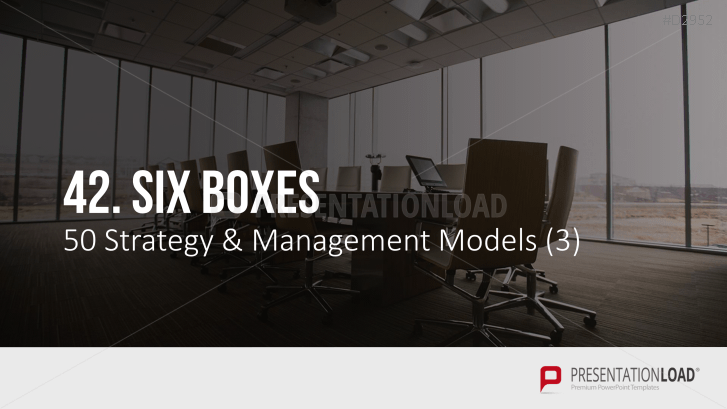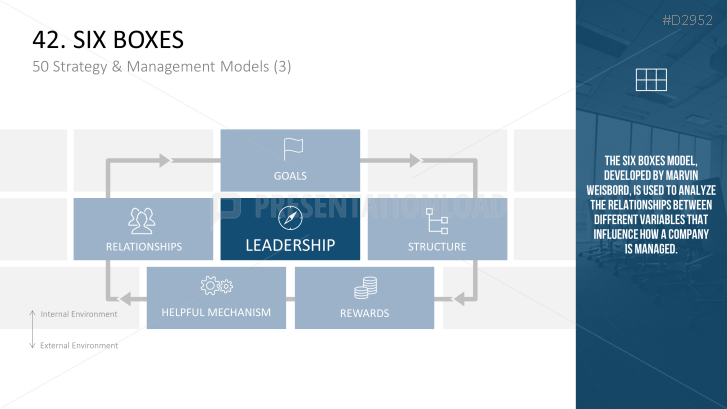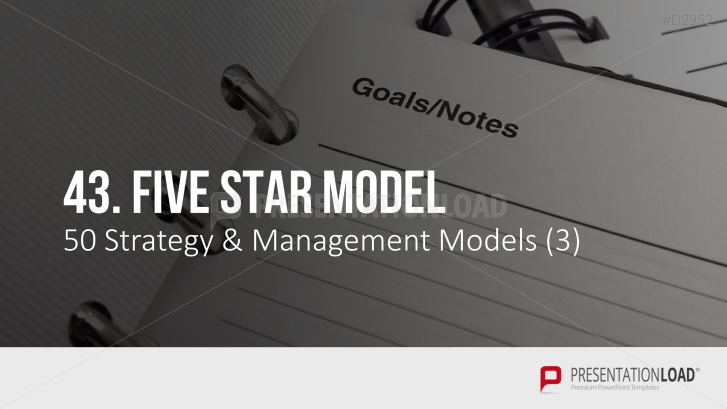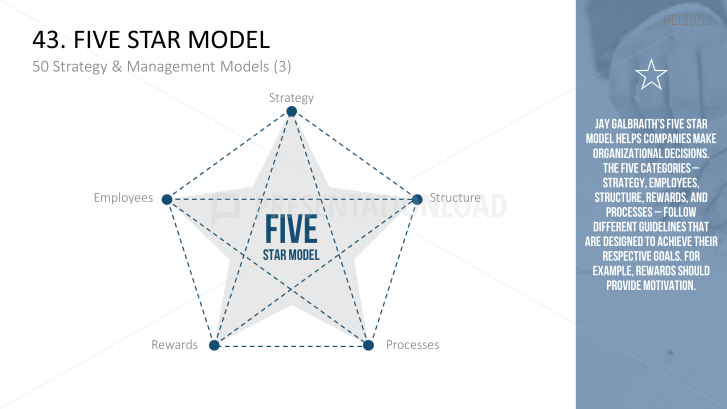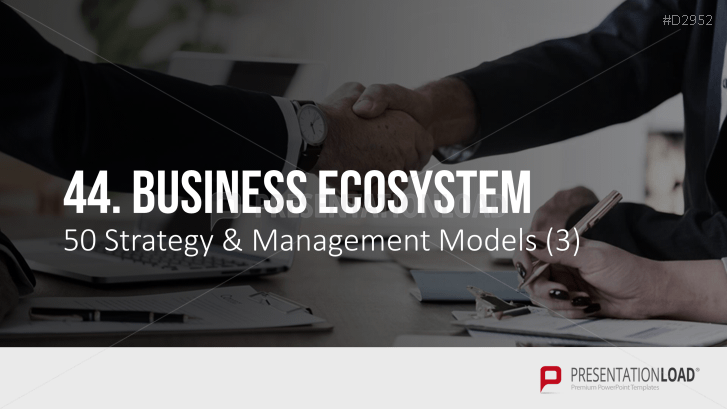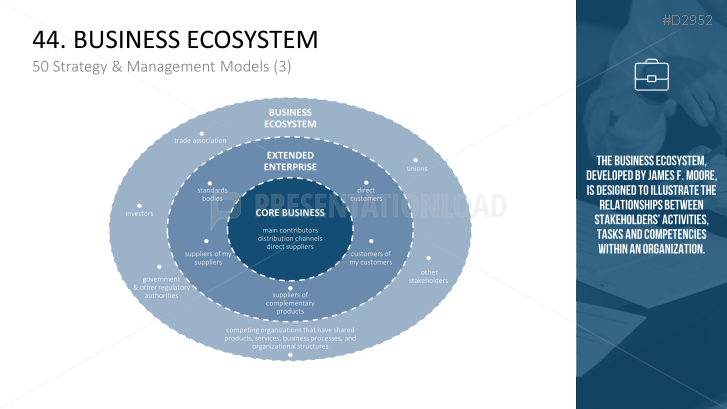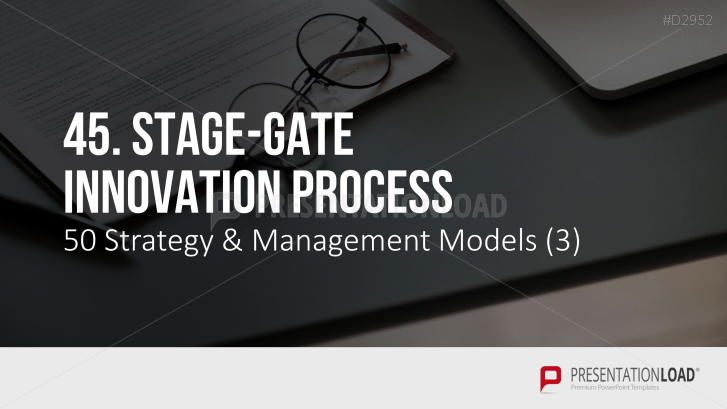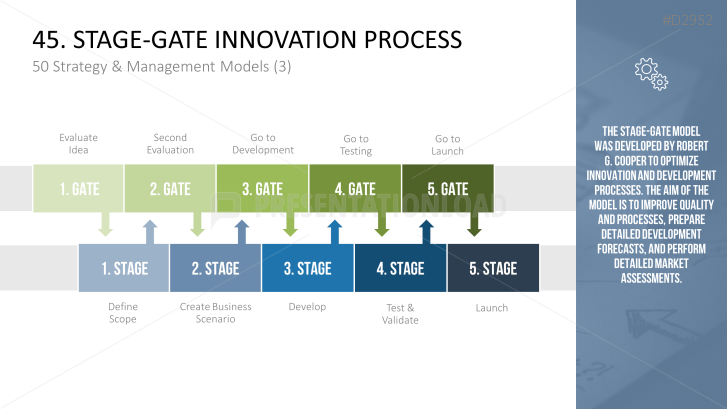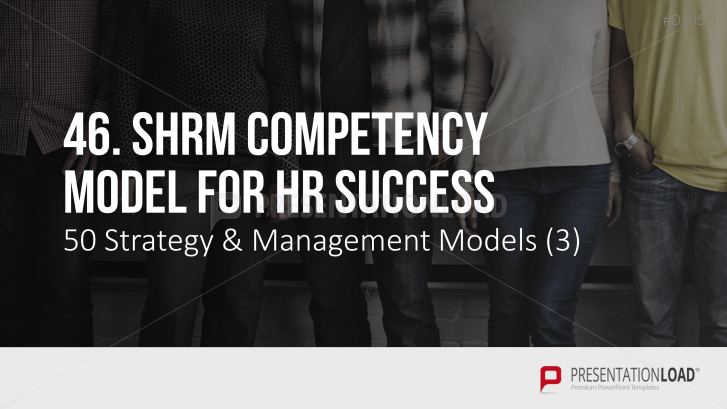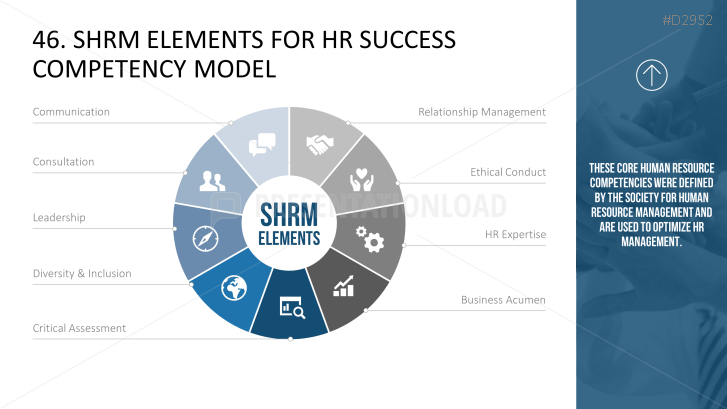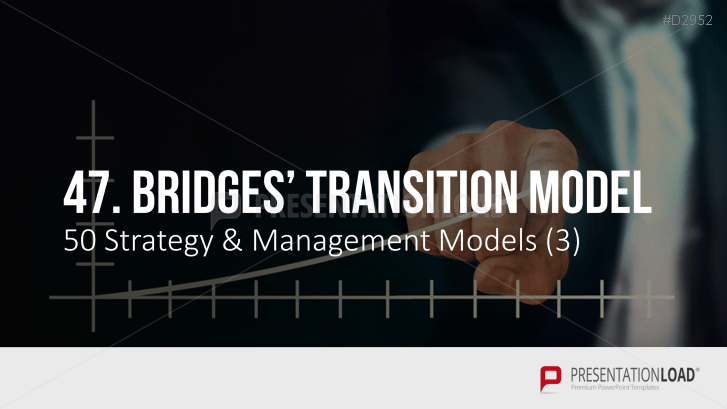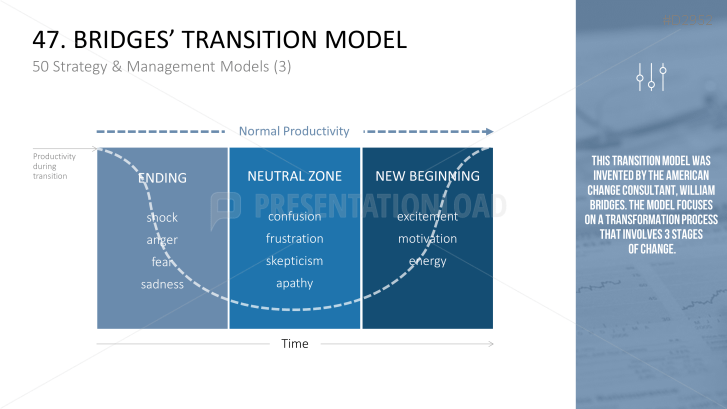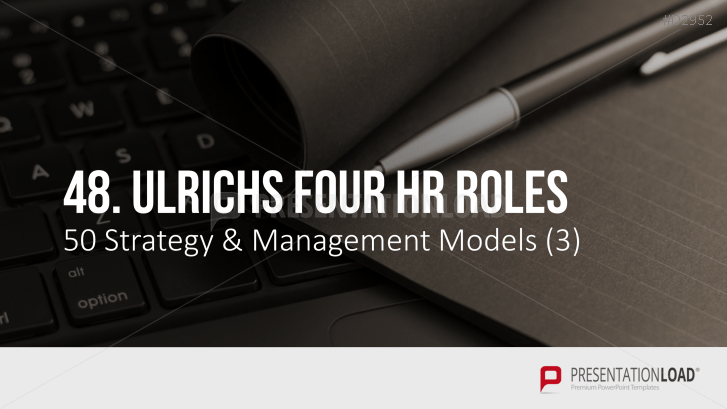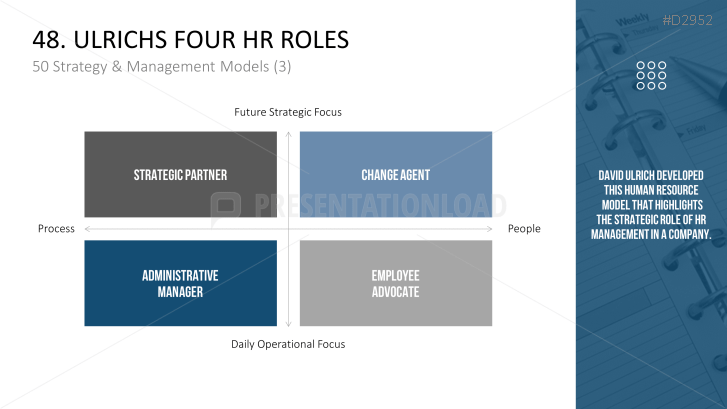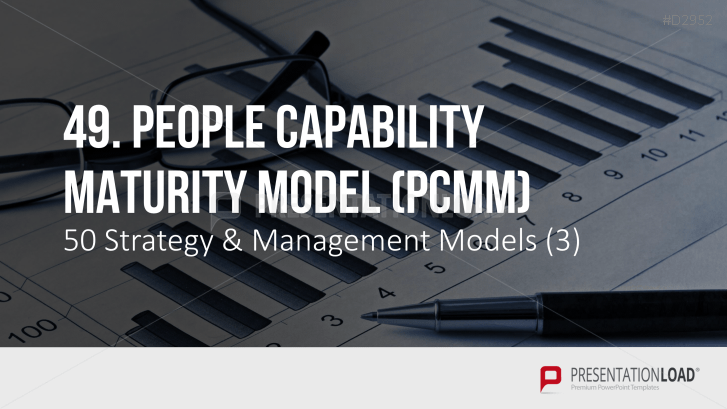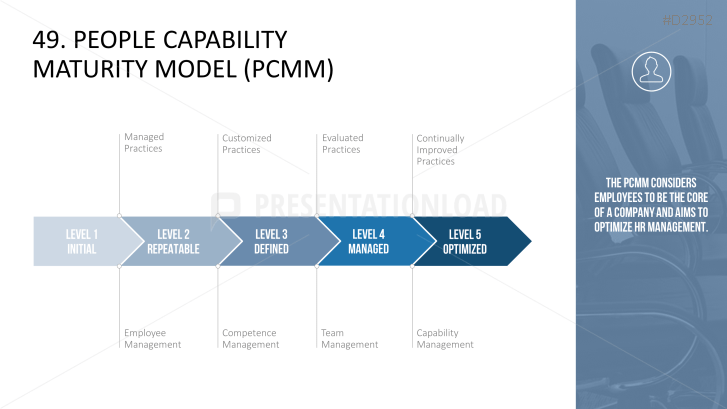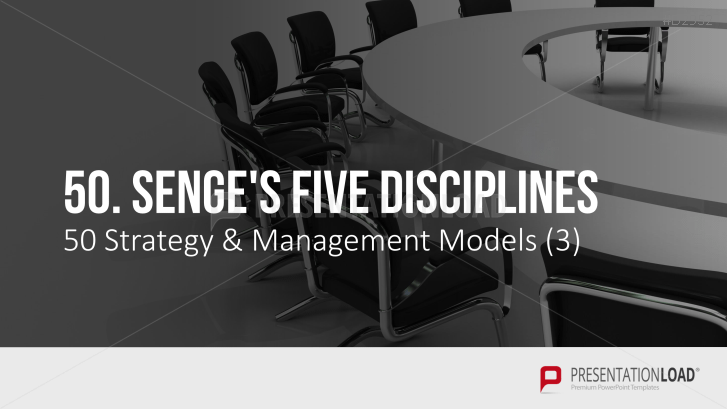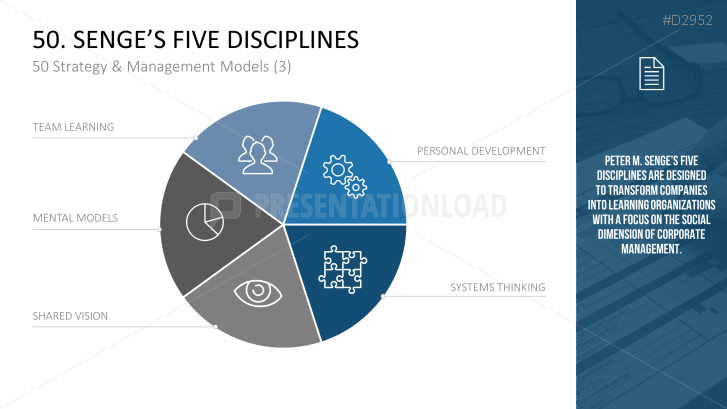 D2850 50 Strategy & Management Models Part 1 (104 Slides)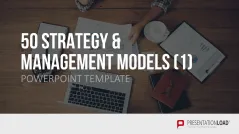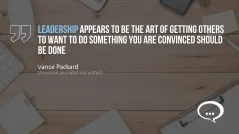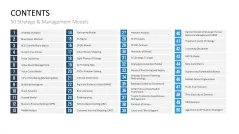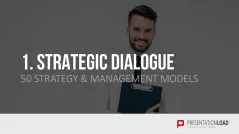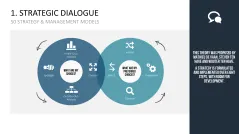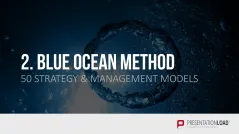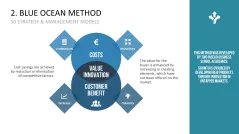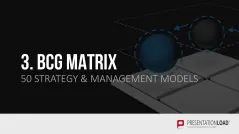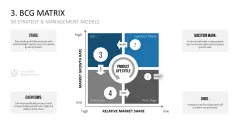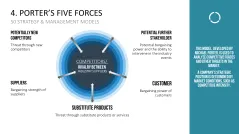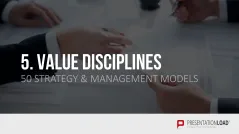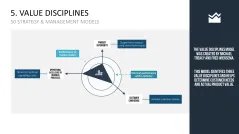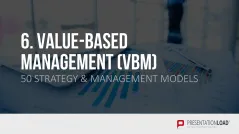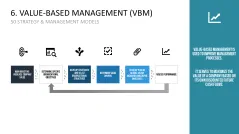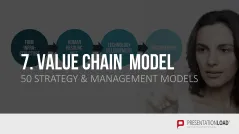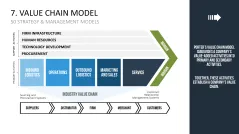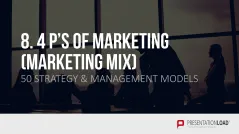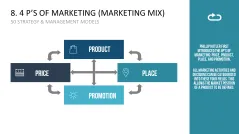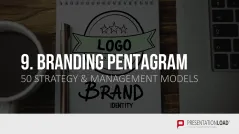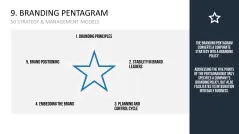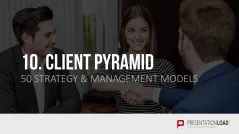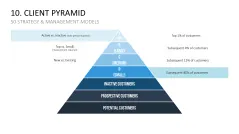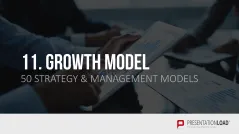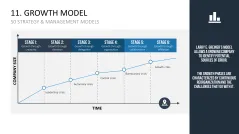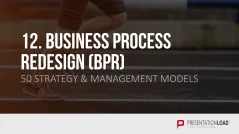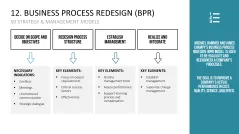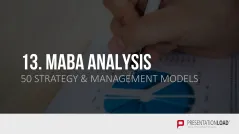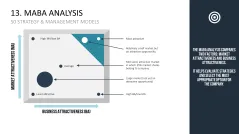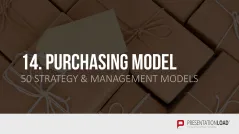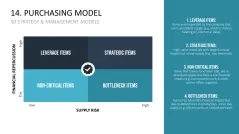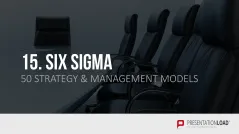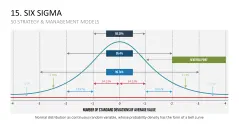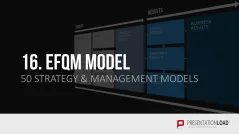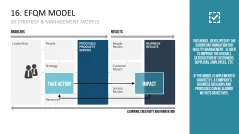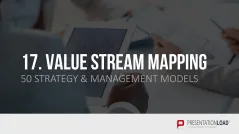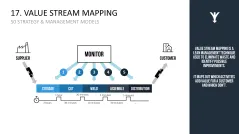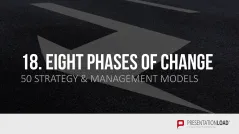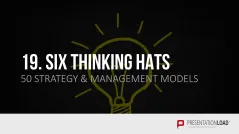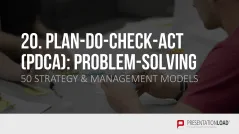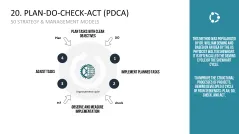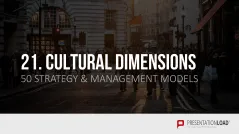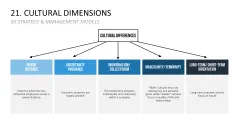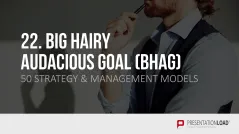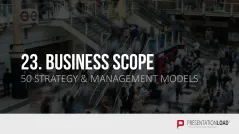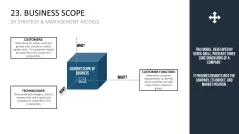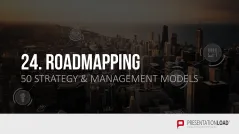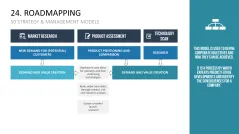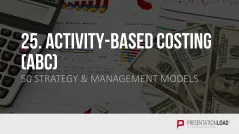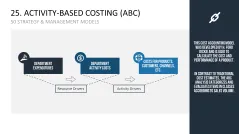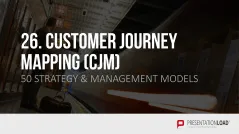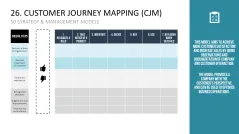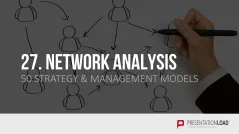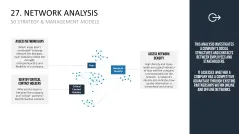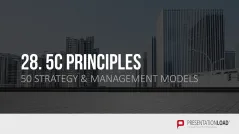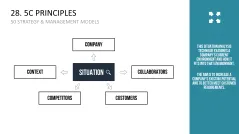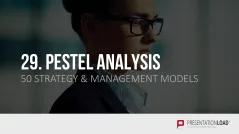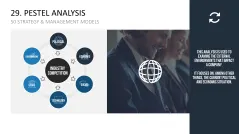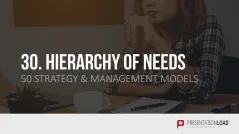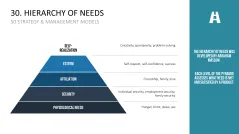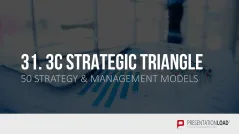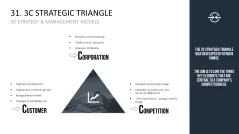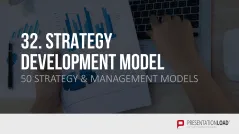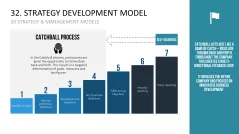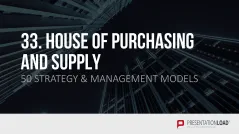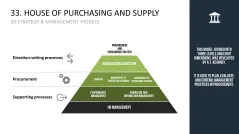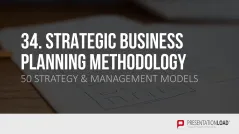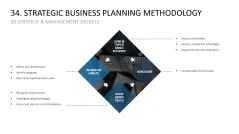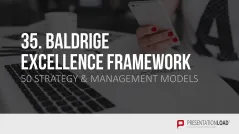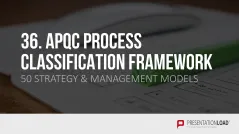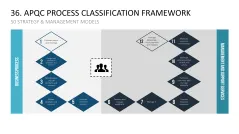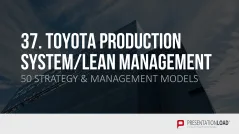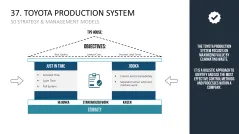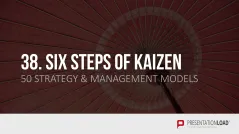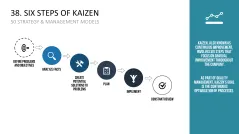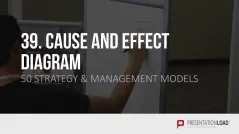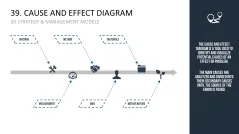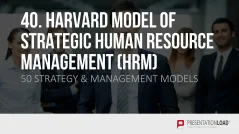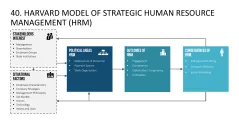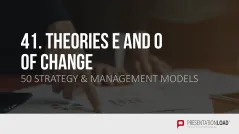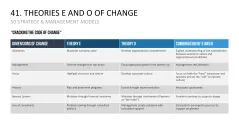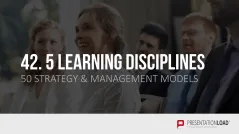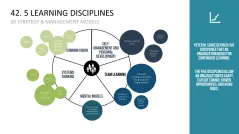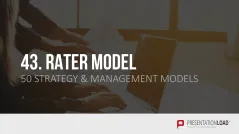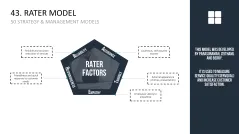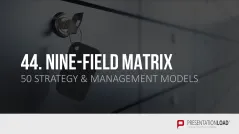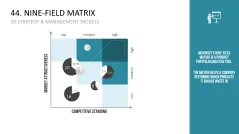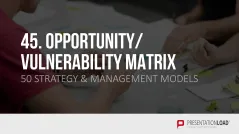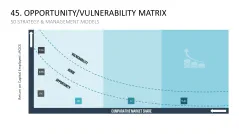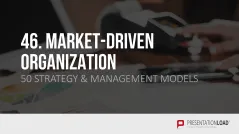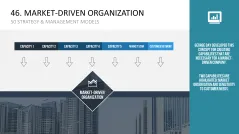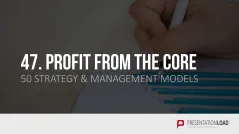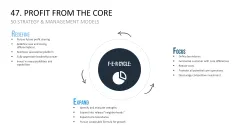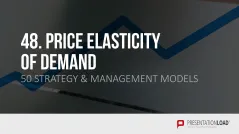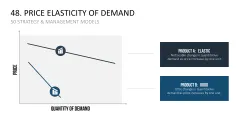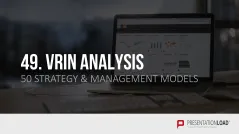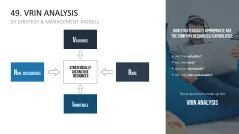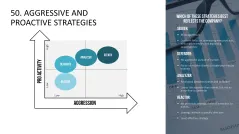 D2858 50 Strategy and Management Models Part 2 (104 Slides)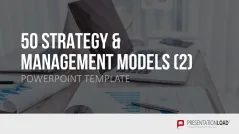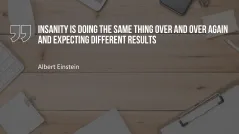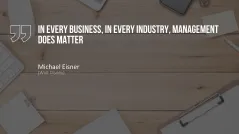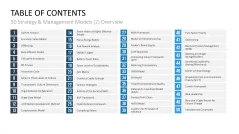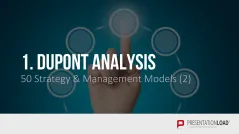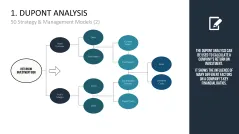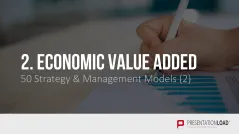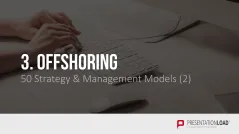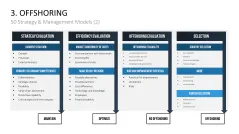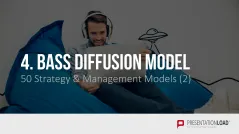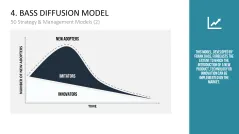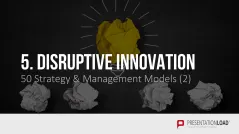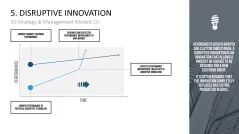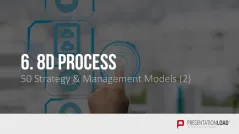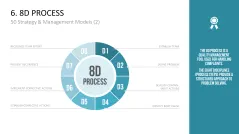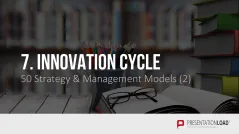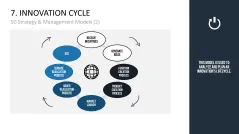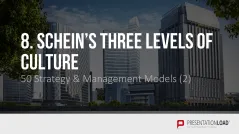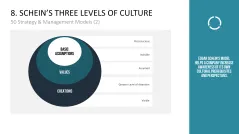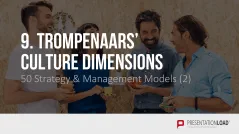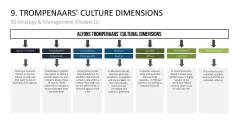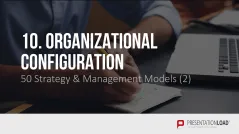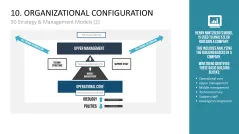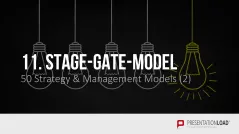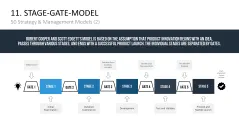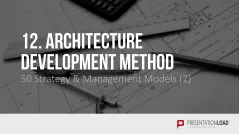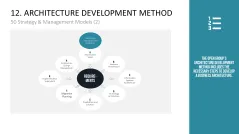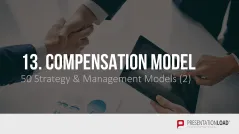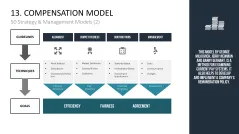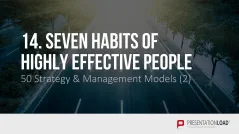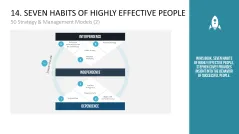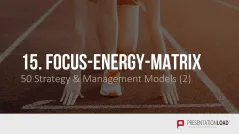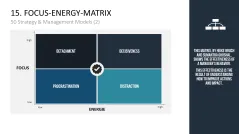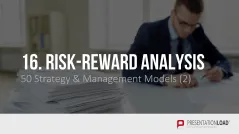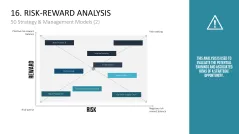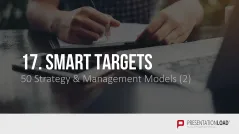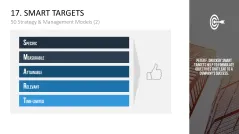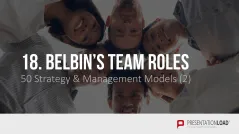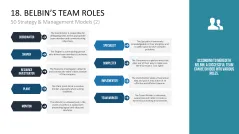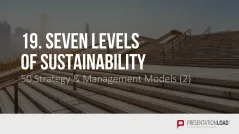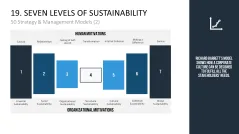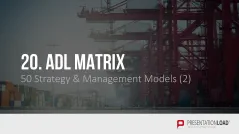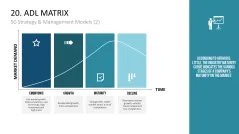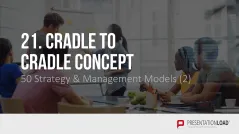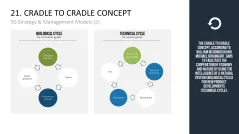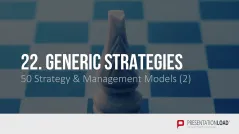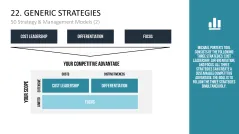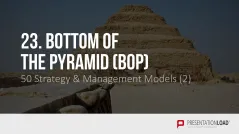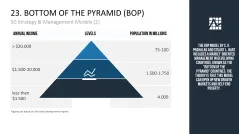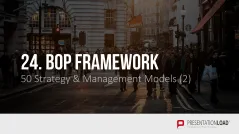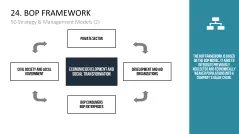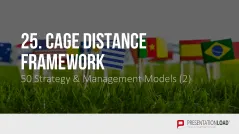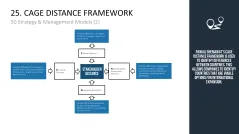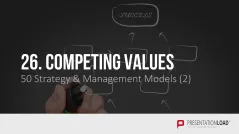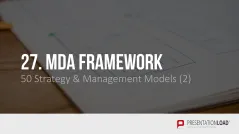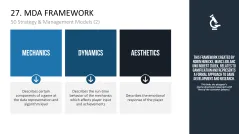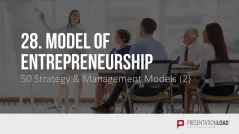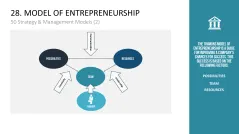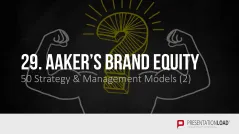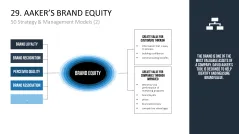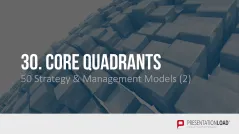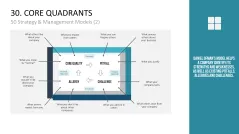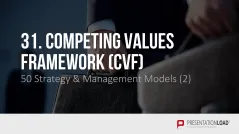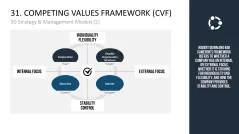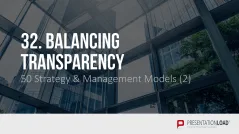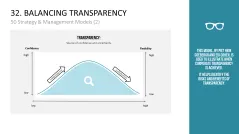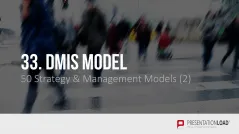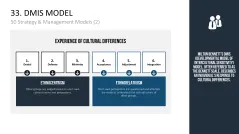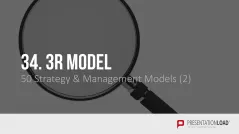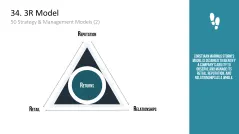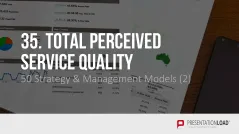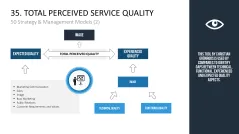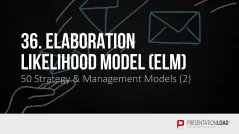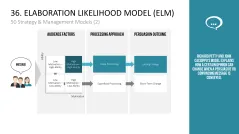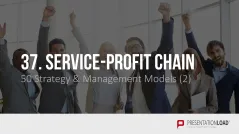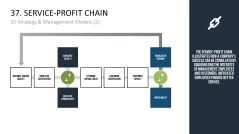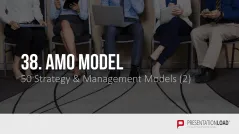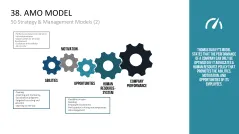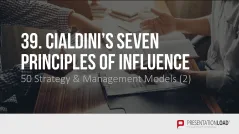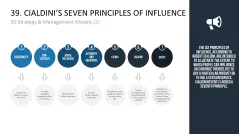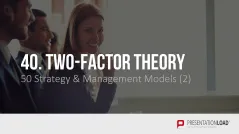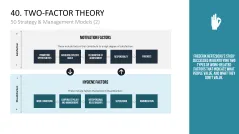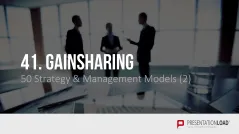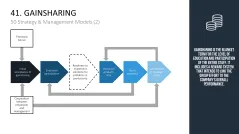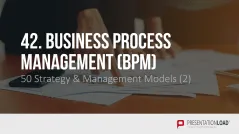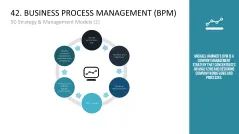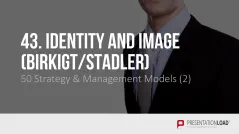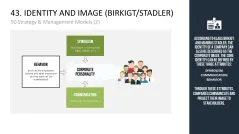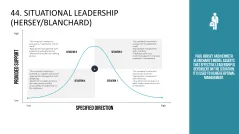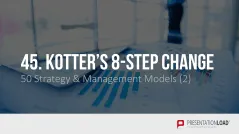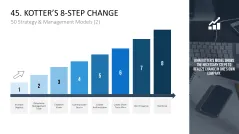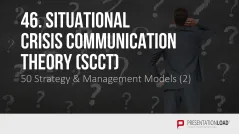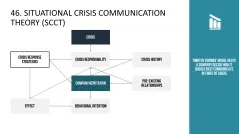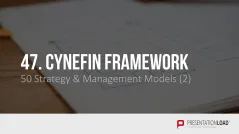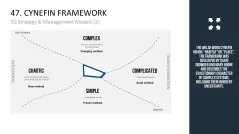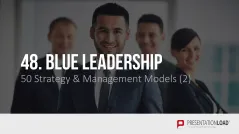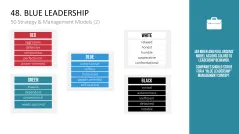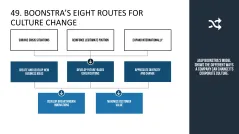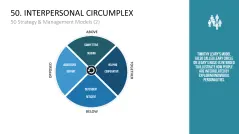 D2952 50 Strategy & Management Models Part 3 (102 Slides)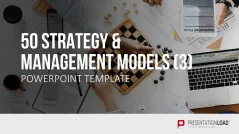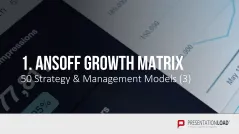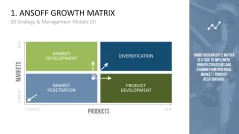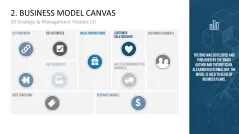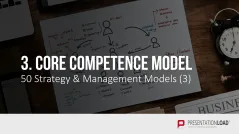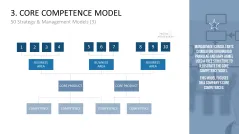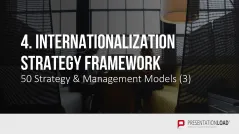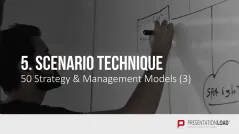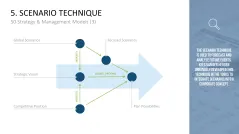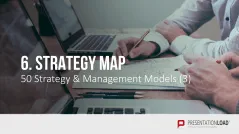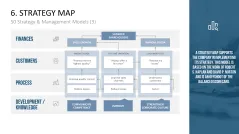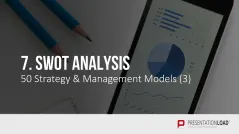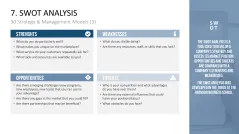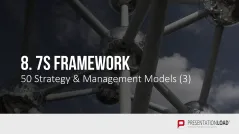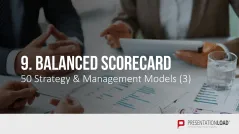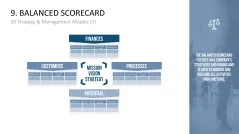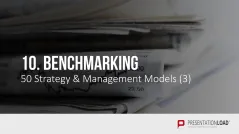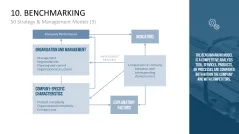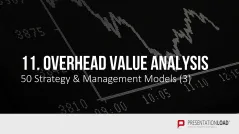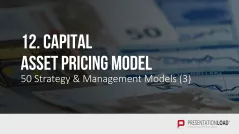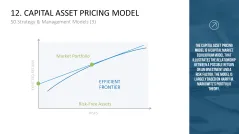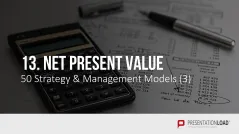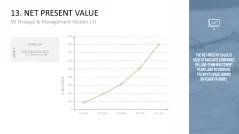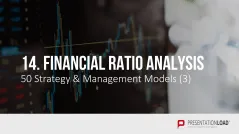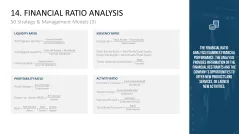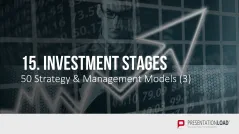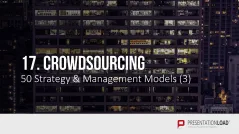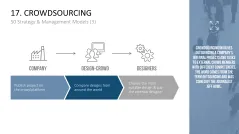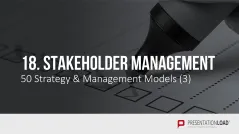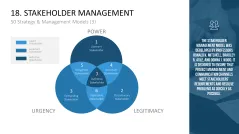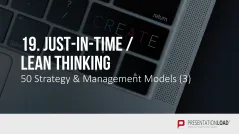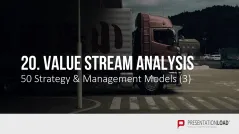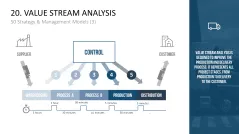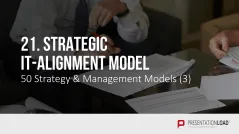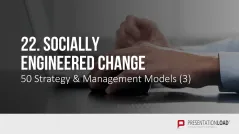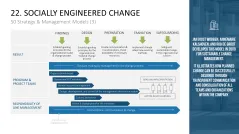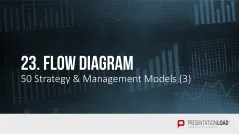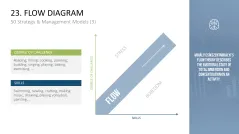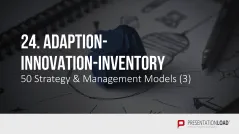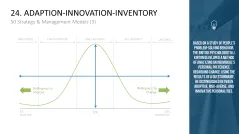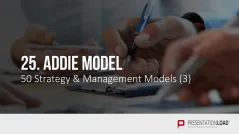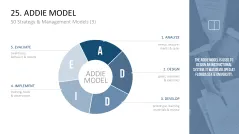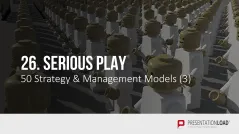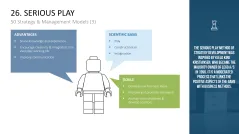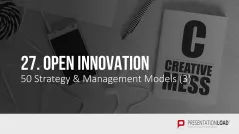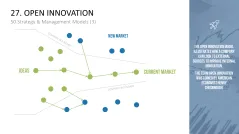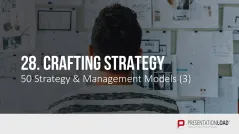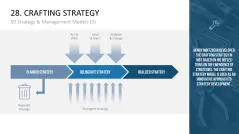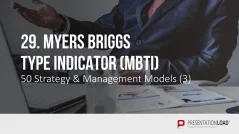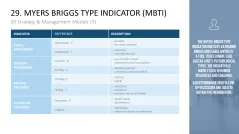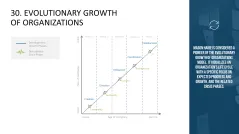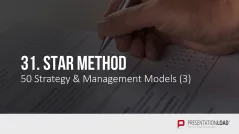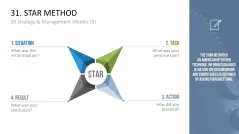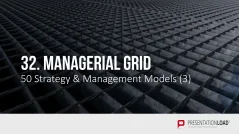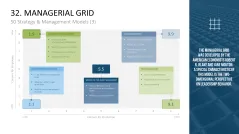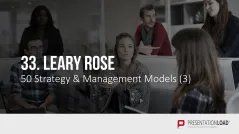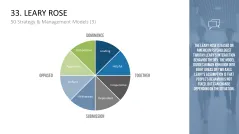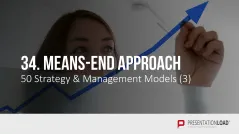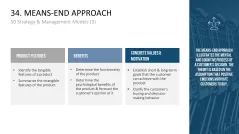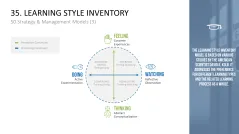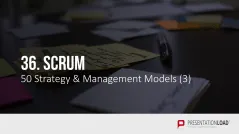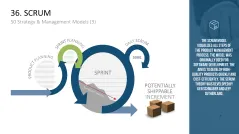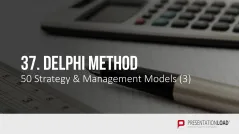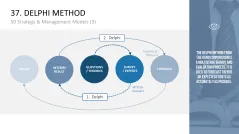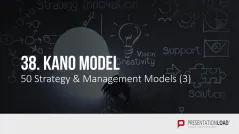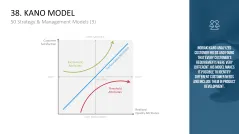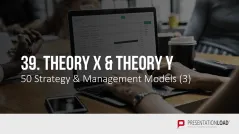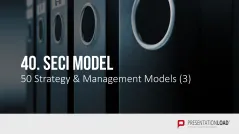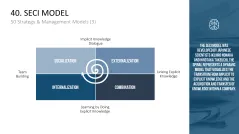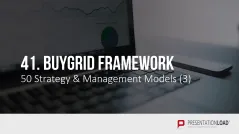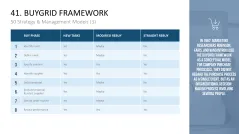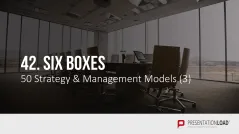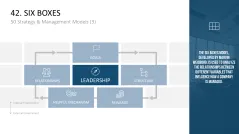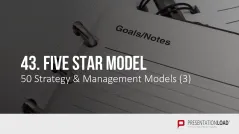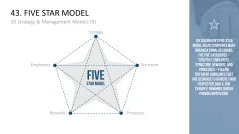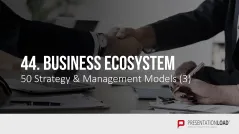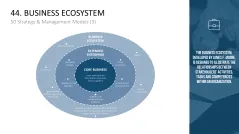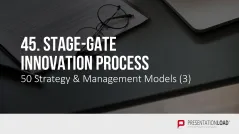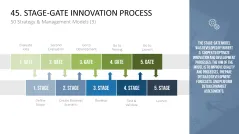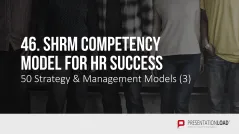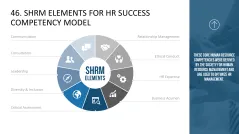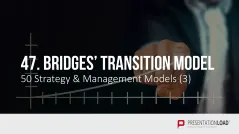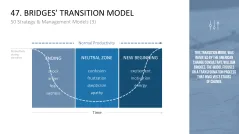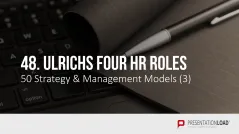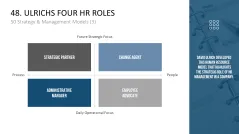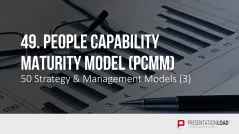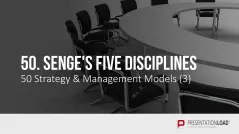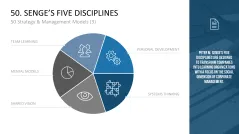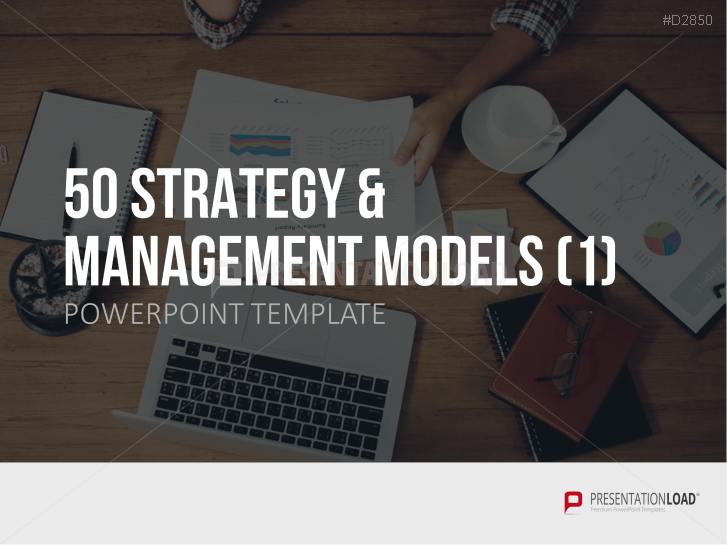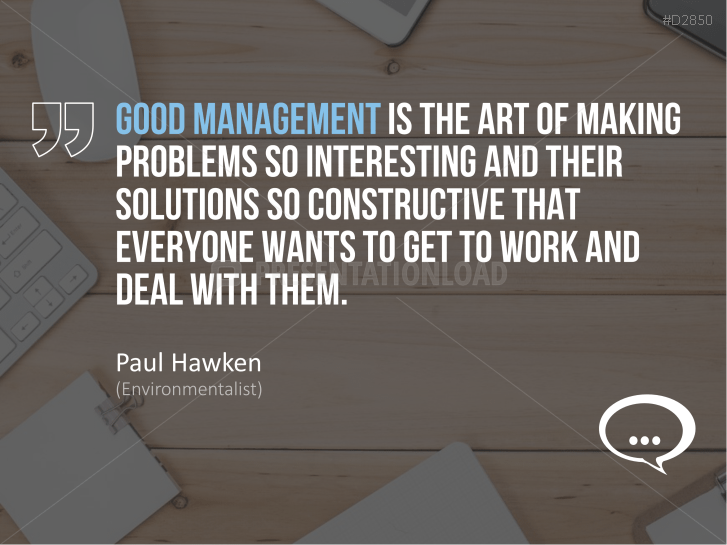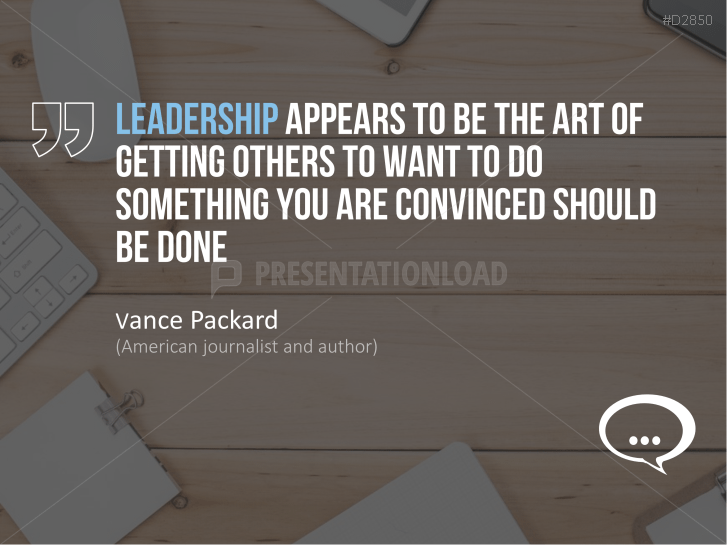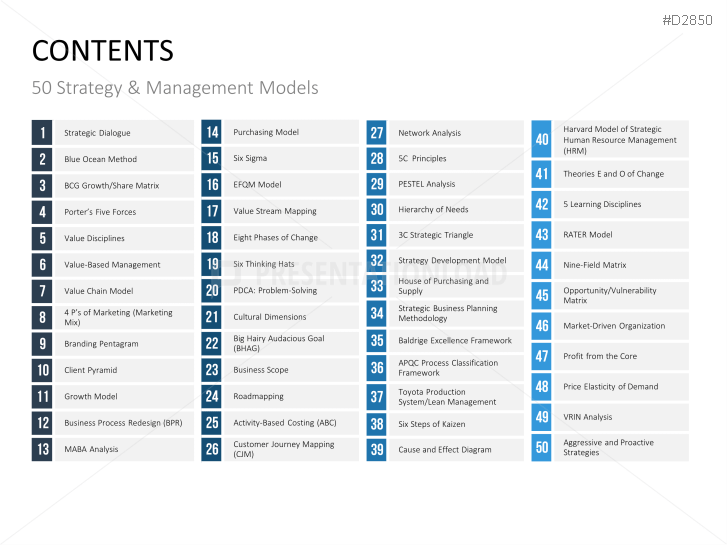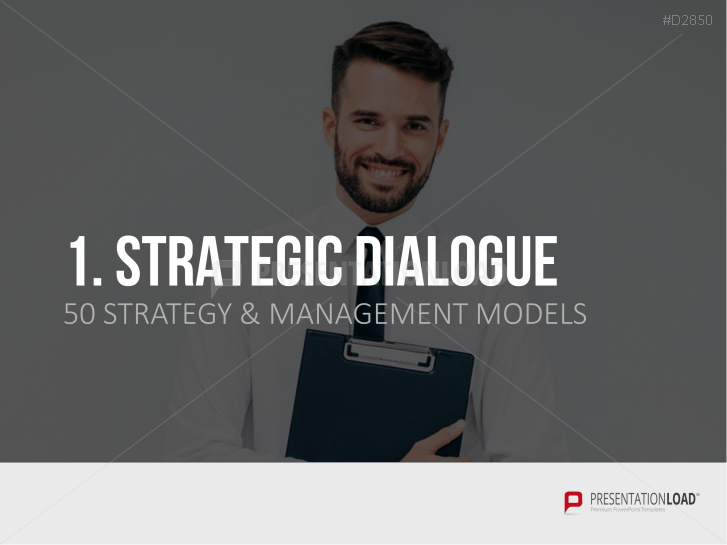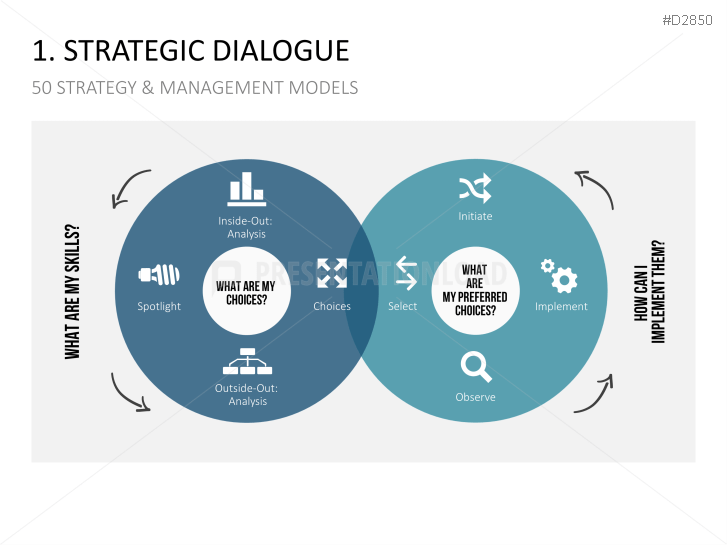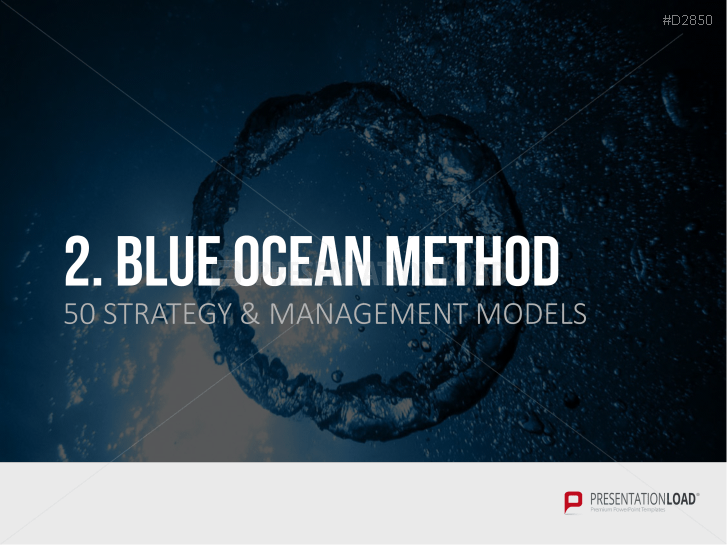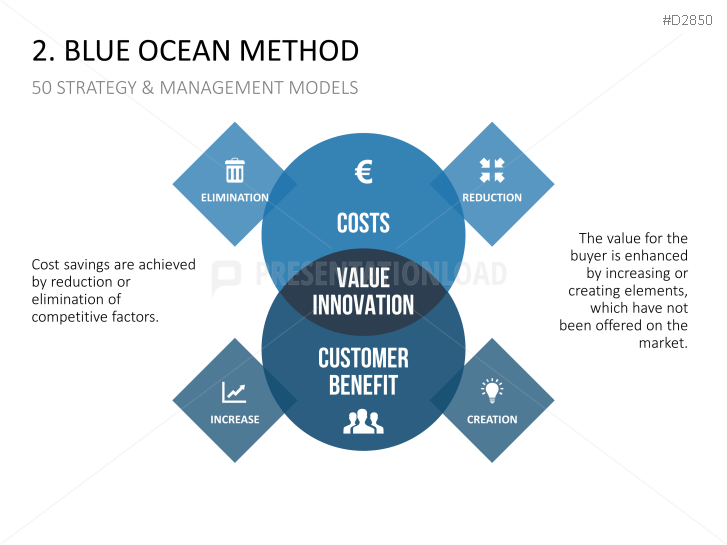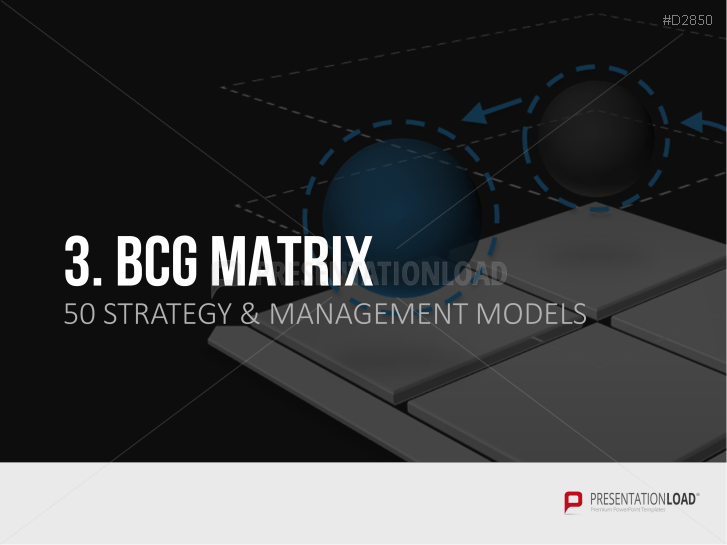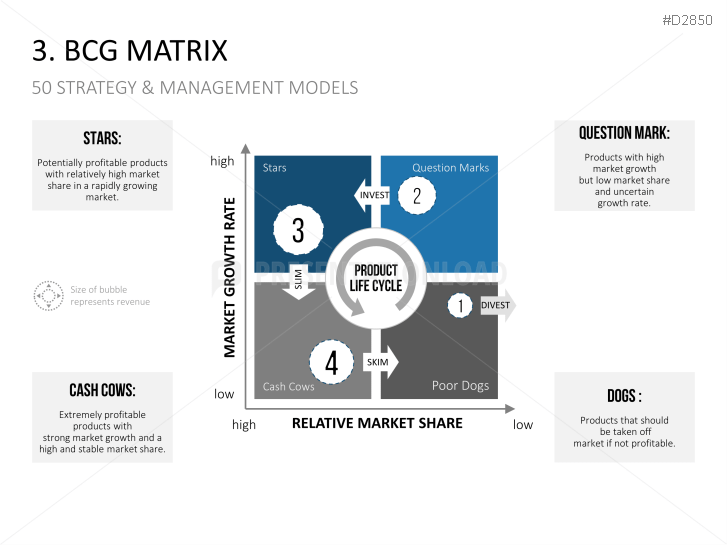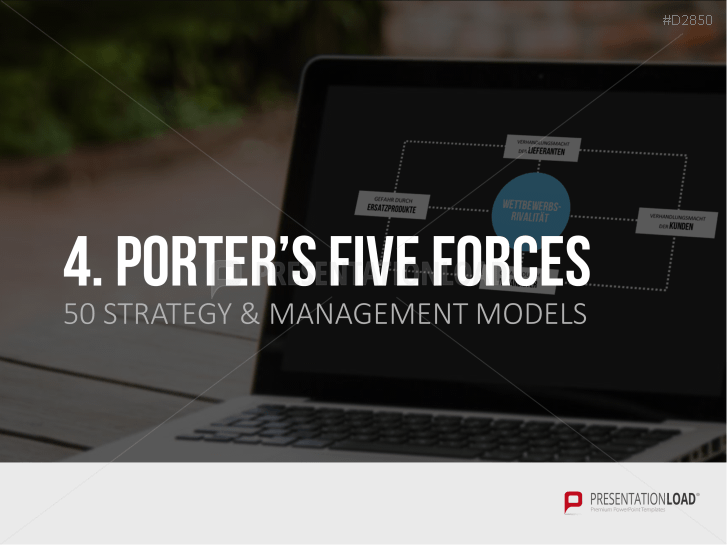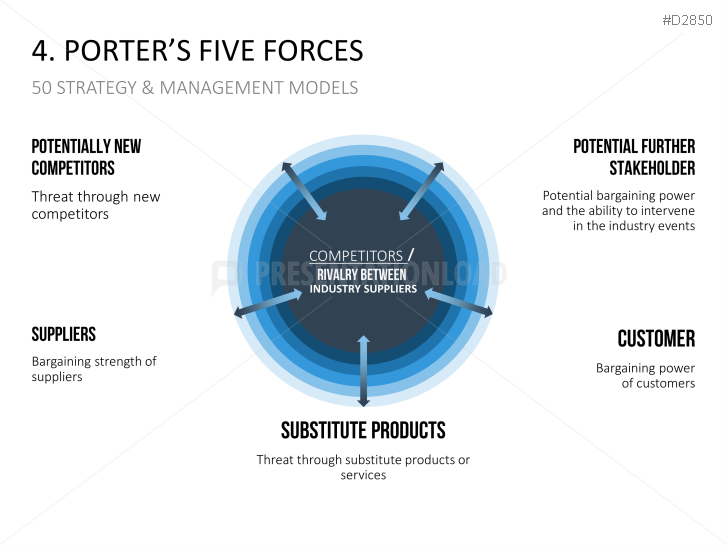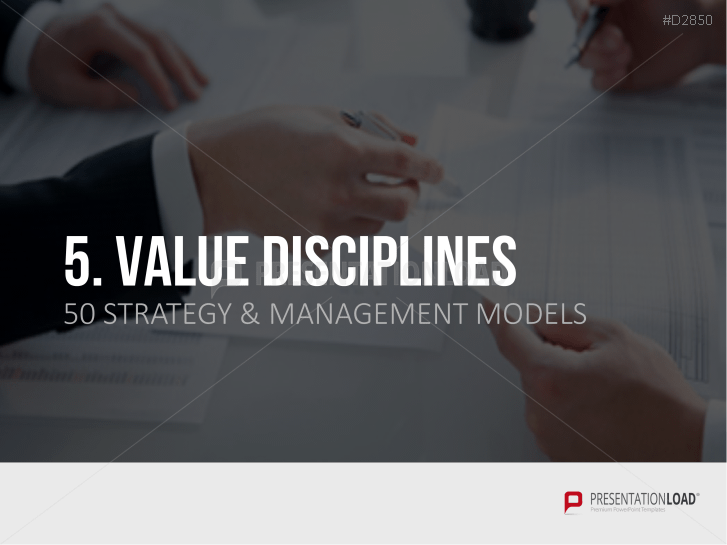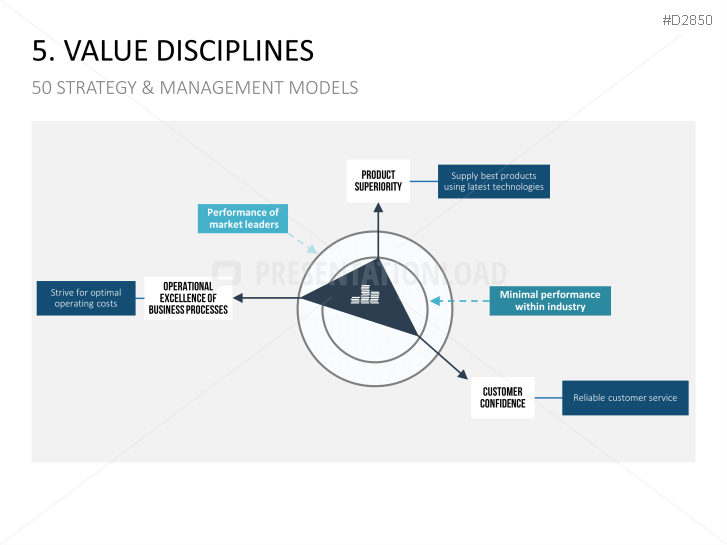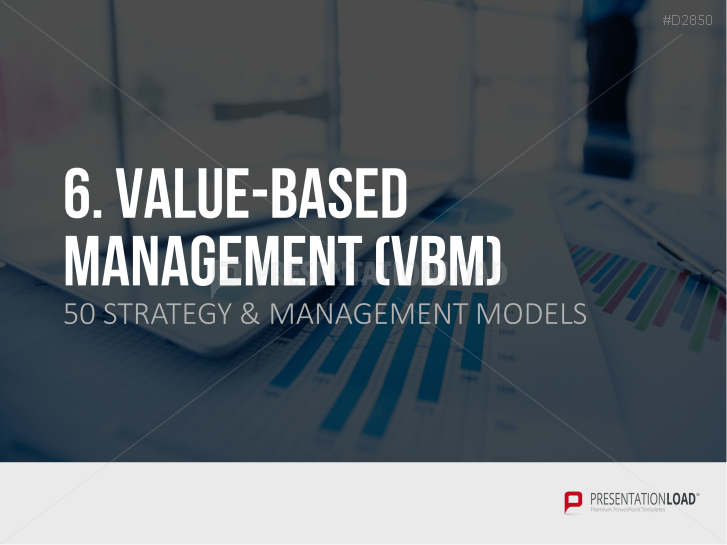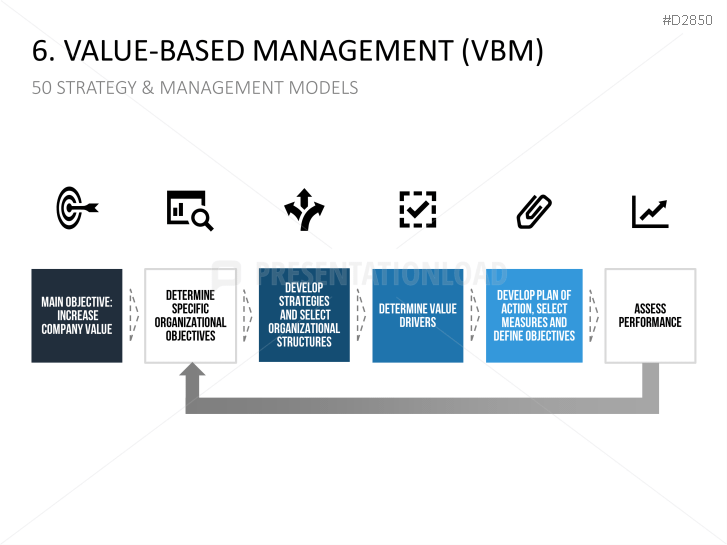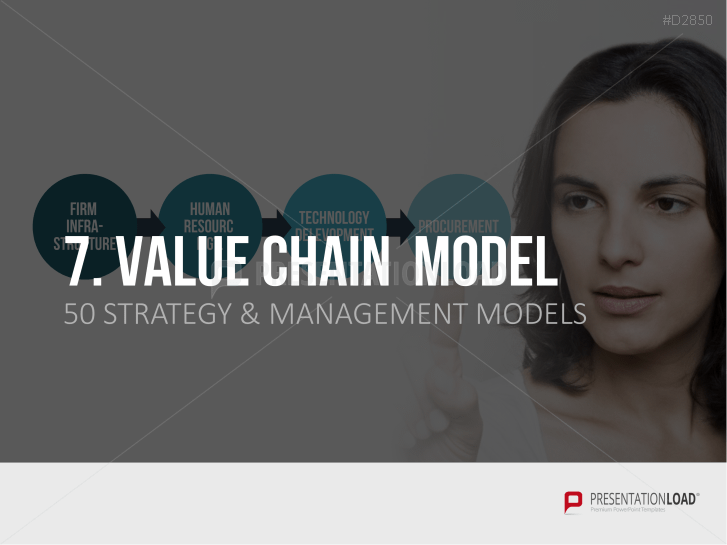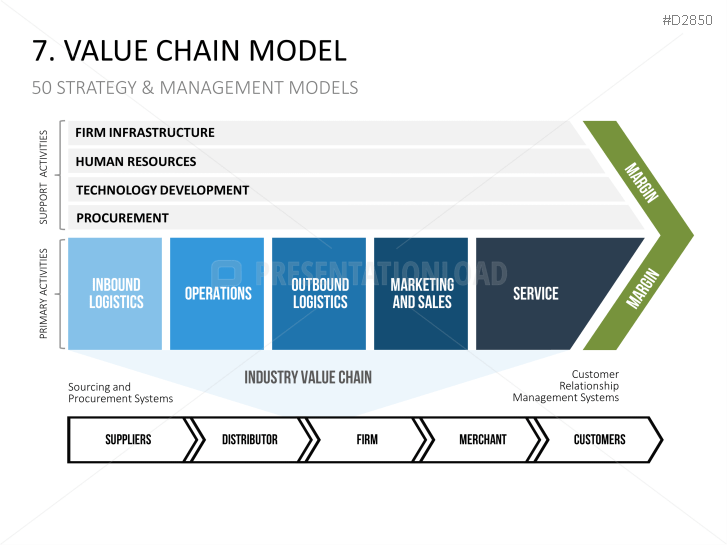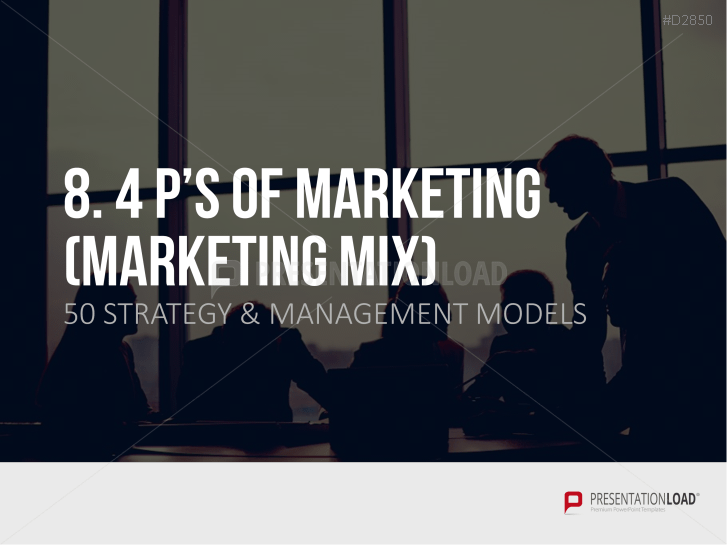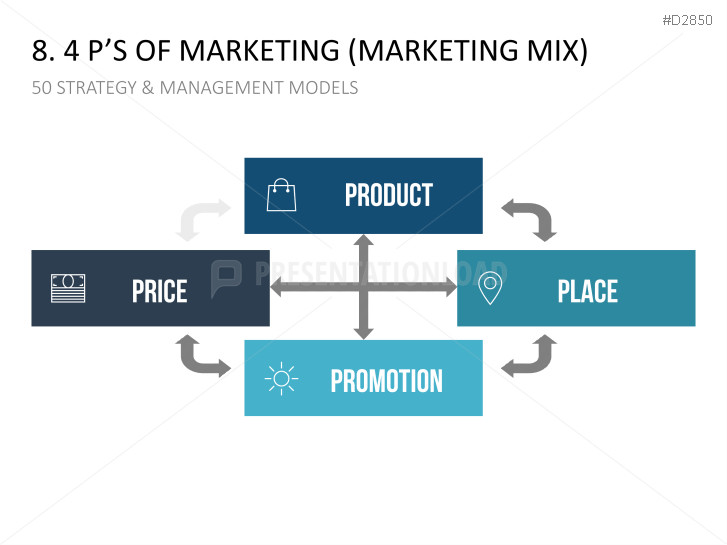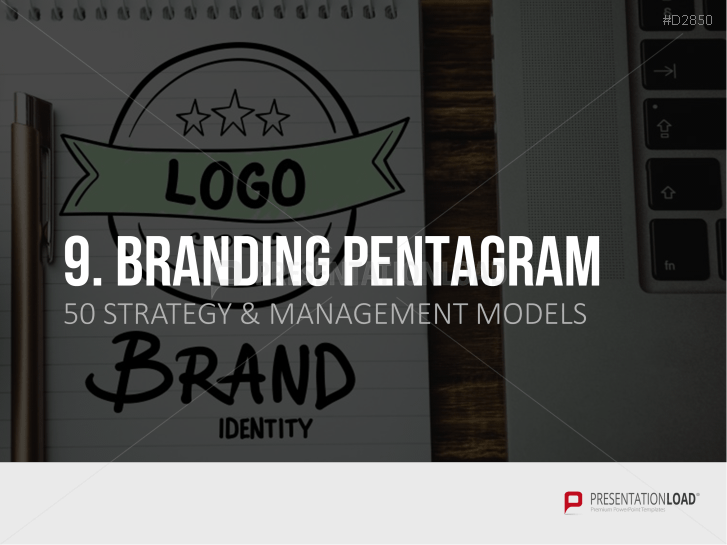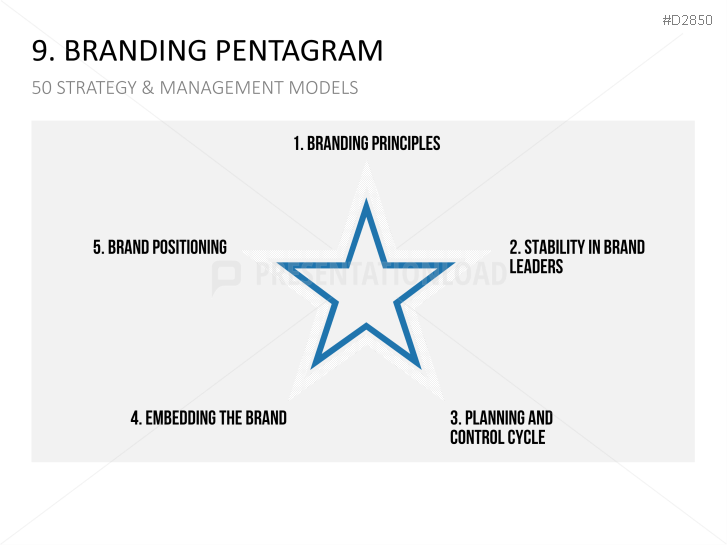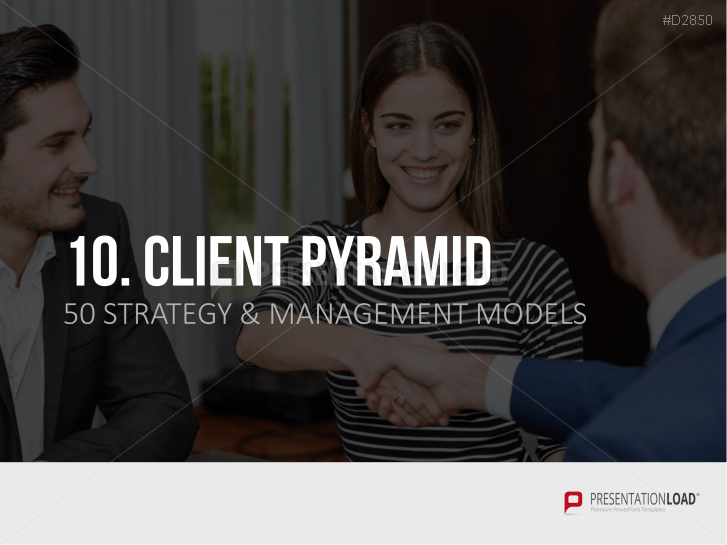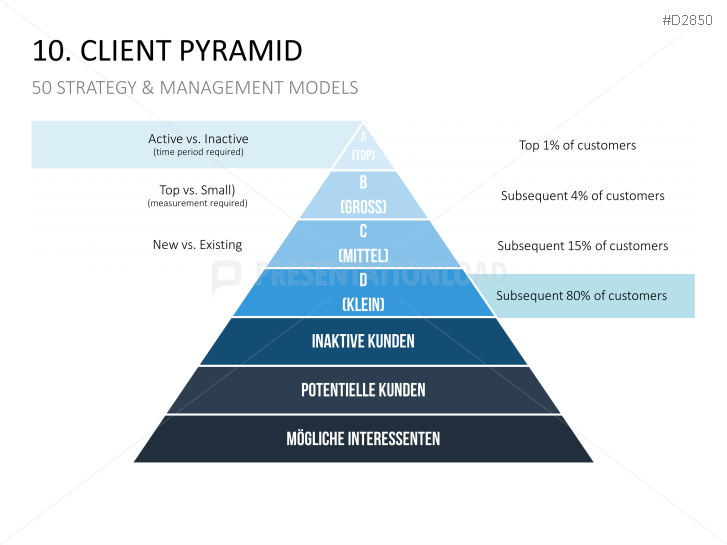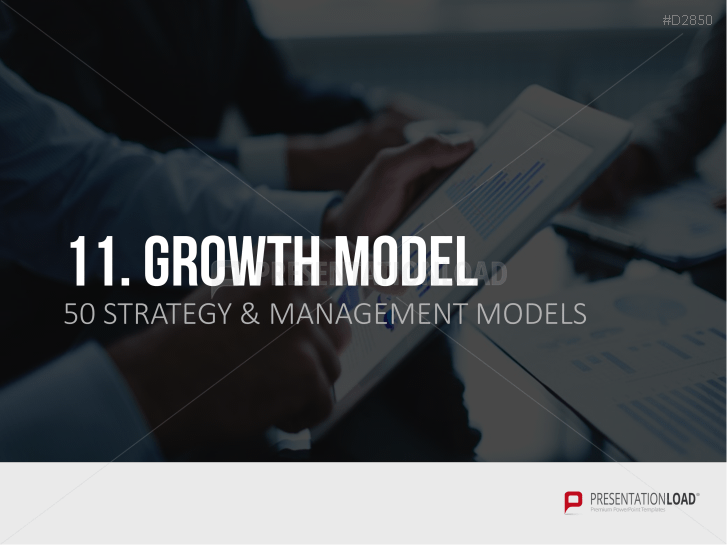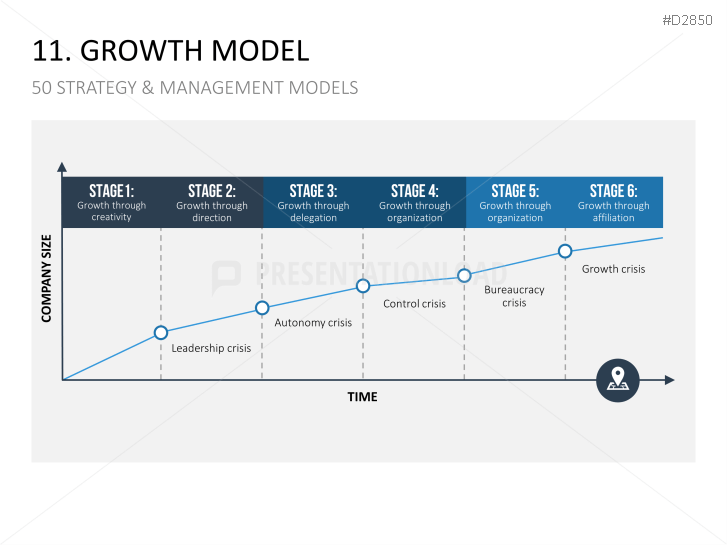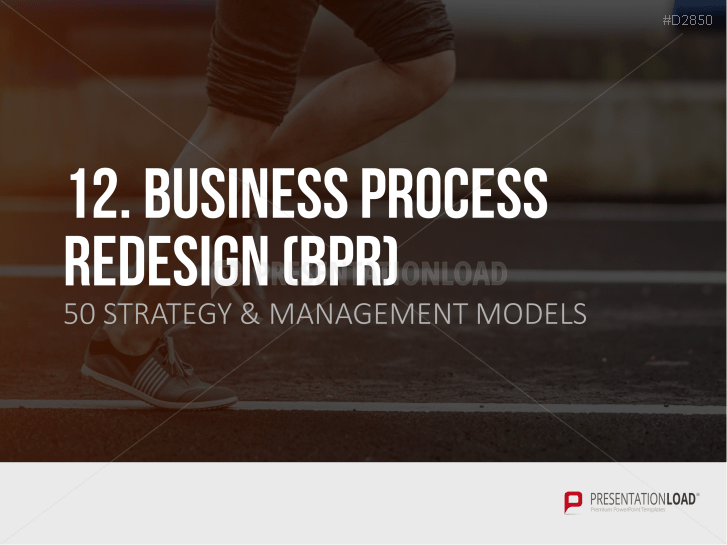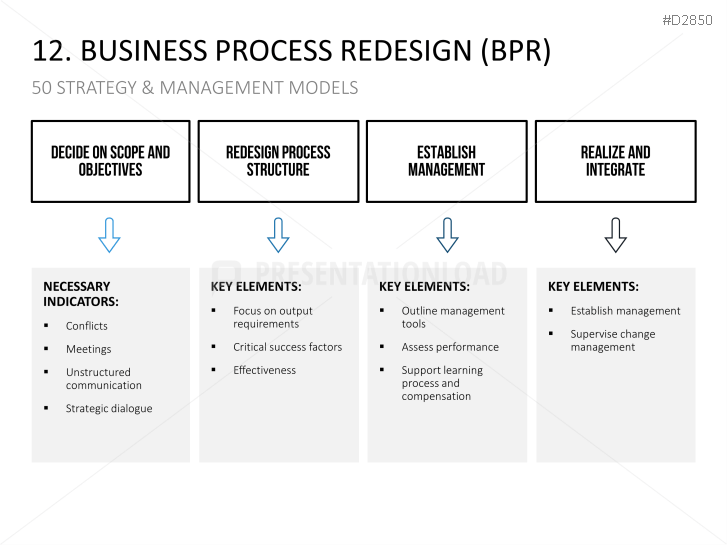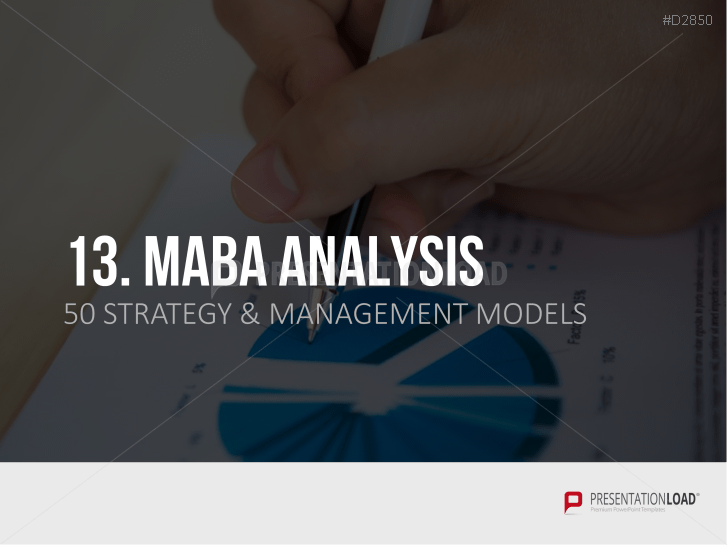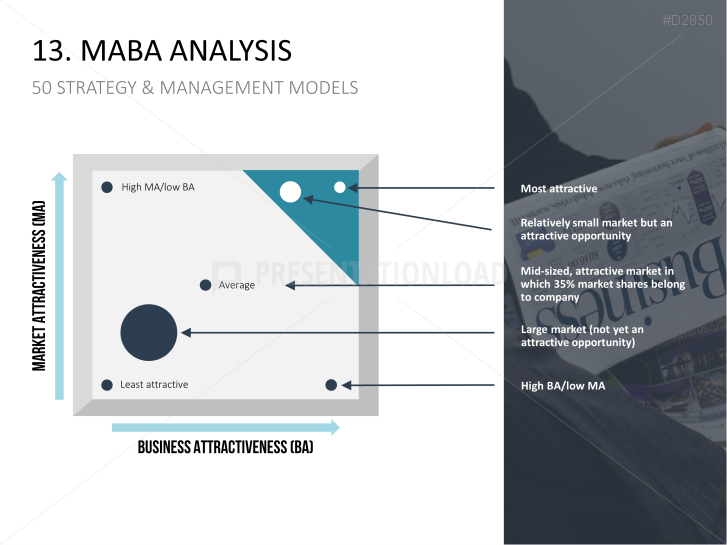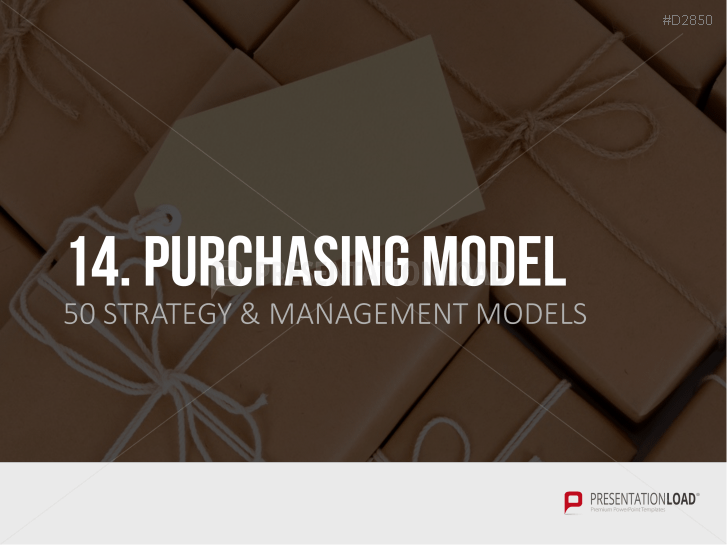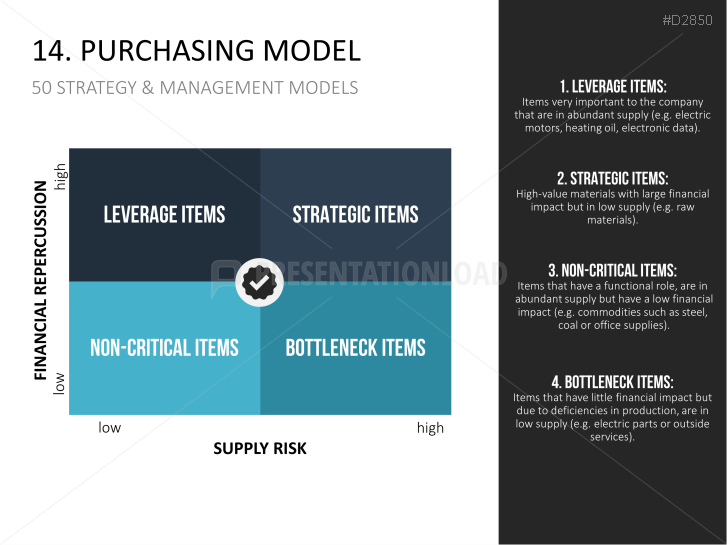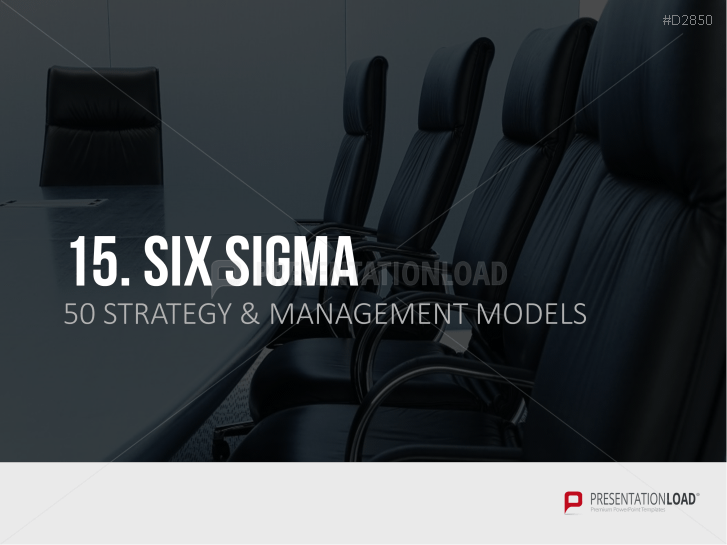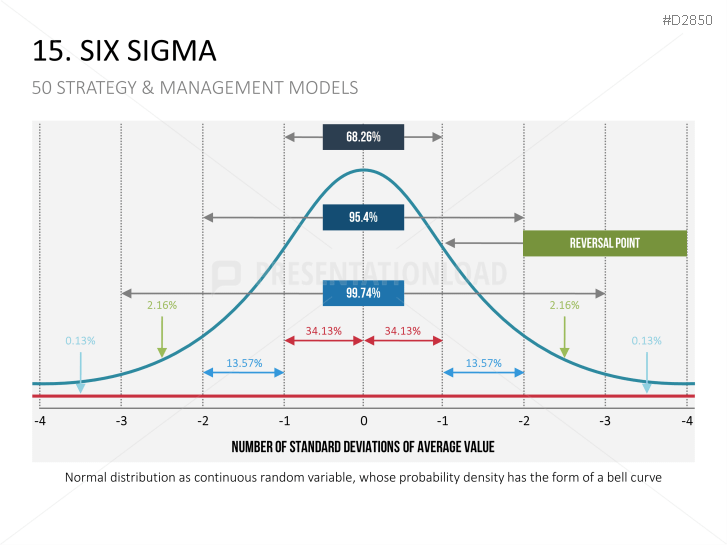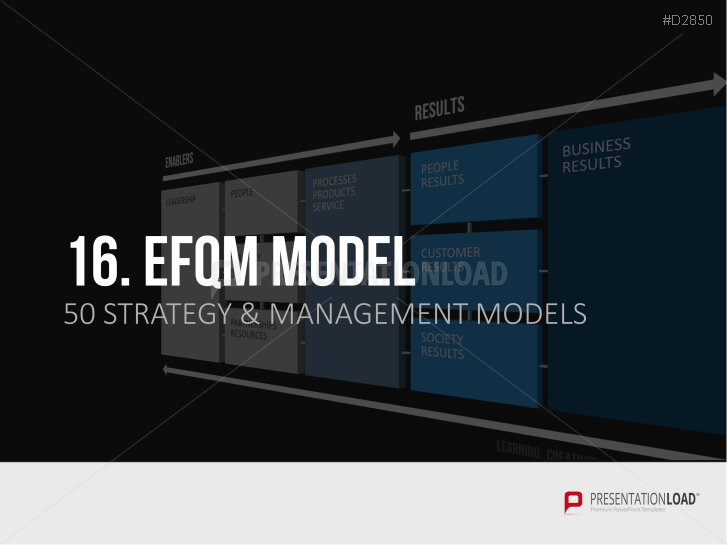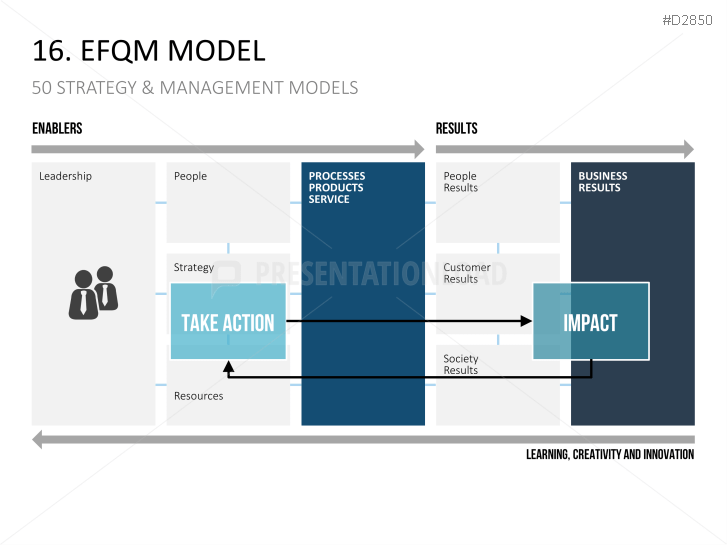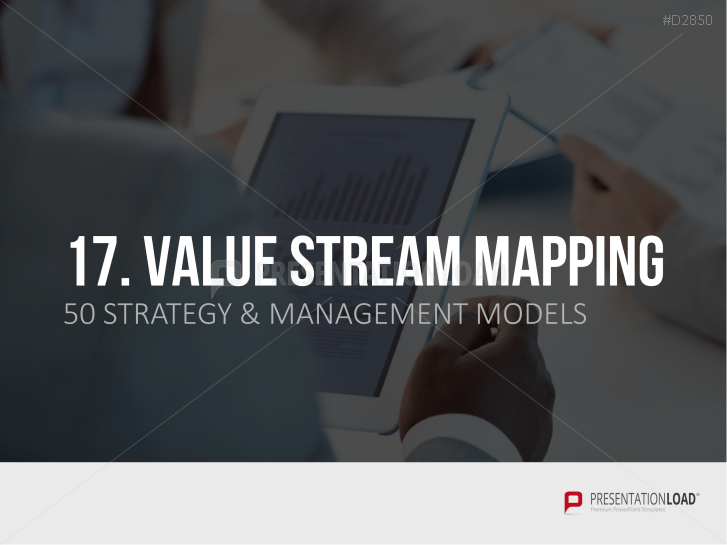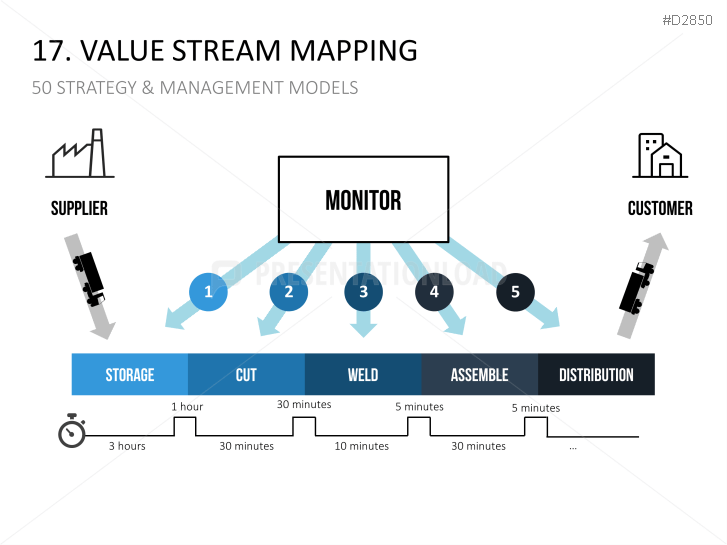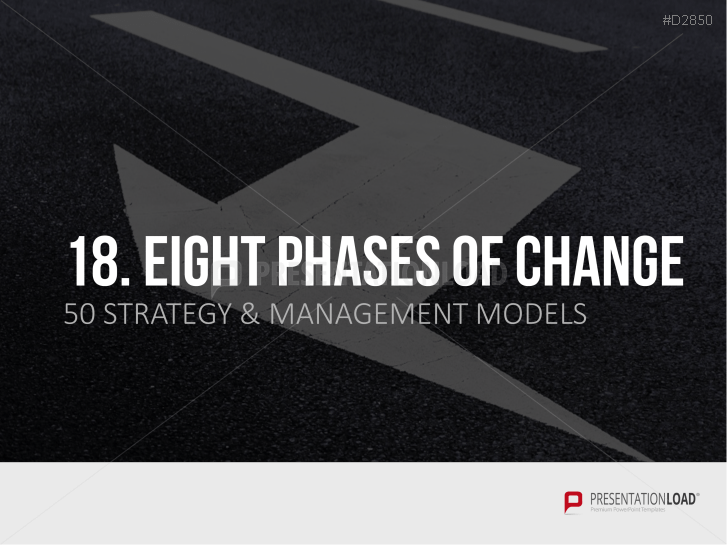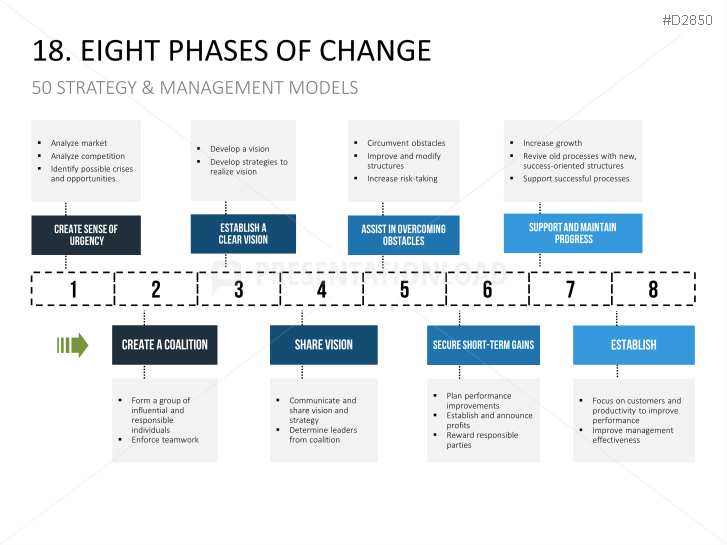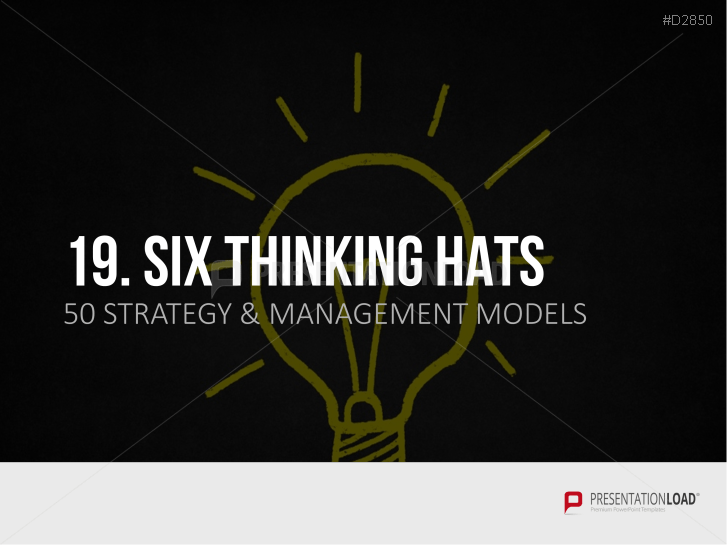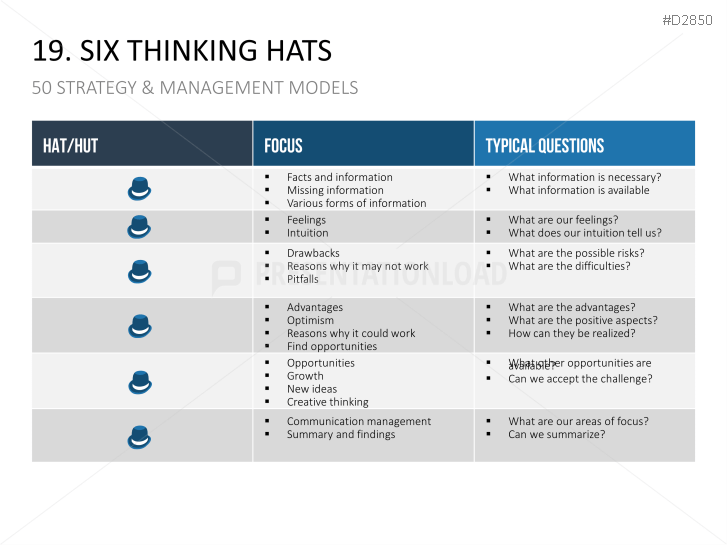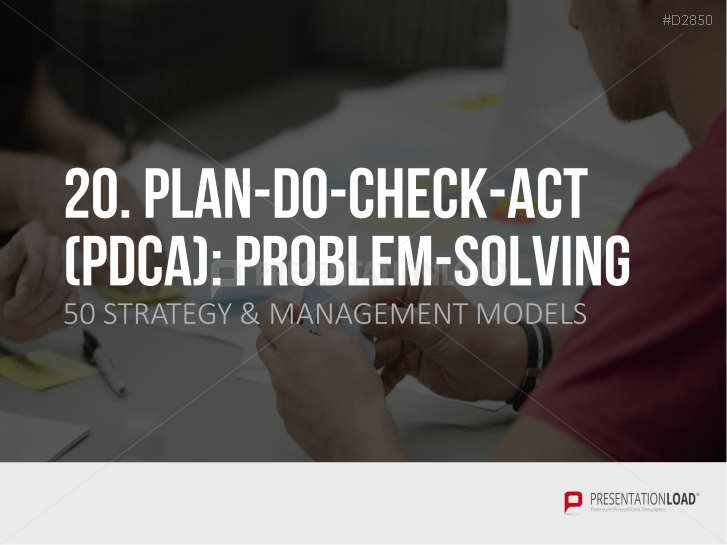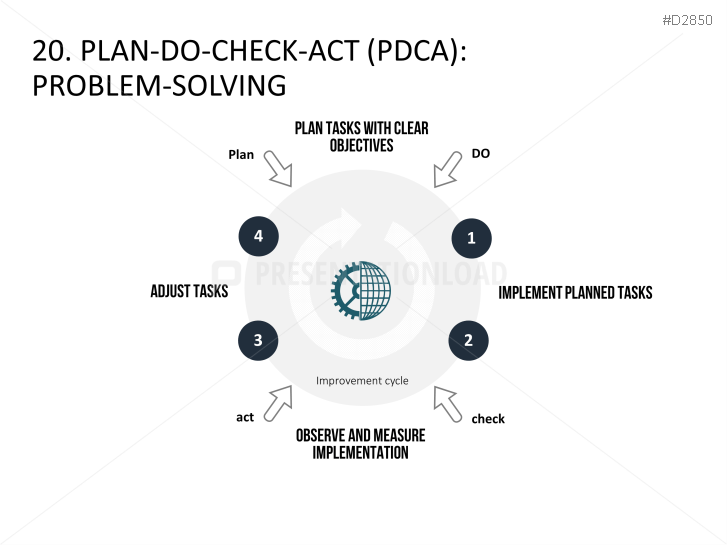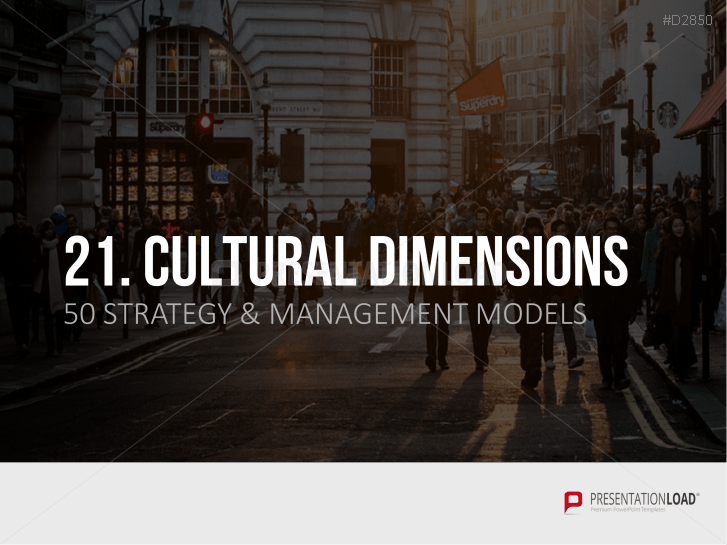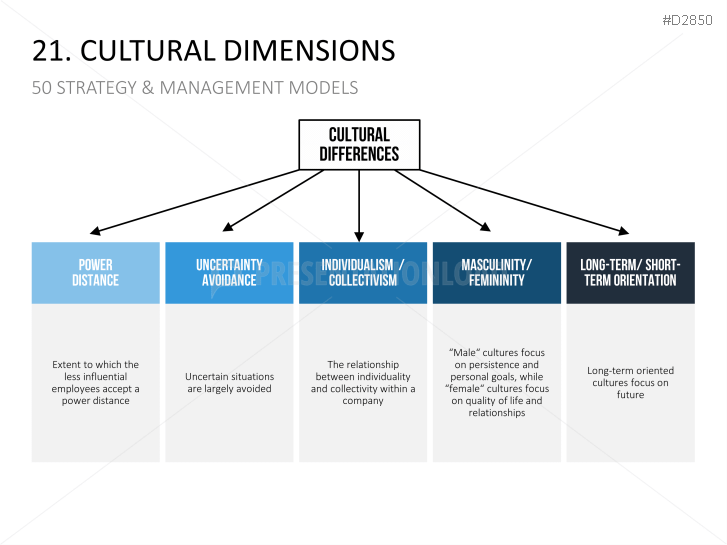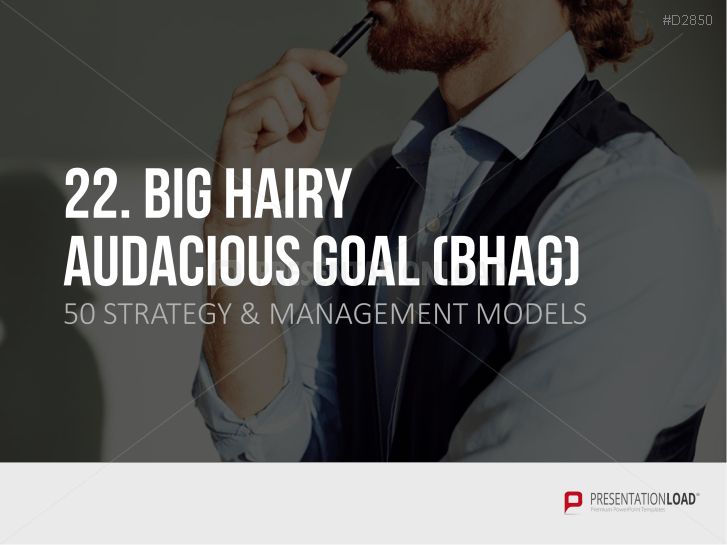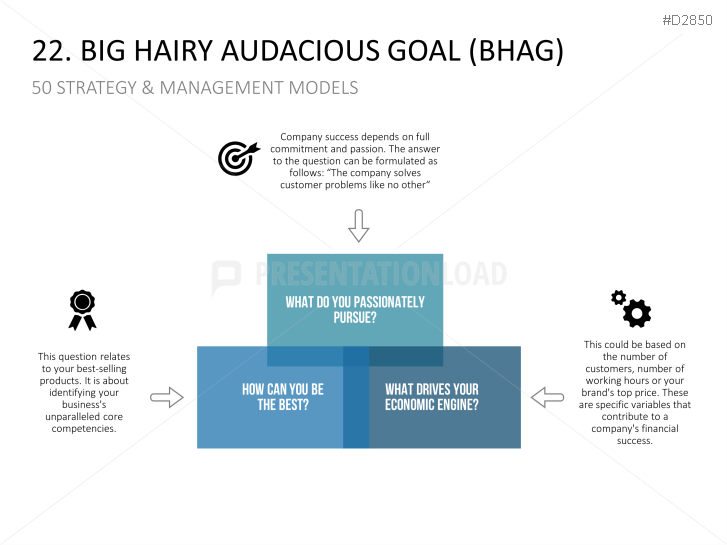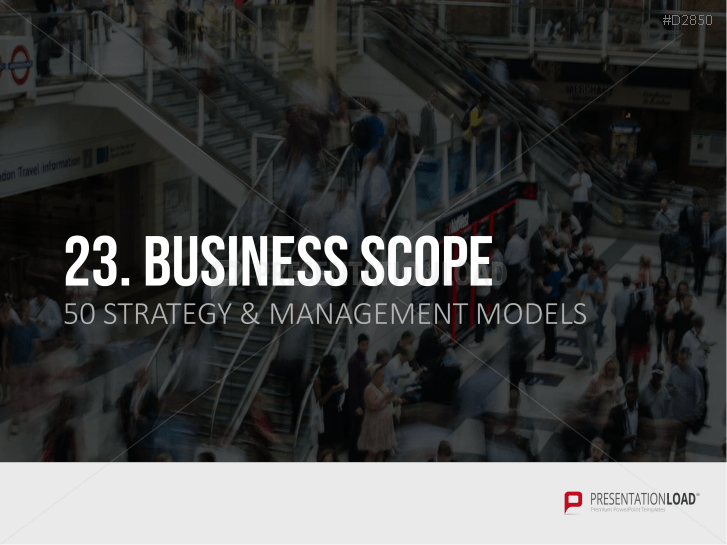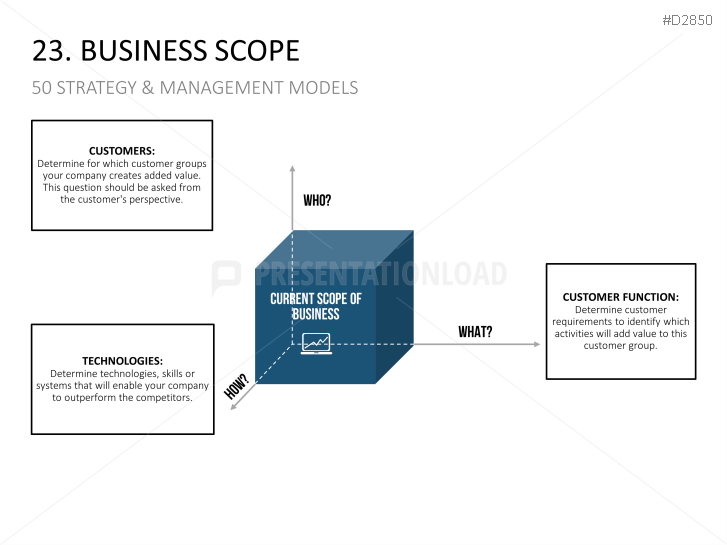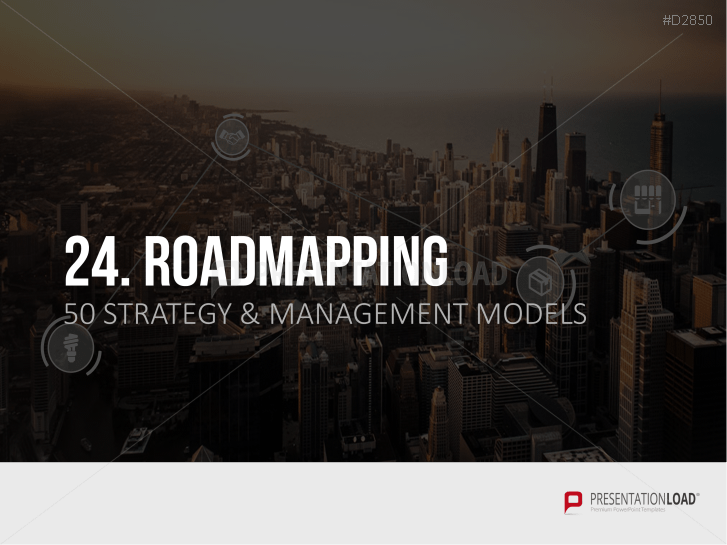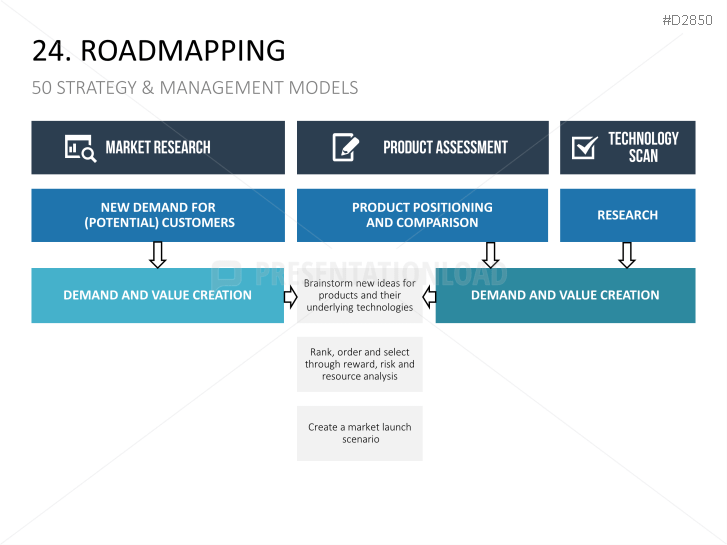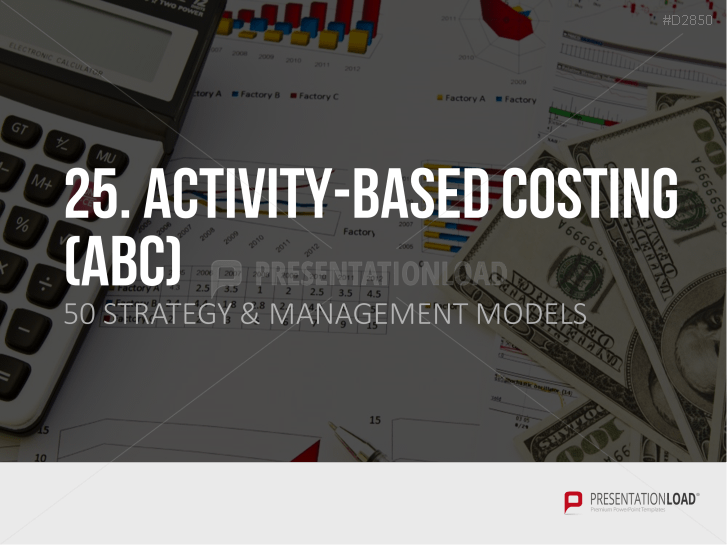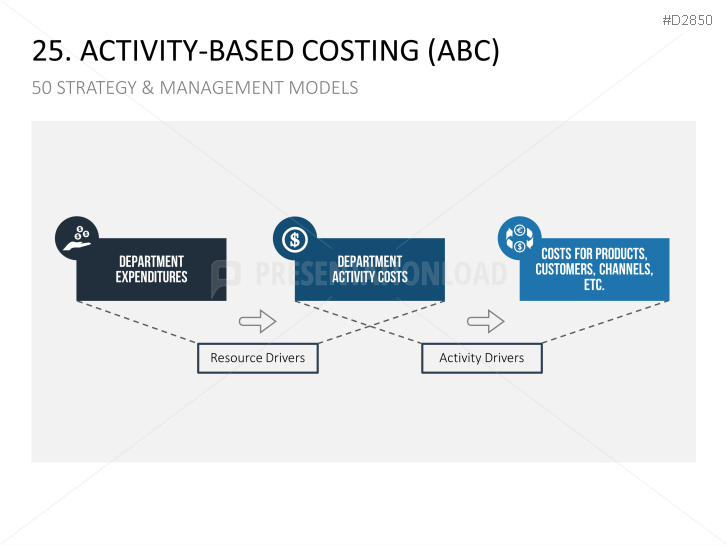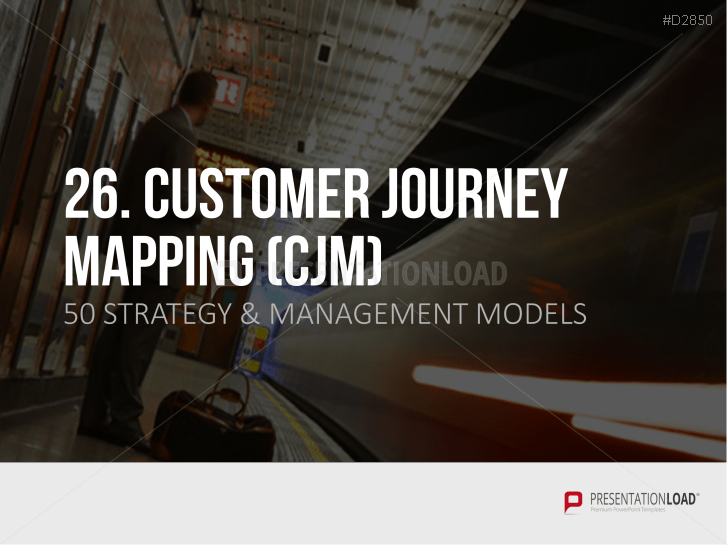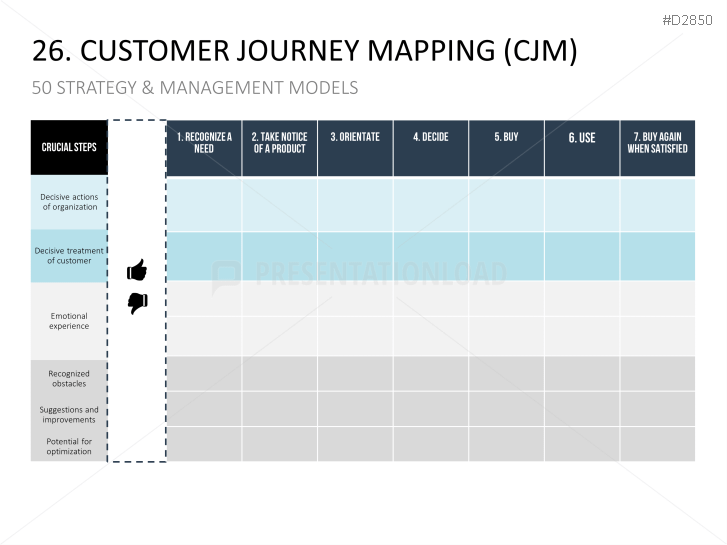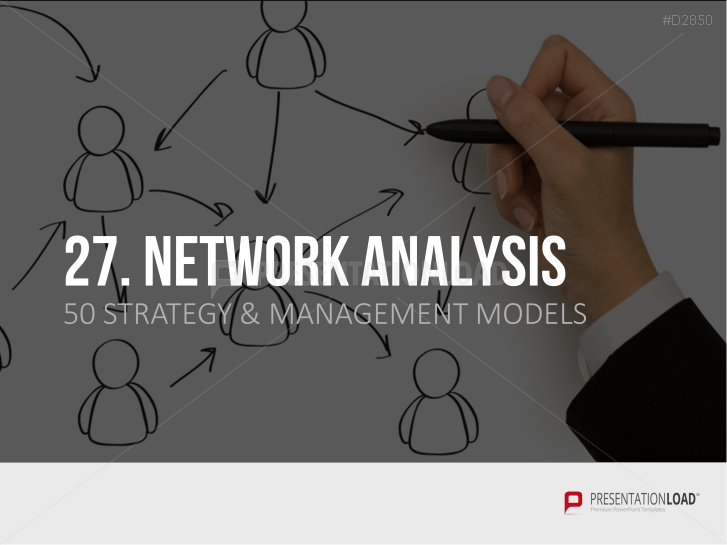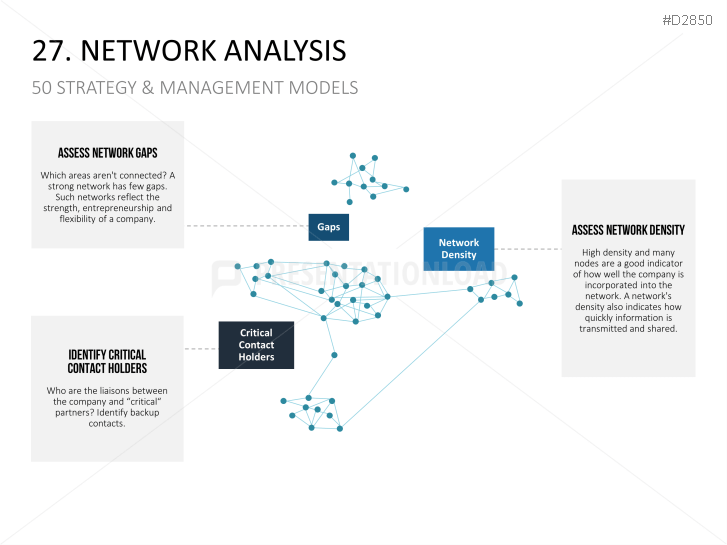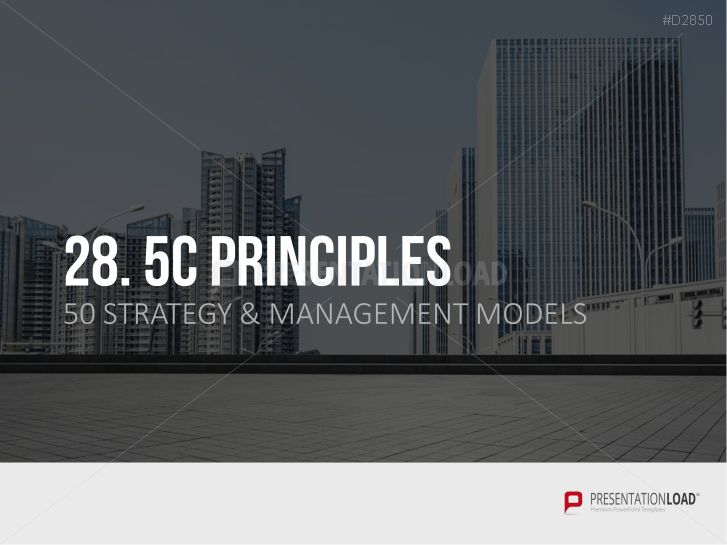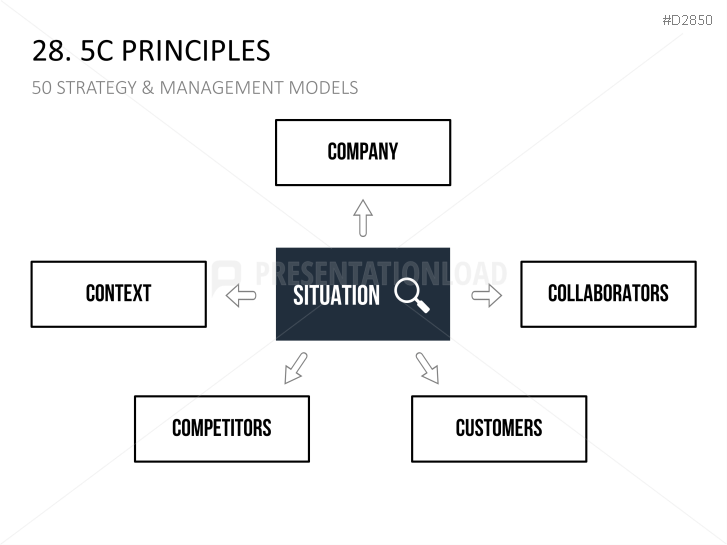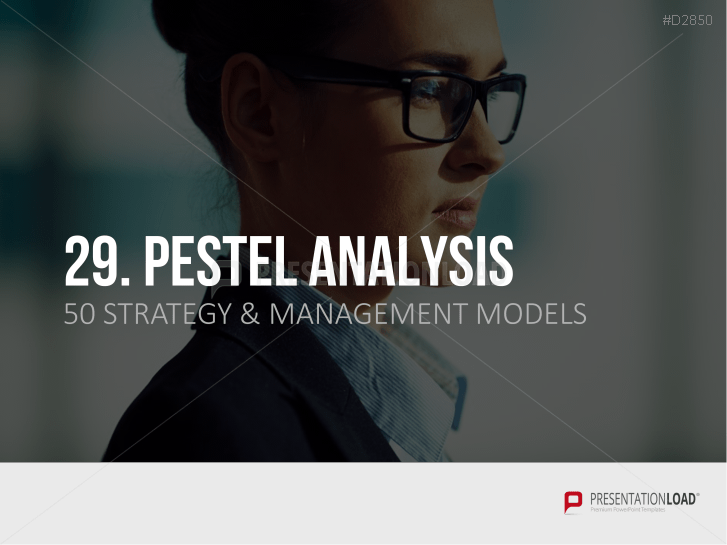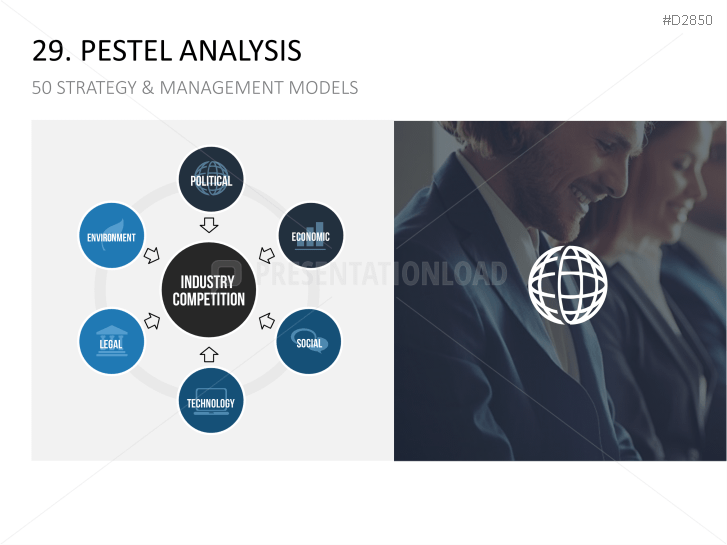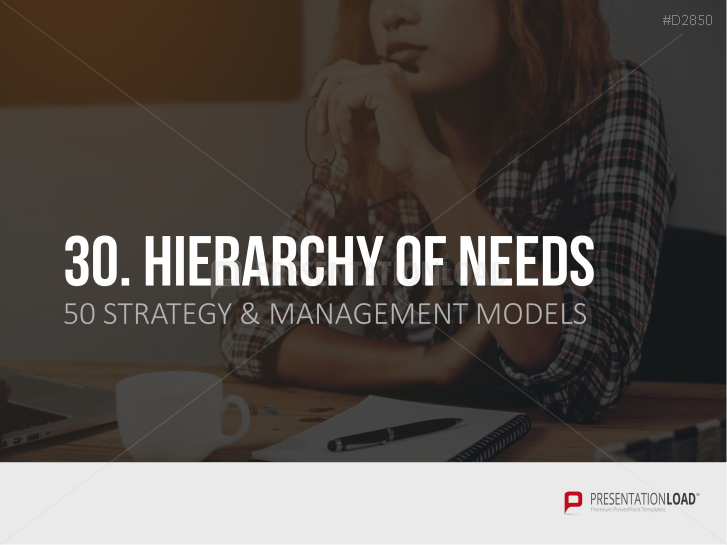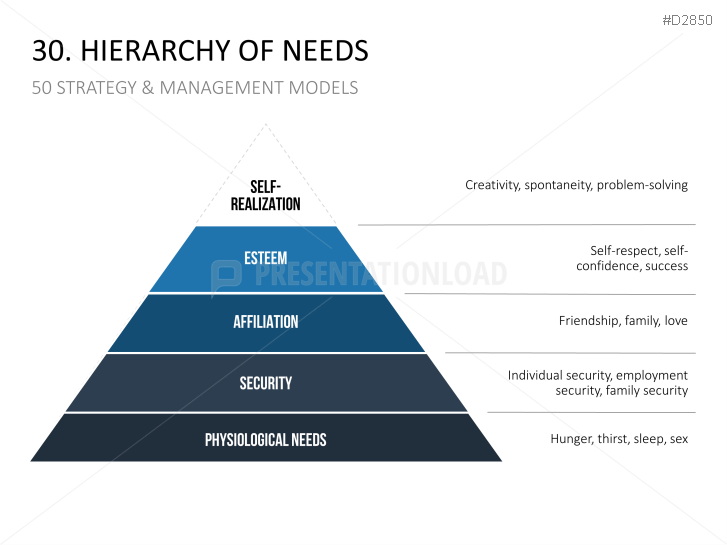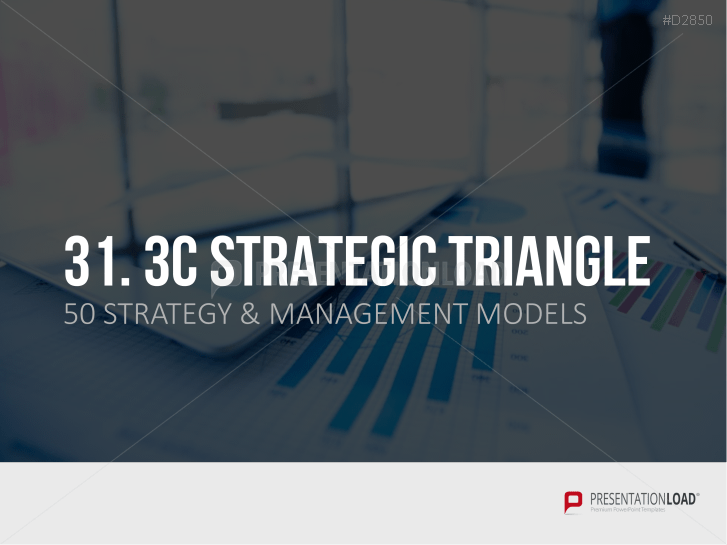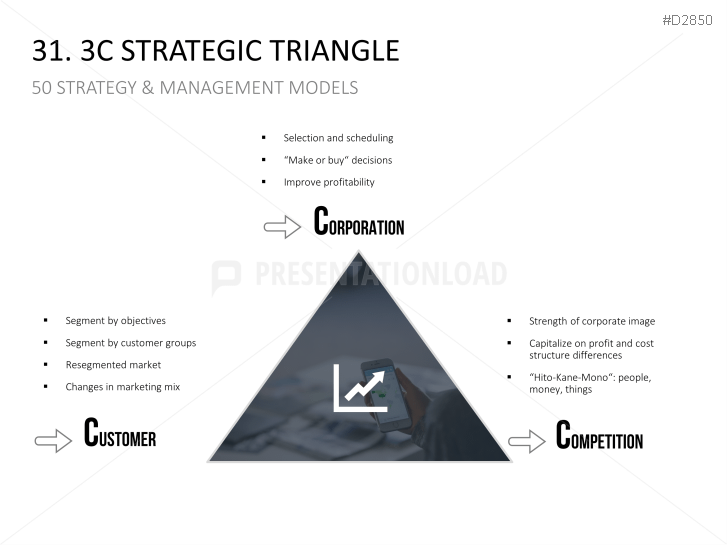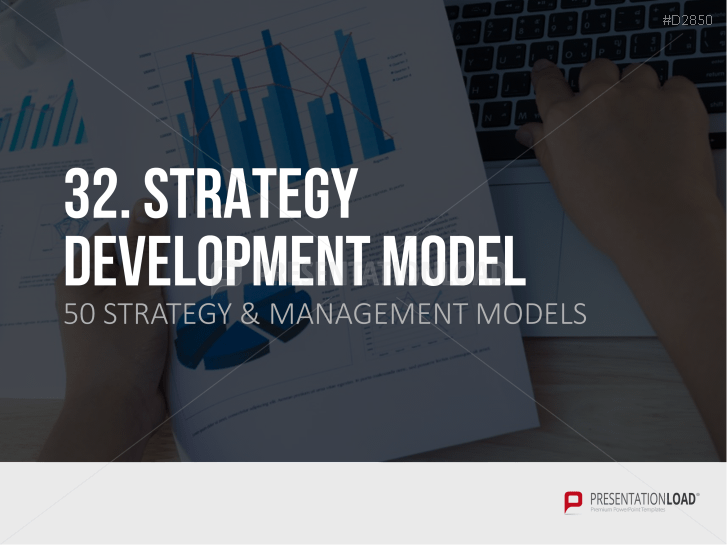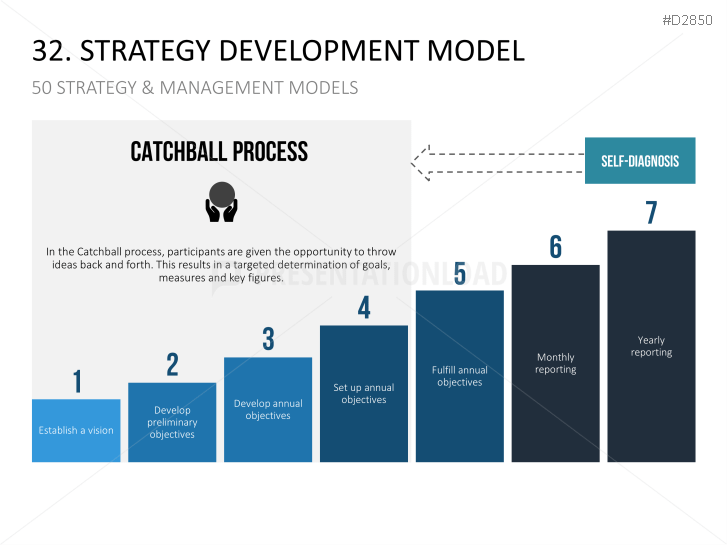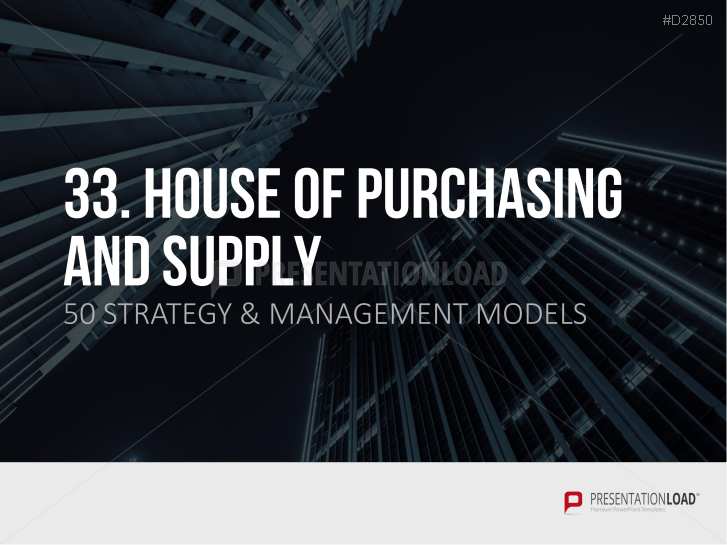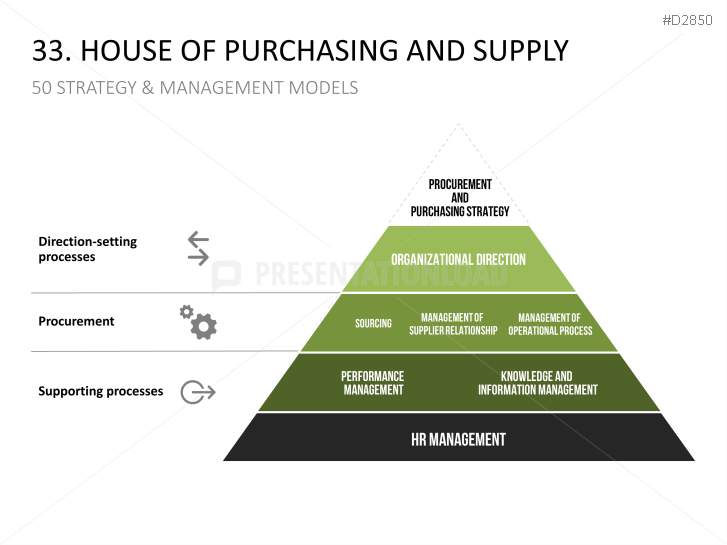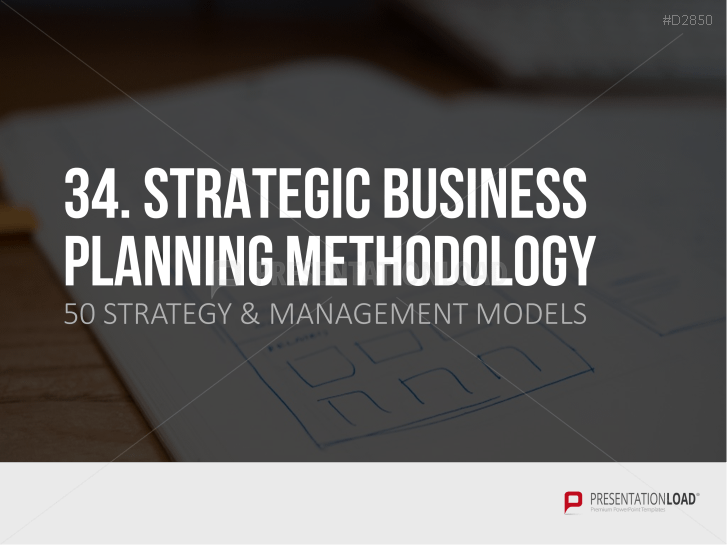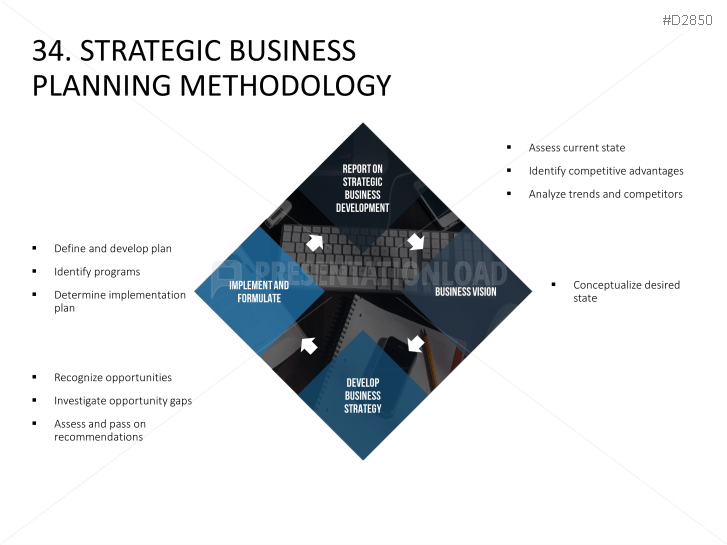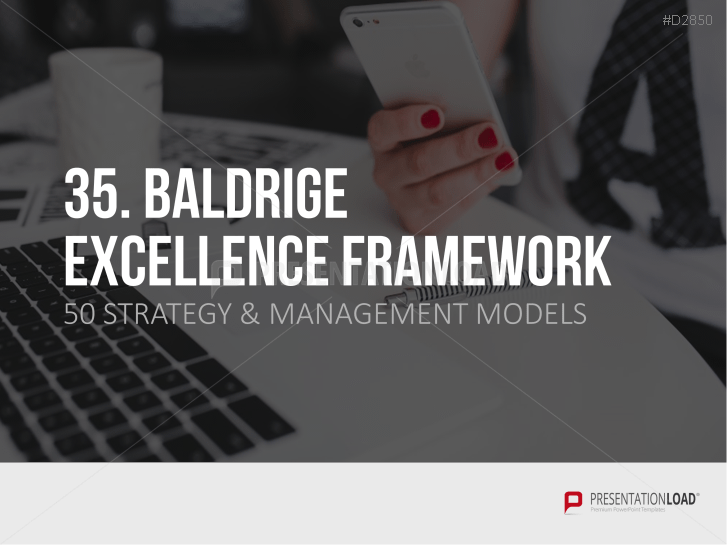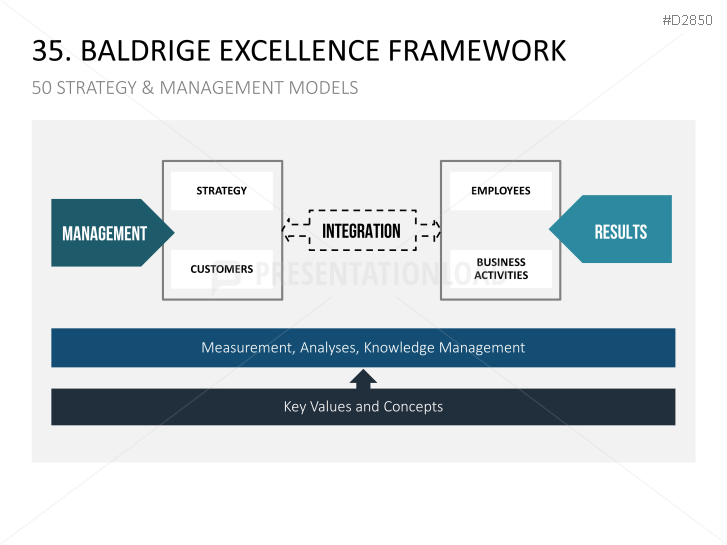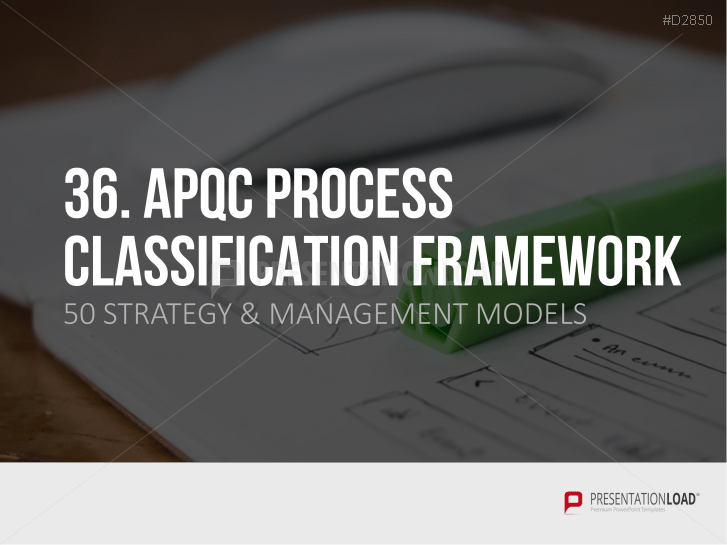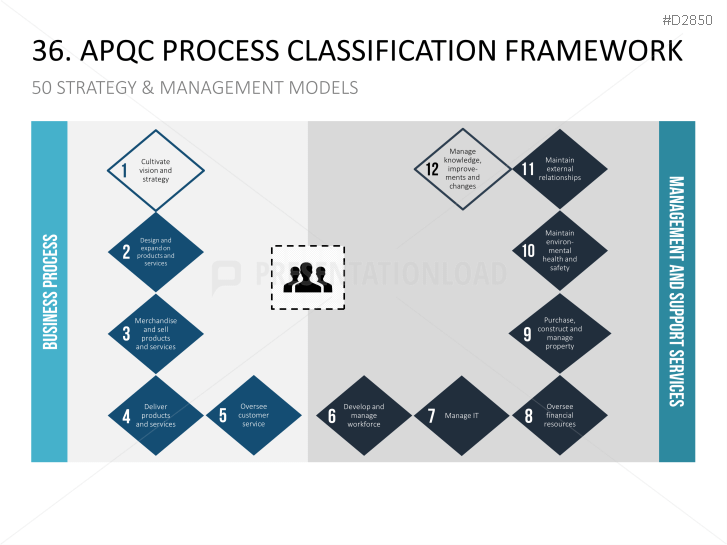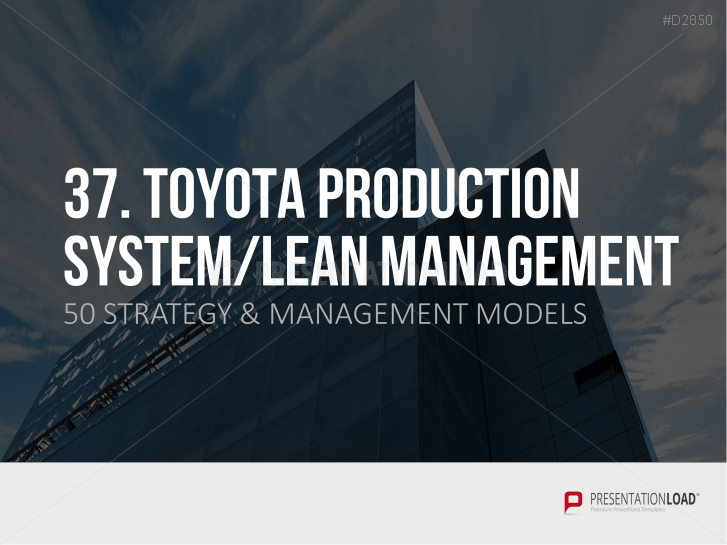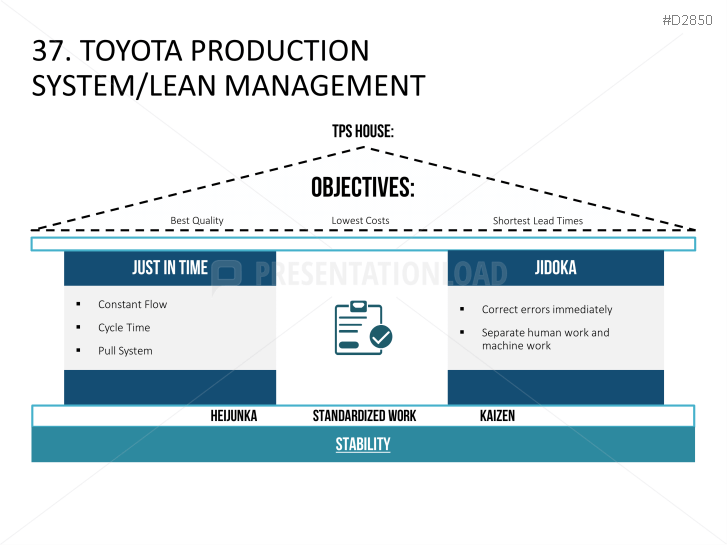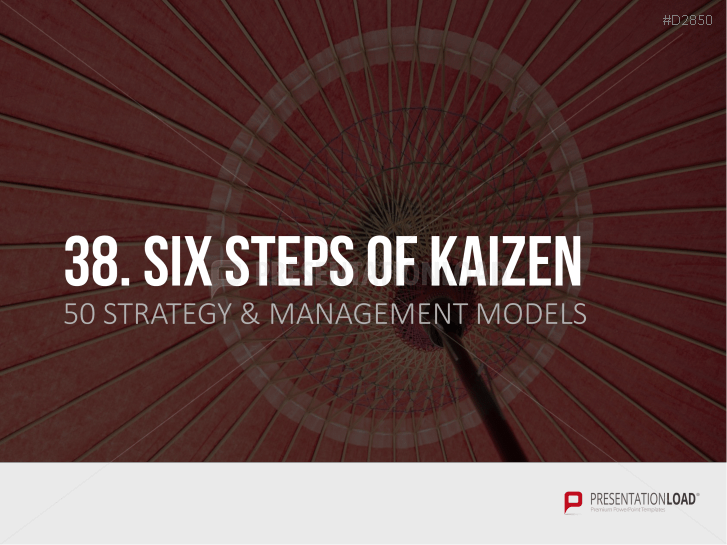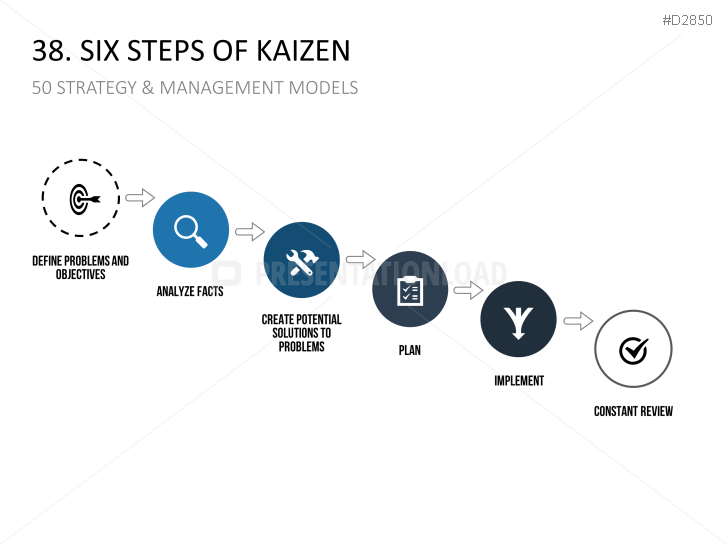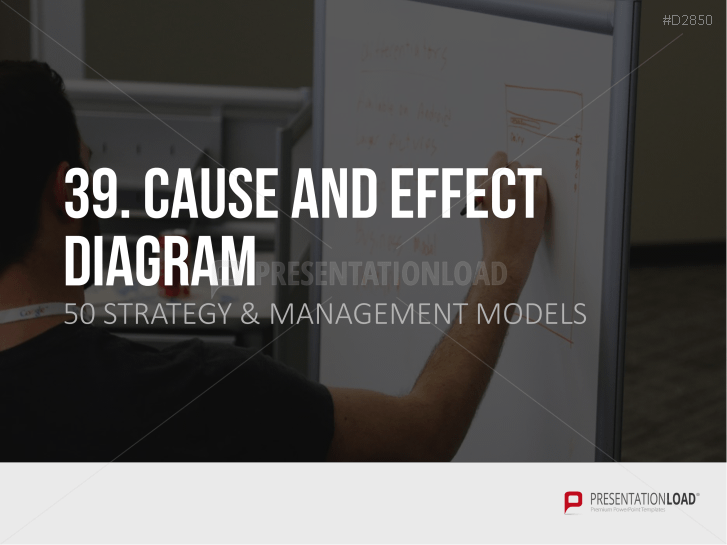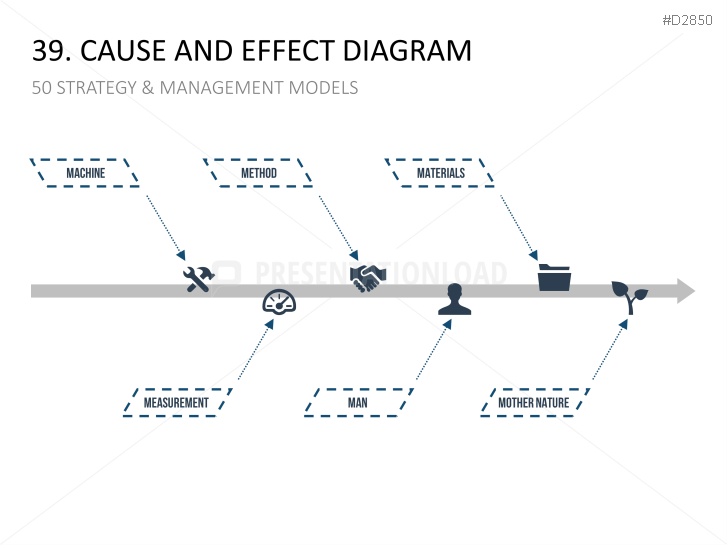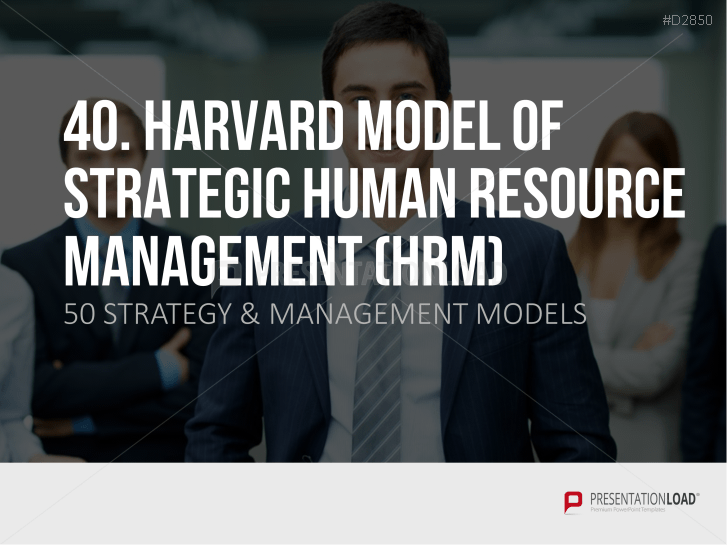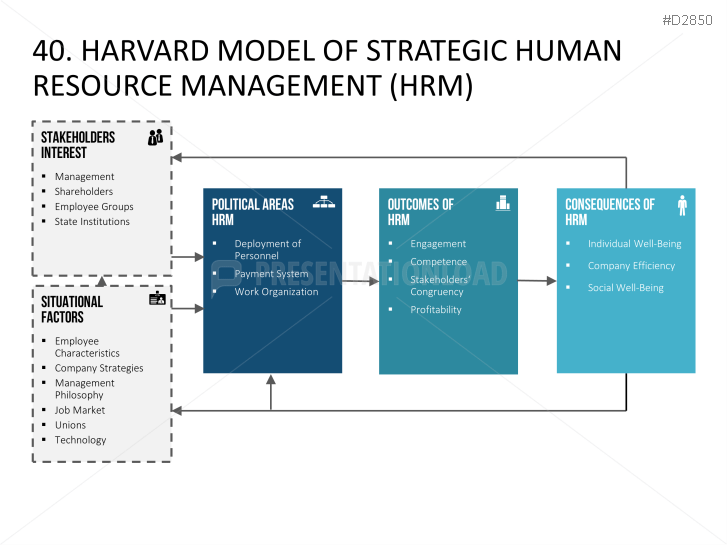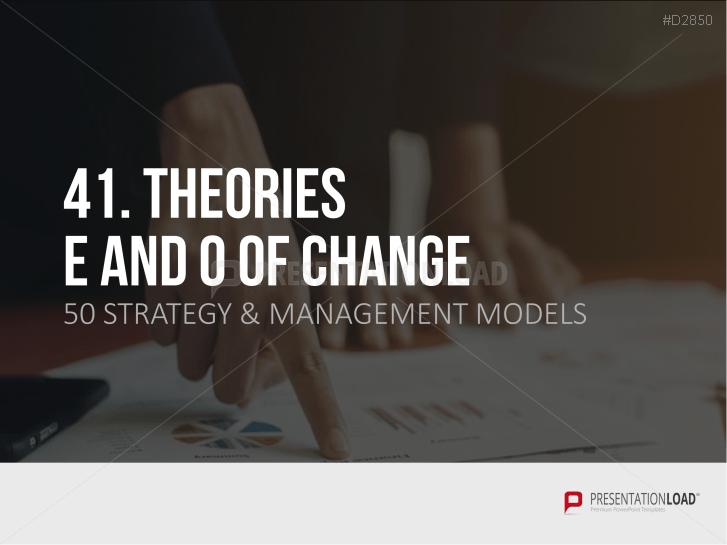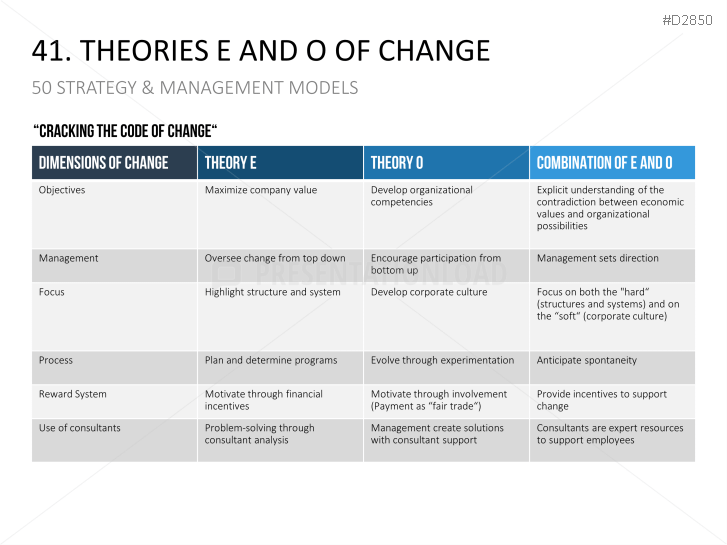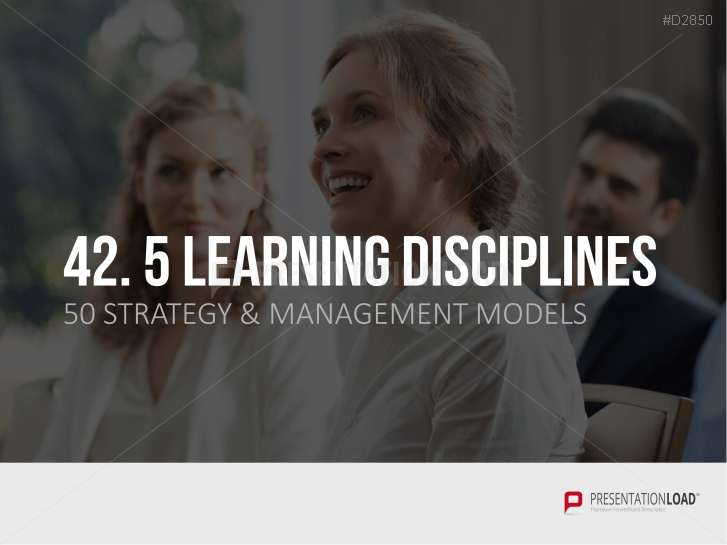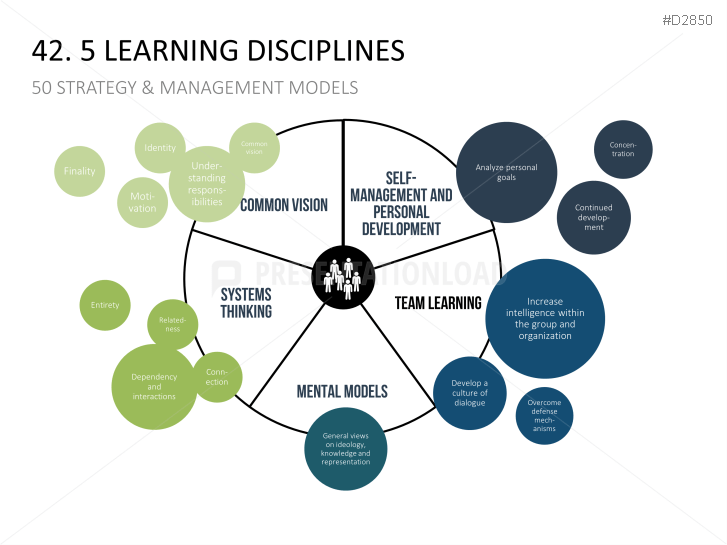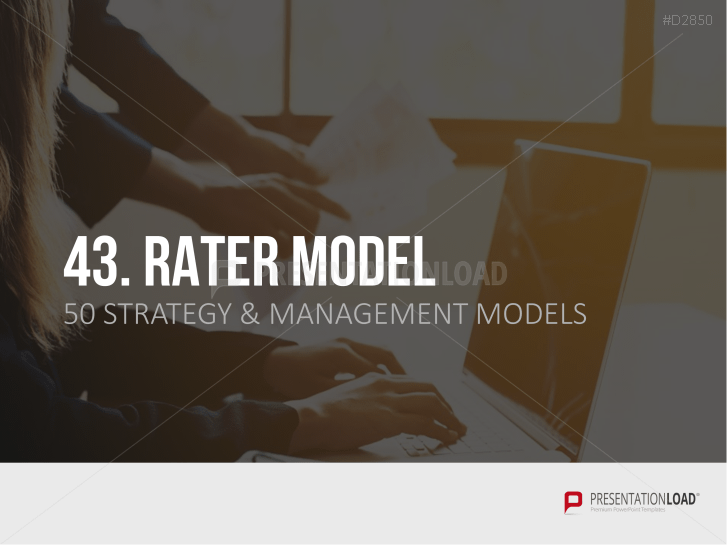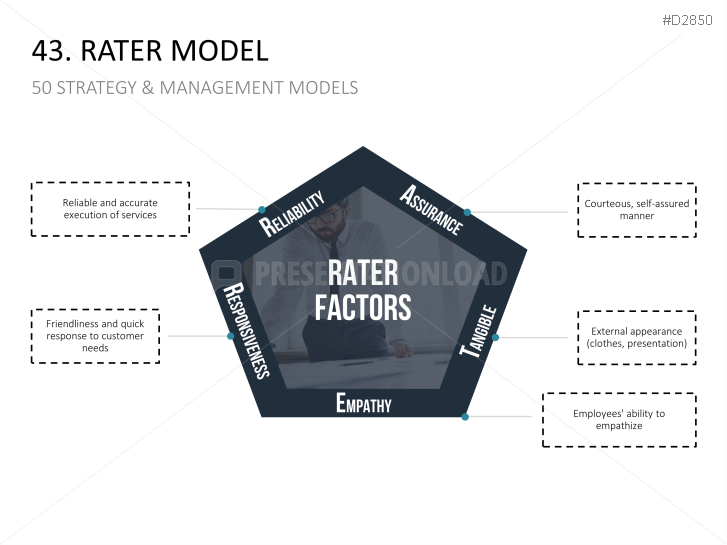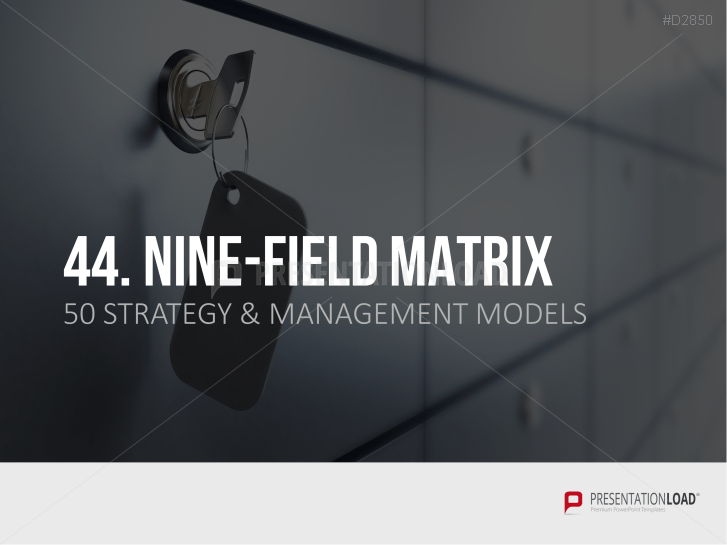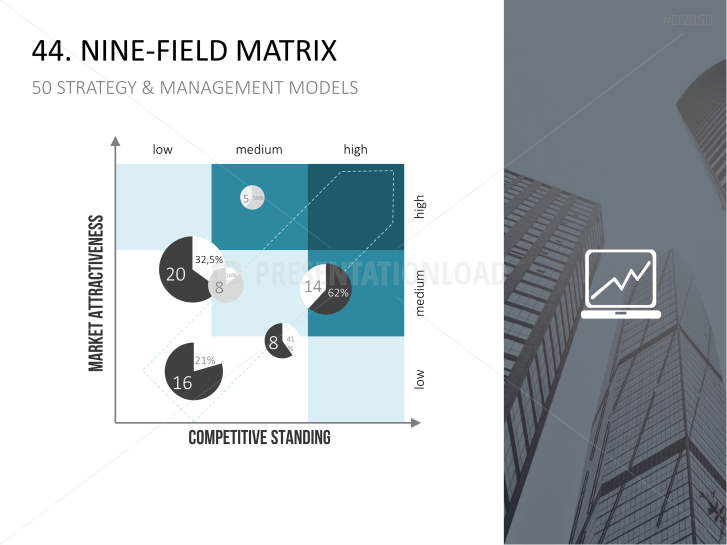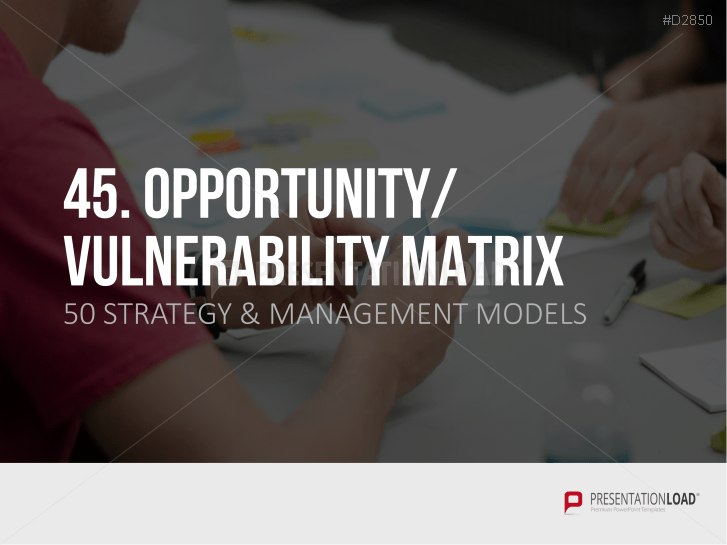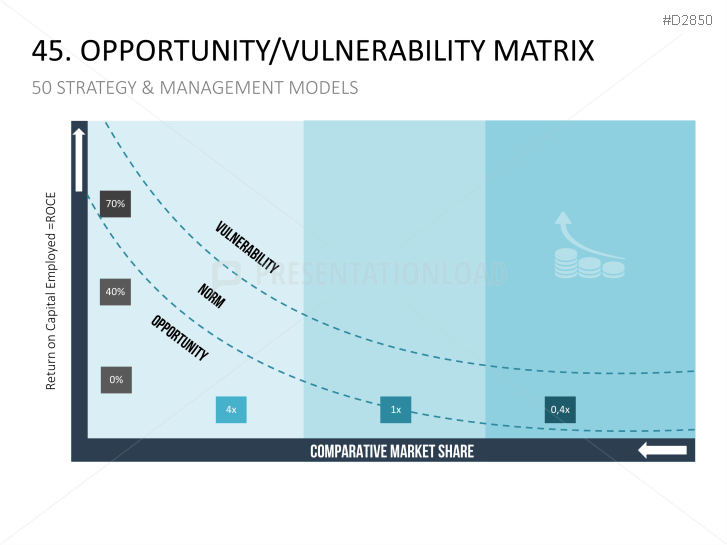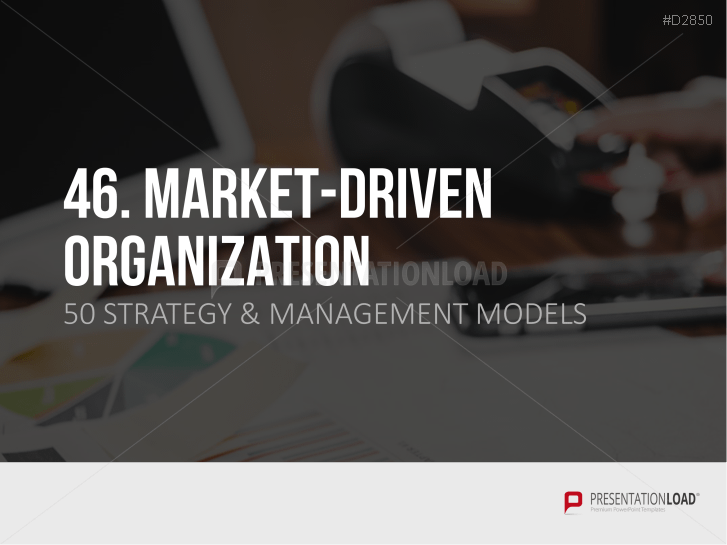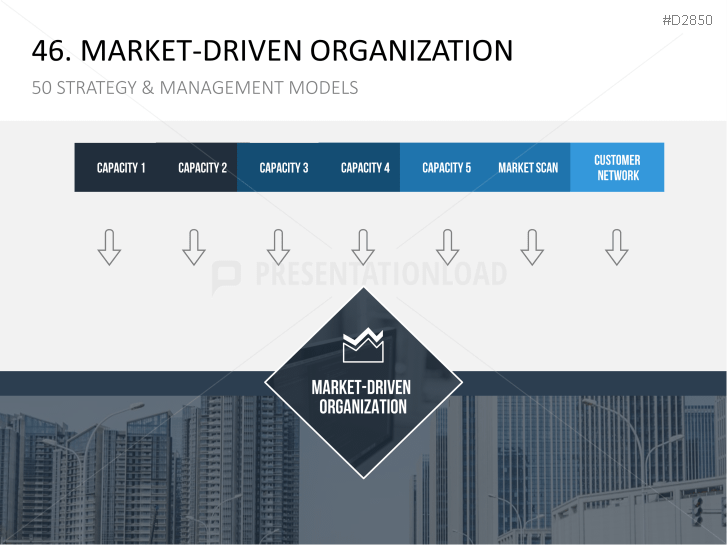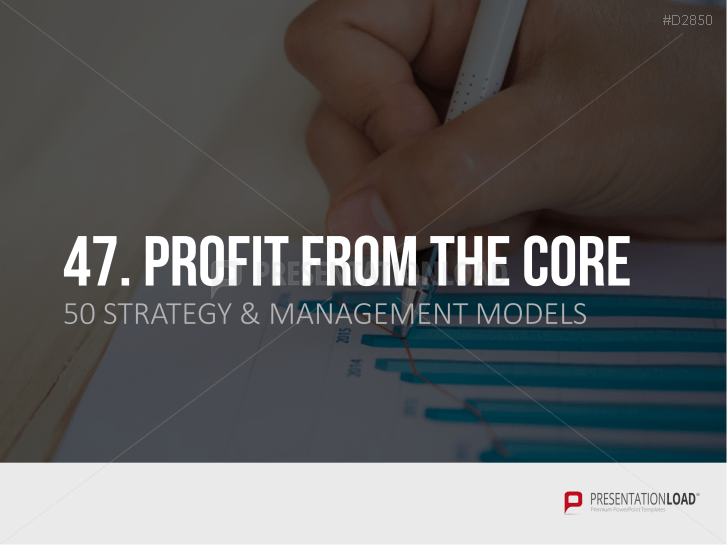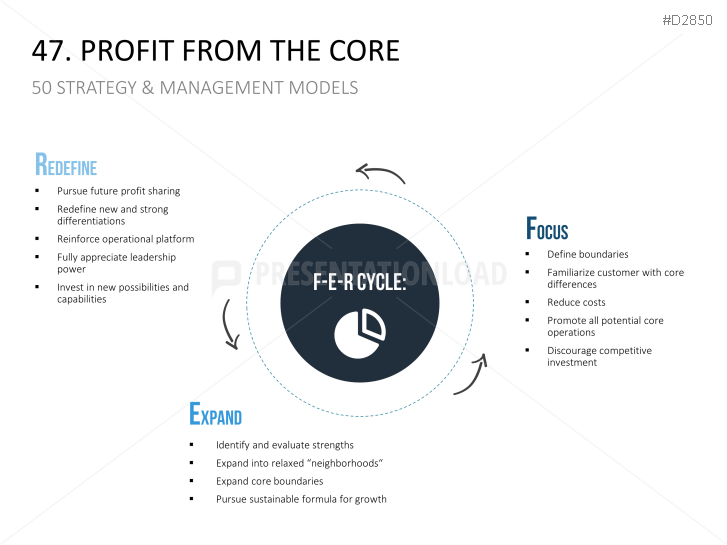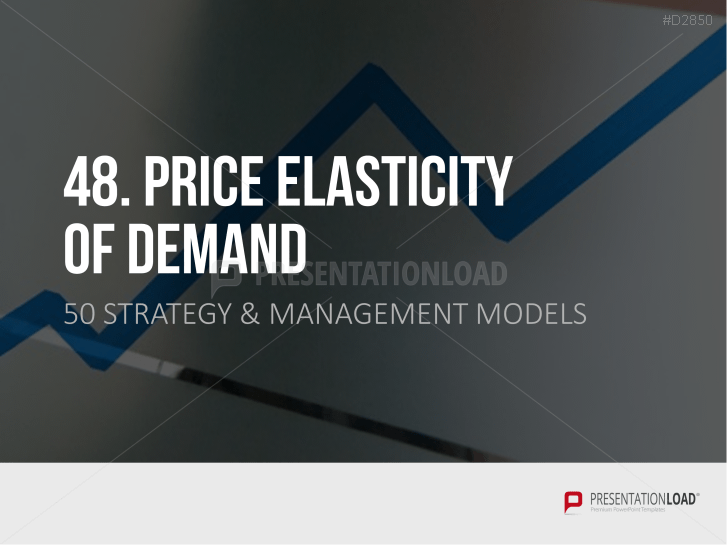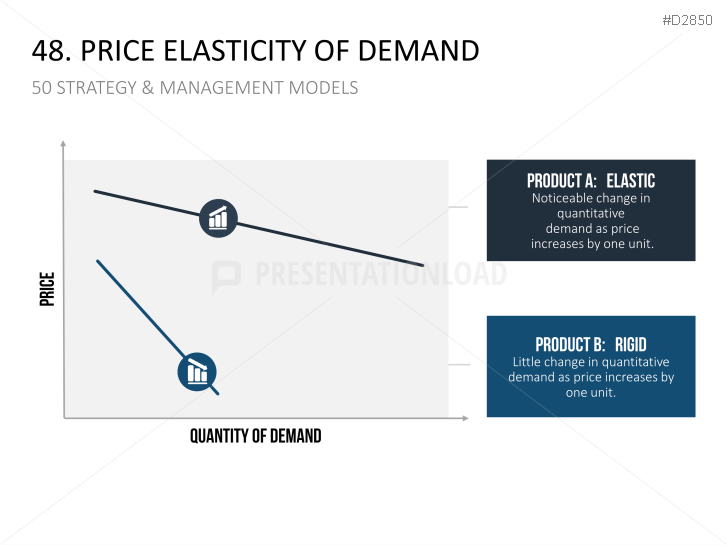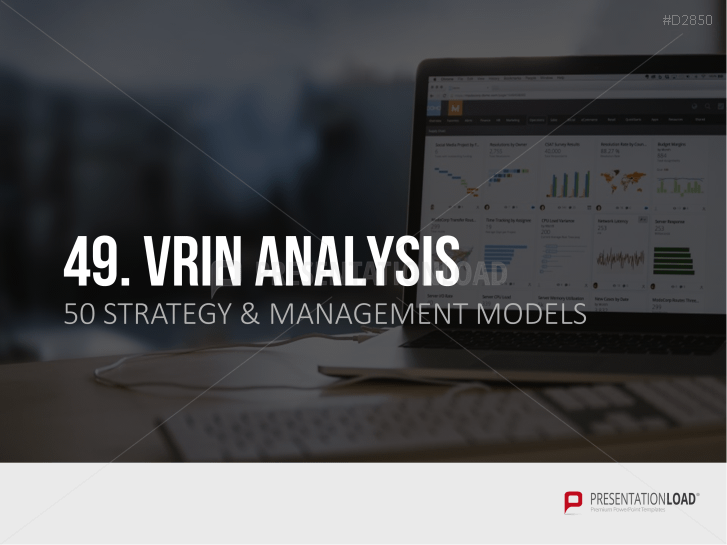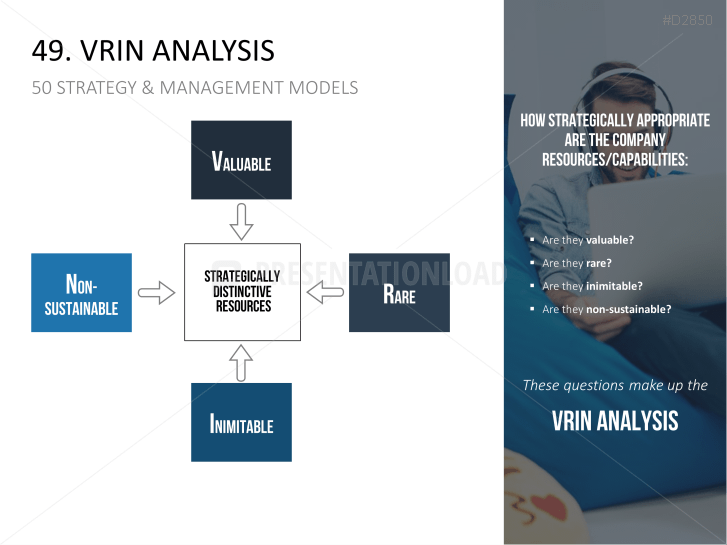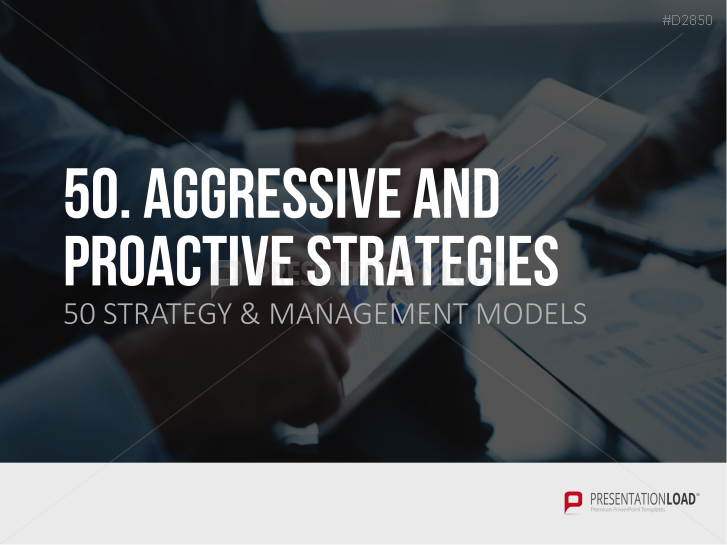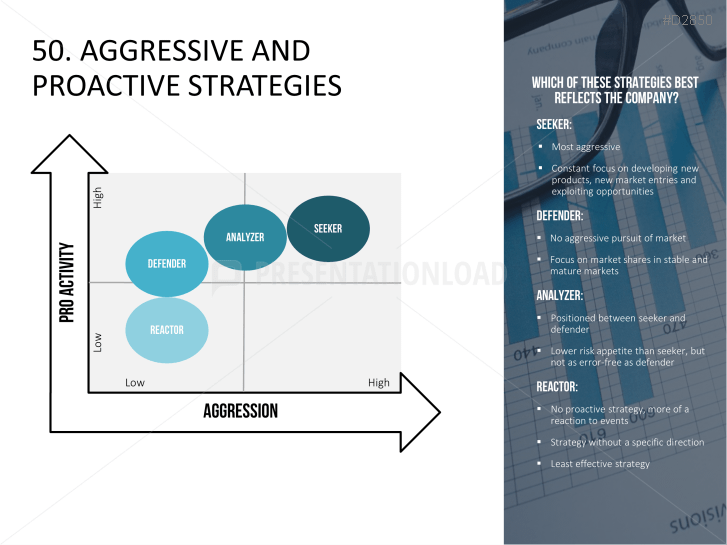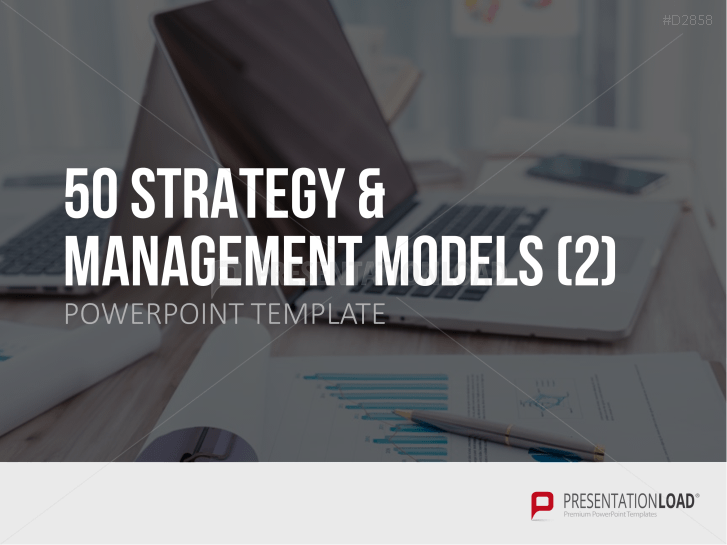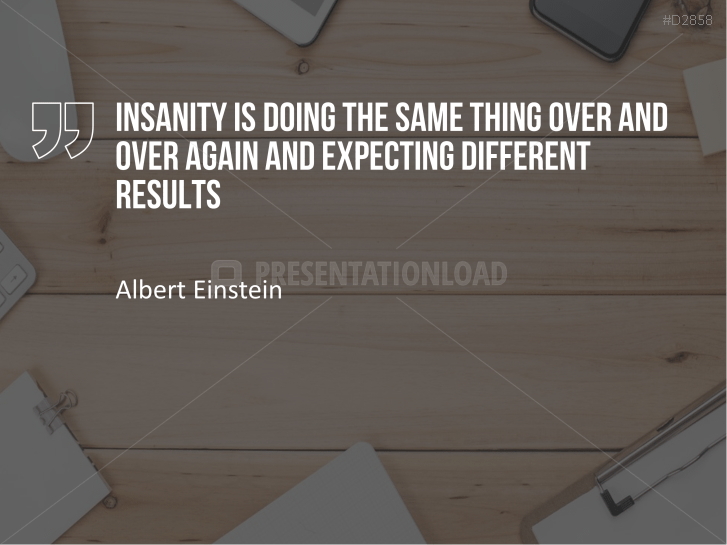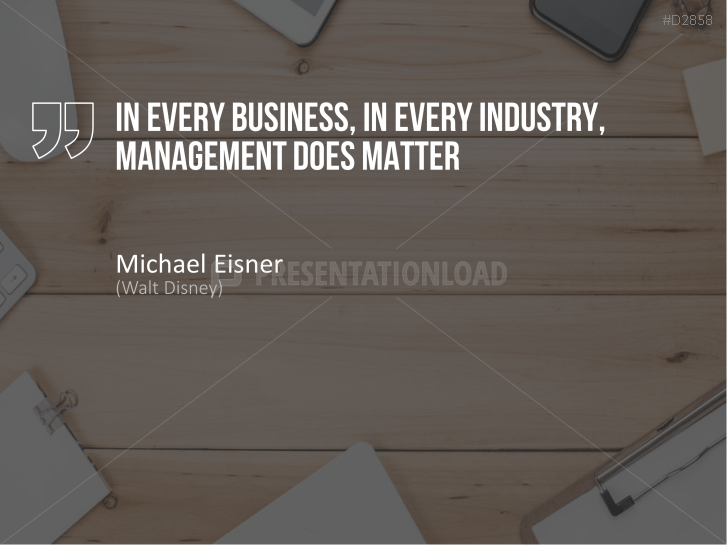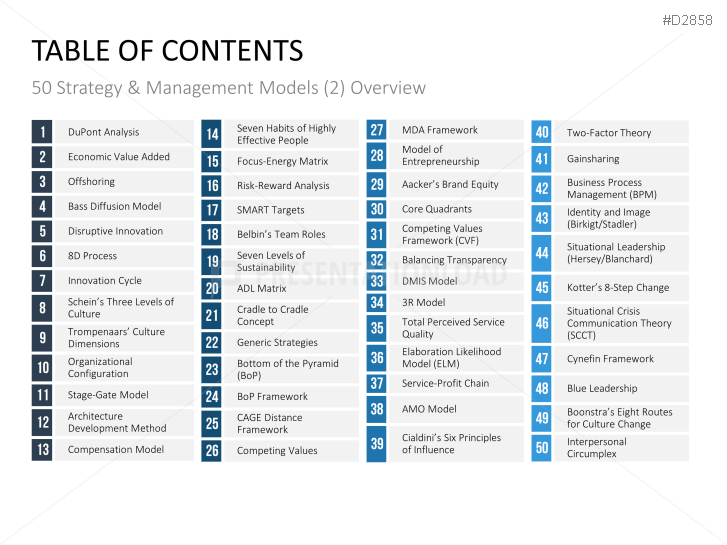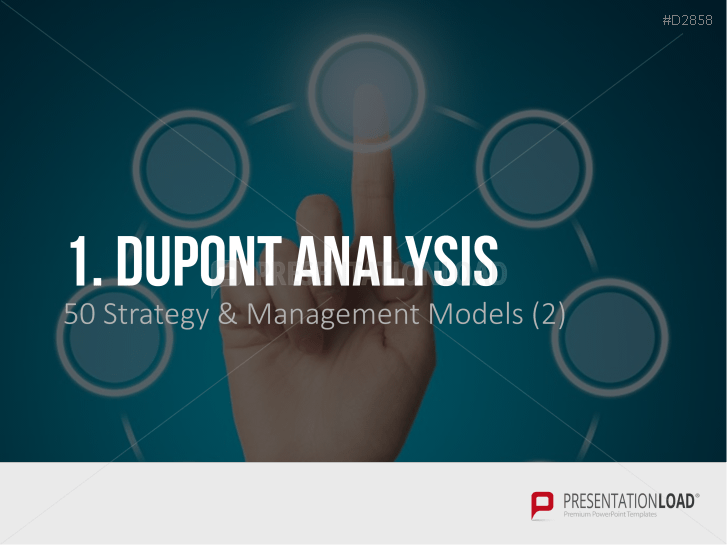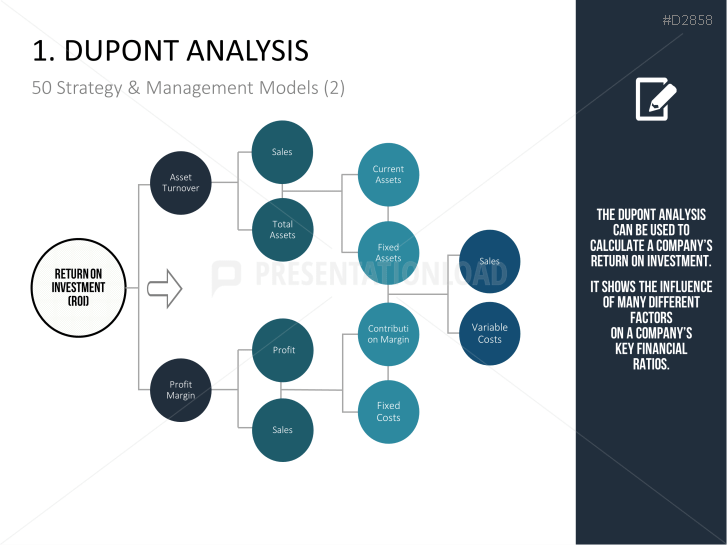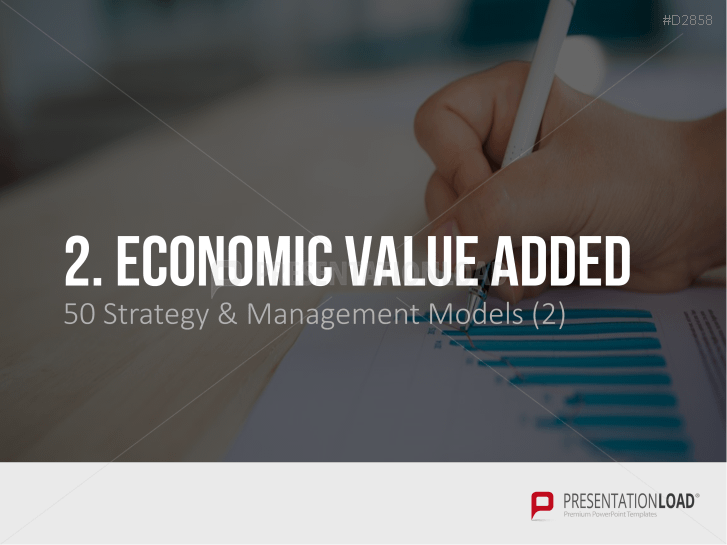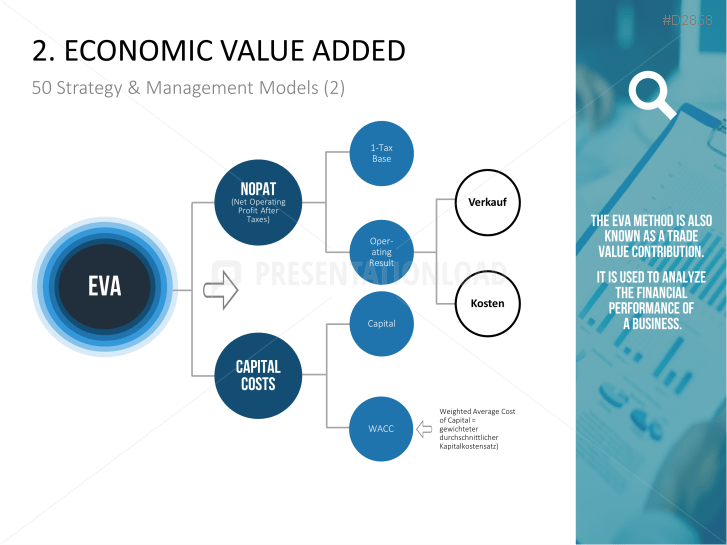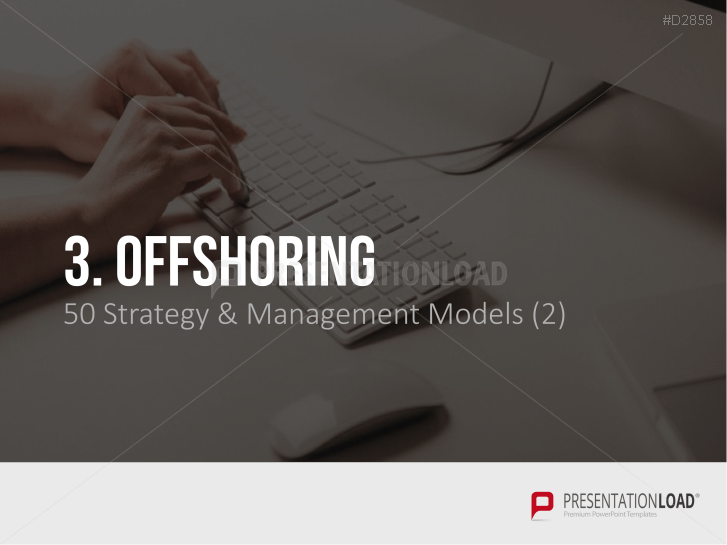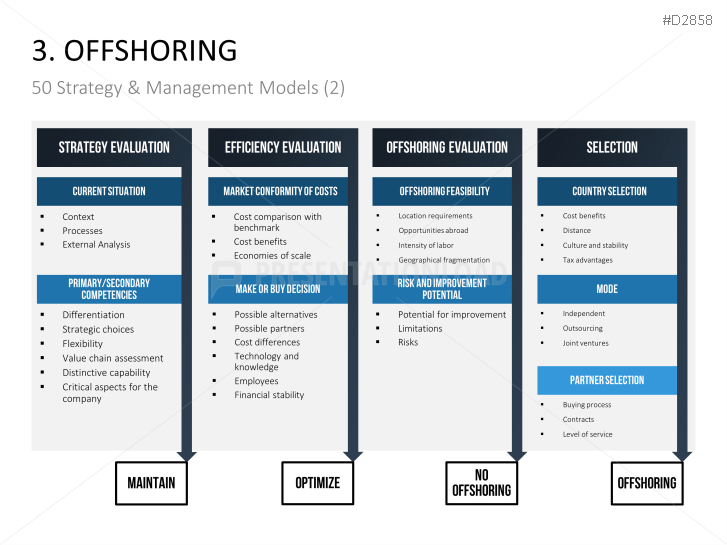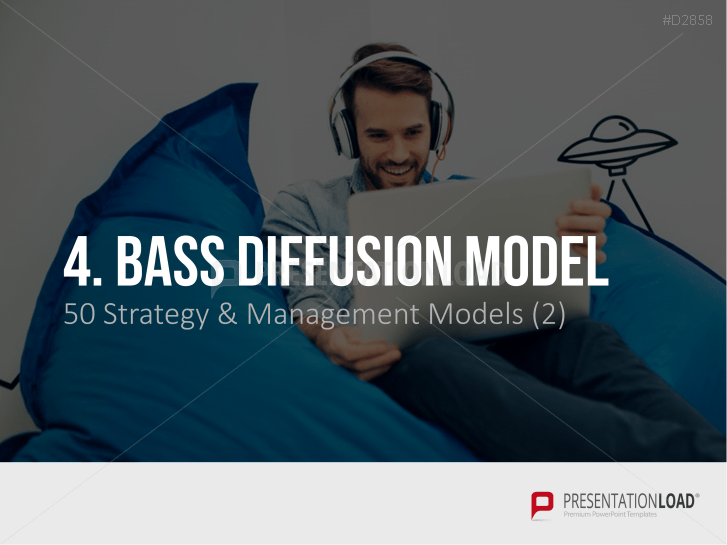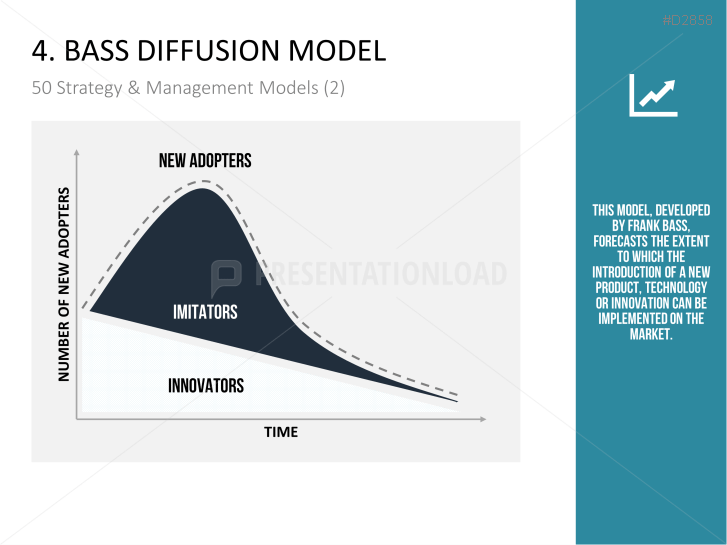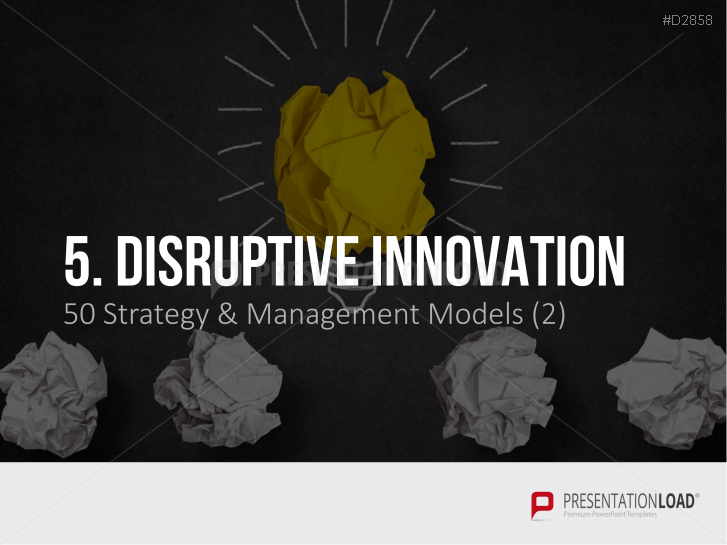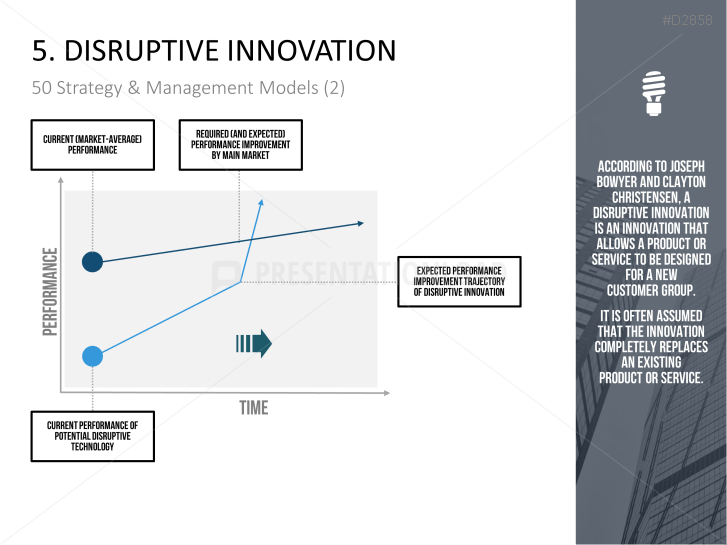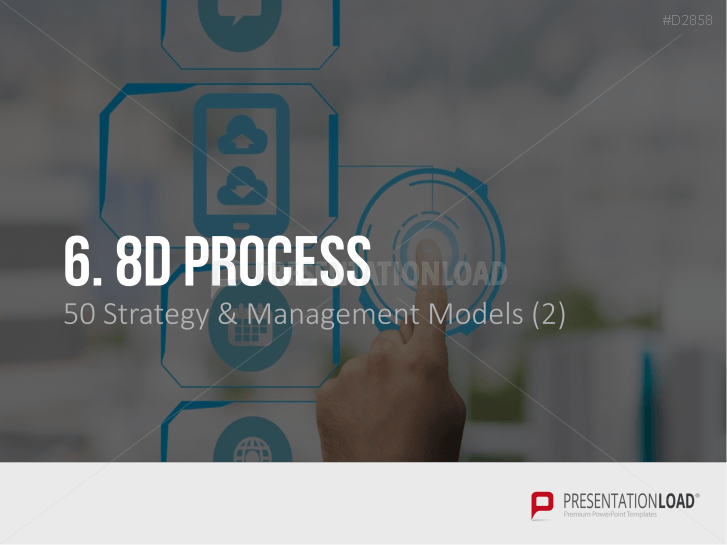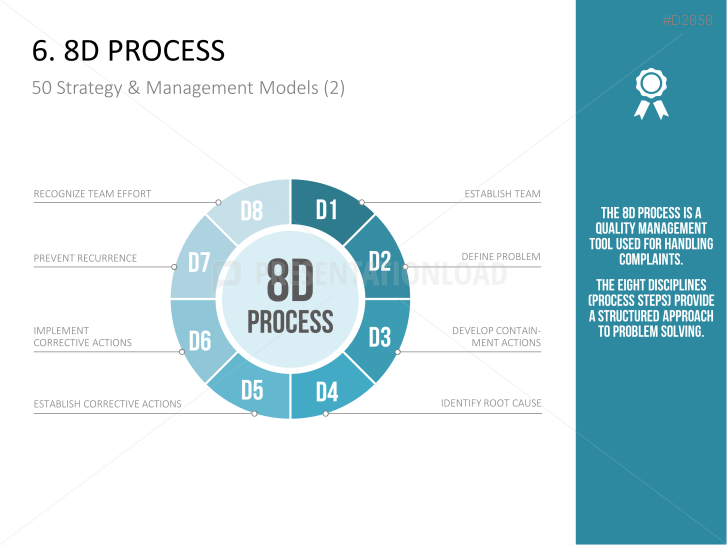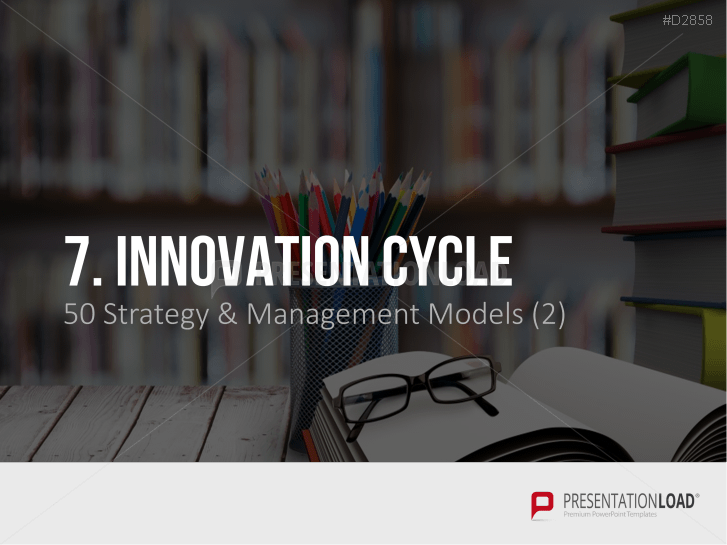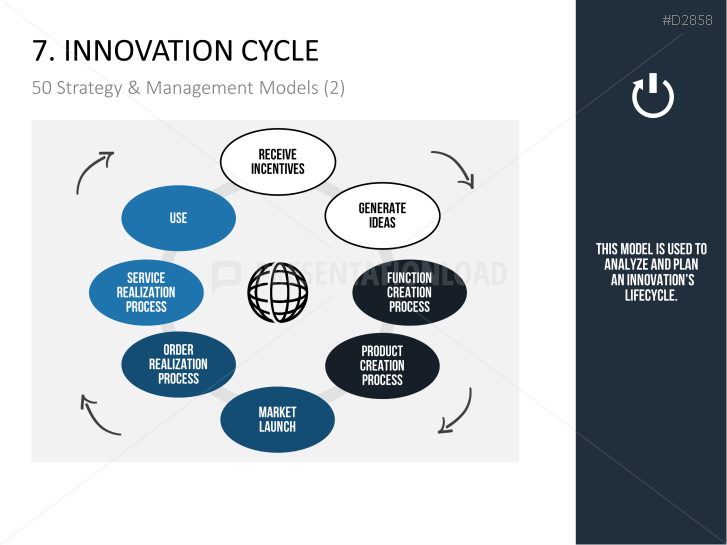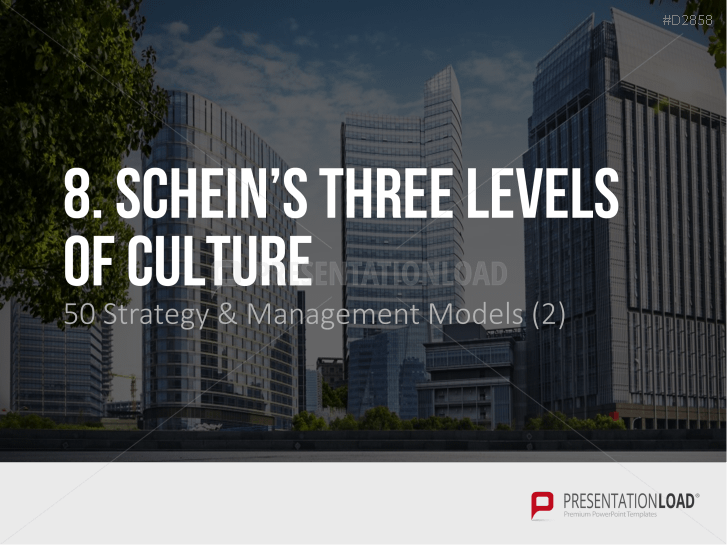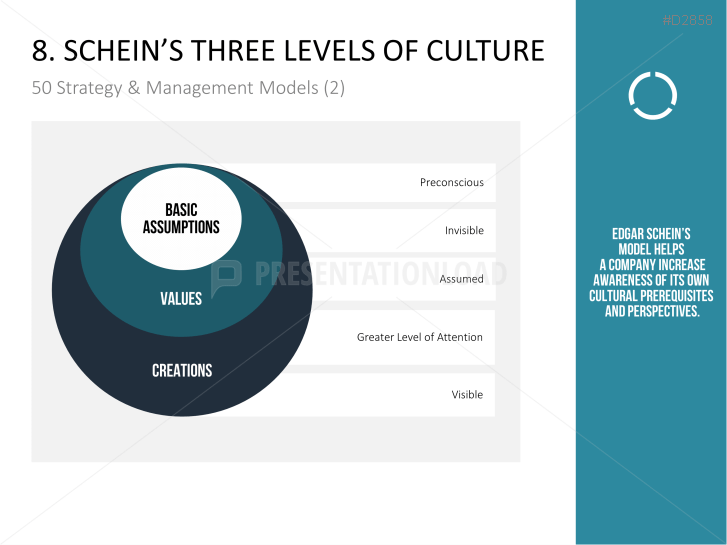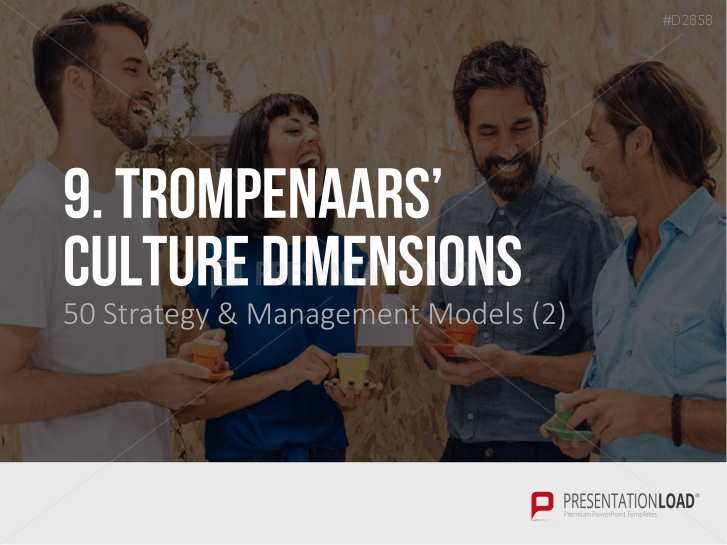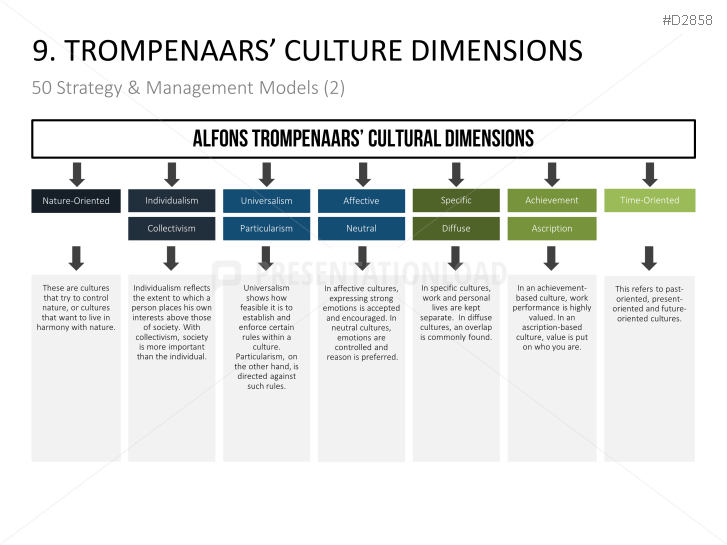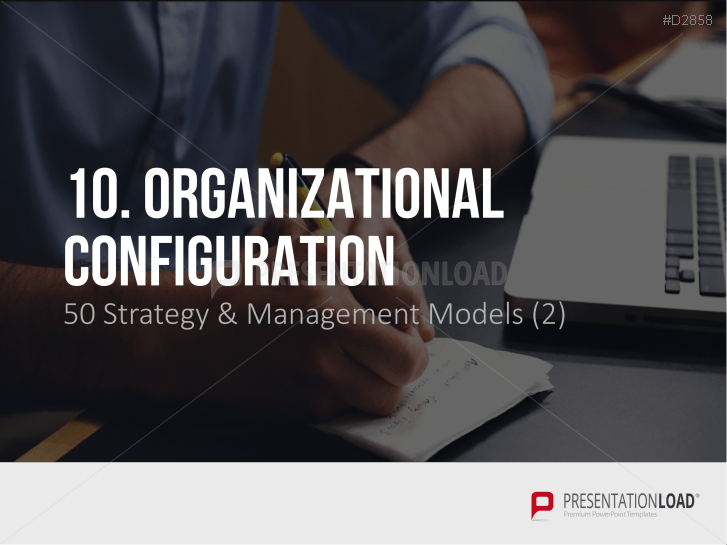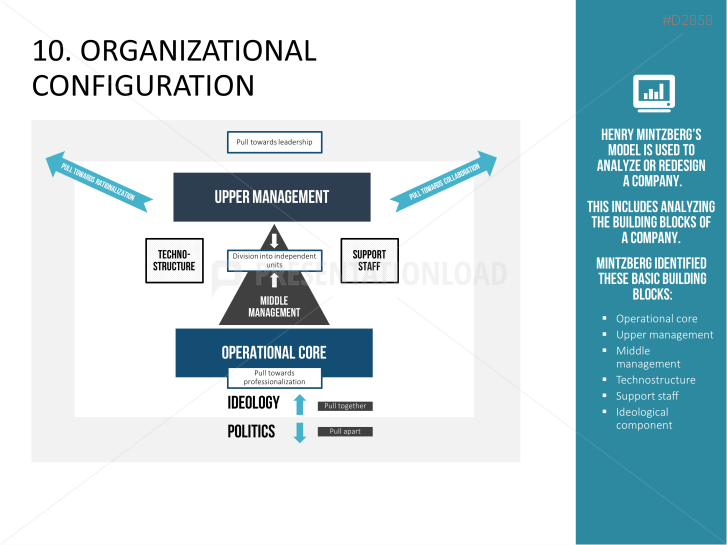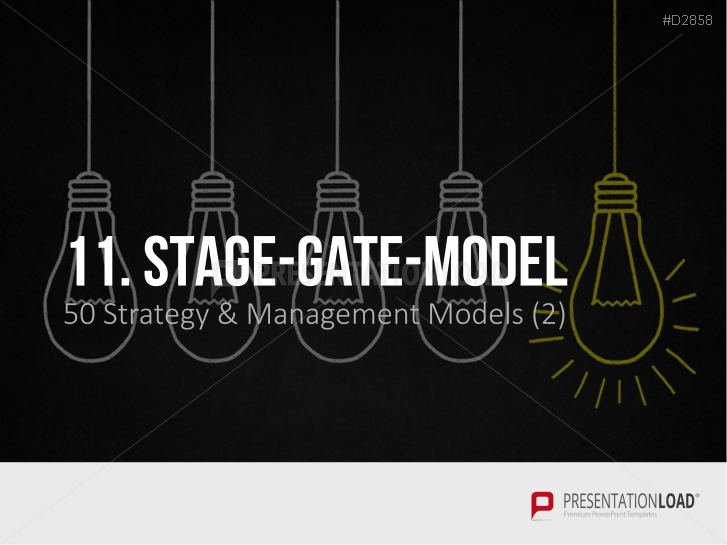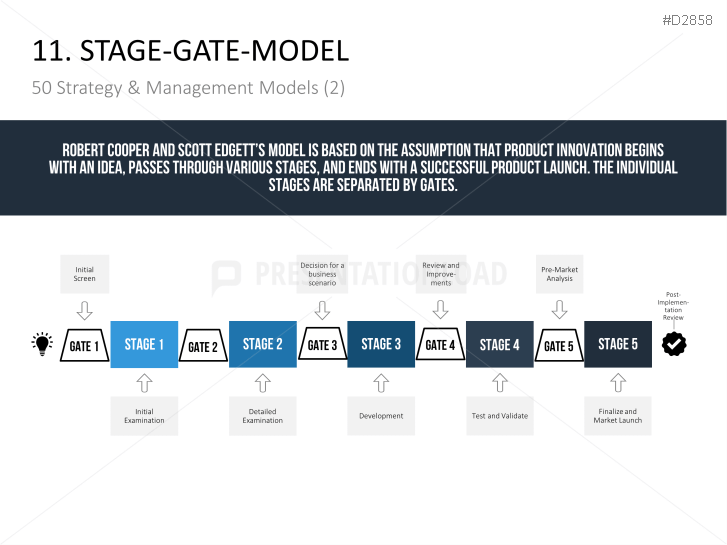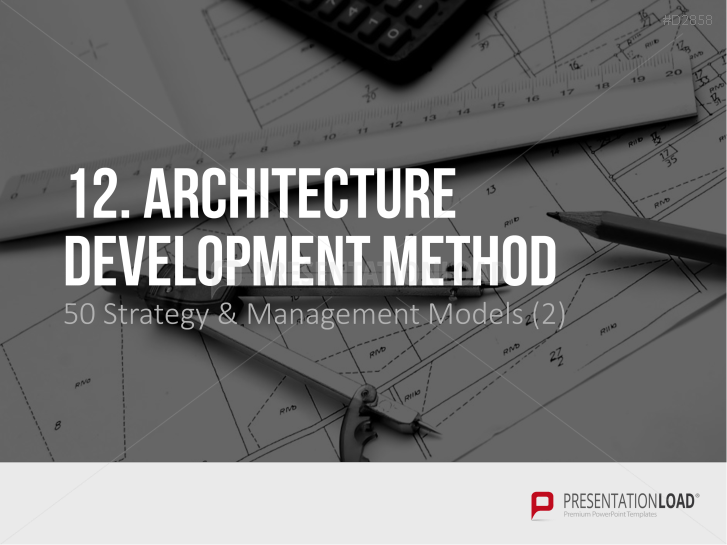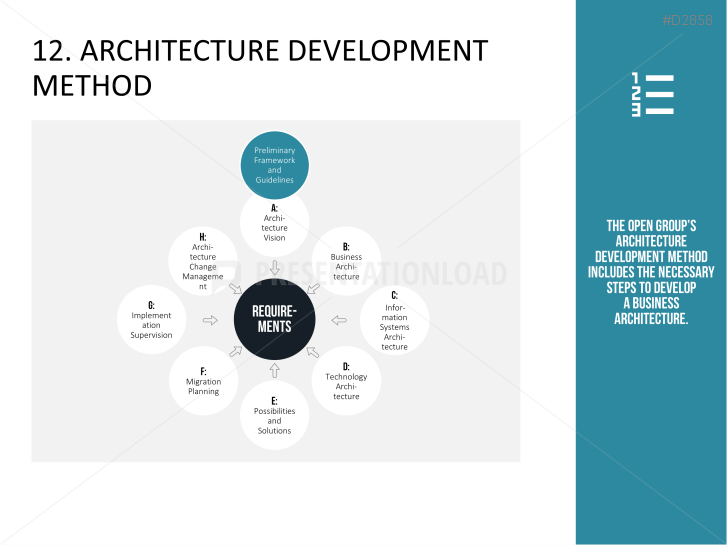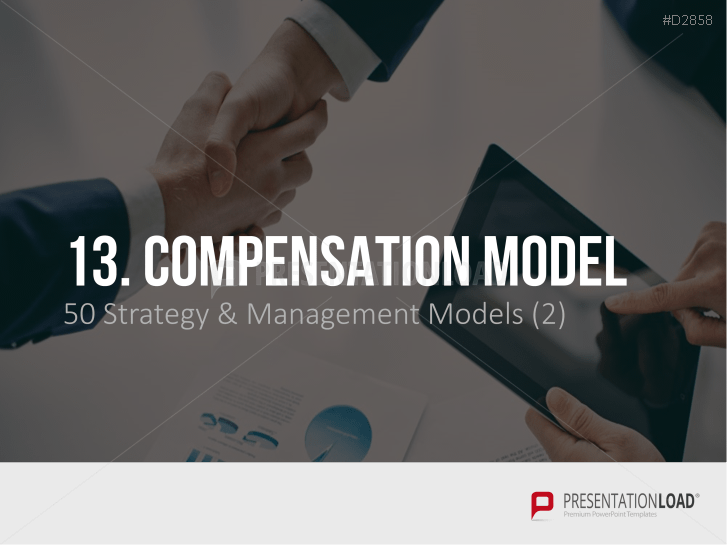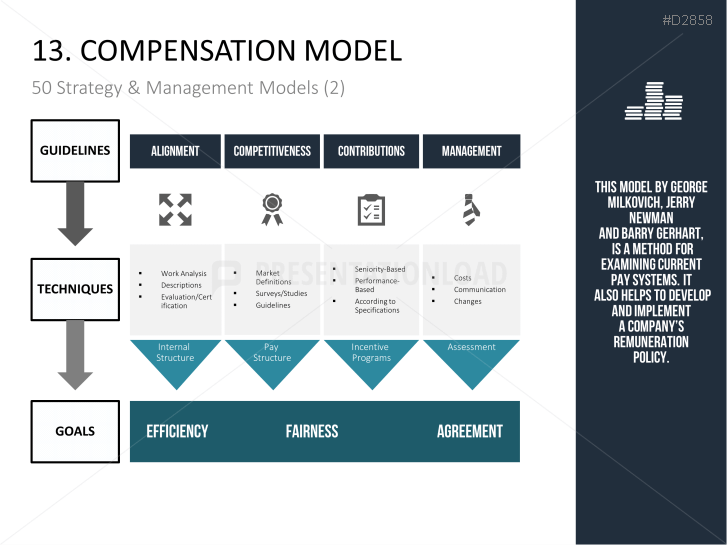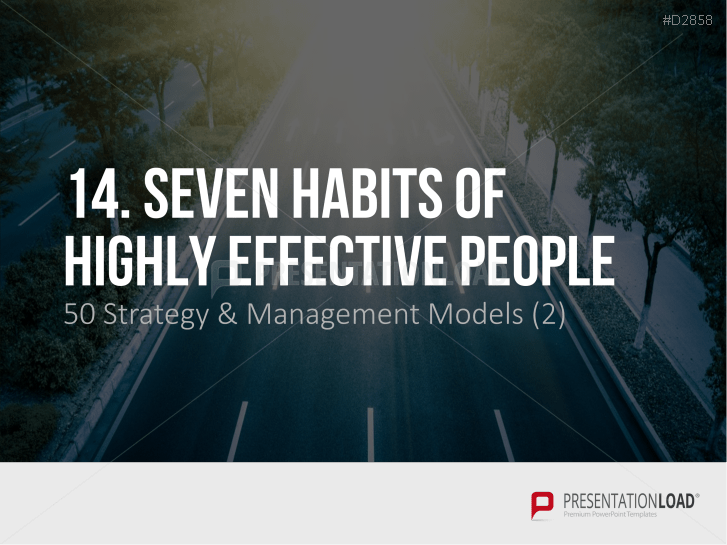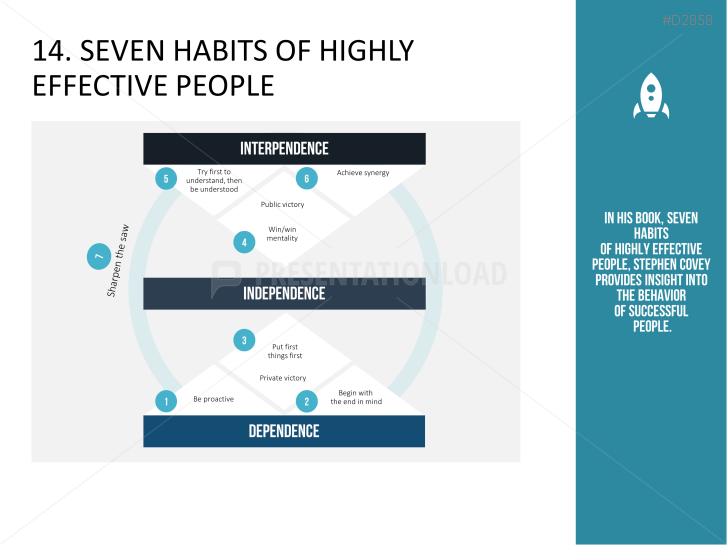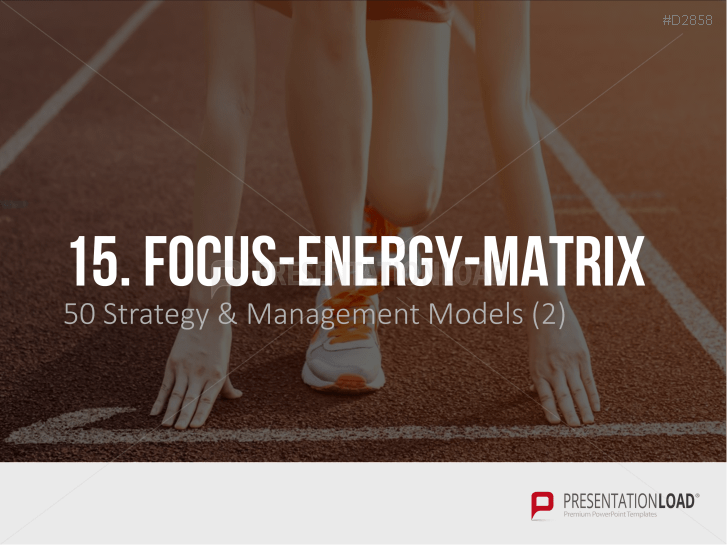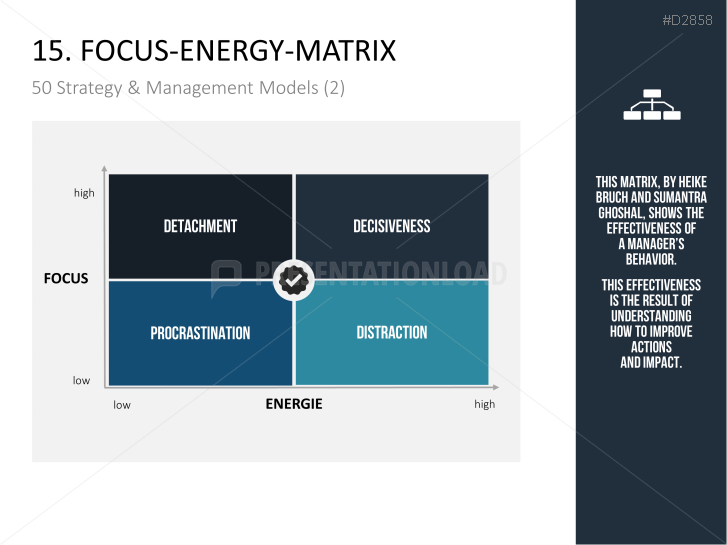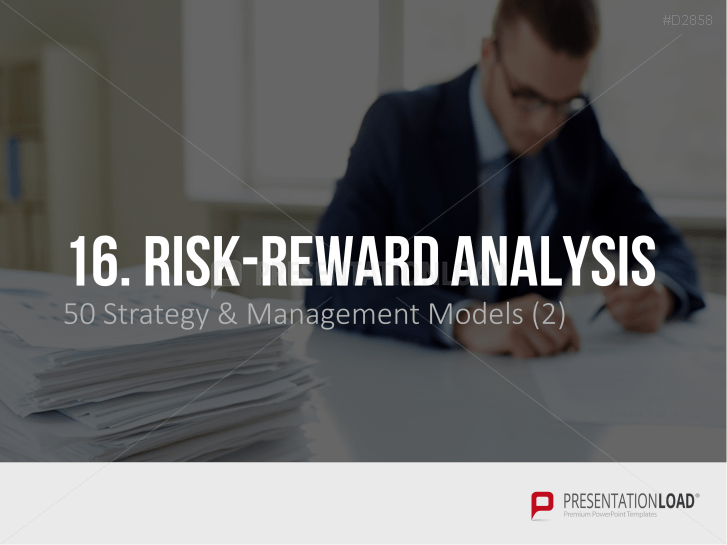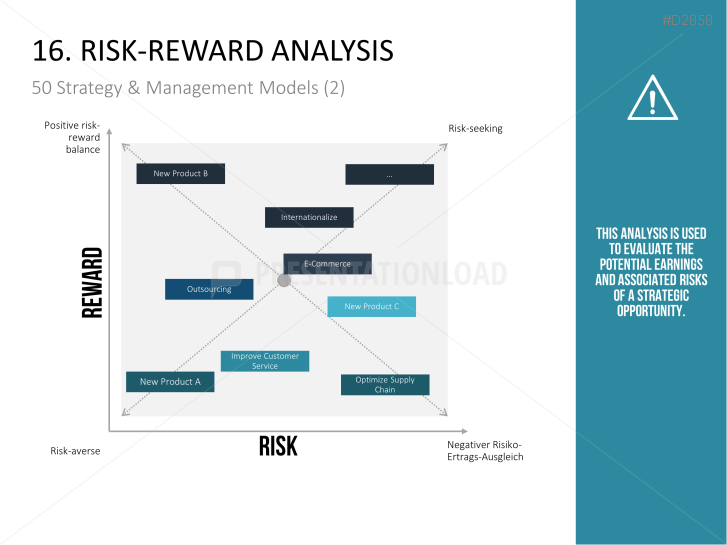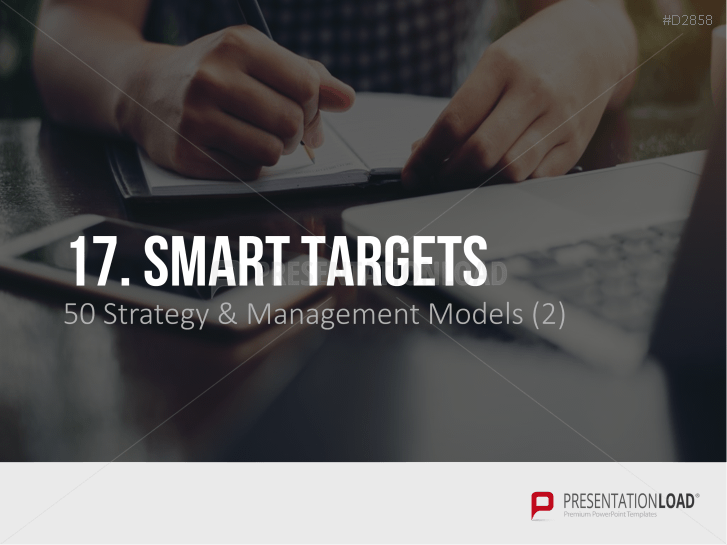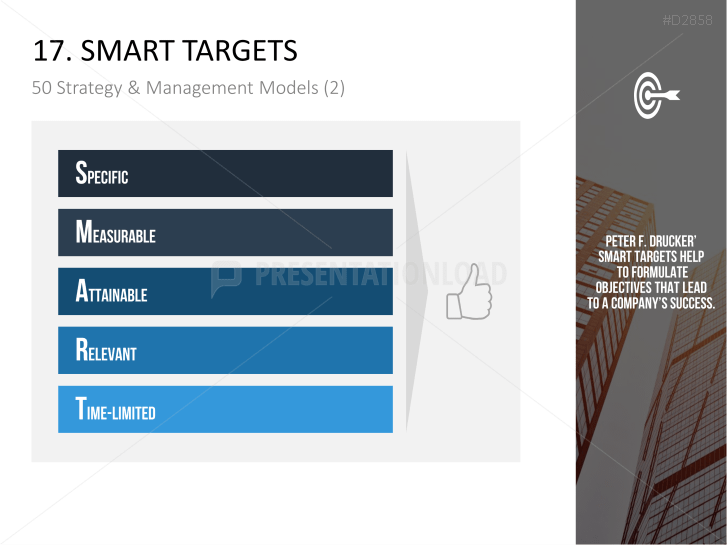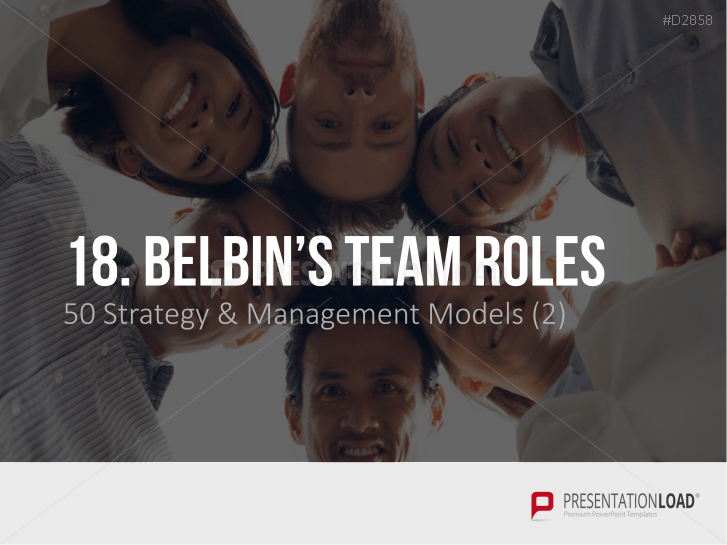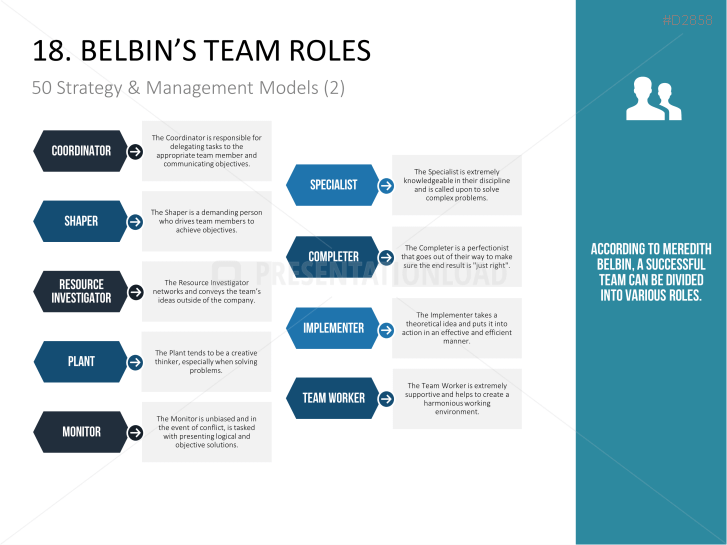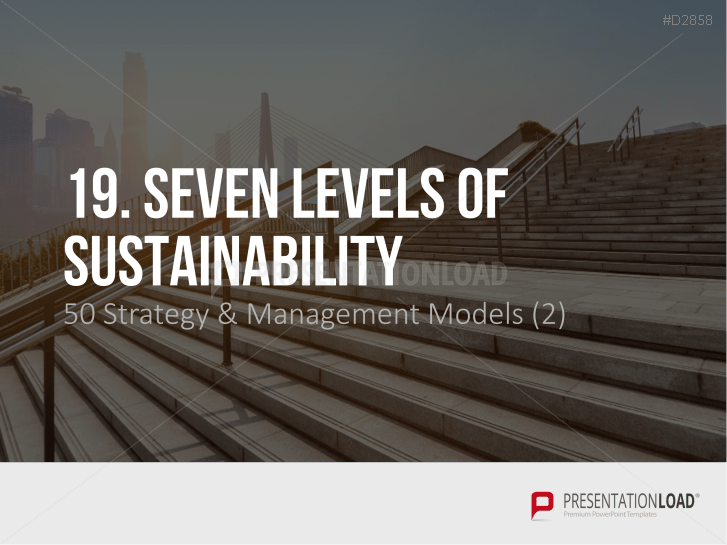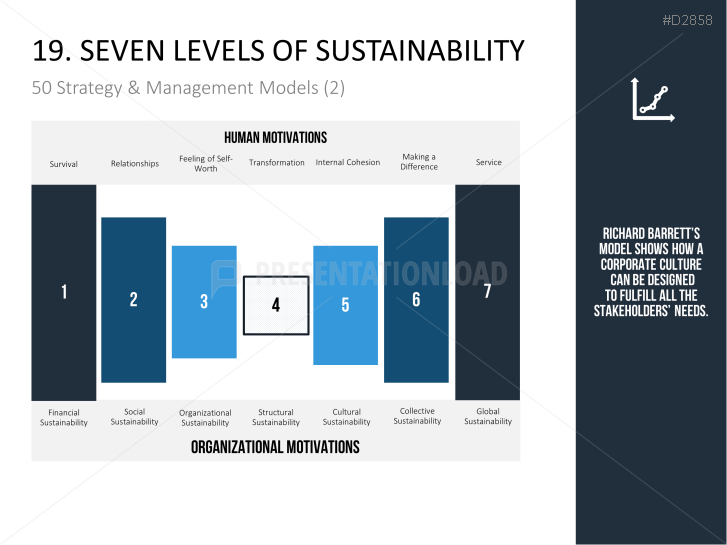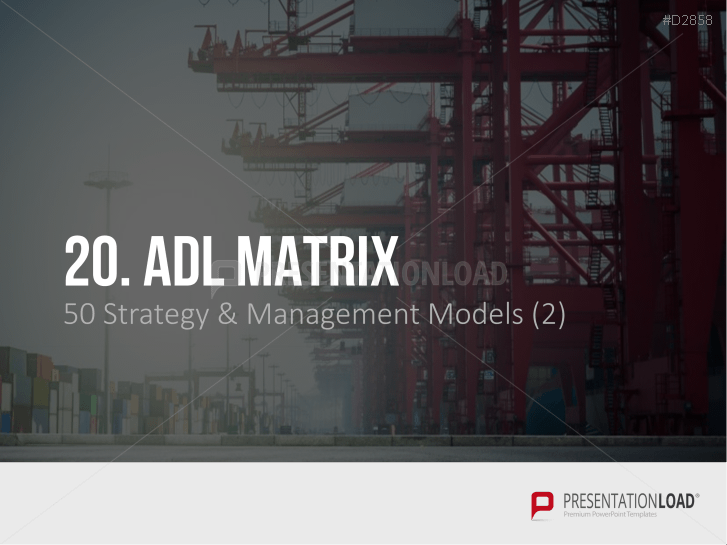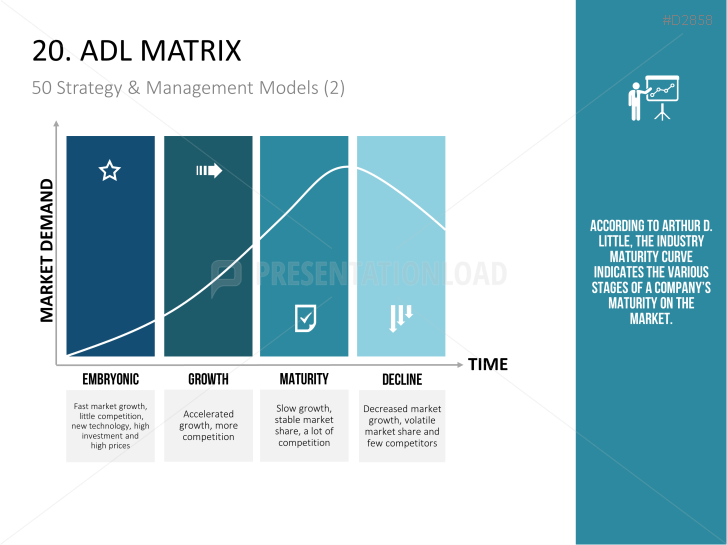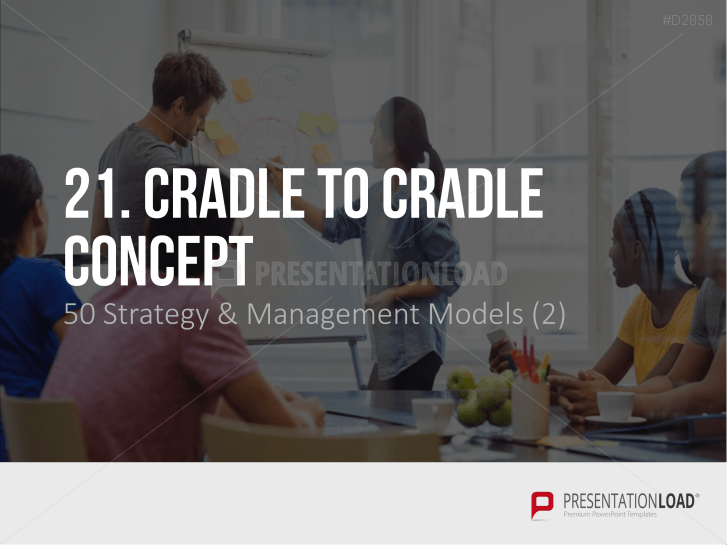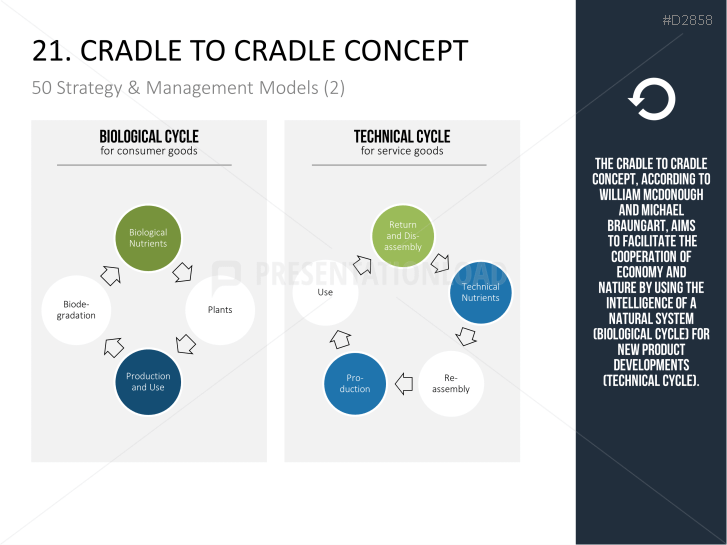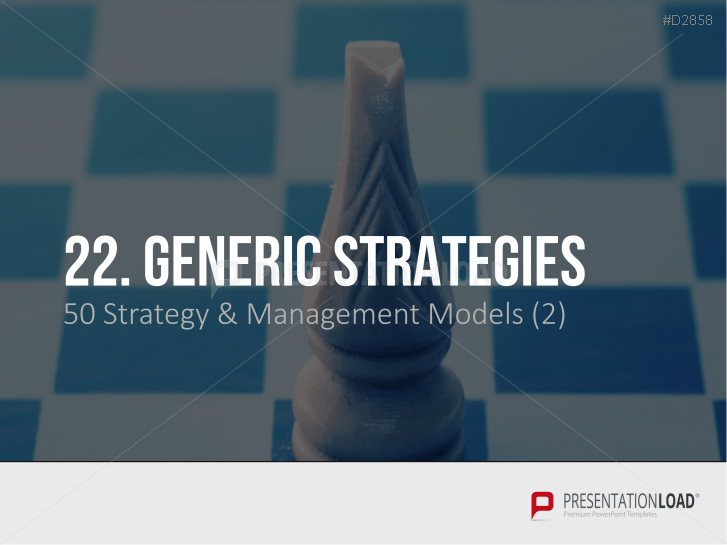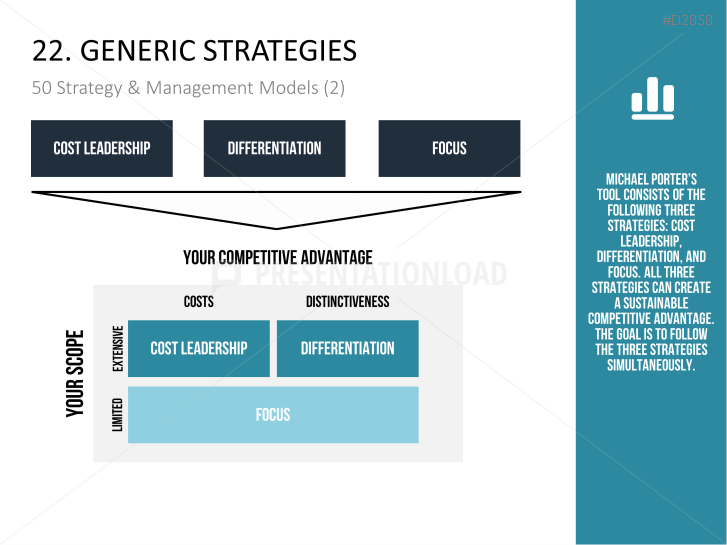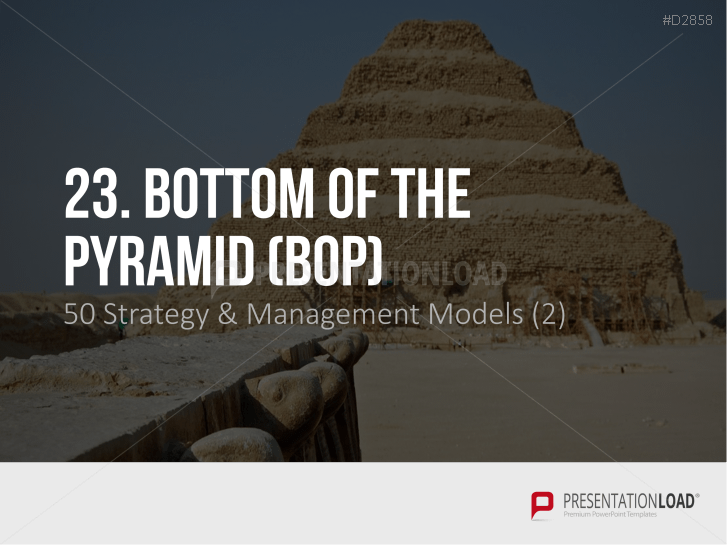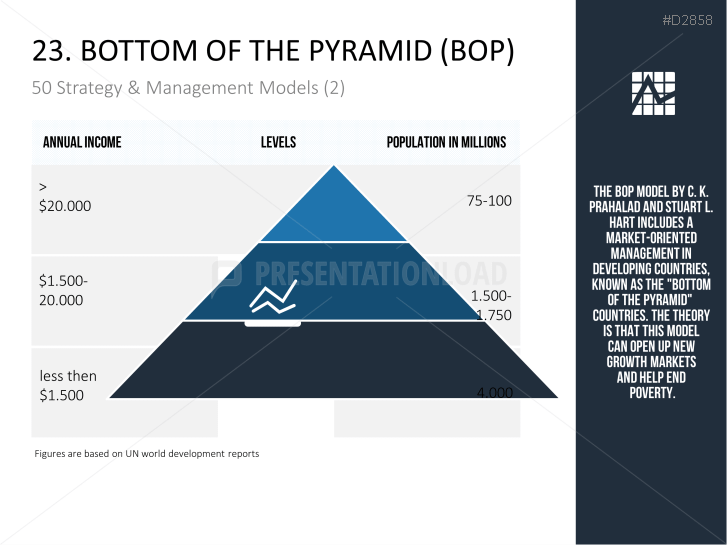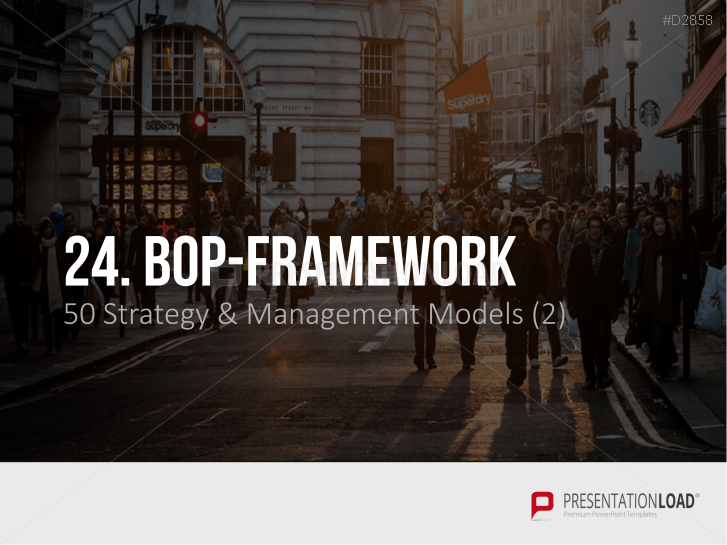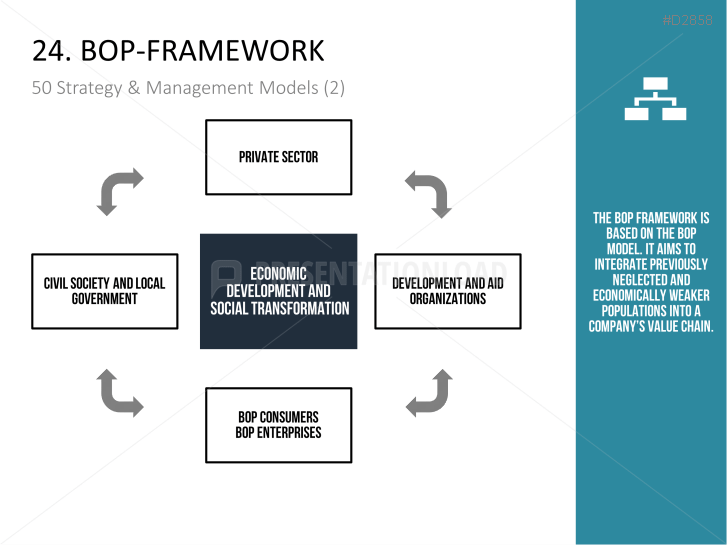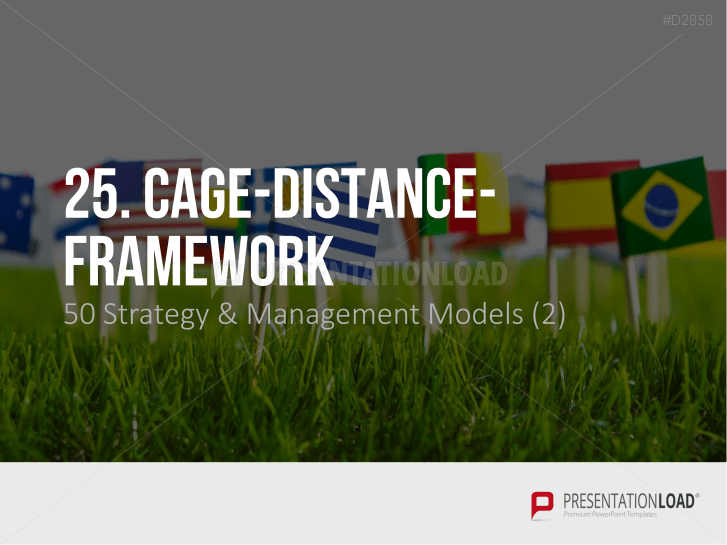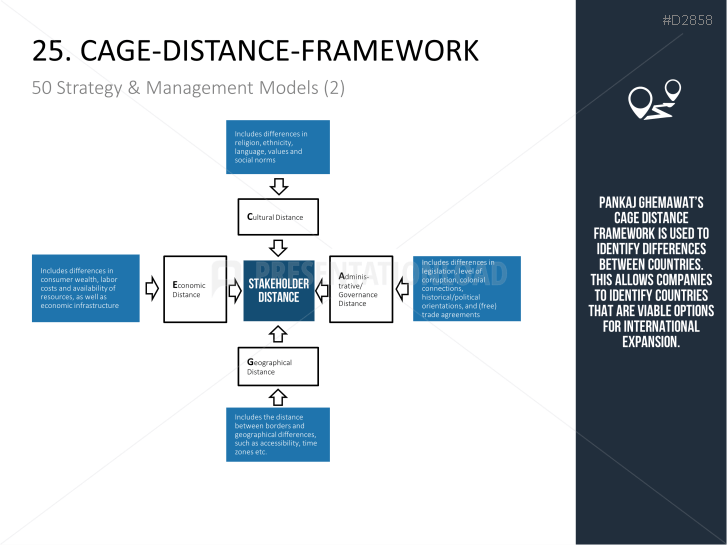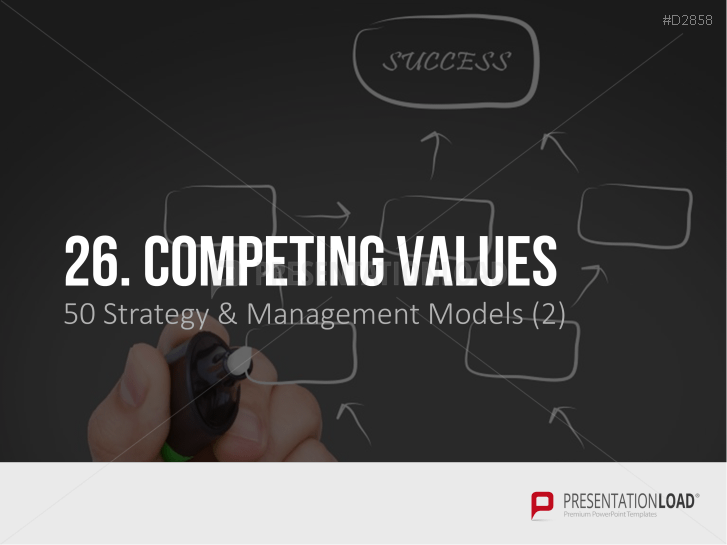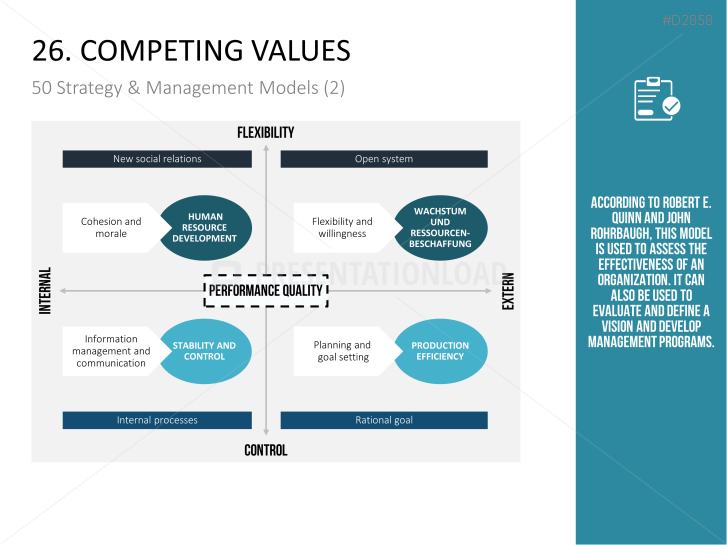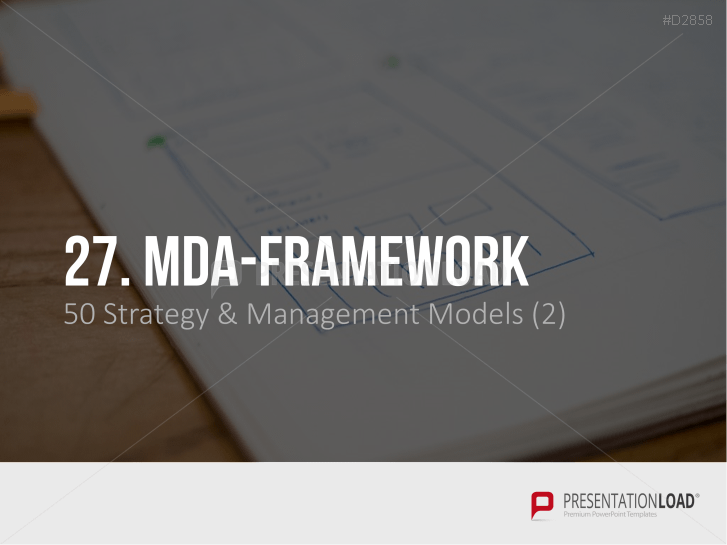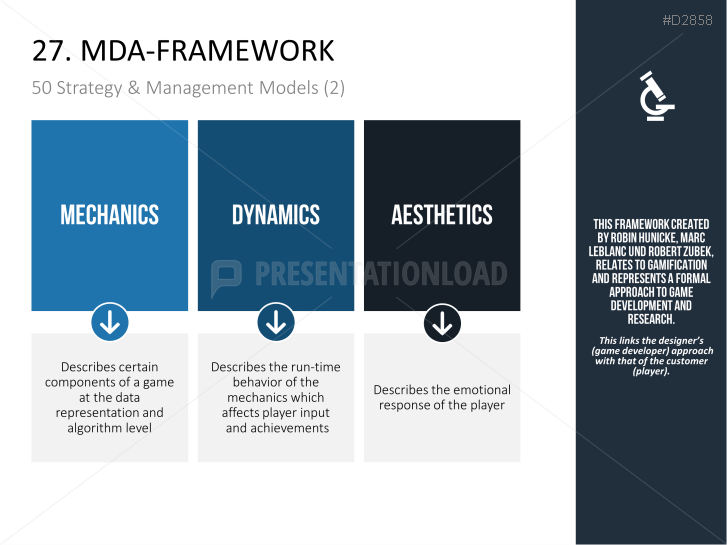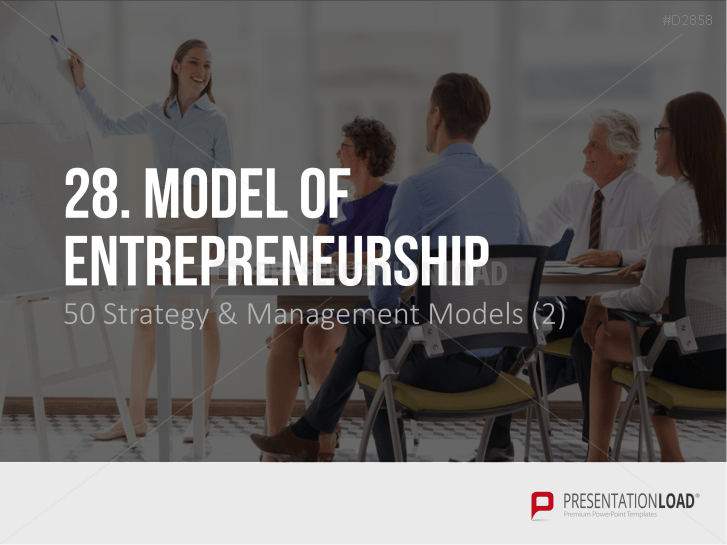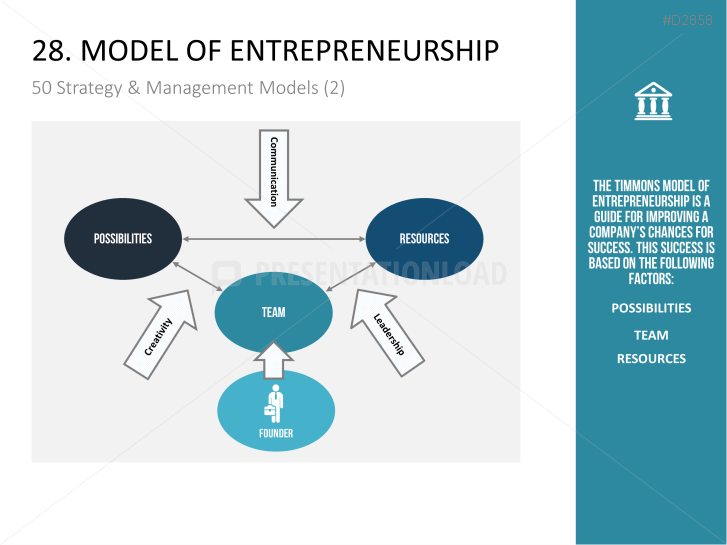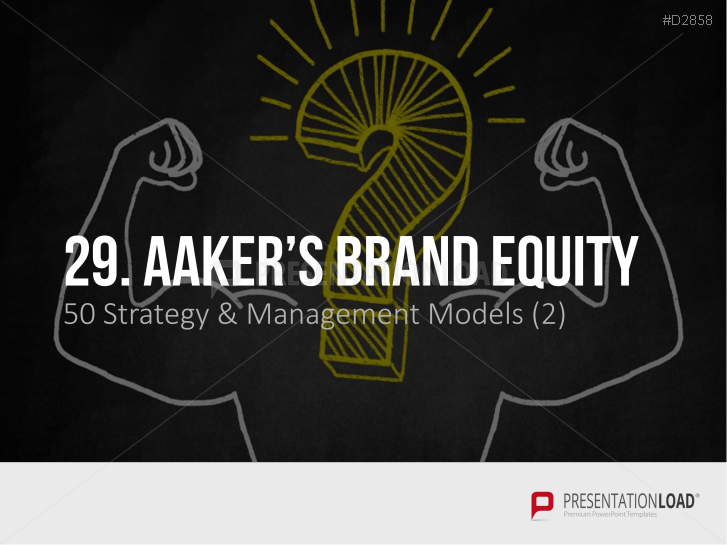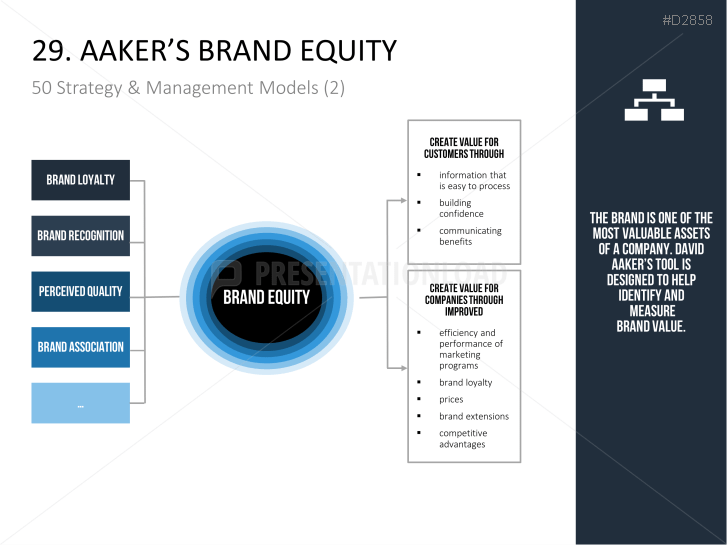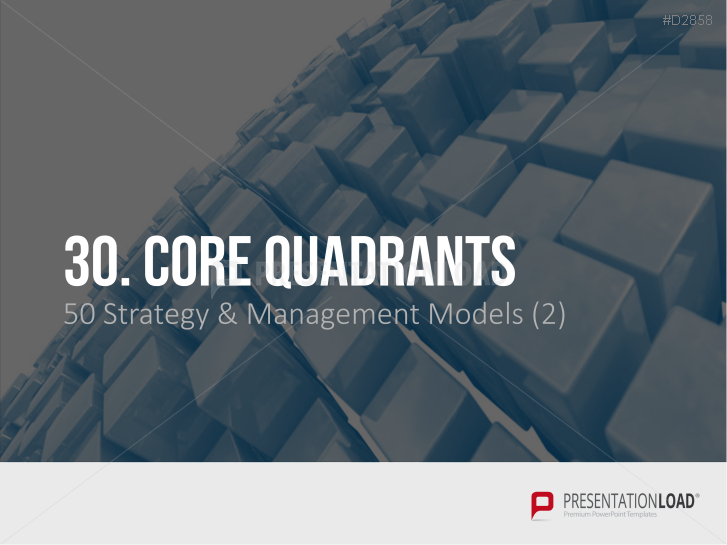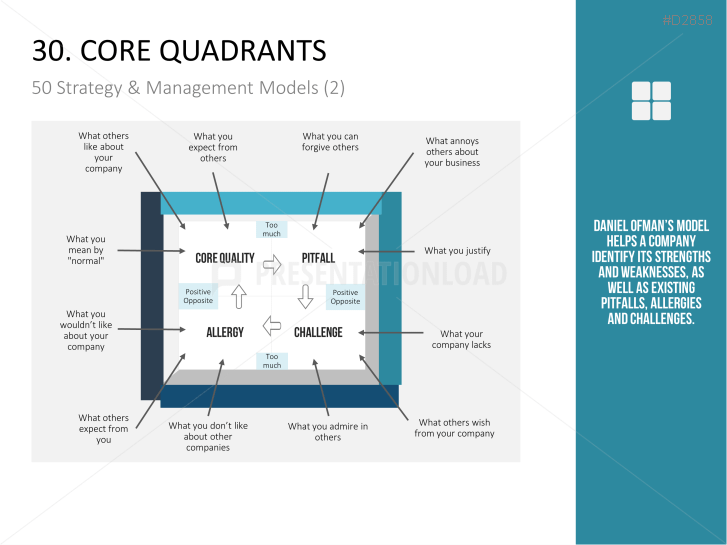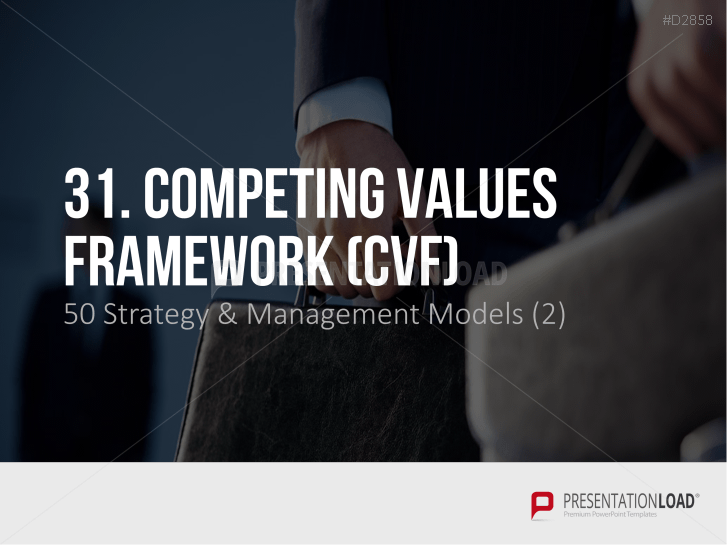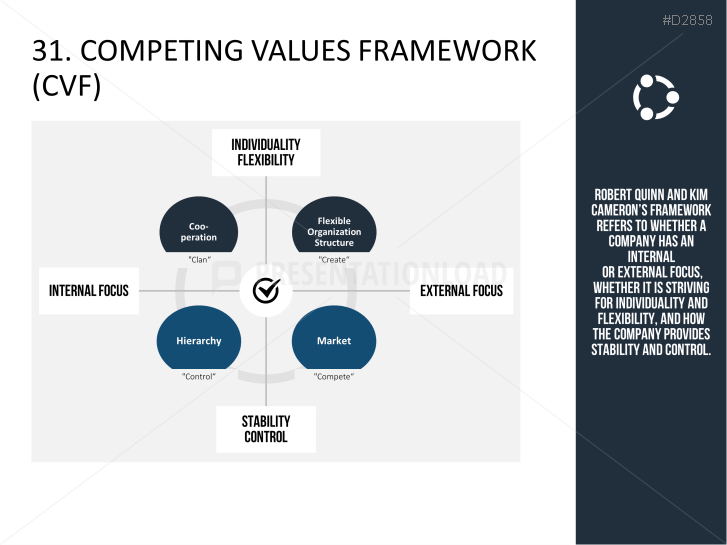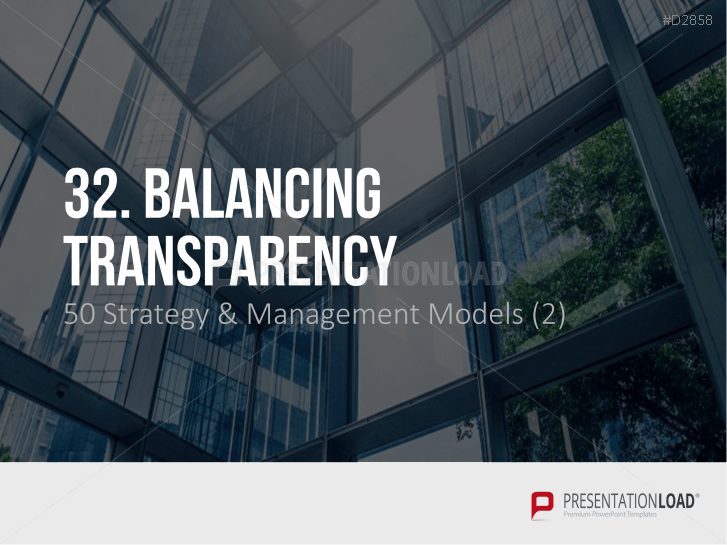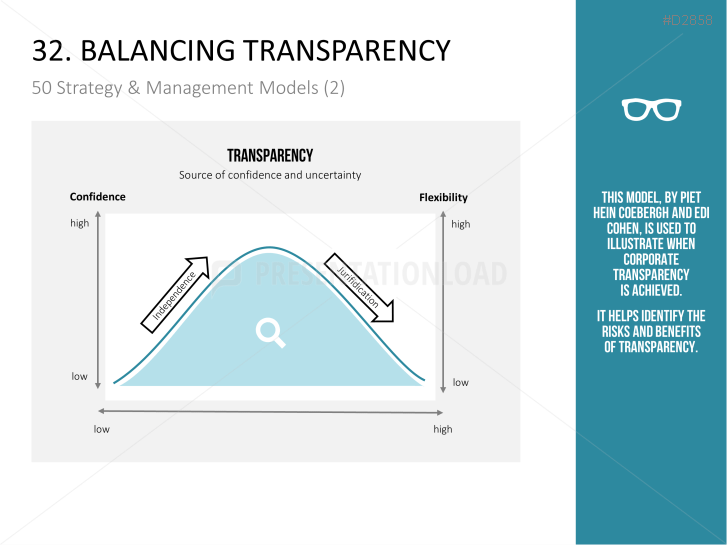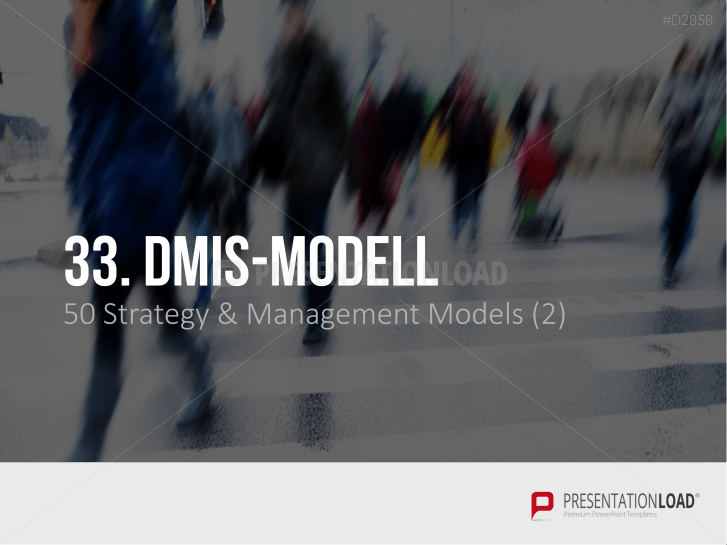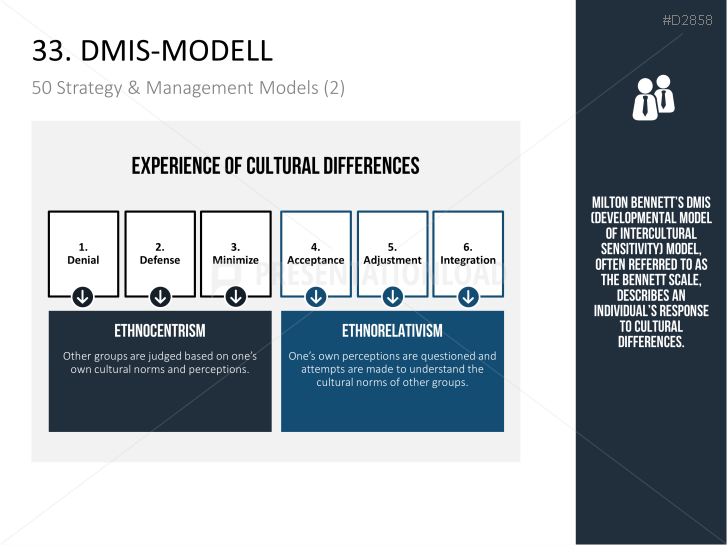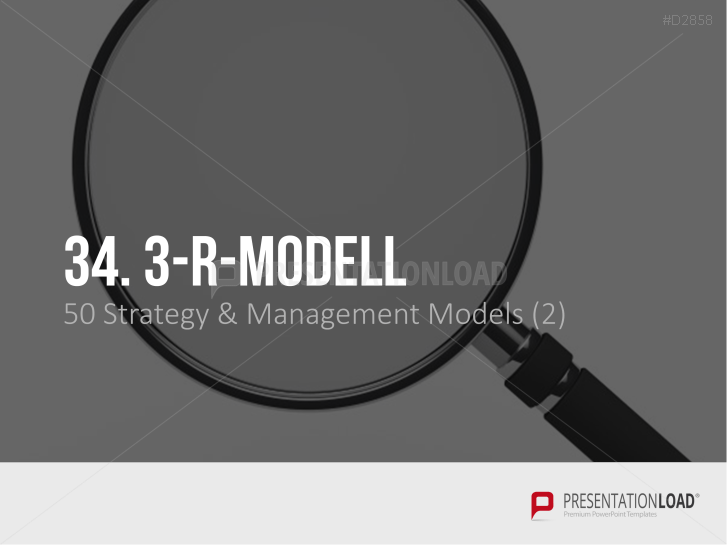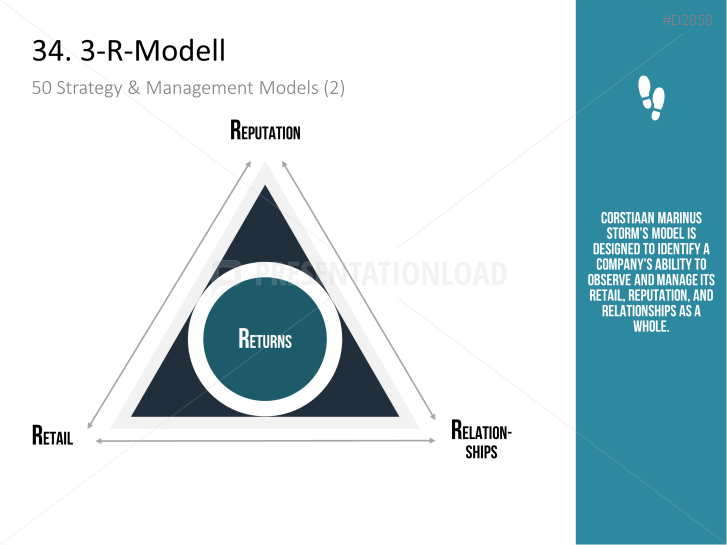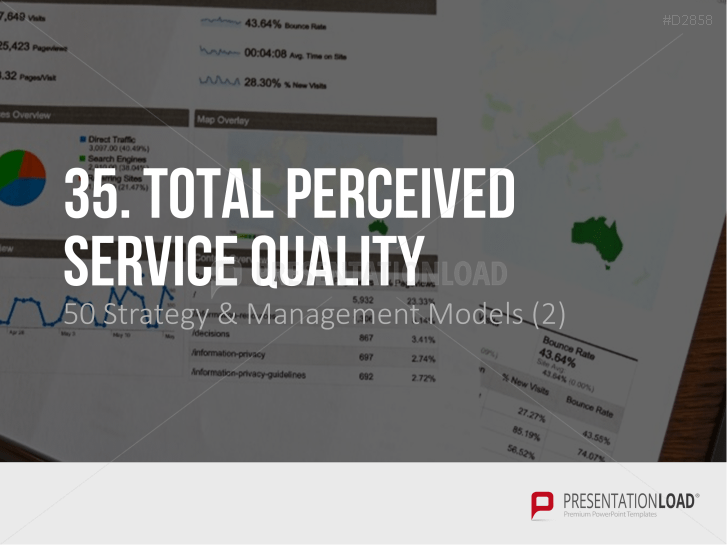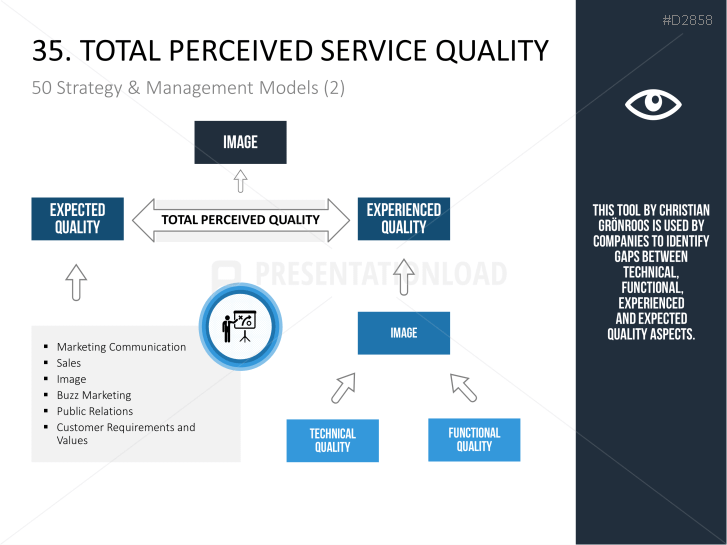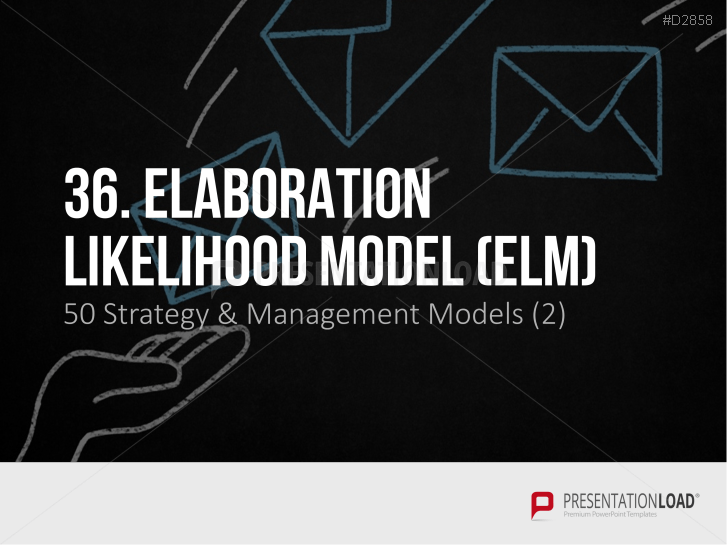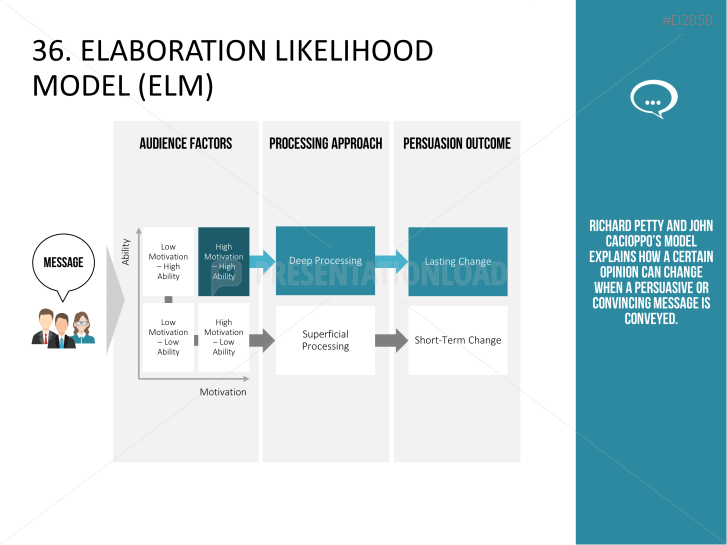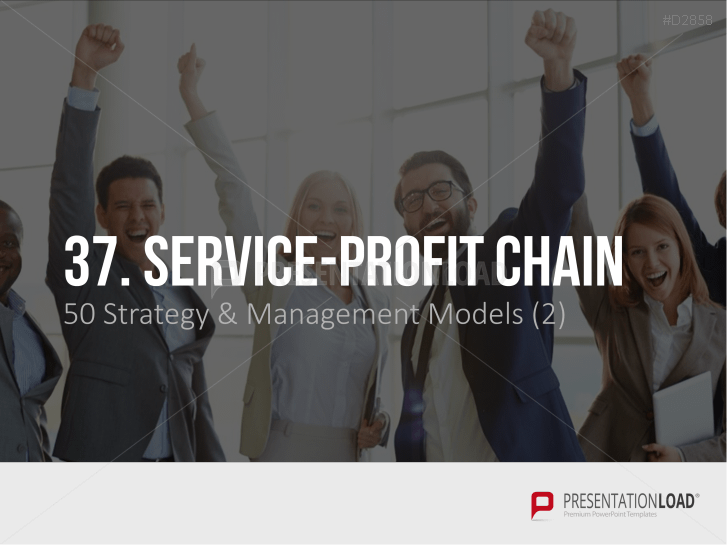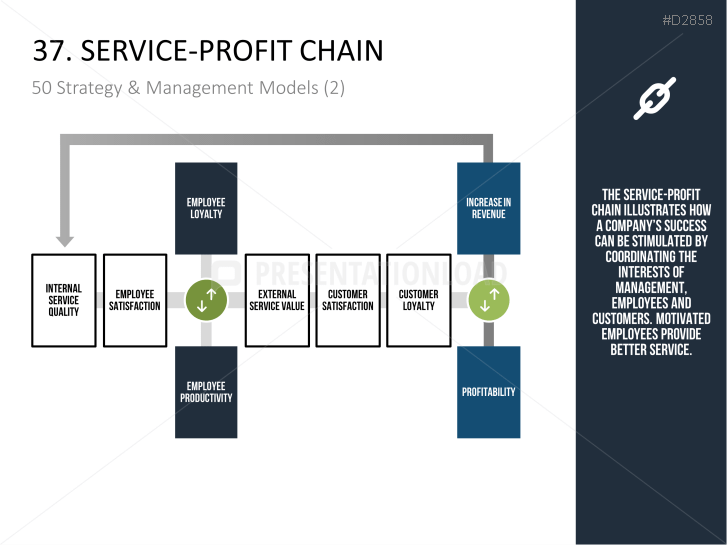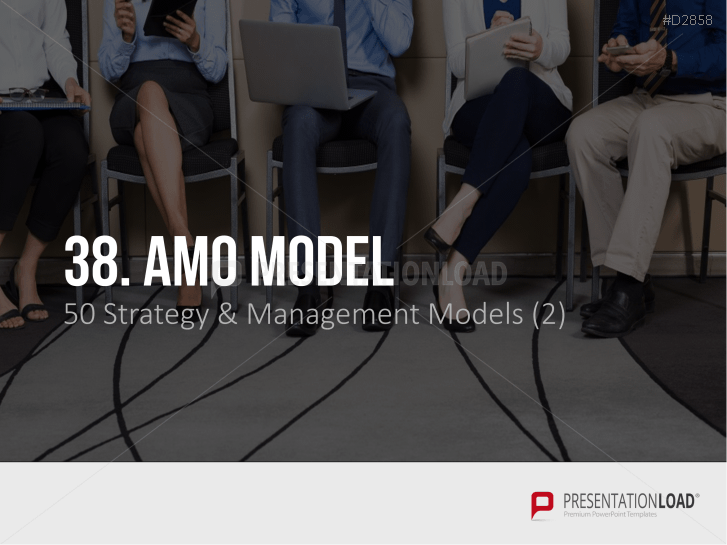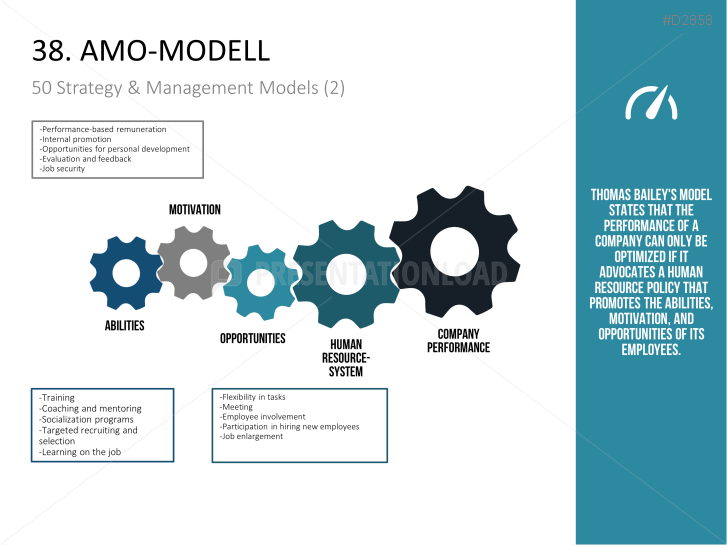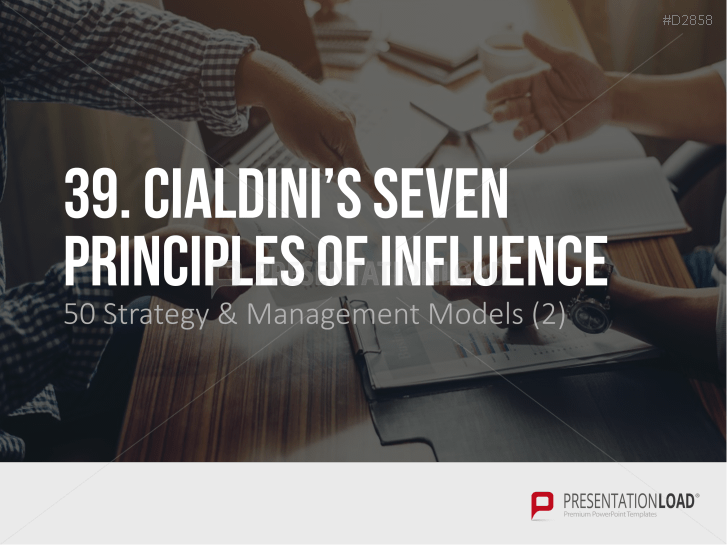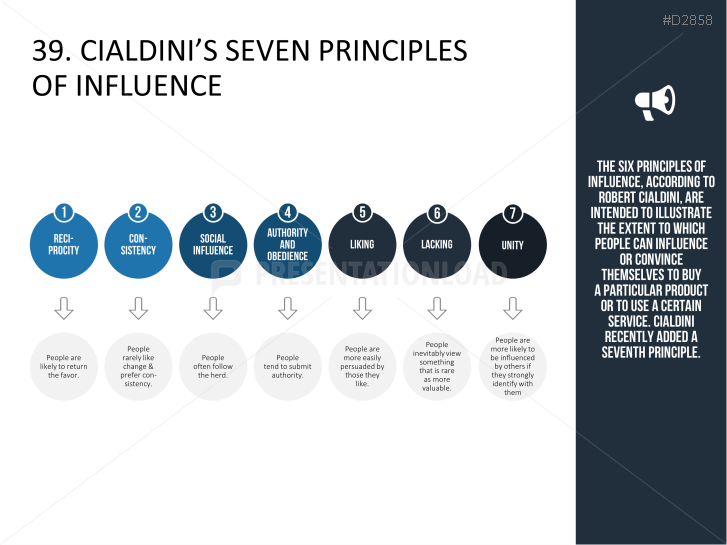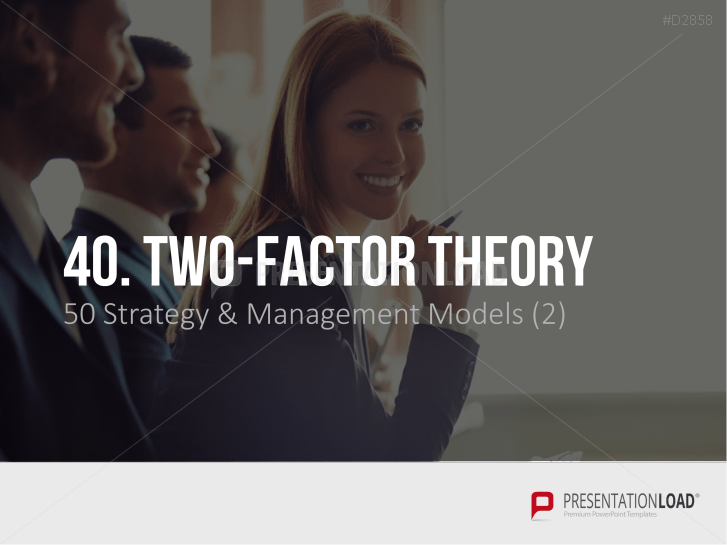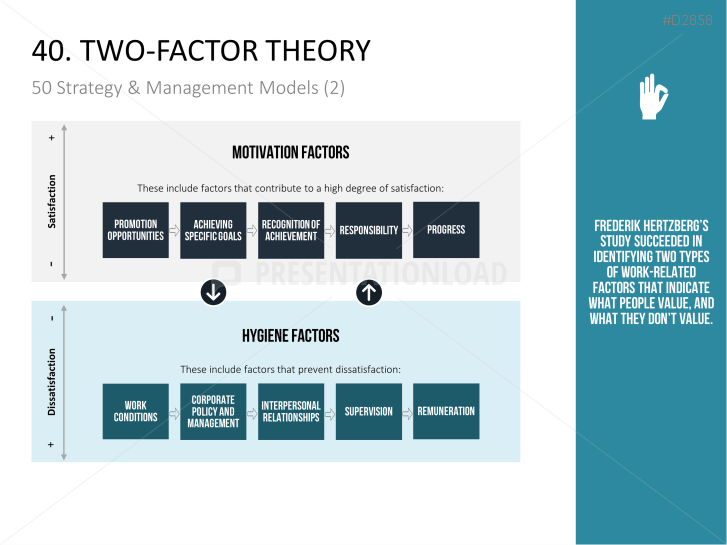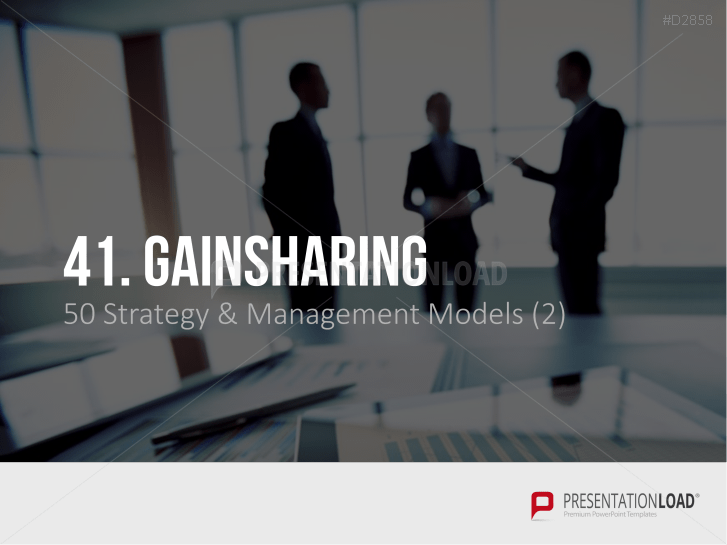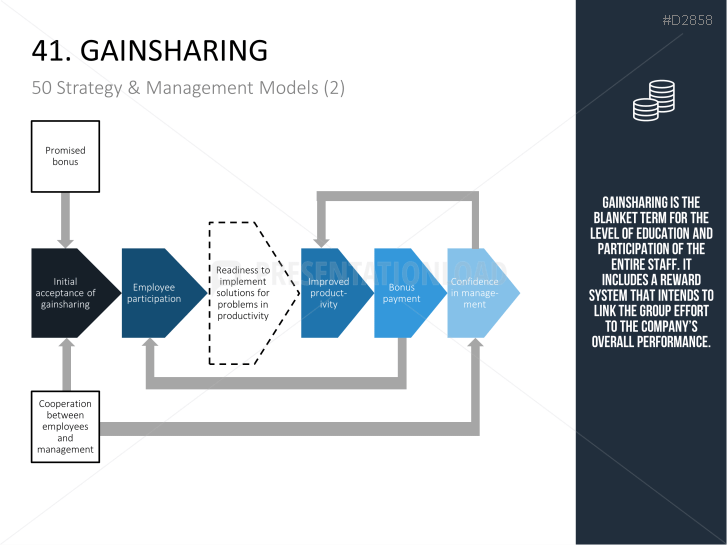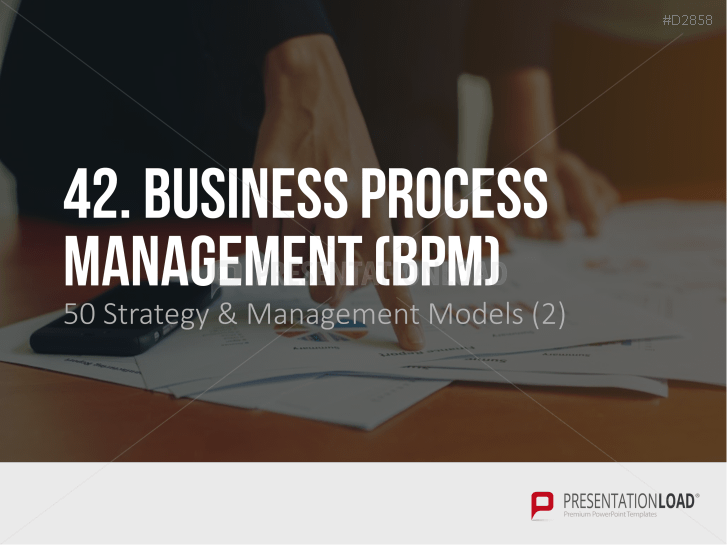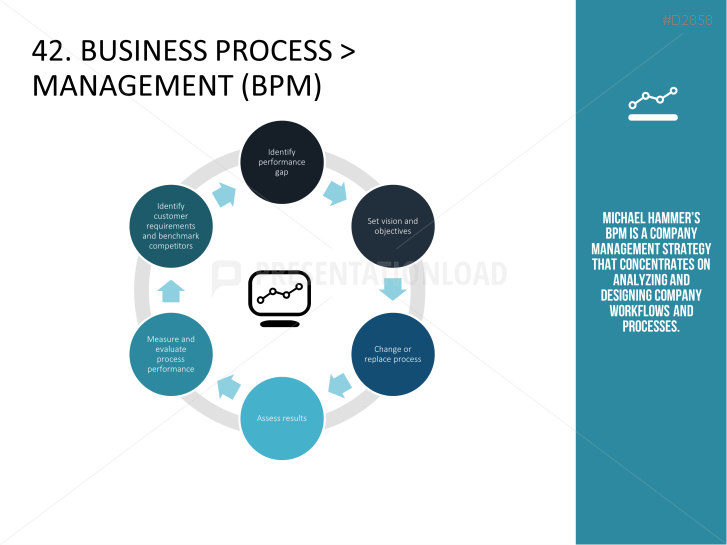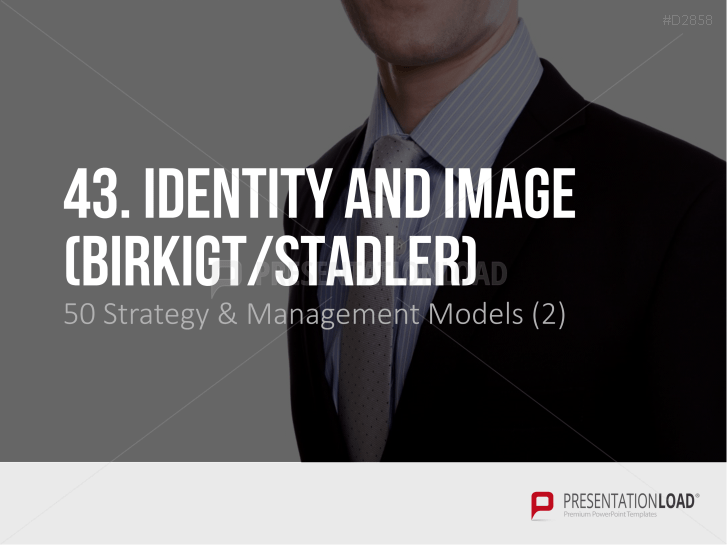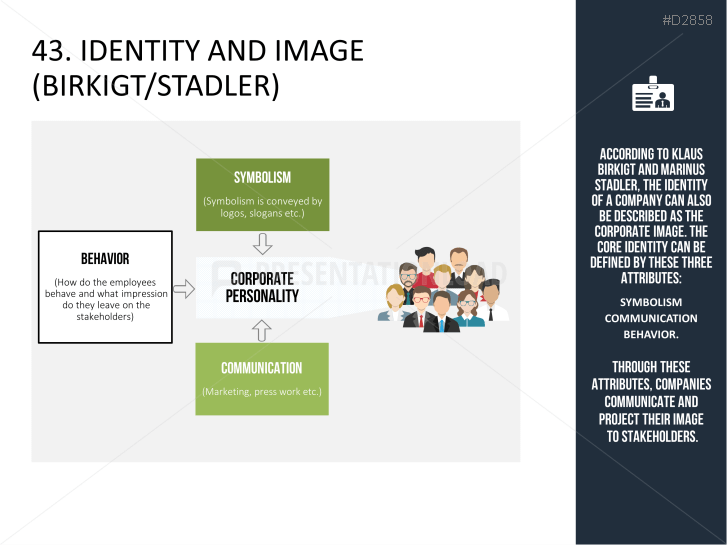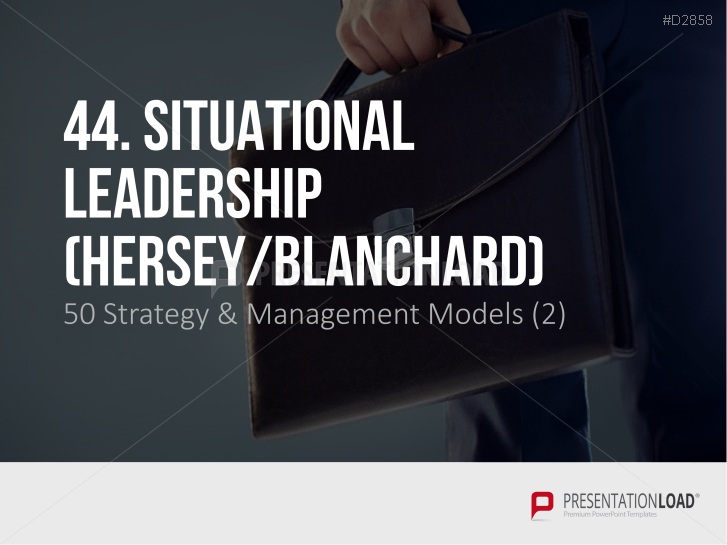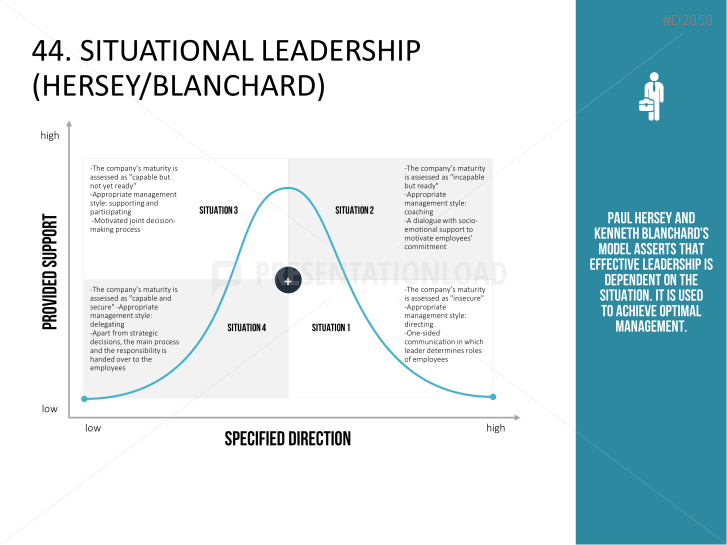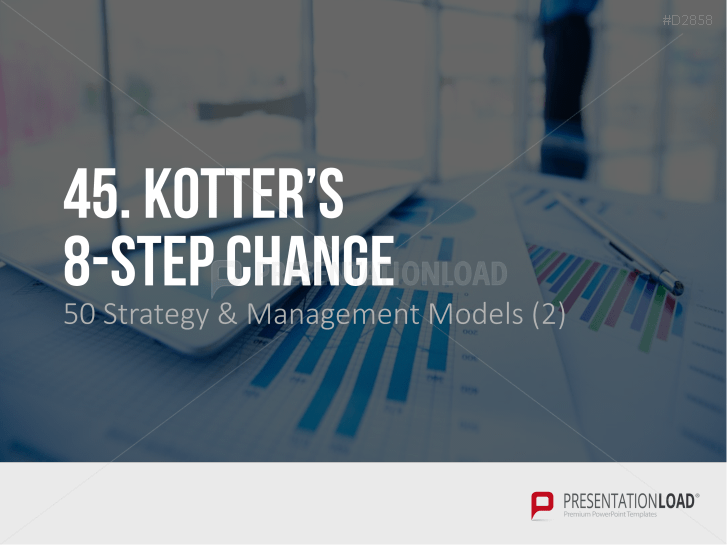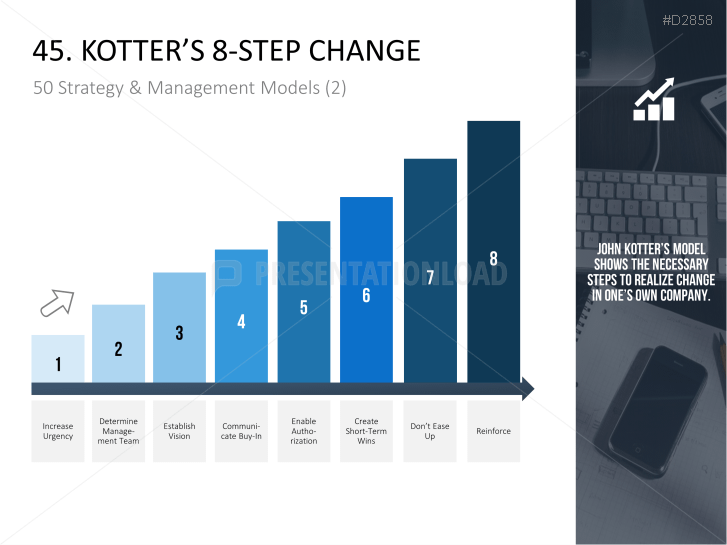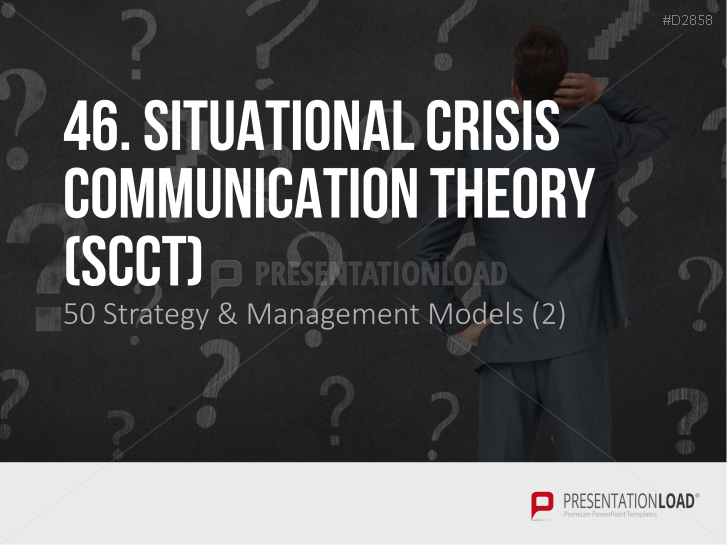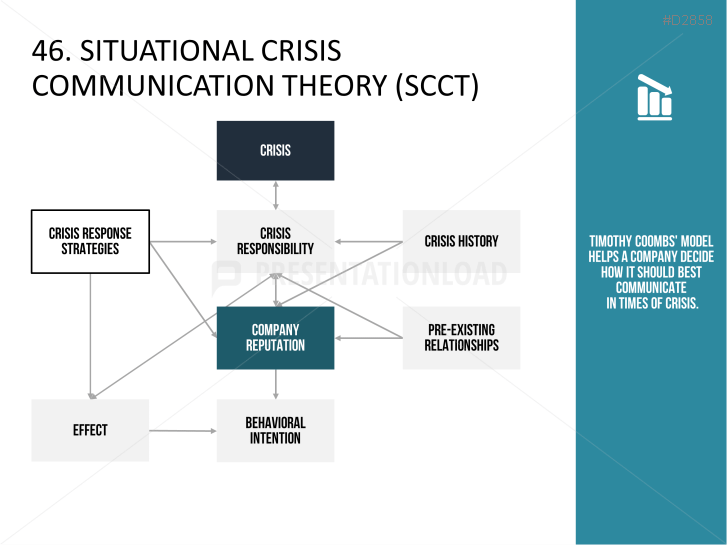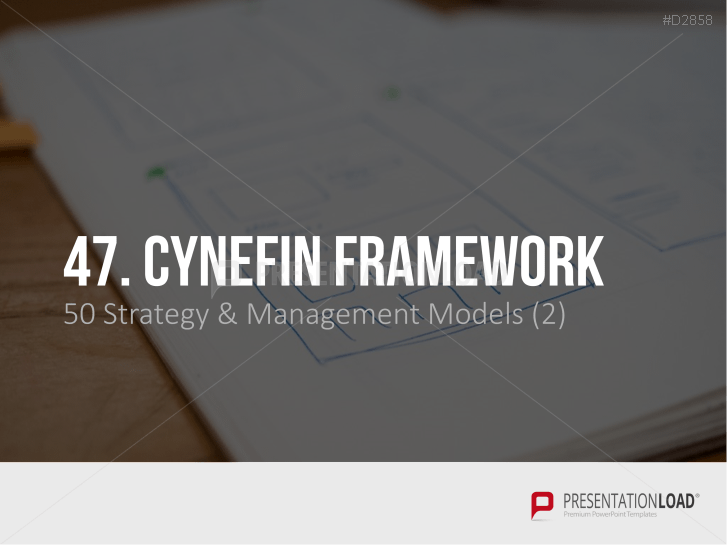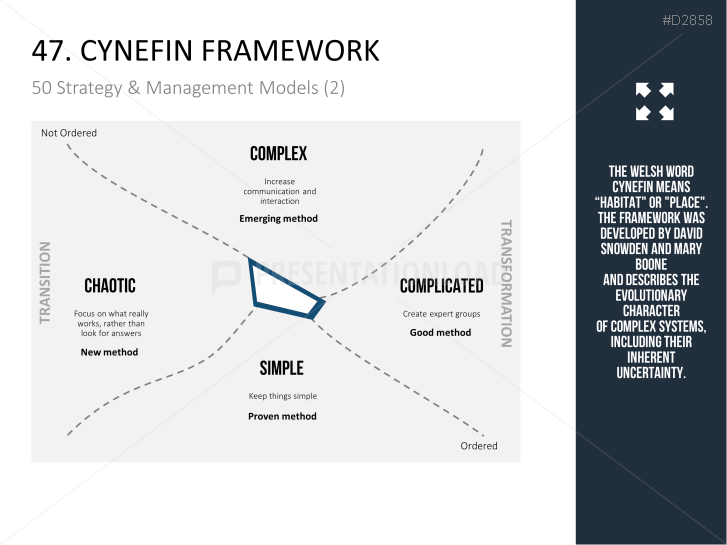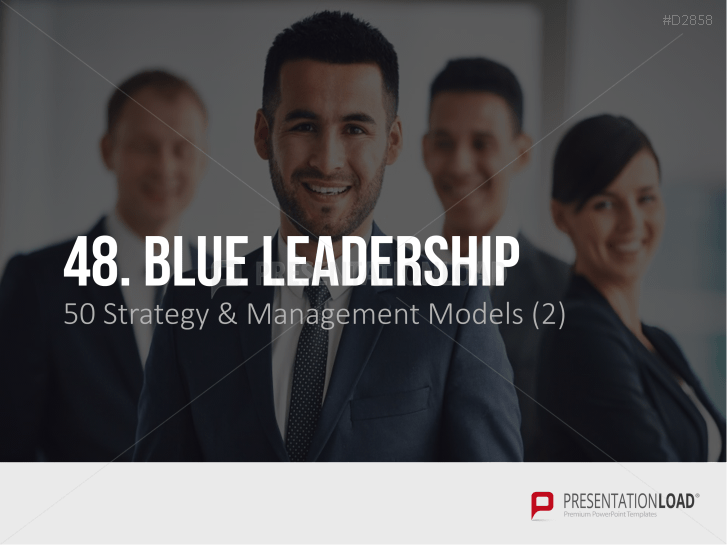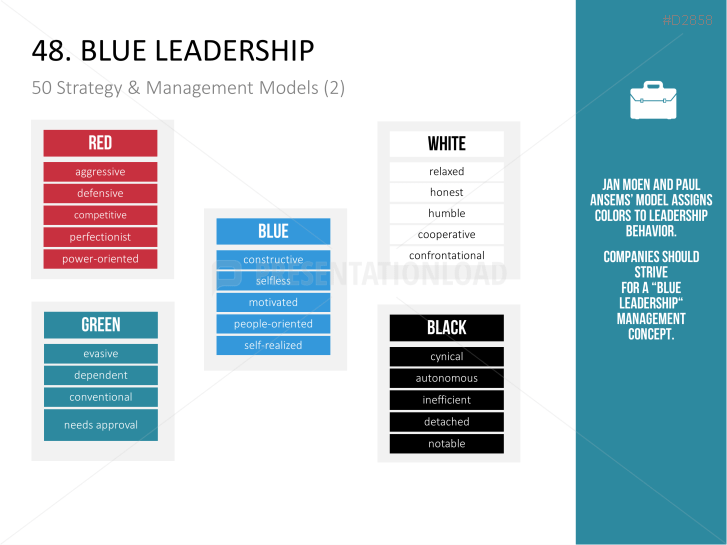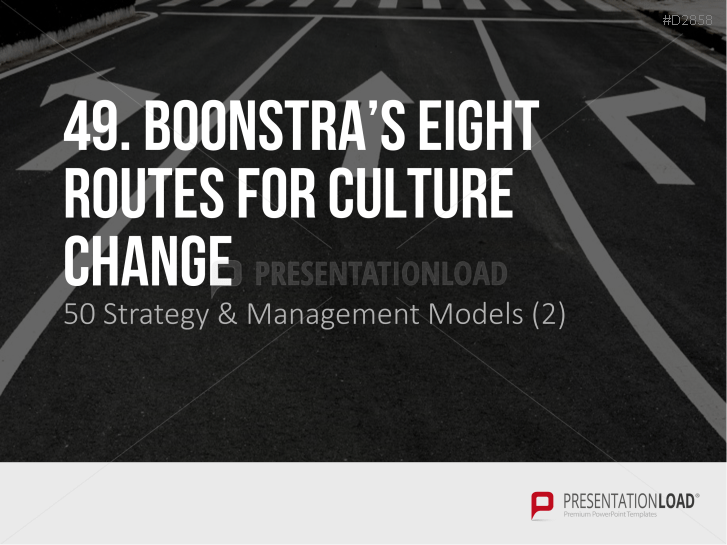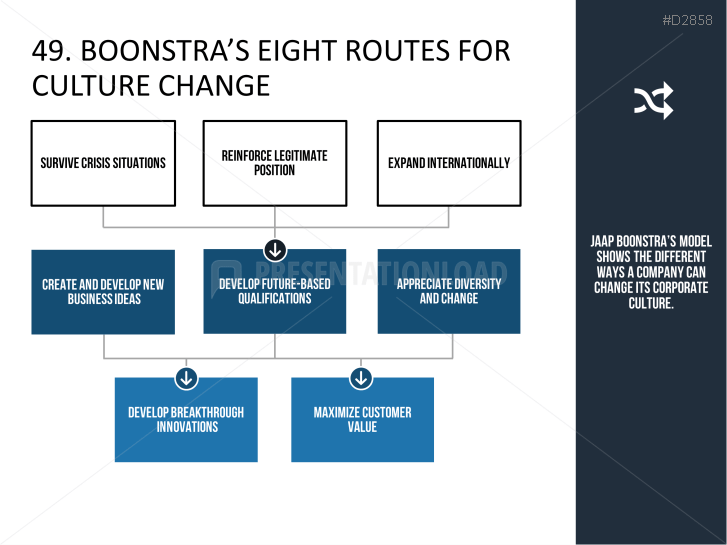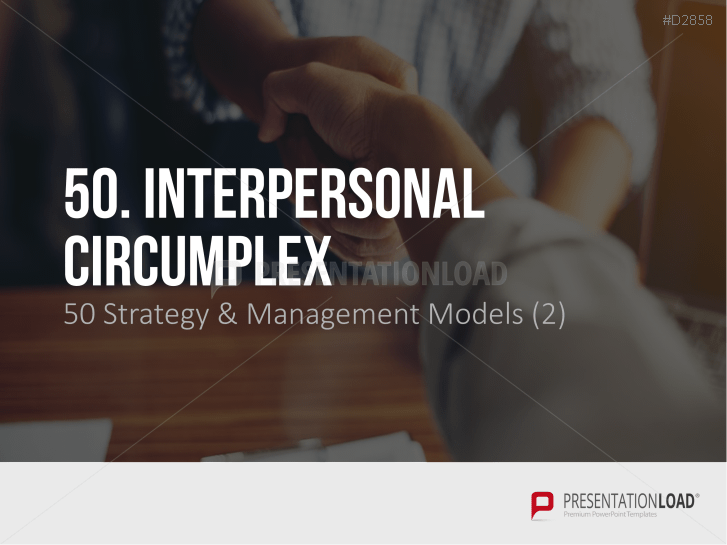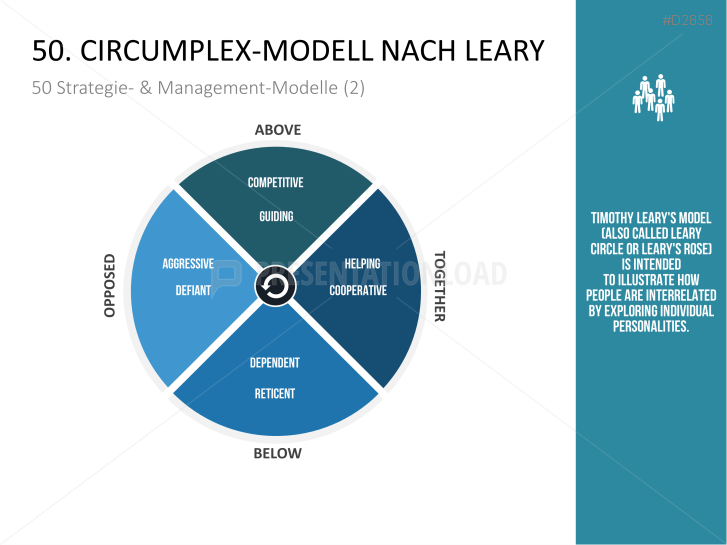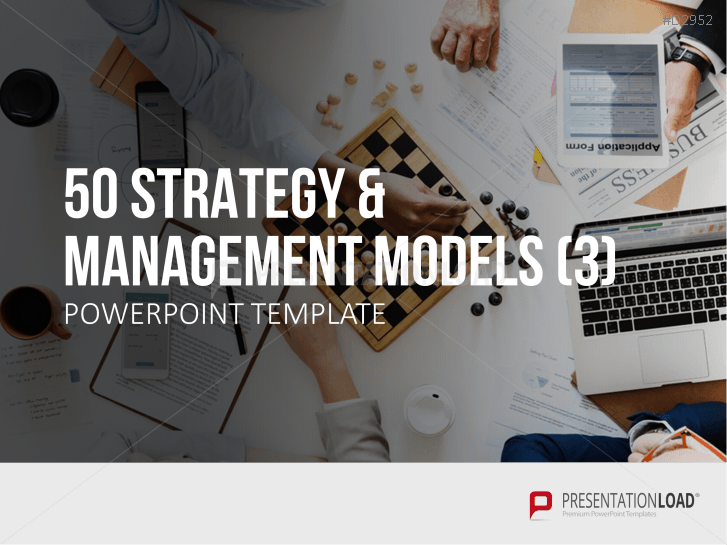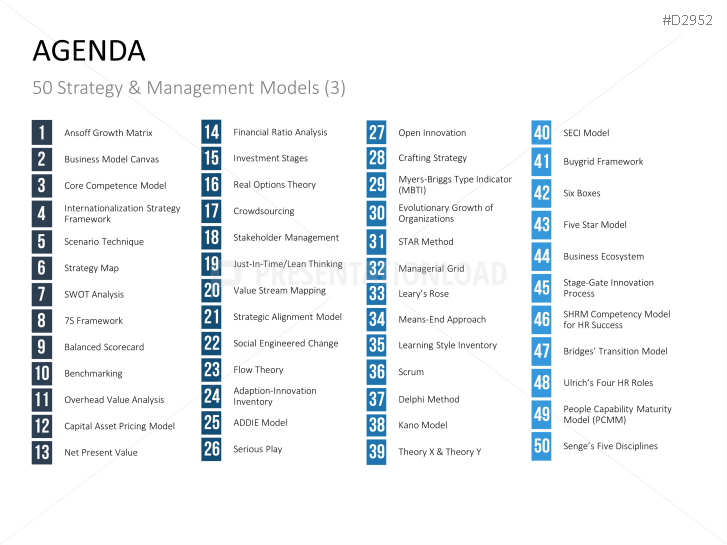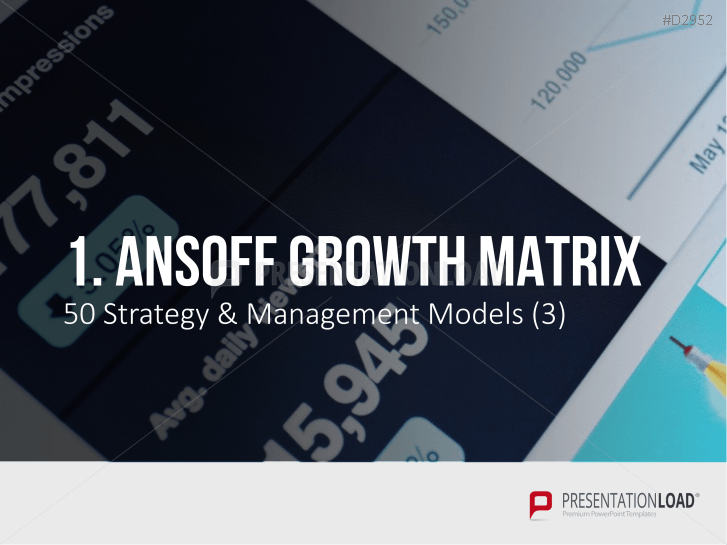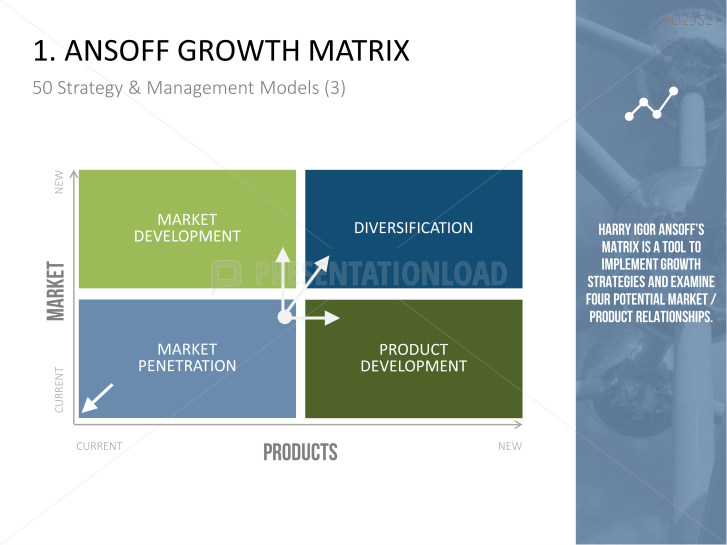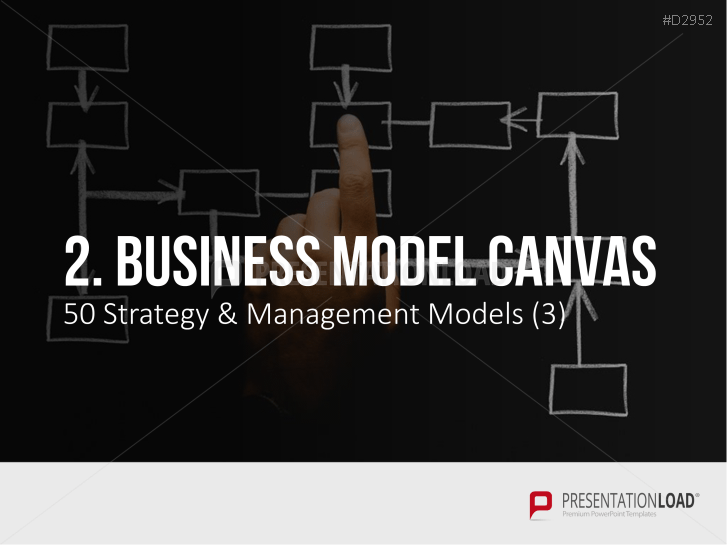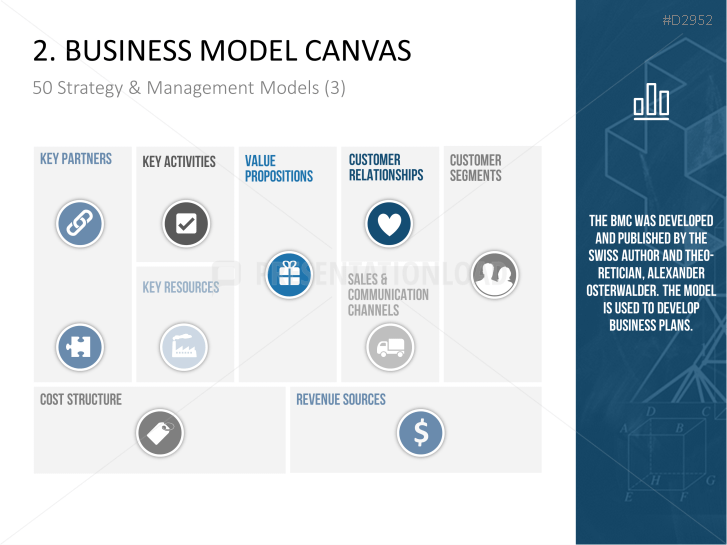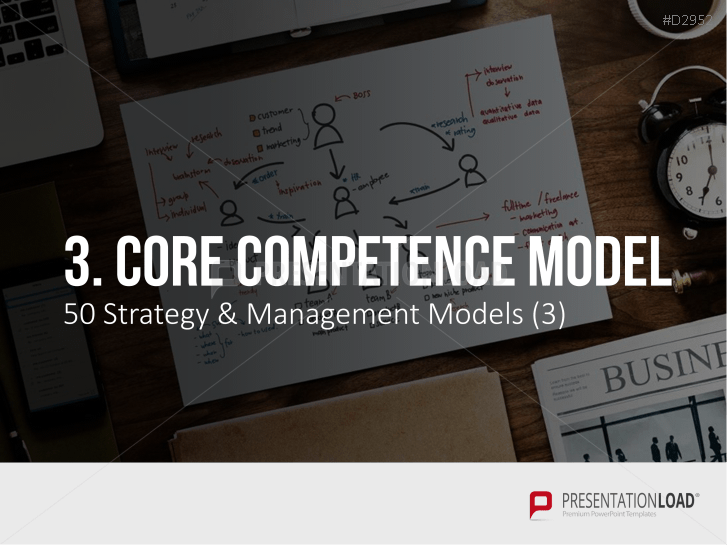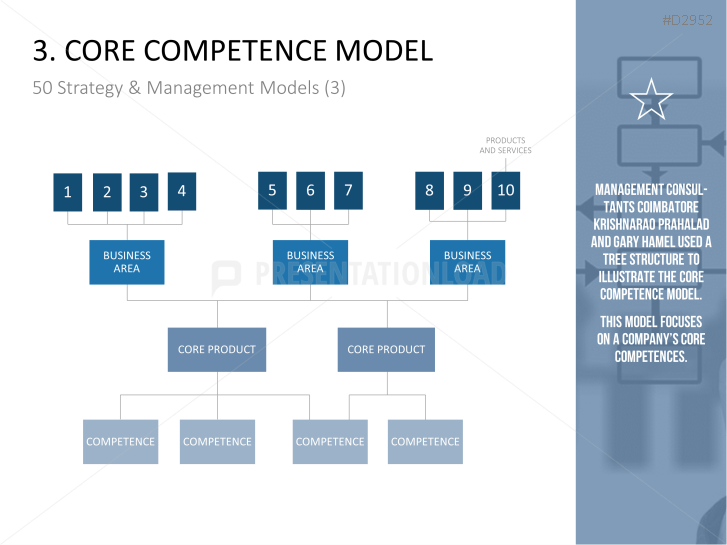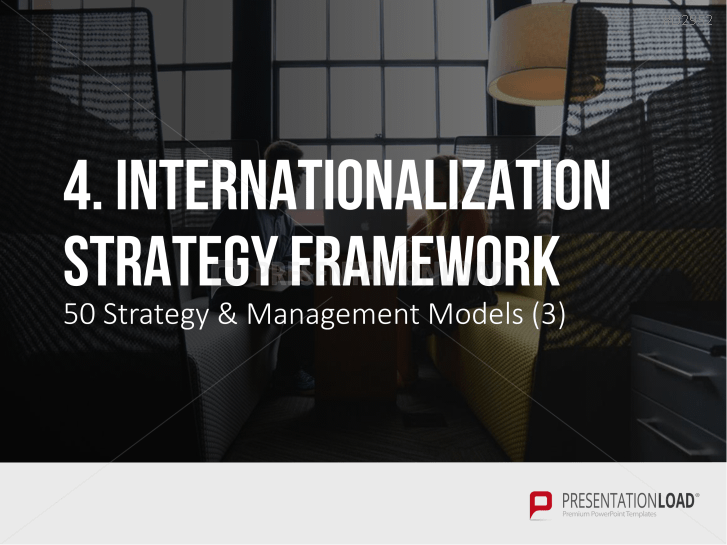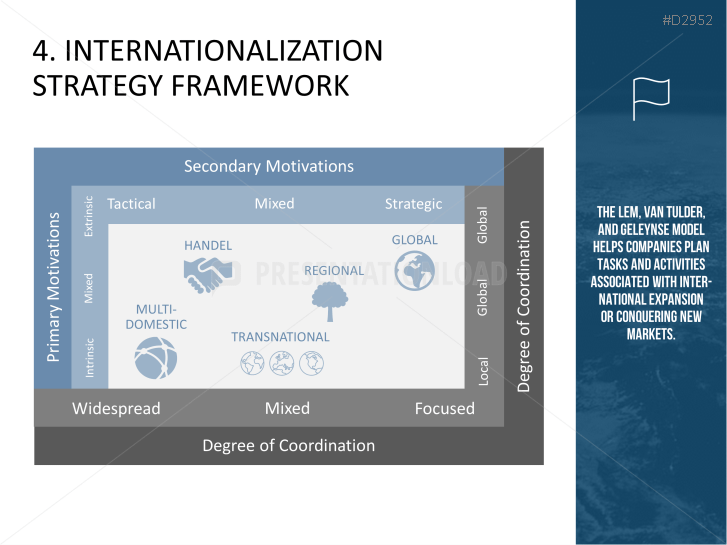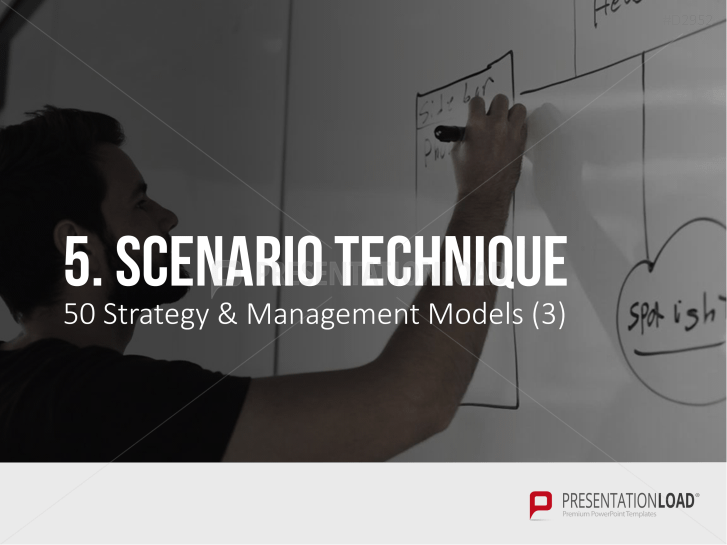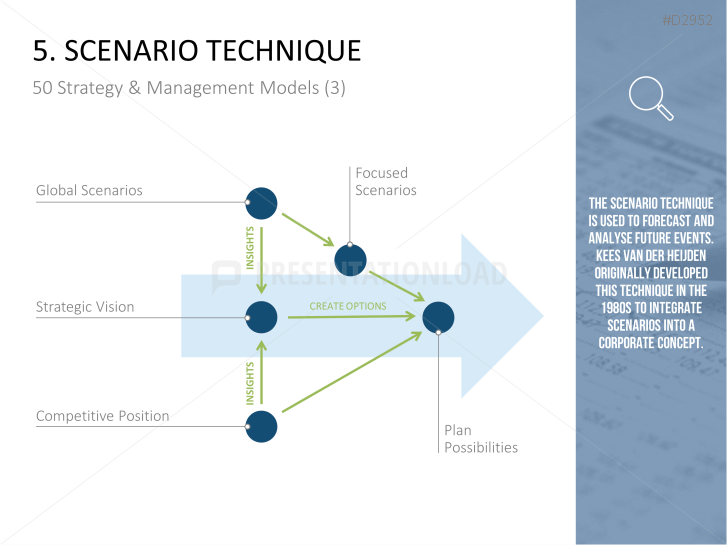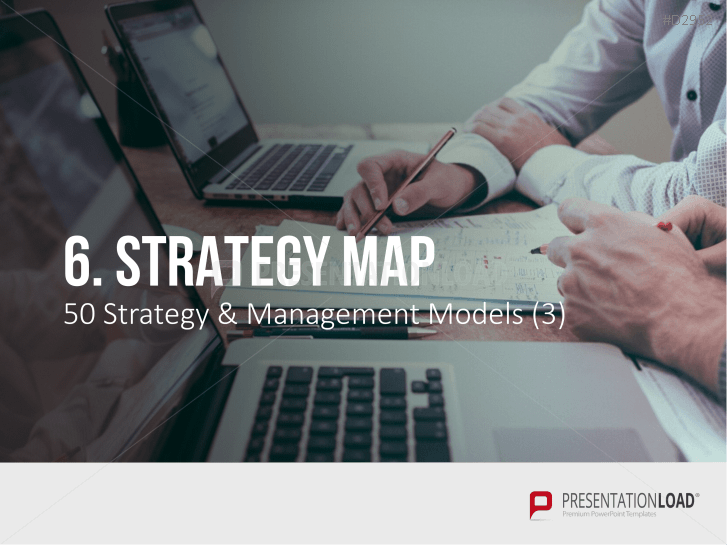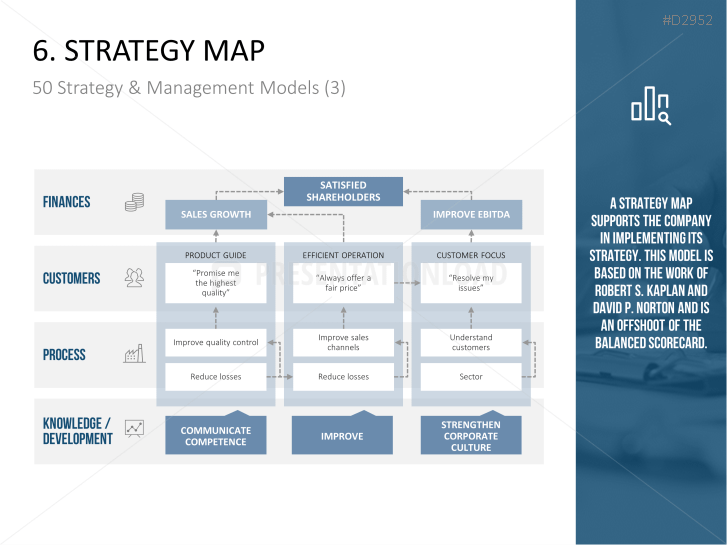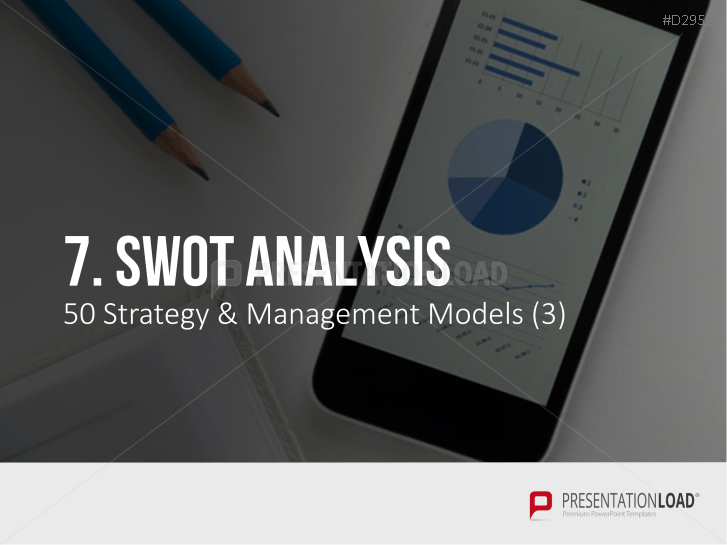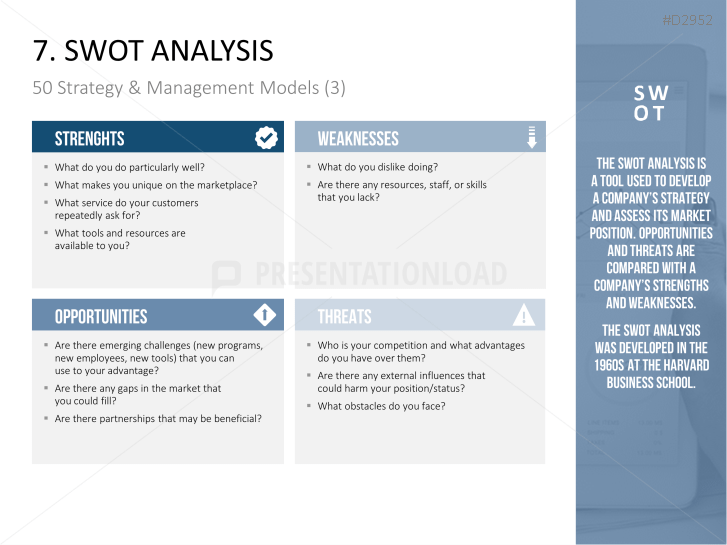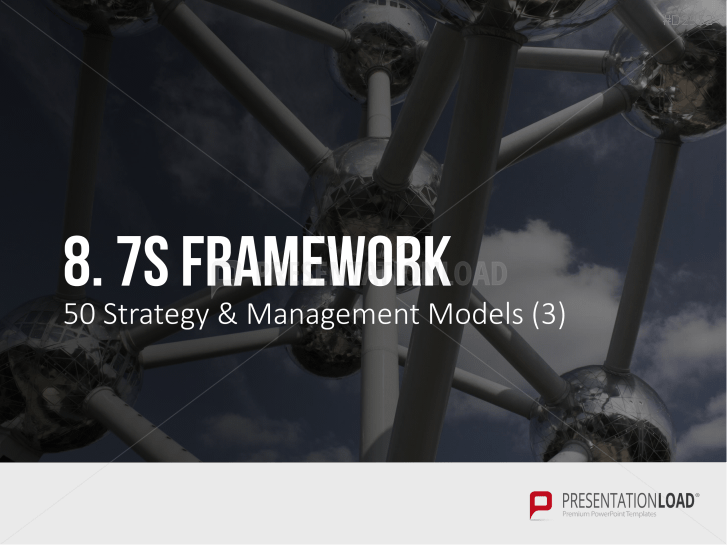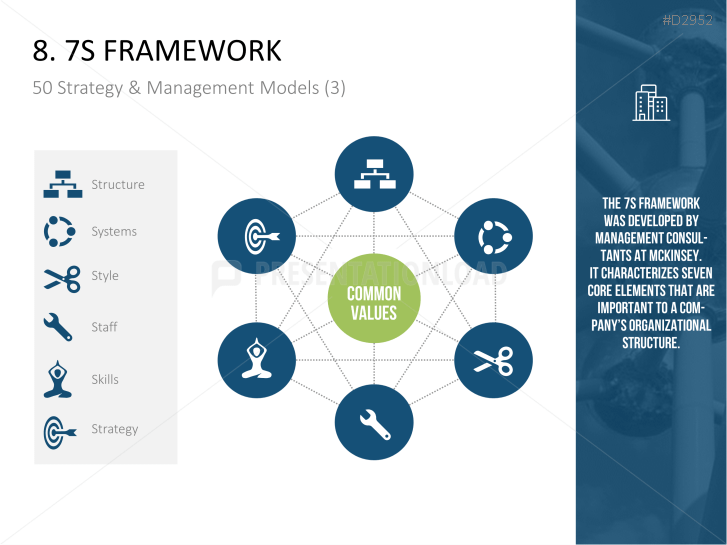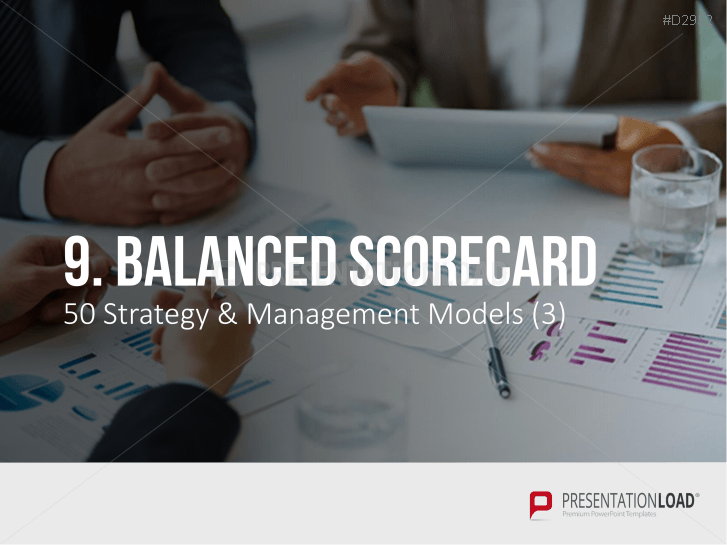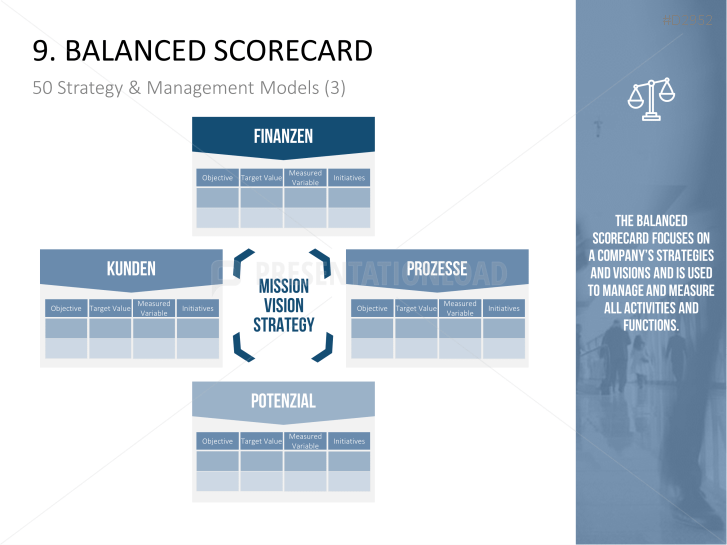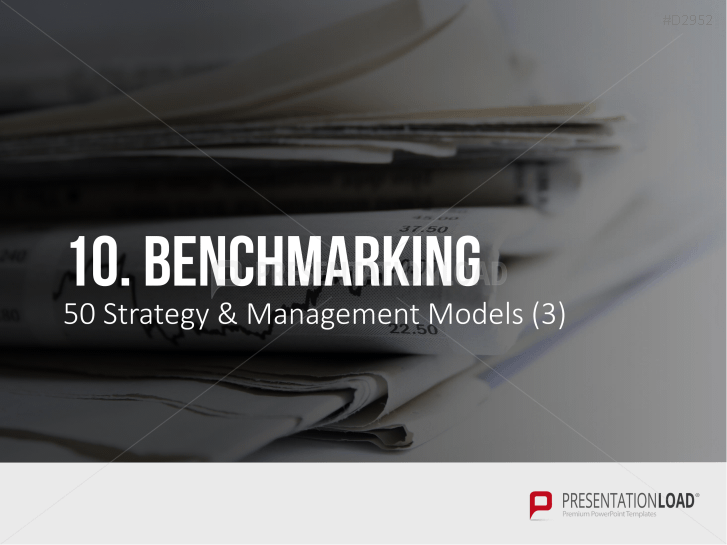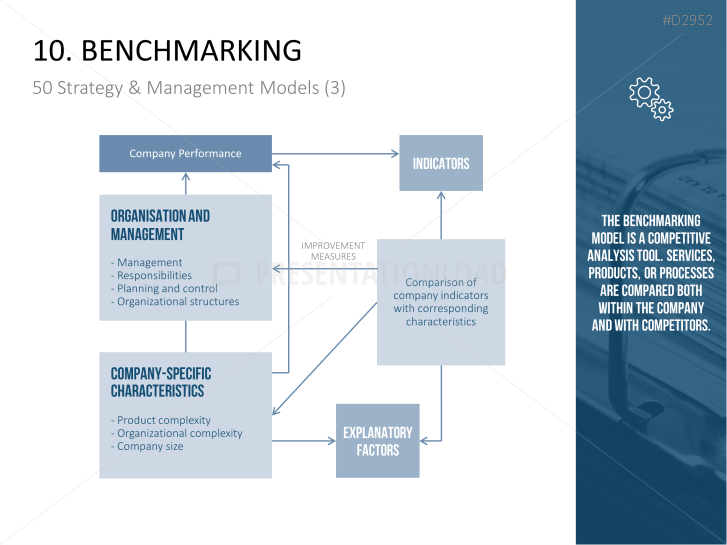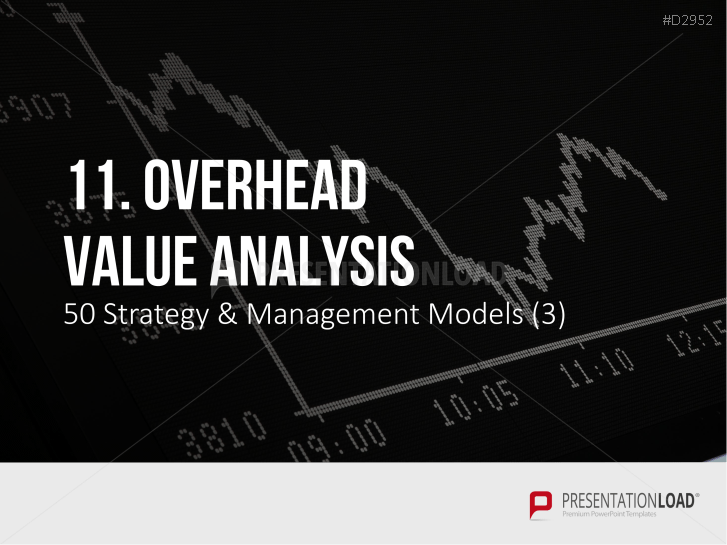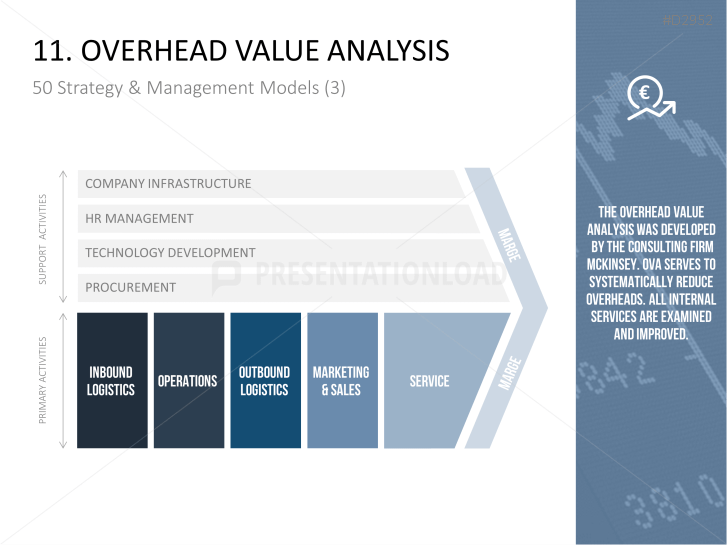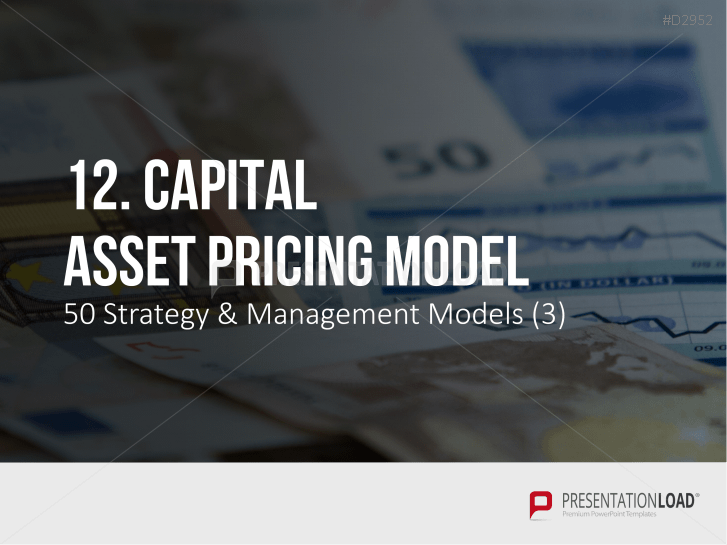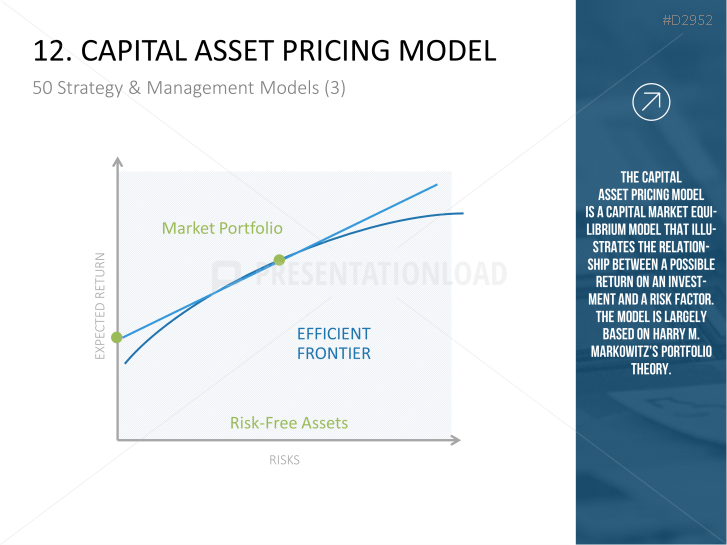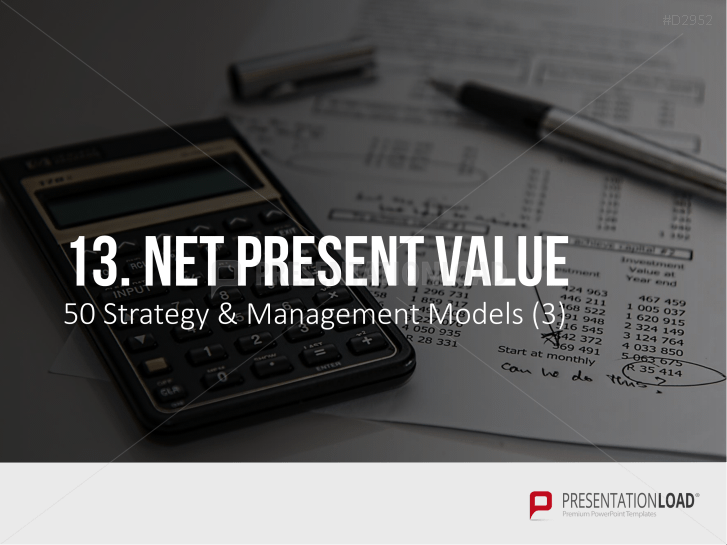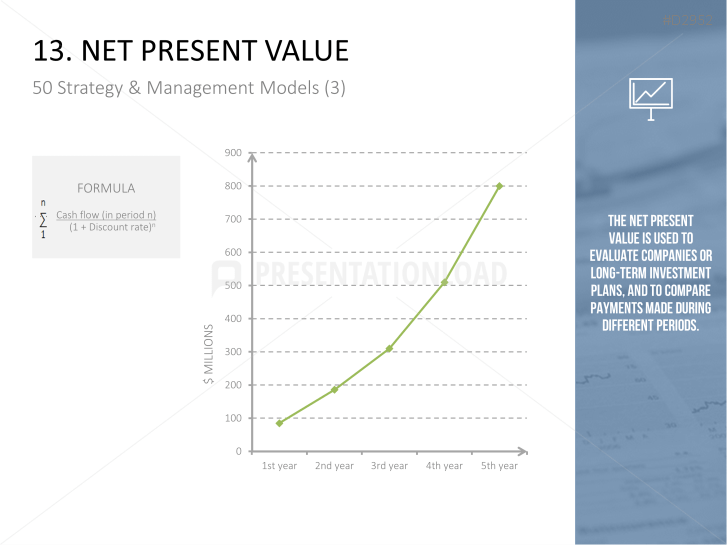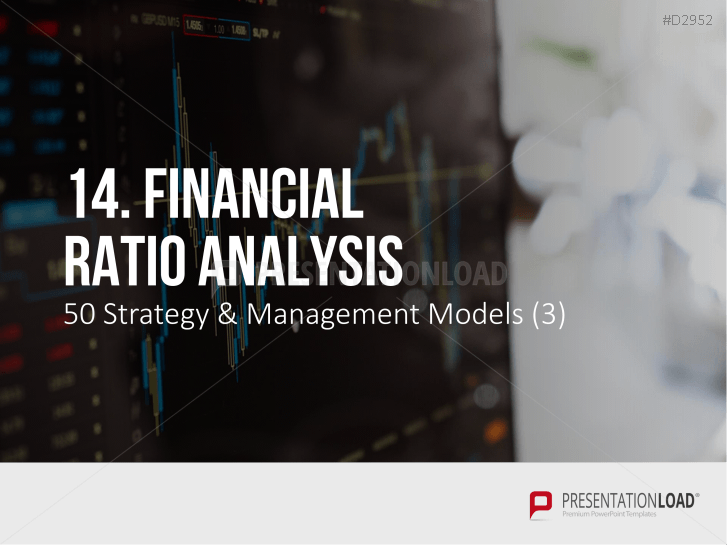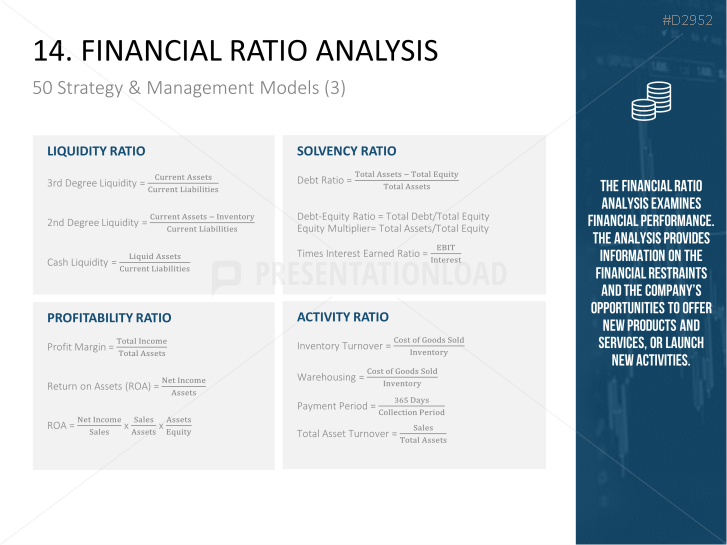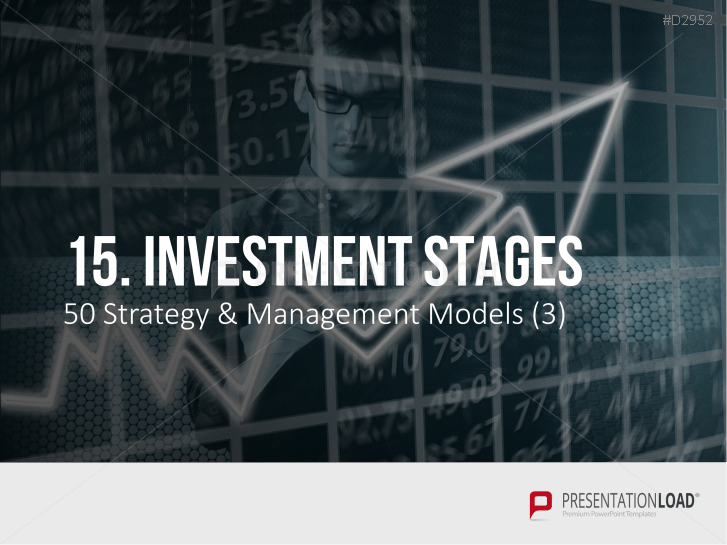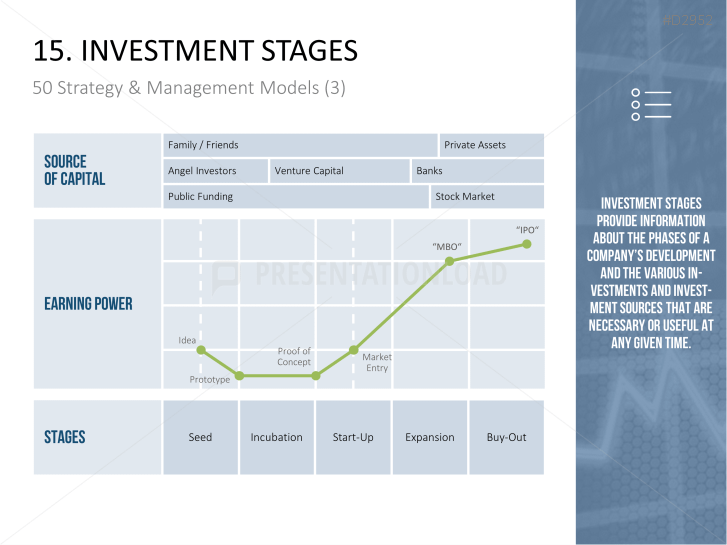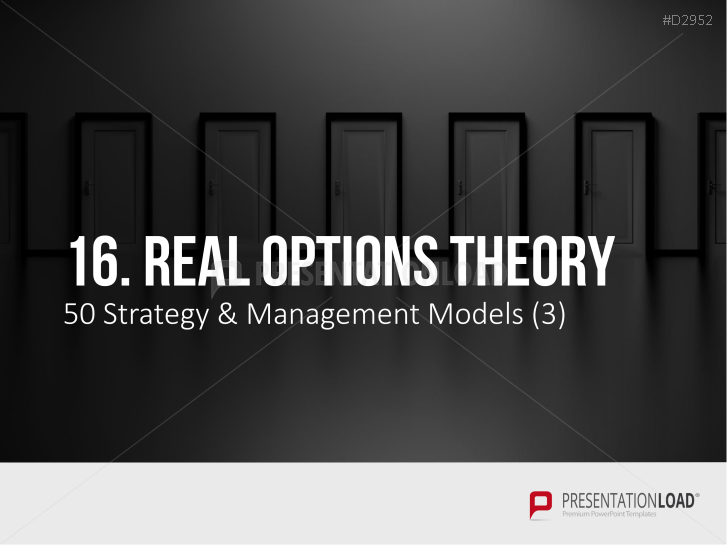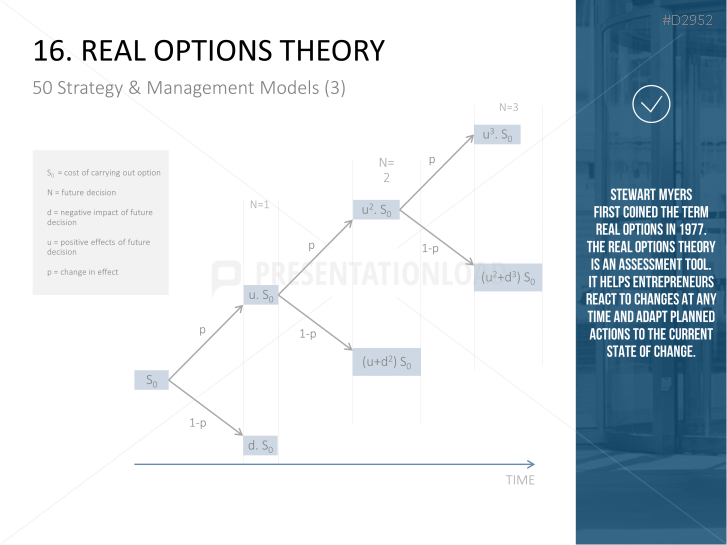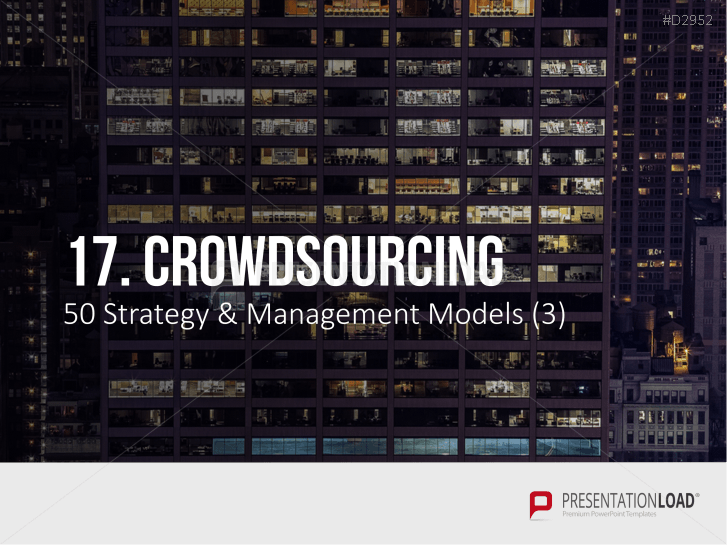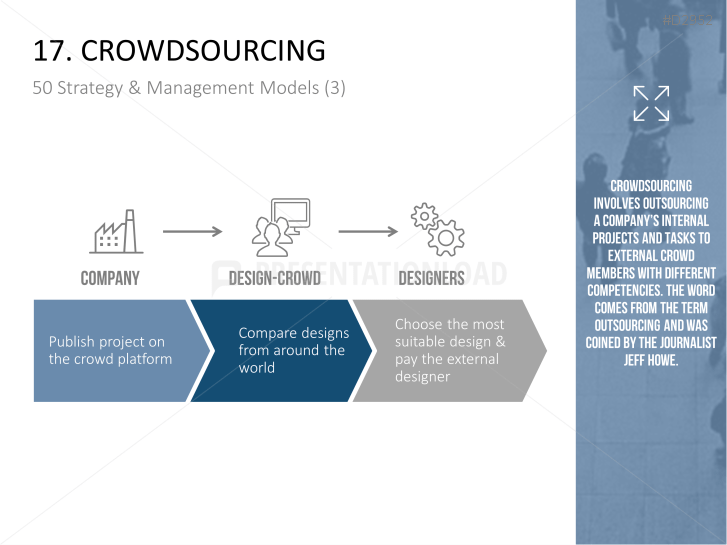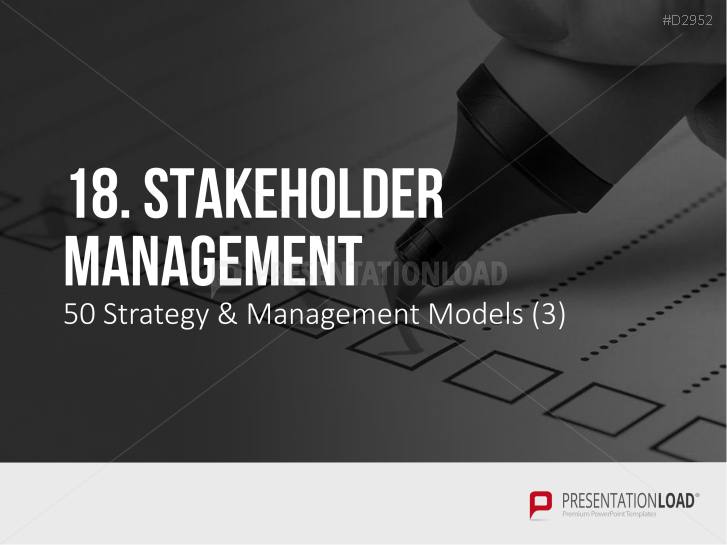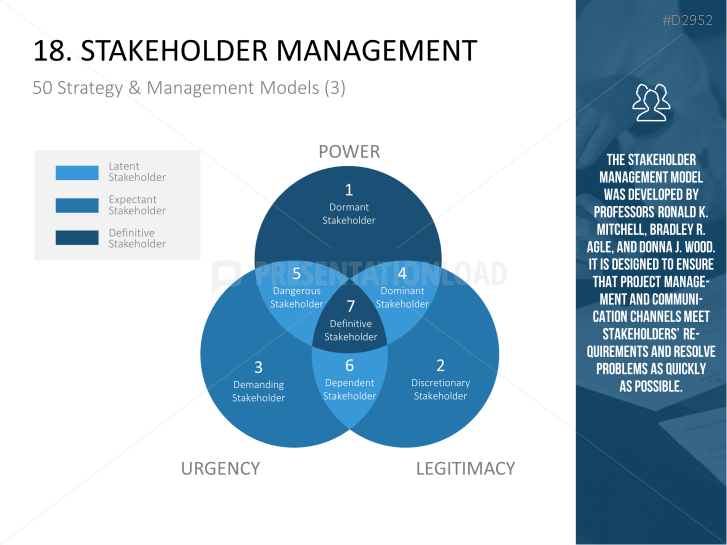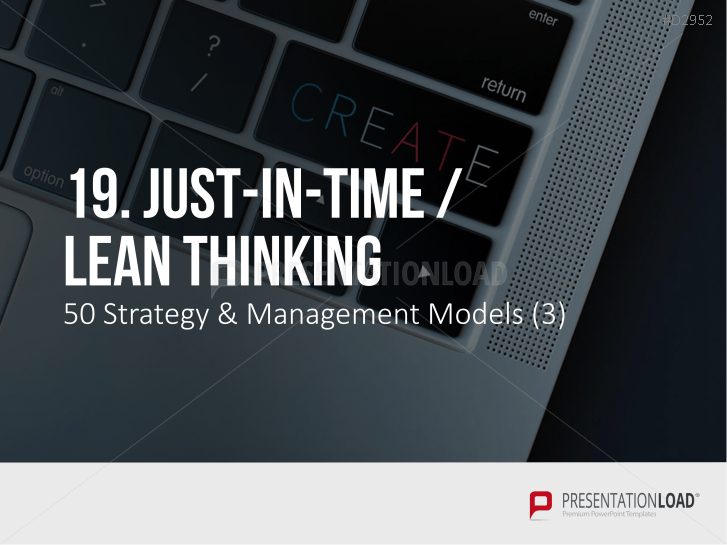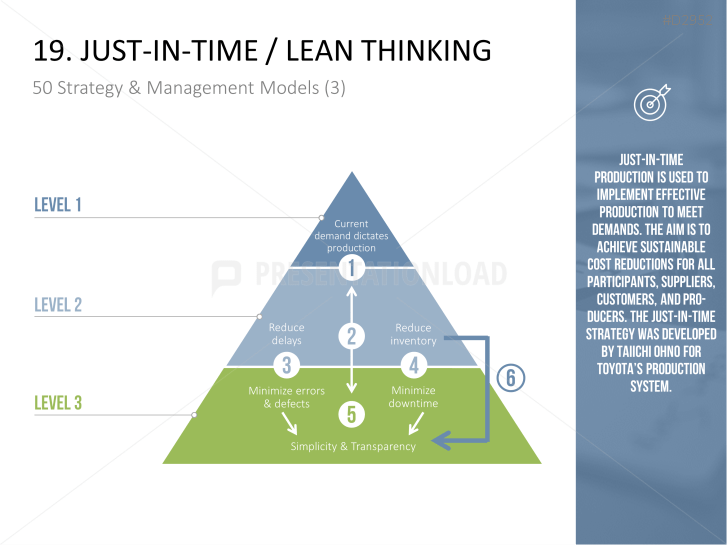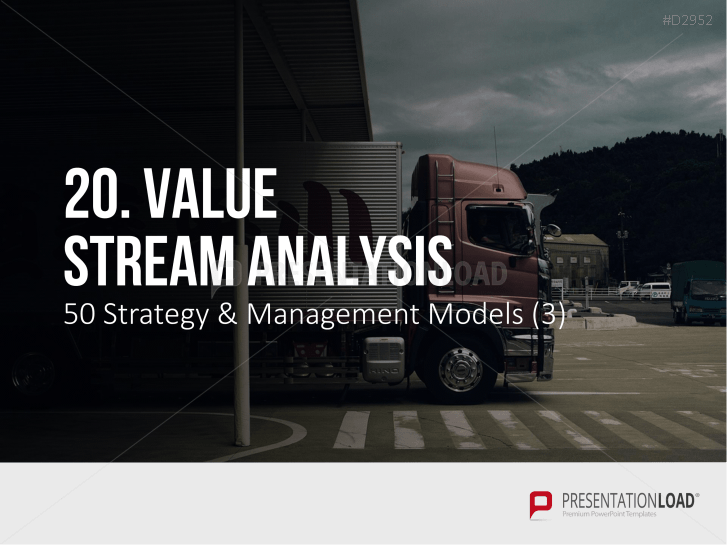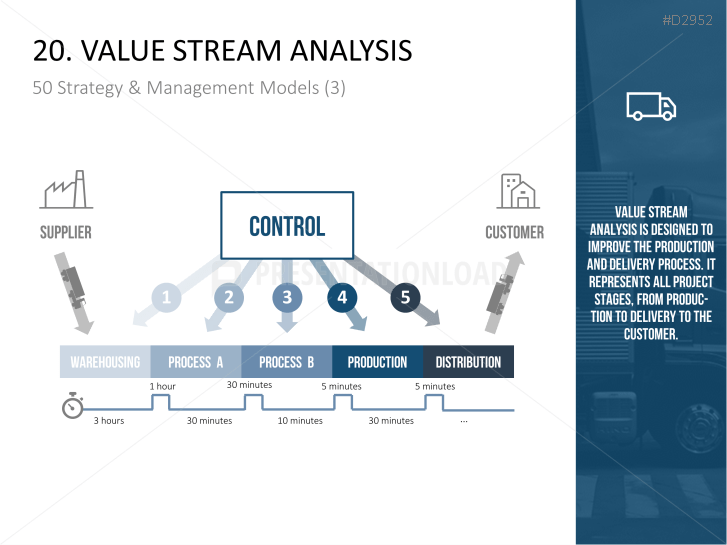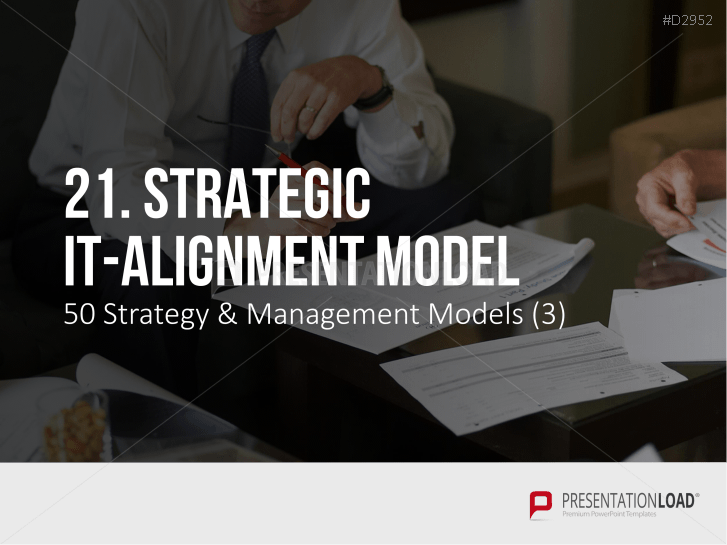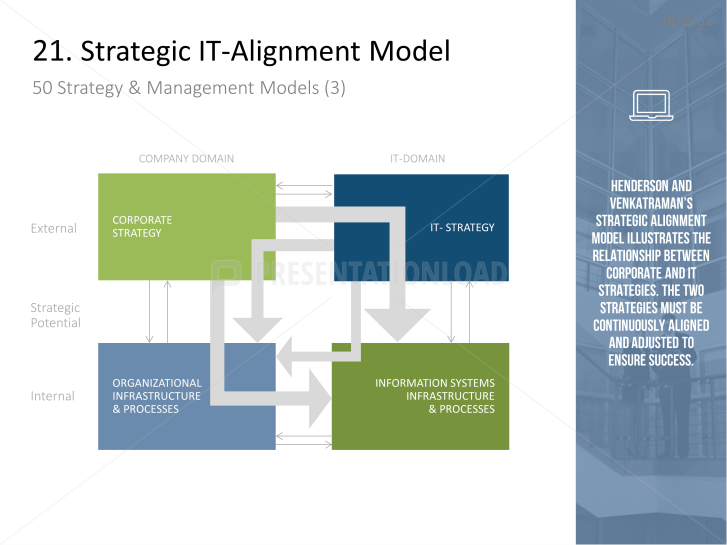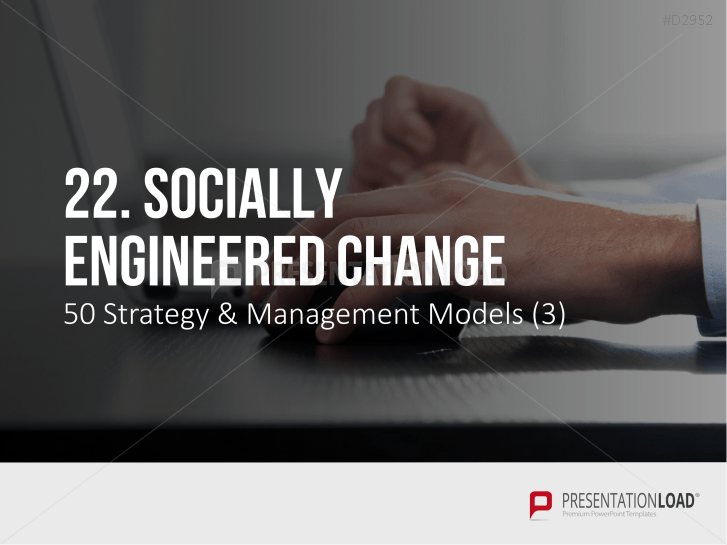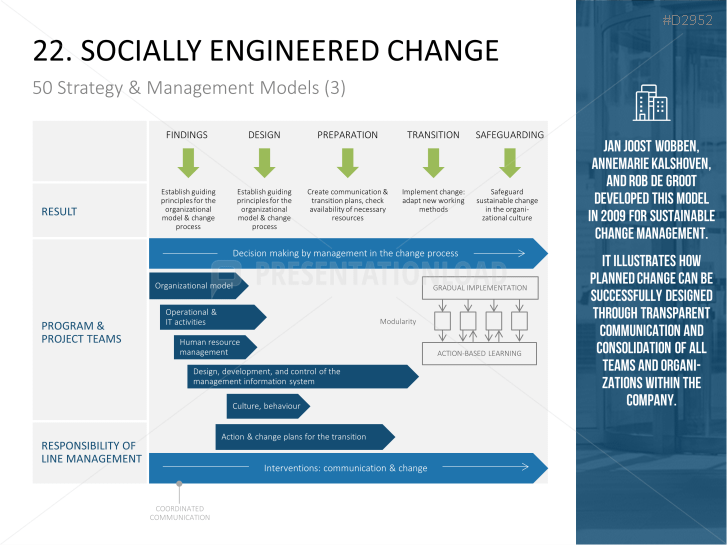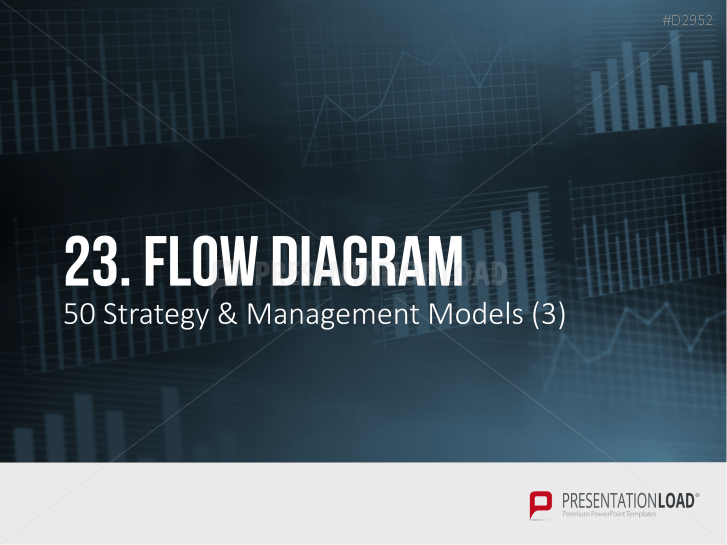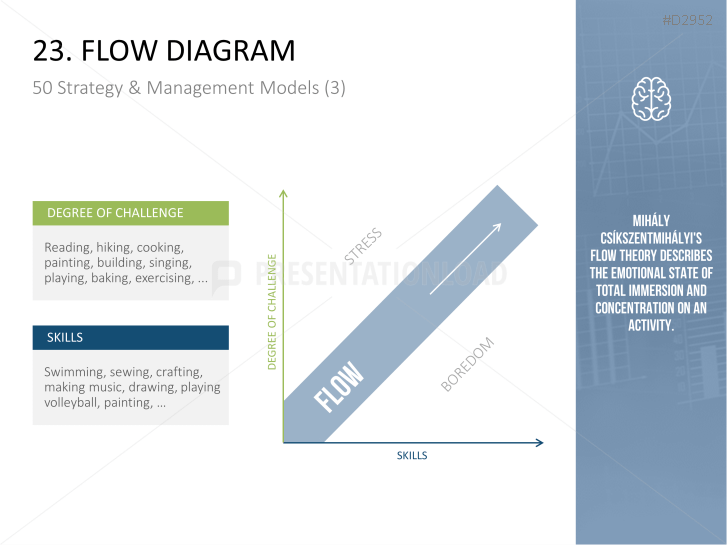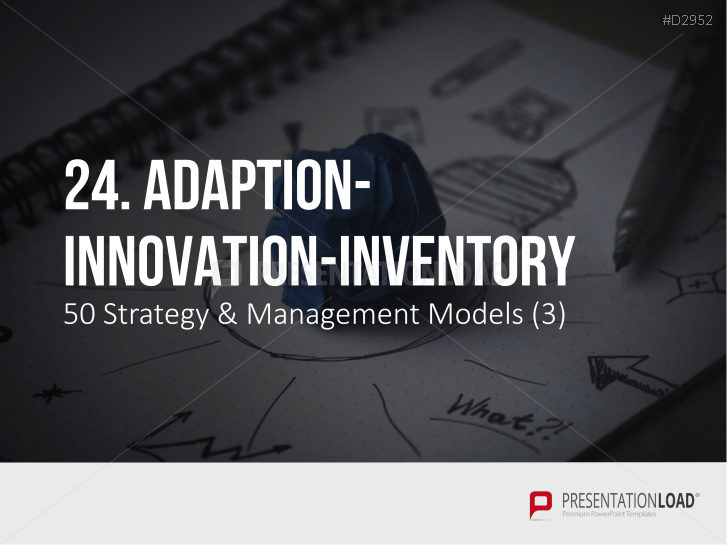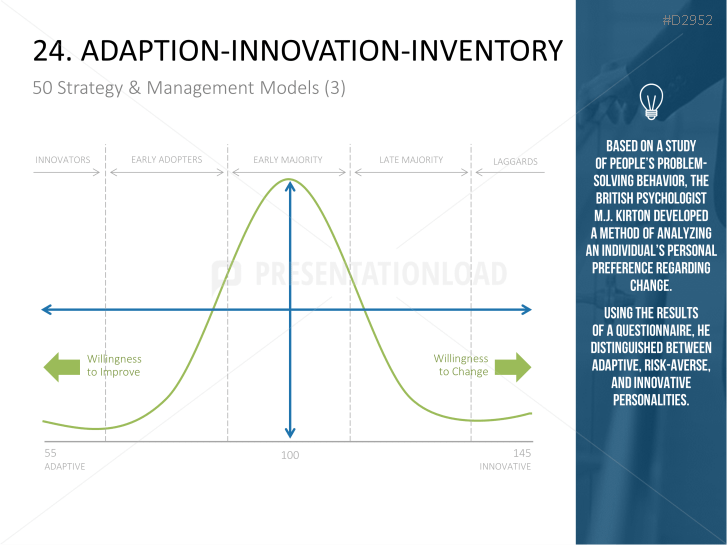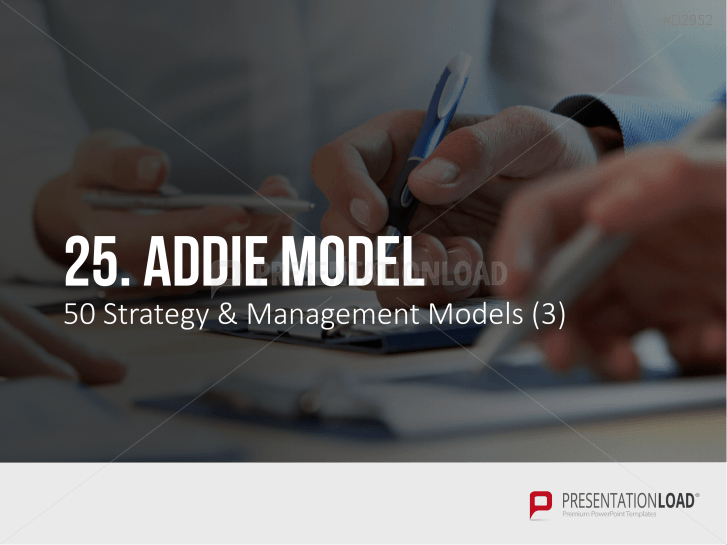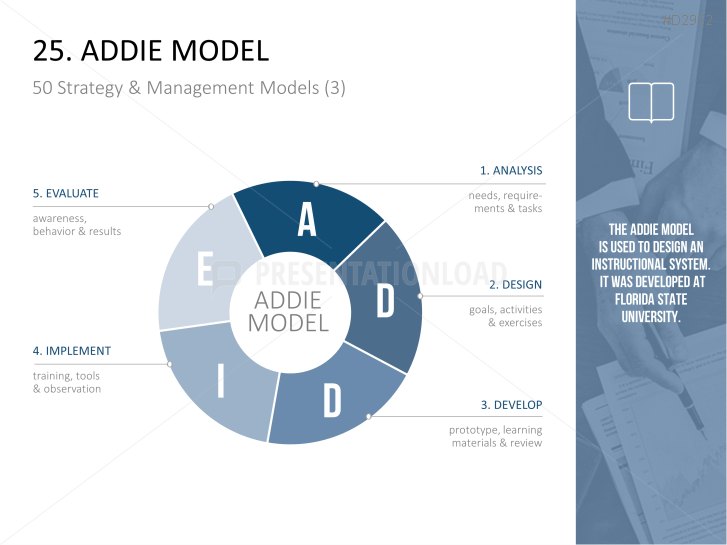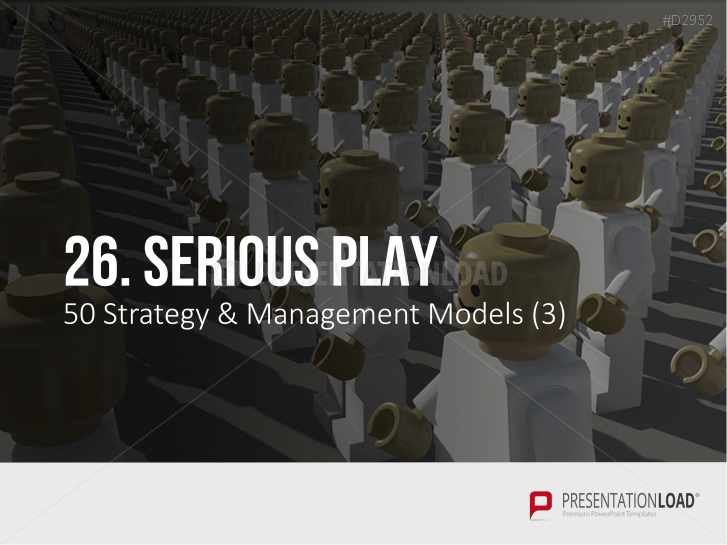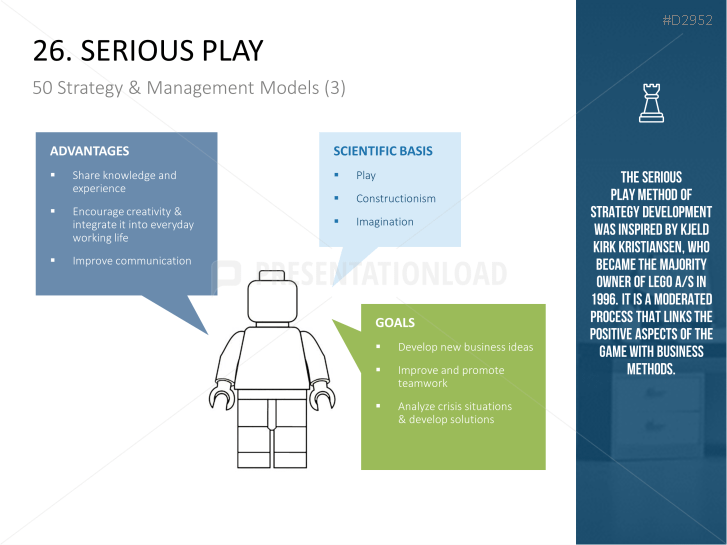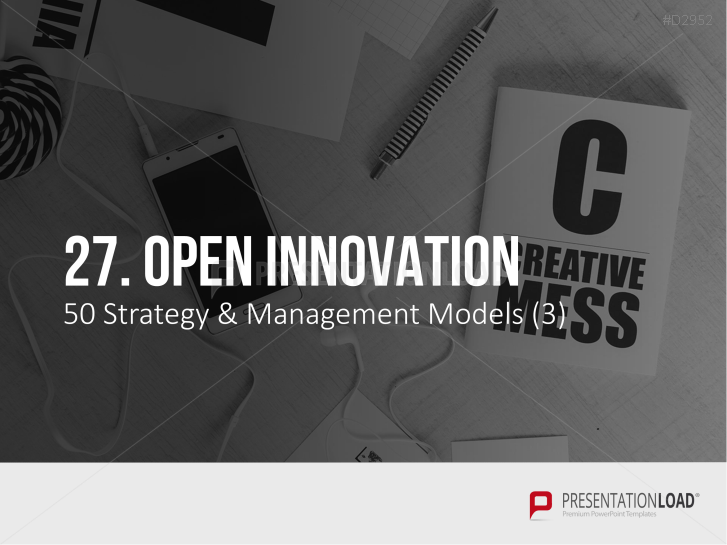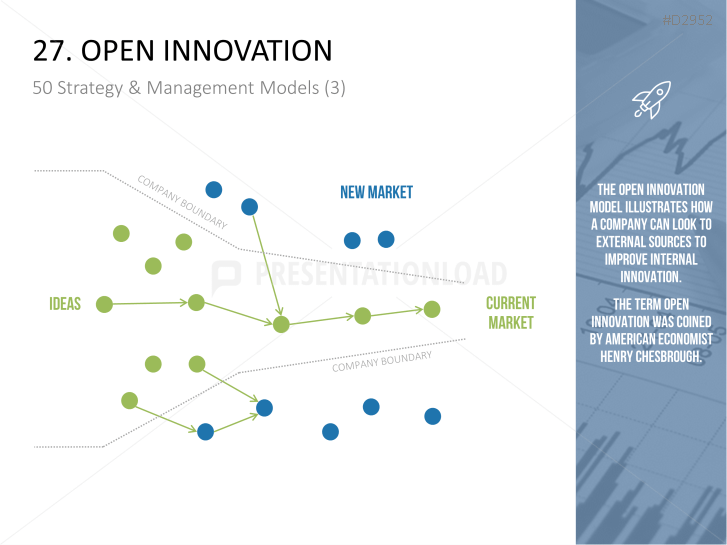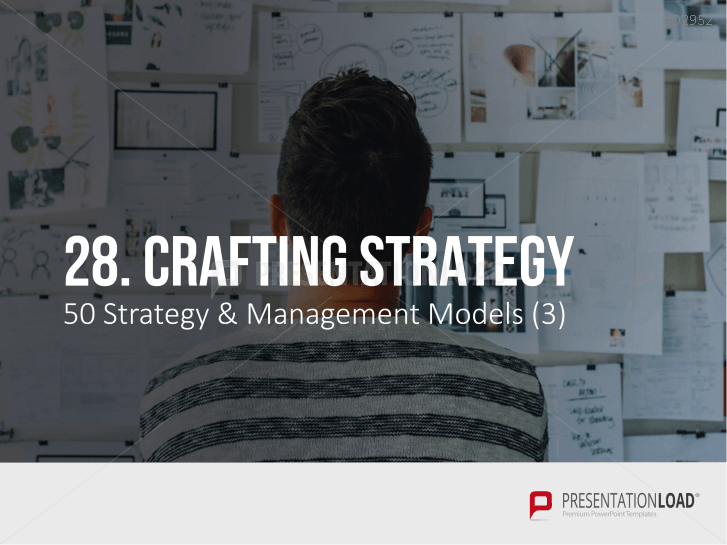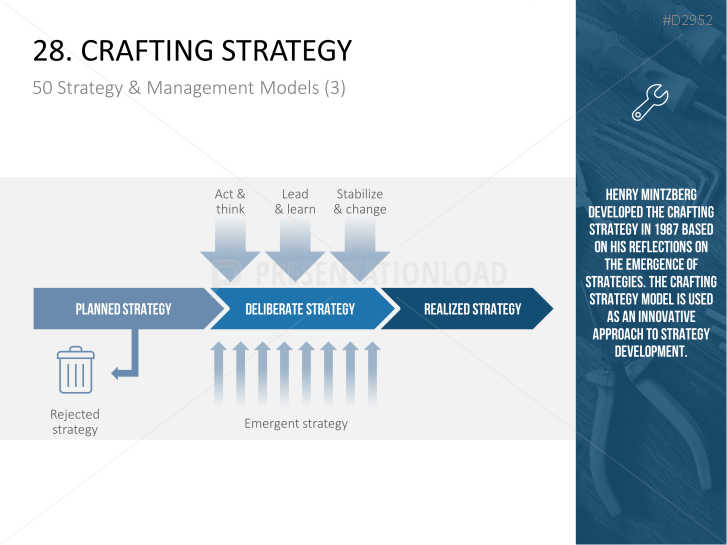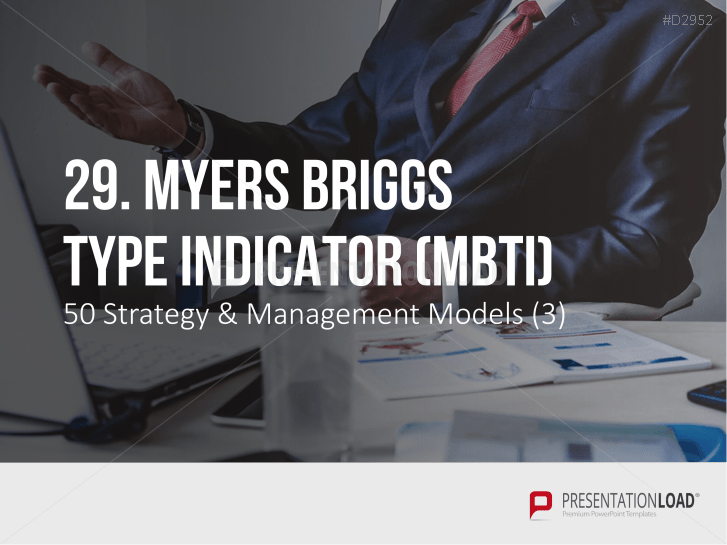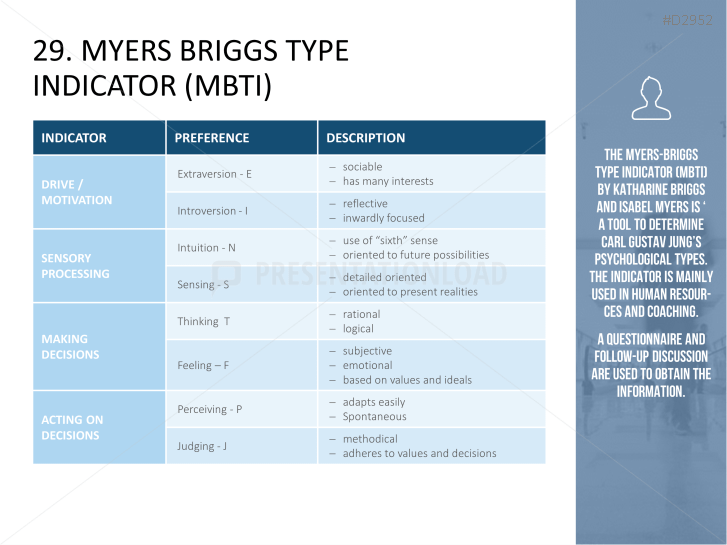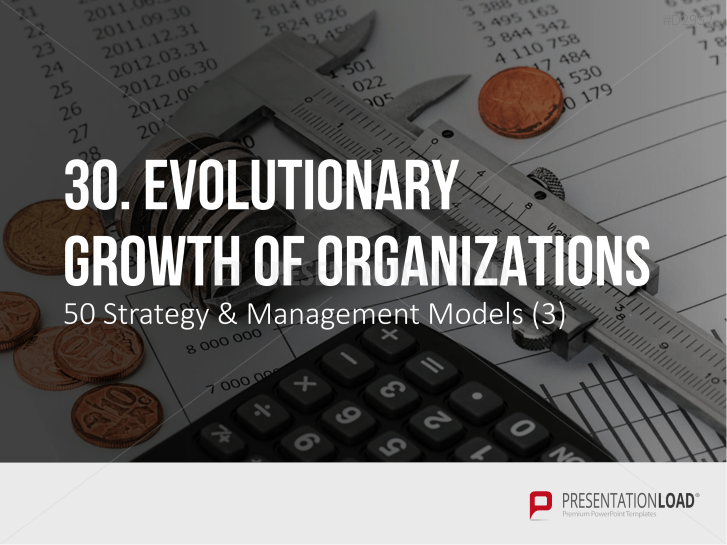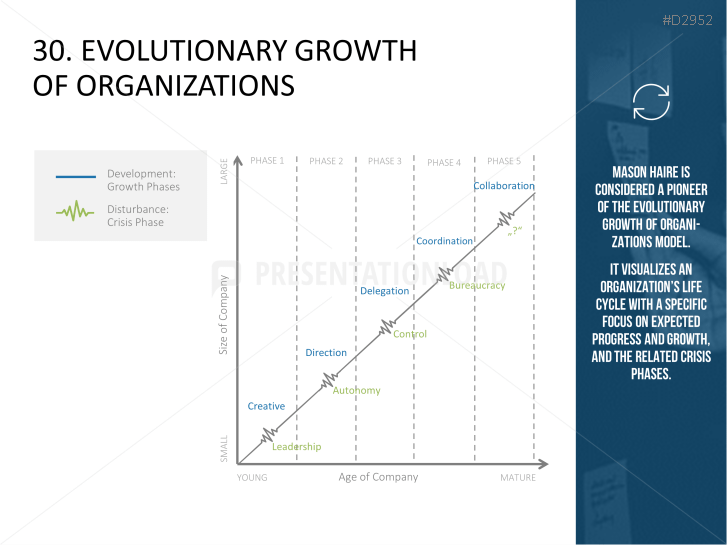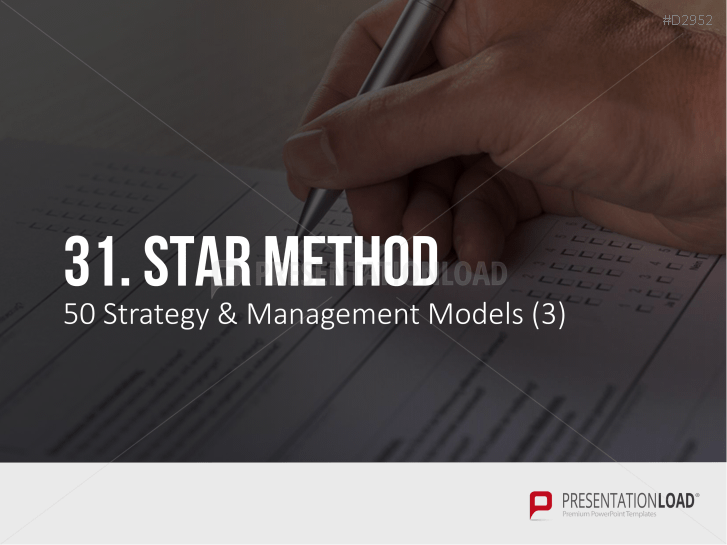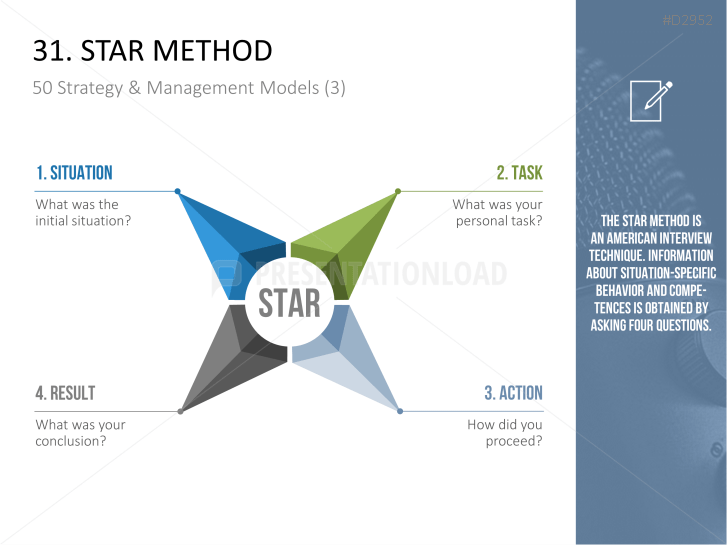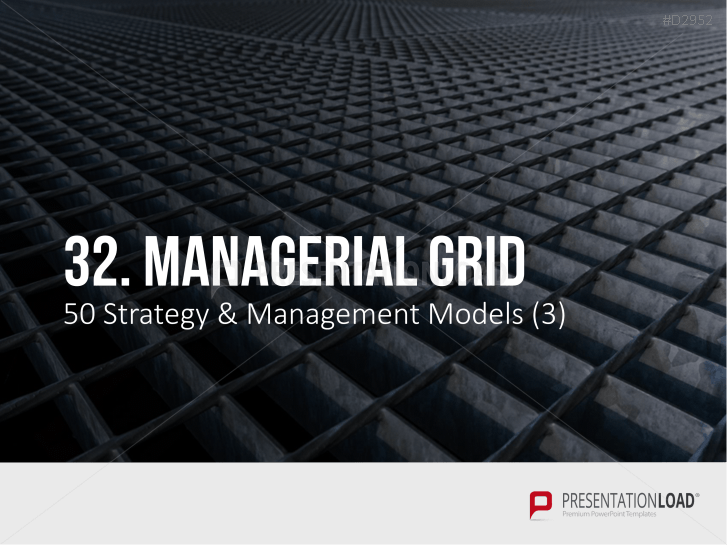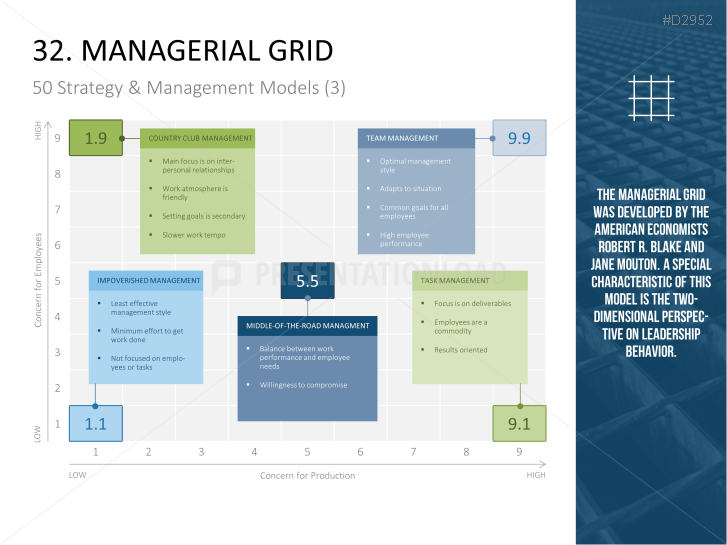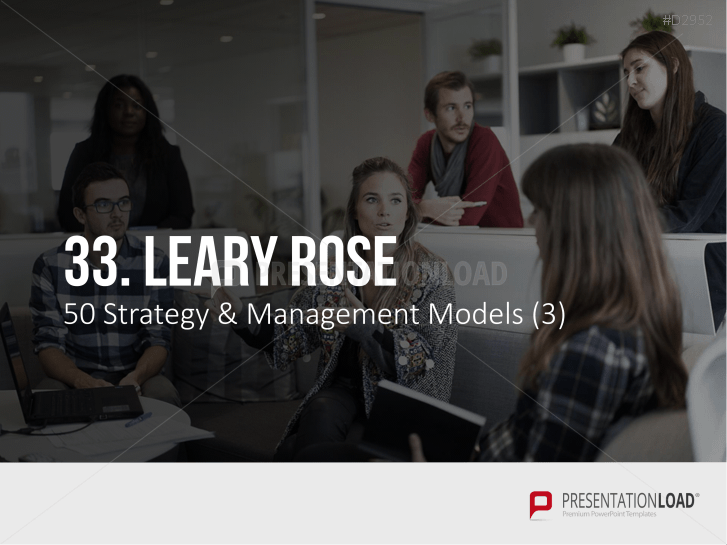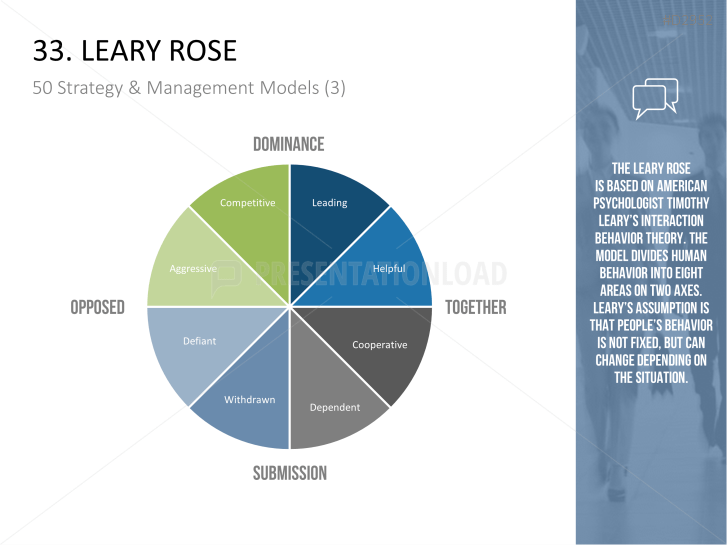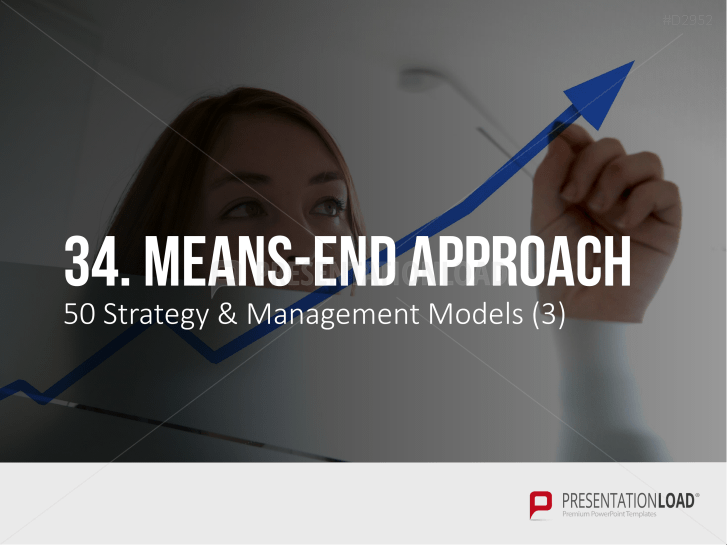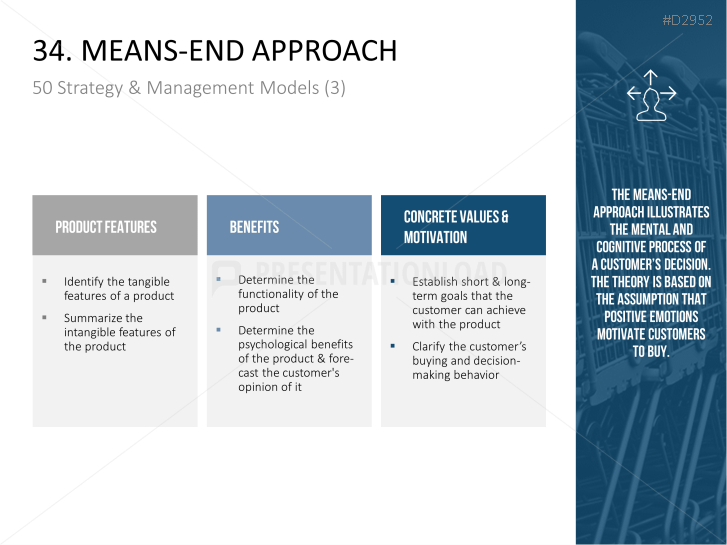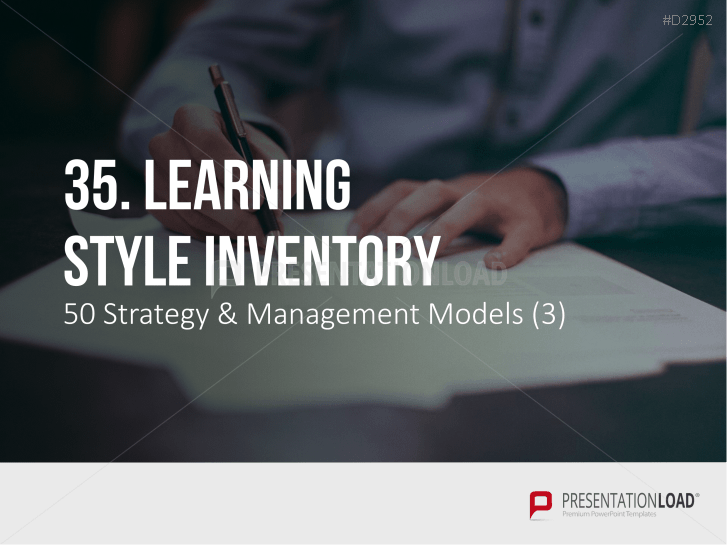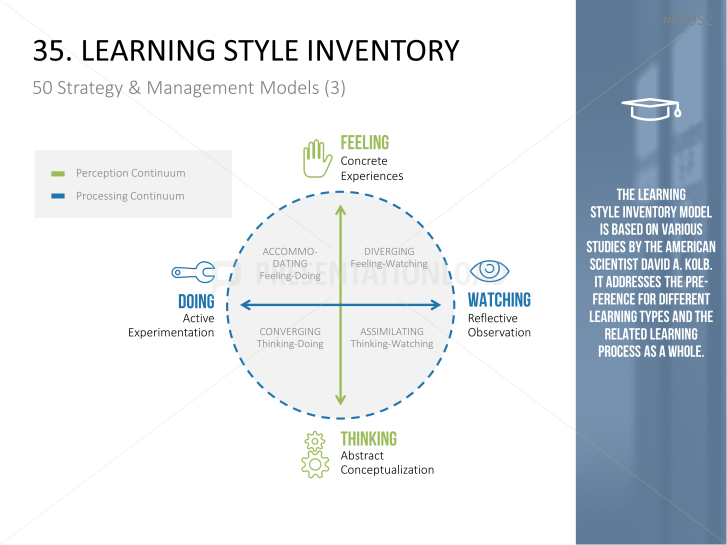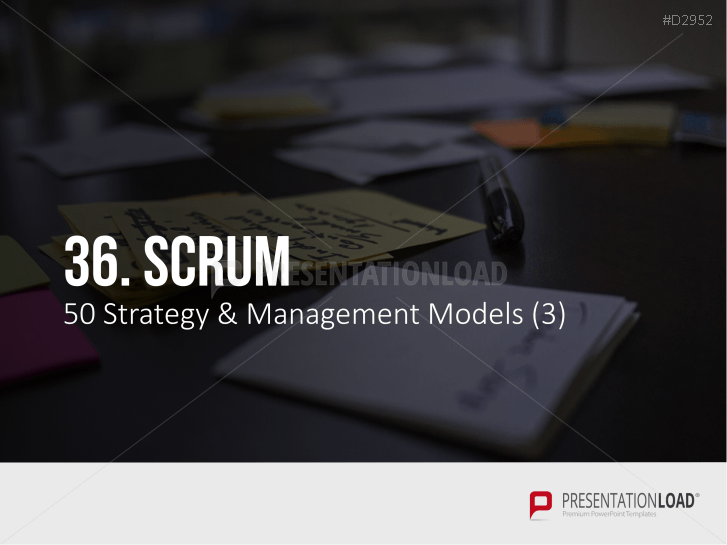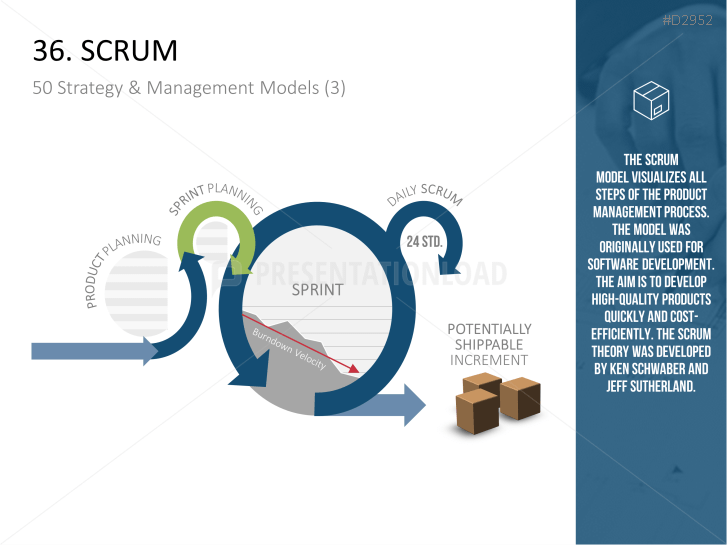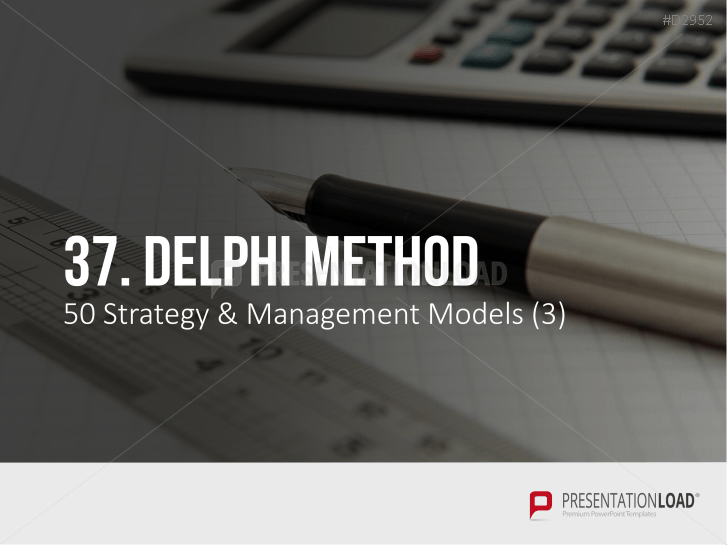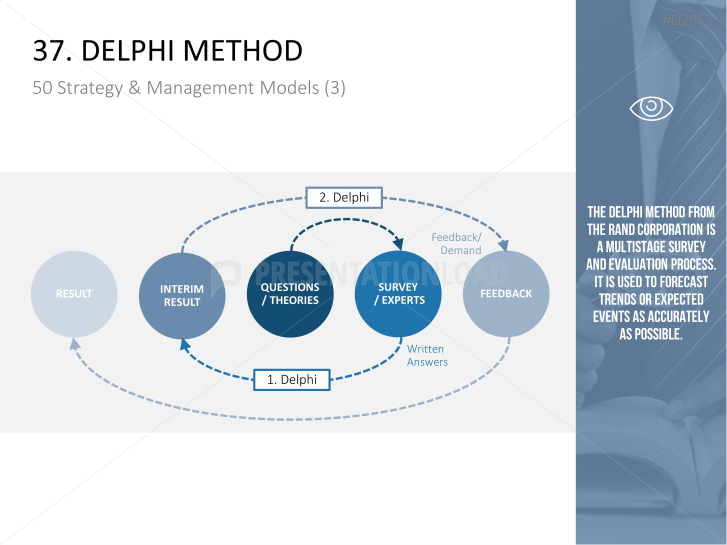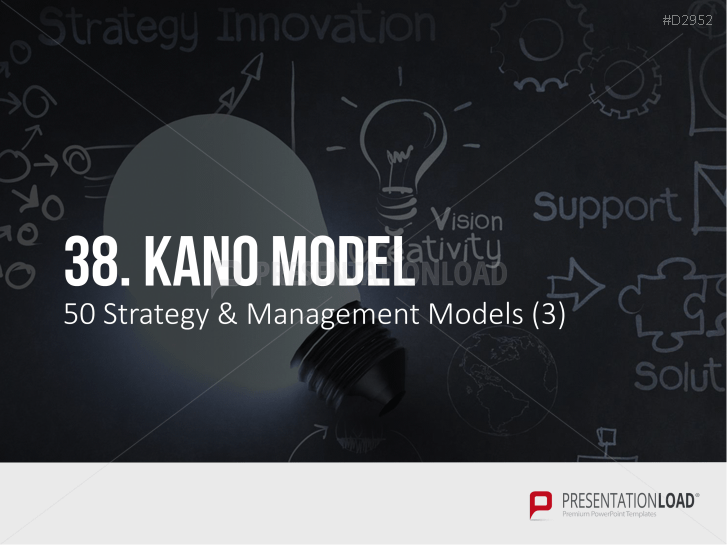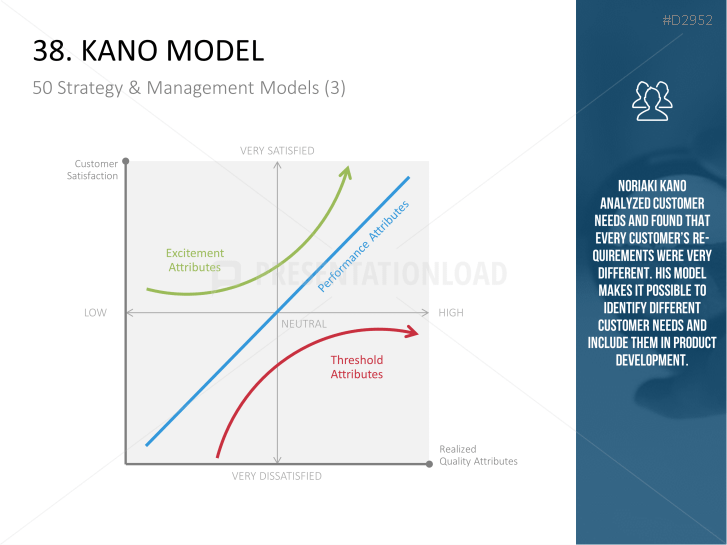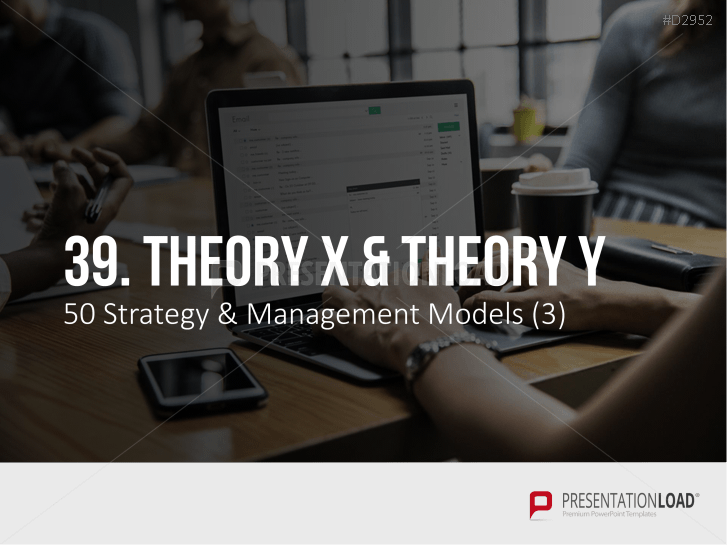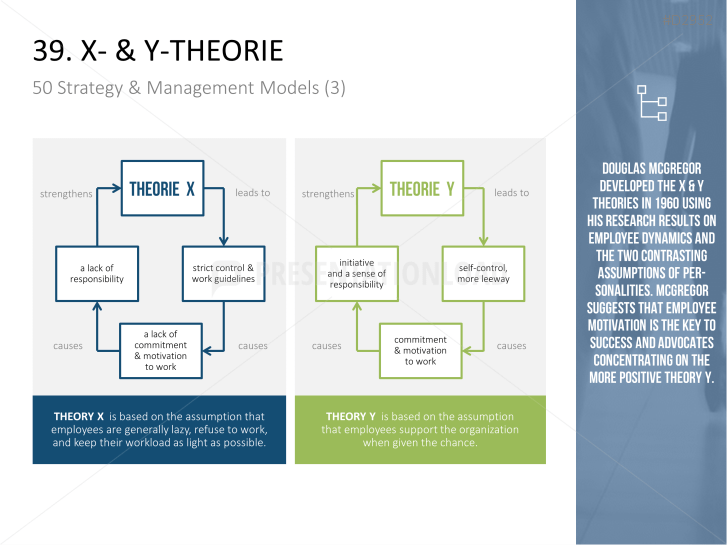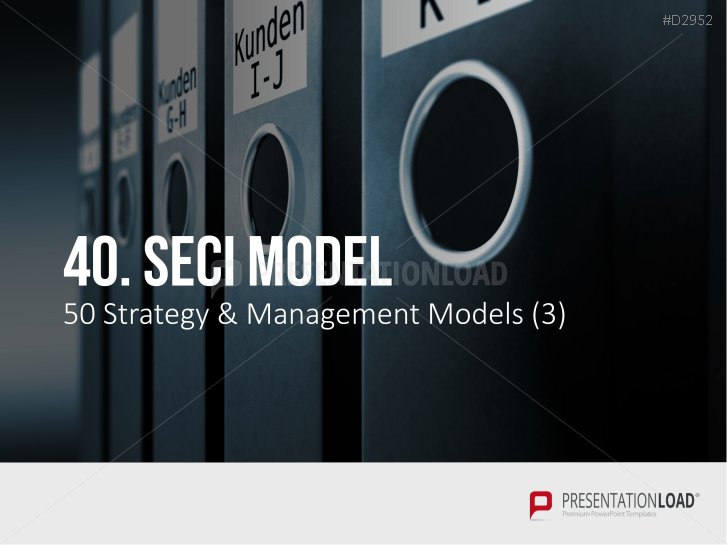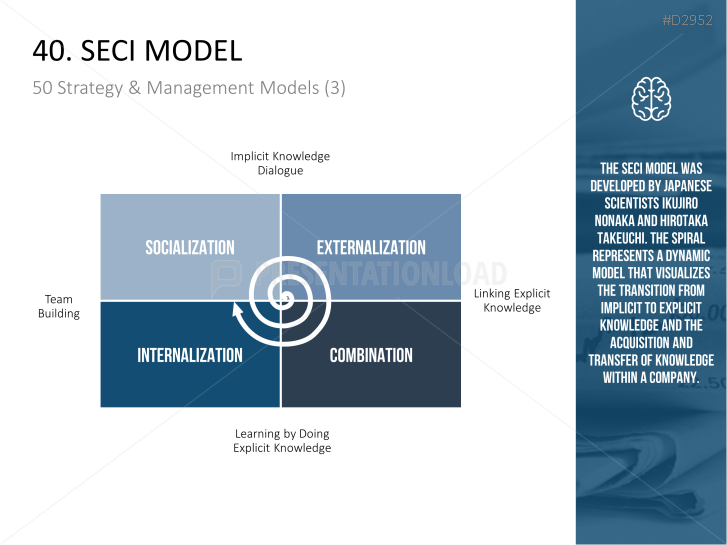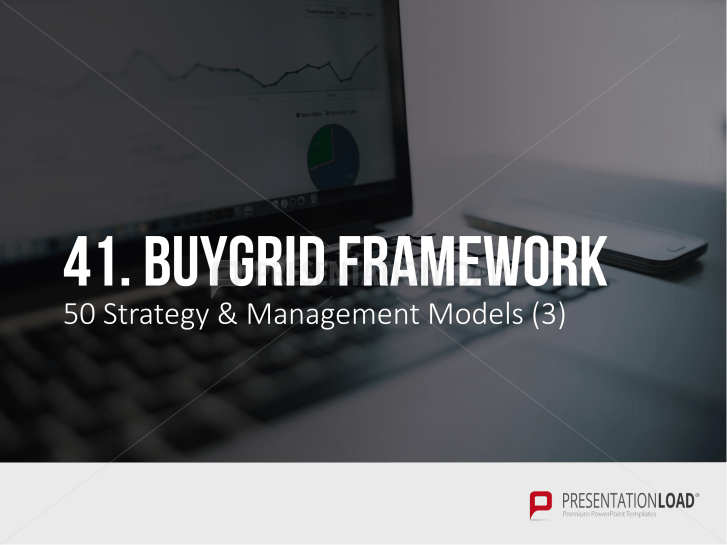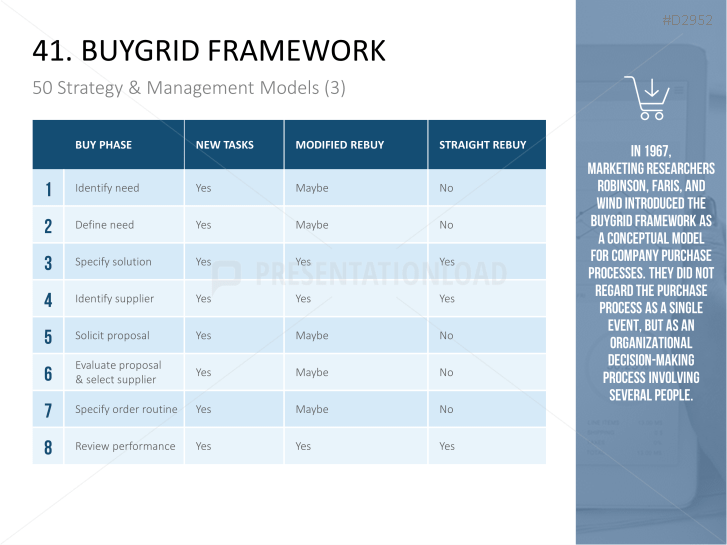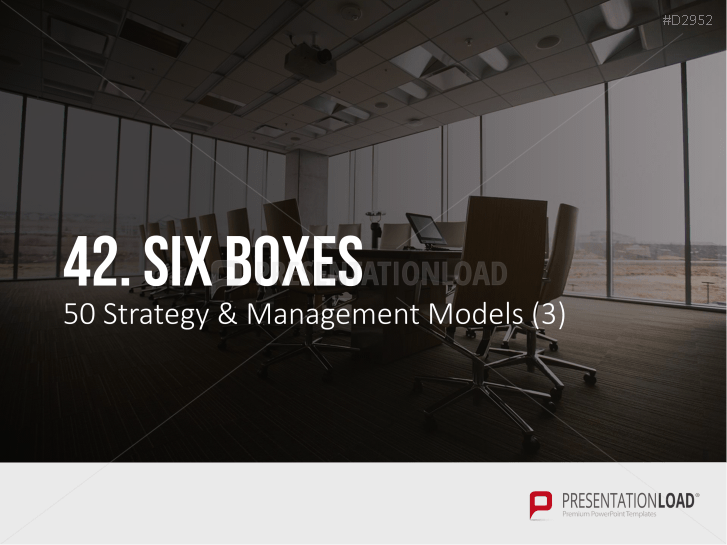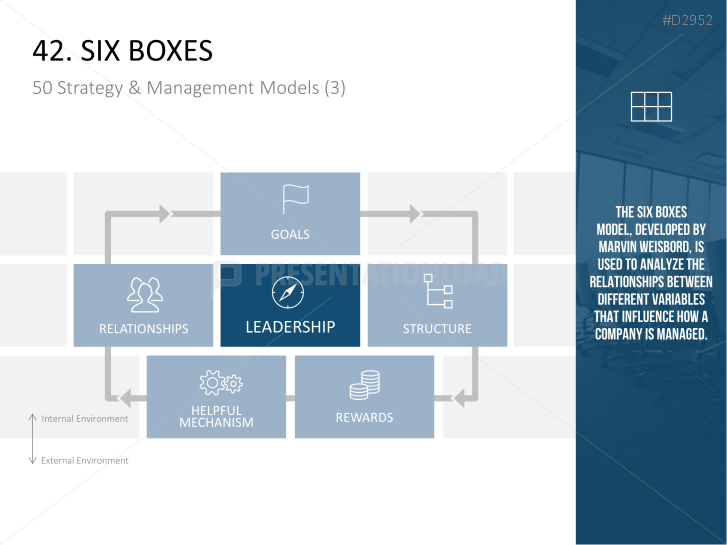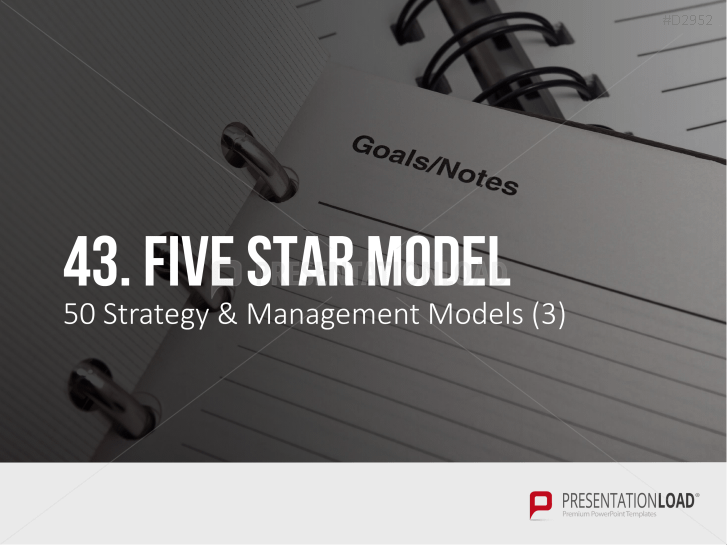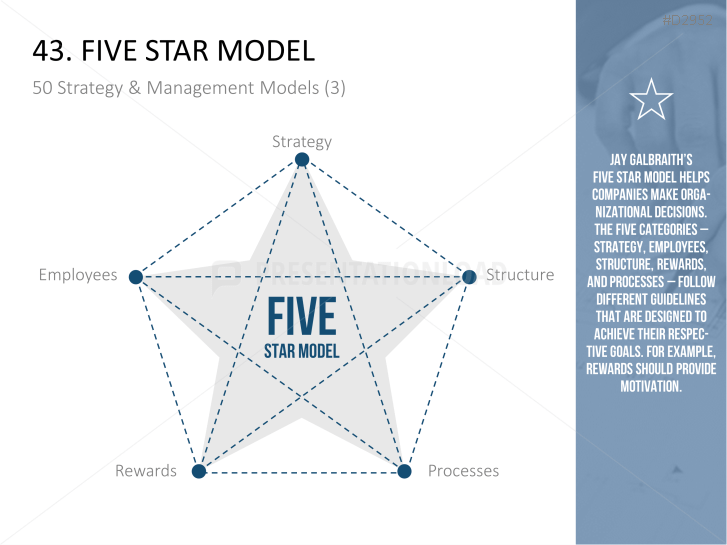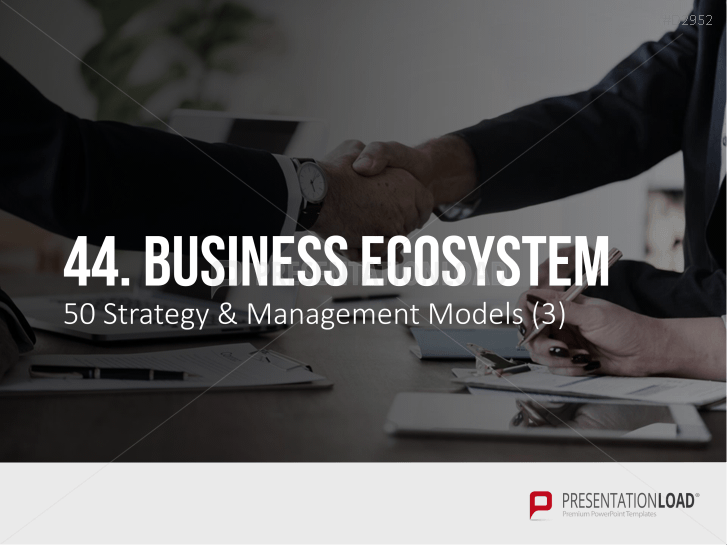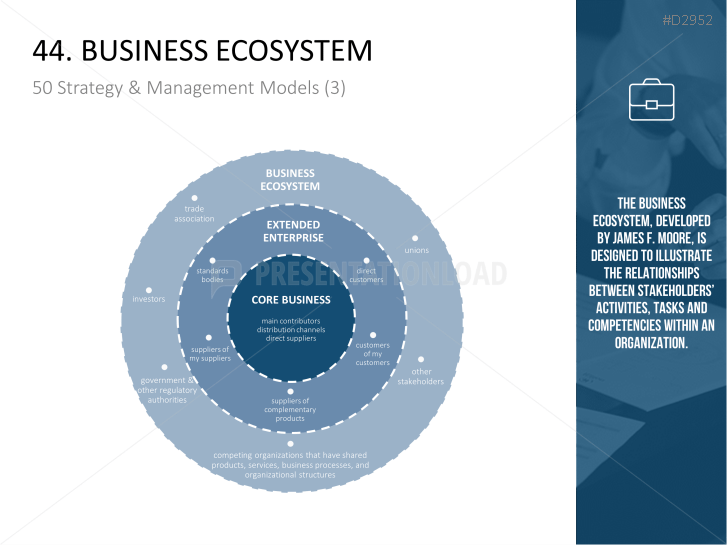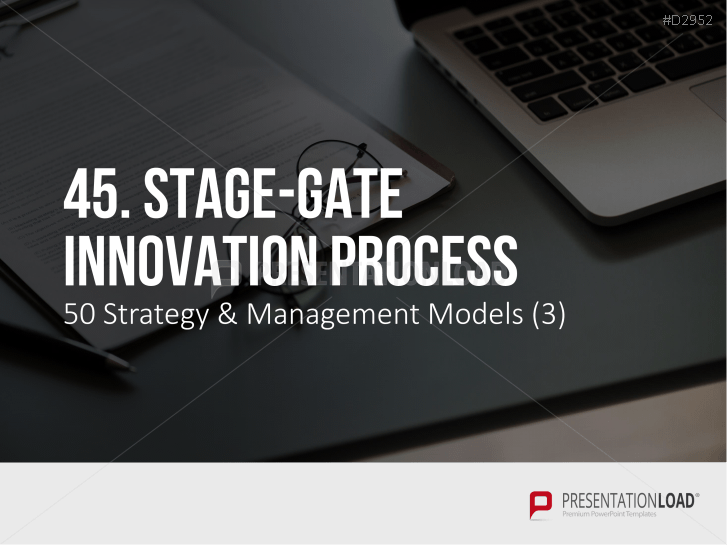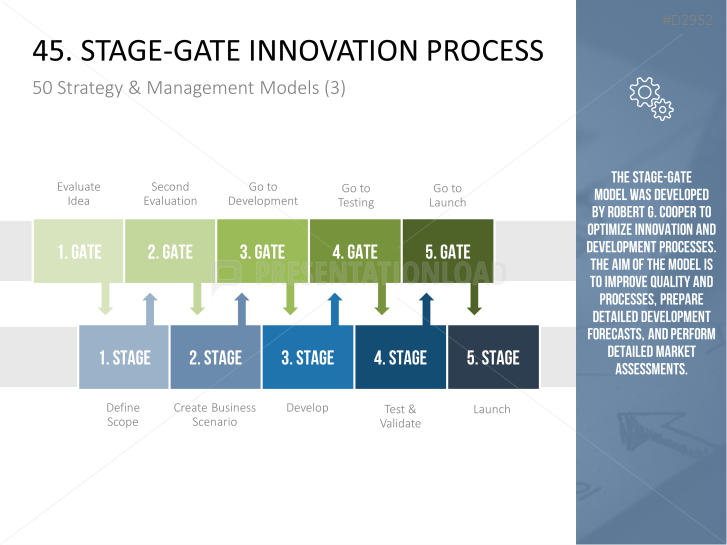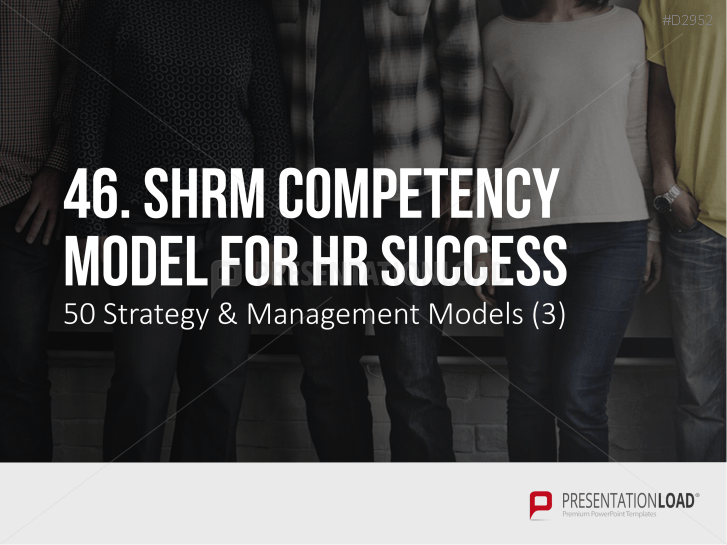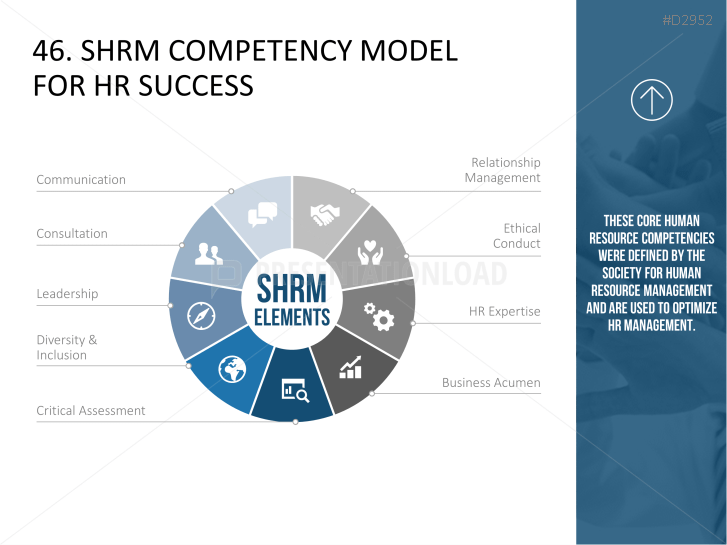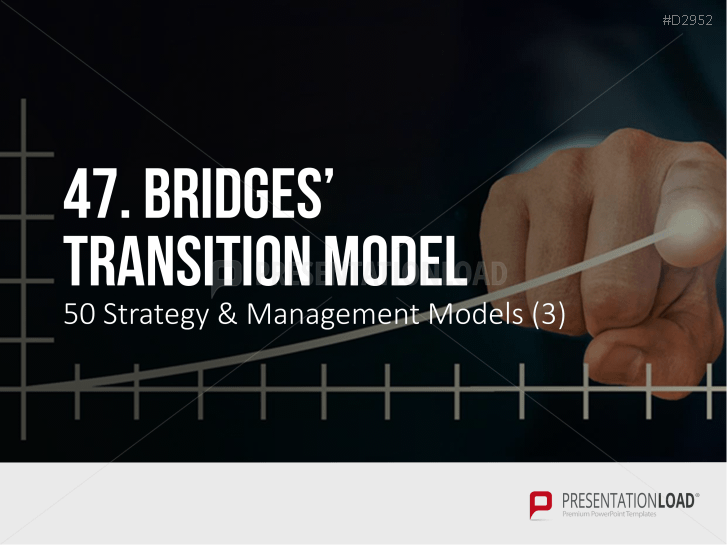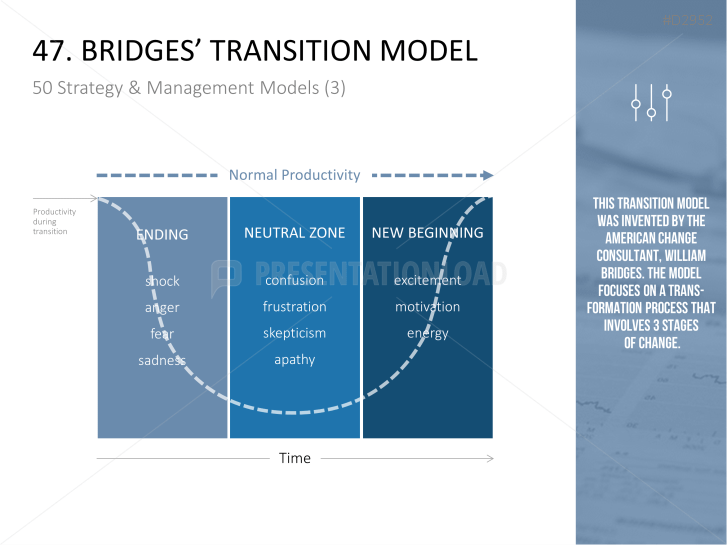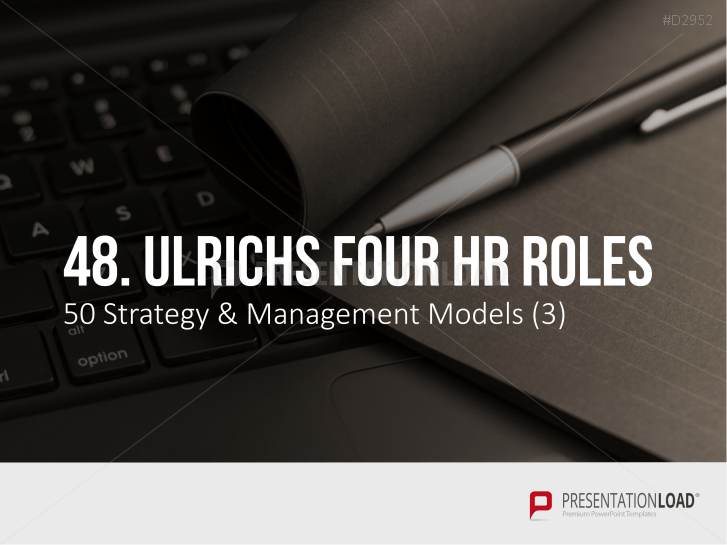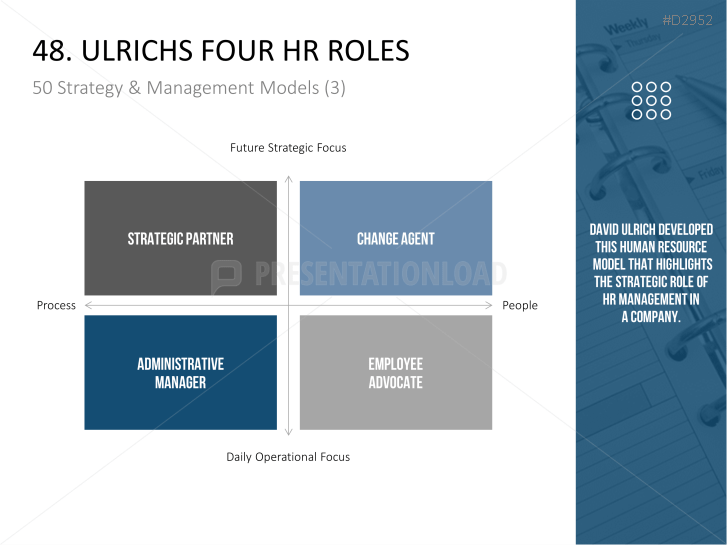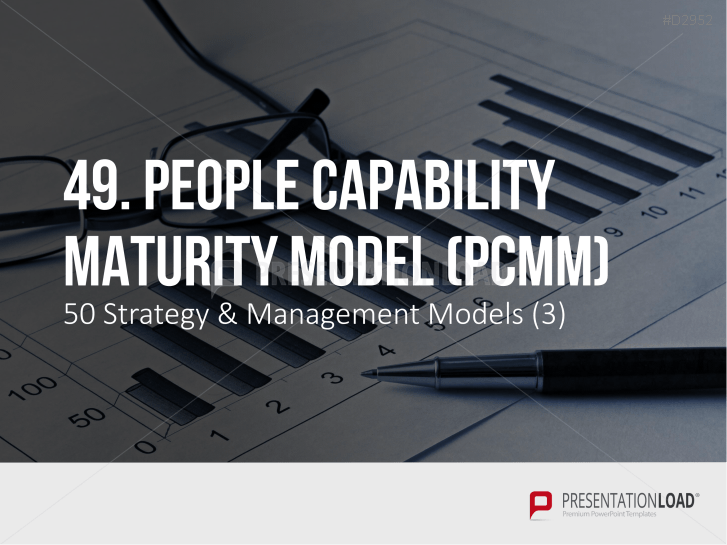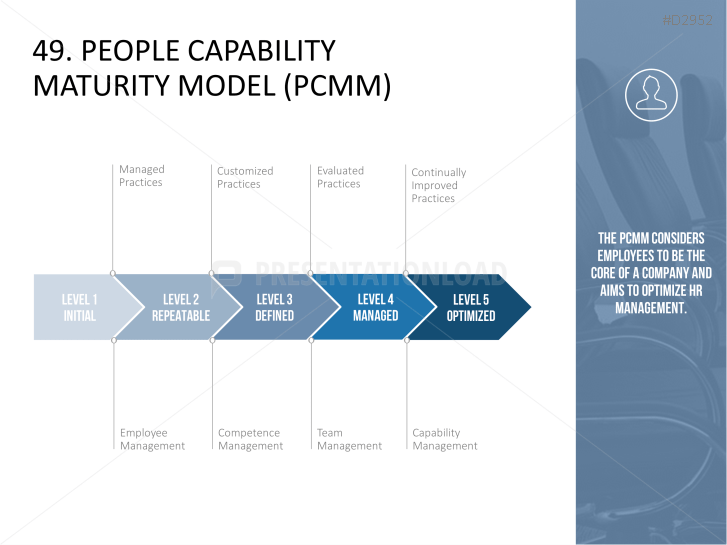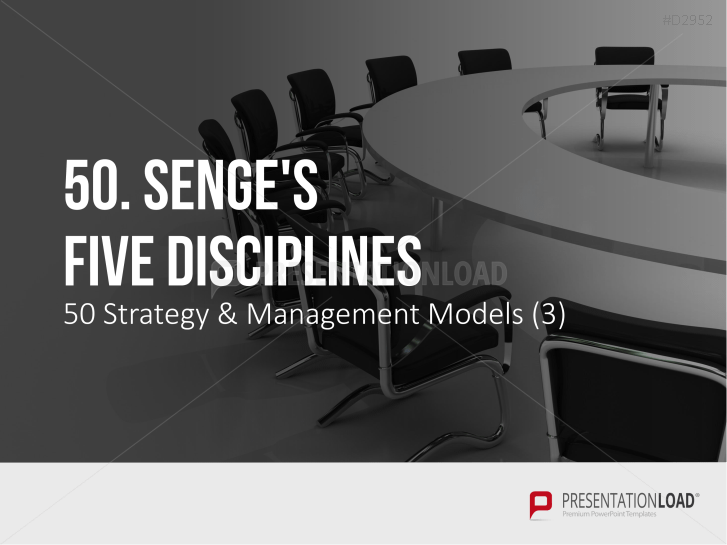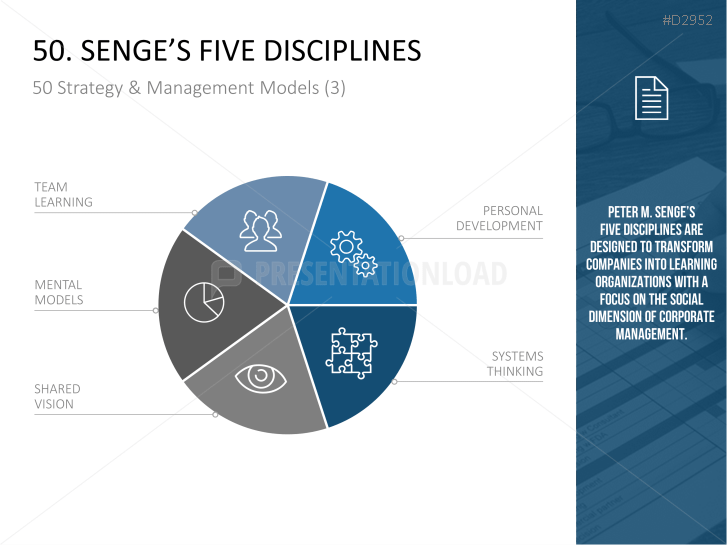 D2850 50 Strategy & Management Models Part 1 (104 Slides)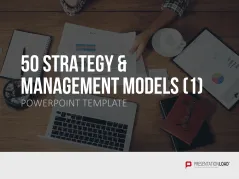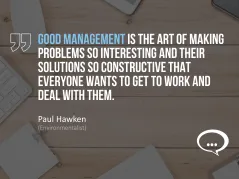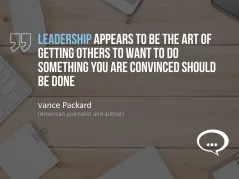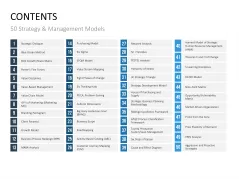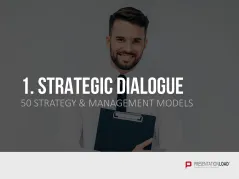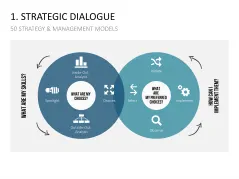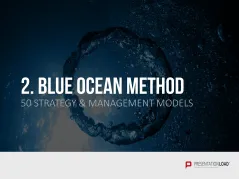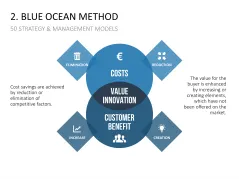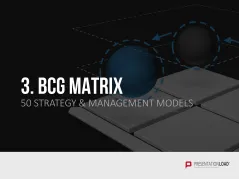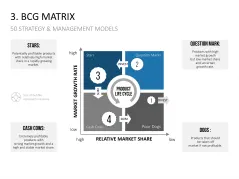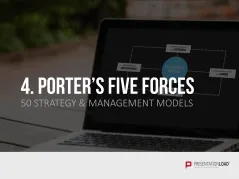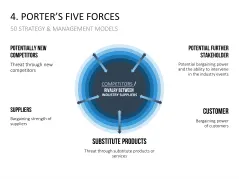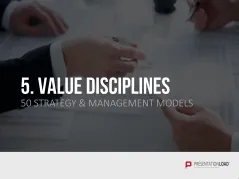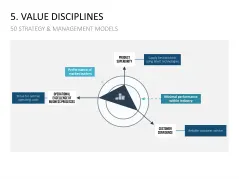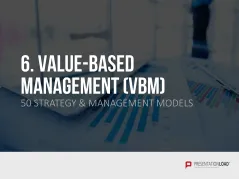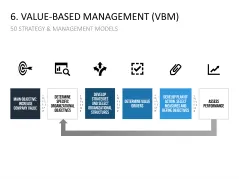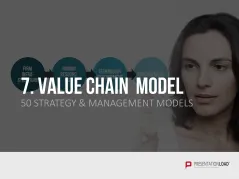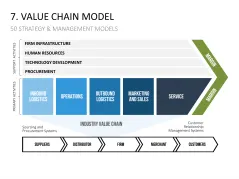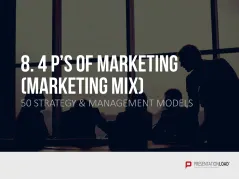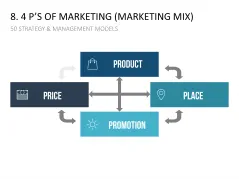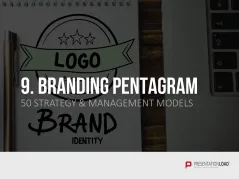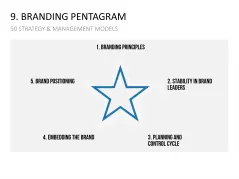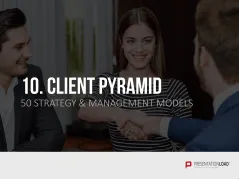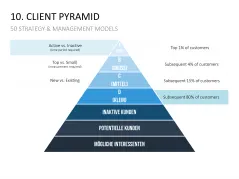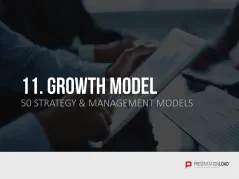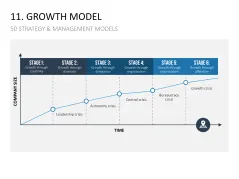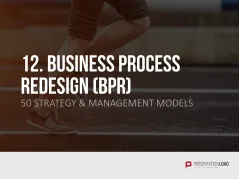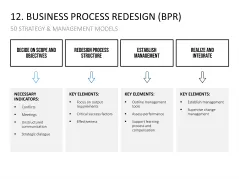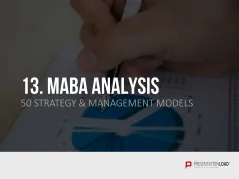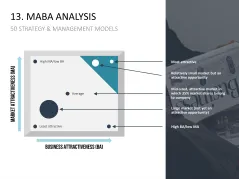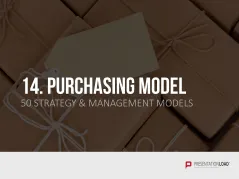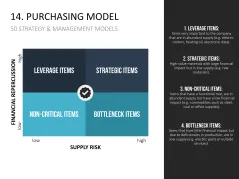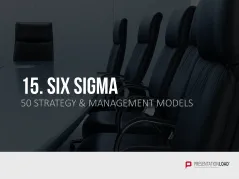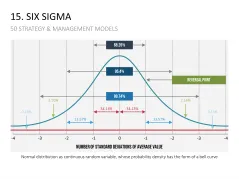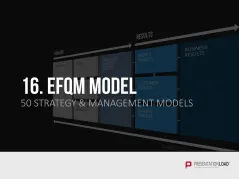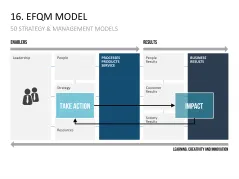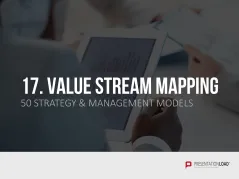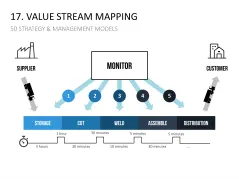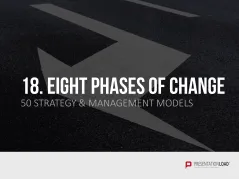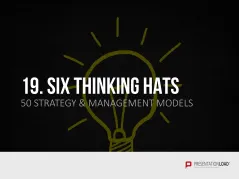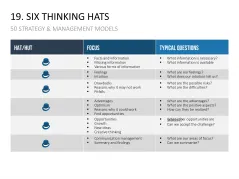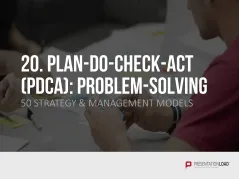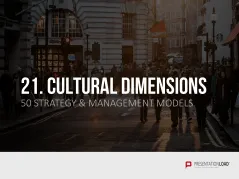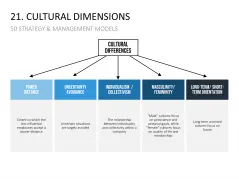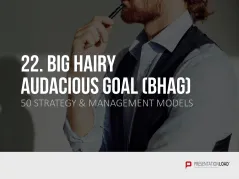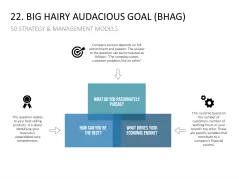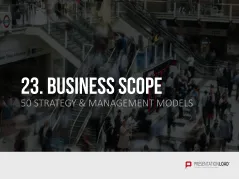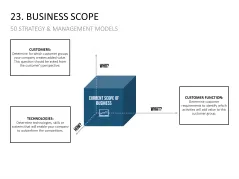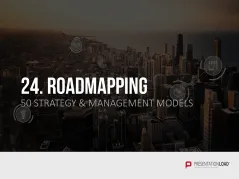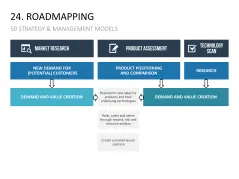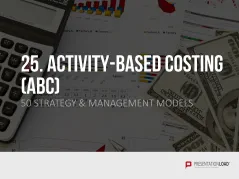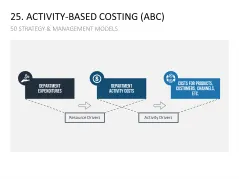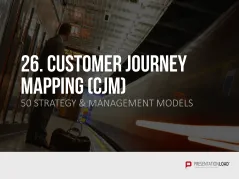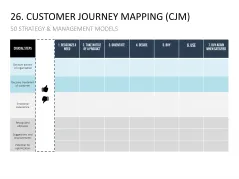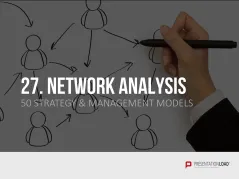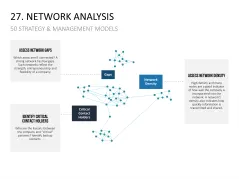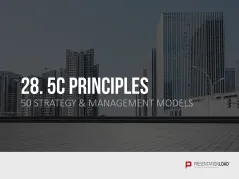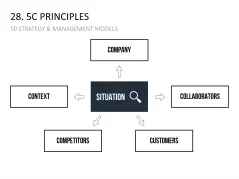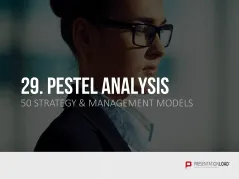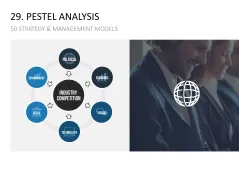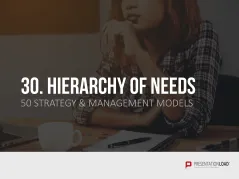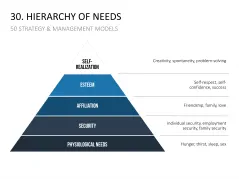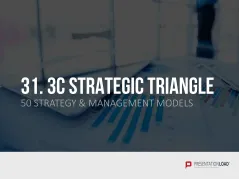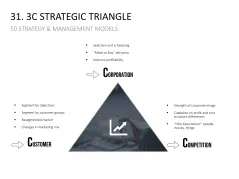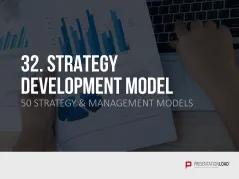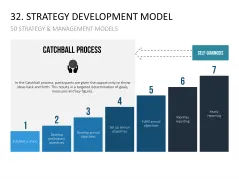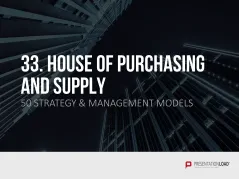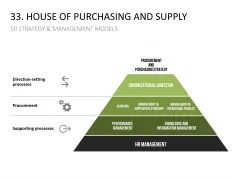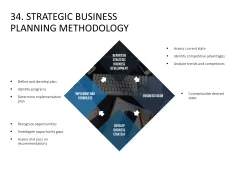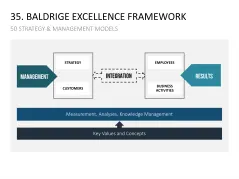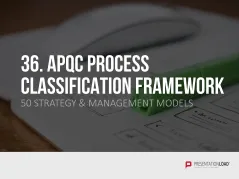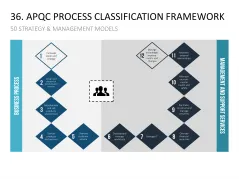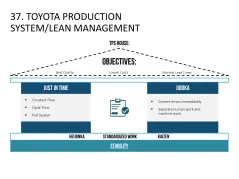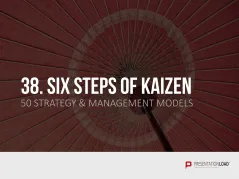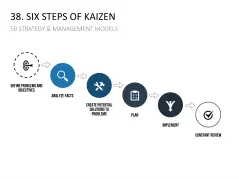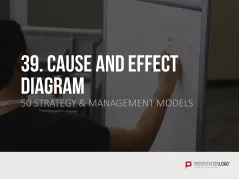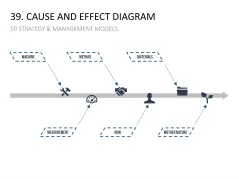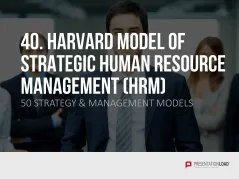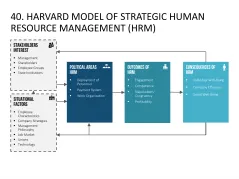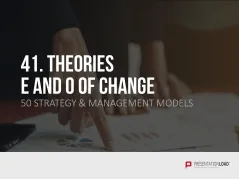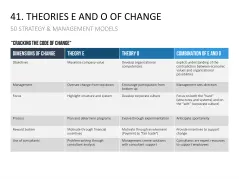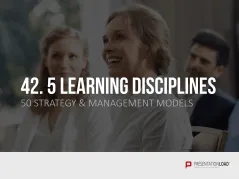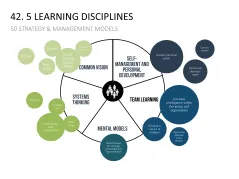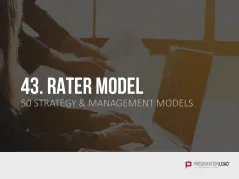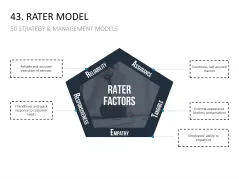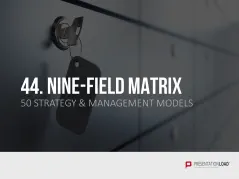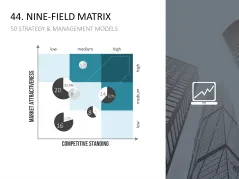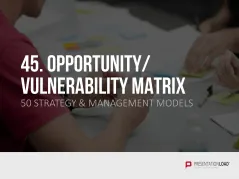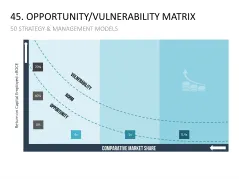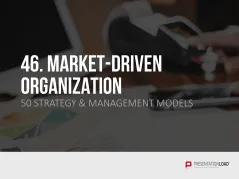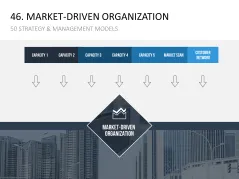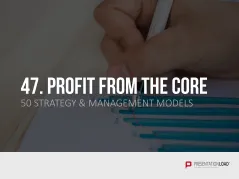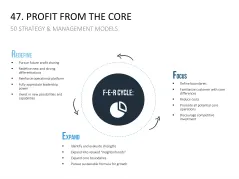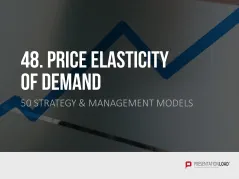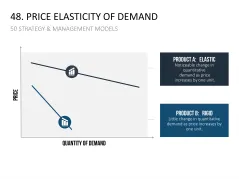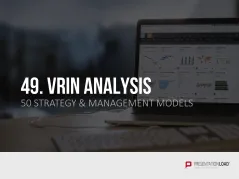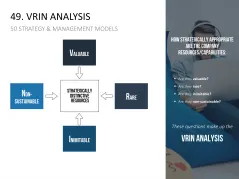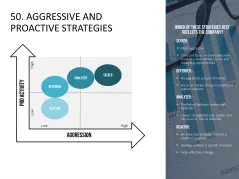 D2858 50 Strategy and Management Models Part 2 (104 Slides)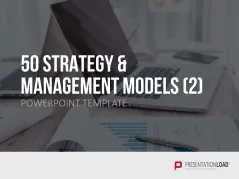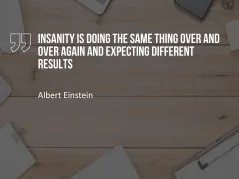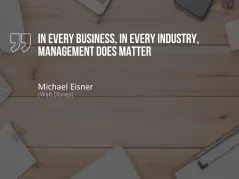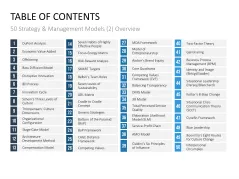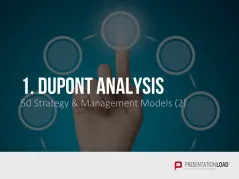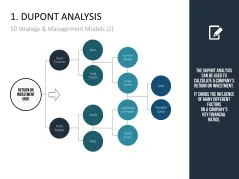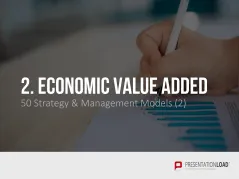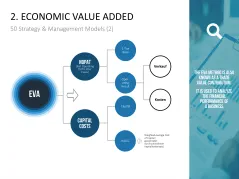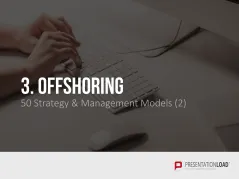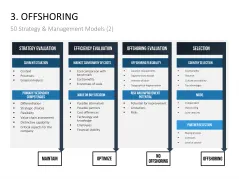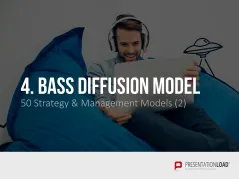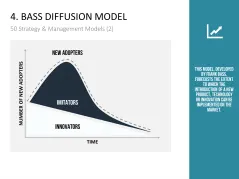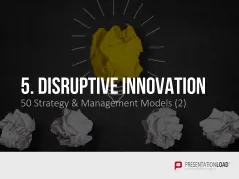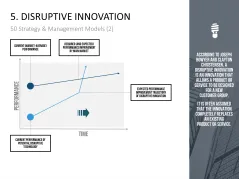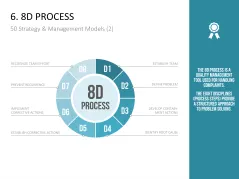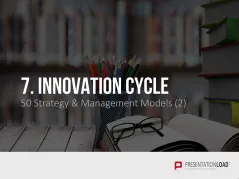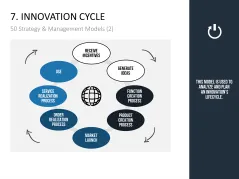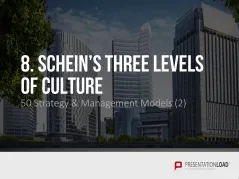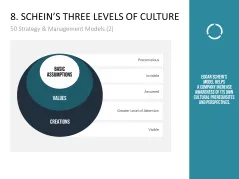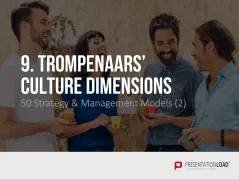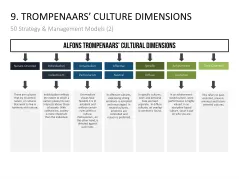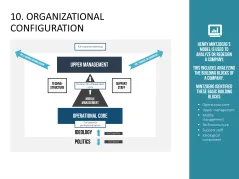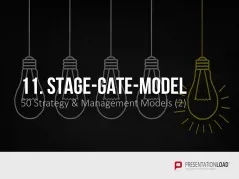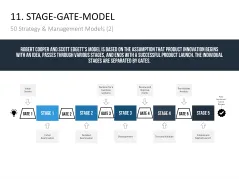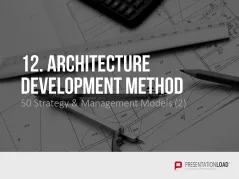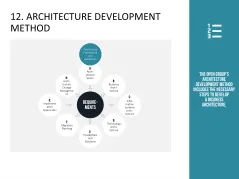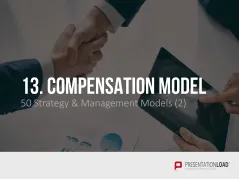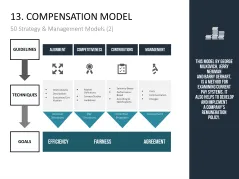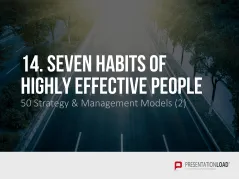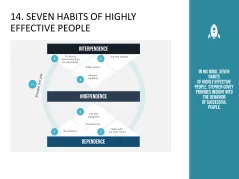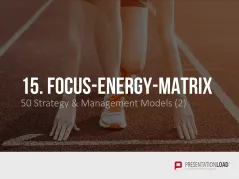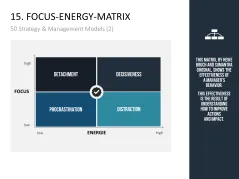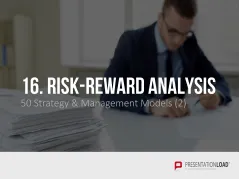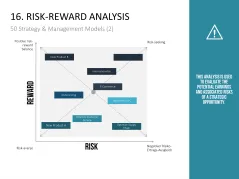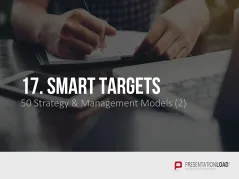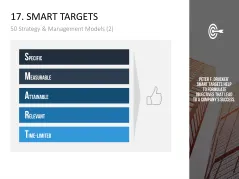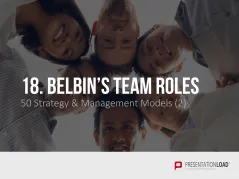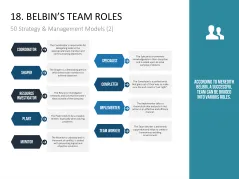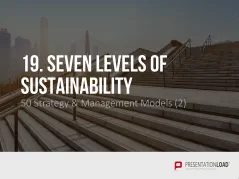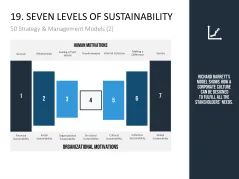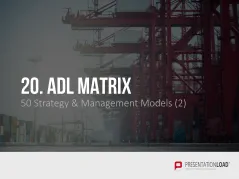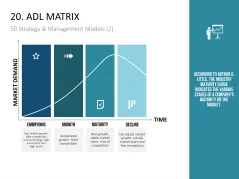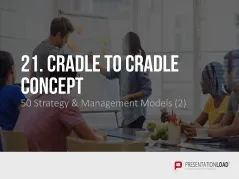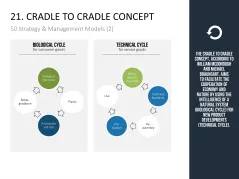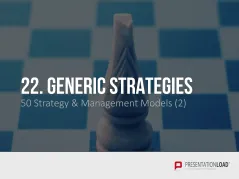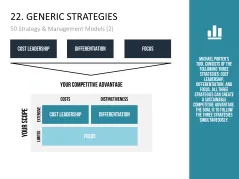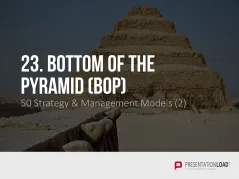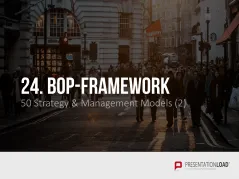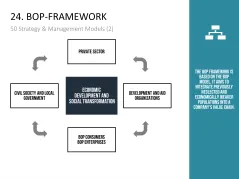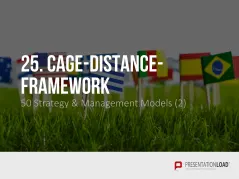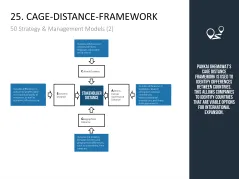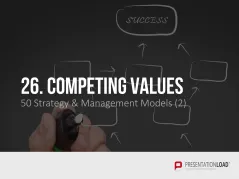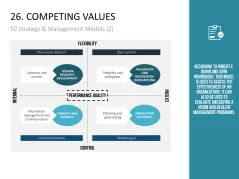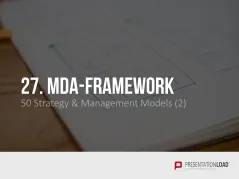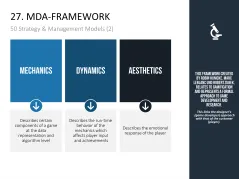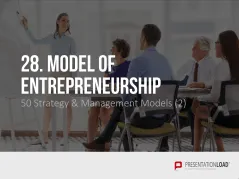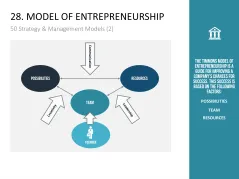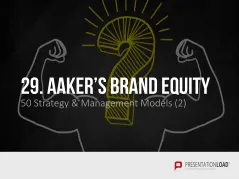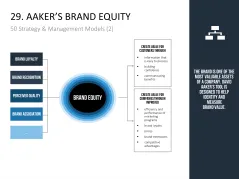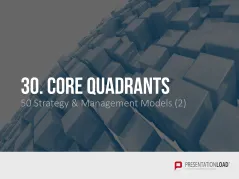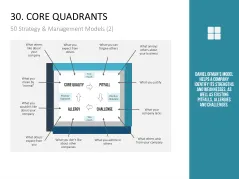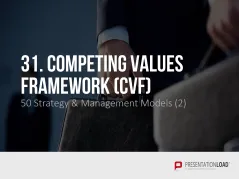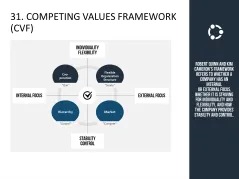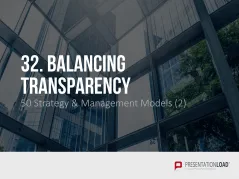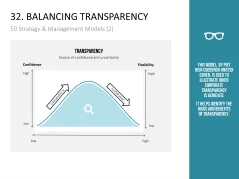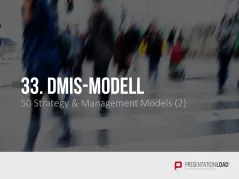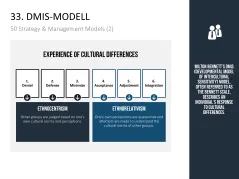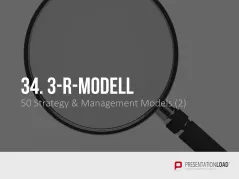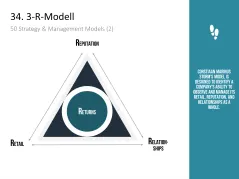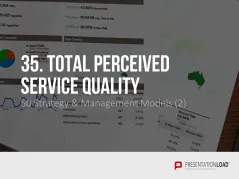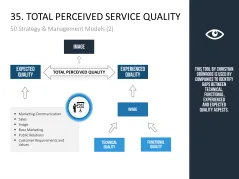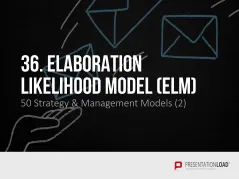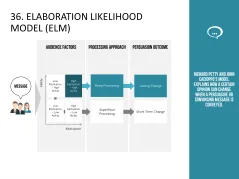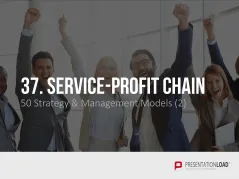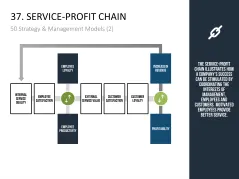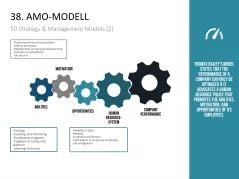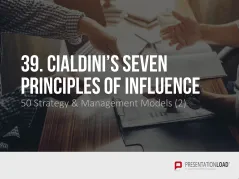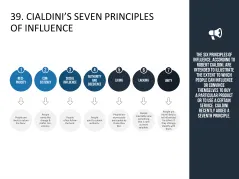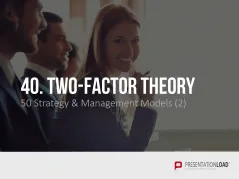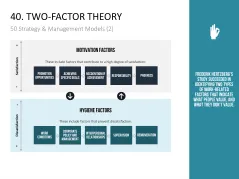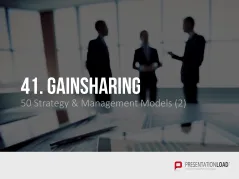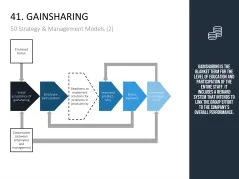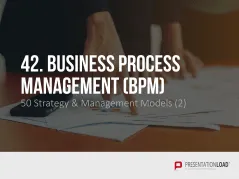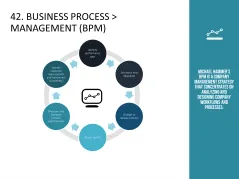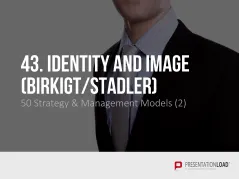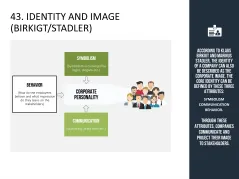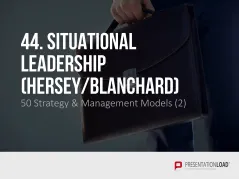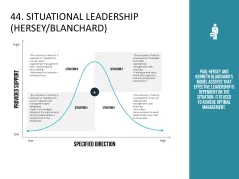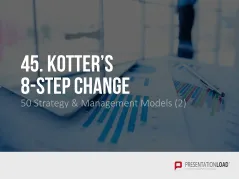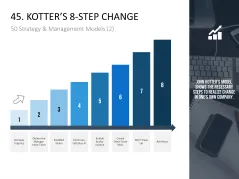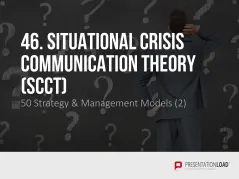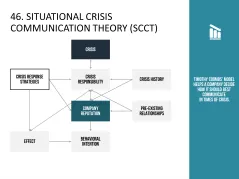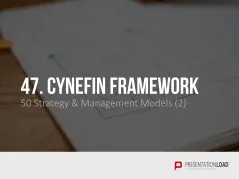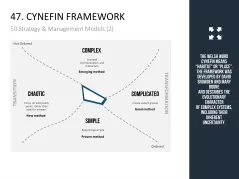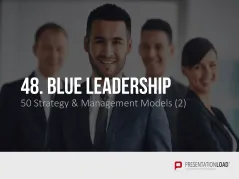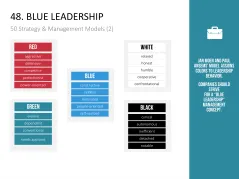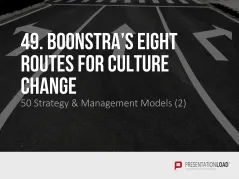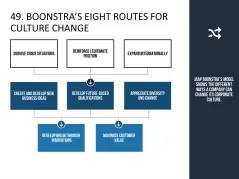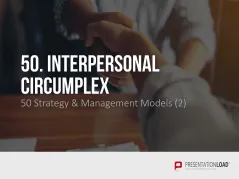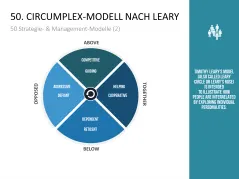 D2952 50 Strategy & Management Models Part 3 (102 Slides)